War creates a need for innovation. In 1914, high technology for men in battle constituted of khaki clothing.
The British realised that protecting the head was a good idea. So. The steel helmet was issued. But not everyone got one.
That was fine so long as the enemy didn't go for the body. So. The British Army Design created the Dayfield body shield, a canvas jacket with layered metal plates.
The German army soon sported "Lobster" armor made of nickel and silicon plates.
Other German armour was more rudimentary:
The Imperial War Museum:
First tried in battle in 1915 body armour was, as far as British usage were concerned, used mainly on an individual basis as it never became a universal issue (it is understood that only enough body armour was available to equip 2% of the army). Of the types used by British personnel, there were three main categories: Rigid 'hard' armour (often comprising of metal plates sandwiched between fabric and worn as a vest or waistcoat); Intermediate armour (various forms of small square plates of metal attached to a canvas support to form a protective waistcoat); Soft armour (made of layers of silk/cotton/tissue & linen scraps sandwiched in fabric waistcoat).
The Atlantic:
Weight was the big bugaboo of 20th century body armor. Some wanted armor panoplies that could stop machine gun and rifle rounds even at 200 yards. The Germans ramped up distributing their lobster-like suite toward war's end. Intended mostly for machine gunners, and at 22-27 pounds, it was considered too heavy for regular infantry. Was there any hope for the front line soldier?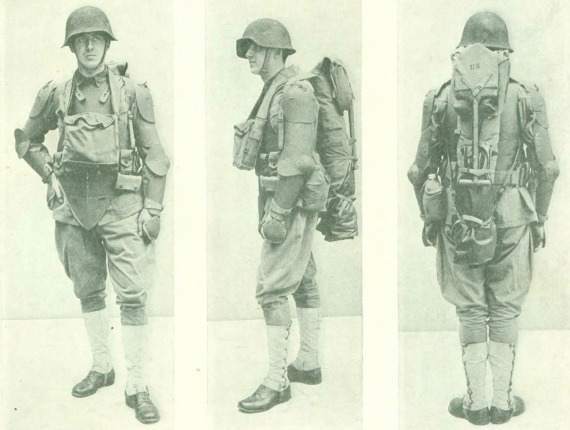 Enter Bashford Dean and his team. Met armorers crafted a battle harness with complete torso protection, front and back, for about 8.5 pounds With pauldrons (shoulder guards), couters (elbow) and vambraces (forearm), add another 4 pounds With helmet — and Dean offered the two finest battle helmets of modern times — it all came to just over 15 pounds Quite wearable, you would think, given that U.S. soldiers' full panoply today can reach 40pounds, close to 15th century full-body plate armor.

Moreover, Dean's panoply was fully cushioned with "vulcanized sponge-rubber," and with the latest alloys, could stop a .45 ACP at 1000 ft. per second (and a rifle ball at 1250 ft. per second). In terms of coverage, ease and comfort, and raw protection, this was as close as anyone in the war came to the Holy Grail of personal body armor. Deployed in the big American Expeditionary Force (AEF) offensive at the Meuse-Argonne, it could have cut 26,000 battle deaths by one third or more.