Eadweard Muybridge (9 April 1830 – 8 May 1904) was not into smut and eroticism. His rapid-fire sequential photographs of two naked women kissing served to aid his studies of human and animal movement. It was in the interests of art and science Muybridge secured the services of two women, invited them to undress and photographed them kissing. We don't know their names, more's the pity.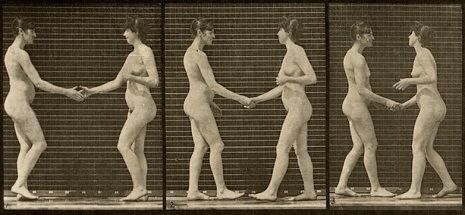 The pictures are believed to be the first kiss on camera. The Muybridge online archives has more:
While the Victorians were extremely sexually prudish by modern standards and commonly considered male homosexuality a serious threat to their society they believed women had little or no sex drive. Therefore the possibility of lesbianism was commonly ignored.

Because of Victorian sexual taboos Muybridge was not able to photograph men and women naked together and was only able to publish images of naked men together engaging in sports or work. Because he was free to show women naked together he used female models when he wanted to show two people engaging in ordinary activities. In many plates he had one of the women assume a typically male role and these are the plates which today we tend to perceive as homo-erotic.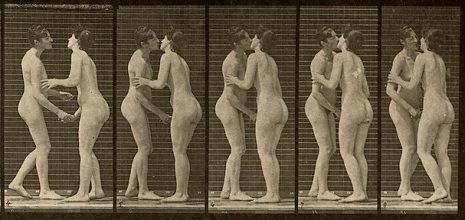 Muybridge might not have found the pictures alluring, but women did arouse his passions. On October 17 1872, Muybridge learned his wife, Flora Shallcross Stone, had been romancing one Major Harry Larkyns. Fearing the couple's seven-month-old boy, Florado Helios Muybridge, was not of his blood, Eadweard Muybridge located Larykyns at a ranch near Calistoga, California. Muybridge introduced himself thus: "Good evening, Major, my name is Muybridge and here's the answer to the letter you sent my wife." Muybridge aimed his Smith & Weston No. 2 six-shooter, fired once and shot the man dead.
In court, Muybridge pleaded insanity on account of a head injury he'd sustained in 1860 when he'd been tossed from a stagecoach. (Fearing the coach was about to crash, Muybridge had drawn his knife and cut though the canvas behind his seating. The coach hit a boulder and he tumbled backwards to the ground.) The jury dismissed the insanity plea. But against the judge's direction they acquitted him on account of justifiable homicide.
Eadweard Muybridge and his wife divorced. Five months later she died. Florado was sent to an orphanage. Muybridge funded the boy's expenses throughout his childhood but never saw him again.