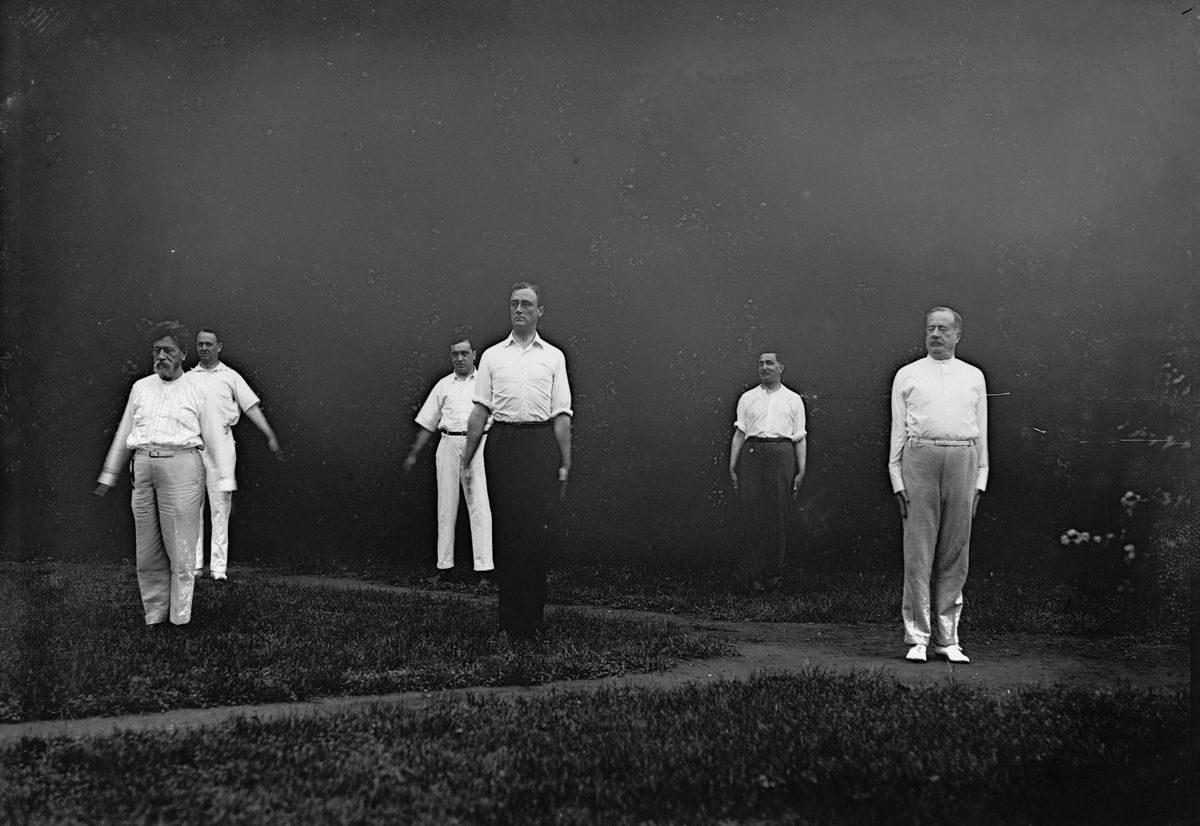 When Walter Camp (April 7, 1859 – March 14, 1925) wasn't developing the ruled of American Football he was extolling the virtues of his 'Daily Dozen', a series of ritual exercises to keep every American in tip-top physical shape.
Hired to advise the U.S. Navy Training Camps' Physical Development Program in 1917, just after the USA had joined the fray of World War 1, Camp created a brisk 15-minute sequence of calisthenic motions as "a substitute for the normal activities of mankind in the primitive state". The routine would stir "the unseen and usually unremembered muscles" and increase "your resistance to fatigue, your grace and muscular coordination and poise". The full set of exercises consisted of moves Camp labeled: "hands, hips, head, grind, grate, grasp, crawl, curl, crouch, wave, weave and wing."
In August 1917, President Woodrow Wilson (December 28, 1856 – February 3, 1924), his Cabinet – Assistant Secretary of the Navy Franklin D. Roosevelt (January 30, 1882 – April 12, 1945) among them – massed for a Camp session.
Camp's efforts made him a mint. Any desk jockey could master "the simplest, shortest, least exhausting and most exhilarating form of calisthenics, or set-up exercises, that can be devised to meet the present conditions of life and civilization. All superfluous movements are thrown into the discard, combinations are effected in order to save time." Camp Daily Dozen was available as a pamphlet – it sold around half a million copies – a set of phonograph records, a book and appeared in scores of magazine articles.
AN AMERICAN CITIZEN'S CREED

I believe that a nation should be made up of people who individually possess clean, strong bodies and pure minds; who have respect for their own rights and the rights of others and possess the courage and strength to redress wrongs; and, finally, in whom self-consciousness is sufficiently powerful to preserve these qualities. I believe in education, patriotism, justice, and loyalty. I believe in civil and religious liberty and in freedom of thought and speech. I believe in chivalry that protects the weak and preserves veneration and love for parents, and in the physical strength that makes that chivalry effective. I believe in that clear thinking and straight speaking which conquers envy, slander, and fear. I believe in the trilogy of faith, hope, and charity, and in the dignity of labor; finally, I believe that through these and education true democracy may come to the world.

– KEEPING FIT ALL THE WAY, How to Obtain and Maintain Health, Strength and Efficiency by WALTER CAMP
The President has a dislike almost akin to abhorrence for mechanical appliances intended to exercise the muscles of the body. There is not a dumbbell, or an Indian club, nor a medicine-ball, nor a punching-bag, nor a turning-bar, nor a trapeze, nor a lifting or pulling apparatus, nor a muscle—exercising machine of any sort or description in the White House. The only mechanical device used by the President is a simple, unoffending golf-club.

– KEEPING FIT ALL THE WAY, How to Obtain and Maintain Health, Strength and Efficiency by Walter Camp
Via: Library of Congress