The response to my August 2014 Malcolm McLaren exhibition Let It Rock has been very encouraging; here are some images which hopefully give an idea of the show's impact.
Running for four days at Copenhagen's Bella Center as part of the Danish city's international fashion fair CIFF, the show – curated by me and Young Kim of the MM Estate – focused on the late cultural iconoclast's engagement with fashion with Vivienne Westwood in the 70s and 80s.
We have received favourable press, with particular praise from the FT's Charlie Porter, who wrote that the hang of the garments was "exceptional". Meanwhile style blogger Susie Bubble described the exhibition – full title Let It Rock: The Look Of Music The Sound Of Fashion – as "incredibly detailed and well put together".
We designed the show centrepiece: an imposing black corrugated iron-clad 12-metre long tunnel installation celebrating McLaren's first shop, Let It Rock. Among the exhibits inside were previously unpublished photographs of the shop interior taken by the late David Parkinson and an original shop price list owned by McLaren. A bespoke soundtrack blared music as featured on the jukebox at 430 King's Road as well as personal favourites of McLaren's, from Burundi Black by the Drummers Of Burundi to Cast Iron Arm by Peanuts Wilson and Hallelujah I'm A Bum by Harry "Mac" McLintock.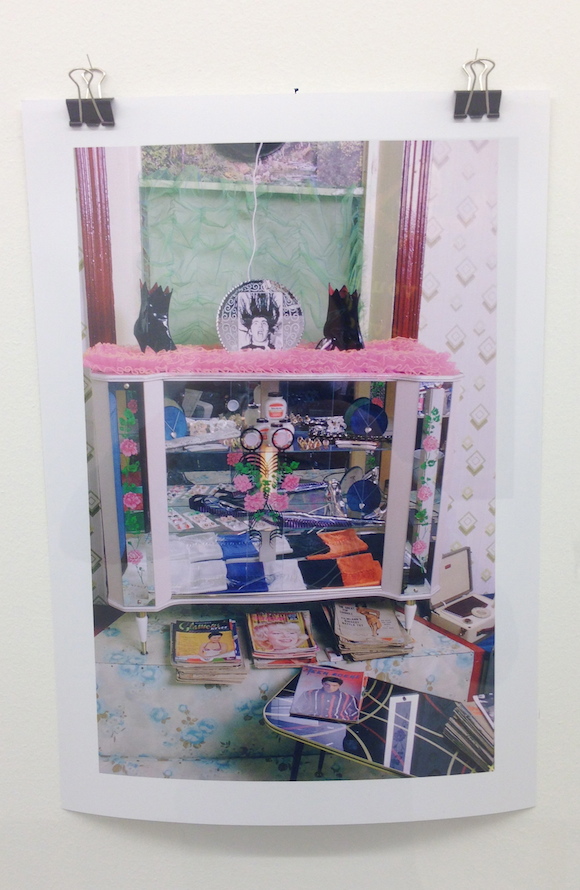 The show was subdivided into six areas each dedicated to a manifestation of the outlets McLaren operated with Westwood. These were signposted by 60 x 40″ photographic blow-ups of the exteriors we commissioned to be printed on canvas to add dimension and presence.
With text panels explaining exhibits in McLaren's own words, each section also featured photographic mobiles suspended from the ceiling and Perspex-topped vitrines containing original garments, photography, notebooks, sketches and ephemera.
One area of the show was dedicated to 10 outfits reflecting the span of the designs from Let It Rock to Nostalgia Of Mud. Our solution to the ticklish problem of how clothes are presented in exhibitions was to fly these from the ceiling between sheets of Perspex, and we made a selection from the Estate archive as well as contributions by the likes of Louis Vuitton's style director Kim Jones and guitarist/songwriter Marco Pirroni.
In the projection room visitors viewed moving images associated with McLaren, from rare film of the catwalk shows he conducted with Westwood in the early 80s to video clips for his hits such as Buffalo Gals and Soweto.
Many visitors told us they were bowled over by the show; now we are working on another McLaren exhibition as part of Art In Pop at Le Magasin in Grenoble, France, this autumn. This will encompass McLaren's creative output from his art-school days through his careers in fashion, music and film to his final works as a visual artist. I'll keep you informed; it runs from October to January next year.
Follow these links for media coverage of Let It Rock:
Charlie Porter – At the Malcolm McLaren show in Copenhagen, the hang of the garments is exceptional
W Magazine – Celebrating the fashionable life of the late punk pioneer
Style Bubble – Let It Rock: The Look Of Music The Sound Of Fashion
GQ – Four ways Malcolm McLaren revolutionised the style scene
Thanks go to CIFF fashion/design director Kristian Andersen and creative directors Pierre Tzenkoff + Arnaud Vanraet for their foresight in commissioning this show, and also to the exhibition architect, the talented Jean-Christophe Aumas and his excellent team of builders, particularly Annette, Henning + Stefan.