Let's have a look inside university dorm rooms and student apartments around the 1970s gathered from found photographs and old yearbooks. Not only are these pictures endlessly interesting as time capsules, it's fun to just play "I Spy" with each photo – identifying a a treasure trove of pop culture memories. We'll stick to the female student residences in this article and cover the guys' dorm rooms next time around. Enjoy.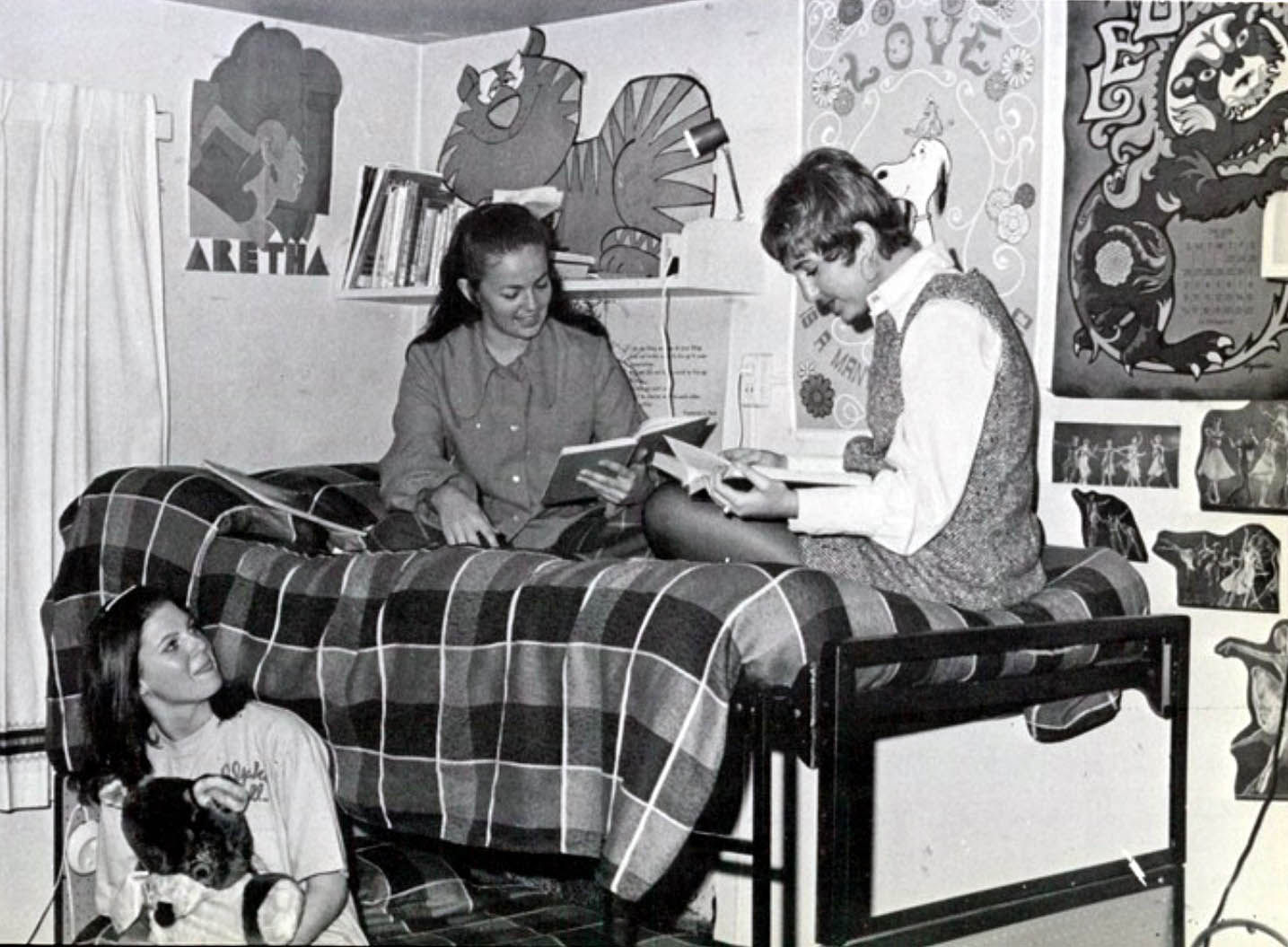 I love the Aretha and a hippy-peace Snoopy posters for this dorm room from 1970.  (You'll be seeing a lot more Peanuts posters – apparently, it was a national requirement for all female dorm rooms to have at least one Peanuts poster in 1970.)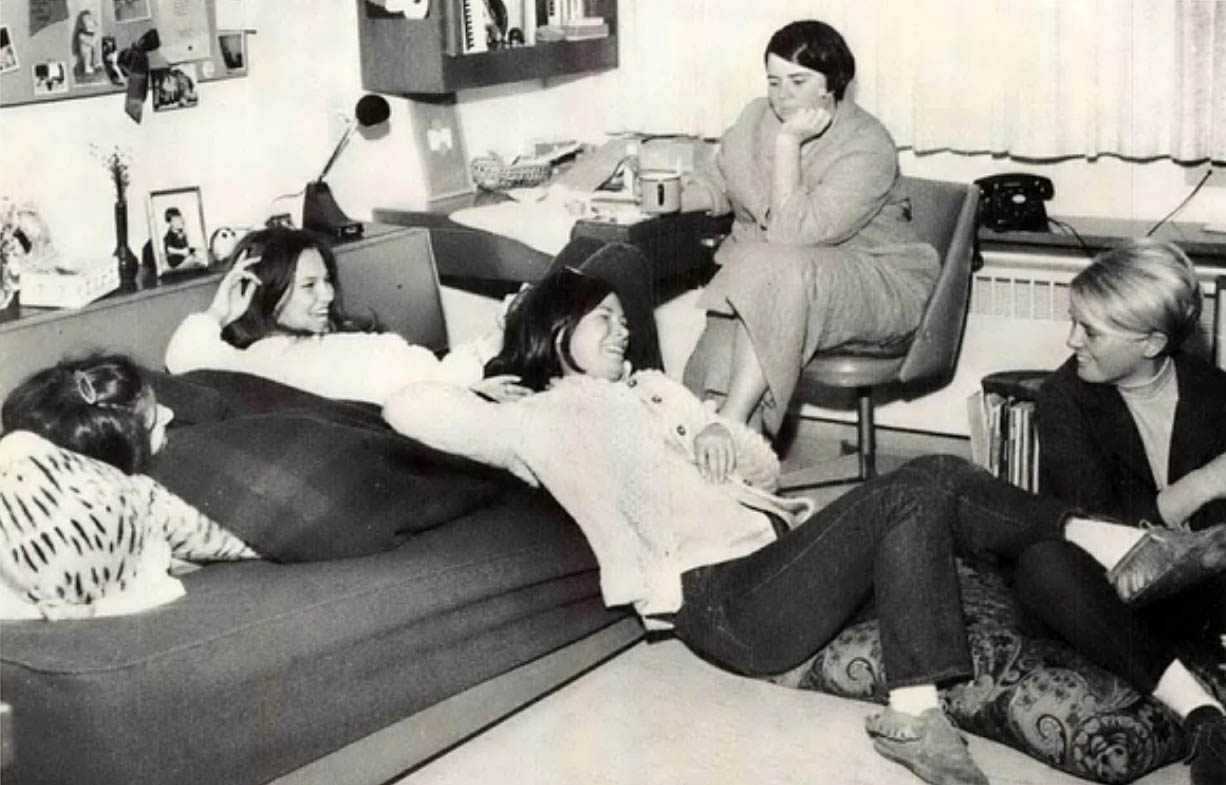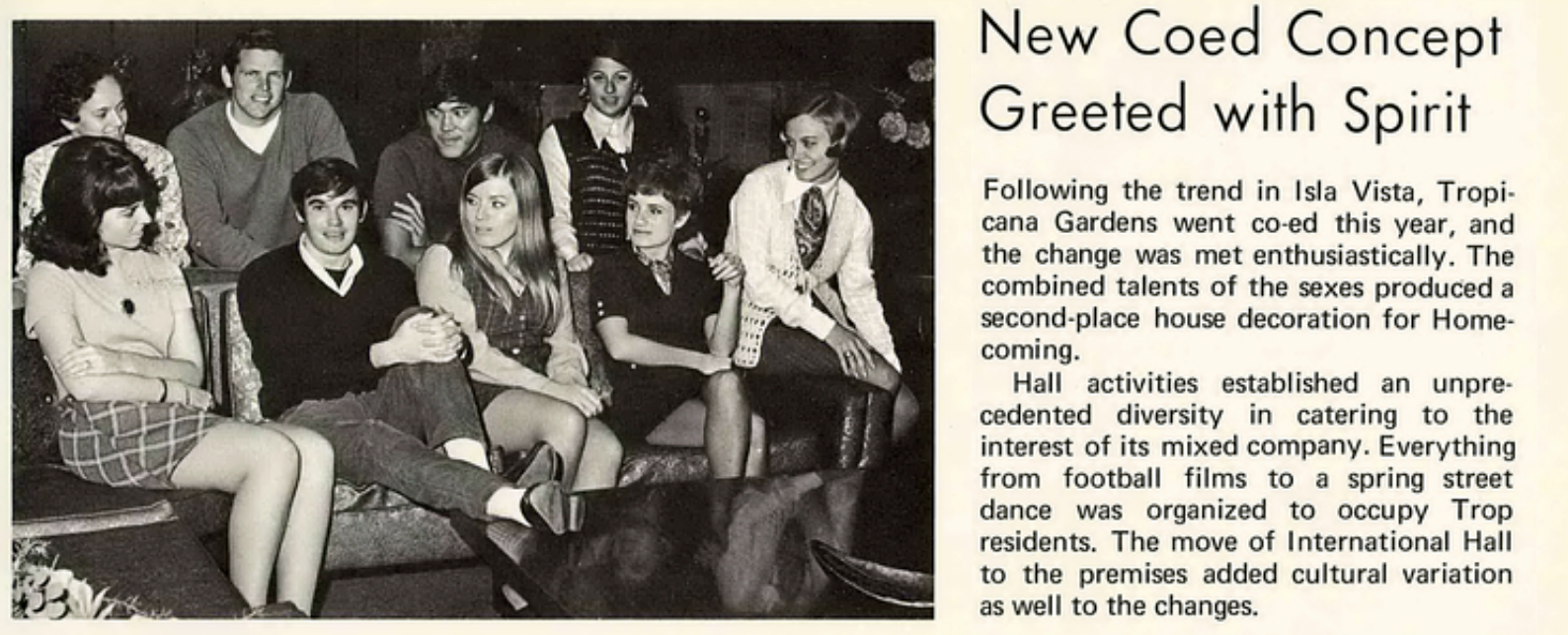 Going co-ed was a hot topic back in the day.  This particular dorm seems to be quite happy with the decision… and check out the look on the guy in the front – clearly this is the best thing that's ever happened to him.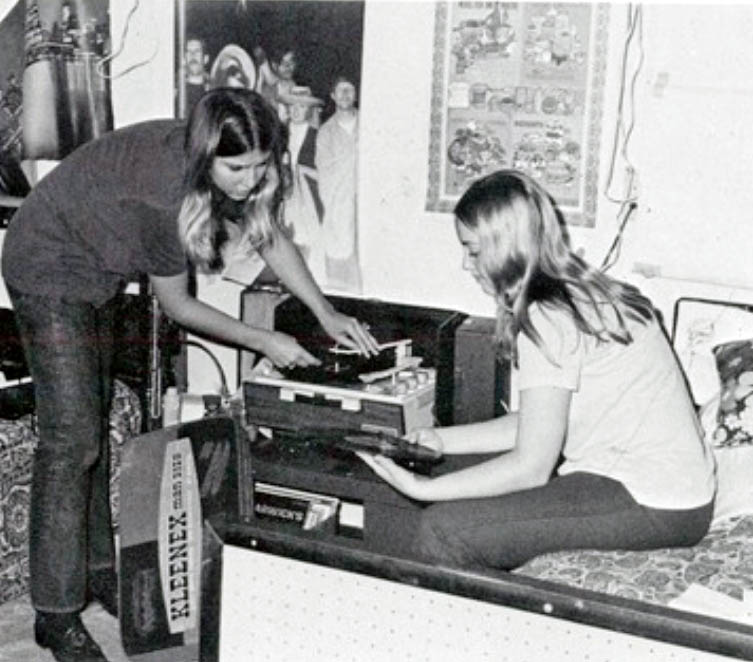 I wonder what record they're putting on the turntable.  It's 1970, so my money's on B.J. Thomas.  And what's with the giant Kleenex box?  I think this may actually be a pillow/cushion.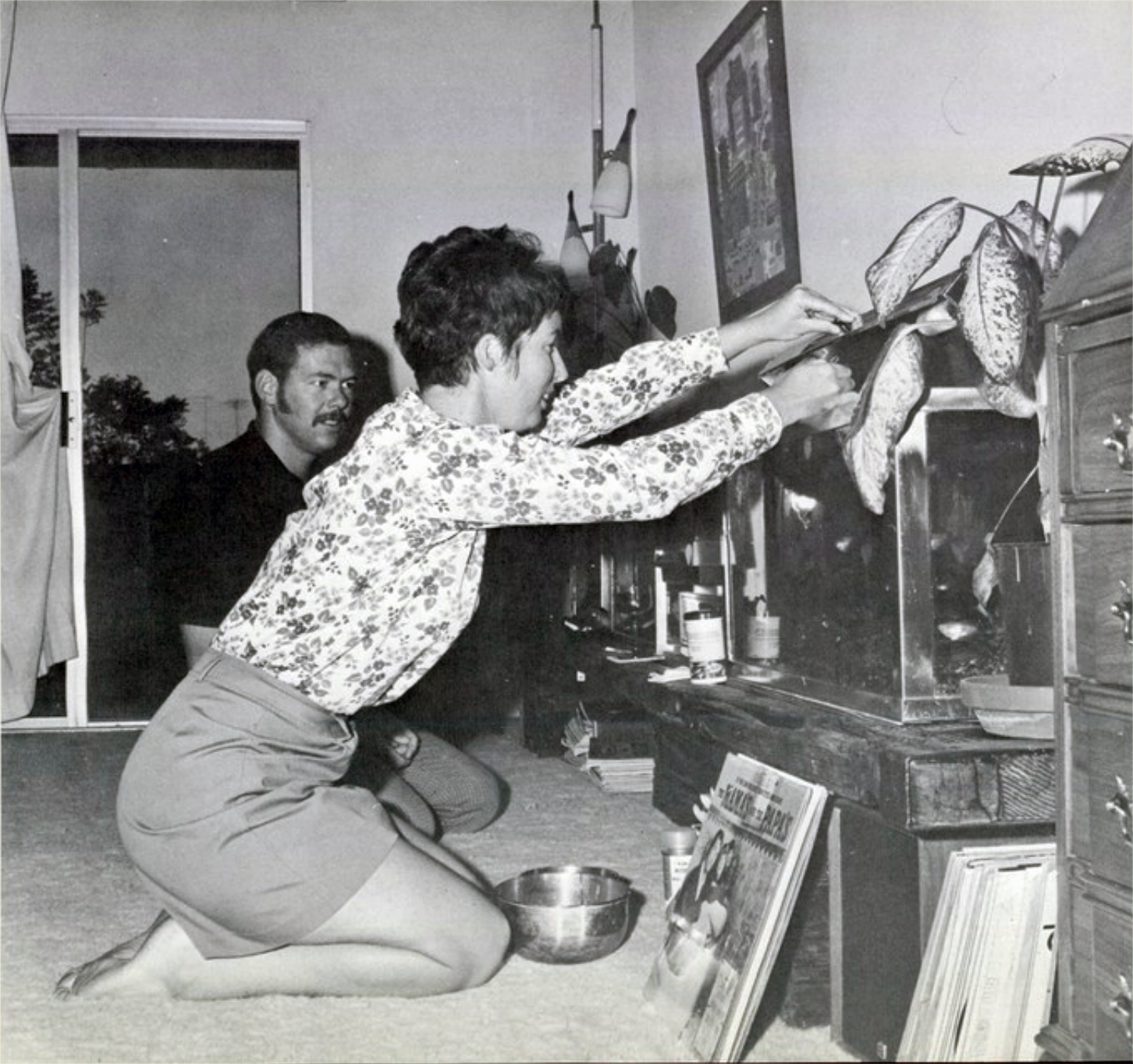 I spy a Mama's & Papa's album (If You Can Believe Your Eyes and Ears from 1966) in this photo from the 1970 San Diego State University Del Sudoeste Yearbook.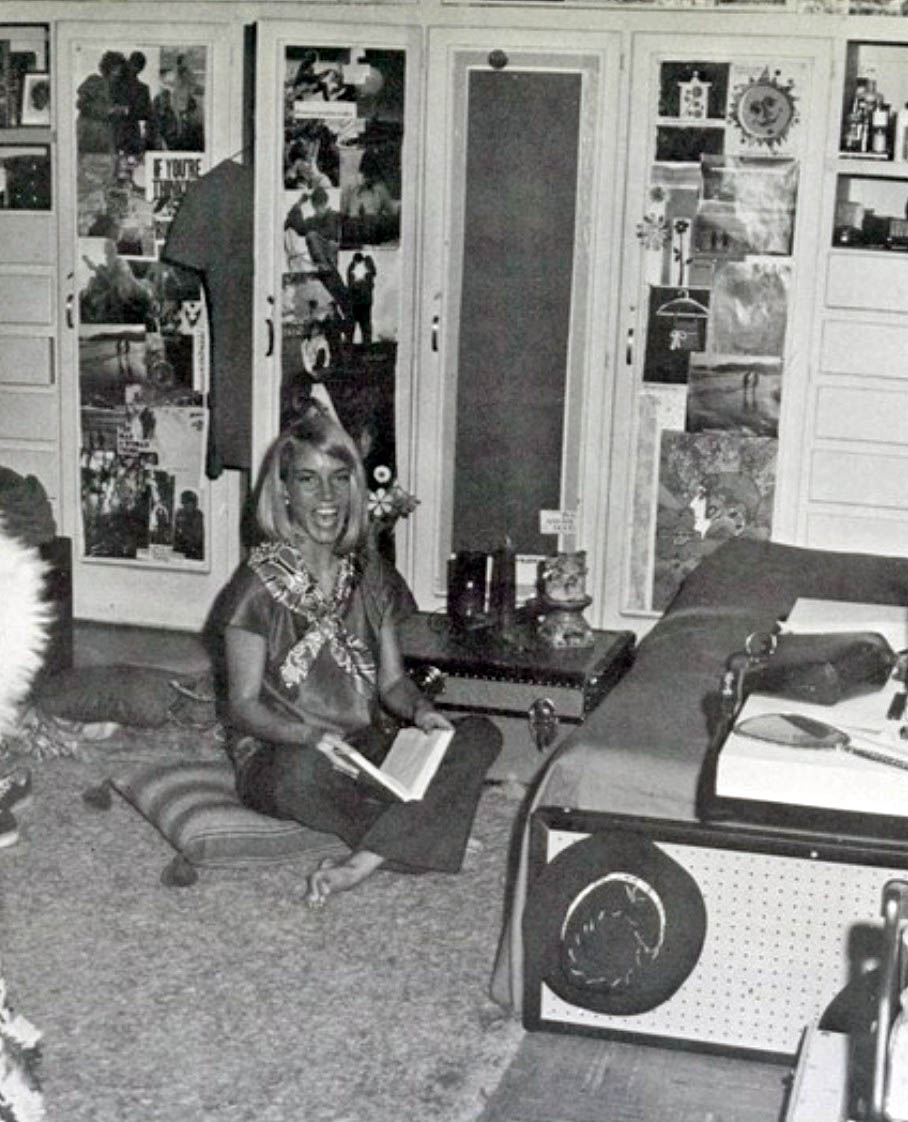 That was the thing in 1970 – decorate your dorm room by just tearing pages out of magazines and lighting a few candles (to hopefully mask the weed).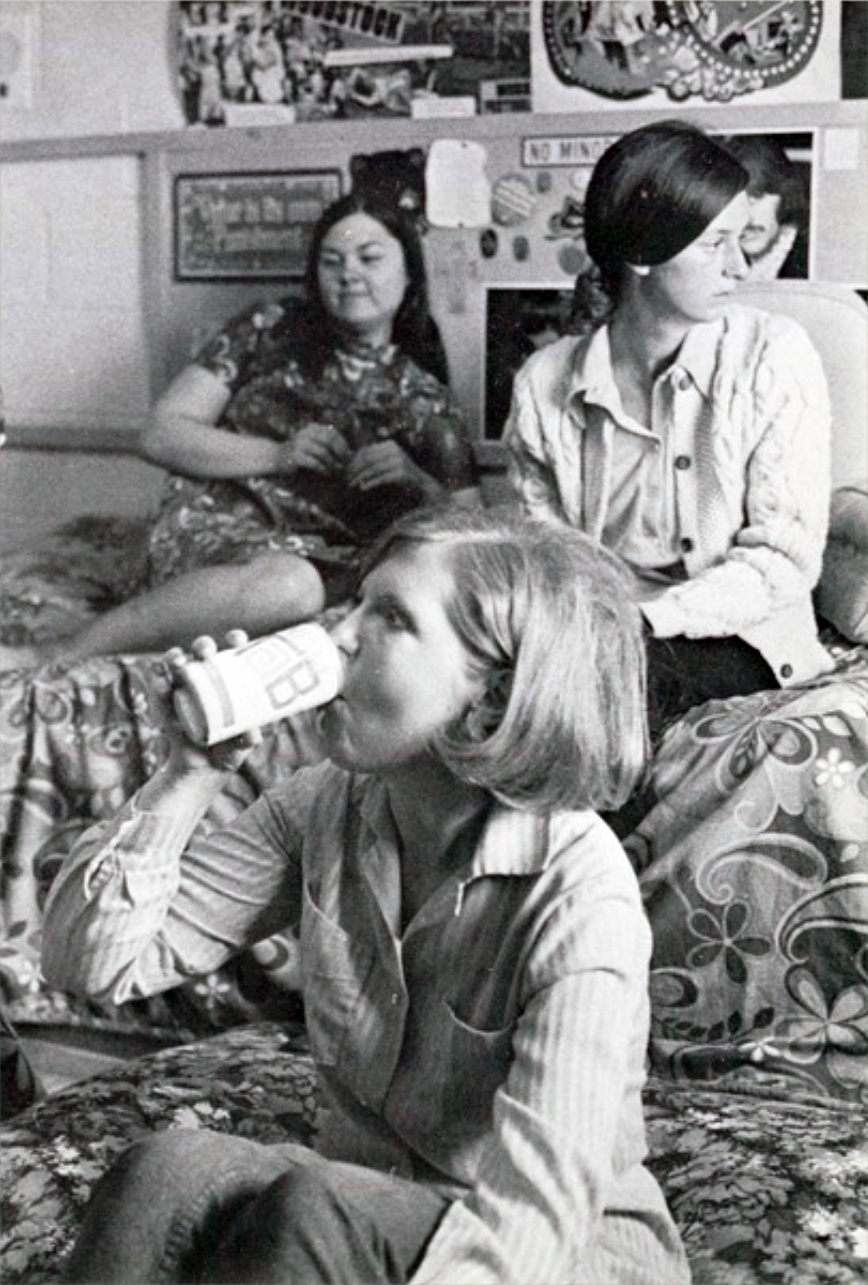 I love this – just chugging a pop-top can of Tab with a Woodstock poster in the background.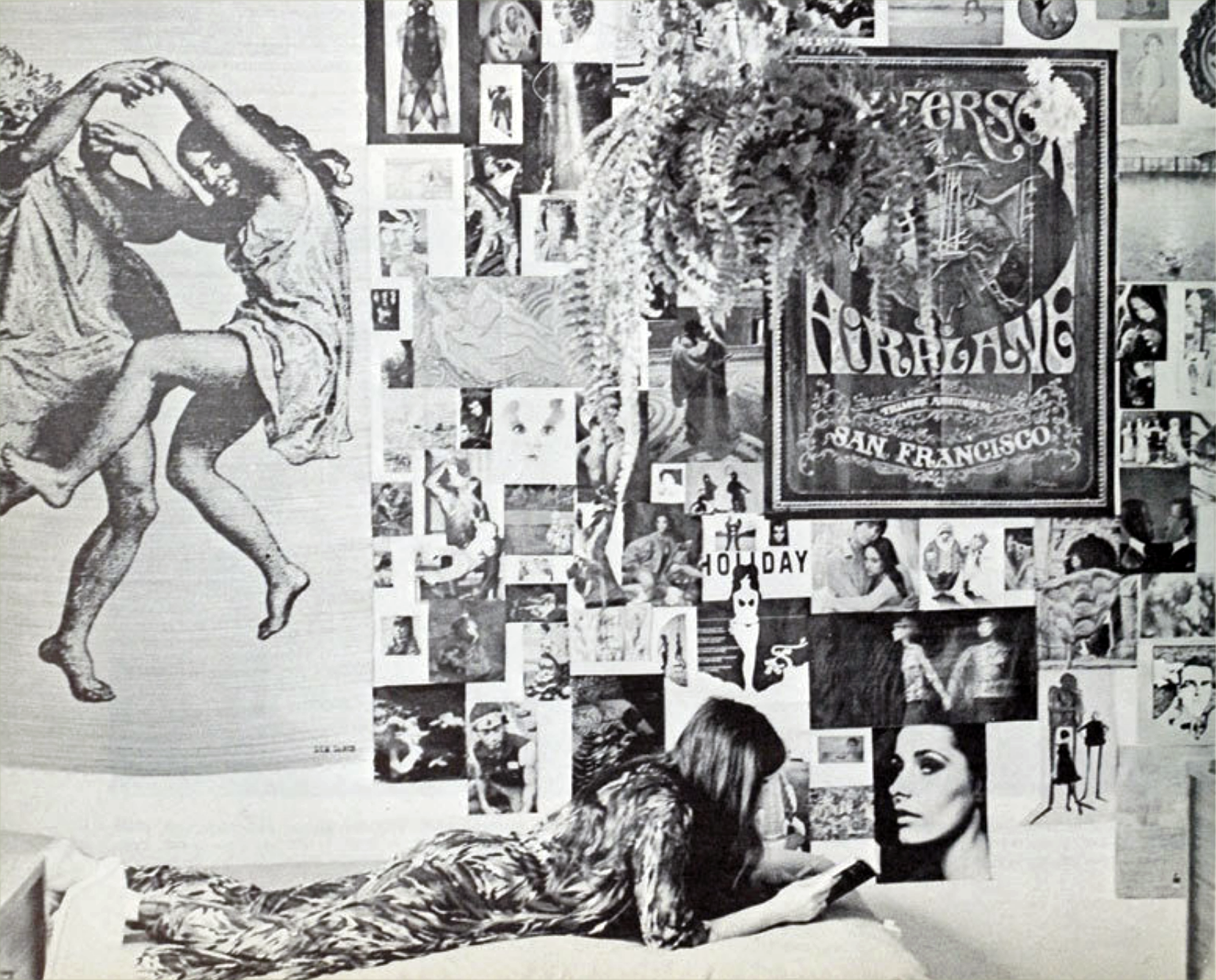 Dorm room at University of California Santa Barbara – 1968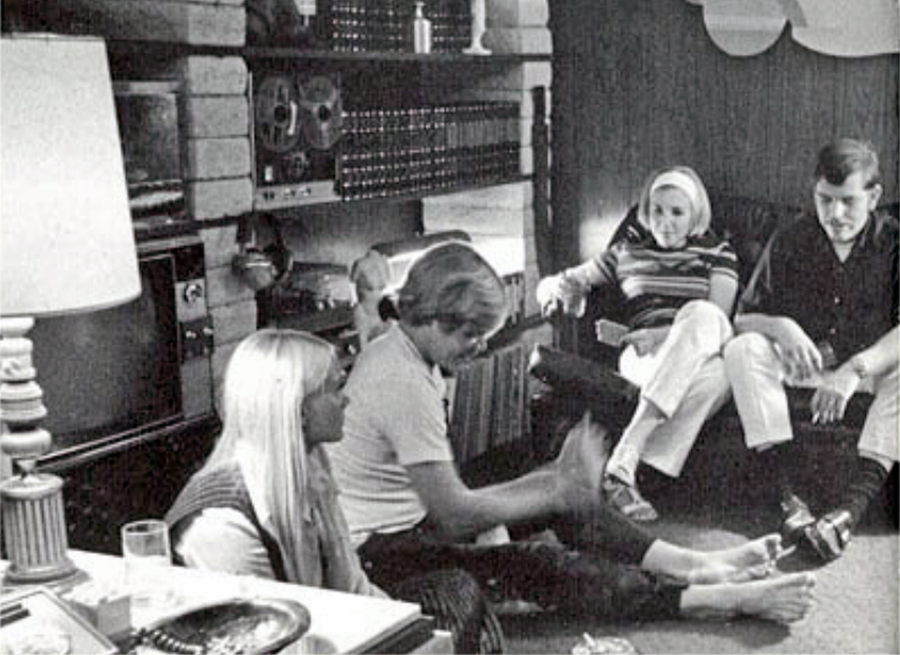 Not quite sure what this guy is frantically doing here, but the married student housing definitely had a leg up on the rest of the dorms.  Here we're living the dream with a TV, record collection, reel-to-reel and a telephone (entire dorms used to have to share a single telephone).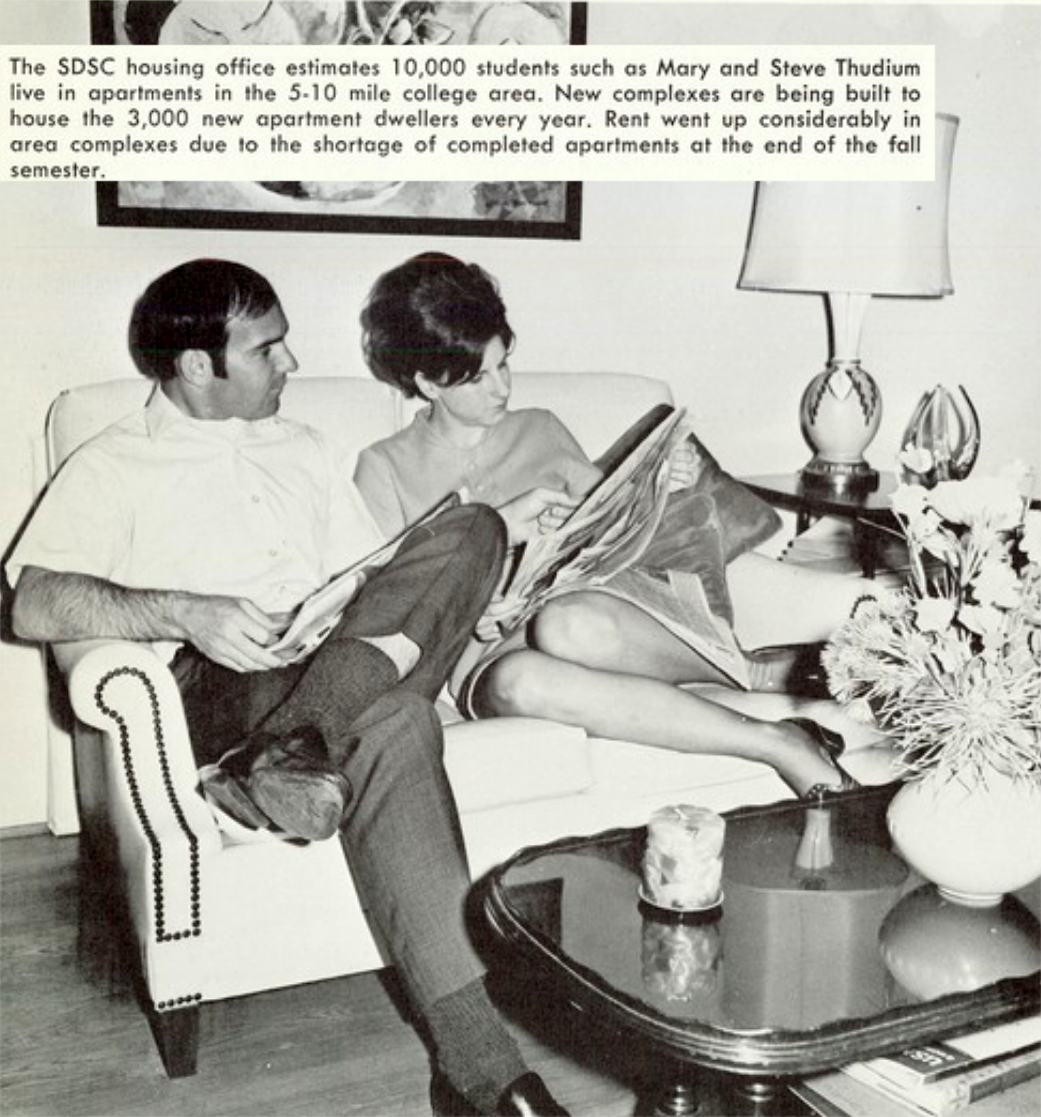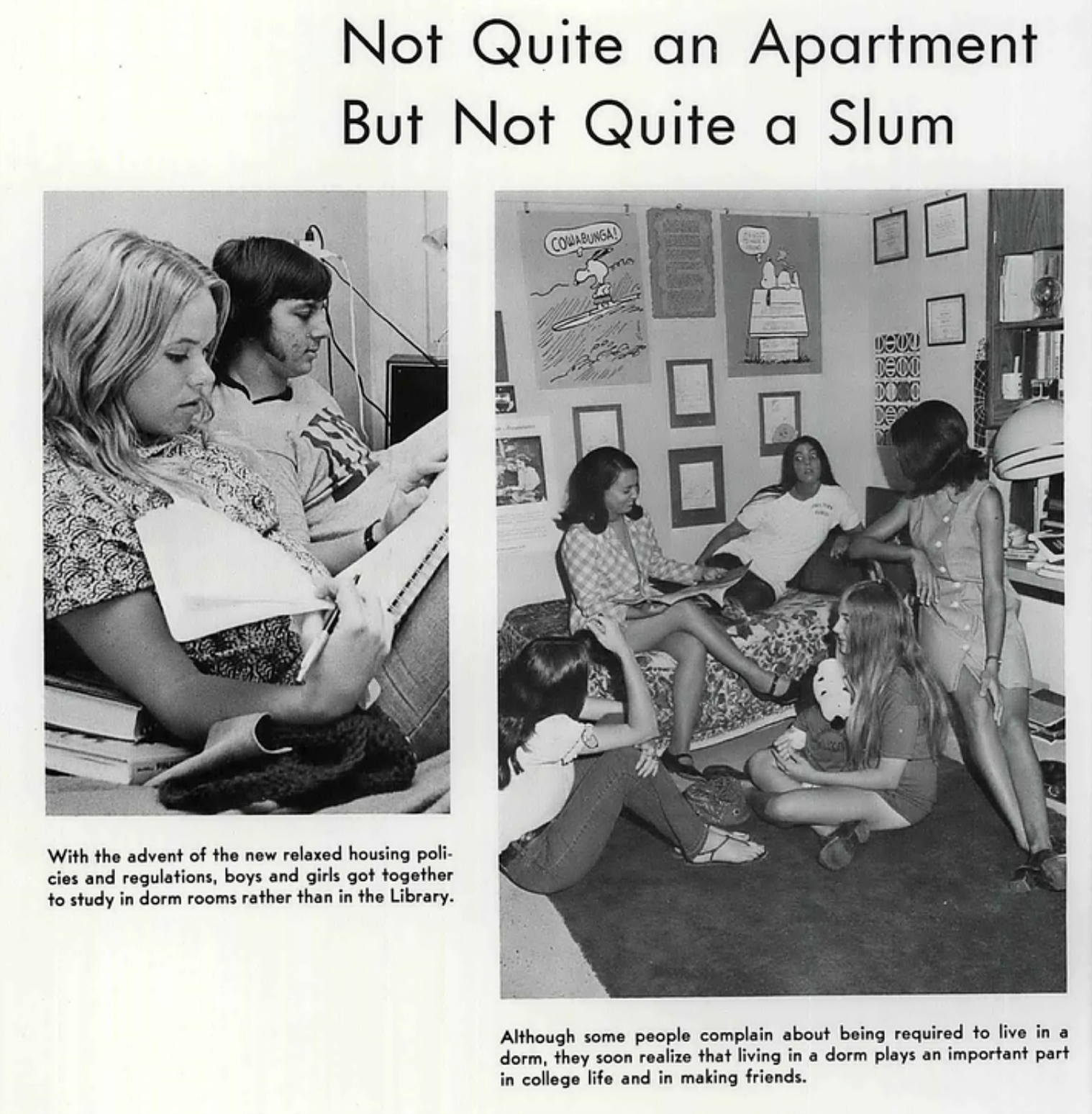 "With the advent of the new relaxed housing policies and regulations, boys and girls got together to study in dorm rooms rather than in the library."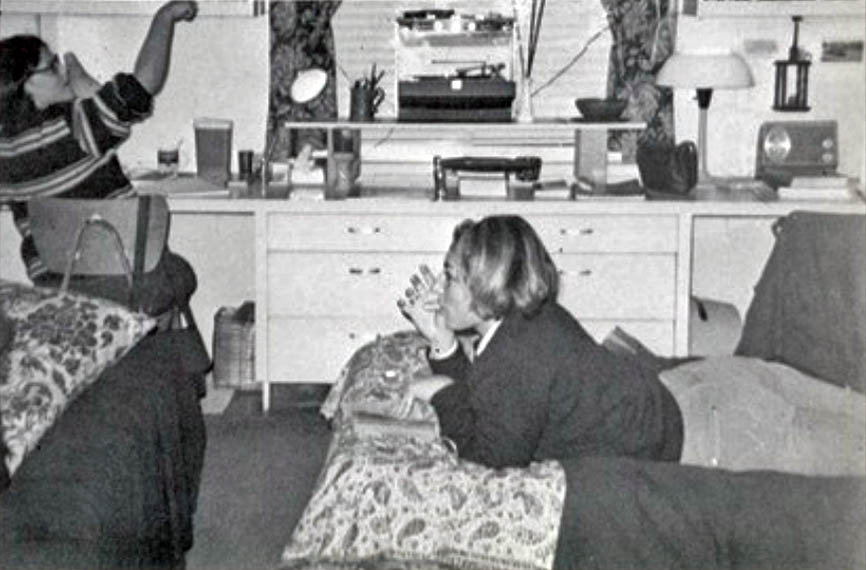 California Western University (San Diego, CA) 1970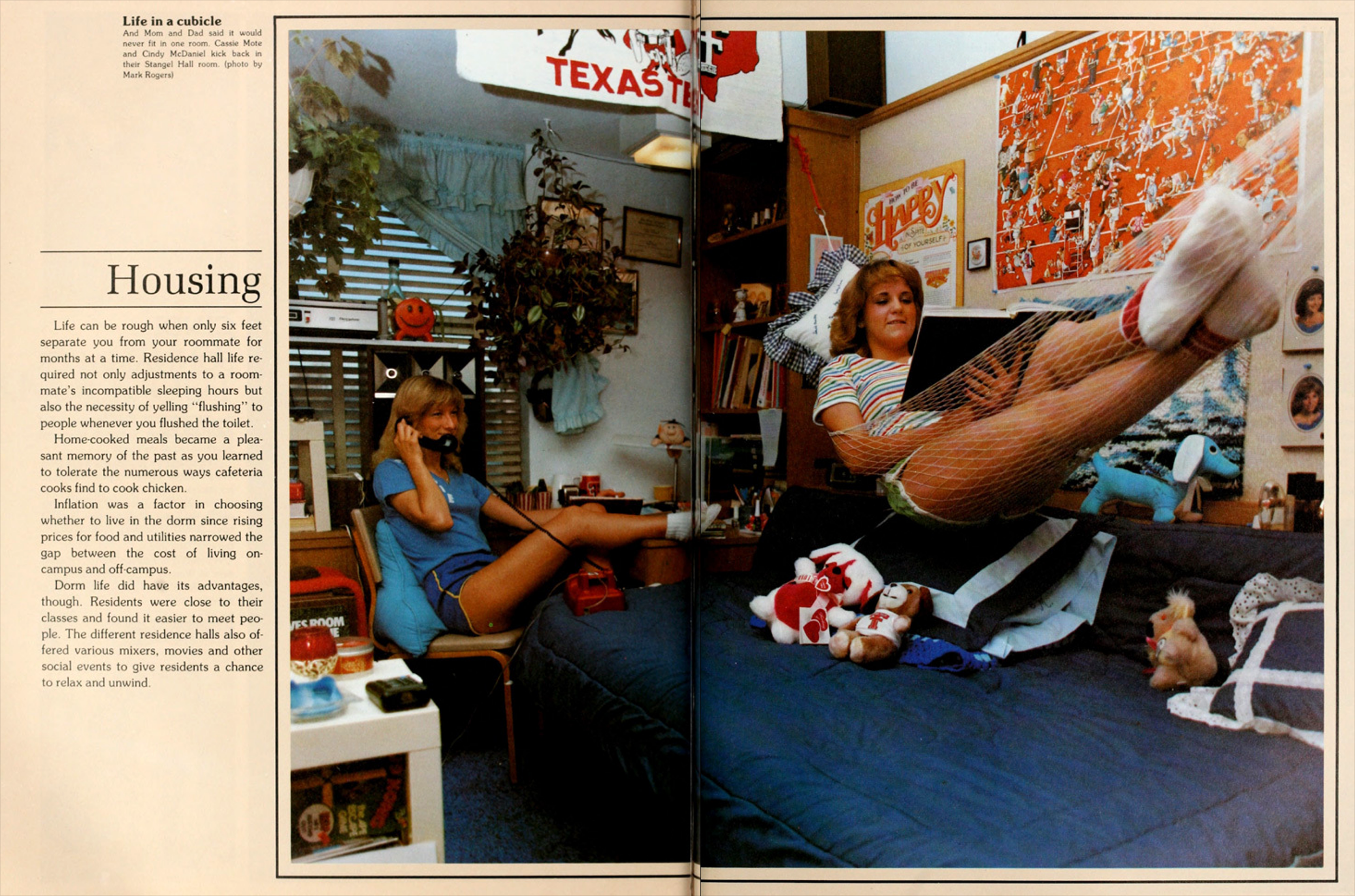 "Life can be rough when only six feet separate you from your roommate for months at a time.  Residence hall life required adjustments not only to a roommate's incompatible sleeping hours but also the necessity of yelling "flushing" to people whenever you flushed the toilet."  (Texas Tech, 1982)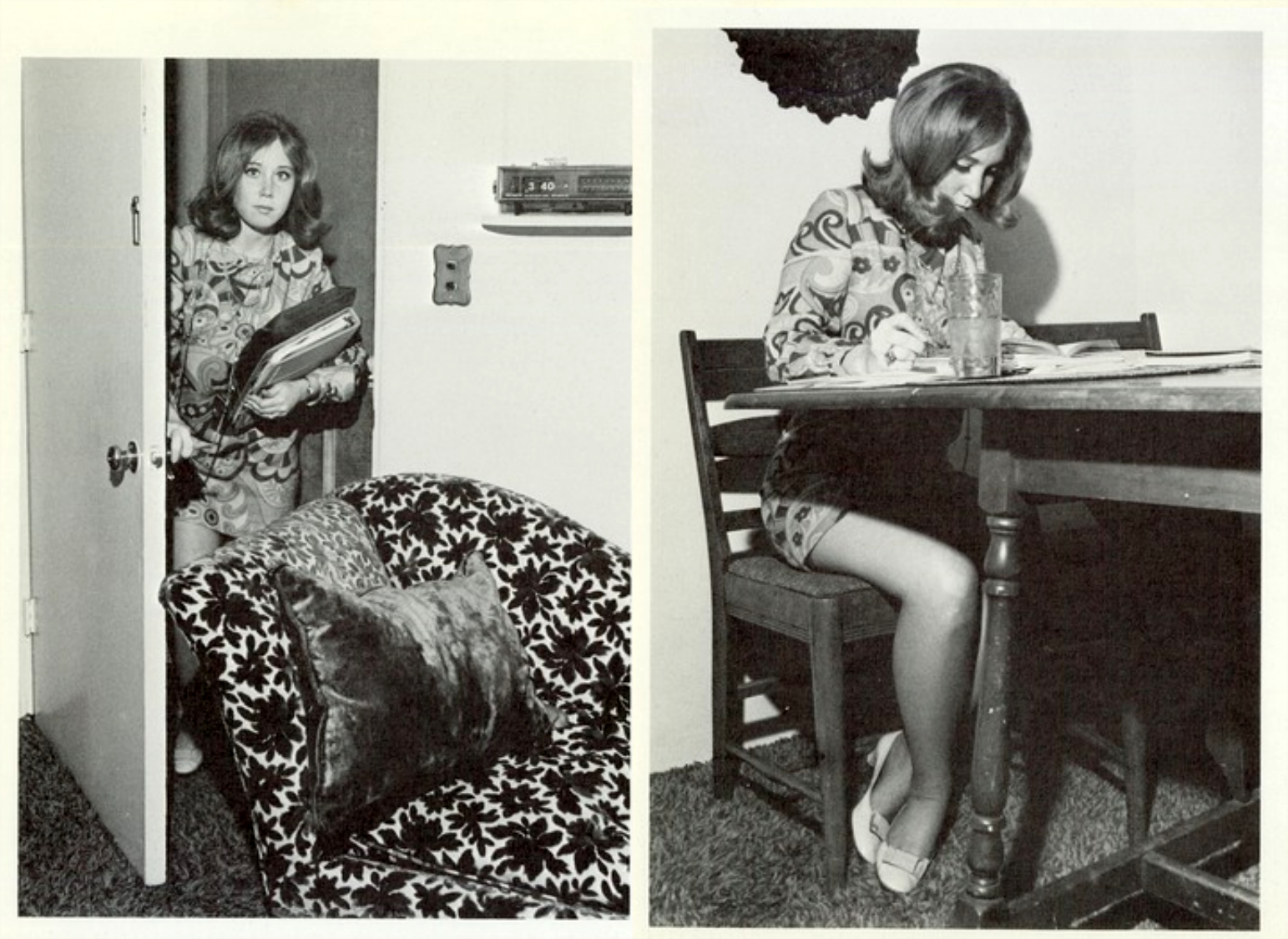 Above and below are from an article profiling the life of a graduate student at San Diego State in 1970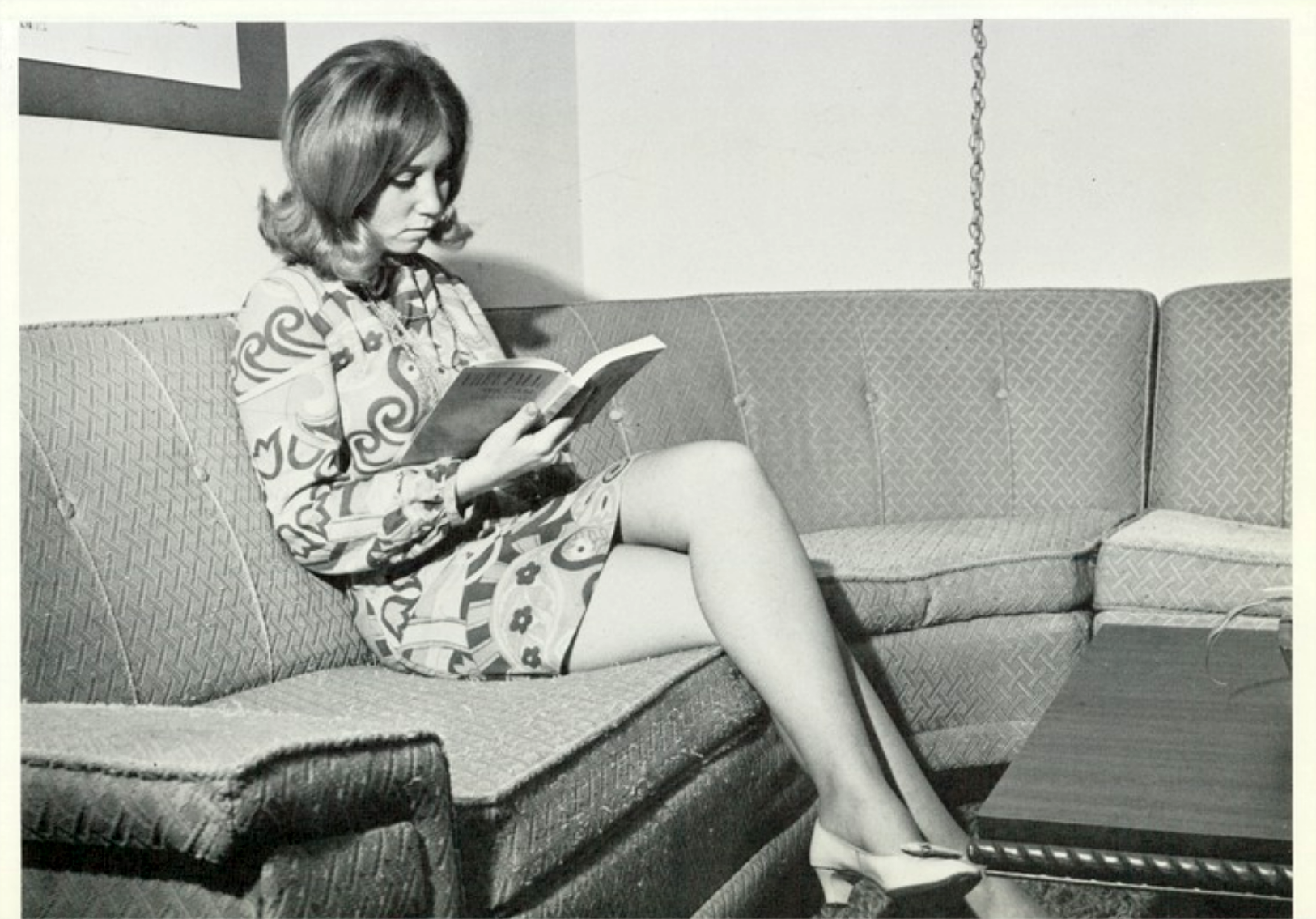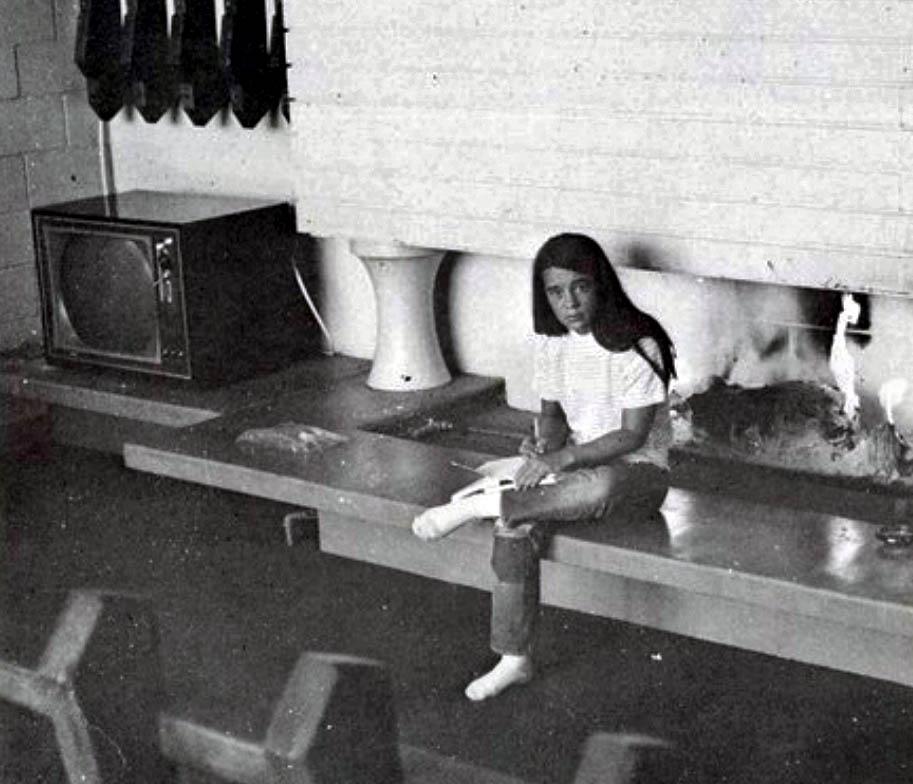 Not only did dorm residents share a single telephone, they also often shared a single B&W TV.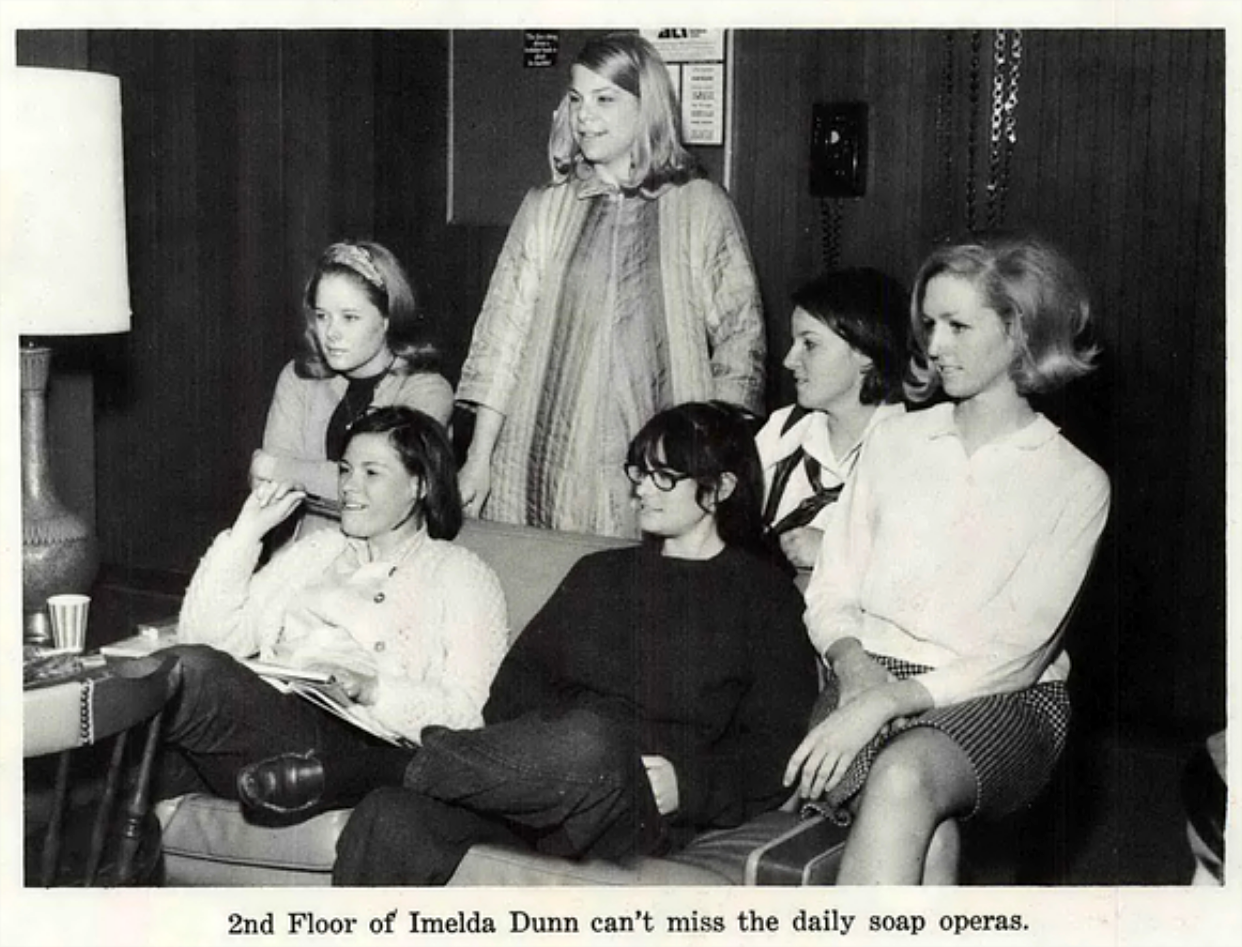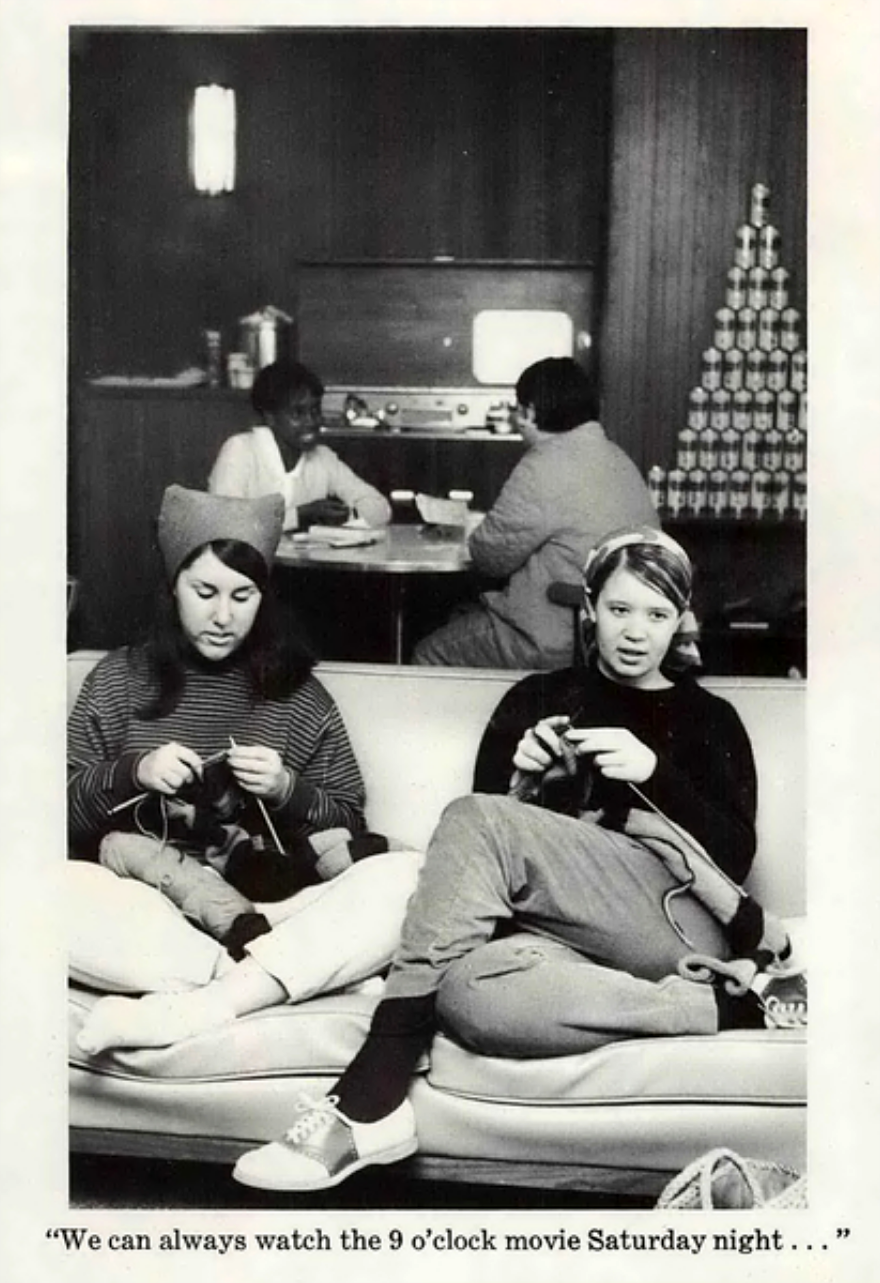 Take note of the stacked beer cans in the background.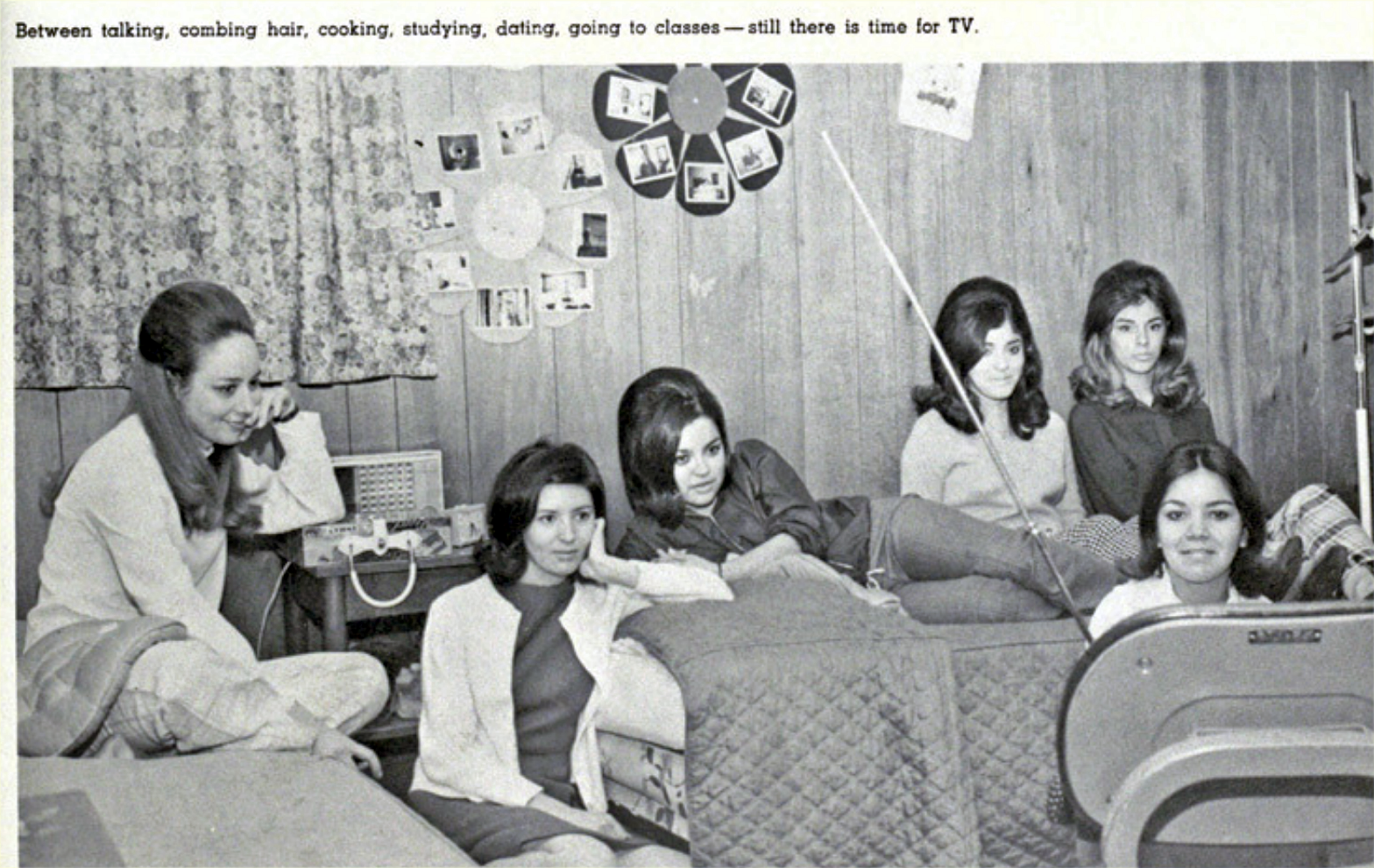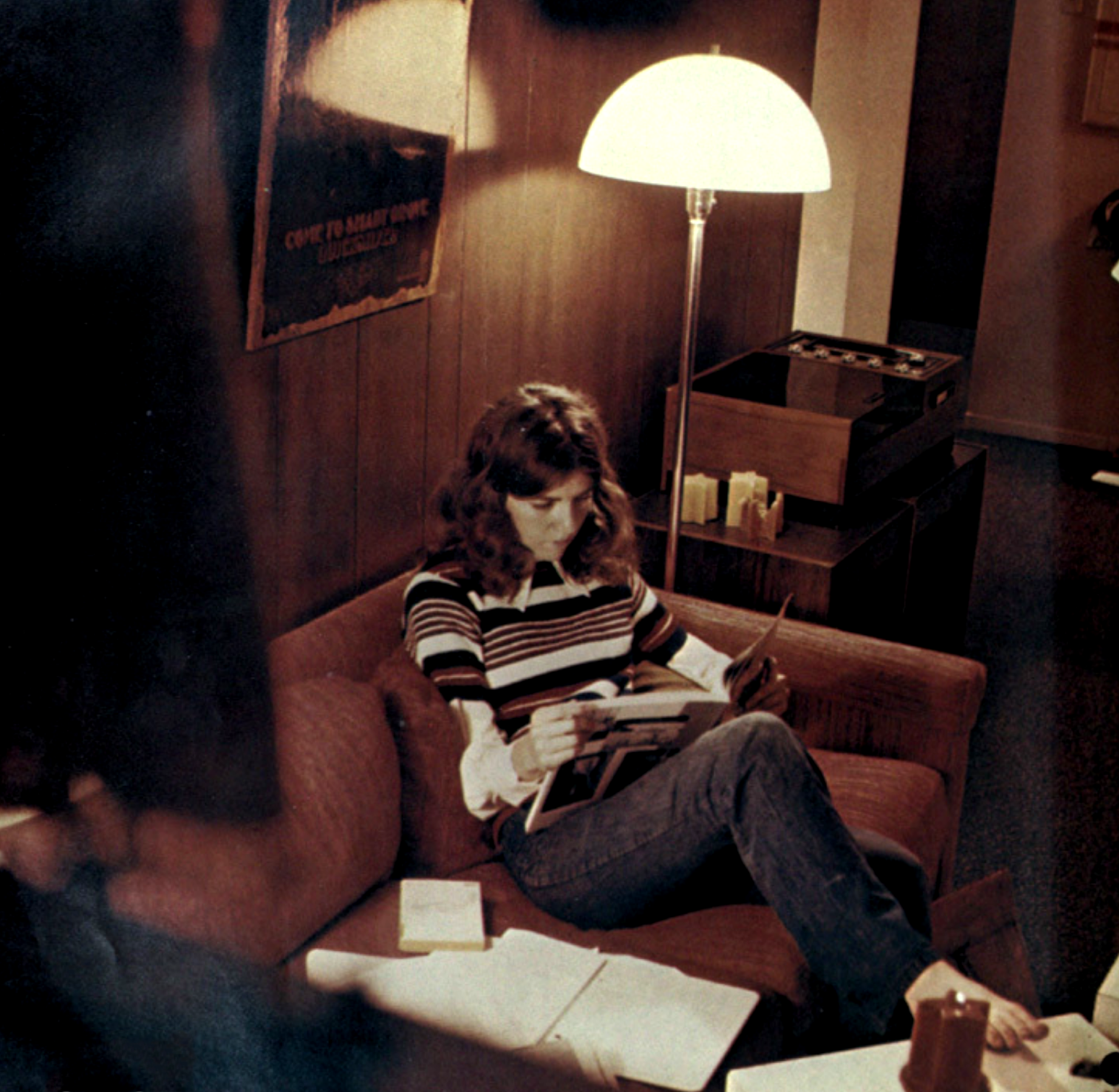 Texas Tech University – La Ventana Yearbook (Lubbock, TX) – Class of 1973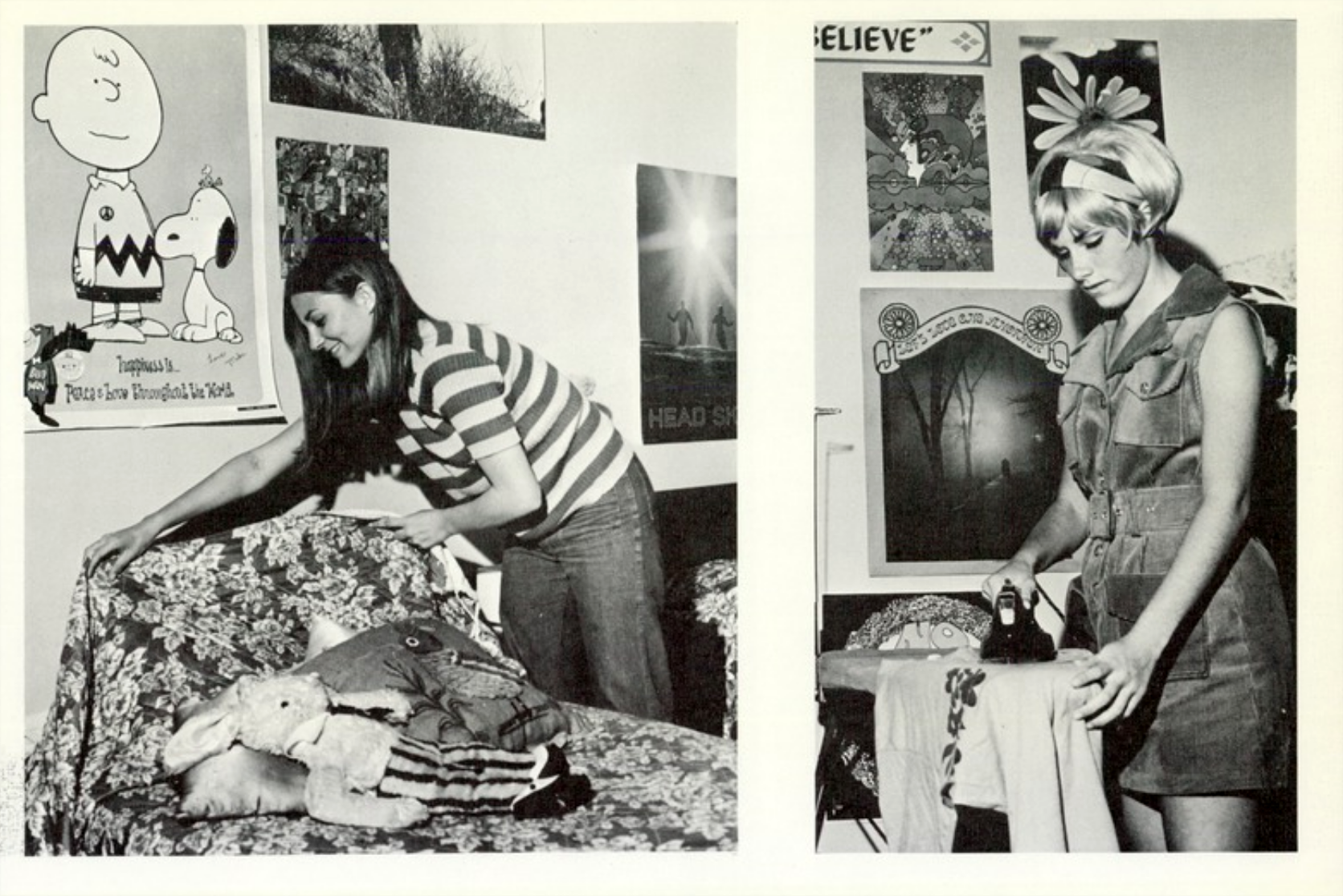 The Peanuts poster reads "Happiness is peace and love throughout the world". 1970 definitely was the year of the hippy peace loving college girl.
"Apartment life is exciting and challenging, especially for newly-weds like Harvi and Bill Callaham.  Theere are many new people to answer to about – many new problems, like rent and bills – many confusing situations, like realizing there is no one but you who can pay the rent and bills."
Wow, how times have changed.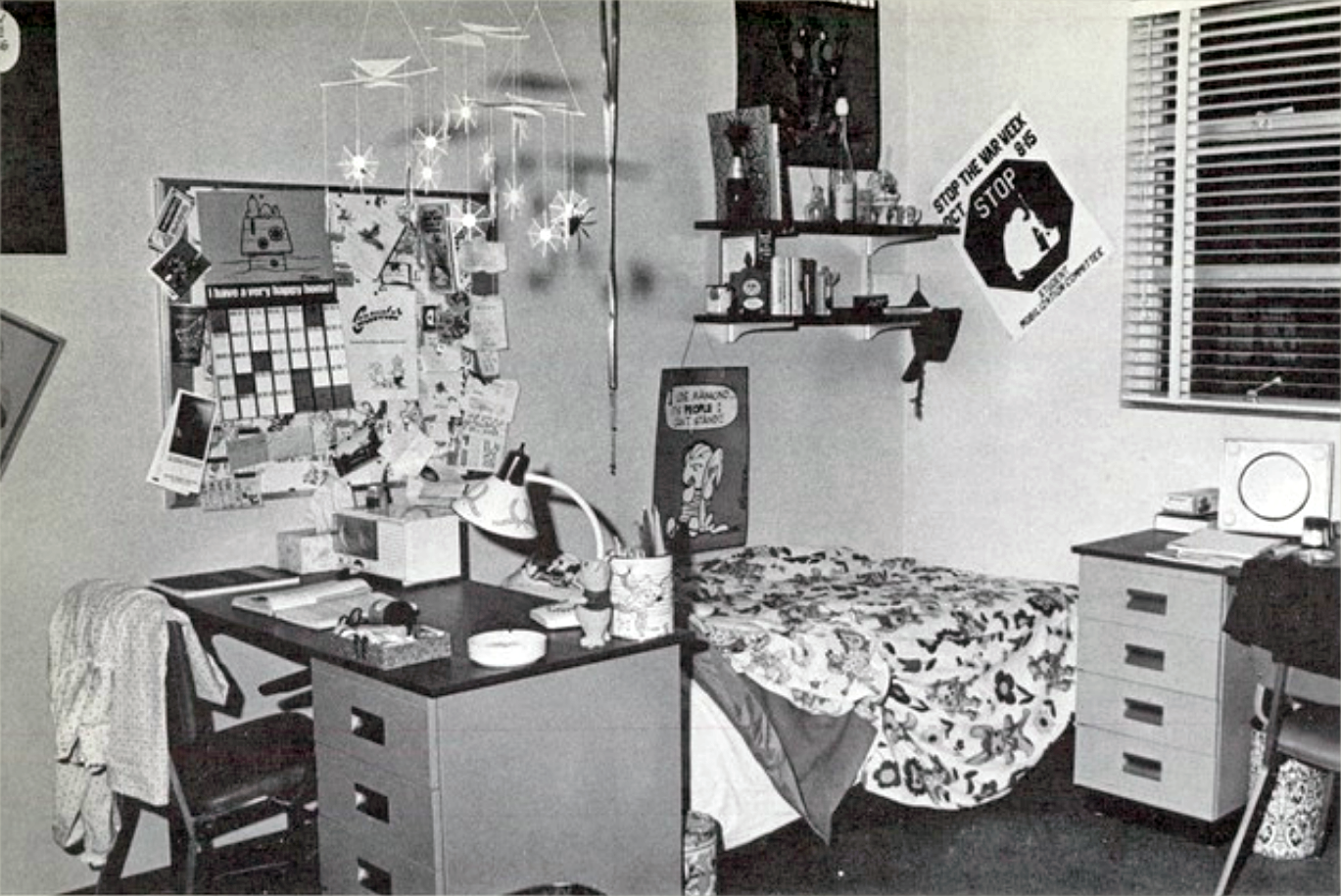 One poster reads "Stop the War Week"… and is it just me, or do you notice an unexpected amount of Peanuts posters in these rooms? These images are taken from colleges across the country, and nearly all the female students, regardless of geography, have Peanuts posters.
The dorm below (University of San Francisco, 1973) opted out of the Peanuts posters… and went with the infamous Burt Reynolds nude centerfold instead.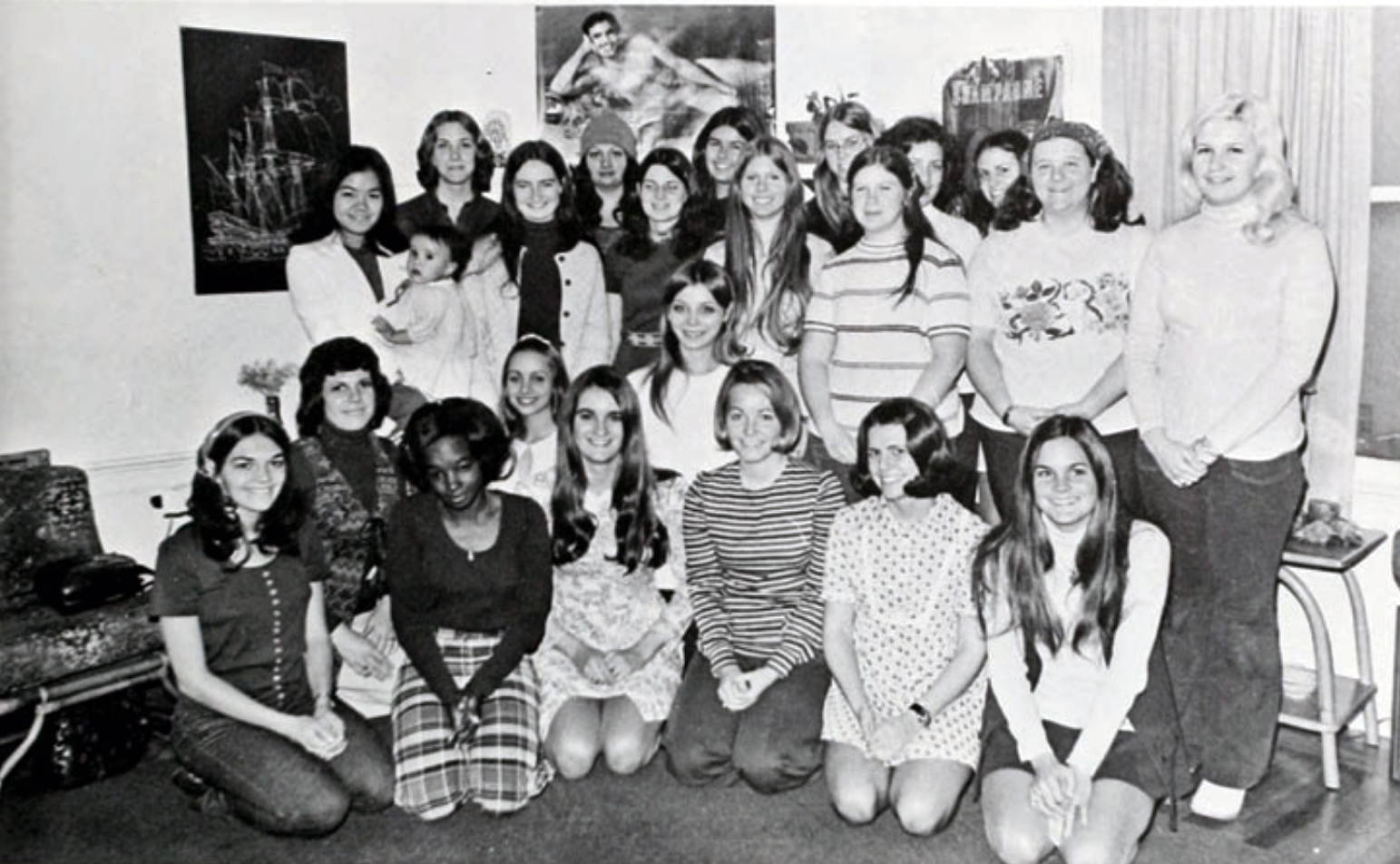 Next, instead of Burt, we have Paul…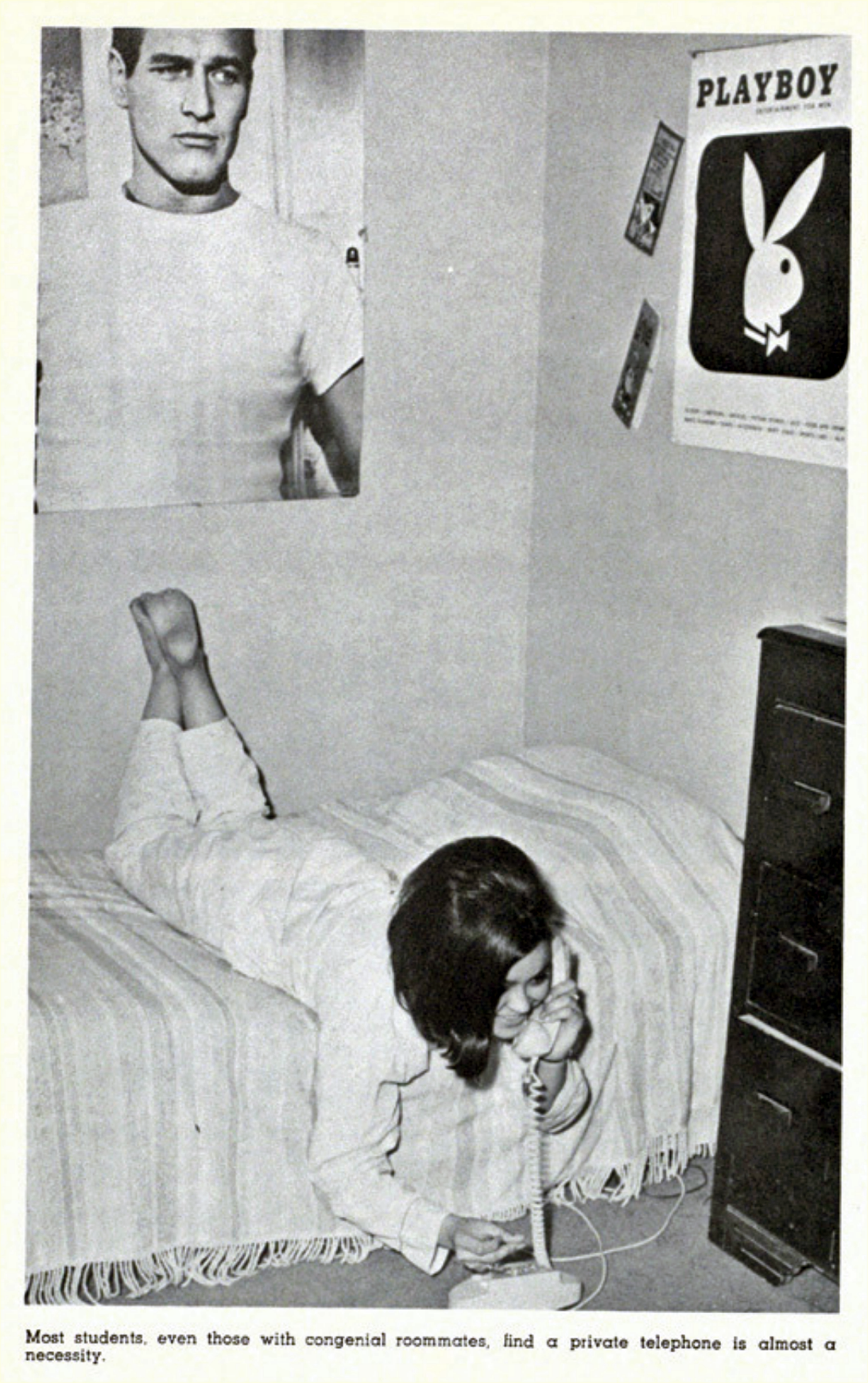 Man, the Playboy magazine brand sure took a nose dive in a few years.  In 1969 it's perfectly normal for a college girl to have a bunny poster in her dorm.  For more college Playboy shenanigans, see: Playboy in the Yearbook.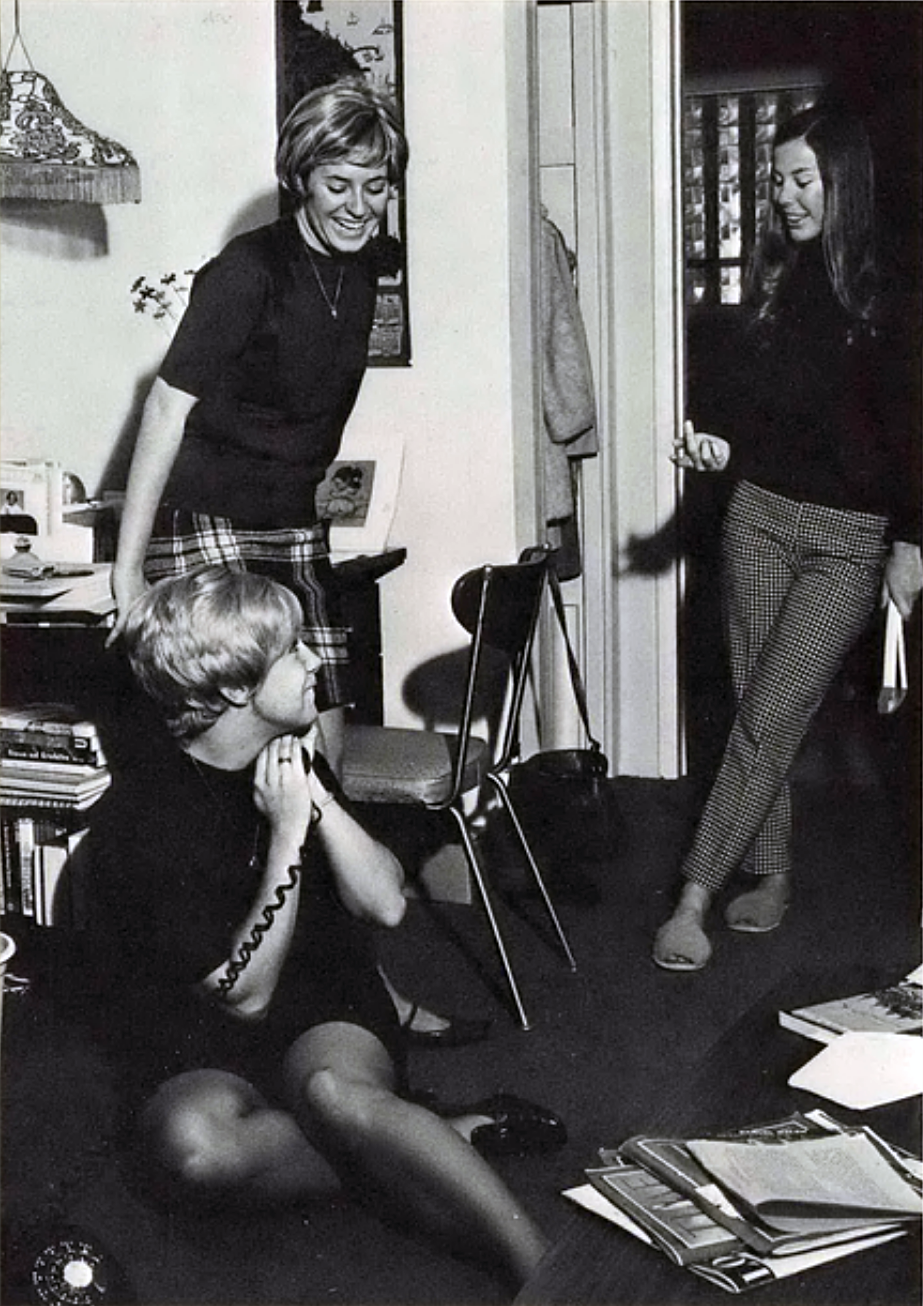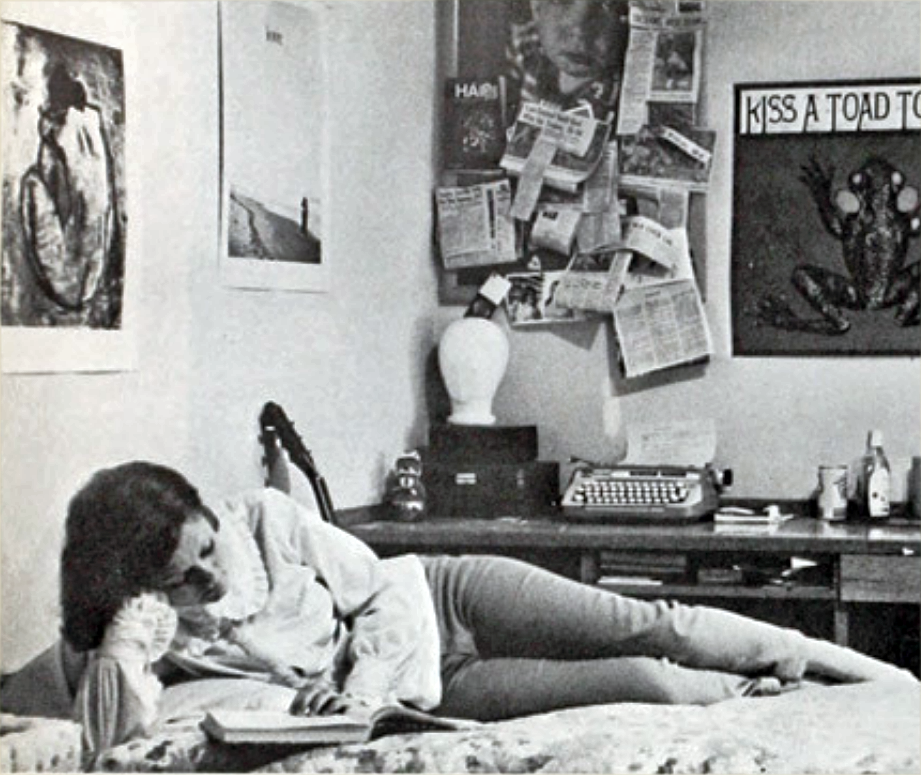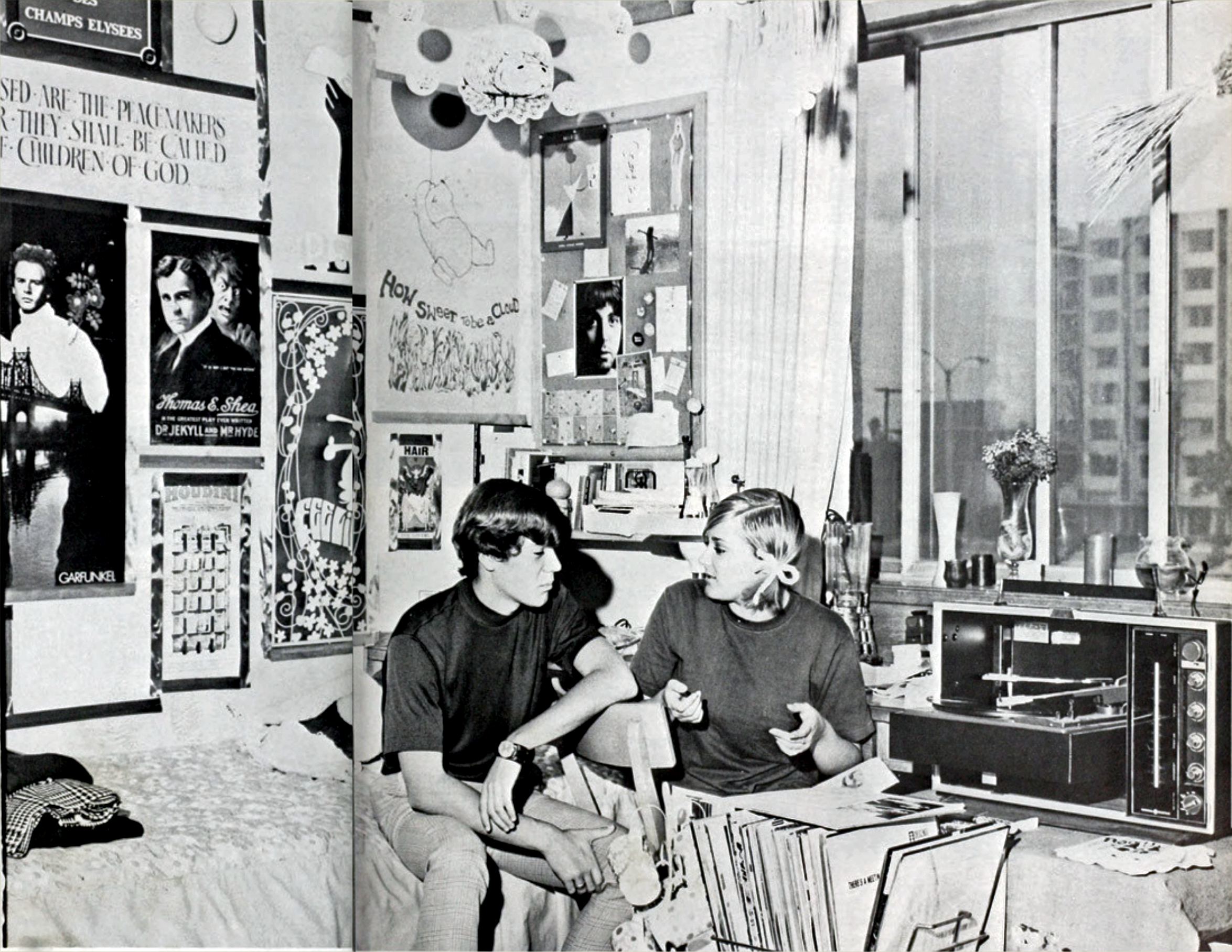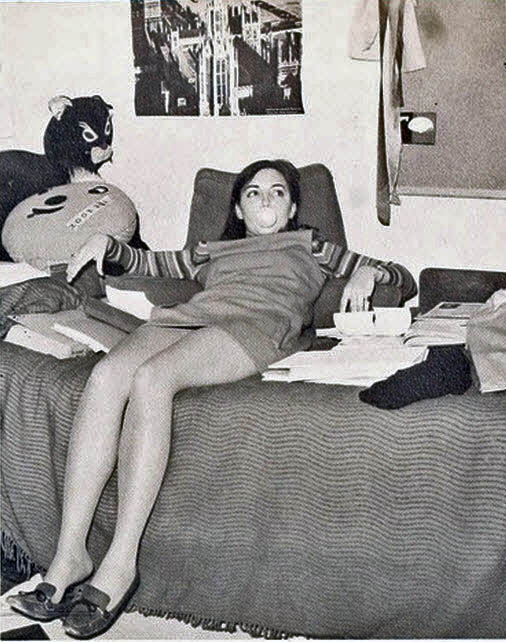 Well, I think I've seen enough hippy posters and flower-power bed linens for one day. Until next time, when we cover the guys' rooms… which I think have a different look altogether….