Whether it was the micro-mini skirt uniforms on Star Trek, the sex slaves of Logan's Run, Barbarella's see-through spacesuit, or the Moonbase girls on UFO,  science fiction, more often than not, featured eye candy for the primarily male audience.  Even the black and white films of the 1950s were prone to feature alien ladies in bikinis or skimpy attire.  Indeed, the first appearances of the miniskirt on the big screen came via Dale Arden on the old Flash Gordon films and Ann Francis in Forbidden Planet.
But in the late 1960s, sci-fi kicked things up a notch… rather, a dozen notches.  As censorship laws and cultural taboos relaxed, cinemas were flooded with sleaze.  As the censors fell asleep at the wheel, more and more graphic material to the big screen… and sci-fi was no exception.  A number of "X" rated and adult-oriented science fiction flicks arrived at local drive-ins and midnight shows across the western world.  Let's have a look at examples from the 1970s, as well as a few from the 1960s….
SPACED OUT (1979)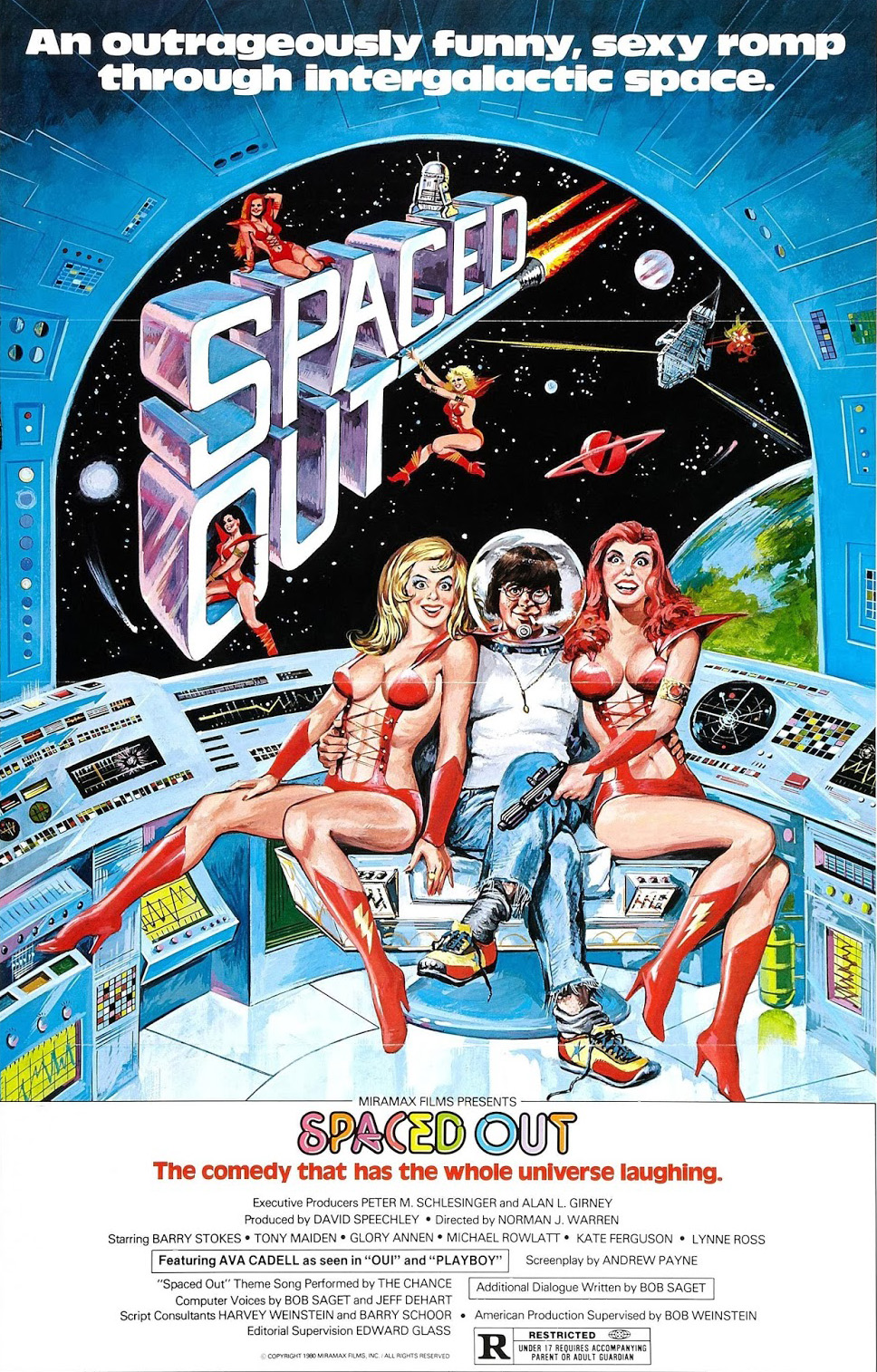 Sort of a sci-fi version of the Confessions films.  Space babes abduct some guys and find out about this thing called 'sex'. The director would later do Horror Planet (1981) and Bloody New Year (1987).
2069: A SEX ODYSSEY (1974)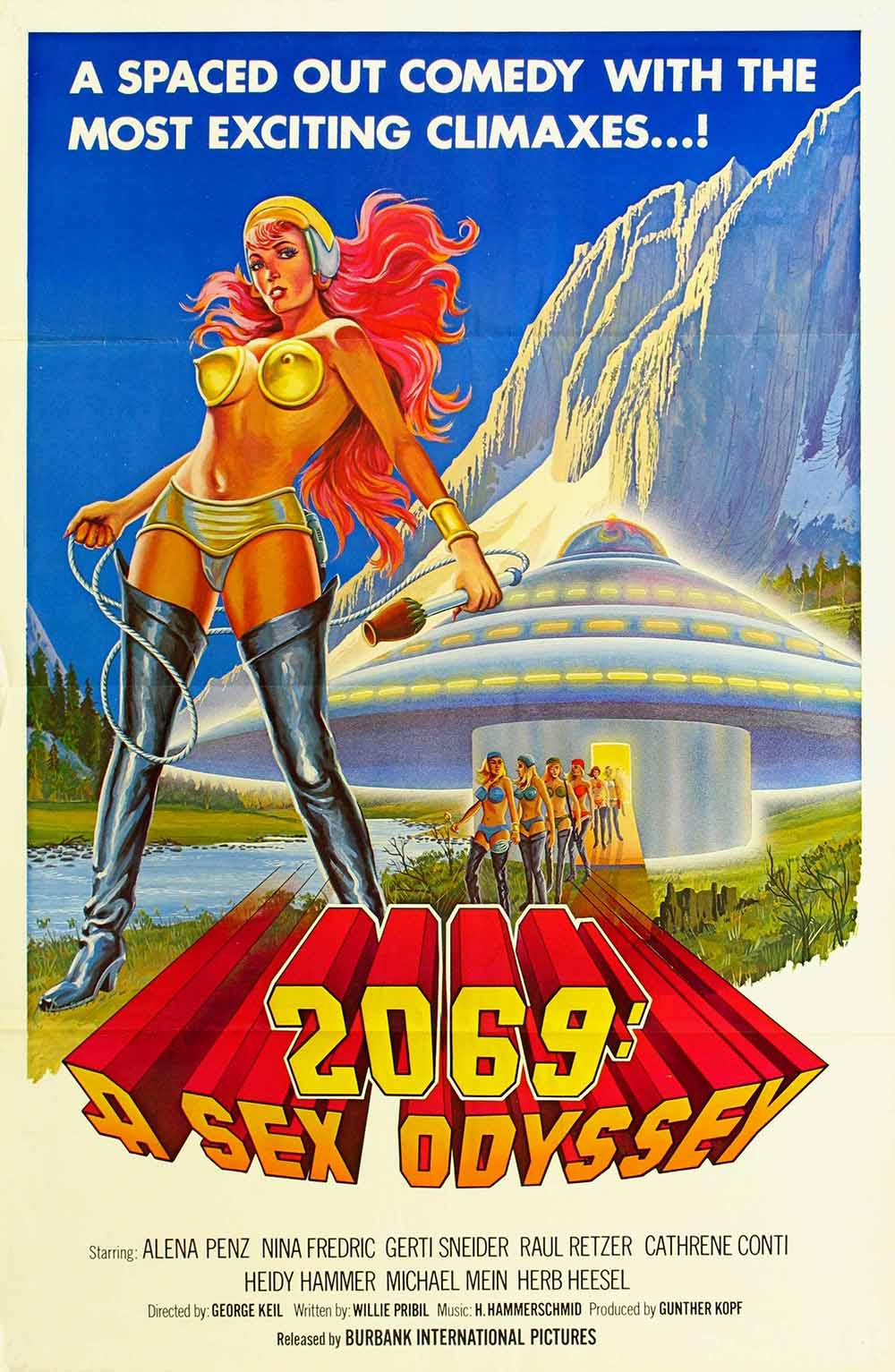 A sci-fi sexploitation flick from Germany featuring space maidens in search of sperm to bring home to Venus.

Their ship lands in an idyllic Bavarian village nestled in the mountains. Each space girl departs, and we follow their individual quests for baby batter.  Men are brought back to the ship and have their sperm extracted.

Naturally, it ends with the space babes shedding their space uniforms and getting butt naked at the local Bavarian dance hall.  It's actually fairly tame by today's standards, but was an X-rated drive-in favorite back in the day.
THINGS TO COME (1976)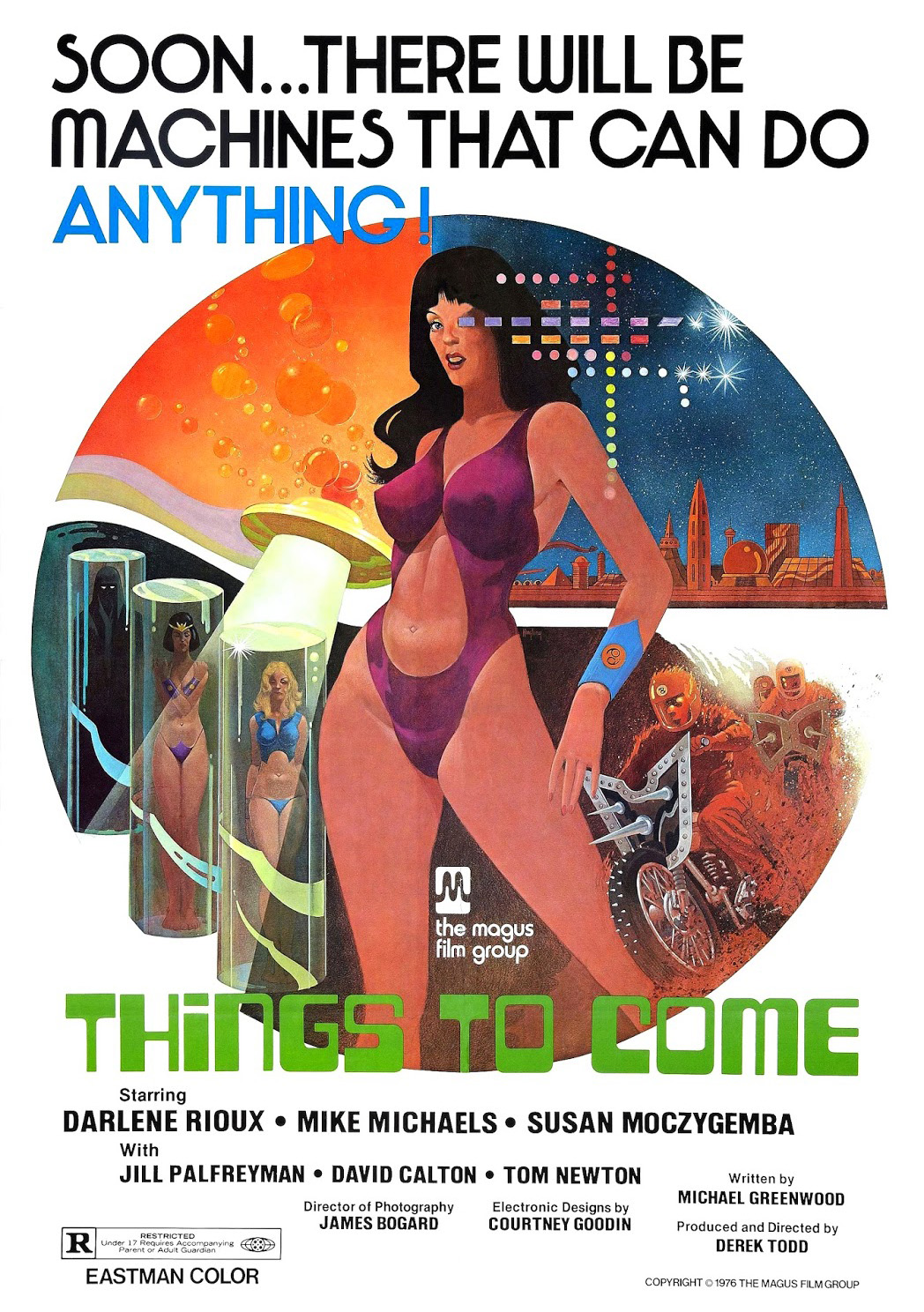 It's like Logan's Run, but with more sex and less plot.  A future society is obsessed with tech supplied sex; it will take a rebellion to turn things around.  A rare example of a film that would have been much better with all the explicit sex cut out.  Beneath all the sleaze is an actual good picture.
INVASION OF THE LOVE DRONES (1977)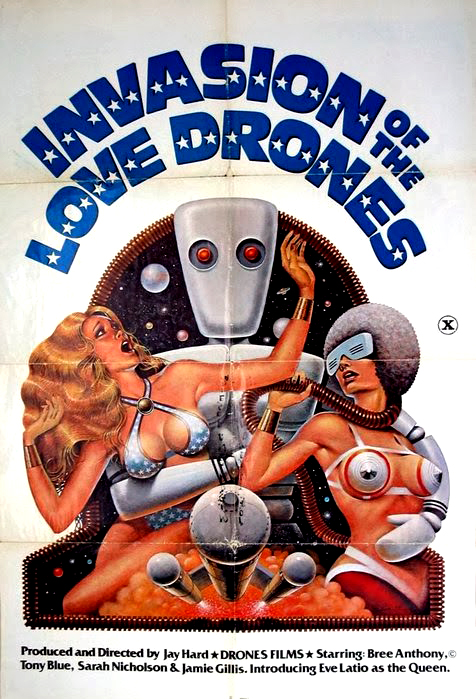 A hardcore sci-fi film featuring aliens with afros and sunglasses.  The only way to save earth is to infect the aliens with VD.  Are our heroes up to the task?
THE SATISFIERS OF ALPHA BLUE (1980)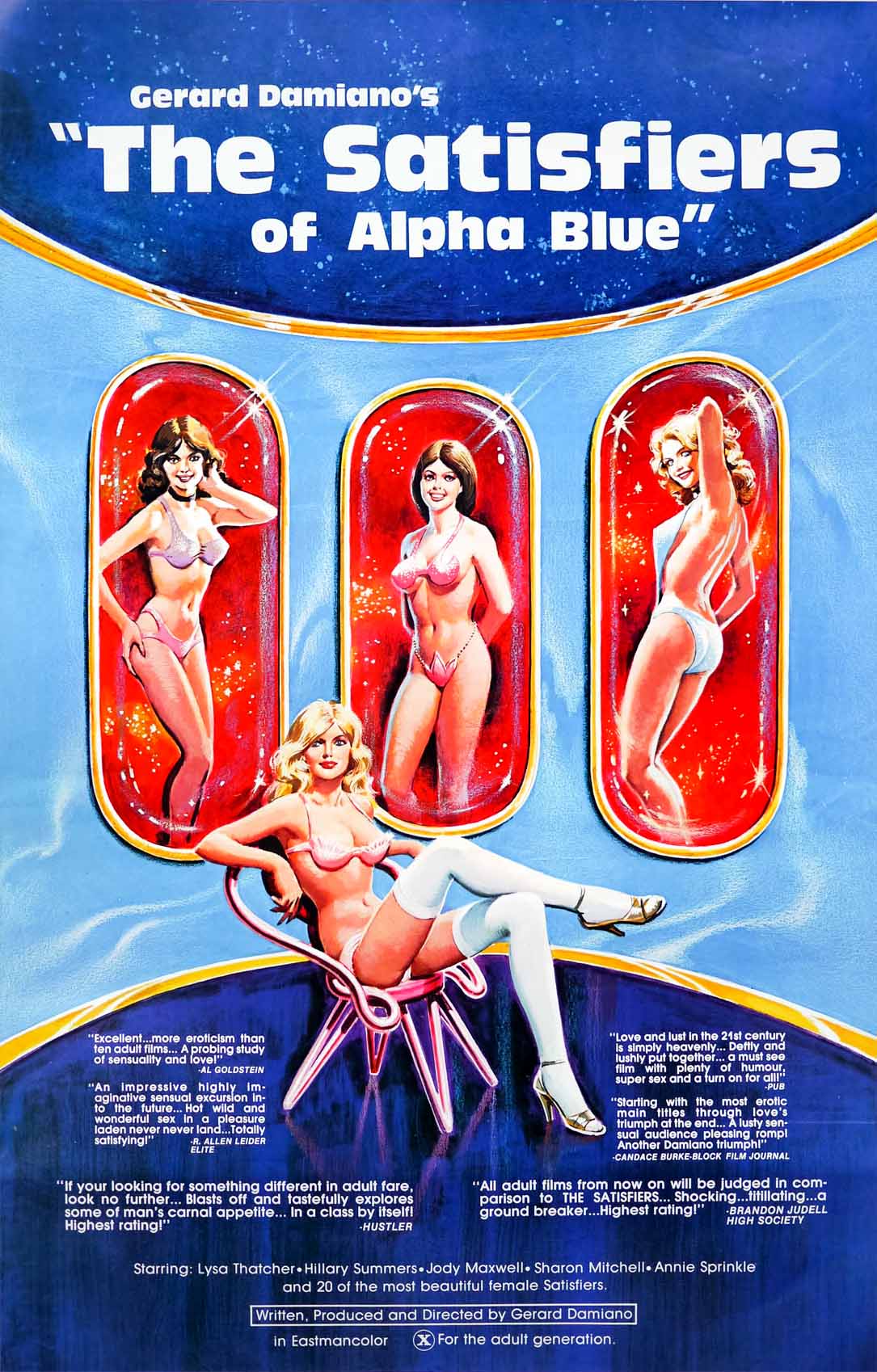 From the director of Deep Throat, comes a tale of a futuristic society called 'Alpha Blue' where sexual needs are fulfilled by a computer.
CINDERELLA 2000 (1977)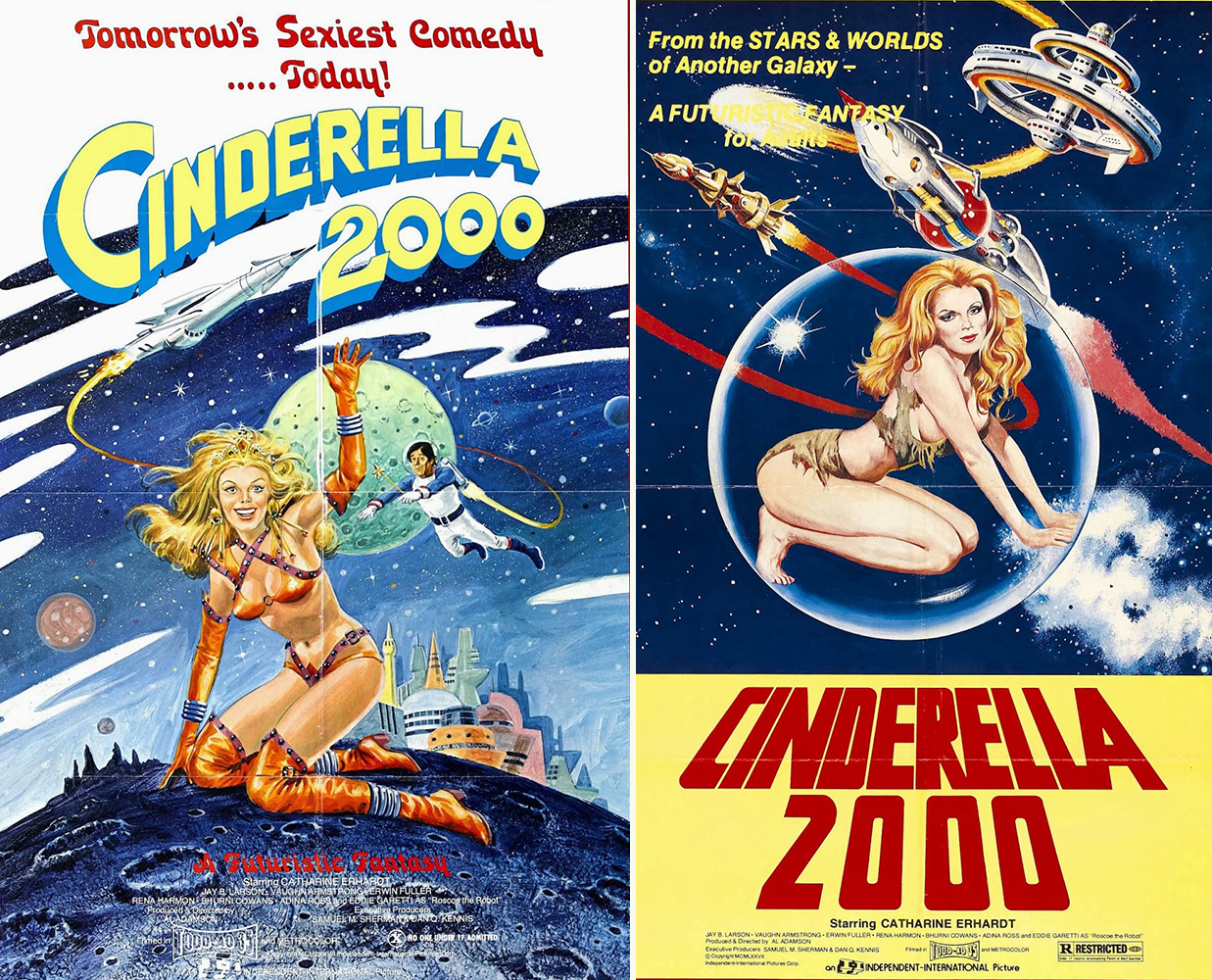 This is possibly the cringiest film I've ever had the misfortune of seeing.  It's not even good on the "so bad it's good" level… Suffice it to say, it's a musical.

Cindy (Catharine Burgess) lives on a planet where sex is bad.  She soon discovers the wonders of shagging via a flamboyantly gay fairy godfather.  There's lots of singing and dancing… and precious little of the sexy stuff promised on the movie poster.
SENSUAL ENCOUNTERS OF EVERY KIND (1978)/ THE INCREDIBLE SEX RAY MACHINE (1972)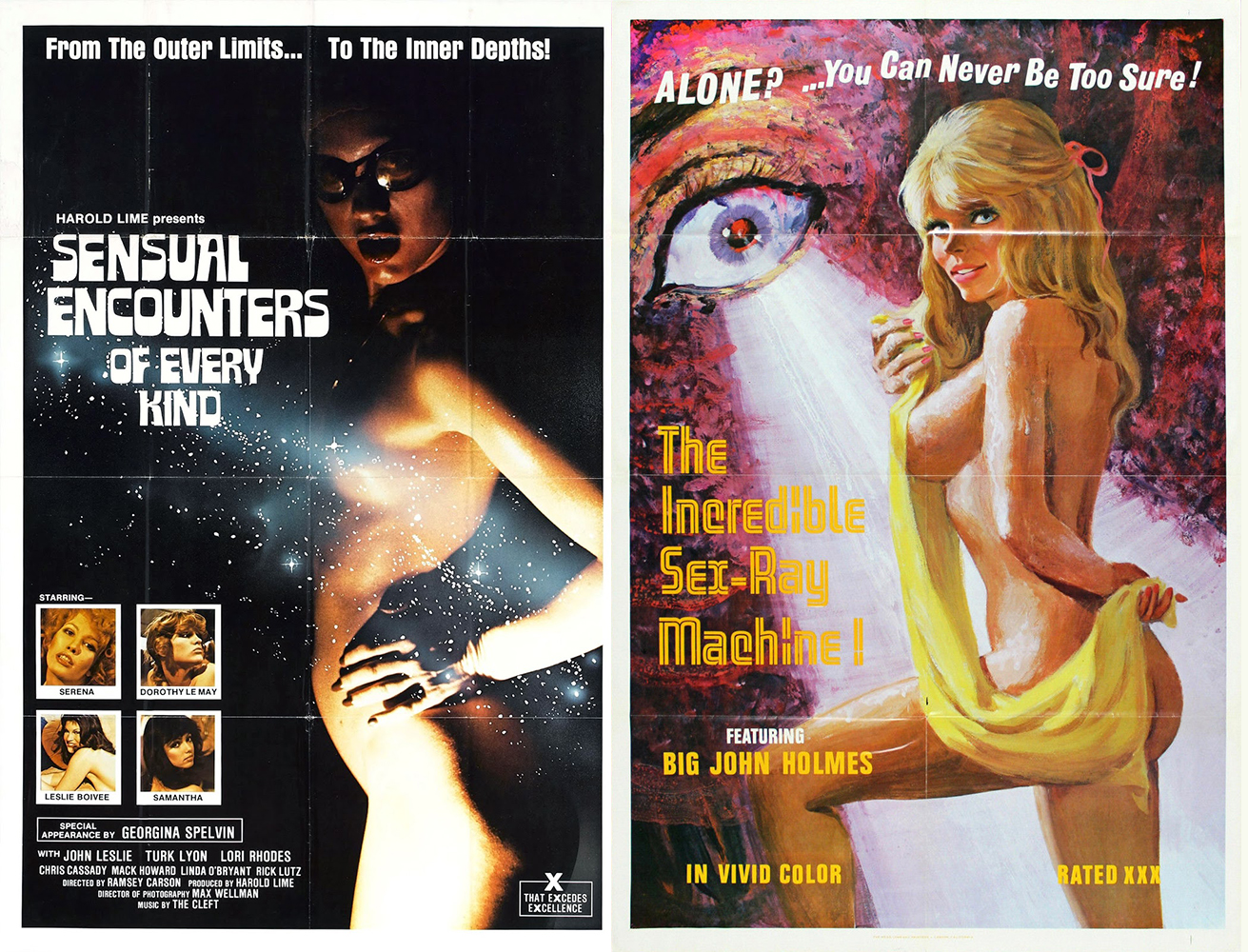 Both of these are hardcore films, the second starring John Holmes
SPACE THING (1968)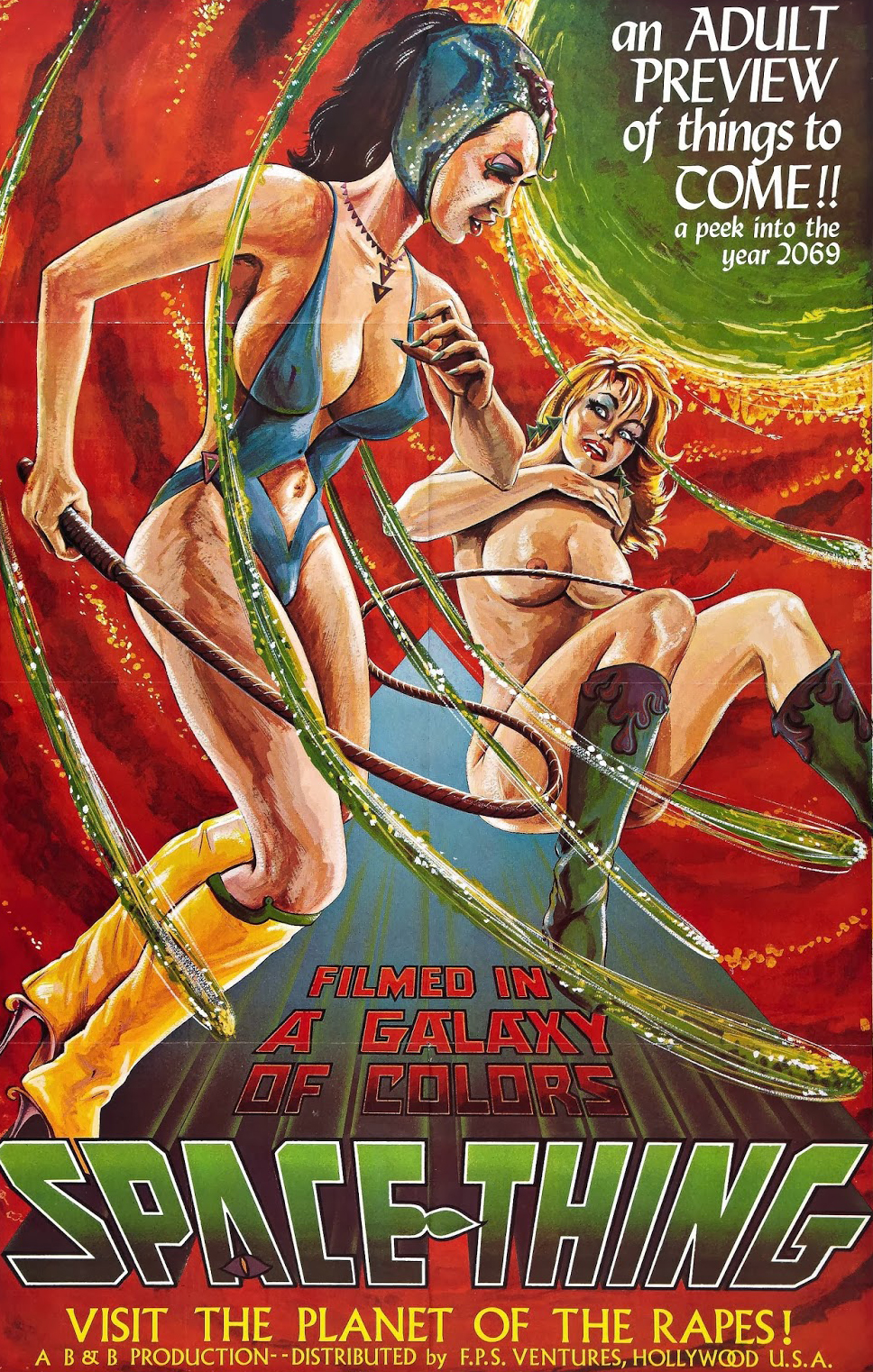 Space Thing is a cheesy skin flick with a movie poster a lot racier than it actually is.  The plot involves a human "Planetarian" male who's rescued by a space ship full of ladies, including the Captain Mother (Cara Peters).

Naturally, the Planetarian manages to bang every member of the crew including the Captain Mother (above in silver boots) and the real life wife of Mickey Rooney Jr. (above in blue boots).
COMPUTER GAME (1969)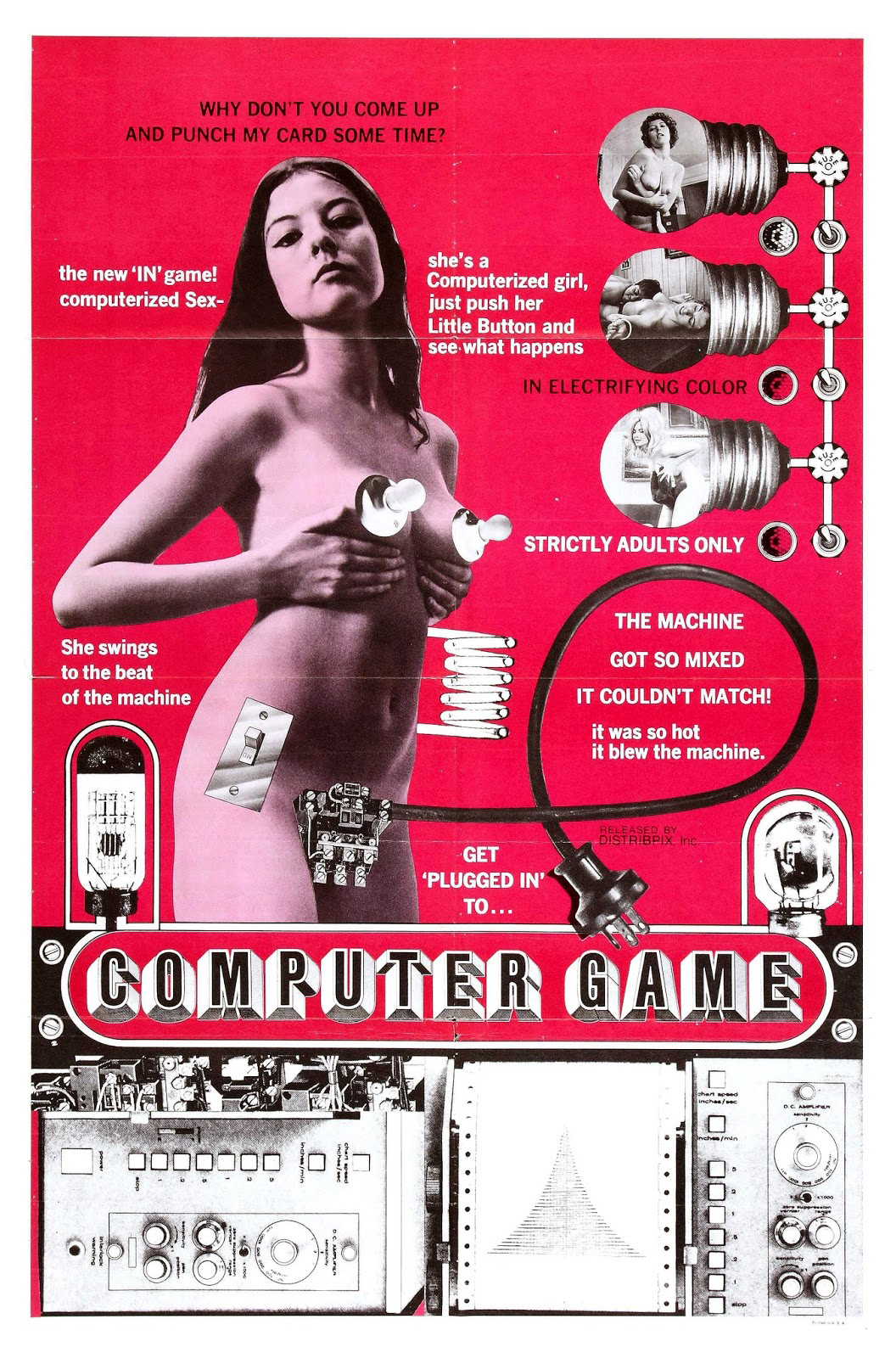 "Why don't you come up and punch my card some time"… I doubt younger readers will even get that.
FLESH GORDON (1974)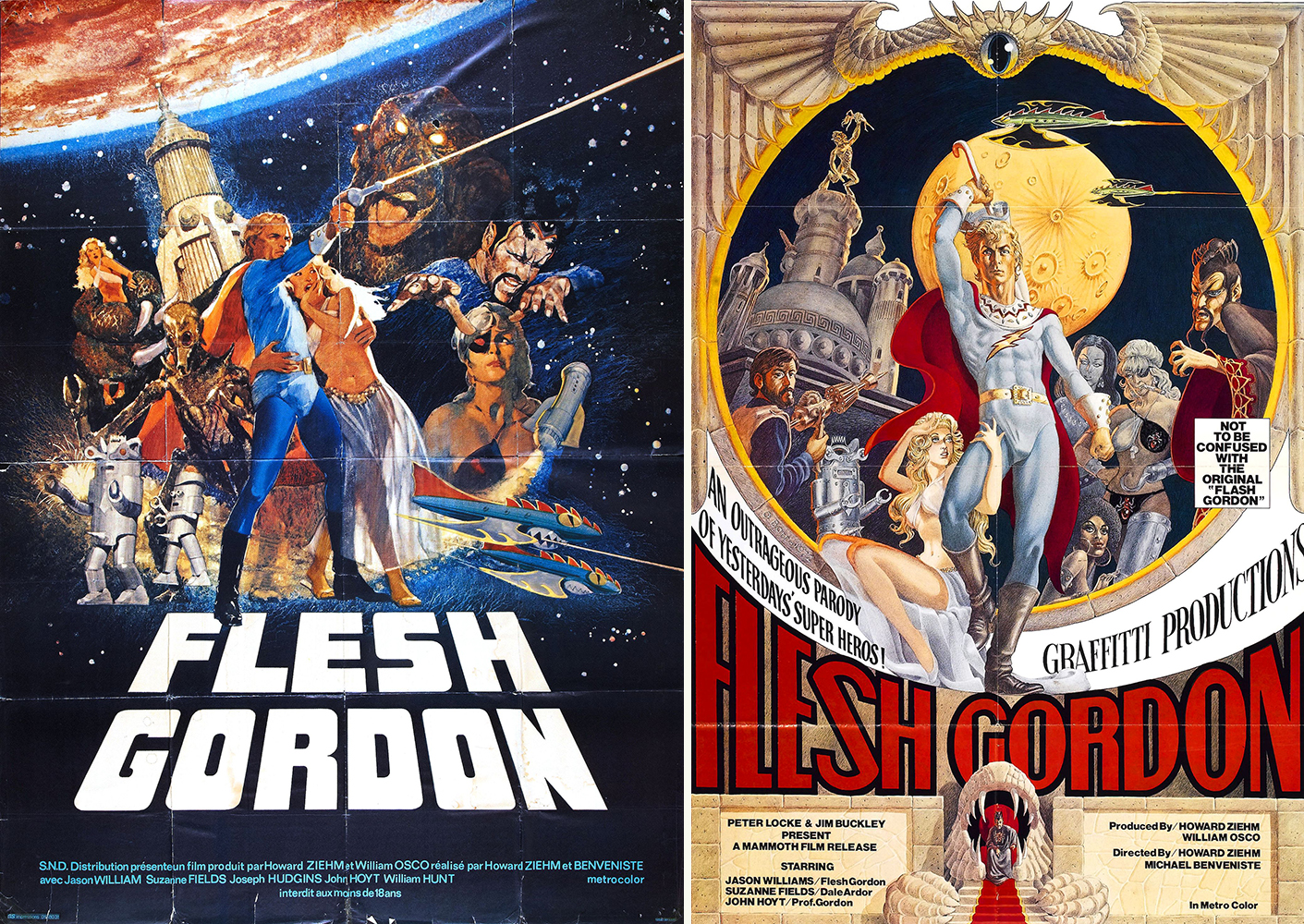 You can't have a list of sci-fi sexploitation films and not mention Flesh Gordon. The film employed several soon-to-be-big special effects artists (including Rick Baker), so the effects were much better than they had a right to be.  Indeed, the relationship between the FX team and the porno film crew was downright hostile.  At one point, the FX team held 8,000 feet of special effects scenes hostage until they were paid.
THE GIRL FROM STARSHIP VENUS (1975)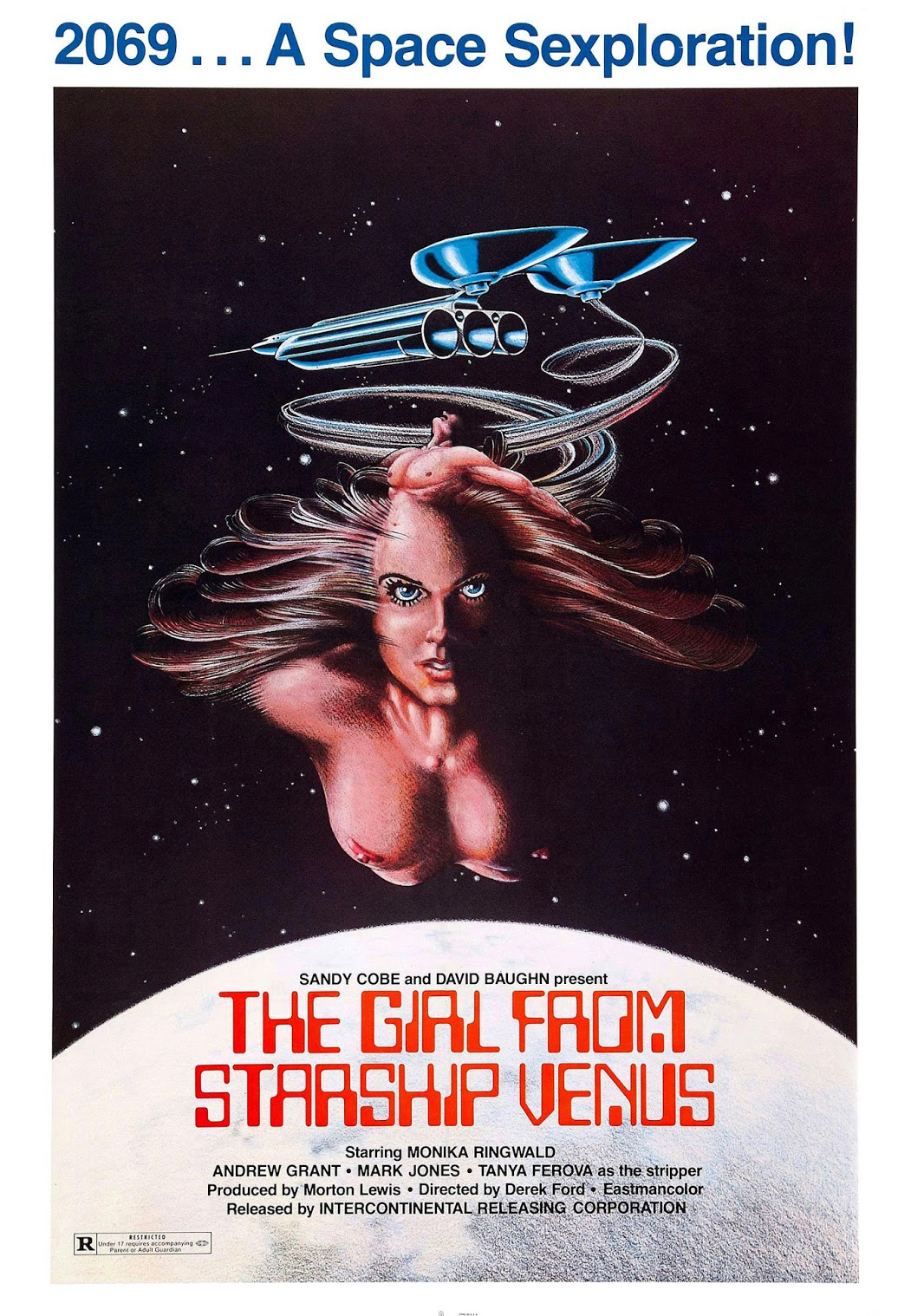 Monika Ringwald plays the so-called "Sexplorer" who comes to Soho from Venus to learn our sexual ways. Ringwald is nude throughout and there's actually some genuinely funny scenes to be found.
GIRLS, GIRLS, GIRLS (1979)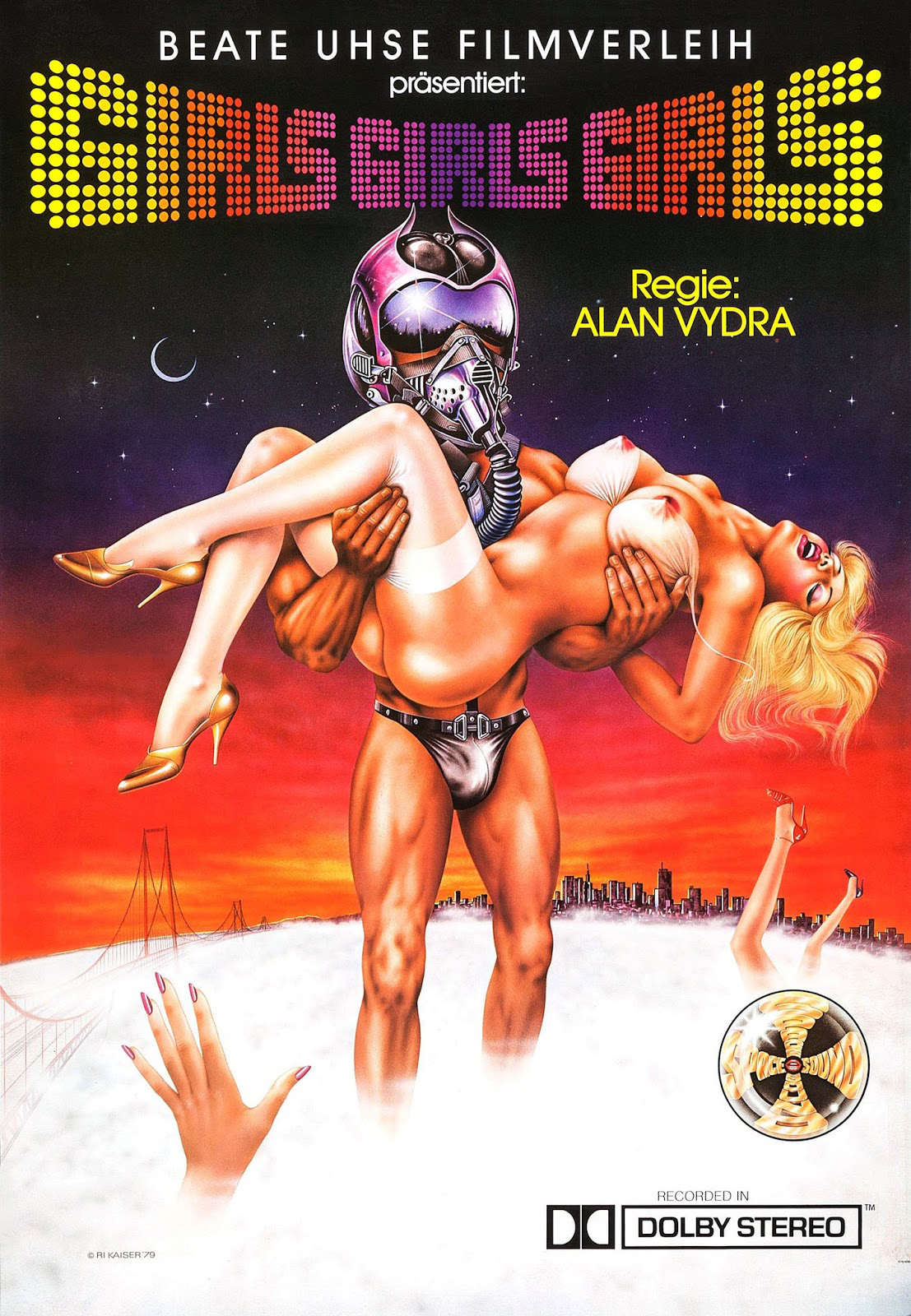 Information is scarce on this German adult sci-fi film; I've never seen it, but if the poster is any indication, it looks… interesting.
NUDE ON THE MOON (1961)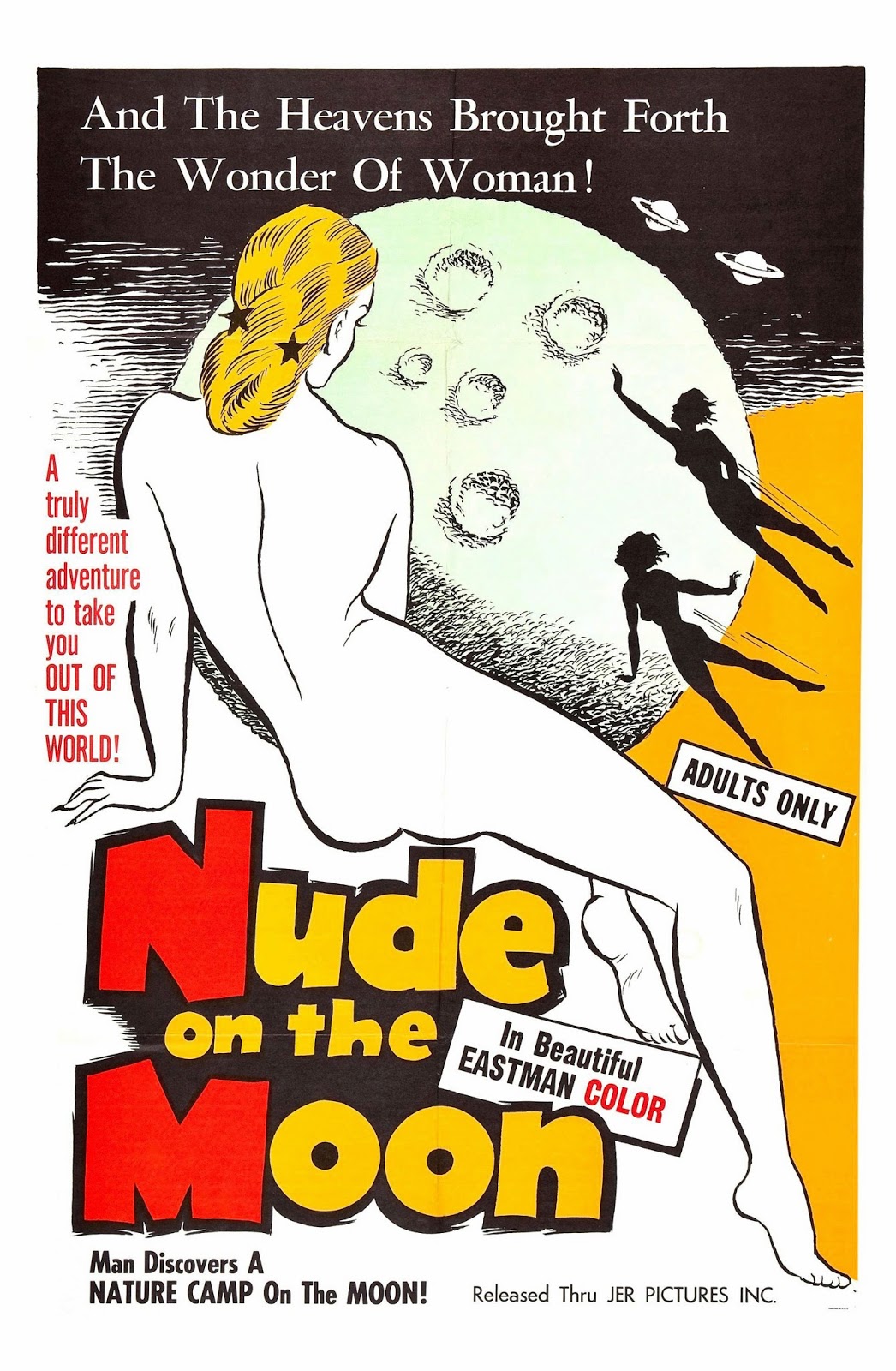 A so-called "Nudie Cutie" film about astronauts landing on the moon and finding it inhabited by female nudists.  This was actually famed sexploitation director, Doris Wishman's first movie.
THE SEX MACHINE (1975)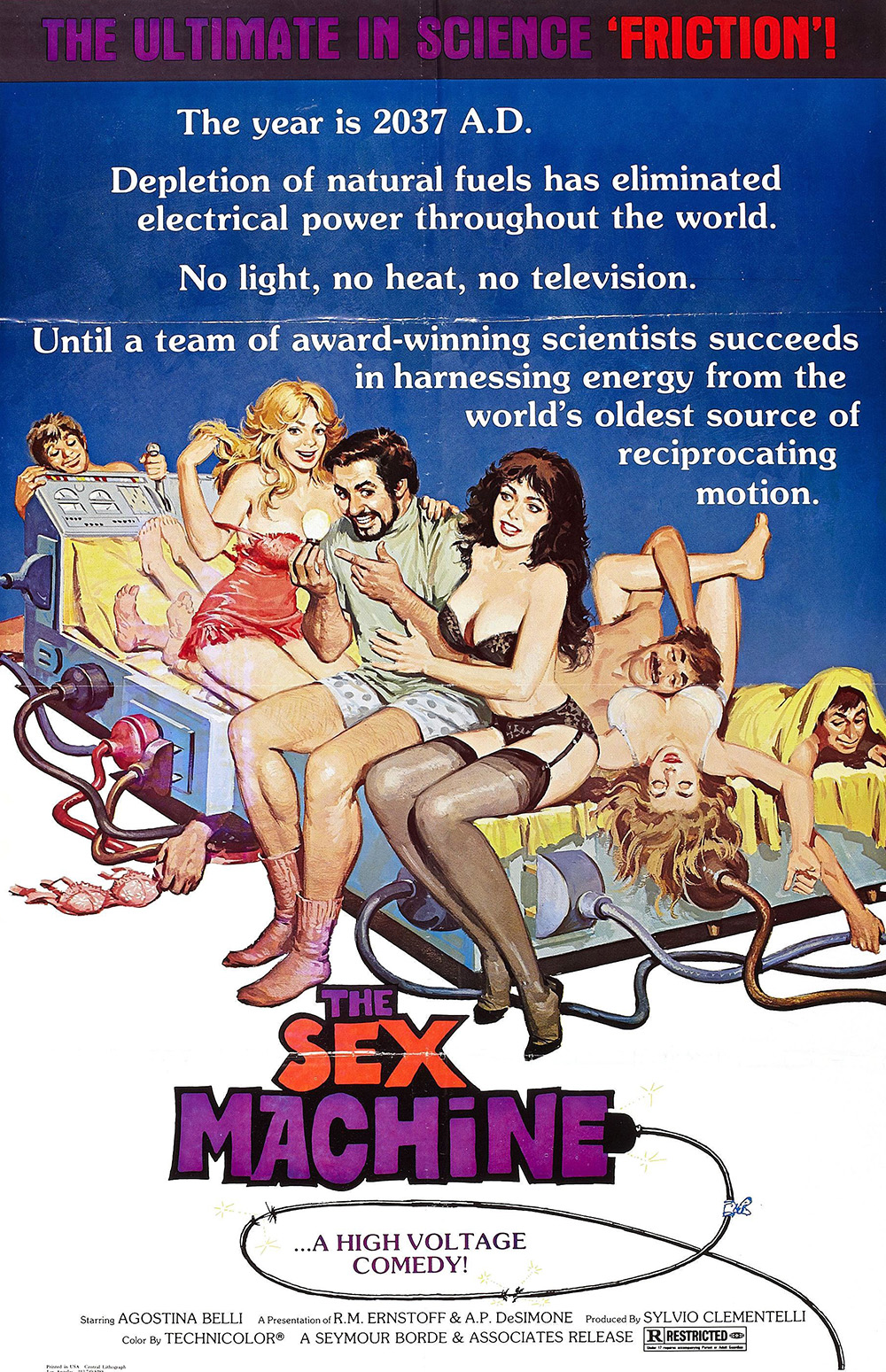 In the future, the world's oil supply has finally been exhausted, causing a massive energy crisis. In a search for alternative sources of energy, a scientist invents a machine that can harness the energy expended during sexual intercourse and transfer it into electrical power.
SPACE LOVE (1972)/ SEXUAL SENSORY PERCEPTION (1975)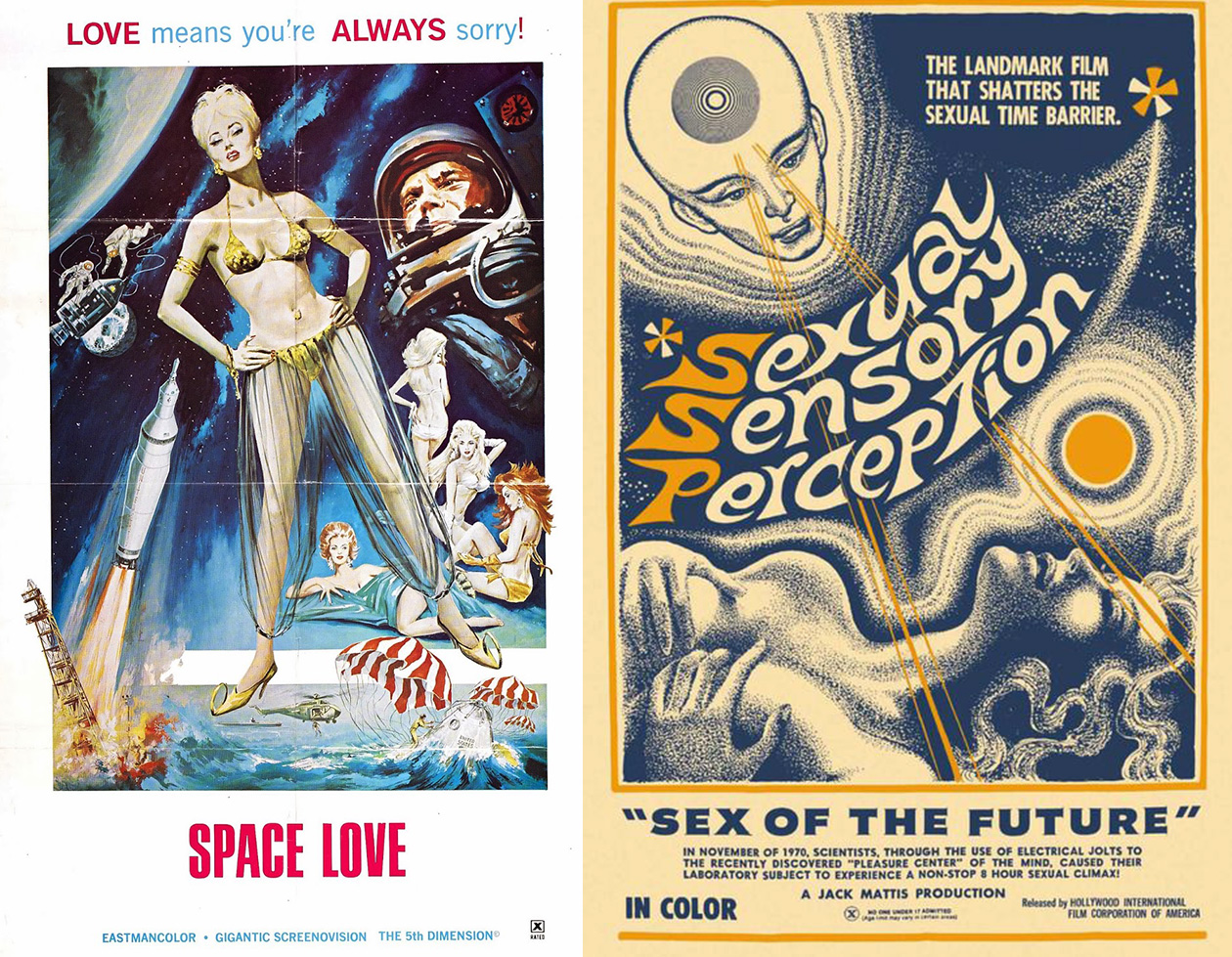 STAR BABE (1977)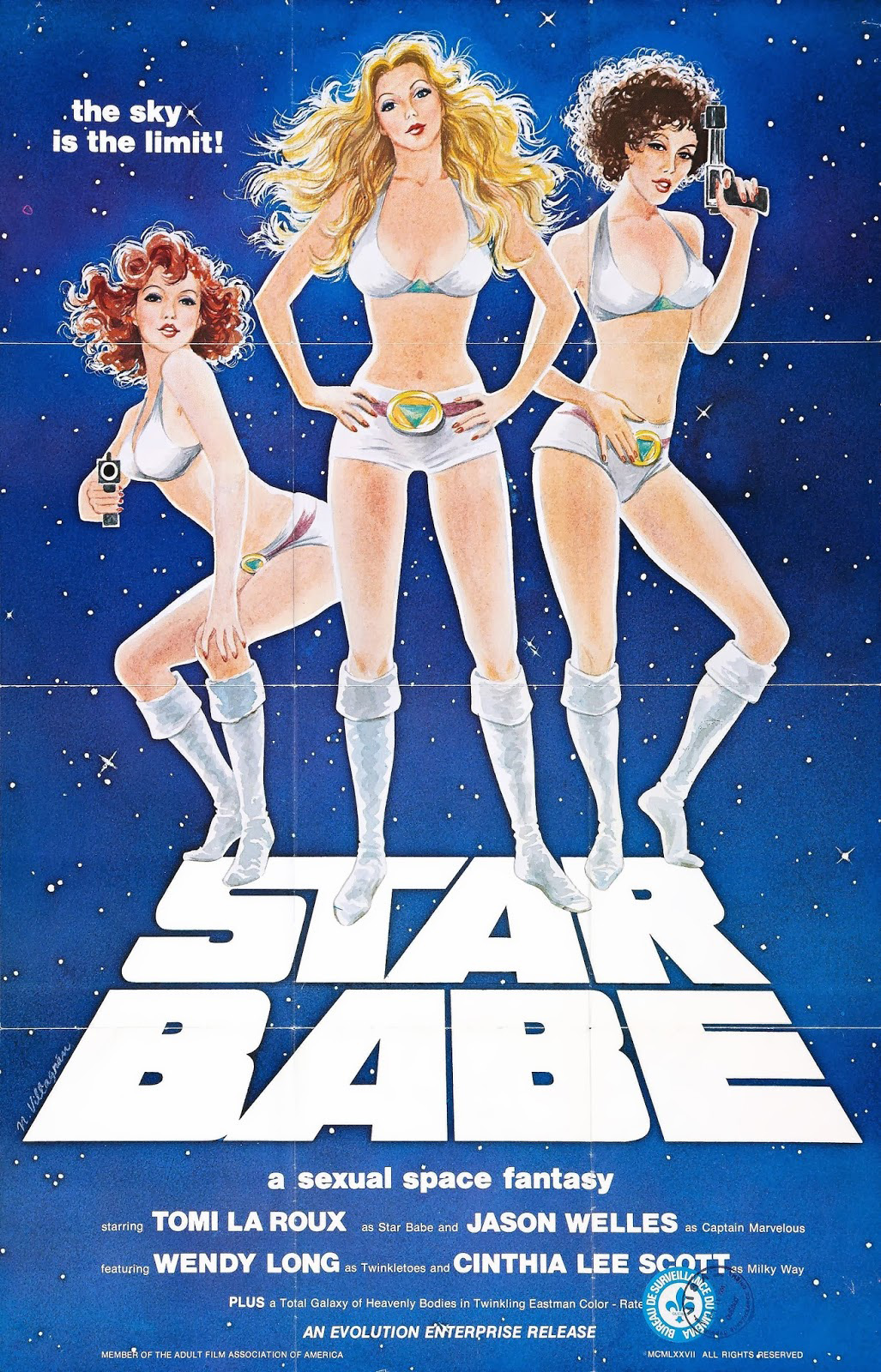 Plot: The Star Angels are sent to the planet Phallus to prevent a takeover of Earth.  I think that tells you just about everything you need to know.
STAR VIRGIN (1979)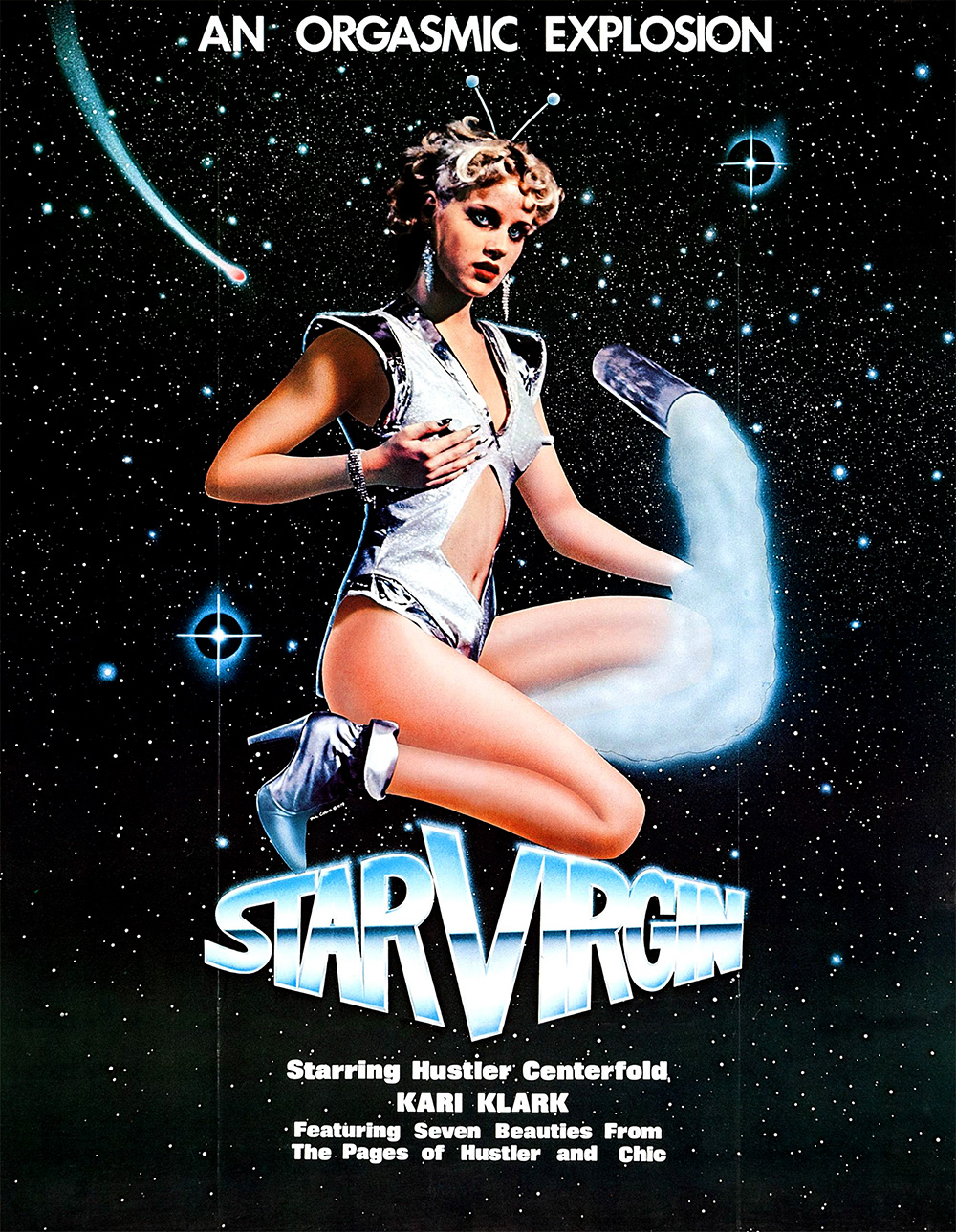 Another hardcore sci-fi flick, once again about an a space babe who is trying to learn about this earth activity called "sex".  Somehow Dracula is involved… don't ask.