It might not sound interesting at first, but 70's bedding was a sight to behold.  For kids, you had everything from The Fonz to Star Wars. For adult bedspreads, the catalogs always featured a lady happily tucked into her luxurious sheets (but never ever a guy or a couple).  Let's have a look, year by year.
1969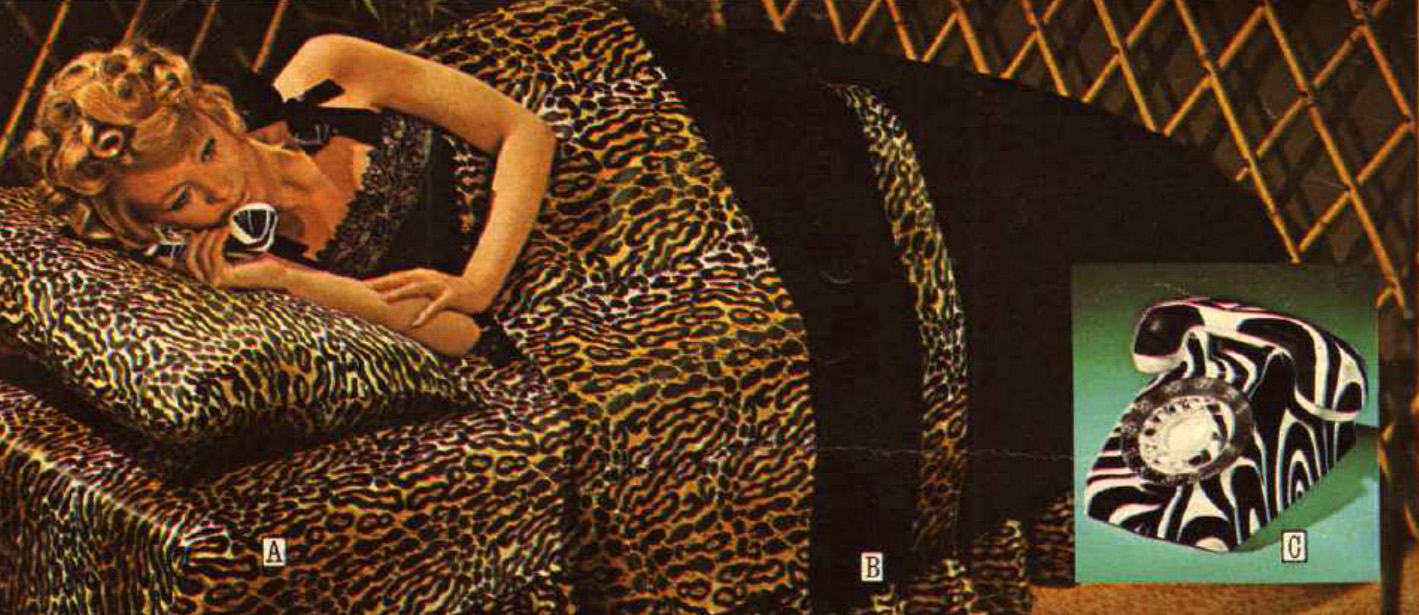 This lady has an animal print telephone to match her bedspread. Does it get any groovier than this?
1970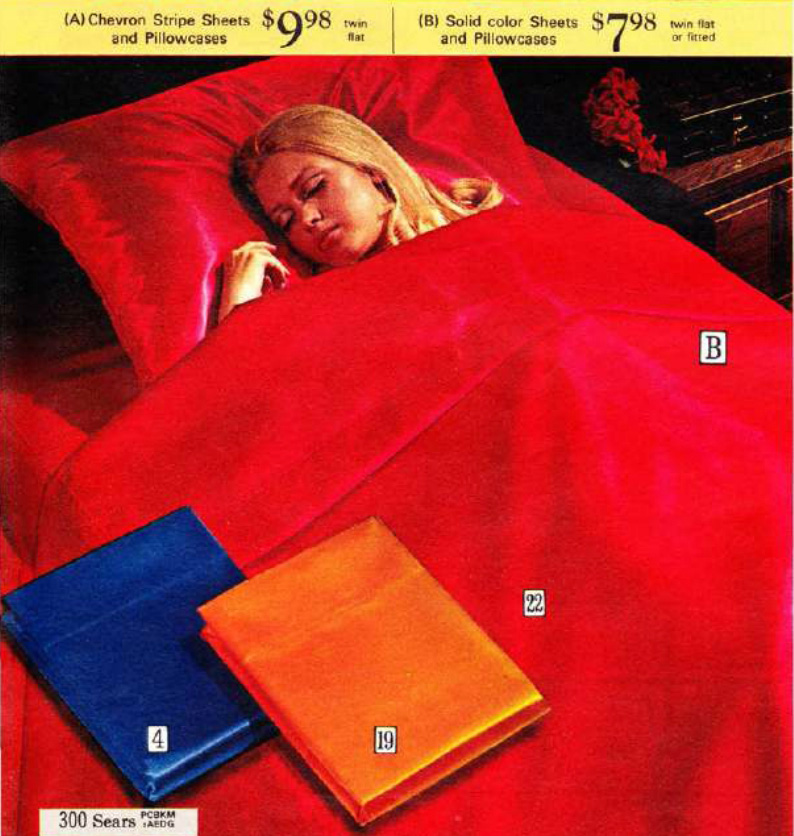 Shhhh.  Don't disturb her. This is how every single catalog features its bedding: always with a lady in bed – never a couple, or a guy.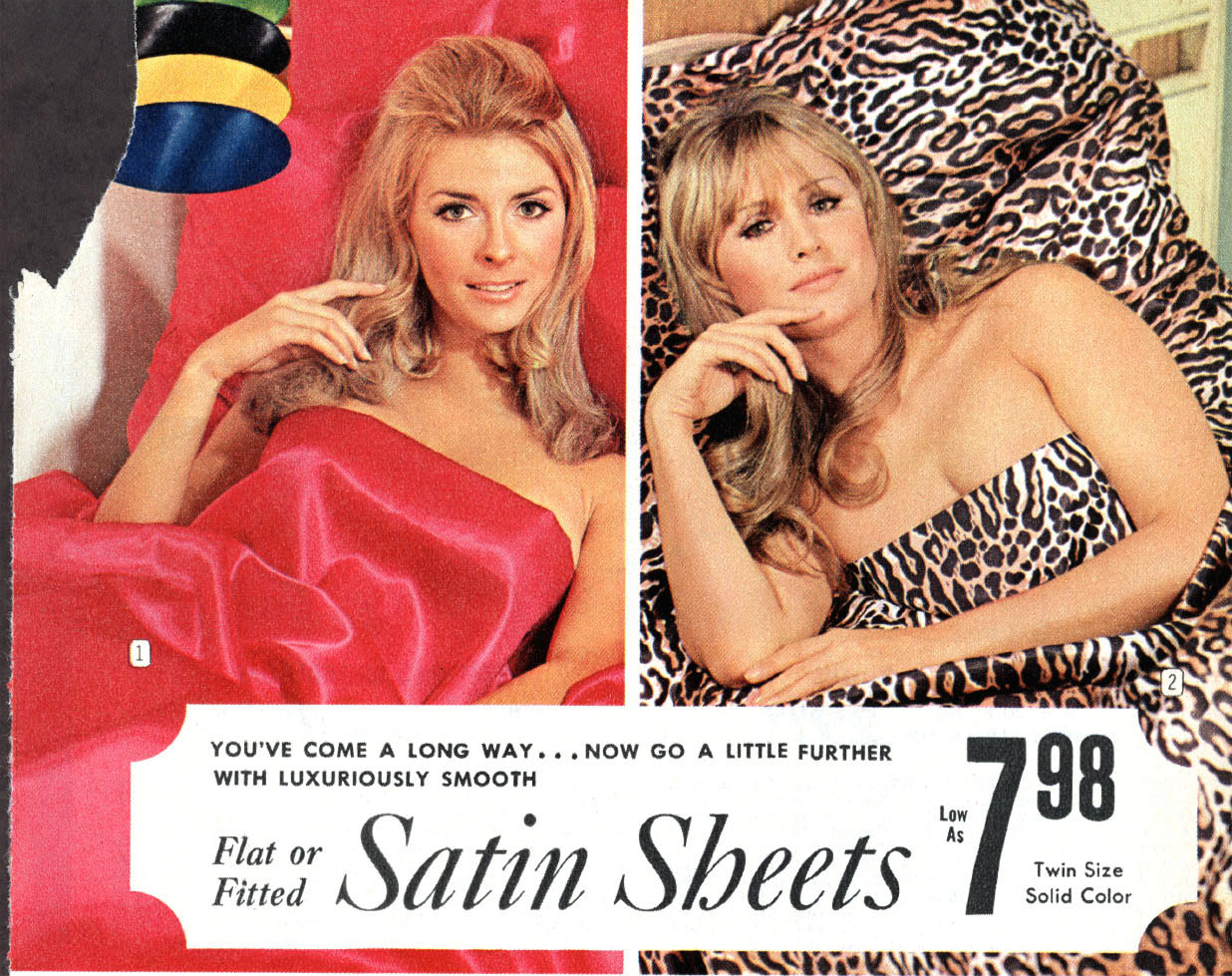 1971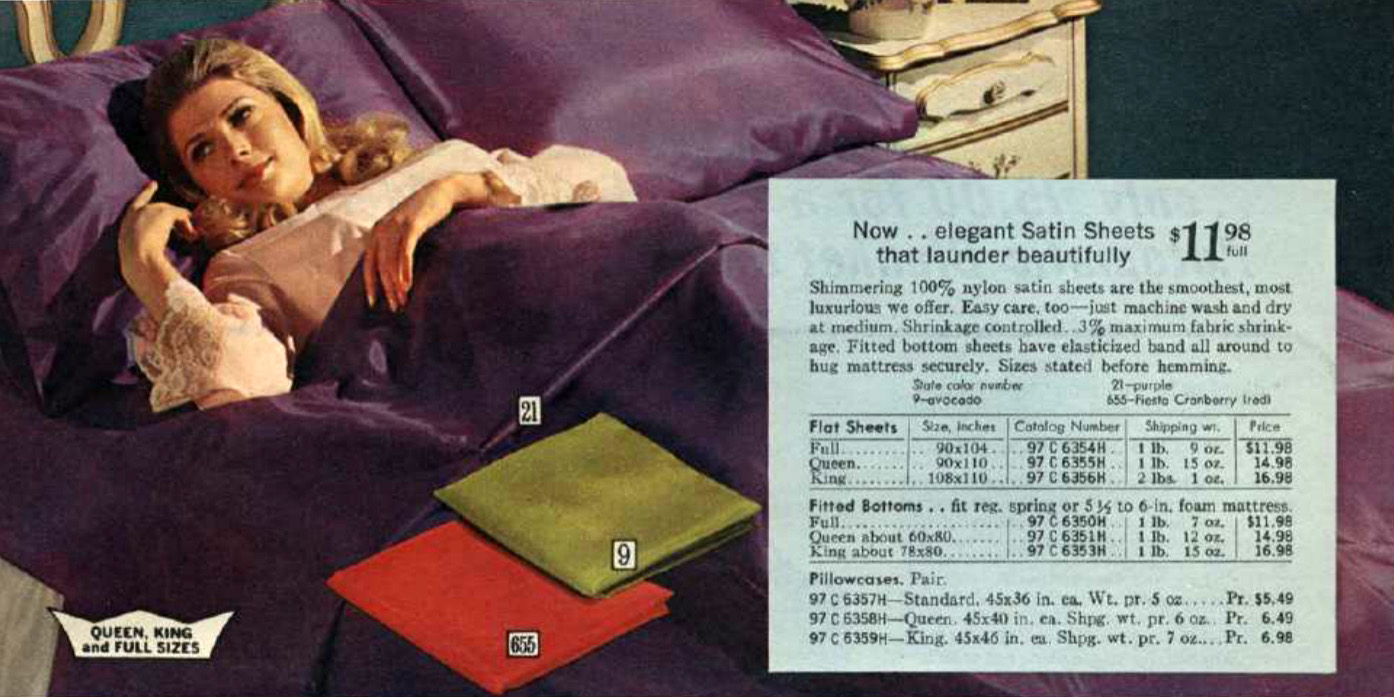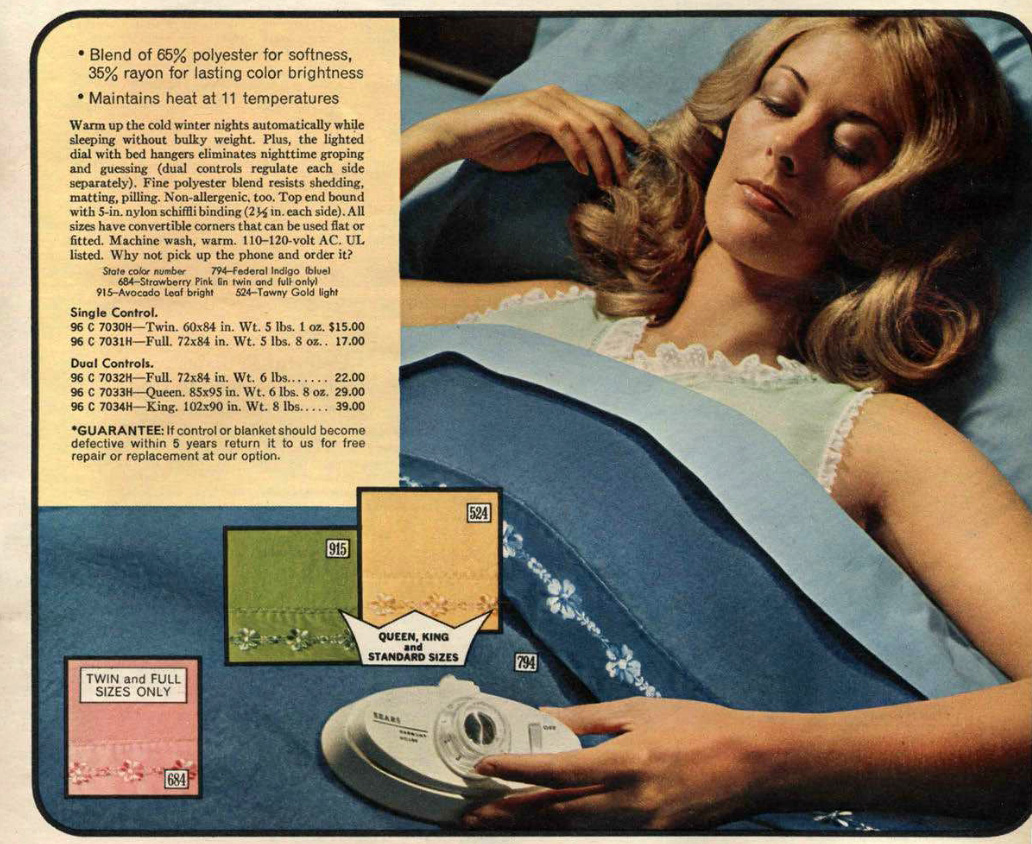 1972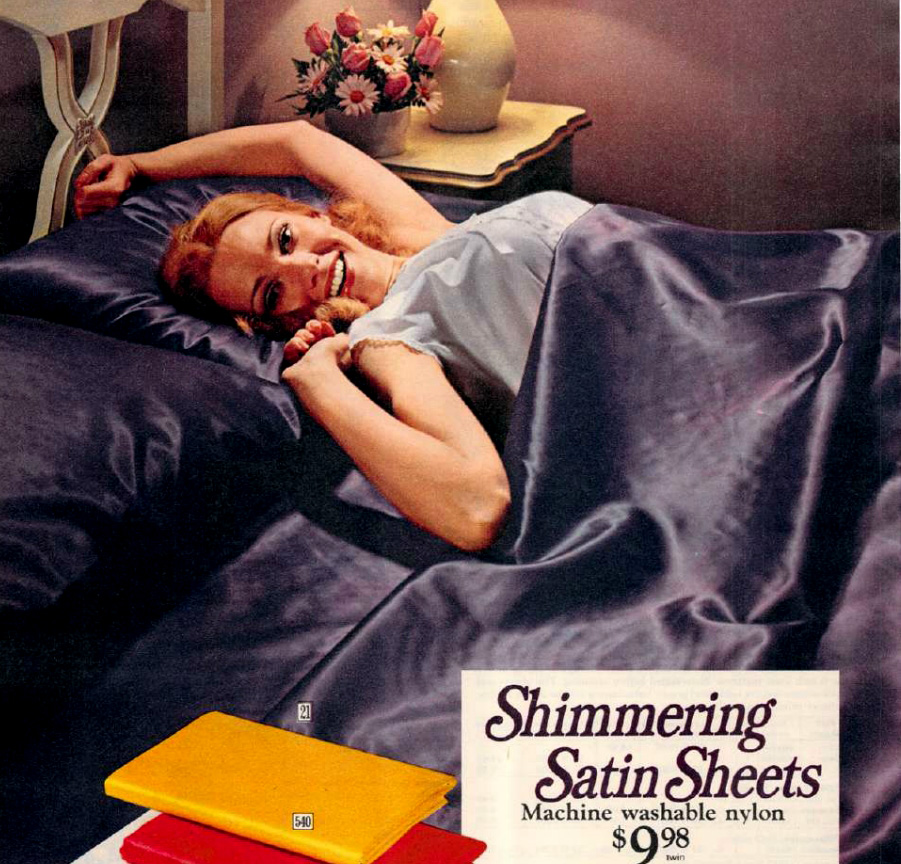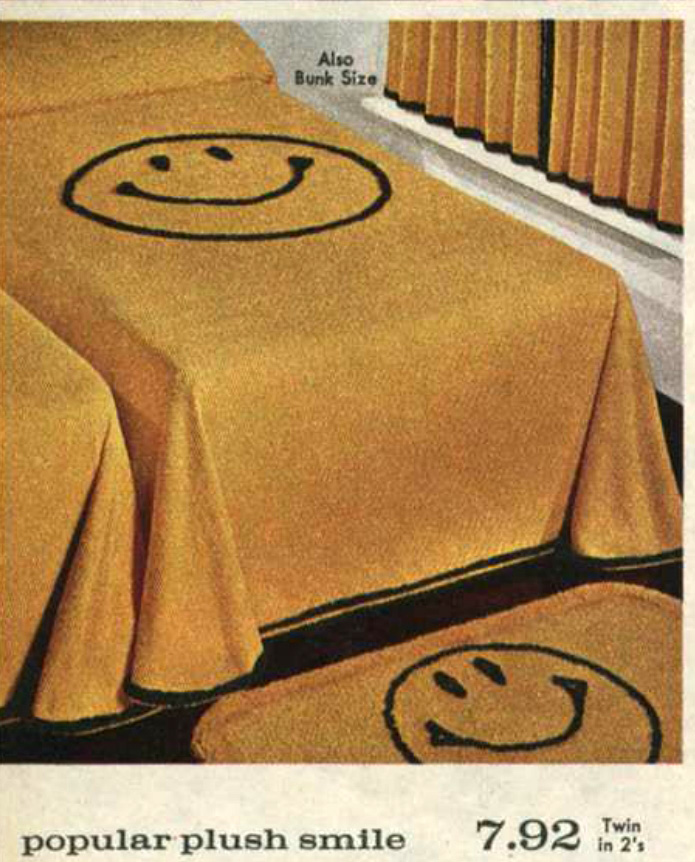 For more on the omnipresent happy face in the 70's, see The Inventors Behind 3 Strange Fads of the 1970s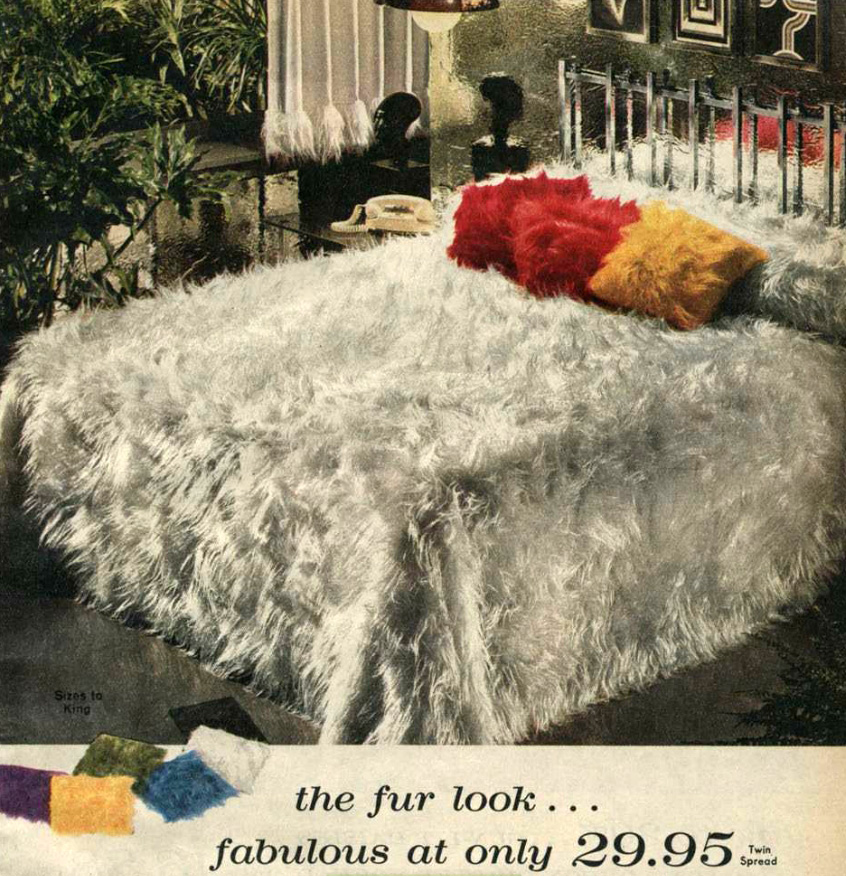 Good Lord! It wasn't enough to have shag carpets – the faux fur had to be everywhere.  Put this on a waterbed,  and you have yourself the ultimate seventies bedroom.
1972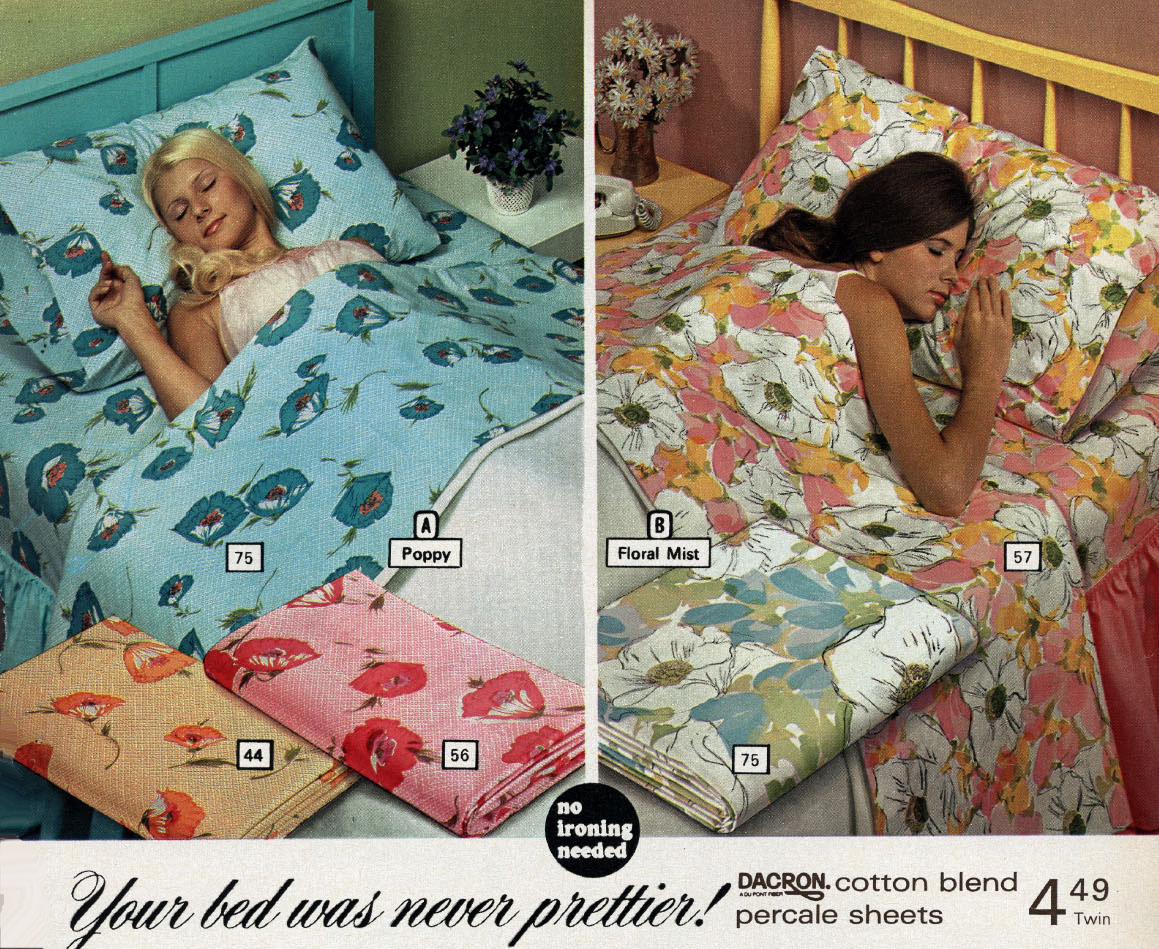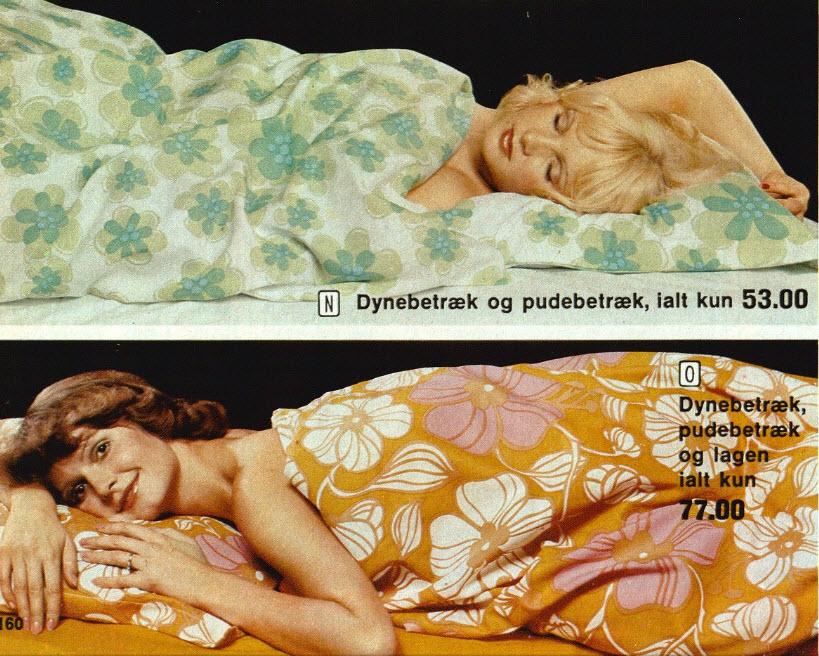 From a Danish catalog; the habit of featuring ladies-only in bedding product pages was apparently an international thing.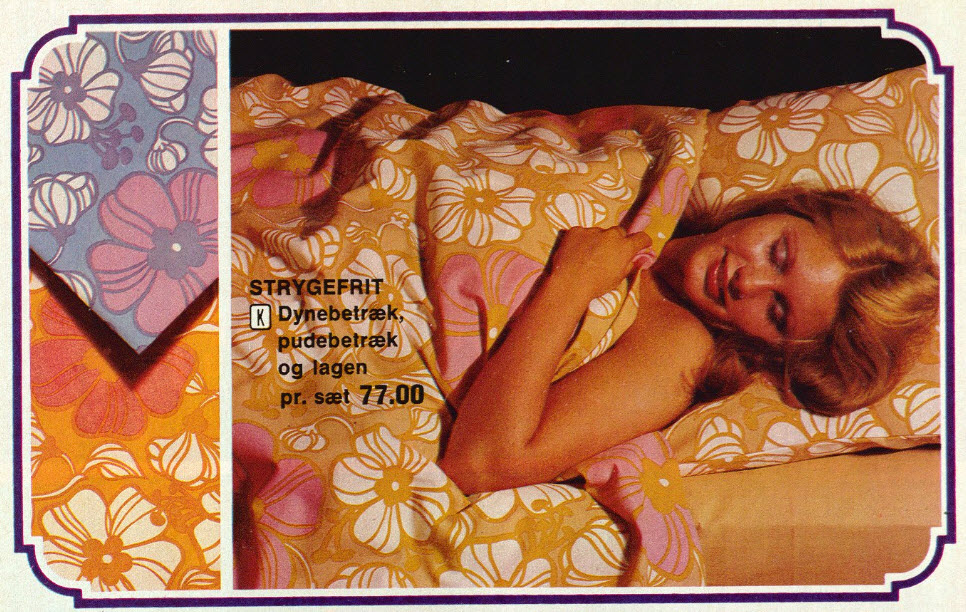 1973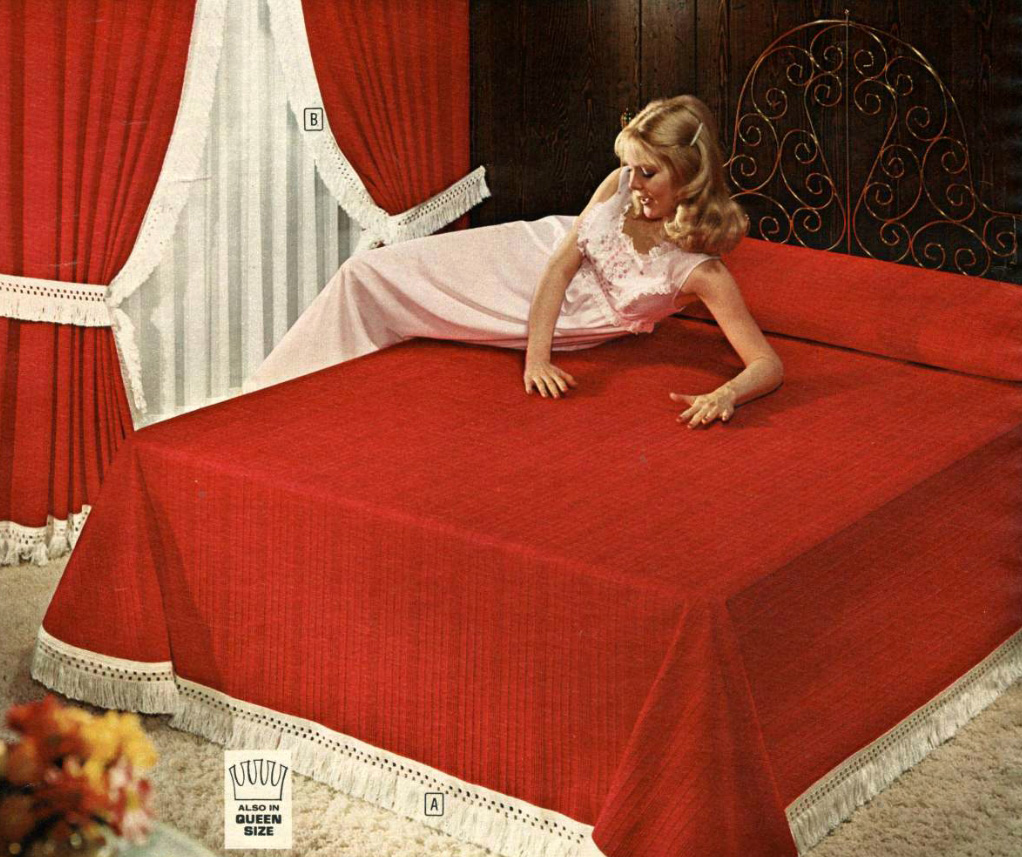 That must be a really firm mattress! It doesn't look like this girl is making even the tiniest wrinkle on this bed.
1975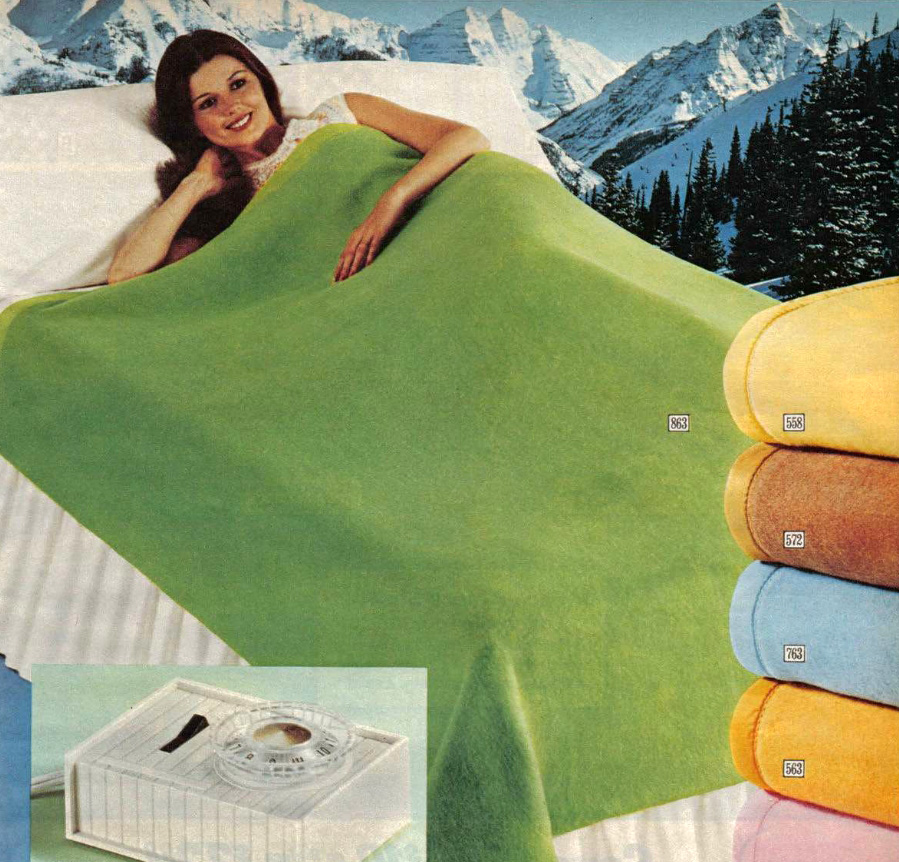 I'm beginning to understand why these catalogs always put a lady in the bed rather than a guy or a couple.  A guy tucked into the covers above would seem a bit creepy.  And if it were a couple, it might look like the start of a porno.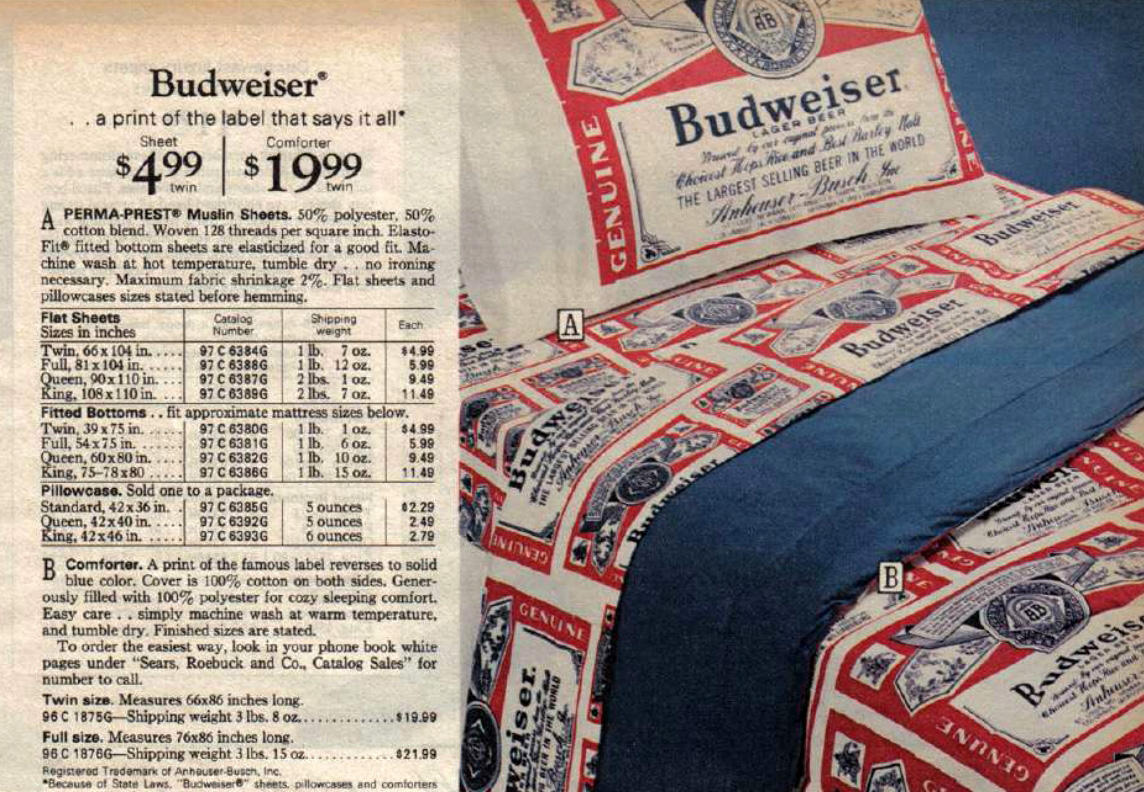 Nothing says "classy" like a complete Budweiser bedspread.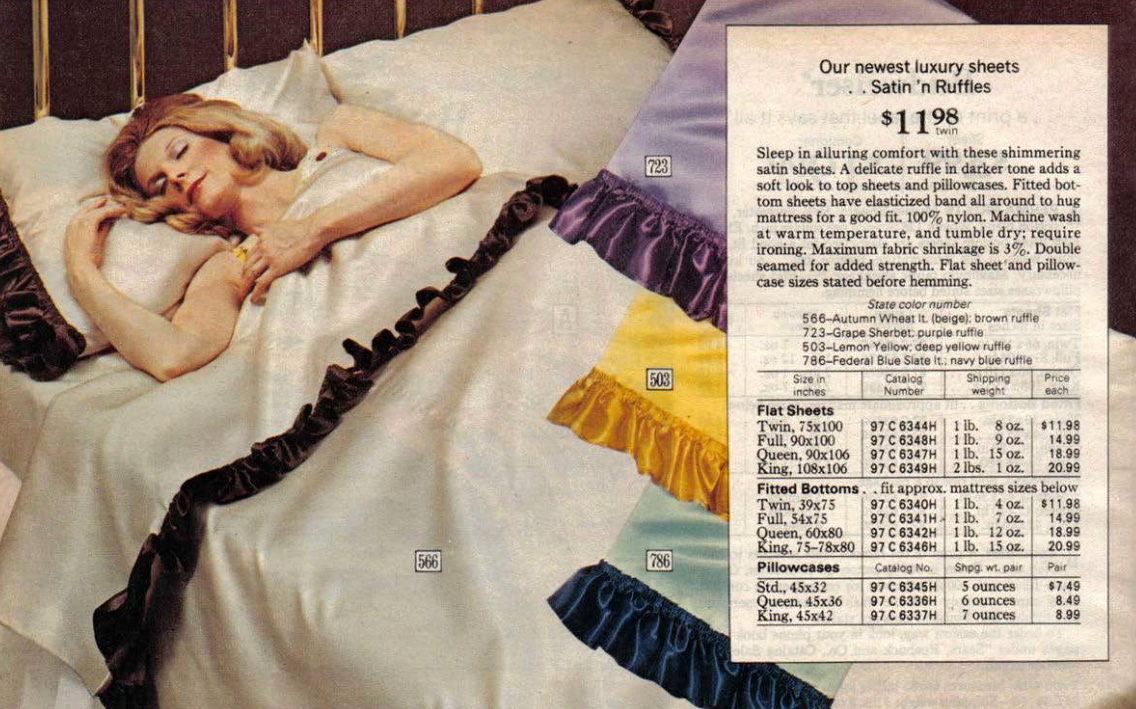 Above: "Grape Sherbet" and "Autumn Wheat" bedding. Below: "Carnival Red" and "Black Magic"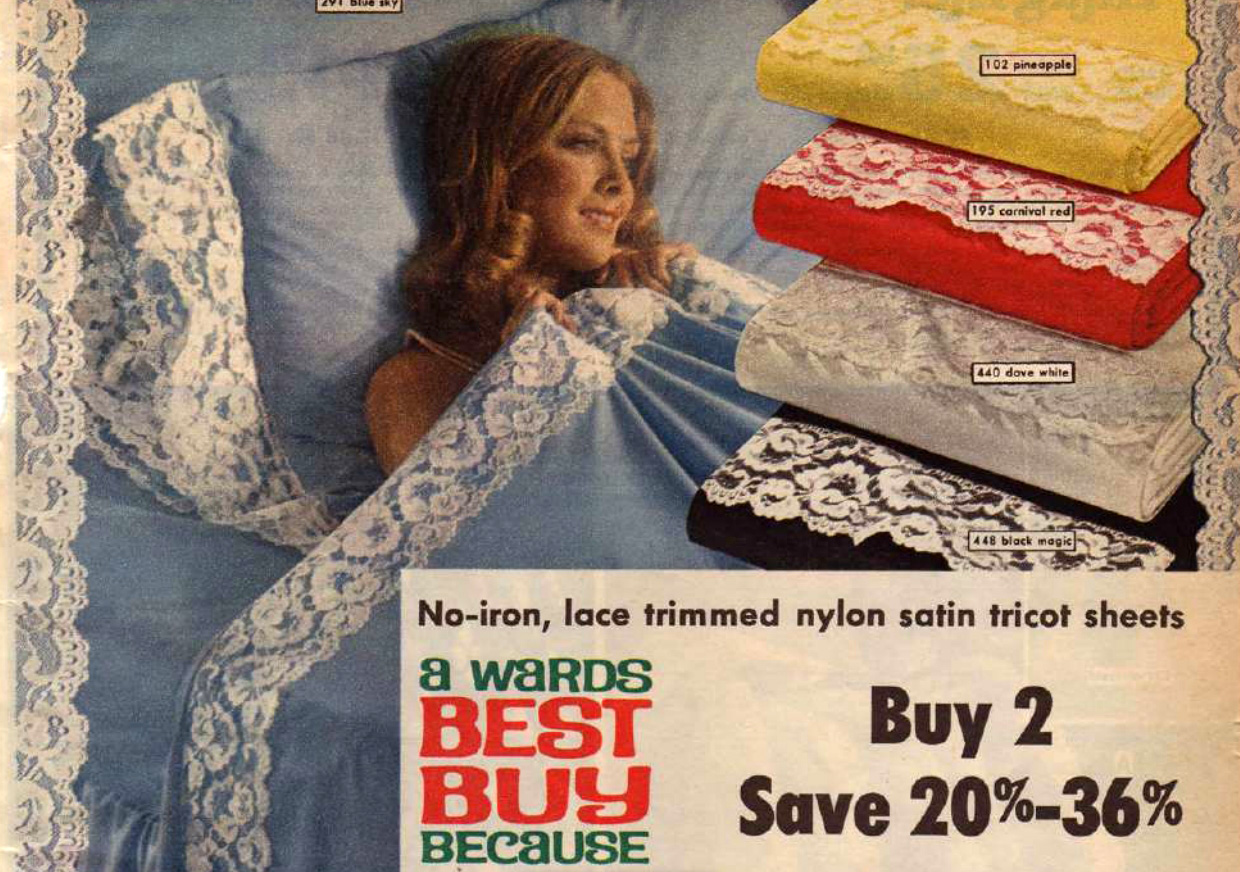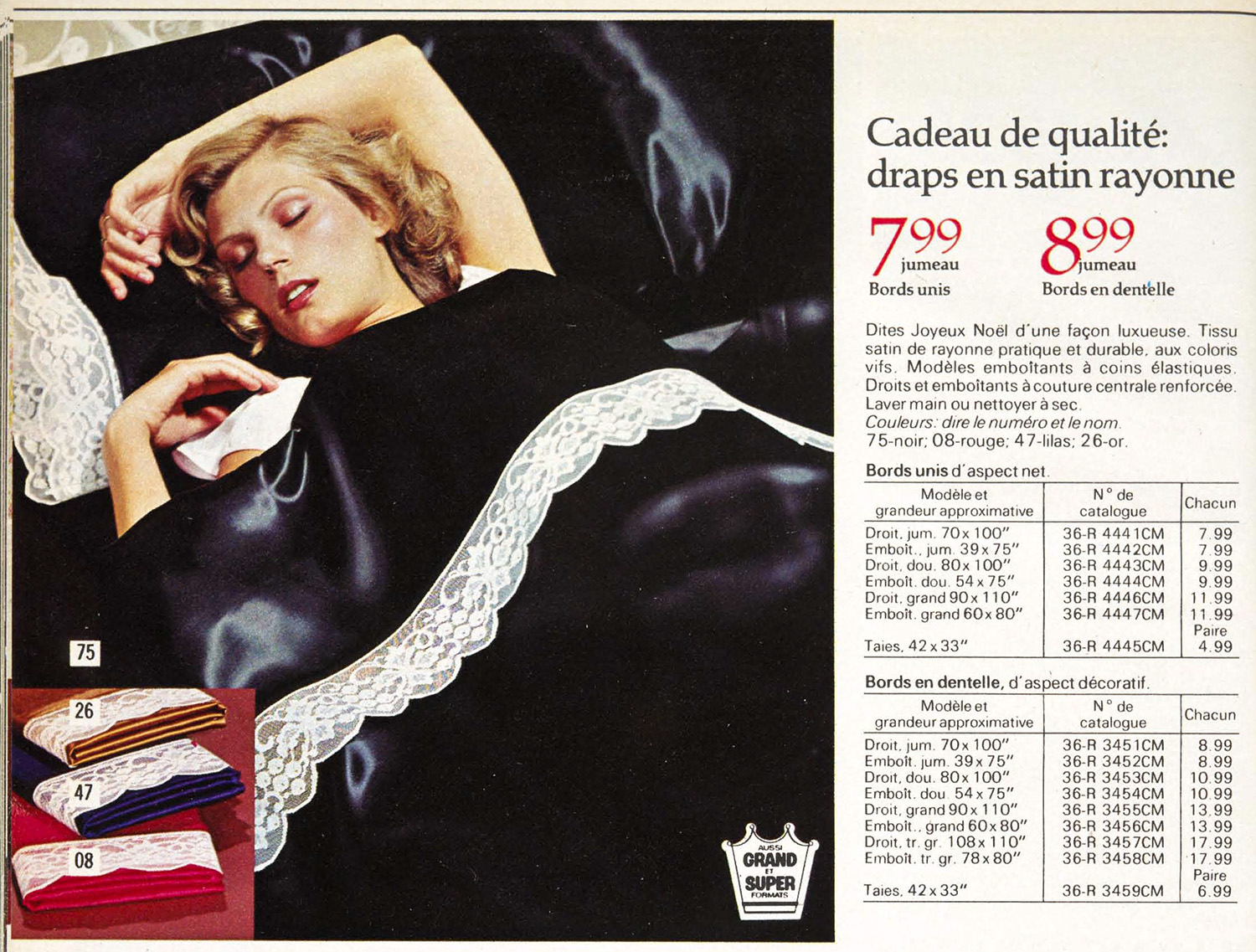 From the Canadian Eaton's catalog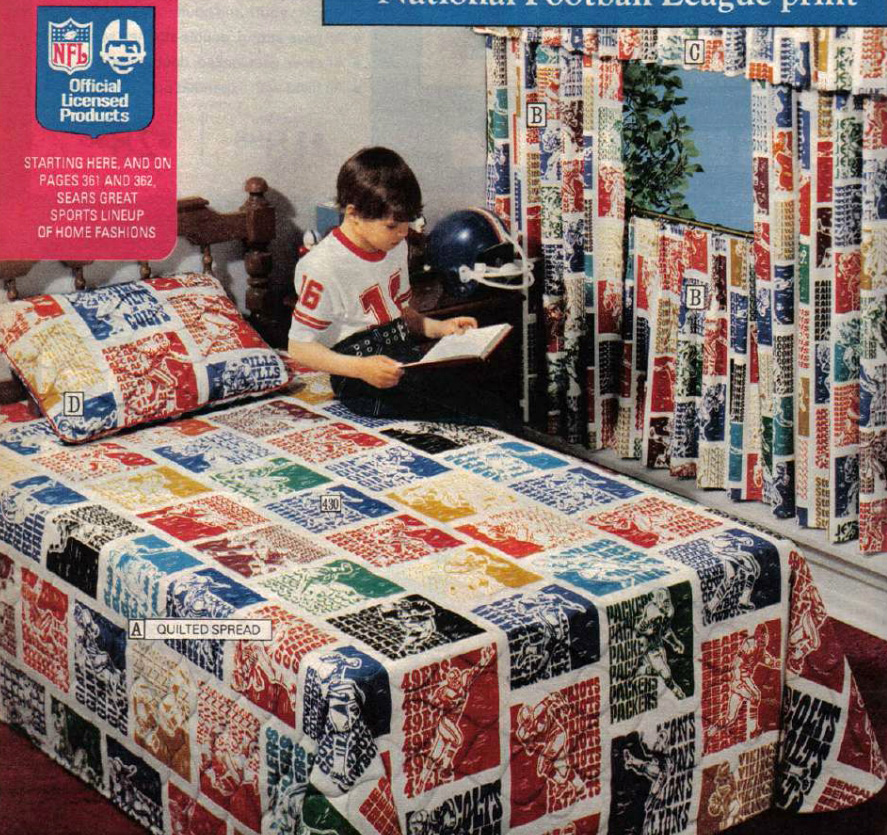 Finally, we get to some kids bedding.  In this Sears catalog, boys get the NFL option above and girls get boring apples.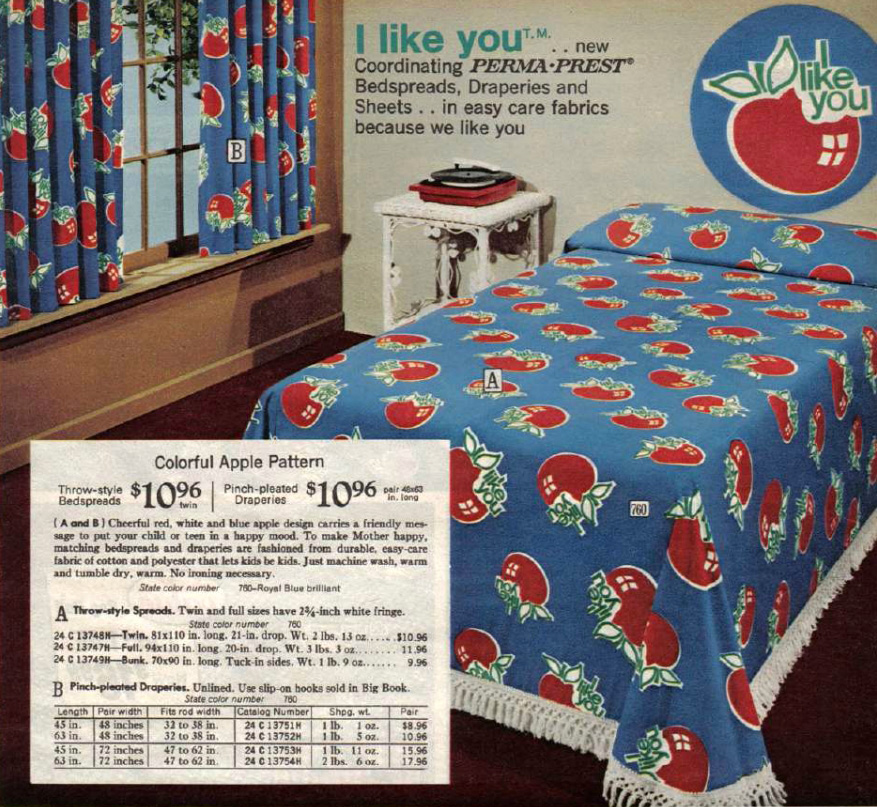 1976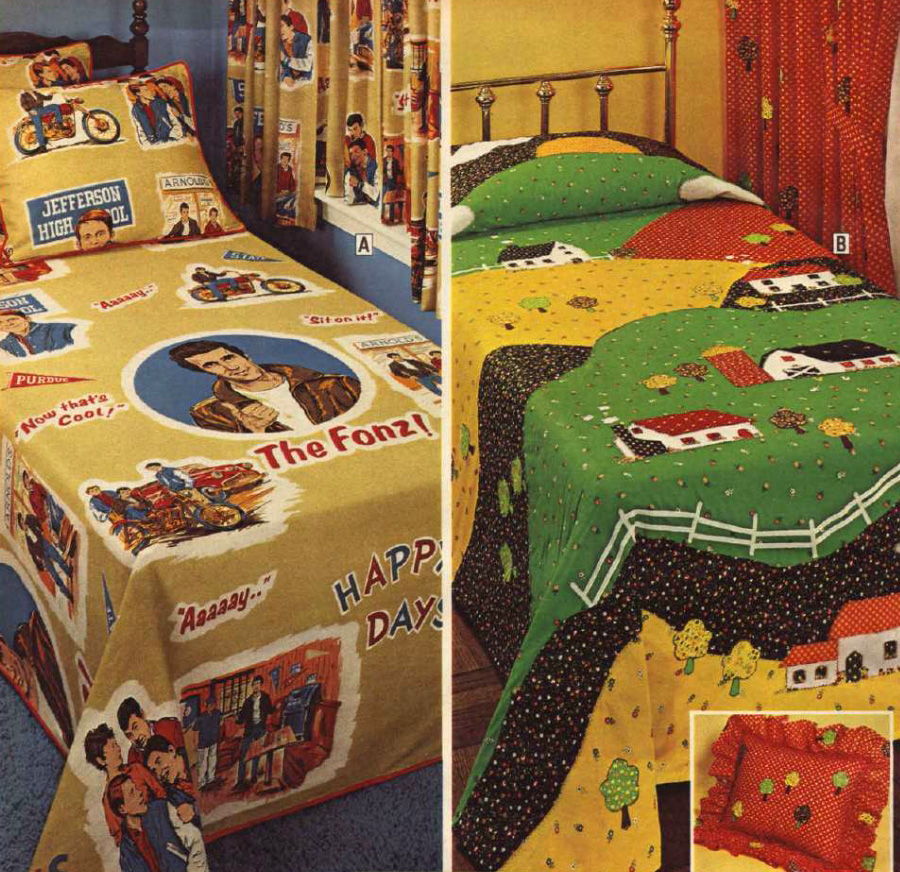 In the 1976 JC Penney catalog, kids had the choice of Happy Days or a lame farm landscape.  The choice was obvious.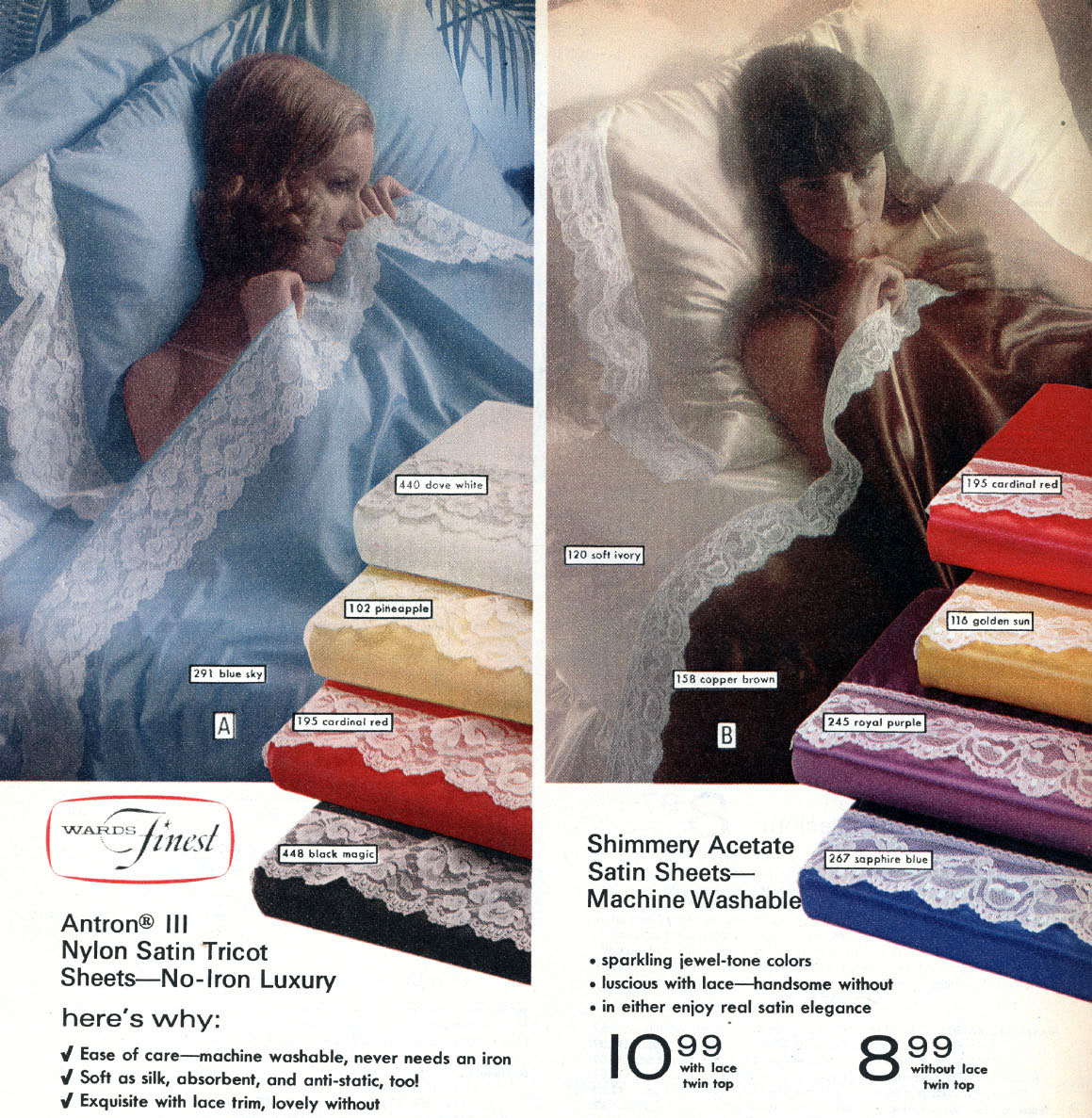 1977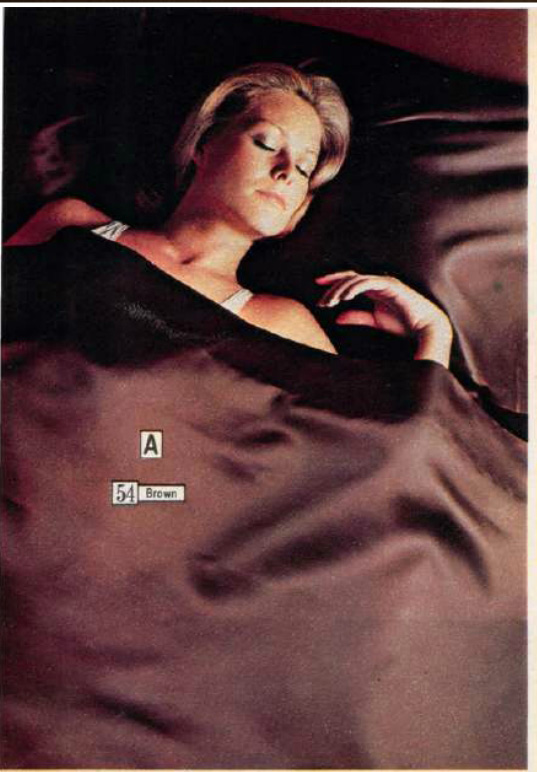 The woman sleeping motif is alive and well in the JC Penney Christmas catalog.
And if you thought the Budweiser bedding was to die for, might I interest you in a Coors bedspread with matching Coors curtains?  (creepy clown statue not included)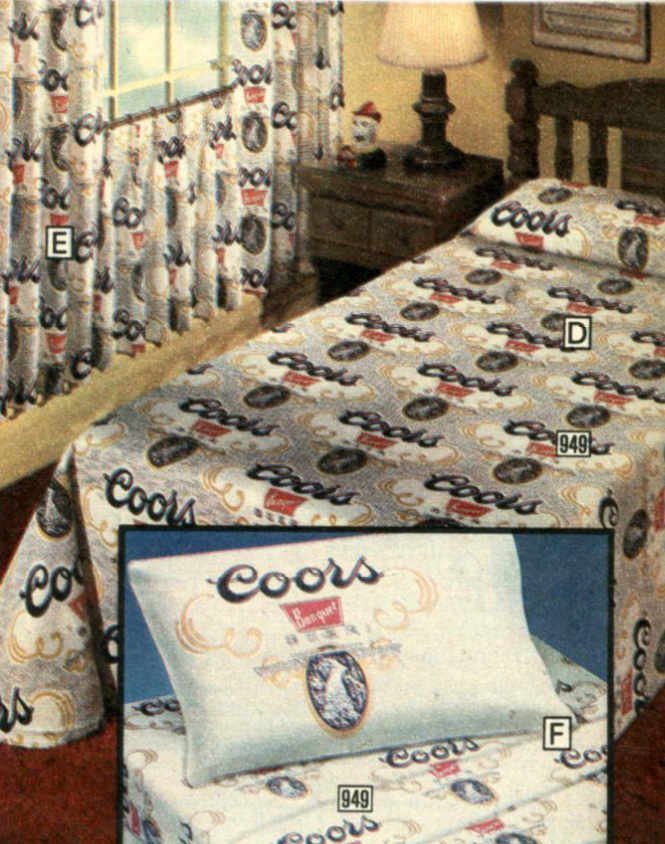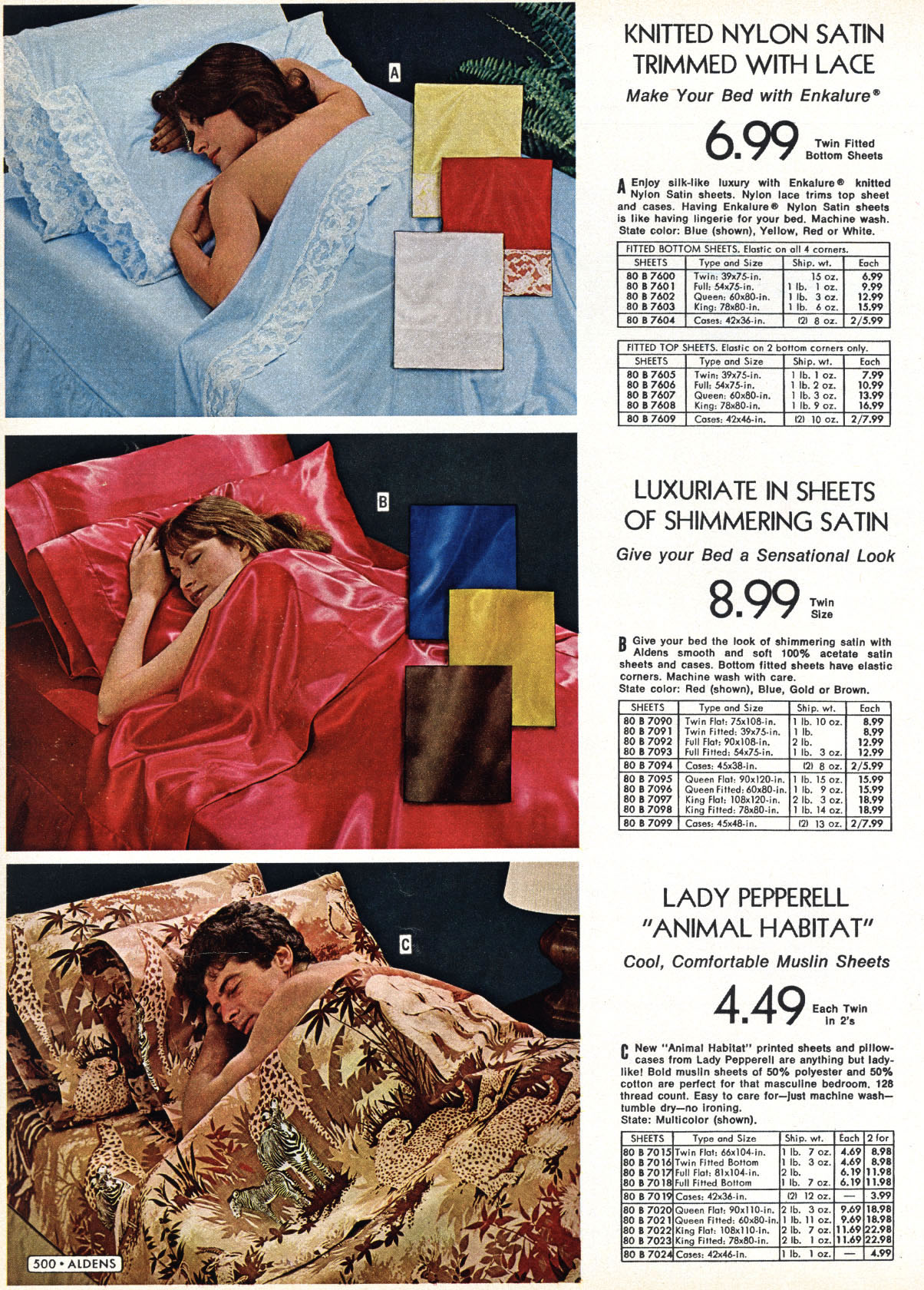 Whoa, whoa, whoa!  What do we have here?  Yes, we have our first sighting of a dude modeling bedding.  And, yes, it's just as inexplicably creepy as I'd expected it to be.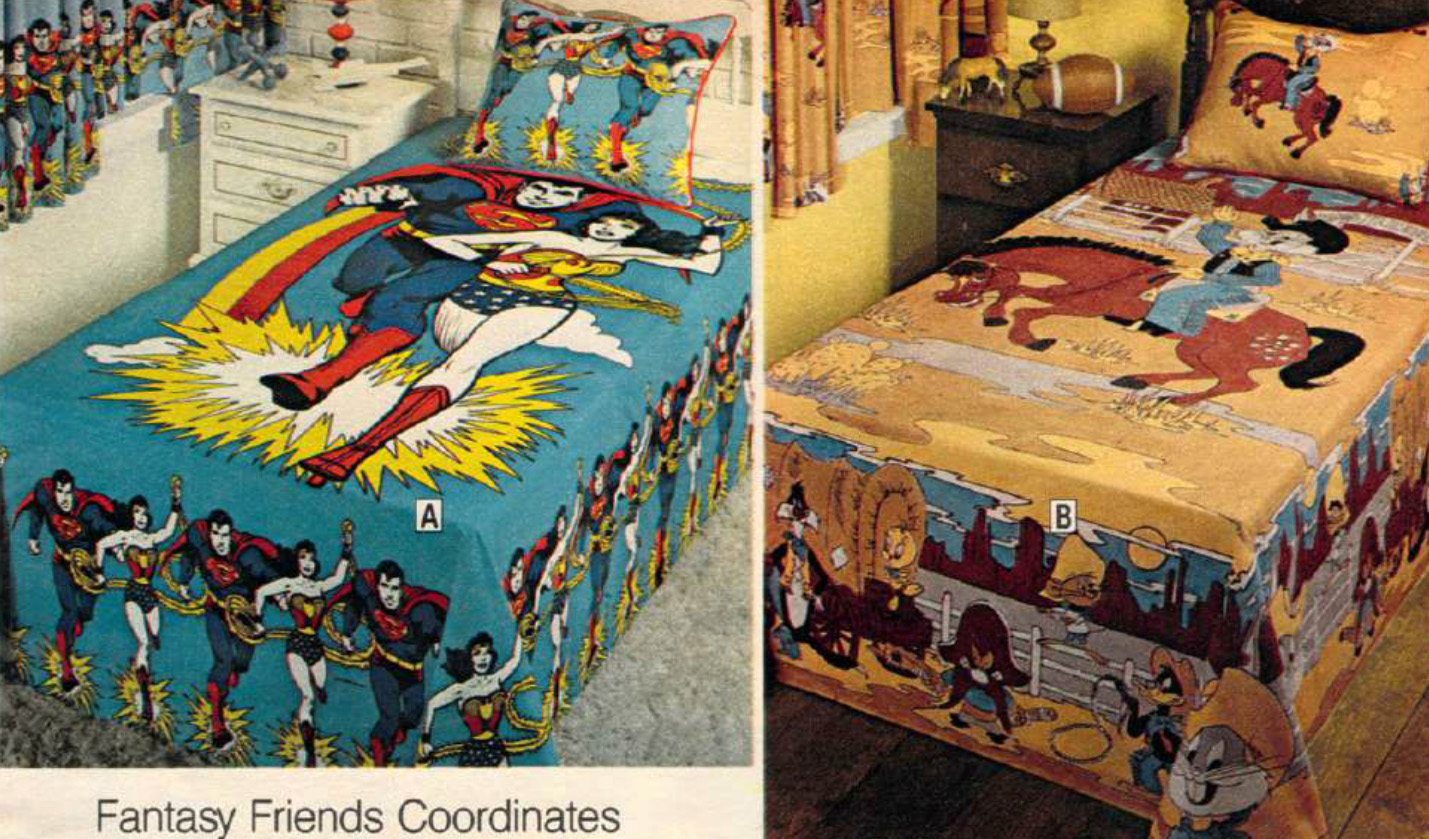 In 1977, JC Penney catalog shopper had the choice of a Superman-Wonder Woman set, or Warner Bros cartoons.  Meanwhile, Sears is offering the coveted Super Friends set…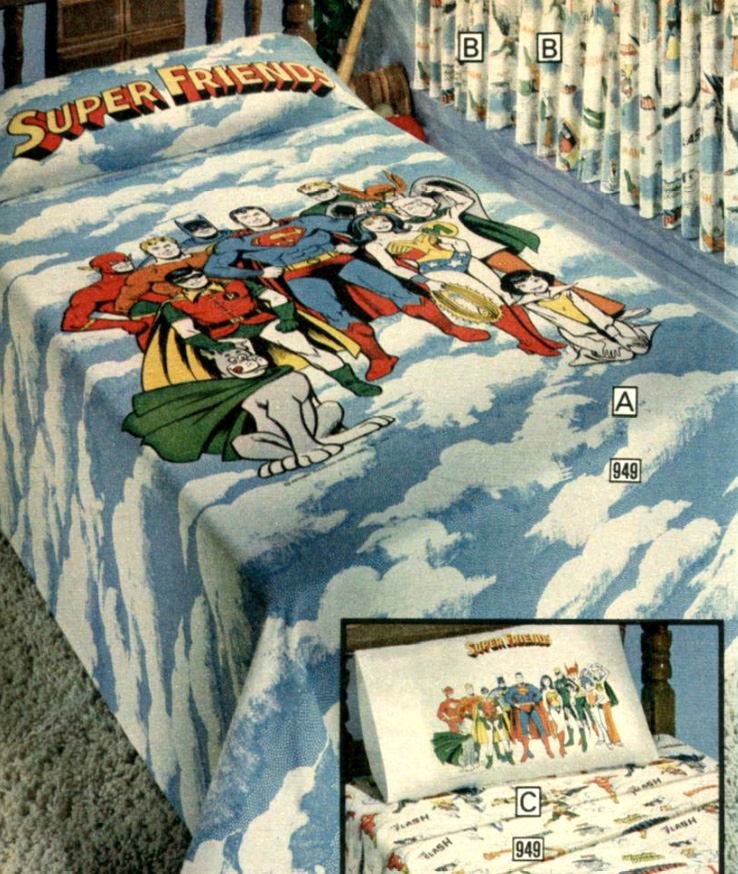 1978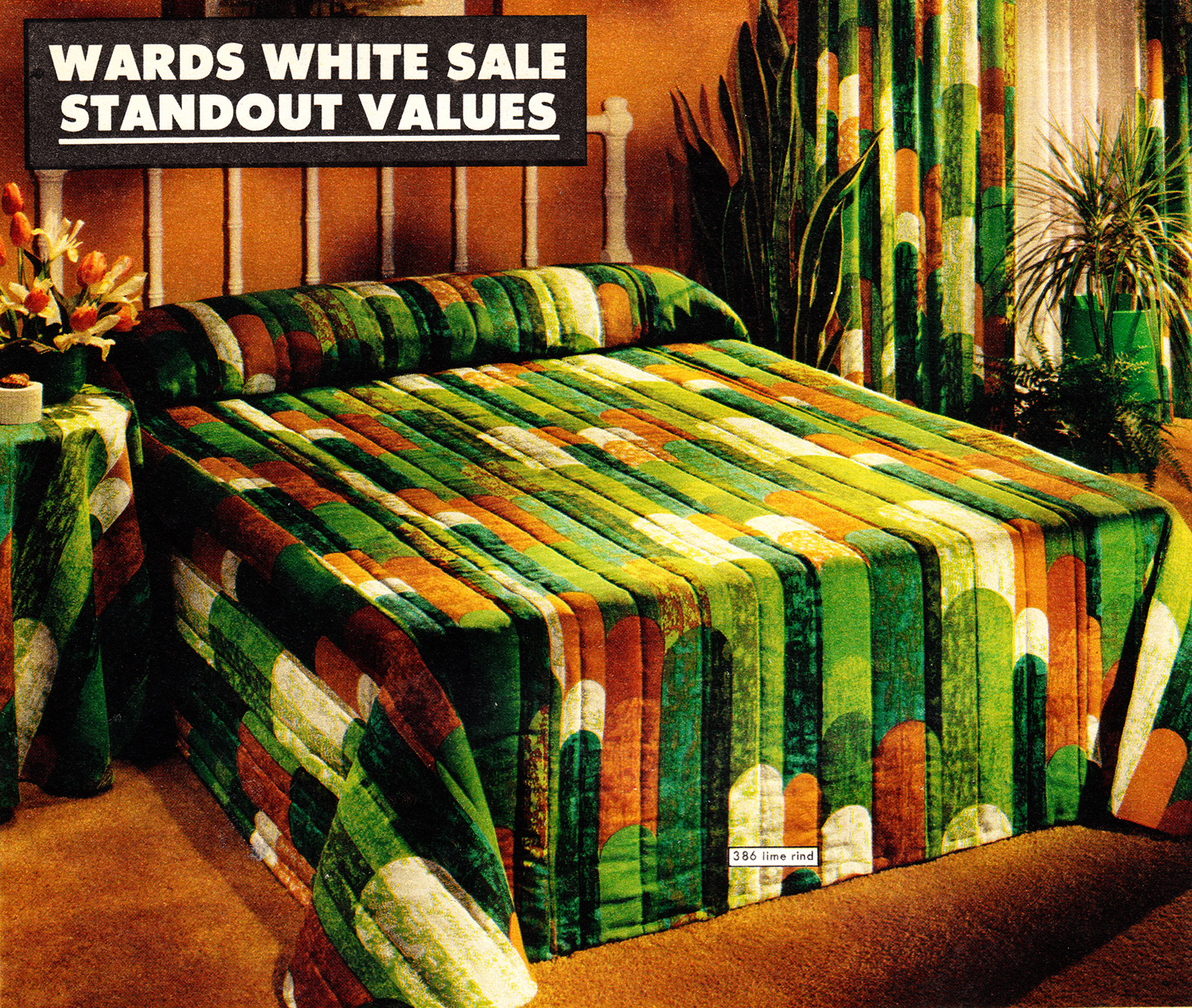 From the Montgomery Ward catalog – I can't decide if this is the ugliest or the greatest bedspread I've ever seen.
1979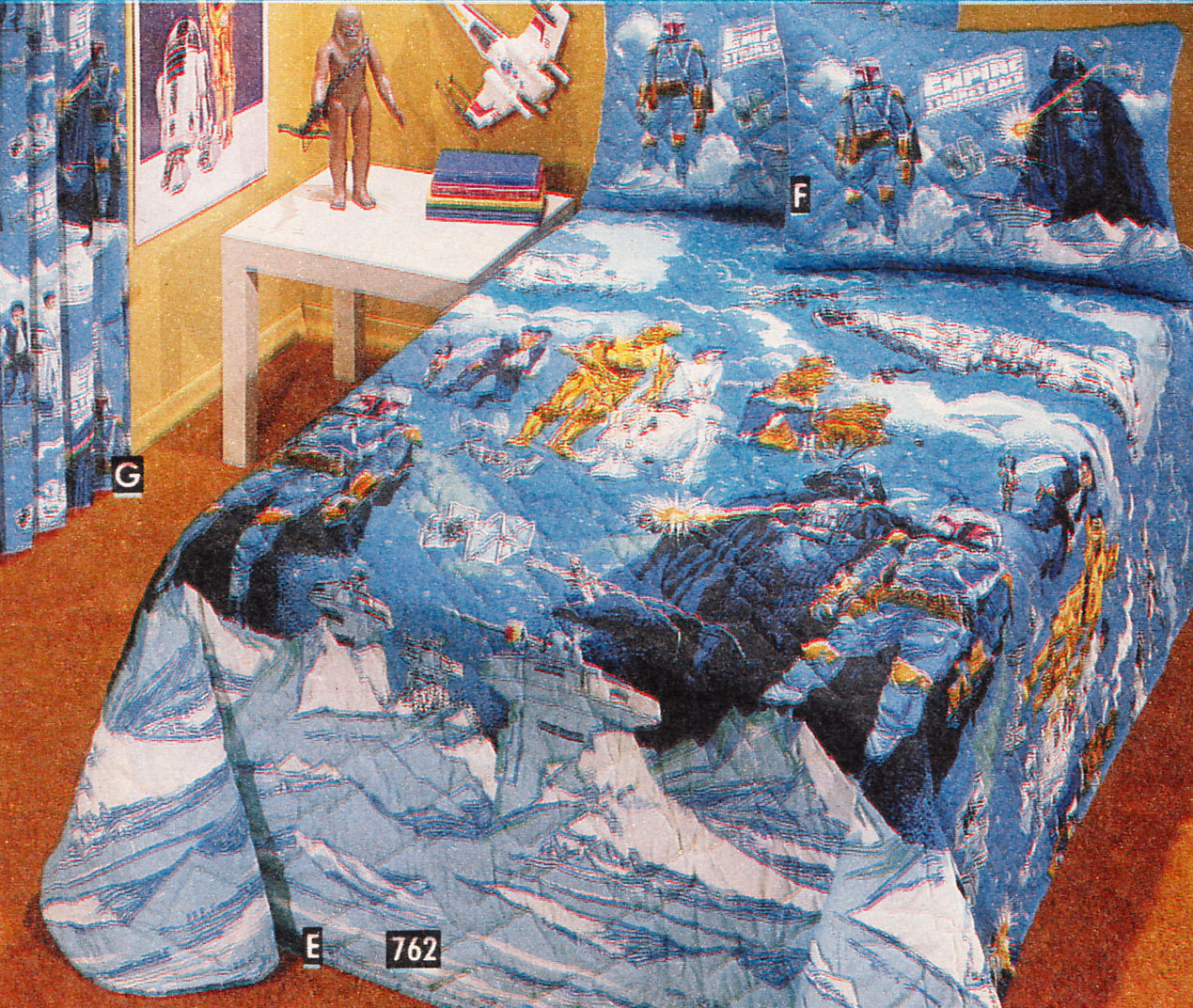 Complete with a Chewbacca figure – this is every seventies kid's dream room.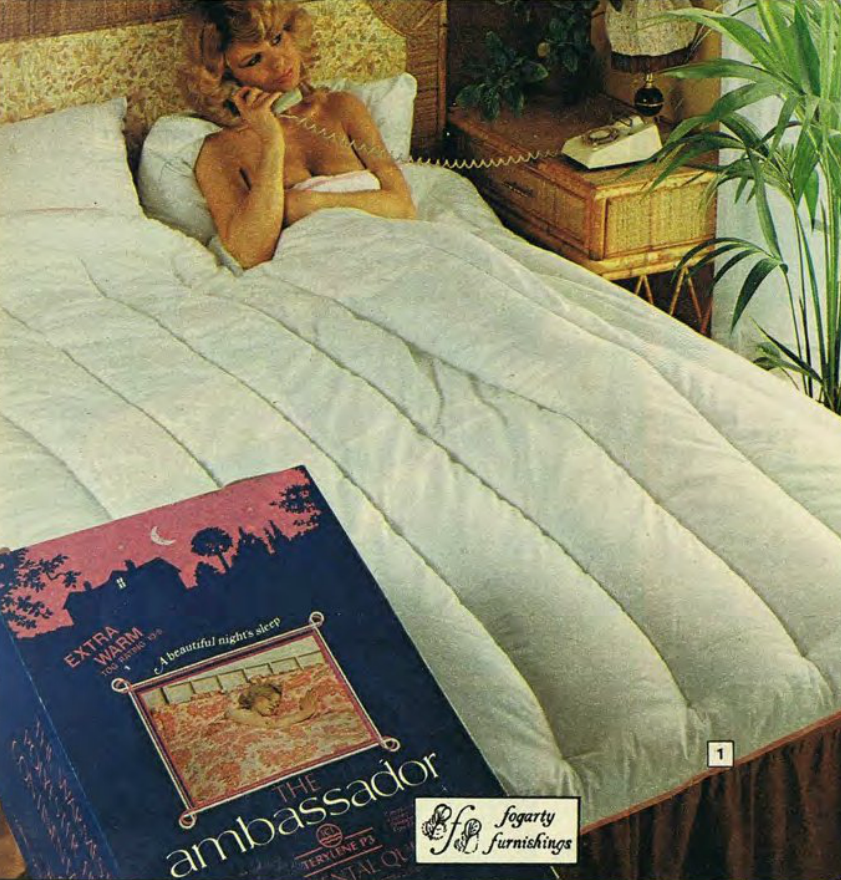 This comes from an Argos catalog – notorious for slipping in less-than-dressed ladies into their family-friendly catalogs.  (See article here)
1980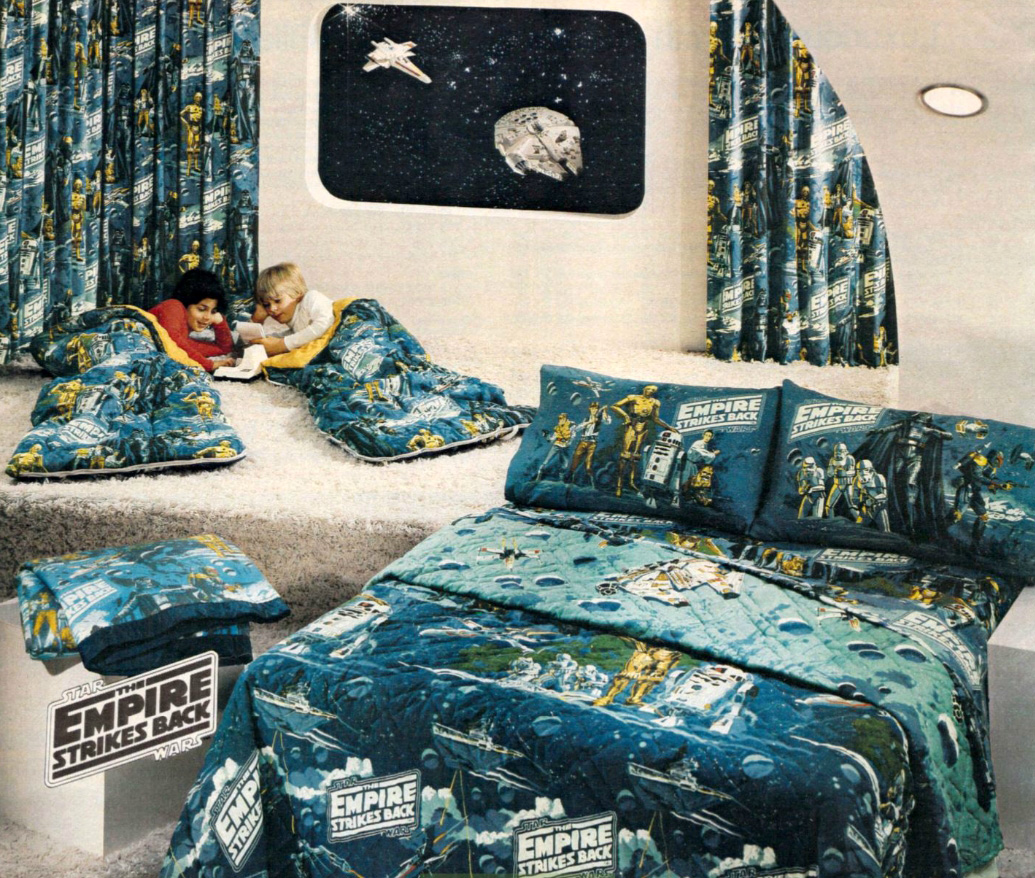 The 1980's have arrived, and children's bedroom set selections get a whole lot better.  Soon, we'll have everything from Masters of the Universe to Mr. T.  A new age is dawning in the world of kids bedding, but we'll leave off here.