A selection of pictures and memorabilia from the 1970s by South Londoner and Crystal Palace fan Paul Wright.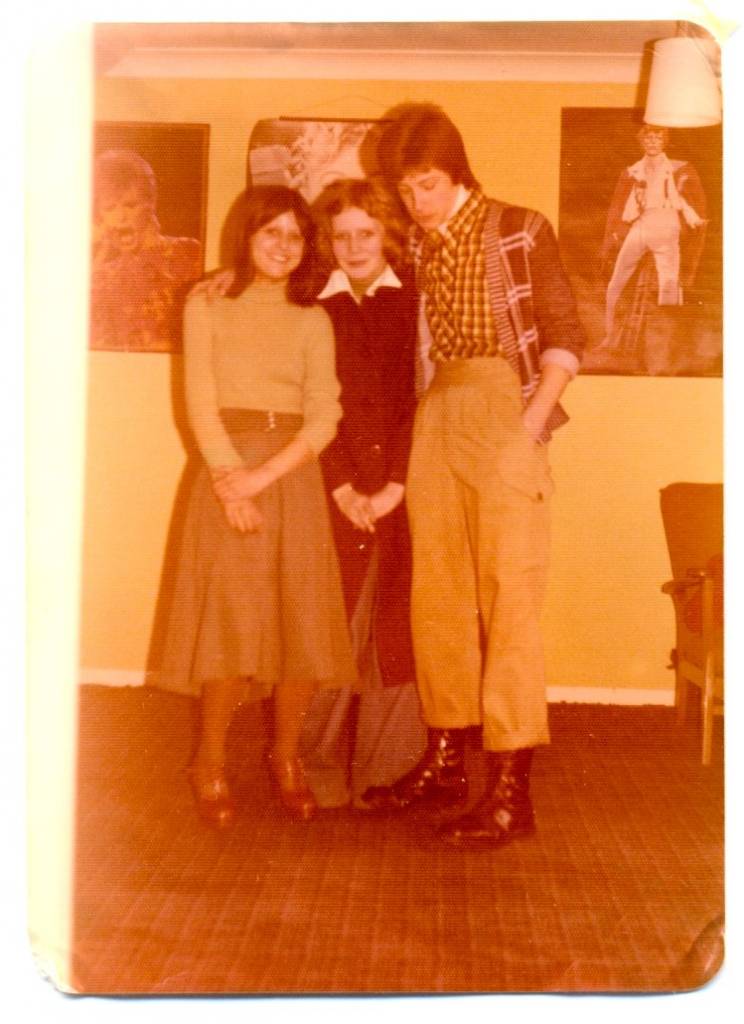 I took this photograph in February 1976. On the left is my sister Debbie, in the middle is her friend Janet and on the right is my friend Chris, who is dressed in freshly polished Dr Marten boots and a Ben Sherman shirt.
I went to my first Crystal Palace football match in 1970 and, apart from a few years in the late 1980s, I have been watching them ever since. This was the first photograph I took at Selhurst Park, Crystal Palace's home ground in south London. By 1972 I was going to most of Palace's home matches and I always stood on the Holmesdale terrace to watch the match. The large terrace has long been replaced by a two tier all-seating stand. The photograph is of a Crystal Palace supporter walking down the terrace. He is wearing Rupert Bear checked trousers which have been turned-up to show off his Dr Martens boots, which have been sprayed silver. Dr Martens boots were very popular at football matches in the early 1970s, and some people sprayed them with silver or gold paint which reflected the Glam Rock fashion of the times.
I took the photograph of the Palace fan walking down the terrace on Saturday 22 January 1972, before the Crystal Palace versus Manchester City match. I was eleven years old. I learnt at an early age that it was no use trying to take photos of a football match with a cheap camera without a zoom lens. Anyway, I was more interested in the supporters and the clothes they wore. Doctor Martens boots, black donkey jackets, white doctor coats with hand written slogans on them. This might look like an easy photo to take. But back then football was a lot more edgy than it is today. I risked getting a punch in the face if he had turned round at the wrong moment and caught me photographing him.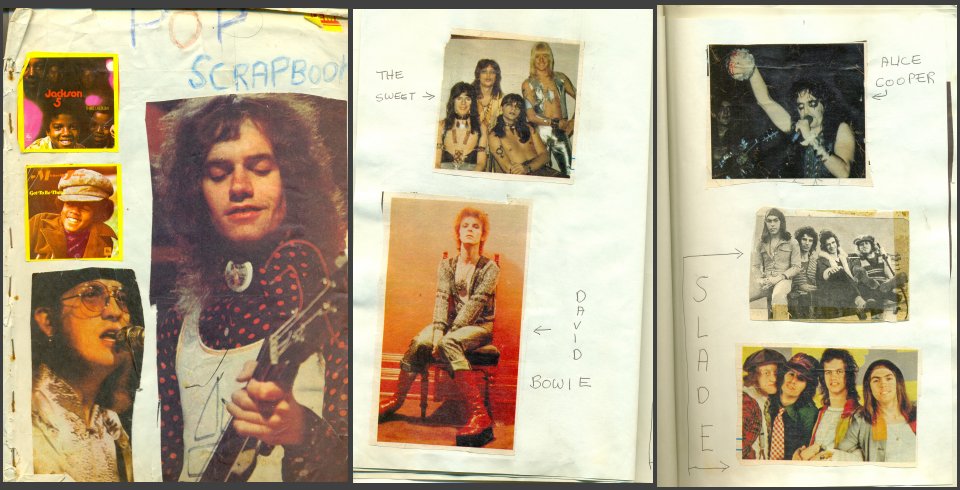 A few pages from my 1972 Pop Scrapbook. I used to get Popswop magazine each week and I cut out photos of Sweet, David Bowie, Alice Cooper, Slade and many other pop stars of the time and stuck them in my scrapbook.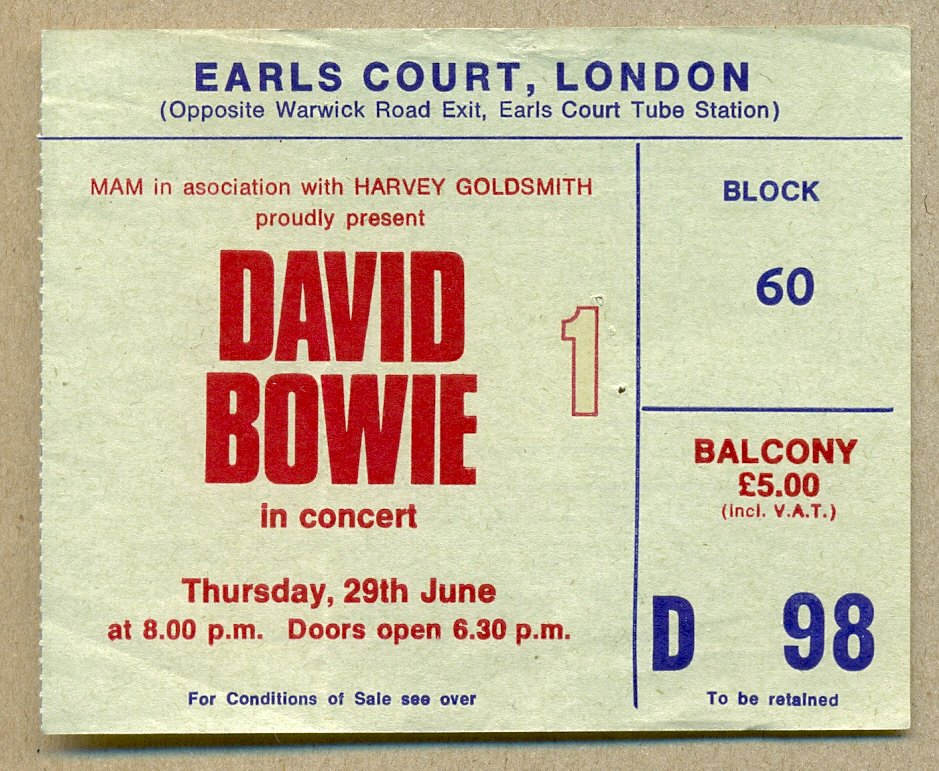 David Bowie played three concerts at Earls Court in 1978, on the 29 & 30 June, and on 01 July.
These were the only London concerts he played in 1978 and I went to the first two shows at Earls Court, on 29 & 30 June.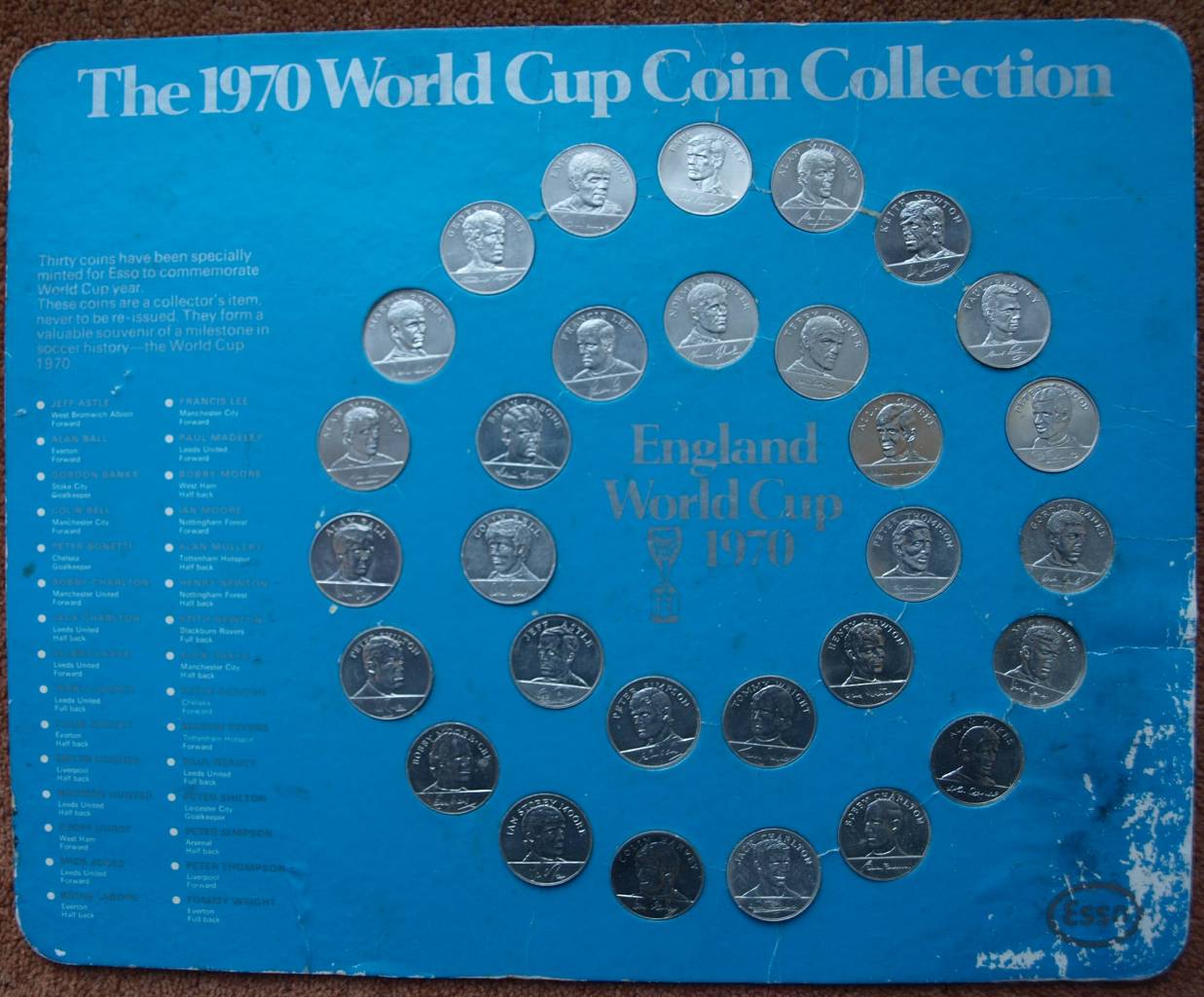 In 1970 Esso gave away silver coloured coins to people who bought petrol at their petrol stations. Each coin featured an engraving of an England player from the 1970 Mexico World Cup squad. I got into football around 1969 and by 1970 I was hooked. I managed to persuade my dad to drive miles to the nearest Esso petrol garage so I could get another football coin to add to my collection. The World Cup in Mexico that year was fantastic. England were the World Cup holders but they got knocked out in the Quarter-Finals by West Germany. But for me the 1970 World Cup was all about Brazil. I watched the amazing footballing skills of the likes of Pele and Jairzinho on our small black and white television in our small back room. I was a ten year old boy and I hadn't been to a football match yet but I knew that it was the game for me.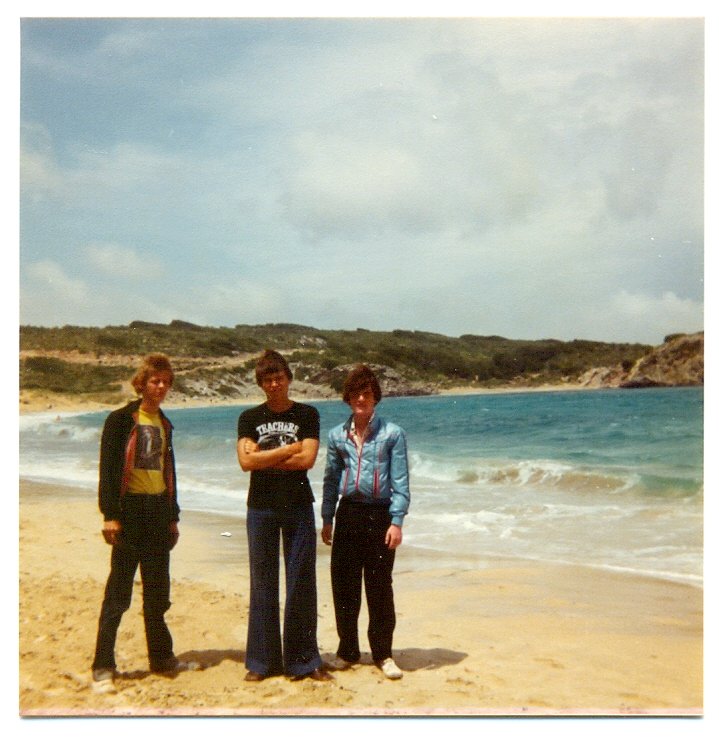 In June 1978 I went on my first holiday abroad. I had spent my childhood holidaying in almost every coastal resort on the English south coast, usually camping, as my parents couldn't afford a foreign holiday. The only time I had been abroad was a day trip to Calais with the school in 1972. That all changed in the summer of '78 when I went to Menorca with three friends I worked with in London. This photograph was taken by my friend Paul who I went to many punk gigs with. That's me on the left, wearing straight-leg jeans and a black Harrington jacket adopting a typical punk pose. In the middle is Danny and on the right is John. I was nearly 18 and we were all hoping for a lively holiday with plenty of booze and girls. However, we didn't get that at all because Menorca was a beautiful and peaceful island but far too quiet for a group of 18 year olds from London. We even received a warning from the hotel manager that we were making too much noise after we held a late night party in one of our rooms.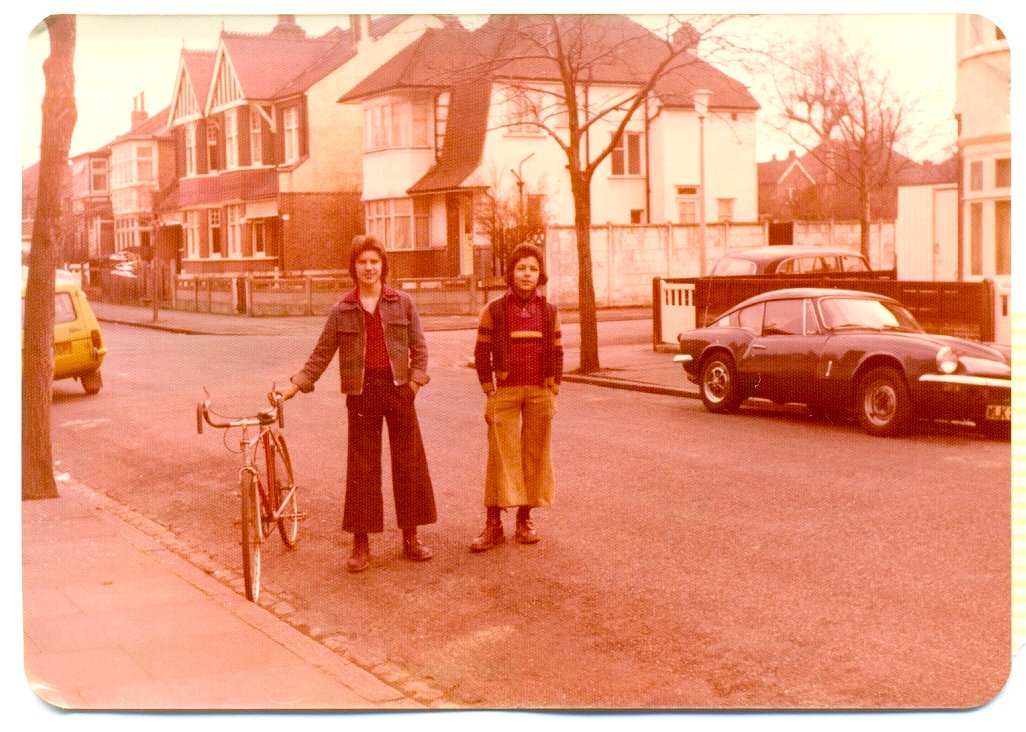 This is a photograph I took of my brother Andy (right) and his mate Ian (with his bike) in 1976. They are both wearing typical mid-70s clothes. Andy is wearing a tank-top and his baggy trousers have been taken-up to show off his Dr Martens boots. The collar of Ian's shirt is worn over his denim jacket, which was a very popular style, and he is wearing high waistband baggies and Dr Martens.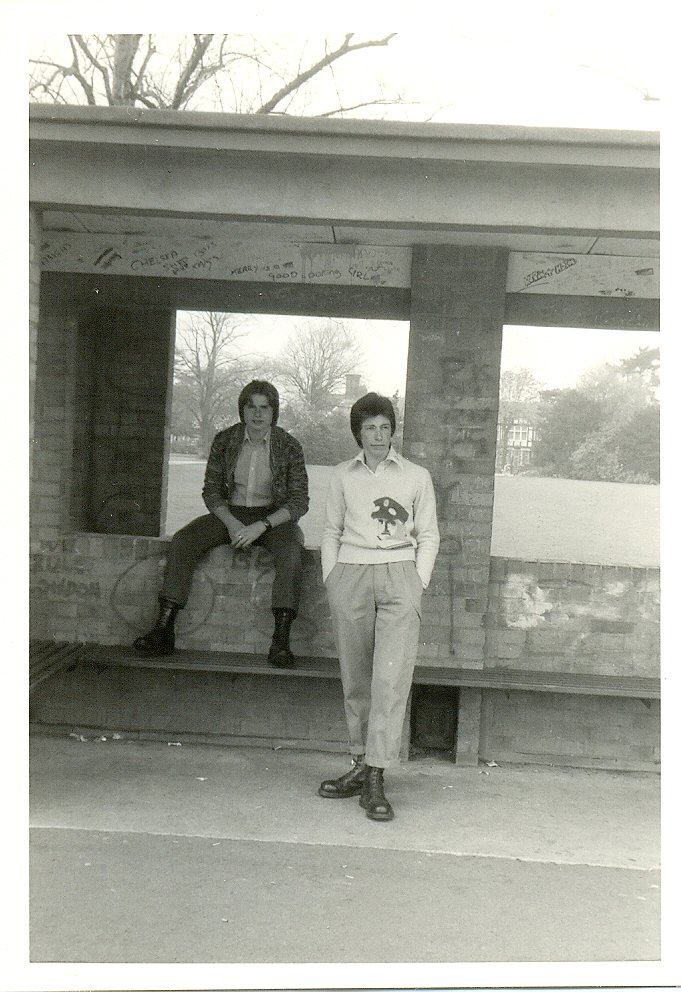 I took this photograph during the Spring of 1976 of my friends Keith (left) and Chris. We were all at the same Secondary Modern school in south London and we all left in the summer of '76 at the age of sixteen. In many ways 1976 was a transition year for us. We had grown-up with Slade but by '76 we had outgrown them. Bowie was still very influential along with Roxy Music, but we didn't really have music of our own. We couldn't relate to the middle-class super-groups, the likes of Genesis and Pink Floyd, and music and fashion had become boring and predictable. We didn't realise it at the time, but everything was about to change. Punk was just around the corner and it really was a breath of fresh air for us.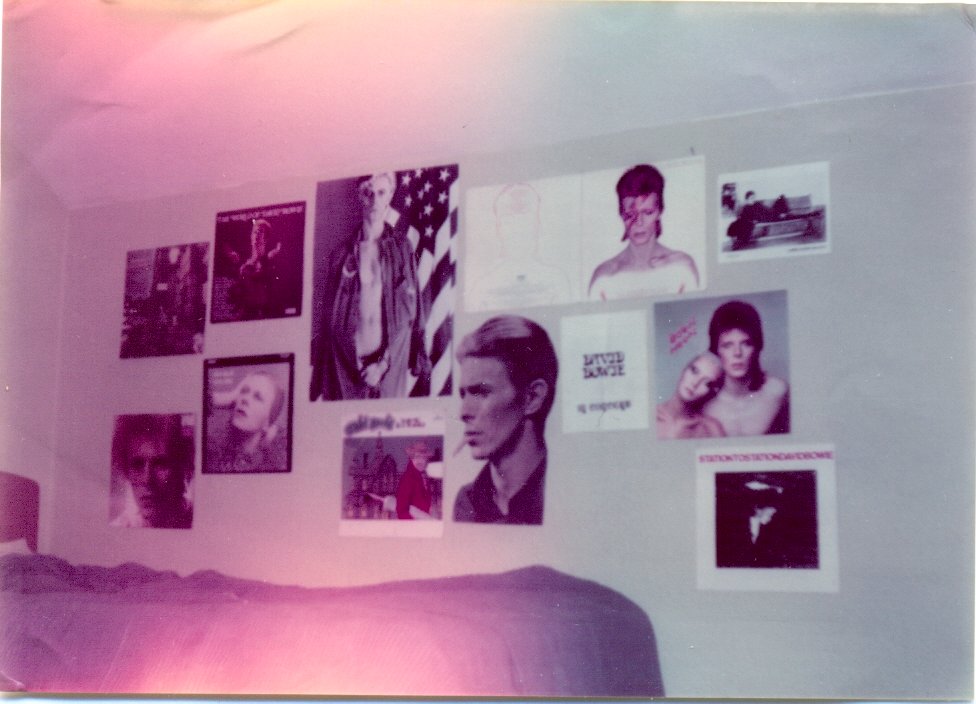 A photograph of my bedroom wall in Beckenham taken in 1976 and featuring a number of Bowie album covers including the recently released Station to Station album. I went to London's Victoria Station on 2 May 1976 to see David Bowie arrive back in London. Bowie arrived in an open-top Mercedes convertible and a photo was taken of him apparently giving a Nazi salute to the crowd. Bowie said that the photographer simply caught him in mid-wave, which I am sure was the case, but it became known as the 'The Victoria Station incident'. I was aged 15 when I went to see Bowie at Victoria Station. Amongst the other Bowie fans who were there that day were unknown kids Boy George (aged 14) and Gary Numan (aged18). A few days later I went to see Bowie in concert for the first time, at the Empire Pool, Wembley. It was part of his Thin White Duke Tour and it was one of the most exhilarating concerts that I have ever been too.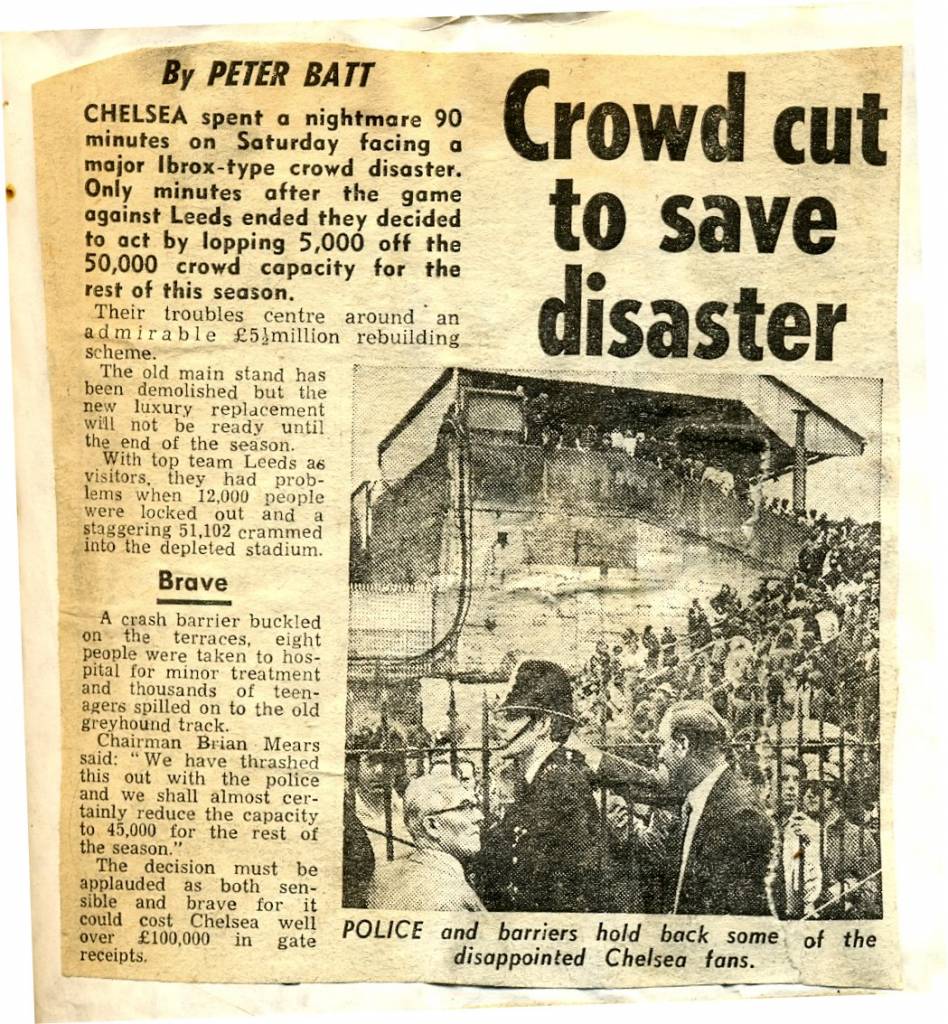 This is a newspaper clipping that I pasted into my Crystal Palace scrapbook, although it's about Chelsea! I think at the time I was amazed that 12,000 people had been locked out of a football match, not able to get into the ground. In those days there wasn't really any advanced ticket sales for most matches, so people just used to turn-up at the ground and pay cash at the turnstiles. This meant that for big matches supporters often had to arrive at the ground two hours before the kick-off to ensure they got in. I even had to turn-up that early at Selhurst Park for some of Palace's big matches against Man Utd, Liverpool, Arsenal etc. This newspaper clipping is about the Chelsea v Leeds United match at Stamford Bridge on Saturday 12th August 1972. The attendance was an amazing 51,102 with an additional 12,000 people locked-out. Chelsea won the match 4-0, their goal scorers were: Peter Osgood, Charlie Cooke and two from Chris Garland. This article is from The Sun newspaper written by journalist Peter Batt who died in 2011.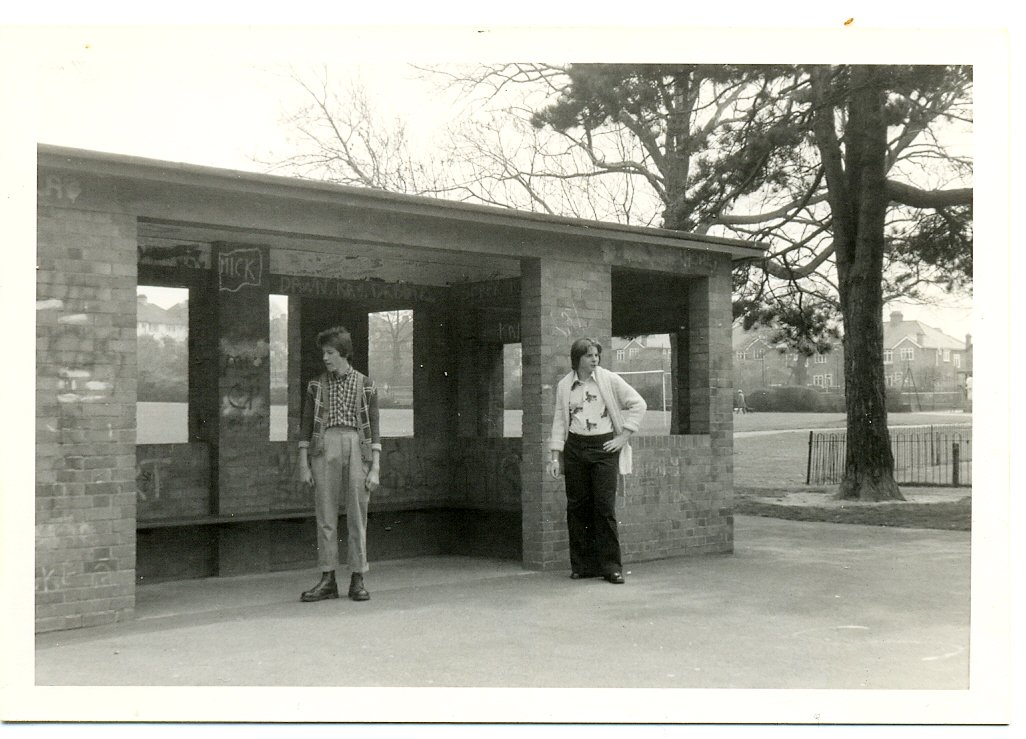 I took the photograph of the shelter in the park in 1976 at the Croydon Road Recreation Ground, in Beckenham, south London. An unknown David Bowie played a concert there in 1969. It was our local park (still is) and we used to bunk off school and spend afternoons there, smoking and listening to Roxy Music and T. Rex on our transistor radios. I left school at 15 during that long hot summer. Me and my friends were bored teenagers back then, standing around, just waiting for something to happen. But we had a feeling that something was in the air, something was about to change. And it did. Punk happened in 1977. It was so exciting. It felt like it was our music, our time. It was for working class kids, kids like you and me.
The photo features my friends Chris (left) and Keith taken in early 1976. Chris is wearing a Ben Sherman shirt and rolled-up trousers to show off his Dr Martens boots. Keith is wearing high waist Oxford bags trousers, a patterned wide-collar shirt, white cardigan and platform shoes. There were many cross-over fashions during the 1970s. Oxford bags trousers were made fashionable by Soul Boys who danced to Northern Soul and later to disco music when disco first came on the scene. But by '76 Oxford bags were just as popular on the High Streets as they had been in the clubs. Dr Martens boots (or DMs as they were usually referred to) were the footwear of choice for skinheads in 1969 and into the early 70s. DMs were comfortable to wear and lasted longer than any shoes so they soon became popular among young working-class boys. By the mid 70s DMs were standard footwear.
I must admit I wasn't a big T.Rex fan in the early 70s. I liked their music and I bought the singles: "Metal Guru" and "Solid Gold Easy Action" in 1972, but their singer Marc Bolan appealed more to girls than to me and my friends. My sister had a Bolan poster on her bedroom wall but I was too much into Slade to bother about T.Rex.
But by 1977 Marc Bolan was appealing to a new audience which included young punks like me. He went on tour with The Damned as support band (unfortunately I didn't go to any of these gigs) and fronted his own six-part television series called 'Marc' which was broadcast in August/September 1977. His TV show was something of a comeback and I think it proved that his music and attitude was relevant to the summer of '77; he also featured young punk bands on his show which included including Generation X, The Jam and Eddie and the Hot Rods. To me this was fantastic because punk bands were rarely on television back then.
I was especially looking forward to seeing the final show because it featured my hero David Bowie. I was at work on Friday 16 September 1977, which started as just another normal day. It was around 11:00am that morning that someone told me they had just heard on the radio that Marc Bolan had been killed in a car crash. I was shocked and I was hoping that it wasn't true, but I went out at lunchtime and bought the early edition of London's Evening News newspaper and the terrible news was on the front-page. I have kept my copy of the newspaper ever since.
Evening News, Friday 16 September 1977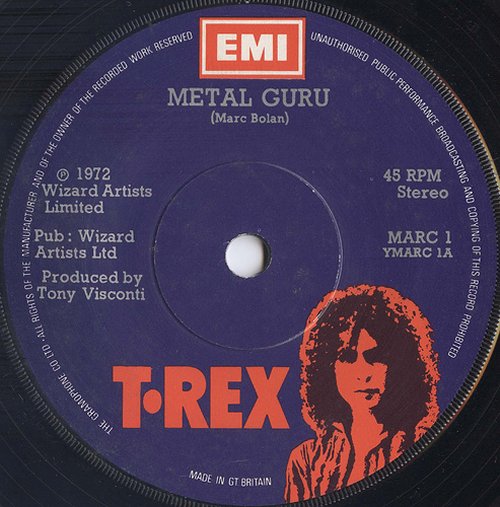 "Metal Guru" was the first T.Rex record I bought. I was 12 years old but I was doing a paper round so I could afford to buy records now and then, and I already had a half-decent record collection. I loved the Glam Rock era and apart from my favourites Slade and David Bowie I also really enjoyed the music of Roxy Music, T.Rex, Sweet and Gary Glitter.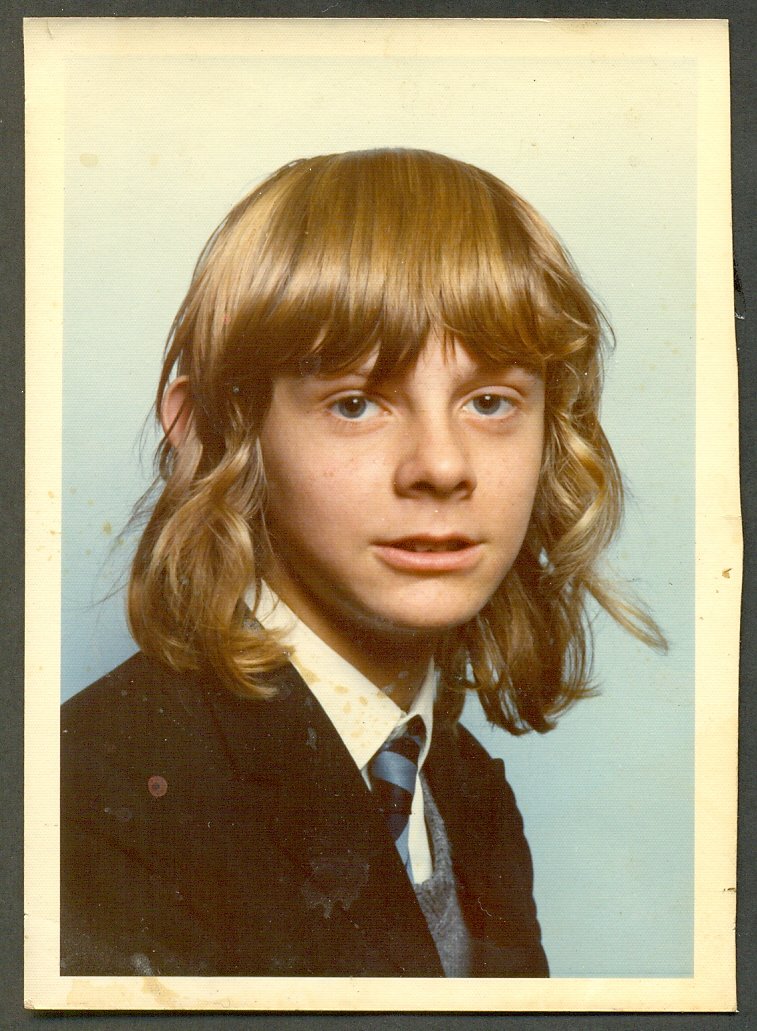 This is a school photograph of me at Secondary Modern school in 1972. Secondary Modern school was for kids like me who failed the 11 plus exam so they weren't bright enough to go to grammar school. We were destined to work in factories, shops, or to join the army – Career Opportunities as The Clash would later sing to sum-up our generation. It seemed like everyone had shoulder-length hair (or longer) in the early 1970s, I suppose it was a left-over fashion from the 1960s. It wasn't until the late 1970s when punk changed music and fashion that people began to have shorter hair-cuts, and straight-leg trousers instead of flares.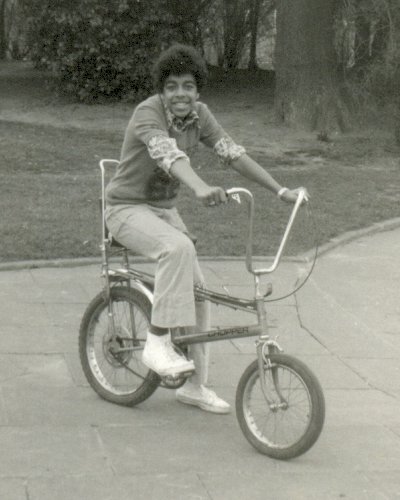 Tony on a Chopper which was the coolest bike in Britain to have in the mid-70s. The Raleigh Chopper was a wheelie bike, manufactured in the 1970s by the Raleigh Bicycle Company of Nottingham, England. Its unique design became a true 70s cultural icon. The Chopper bike was based on the look of a customised chopper motorcycle, made popular with films such as Easy Rider, and it was the "must have" item and signifier of coolness for many kids at the time.
More of these wonderful pictures can be found at Paul Wright's brilliant flickr site