"I made plenty of mistakes and learned something from most of them but that is inevitable if you don't want to play safe"
– Gerry Cranham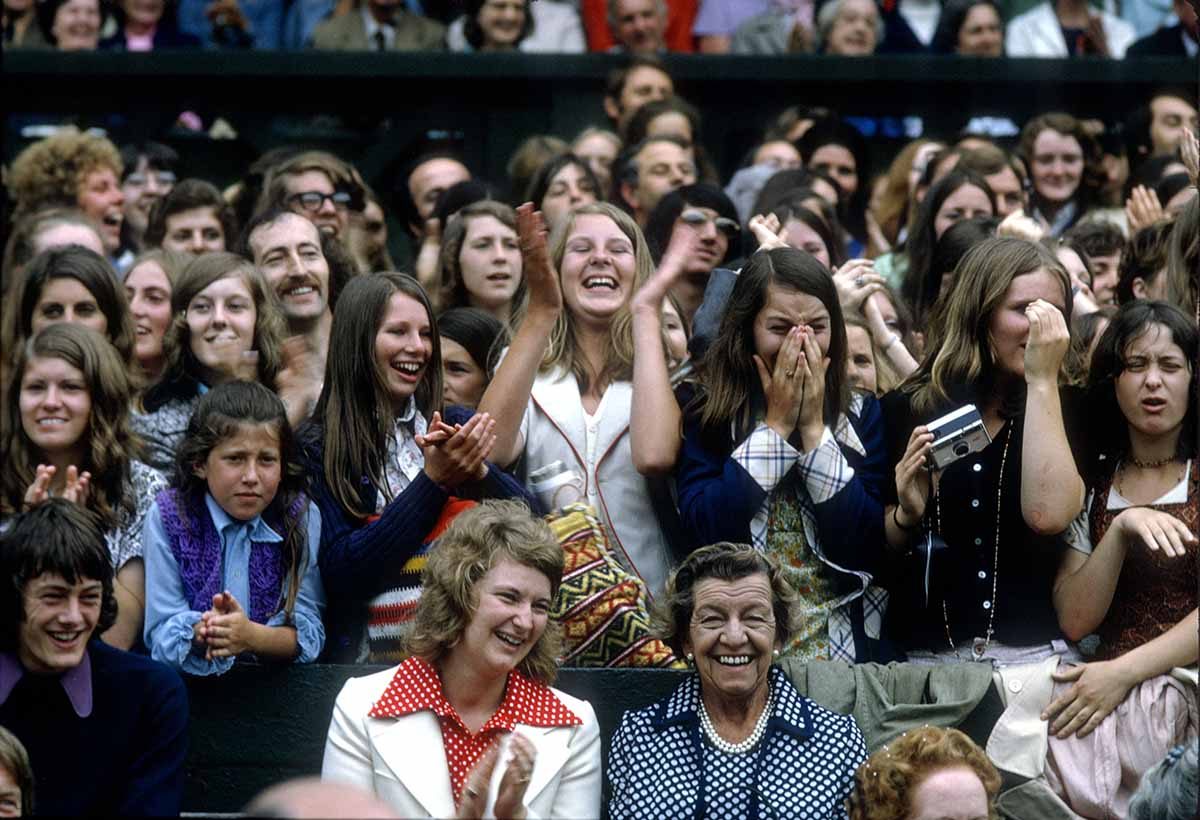 Born in 1929, Gerry Cranham is a British photographer, who is widely regarded as the one of the foremost practitioners in sports photography.
As Henry Winter writes in This Sporting Life, a new book of Cranham's work: "It always amazes me how sports photographers consistently produce such beauty and drama under such pressure (Henry Winter writes). They are vulnerable to the elements and torrential downpours. They have their backs to the fans and are at risk from missiles. They could be down the wrong end from the action."
Cranham's work takes shows us the action and takes us to the heart of the crowd.
After five years in the army and a career in athletics (middle-distance running), Cranham became a coach. He used his passion for photography, in his work as a trainer using photos of the athletes to correct a stance, or analyse a stride. In 1957 he began his career as a photographer full time, sticking with his favourite subject matter, and publishing his first photo at the age of 28.
Cranham has worked with many newspapers and magazines such as The Watch, Sports Illustrated, Time and The Evening Standard, and his work is in the collection of the Victoria & Albert Museum.
Now his work has been compiled in a fabulous book, co-authored with his friend, the photographer Mark Leech, who tells us:
"Gerry Cranham was a both a master and pioneer of photography and This Sporting Life draws on his images of the 1960s and 1970s, two seismic decades of sport. Cranham covered this period in forensic detail and with incredible vigour, capturing the humanity as well as the thrill of sport, while shooting everything from Highland games to Olympics.

"Sporting greats featured include: Muhammad Ali, Billie Jean King, James Hunt, Olga Korbut, Bobby Moore, Gary Sobers, Tessa Sanderson and Red Rum. Era-defining events covered include: the 1966 World Cup, the 1972 Olympic Games, the Boat Race, the Le Mans 24 Hours, Wimbledon tennis, the Ryder Cup, the Grand National and Grasmere Country Sports. The list could go on…

"This Sporting Life is the first comprehensive collection of Gerry Cranham's work and is the definitive volume of his amazing career."
Gerry Cranham only began taking photos to assist with the coaching of athletes after his own promising running career had been cut short by injury. He'd been selected to run a leg of the torch-bearing procession for the 1948 Olympic Games and had high hopes of making the grade as an athlete.
His experience in athletics helped his photography. Cranham observed that "being a sportsman helped at times, you have to be knowledgeable. So many photographers would shoot at the wrong moment."
In 2019, he recalled how his career began:
"I had to give up athletics because I injured my foot, so I became a coach and bought a camera to take pictures of the guys I was training, and it all started from there. It was trial and error as I wasn't trained as a photographer. I just made a dark room in the coal cellar, it was so primitive, but I just picked it up…

"They were very restrictive on allowing people in, so I'd just buy a ticket and start shooting from some obscure spots, and luckily my stuff started to stand out. I'd always try and do something that was different, that was daring. There wasn't the opposition or competition then if somebody was very different, it stood out. I was also very persistent because I had a wife and five children and there was a lot of income to be earned – I couldn't afford failure!"
The breakthrough moment had come in November 1961 when Cranham borrowed his wife's bike and cycled to Blackheath to cover the local rugby team in their home fixture against Oxford University. Rhodes Scholar Pete Dawkins was playing for Oxford and he was captured by Cranham throttling an opponent as they scrapped on the touchline. On arrival back at the family home in Tooting, Cranham's wife had returned from a nursing home with the couple's fourth child and Gerry had to bath and feed the other three, delaying his moment to develop the film in the converted coal bunker.

Eventually the photo appeared in the UK newspapers and this story was then picked up by Sports Illustrated, who wanted to know more about this hitherto unknown photographer. "I was always lucky", the perpetually modest Cranham often says.

"My biggest inspiration for developing my own style was my need to feed a family of seven" Cranham has said, adding "My work simply had to stand out, it was not much of a choice".

…

Outside of sport he was sought after by the newly launched colour supplements and when Winston Churchill died in 1965, the Sunday Telegraph chose Cranham ahead of a host of Magnum photographers, for the key position in the Whispering Gallery at St Paul's Cathedral. When the picture picture editor was asked about this he replied, "He never misses".
Lead Image: Circa July 1973 – Tennis – Wimbledon – Young female Bjorn Borg fans clap and cheer enthusiastically – Photo: Gerry Cranham / Offside.
Buy This Sporting Life by Mark Leech and Doug Cheeseman here.