In 1983, Samantha Fox met Ian Fraser "Lemmy" Kilmister (24 December 1945 – 28 December 2015). Fox was a topless 'Page 3 Girl' for Britain's The Sun newspaper. Lemmy was lead singer of MOTÖRHEAD, formerly of Hawkwind, who wanted to make "fast and vicious, just like the MC5".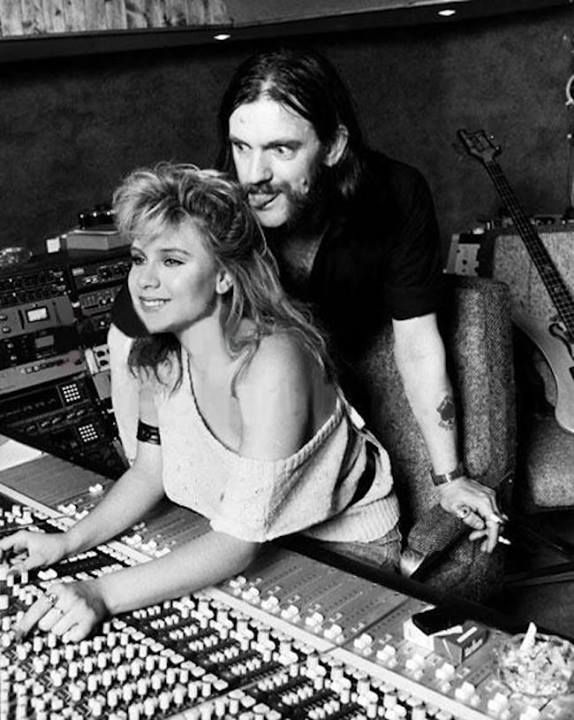 In 2010 Samantha Fox recalled their meeting:
We met when I was 17. He read in the newspaper that before I was a model I was in a band and that I loved MOTÖRHEAD and AC/DC and VAN HALEN and KISS. He was quite surprised because my image at the time was very girly. I don't think a lot of people realized I was into rock 'n' roll so much. He was a fan of my pictures. It's so funny that he's a fan of mine!

He came up to me at a charity event we were doing together. We started talking and he said we should do a song together…
I went to his house and walked into his living room. I couldn't believe that his back wall was full of my pictures from newspapers and magazines. He said, "OK, let's get some inspiration. What kind of song you want to do as a duet?" We started laughing about doing a heavy metal Kenny Rogers and Dolly Parton. He wanted to put on some music for inspiration and I couldn't believe he put ABBA on! Lemmy loves ABBA? He told me he gets a lot of his melody ideas from bands like ABBA. We wrote a song and called it Beauty and the Beast. It was fantastic. Unfortunately, Lemmy and MOTÖRHEAD got involved in a litigation with the record label and wasn't able to release new music for about three or four years. We couldn't release that track, which was a shame.
We became friends over the years. We always meet up for dinner if we pass while gigging around. He's always been a mentor of mine since I've known him from such a young age. What can I say? Lemmy is one of the gods of rock music. He knows the ins and outs of the business and if I ever needed advice he's always been there for me.

Unfortunately, my dad passed away 11 years ago I thought Lemmy would be great to give me away. It would be fantastic! He's such a nice fella. He's got a lot of character and lot of wisdom. I could sit and listen to his stories all day long.
Spotter: Blabbermouth