Brothers Michael and Dan Erlewine were leading lights of Blues band The Prime Movers, forming the group in 1965.
The Prime Movers were: Iggy Pop (drums), Dan Erlewine (lead guitar), Robert Sheff (aka Blue Gene Tyranny on keyboards – he played for The Stooges), Jack Dawson (bass), and Michael (lead vocalist and amplified harmonica). Iggy did sing, mainly the Muddy Water's tune, I'm a Man.
In October 1966 Iggy Osterberg left the band, replaced by J.C. ('Jessie') Crawford on drums – a musician best known as the raucous Master of Ceremonies for the MC5 (more on them later).
Many others joined and left. At the final count the band had featured 37 members.
Michael Erlewine met James Jewel Osterberg in their native Michigan. Michael recalls a "shy, active, and ambitious young man", then playing with the Iguanas. The Prime Movers duly dubbed him Iguana, which soon became shortened to Iggy. (The Pop part was inspired by a local glue-sniffer.)
Michael recalls the band's beginnings, telling i94bar:
"The Prime Movers was the first hippie-style or new-style band in the Ann Arbor/Detroit area. Along with the MC5, who in the beginning appeared in suits, we helped to mark a change in what bands were.

"We had been to Chicago and seen the blues greats (like Muddy Waters, Howlin' Wolf, Little Walter, Magic Sam, etc.) play, so we had no real interest in groups like the Rolling Stones, who, like us, used the blues greats as their mentors. Our only contemporary and largest influence was the original Paul Butterfield Blues Band… Their music totally kicked ass, and they were cool on top of it."
The Prime Movers played mostly around Grand Rapids, Chicago, and Sausalito. For about one-and-a-half years they were the house band at Clint's Club in Ann Arbor.
Michael recalls:
"Clint's Club at 111 E. Ann Street in Ann Arbor was one of those long narrow buildings that reach way back from the street. As you came into the club, the bar ran along the left side, while on the right was a row of picnic-sized tables at right angles to the door. In between the bar and the tables was space to walk. The small bandstand, located at the back and to the right, was raised something less than a foot high. We could barely fit all of ourselves and our equipment on it. Behind us, to the left (as you came in), was a single door that led to a backroom, and to the right bathrooms.

 
"This single block on Ann Street (and only on one side at that) was the center of all Black businesses in Ann Arbor. It had a couple of bars, a pool room, and so on. There were two bars right next door to one another, the Derby Bar at 113 E. Ann, and then Clint's Club one door to the east.

"The Derby was a hangout for the younger Blacks and the Ann Arbor police journals have plenty of entries as to its toughness. This was where young policemen went to prove themselves and where they claim heroin and just about any other kind of illegal-whatever took place. To their mind, this was the 'nastiest' part of Ann Arbor. The local police called it 'The Block'. Apparently there were two murders in the bar in one year in 1974. The police claimed that when they answered a distress call and rushed to the bar, they often would find just a dead body and no witnesses.

"Right next door was Clint's Club, where the older Black folks went for a drink and to relax. We played at Clint's club for something like a year and a half, sometimes on and off, but usually on weekends and often Thursday through Sunday nights from 9:30 until 2 AM."

 
"I have been in the Derby Bar a number of times and it was a lot rougher. The younger Blacks were ashamed (or so it seemed) that their parents and elders would listen to a mostly White blues band next door while they were into the latest R&B tunes. And at the Derby they didn't like White folks all that much.

"Otherwise we were happy to play at Clint's and did so for quite a long time. I know the bathroom was a little crude for some of our band. There was just one long white porcelain trough (about eight-feet long) for a urinal and a single bare toilet setting out in the open, OK for a whiz but not in great demand for 'number two'. We would walk a couple of blocks east to our home for the serious stuff.
 

"We loved playing Black music at a Black bar, as stupid as that might sound. We practiced hard and wanted to prove our sincerity by having our tunes heard by people who knew what they were all about. And these older Black folks knew the tunes. We were doing many of Little Walter's songs, but also songs by Jimmy Rogers, Junior Wells, and all kinds of great blues songwriters. And we played our hearts out. Unfortunately we never made a record. A few years back one box of tapes emerged out of someone's basement in which was one reel of a single set at Clint's Club. Some of our band thought it stunk but I was glad to hear anything at all and to get to play it for my kids. Anyway, everyone but me sounded great!"
The Prime Movers enjoyed no little success:
…in the summer of 1967, the so-called "Summer of Love," the band piled into our van and drove across country to San Francisco, where we played at many of the major clubs, like the Fillmore West, Matrix, Straight Theater, Haight A, and others. We opened for Cream at the Fillmore, that year.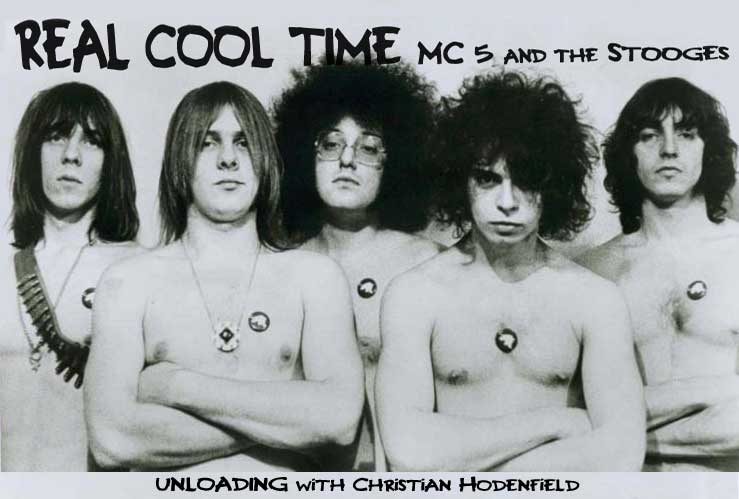 And now for a few words on the MC5, managed by John Sinclair, founder of the White Panther party, in solidarity with the Black Panthers.
Sean O'Hagan profiled Sinclair in 2014:
…the FBI began to monitor the group's communal house in Detroit. As race riots devastated the city in the summer of 1967, a banner appeared on the exterior bearing the words: 'Burn baby burn.' The building was stormed by riot police who claimed a sniper had been firing at them from the roof. "We were harassed 24/7," says Sinclair, "busted for incitement, obscenity, possession, whatever they could throw at us." At some gigs, armed police lined the walls, waiting with batons drawn for the band's rallying cry: "Kick out the jams, motherfuckers!"
Undeterred, the MC5 were the only group to show up and play to protesters in Grant Park at the Democratic party convention in Chicago in 1968. This was in defiance of a ban on live music implemented by the city's infamous mayor,Richard J Daley. The event ended in running battles between the police and demonstrators. The following year, Sinclair was arrested after offering two marijuana joints to an undercover narcotics officer. In a verdict designed to send out a strong message to the underground, he was sentenced to 10 years…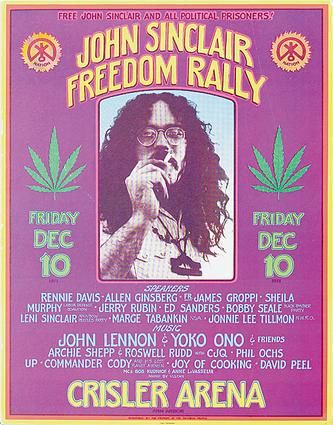 He served more than two years, writing daily missives to the outside world and becoming a countercultural cause célèbre, as a campaign to free him snowballed. It culminated in the John Sinclair Freedom Rally in the Michigan city of Ann Arbor in December 1971. Stevie Wonder, Allen Ginsberg and Bobby Seale of the Black Panthers shared a stage with John Lennon and Yoko Ono in an event that sold out in minutes. Three days later, Sinclair was released. The following year, Lennon included the track Free John Sinclair on his album Some Time in New York City.
Here's John and Yoko with their homespun tune.
And here's how you really make a crowd go nuts. It's The MC5 with the no punches pulled Kick out the Jams!
Was Michael a fan of the MC5's radical invective?
"John Sinclair and the MC5 were more-or-less driven out of Detroit by the police and their situation in general. They arrived in Ann Arbor as self-proclaimed heralds of a 'new age', but those of us in Ann Arbor could find very little that they offered (musically) interesting. In time, they did contribute a lot to the community in Ann Arbor, primarily through the artistic work of Gary Grimshaw and, of course, through John."

 
"I did not care much for John Sinclair then, because he made a point of riling the police just to maintain a high profile, when the cops were just standing around watching.

Our scene, before the advent of Sinclair and the MC5, was, for the most part, non-political. We were poets, musicians, and artists, getting along pretty well with authorities. Sinclair changed all of that, and not for the better, in my opinion."
And what became of the Prime Movers? Well, the band petered out.
Dan Erlewine played for Sam Lay, was invited to play for Butterfield, and ended up making great guitars for players like Albert King, Ted Nugent, and Jerry Garcia. As for knowing the local groups like the MC5, and the other members of Iggy's groups, we sure did know them. But the fact is that what interested us, was studying and playing Chicago-style blues. We were not impressed (musically) by any of the bands around us. What we liked were the great Chicago blues artists…
And now, without further ad, The Prime Movers: