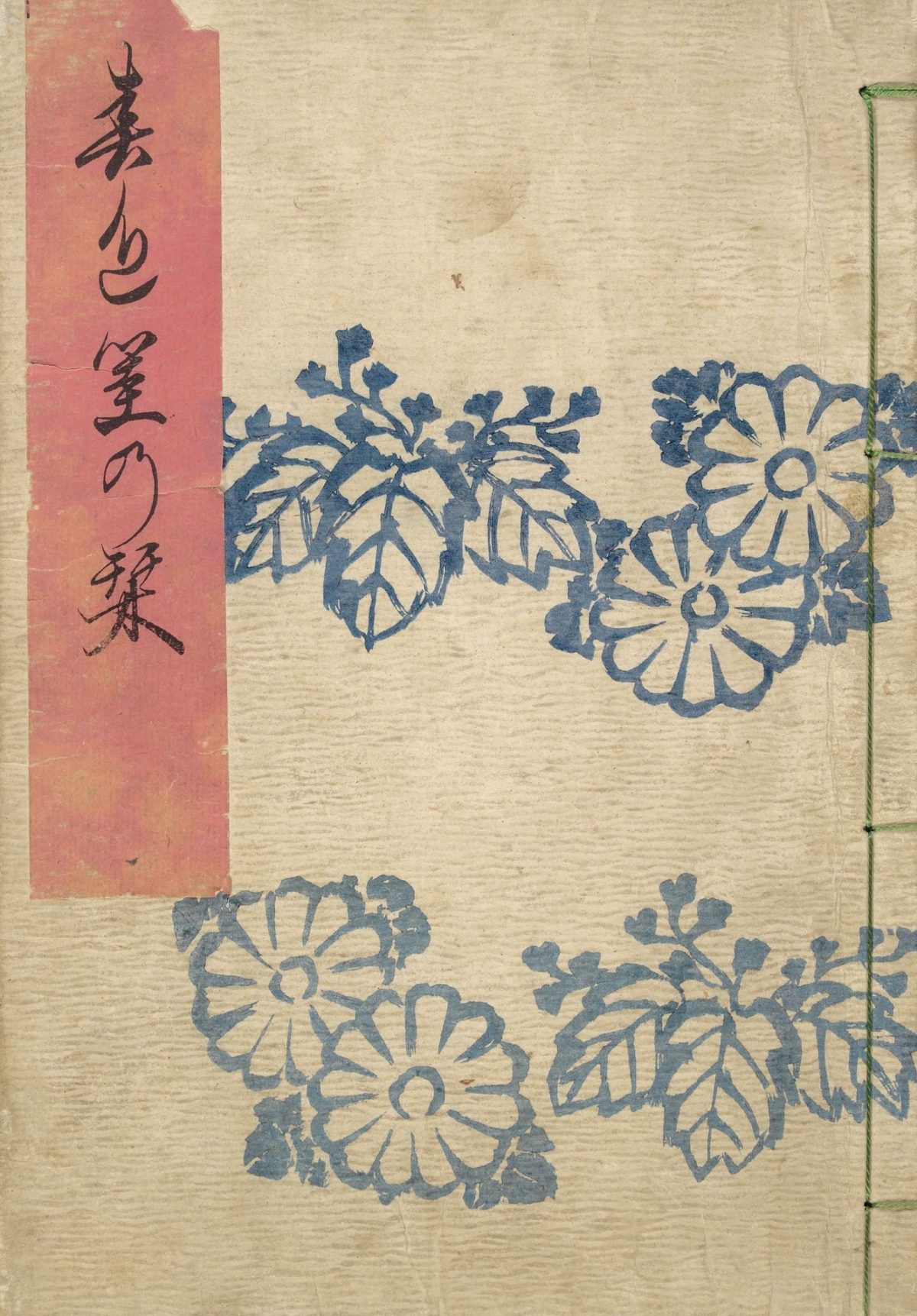 The Elvis Presley of Japanese ukiyo-e woodblock prints was an artist called Kunisada. Or, Utagawa Kunisada to be precise. He was also later known as Utagawa Toyokuni III but let's not confuse things this early in the paragraph, especially when we find out he was actually born Sumida Shōgorō IX in Honjo, Japan, sometime in 1786. And in the next sentence we discover he was also known as Sumida Shōzō. Kunisada was the King of Aliases long before he was famous.
For clarity let's call him Kunisada for that's how he's best known.
Apart from his birth and names, we also know Kunisada was the son of a ferryman. His father ran a highly profitable business transporting people from one side of the river to the other. This stability allowed Kunisada to enjoy leisure time. To draw and to paint and to dream. This was a century-and-a-half before America invented the teenager. It was obvious to his family, friends, and even passengers on his old man's ferryboat, Kunisada had an amplitude of talent as he had an amplitude of names.
Kunisada submitted a portfolio of his work to the master artist Utagawa Toyokuni or Toyokuni I. He was the Frank Sinatra of ukiyo-e prints. Toyokuni I saw Kunisada's work and agreed to teach him on the strength of his sketches alone. That gives you an idea how talented this kid was.
Now, let's explain where the name Kunisada came from 'cause it sure wasn't on his birth certificate. When Kunisada graduated from Toyokuni I's class, the great master gave him a new name. This was in recognition of his brilliant talent. Toyokuni gave him the last part of his name "Kuni" as a mark of respect. And probably to let everyone know he was Toyokuni I's apprentice.
Kunisada was born.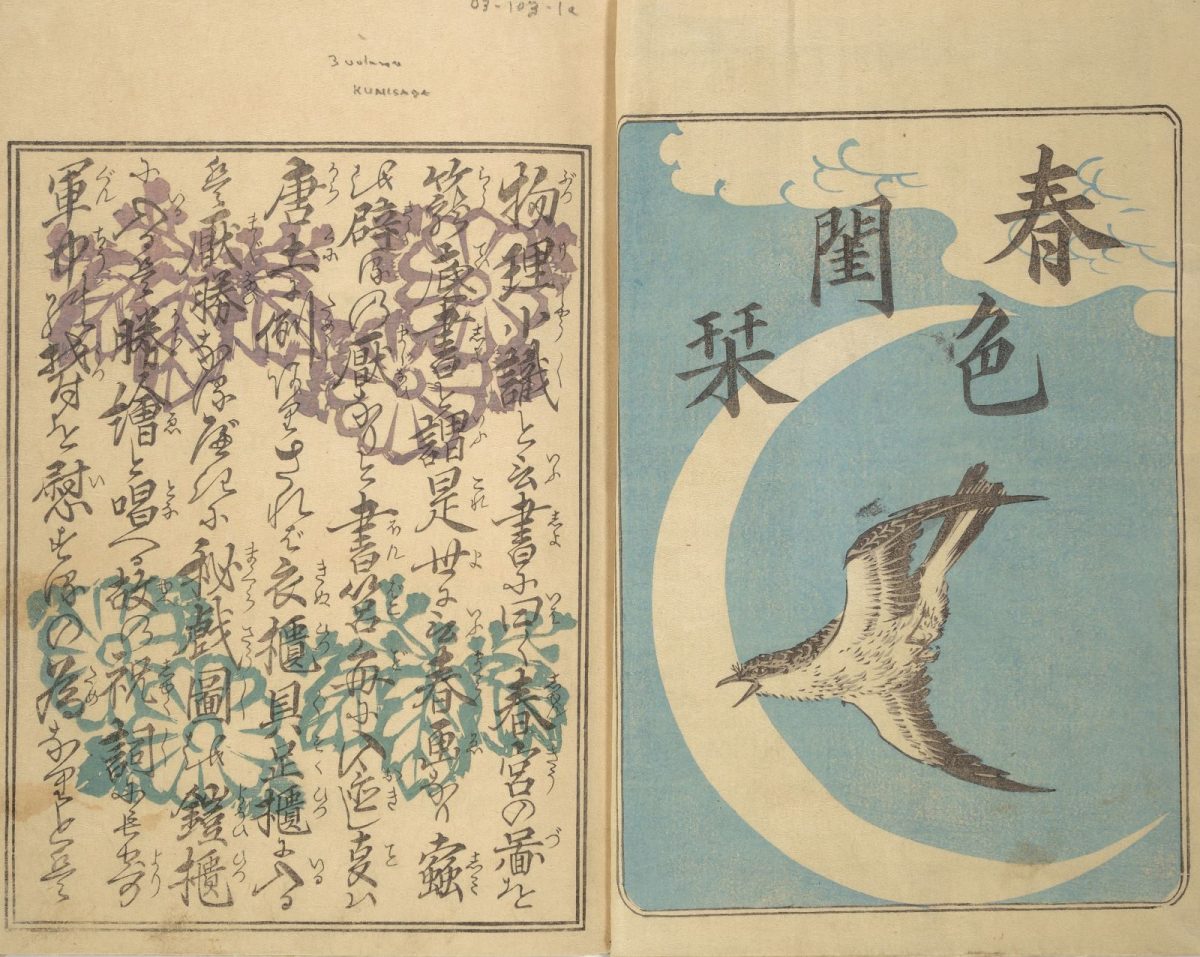 His first known prints date from 1807. Though his early work was highly impressive and much sought after, Kunisada had only begun. He quickly moved away from Toyokuni I's portraits of actors to street scenes, landscapes, depictions of nature, books, and erotica.
It became apparent Kunisada was a better artist than his teacher. Importantly he brought a sense of movement yo his work. A sense of something being caught in the middle of an action. His work sold quickly and fast. By 1810, he had his first studio. He also started working under the studio name "Gototei" which was apparently a reference to his father's ferry business.
Kunisada produced so much work, he began work under another studio name, this time "Kochoro". Then he used "Toyokuni I" in respect to his teacher. Then he became "Kunisada becoming Toyokuni II". But let's keep it simple. Kunisada used different studio names to produce different styles of work. As a prolific novelist like John Creasey used 28 pseudonyms to produce over 600 books in different genres. Kunisada was not only prolific, he also pioneered new ways of working. He also produced an enormous amount of specially commissioned work such as books and specially-commissioned erotica or Shunga. Kunisada's Shunga prints edge towards erotica rather than the grossly explicit shenanigans produced by his rivals. Much of his Shunga was produced as books for private collectors–like top shelf "jazz mags" or the old Sears Catalog for the discerning upper class reader.
One of his best known volume was A Bedside Guide to the Colours of Love in Spring which he produced around 1850. This book depicts women in preparation for meeting their lovers when the sap is rising in spring, etcetera, etcetera….
Kunisada died in 1865. By then he was the most prolific, popular, successful, and acclaimed producer of ukiyo-e woodblock prints in 19th-century Japan. His reputation as an artist is greater than contemporaries and rivals like Hokusai, Hiroshige and Kuniyoshi.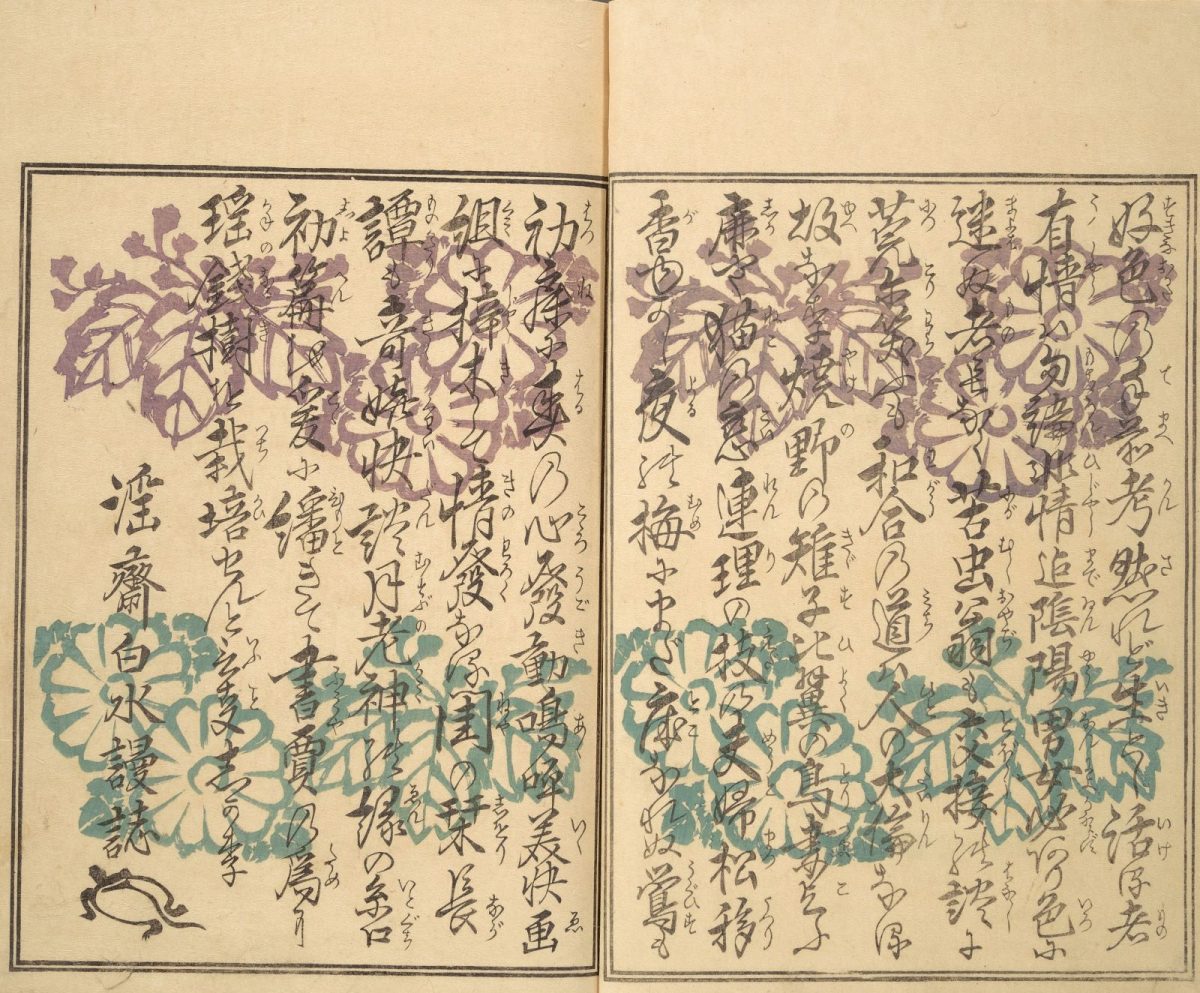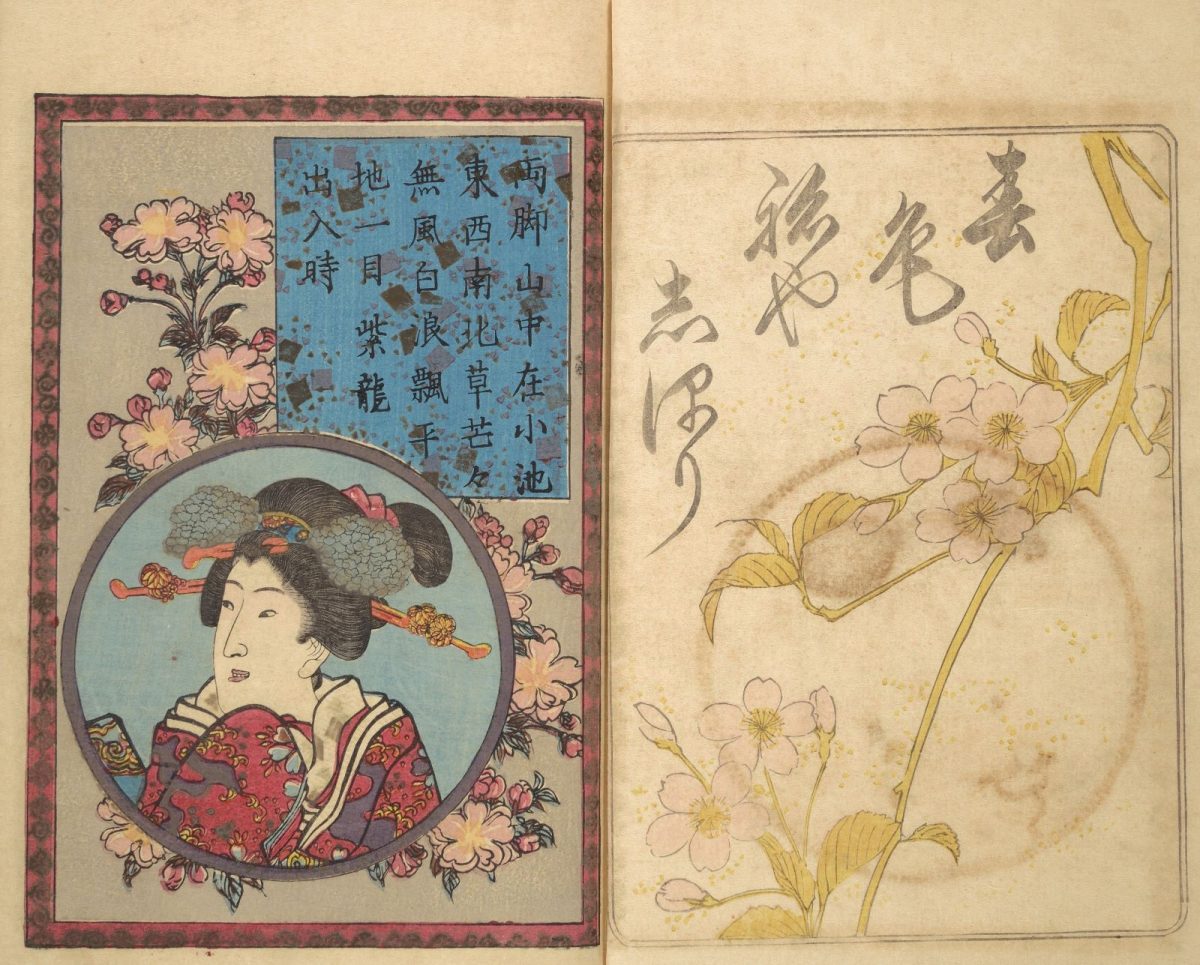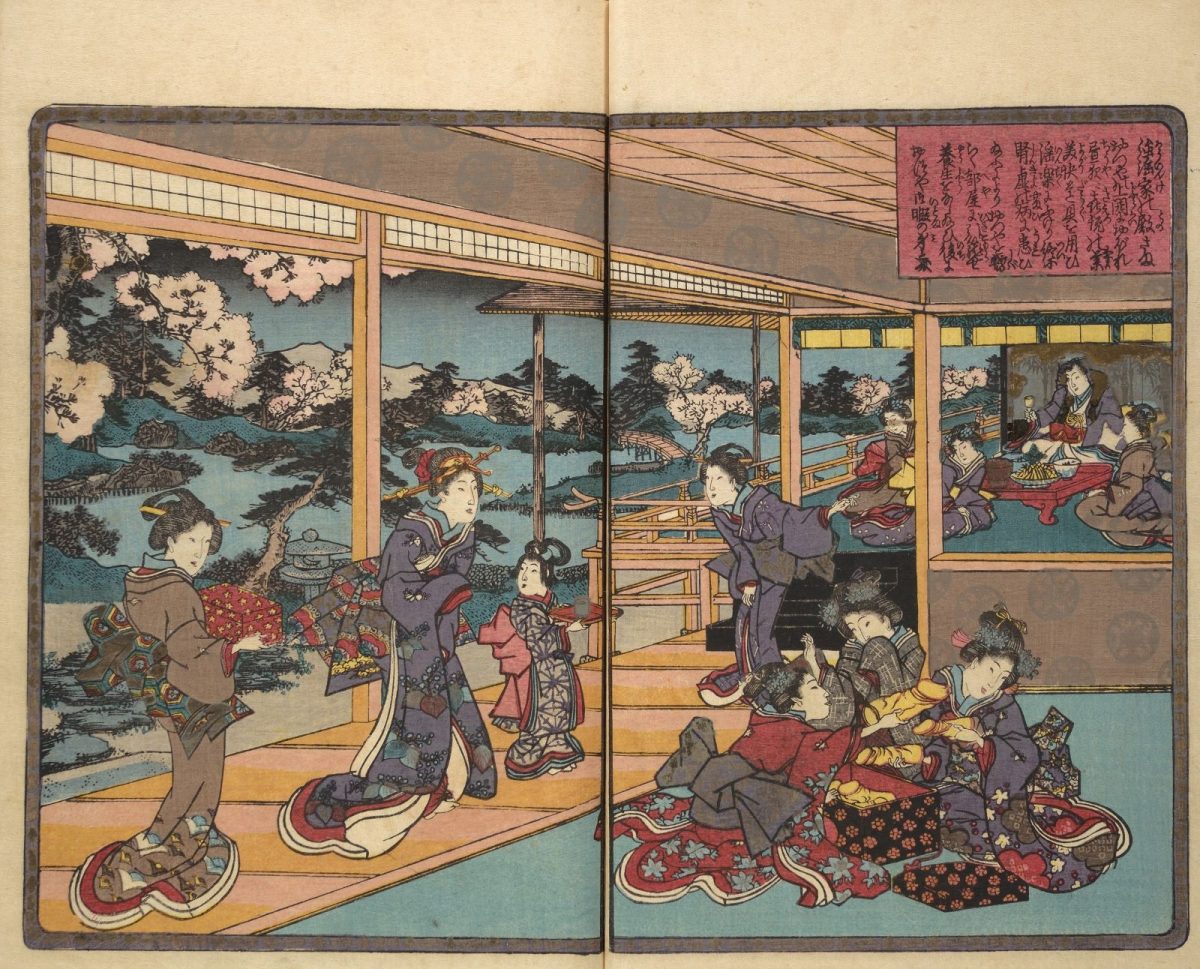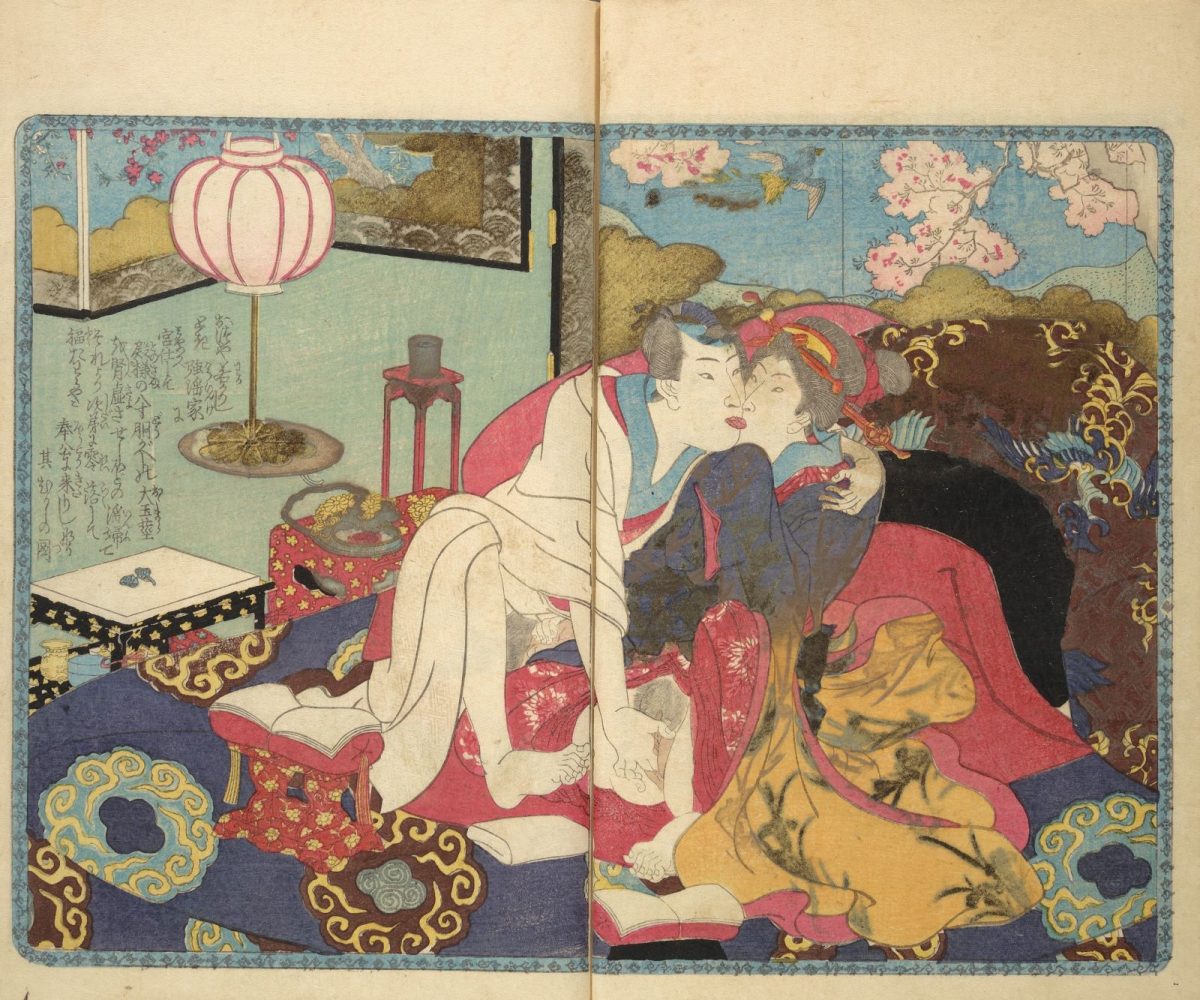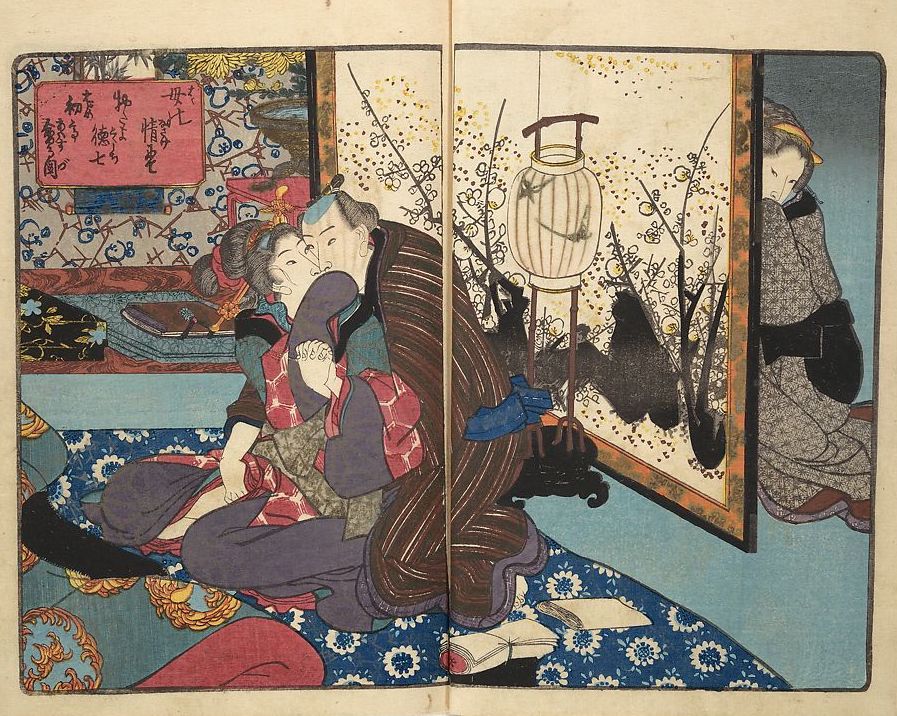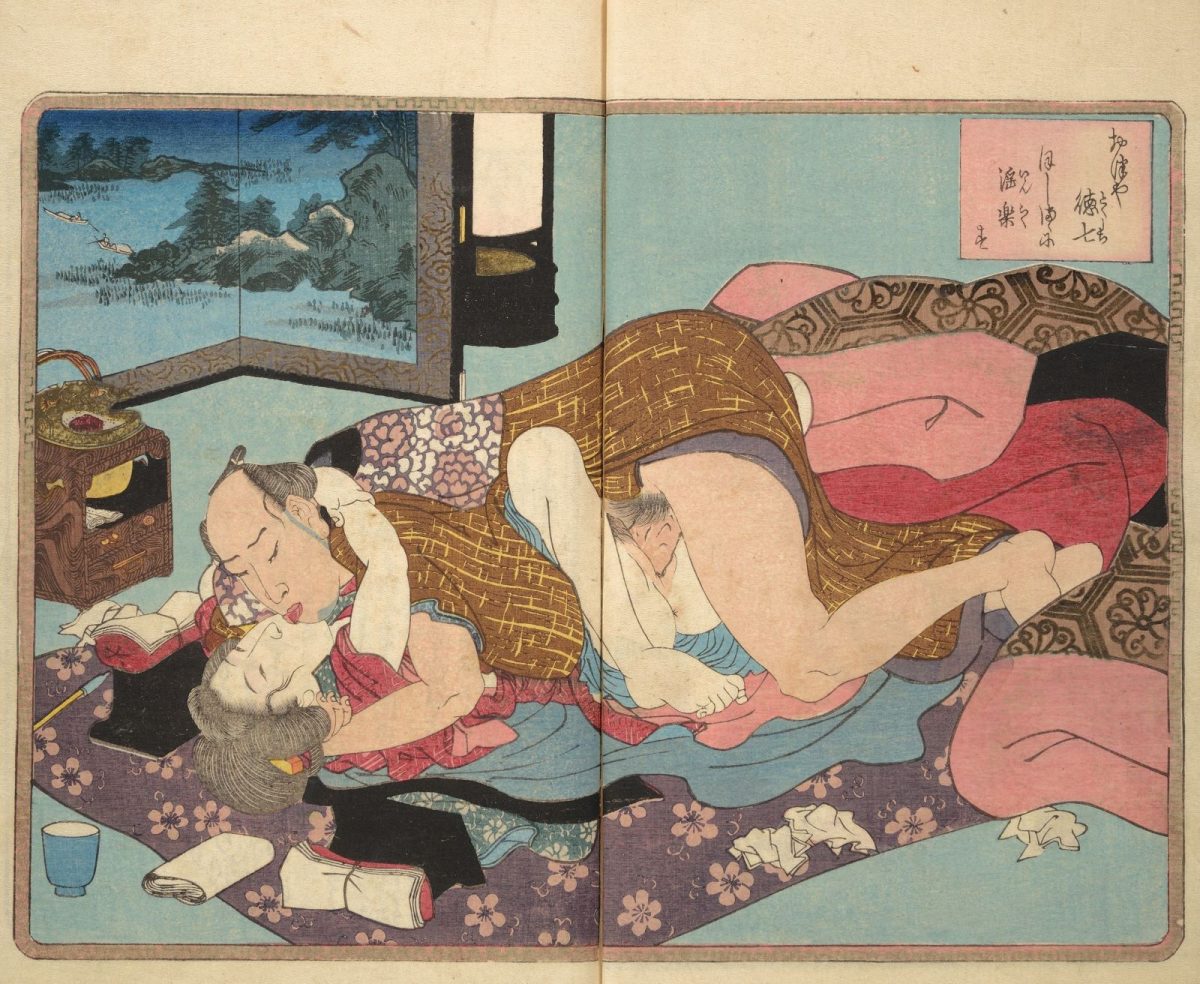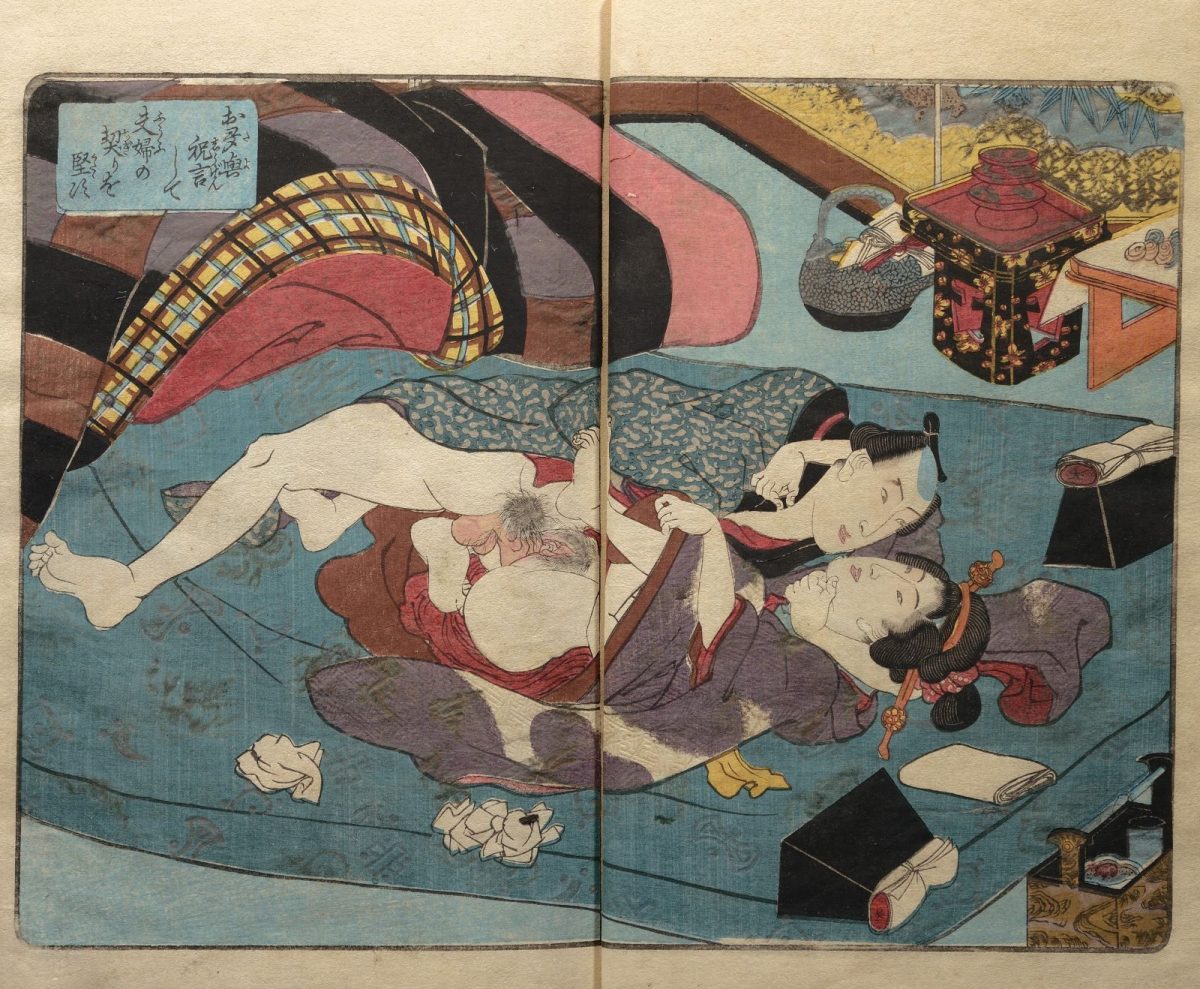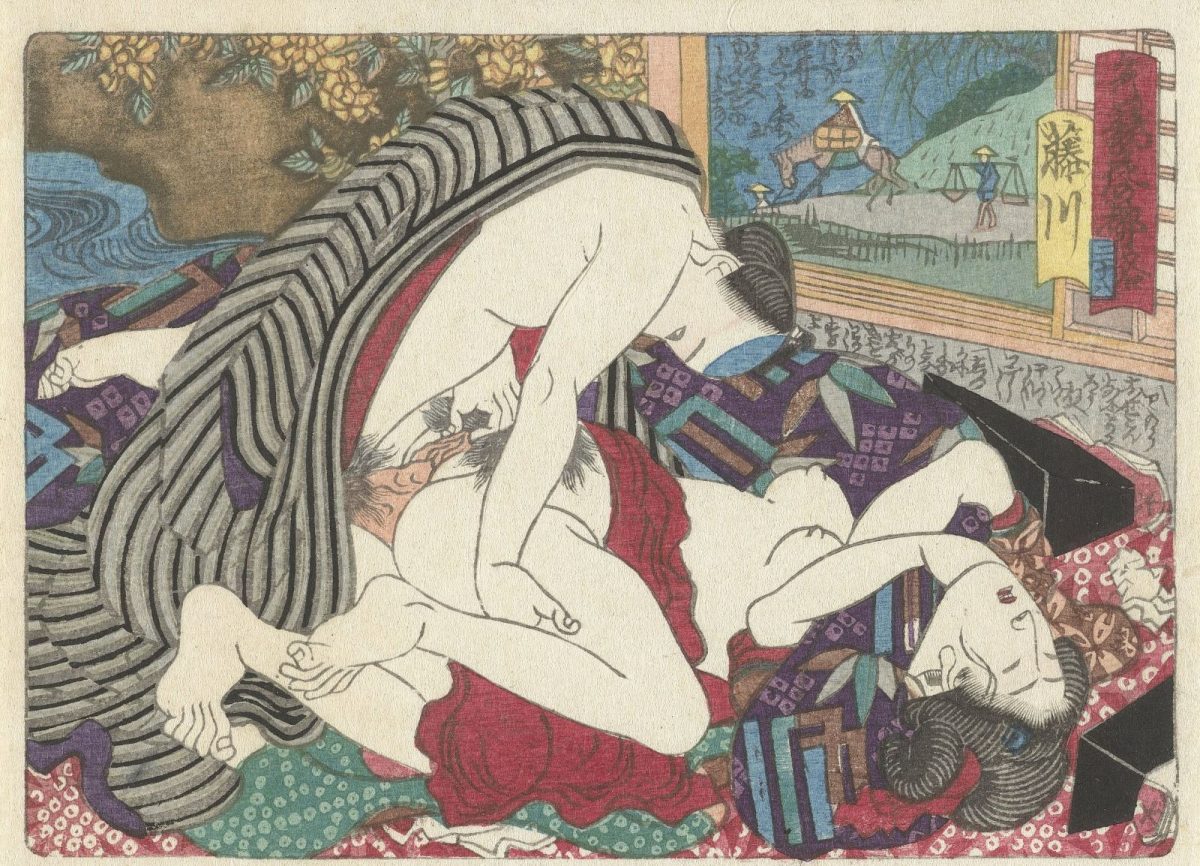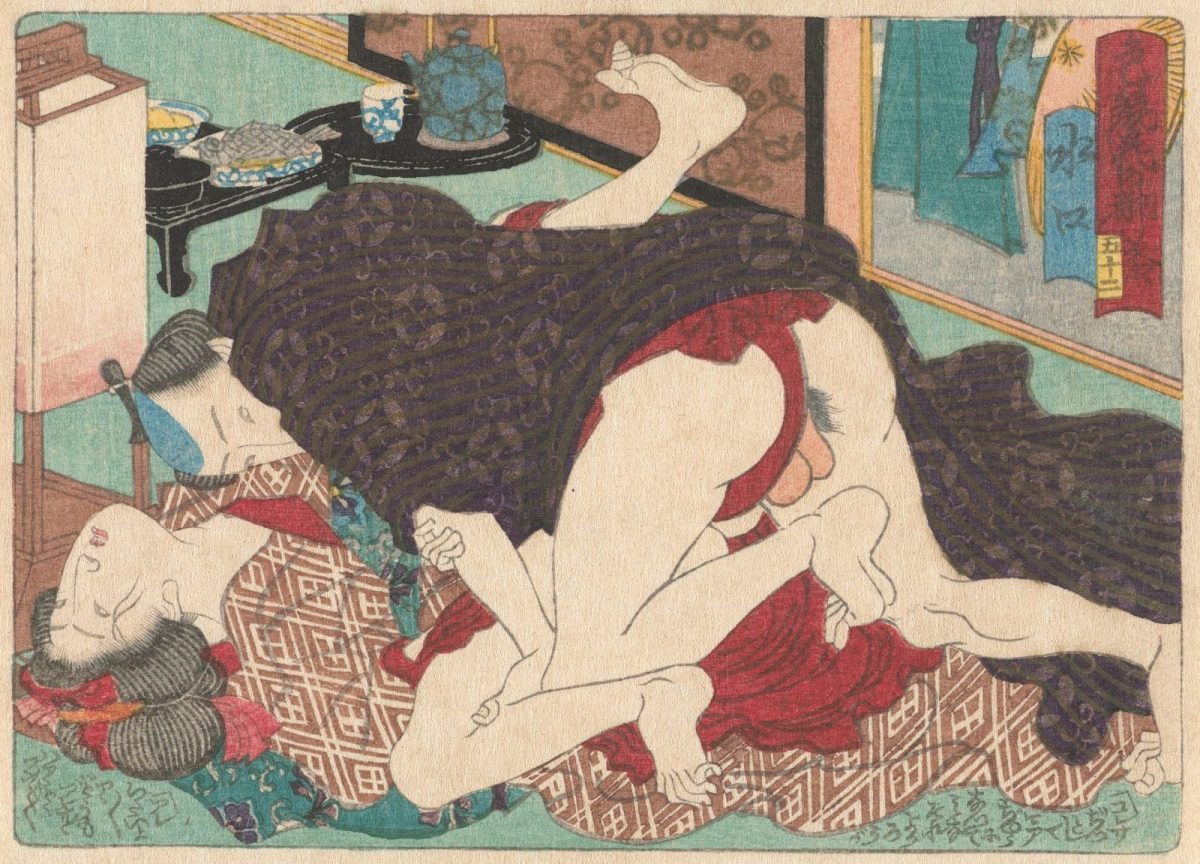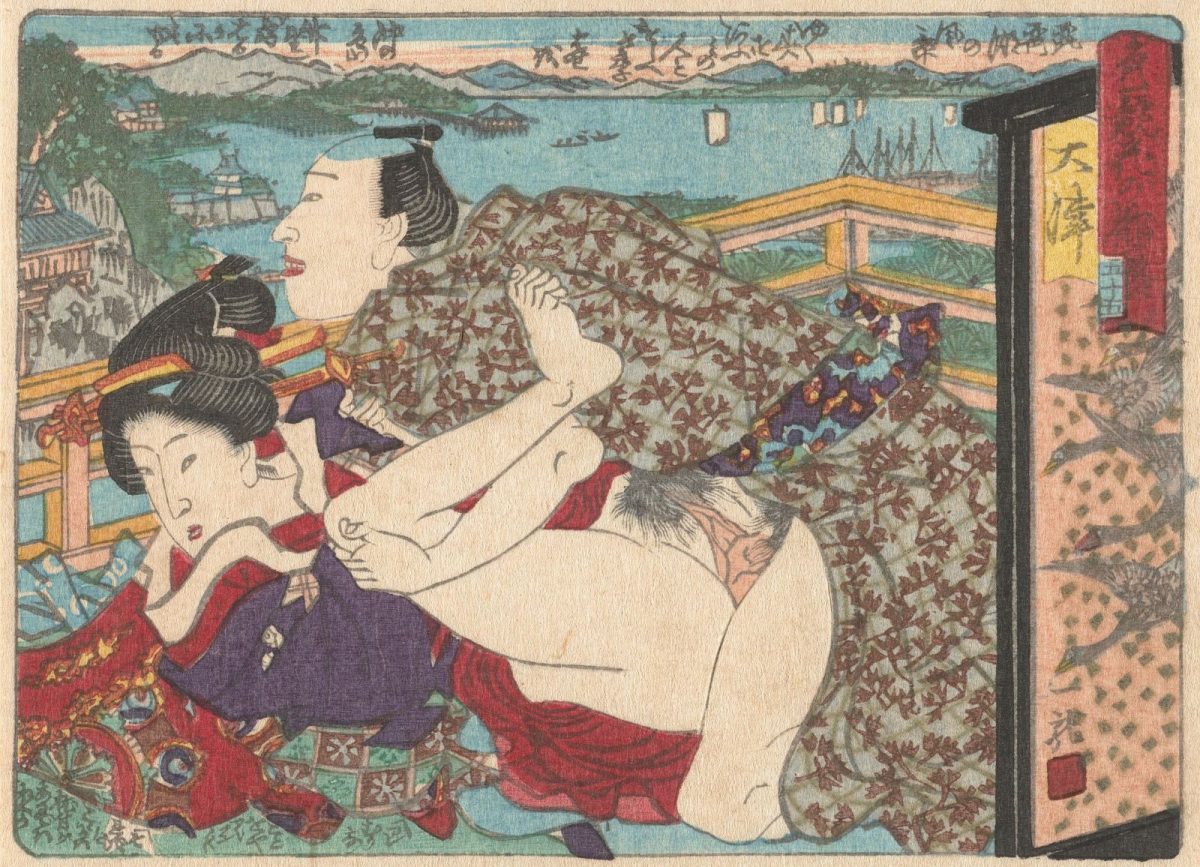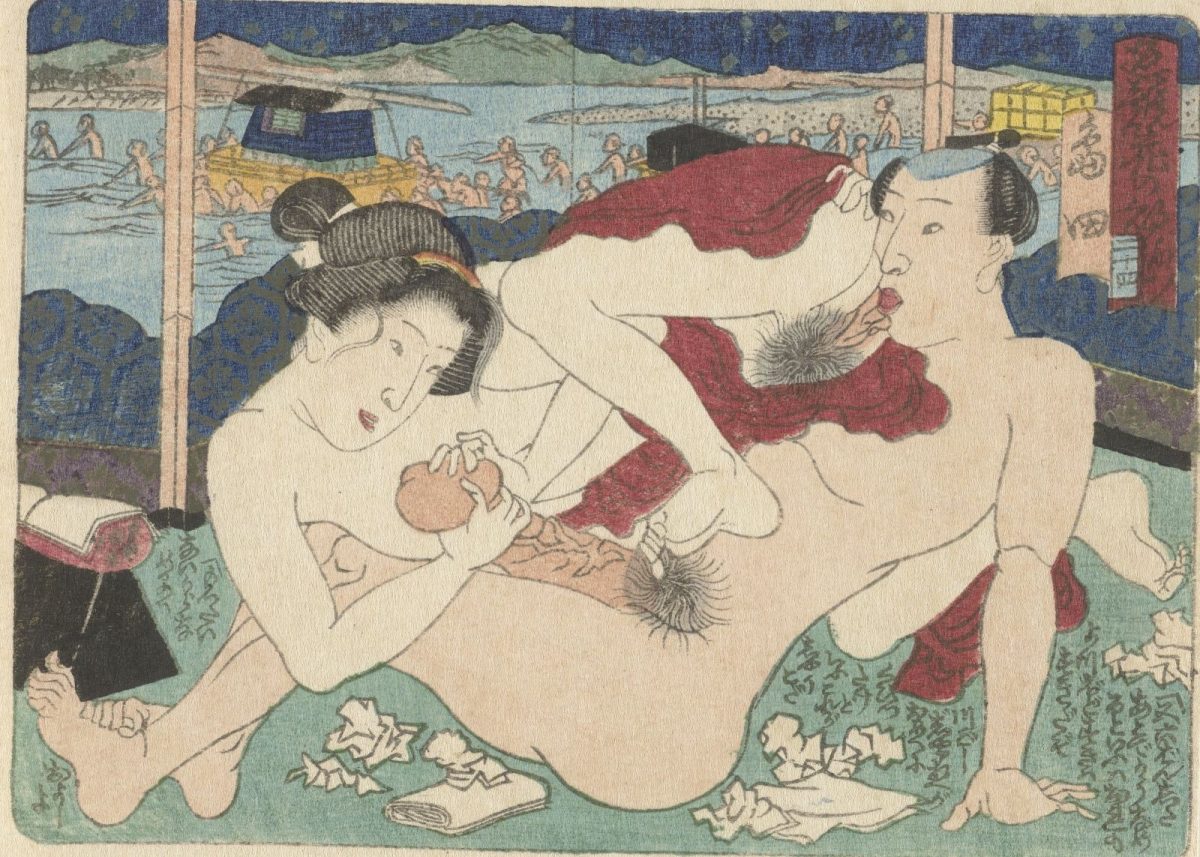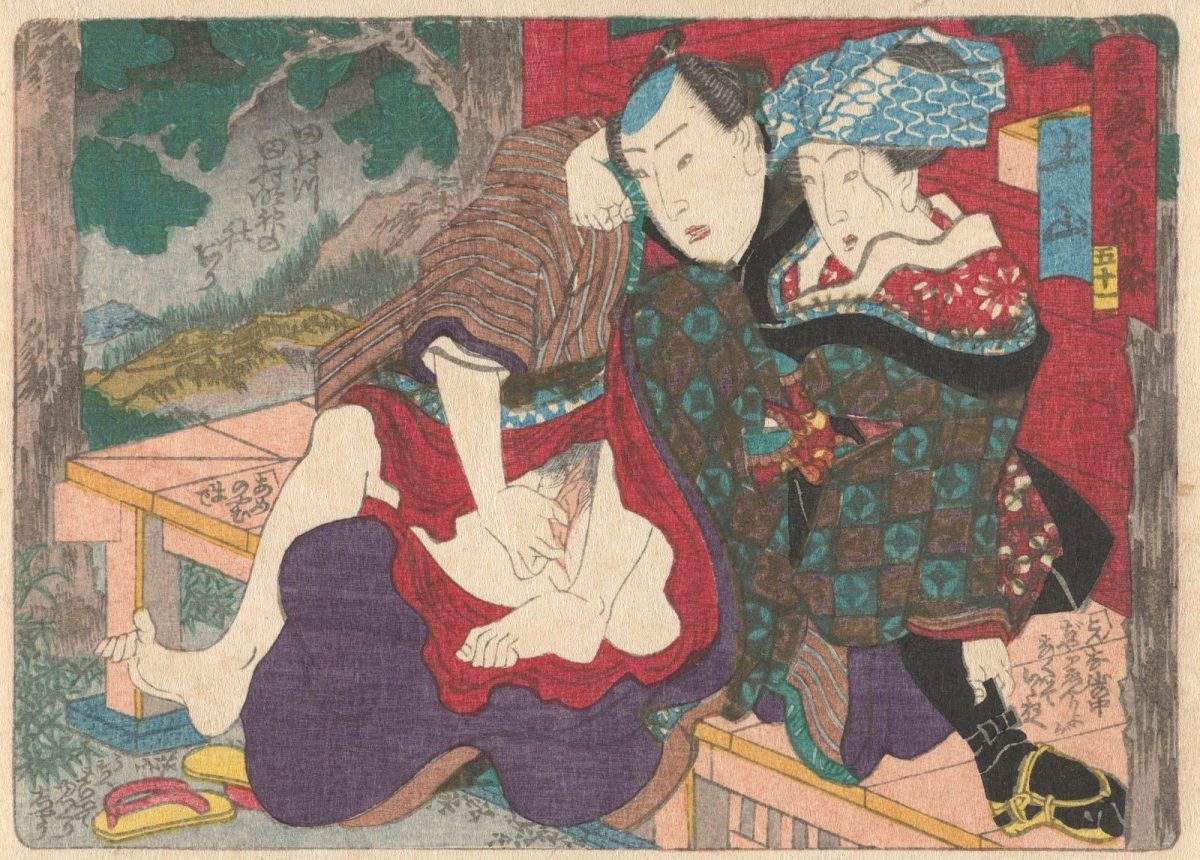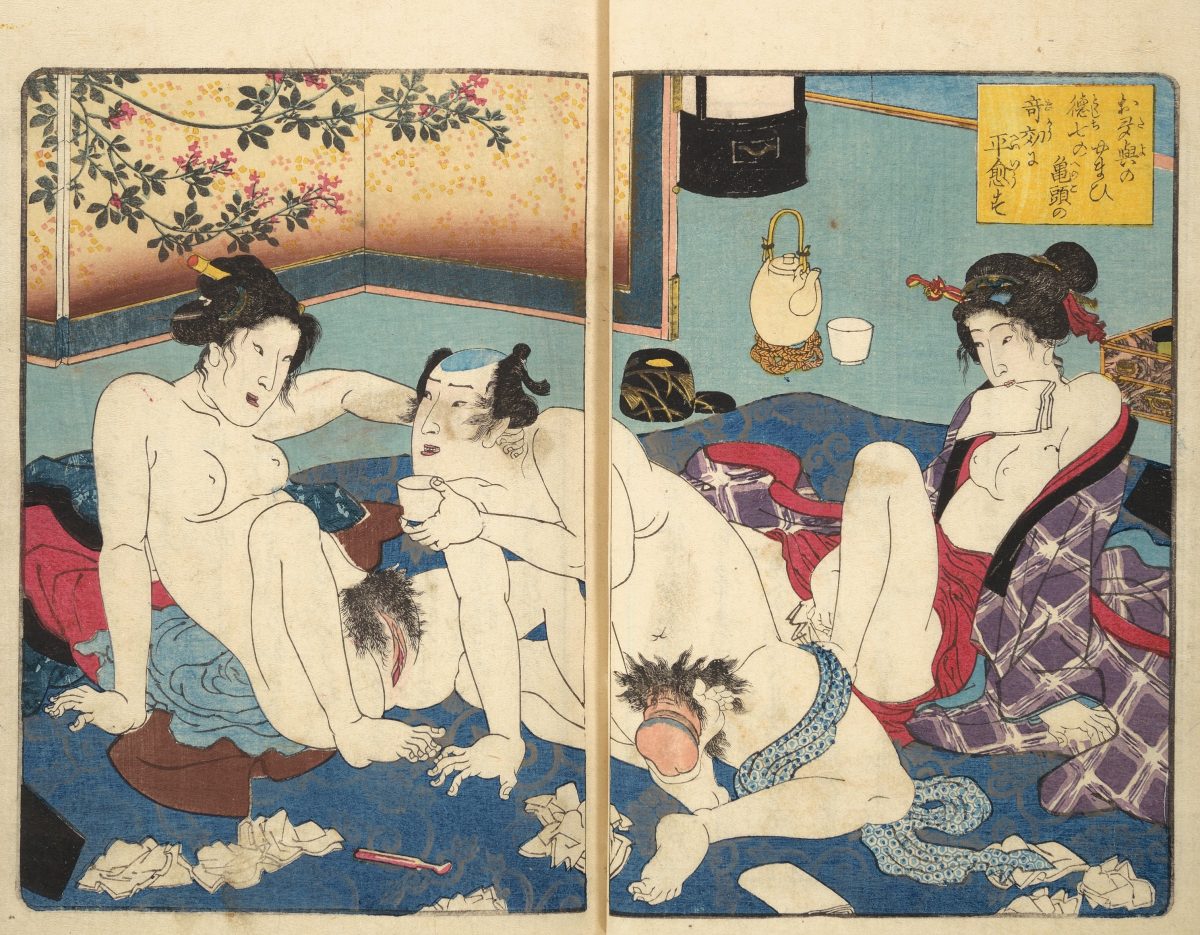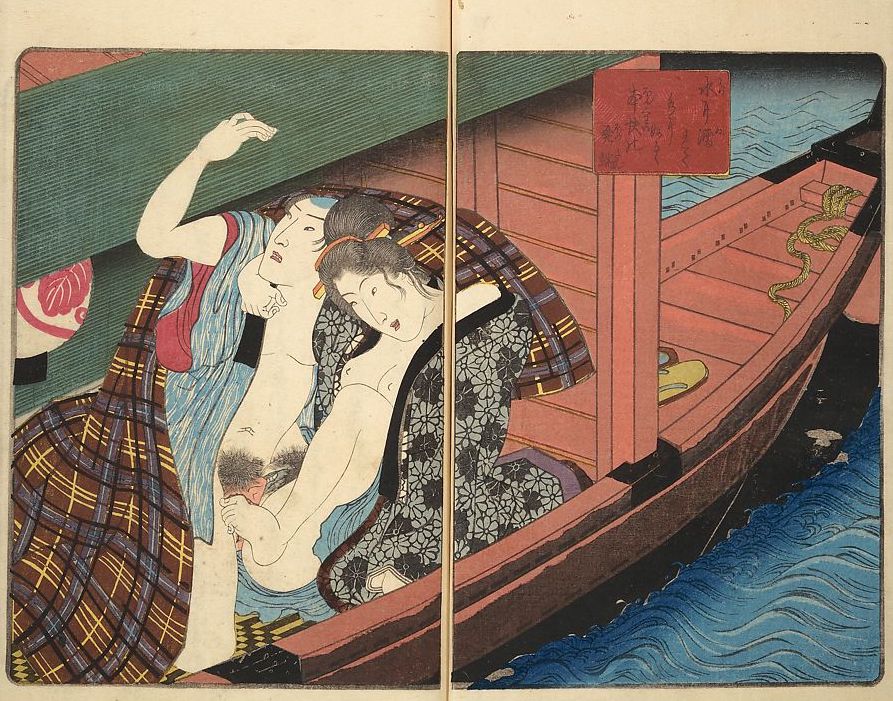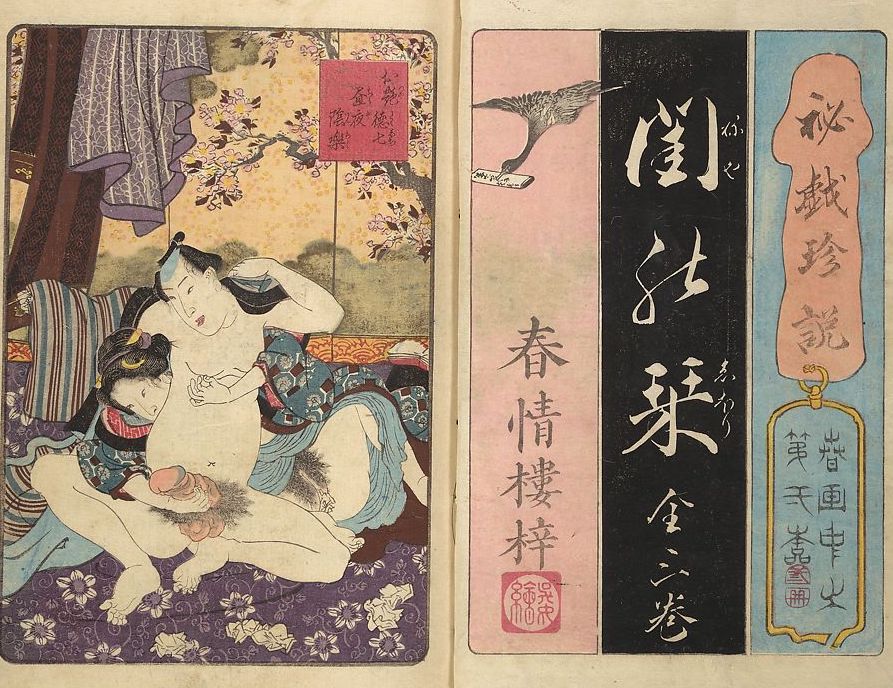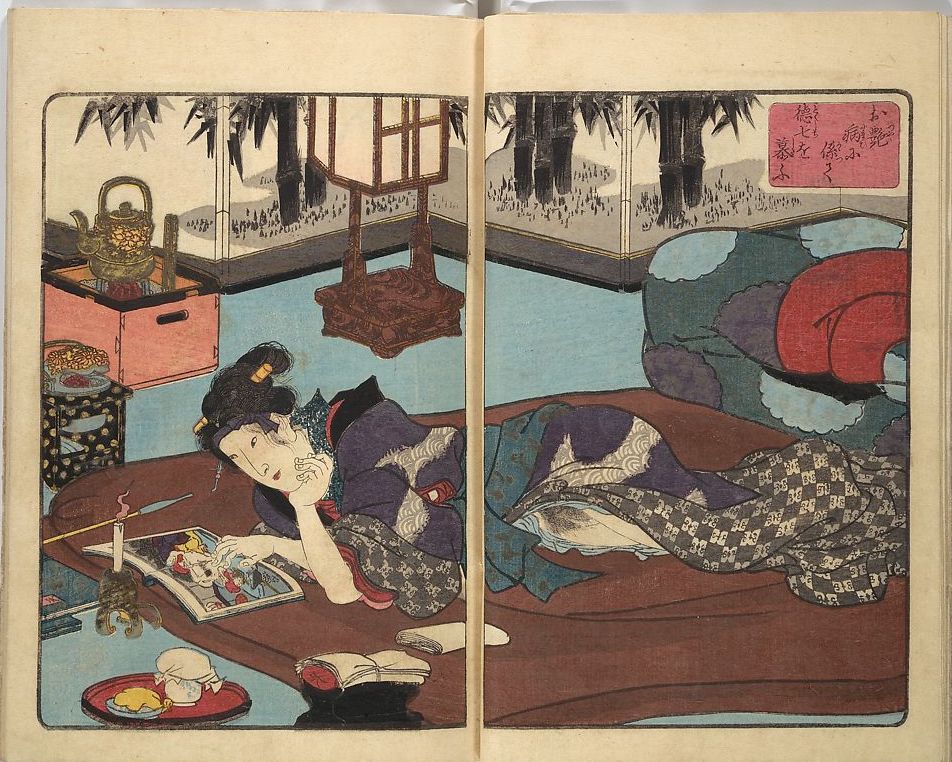 Kawanabe Kyôsai's Riotous Nudes.