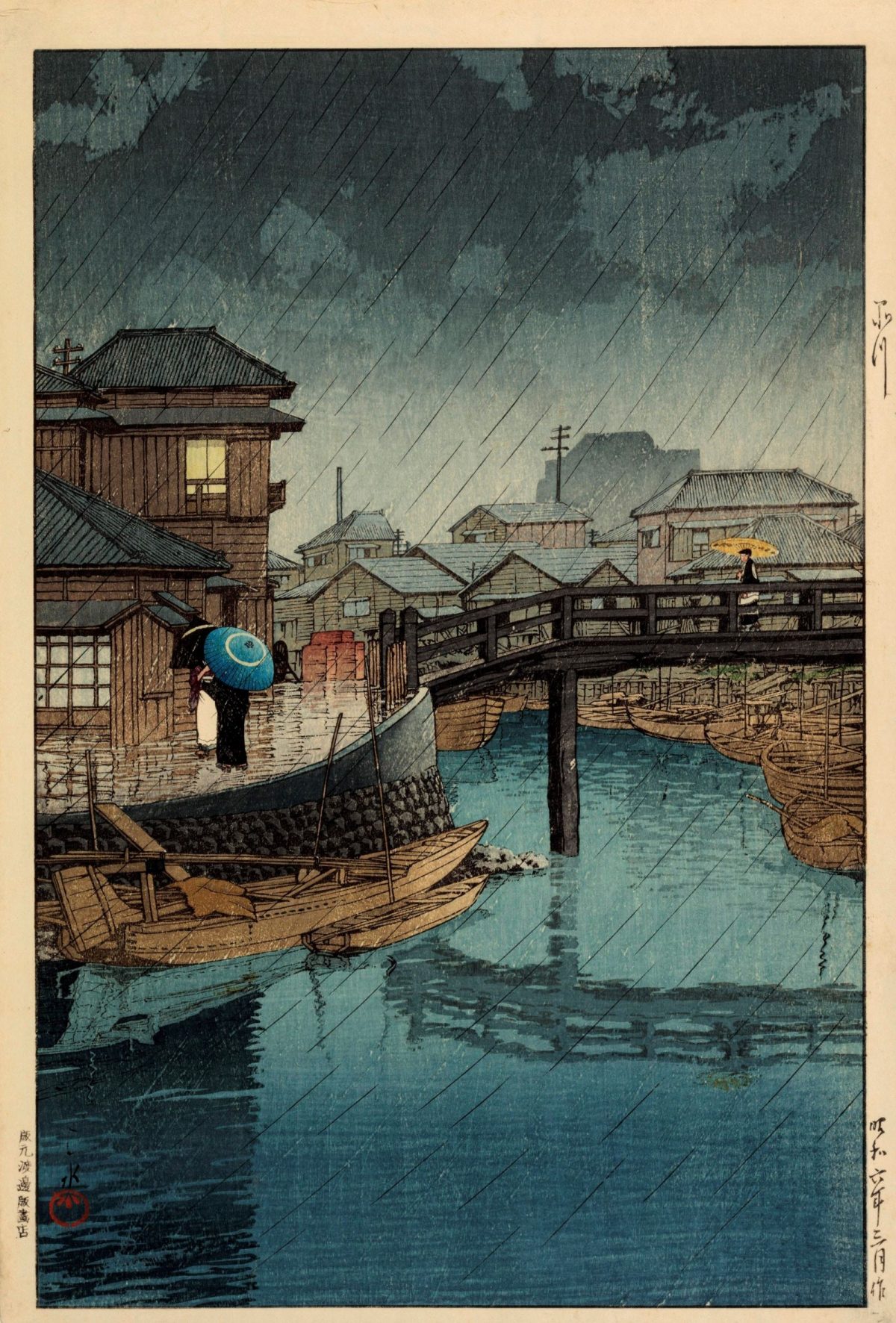 Winter is coming….but so is Spring then Summer and Autumn again.
Hasui Kawase (1883-1957) was one of Japan's most important and prolific printmakers. During his career he produced over 620 block prints. His work was considered so important to Japanese culture Hasui was declared a "National Living Treasure" (or certified as a Preservers of Important Intangible Cultural Properties) by the government in the 1950s. Which I suppose is a bit like being like the Queen Mother but far more talented….
Hasui worked in shin-hanga ("new prints") an art movement that came to prominence during the Taishō and Shōwa periods. The artists involved with this group like Hiroshi Yoshida, Hashiguchi Goyō, and Hasui Kawase revitalized traditional ukiyo-e art from the Edo and Meiji periods (17th–19th century). Their work mainly focussed on landscapes and seascapes, though some like Ohara Koson produced prints featuring birds and flowers.
Hasui came from a successful middle class family. His uncle was Kanagaki Robun who produced the first manga magazine. From his earliest memory, Hasui had always wanted to be an artist.
He was given tutelage by various artists who taught him how to study from nature and how to learn from past printmakers. Hasui's family were more keen he returned to the family business of selling ropes and threads. Hasui reluctantly returned. He hoped (and prayed) one day he would be able to study art and be free of his family commitments. His prayers were answered. The business went bankrupt. Hasui returned to his career as an artist.
Now in his late twenties, Hasui approached the artist Kiyokata Kaburagi to teach him print-making. Kaburagi told Hasui to study western art. After two years, Hasui once again asked to be apprenticed to Kaburagi. This time the older artist said 'Yes.'
Inspired by Shinsui Itō's print series Eight Views of Lake Biwa, Hasui produced Twelve Views of Tokyo, Eight Views of the Southeast, and the first Souvenirs of Travel in 1919. Hasui worked fast and was very prolific.
In 1923, an earthquake destroyed Hasui's studio workshop and most of woodblock work contained inside. This event inspired Hasui to change his approach to art. He understood it was not enough to just represent what he saw in a print, but he had to suggest the power of magnificence of nature through the use of light and shadow.  His work became popular and was soon exhibited in Tokyo then in various cities across the world. By the end of his life, Hasui was recognised as one of Japan's greatest artists.