We love to write about vintage T-shirts, the 20th Century's cultural markers of what's hot. We've seen groovy adverts for tees, slogans saying it loud and dirty, punk's groaning with pain, the glorious 1970s T-Shirt and one slogan that still shocks, the 1974 T-shirt that declared 'I Dreamt I was Raped by Mick Jagger in my David Bowie T-shirt'. T-shirts mean shaggability. Wear the right one and you're in luck. So get a load of this offer from Jethro Tull.
'Reprise leeringly invites you to win a T-shirt that will DRIVE THE GIRLS WILD'.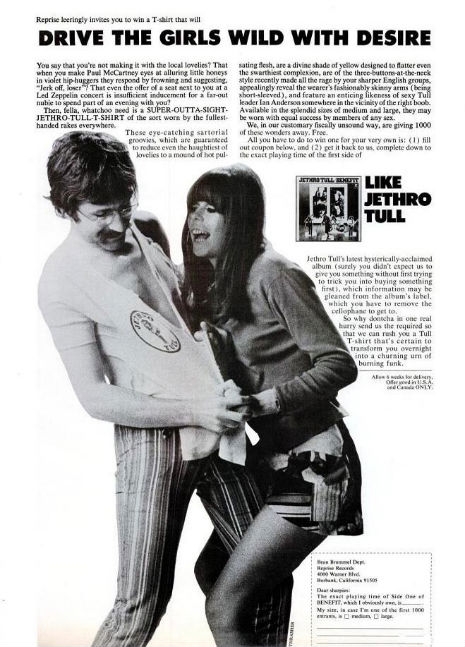 The blurb promised much:
You say you're not making it with the local lovelies? That when you make Paul McCartney eyes at alluring little honeys in violet hip-huggers they respond by frowning and suggesting, "Jerk off, loser"? That even the offer of a seat next to you at a Led Zeppelin concert is insufficient inducement for a far-out nubie to spend part of the evening with you?

Then, fella, whatchoo need is a SUPER-OUTTA-SIGHT-JETHRO-TULL-T-SHIRT of the sort worn by the fullest-handed rakes everywhere.

These eye-catching sartorial groovies, which are guaranteed to reduce even the haughtiest of lovelies to a mound of hot pulsating flesh, are a divine shade of yellow designed to to flatter even the swarthiest of complexion, are the three-buttons-at-the-neck style recently made all the rage by your sharper English groups, appealingly reveal the wearer's fashionably skinny arms (being short-sleeved) and feature an enticing likeness of sexy Tull leader Ian Anderson somewhere in the vicinity of the right boob. Available in the splendid sizes of medium and large, they may be worn with equal success by members of any sex.

We, in our customarily fiscally unsound way, are giving 1,000 of these wonder away. Free!

All you have to do to win one of your very one is: 1) fill our coupons below; and 2) give it back to us complete down to the exact playing time of the first side of Jethro Tull's latest hysterically acclaimed album (surely you don't expect us to give you something without first trying to trick you into buying something first), which information may be gleaned from the album's label, which you have to remove the cellophane to get to.

So why don't you in a real hurry send us the required so that we can rush you a Tull T-shirt that's certain to transform you overnight into a churning urn of burning funk.
Anyone send off for the T-shirt? The site Electrocutus has a great collection of Tull tees. The one below is from 1969, meaning the advert was a promotion for the band's album of that year, Stand Up.
Or maybe it was for the band's 1971 album, Aqualung?