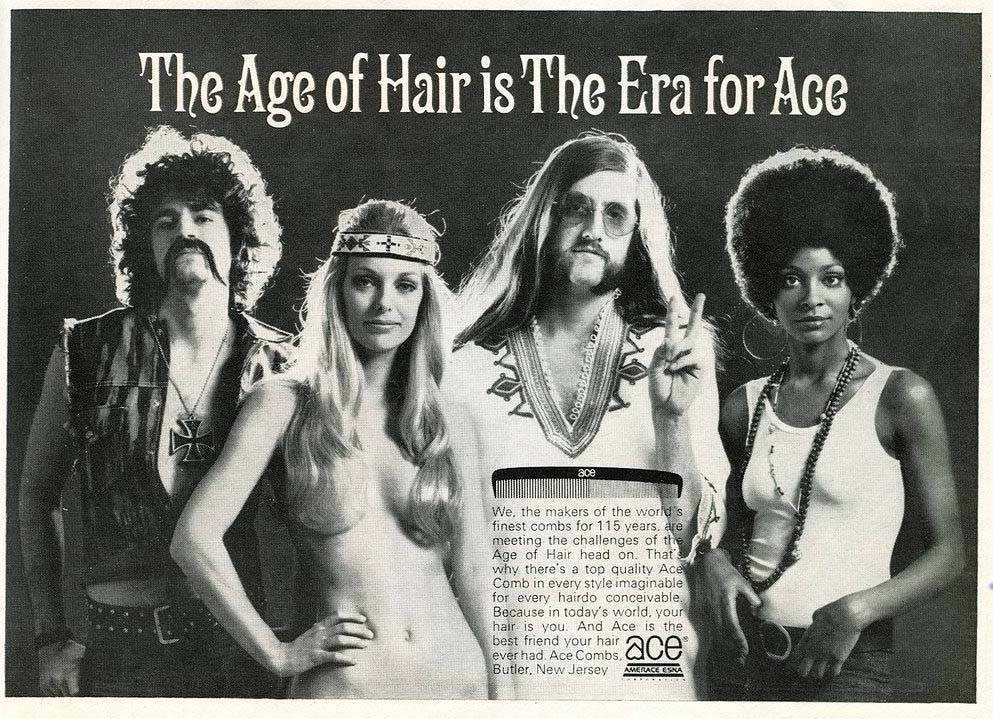 Why is there a naked woman in a comb advertisement?  No clue.  It's a thing that happens a lot in vintage adverts, with no reasonable explanation.
Sure, it's eye catching, it's a little edgy, and we all know "sex sells".  However, this is a COMB advert.  They're selling combs.  You would think that a nude woman wouldn't be a part of the marketing strategy – but there it is.  As we'll see in the following examples, sometimes it made sense, sometimes it didn't; whatever the reason, "nudevertising" was a path well traveled in the vintage advertising world.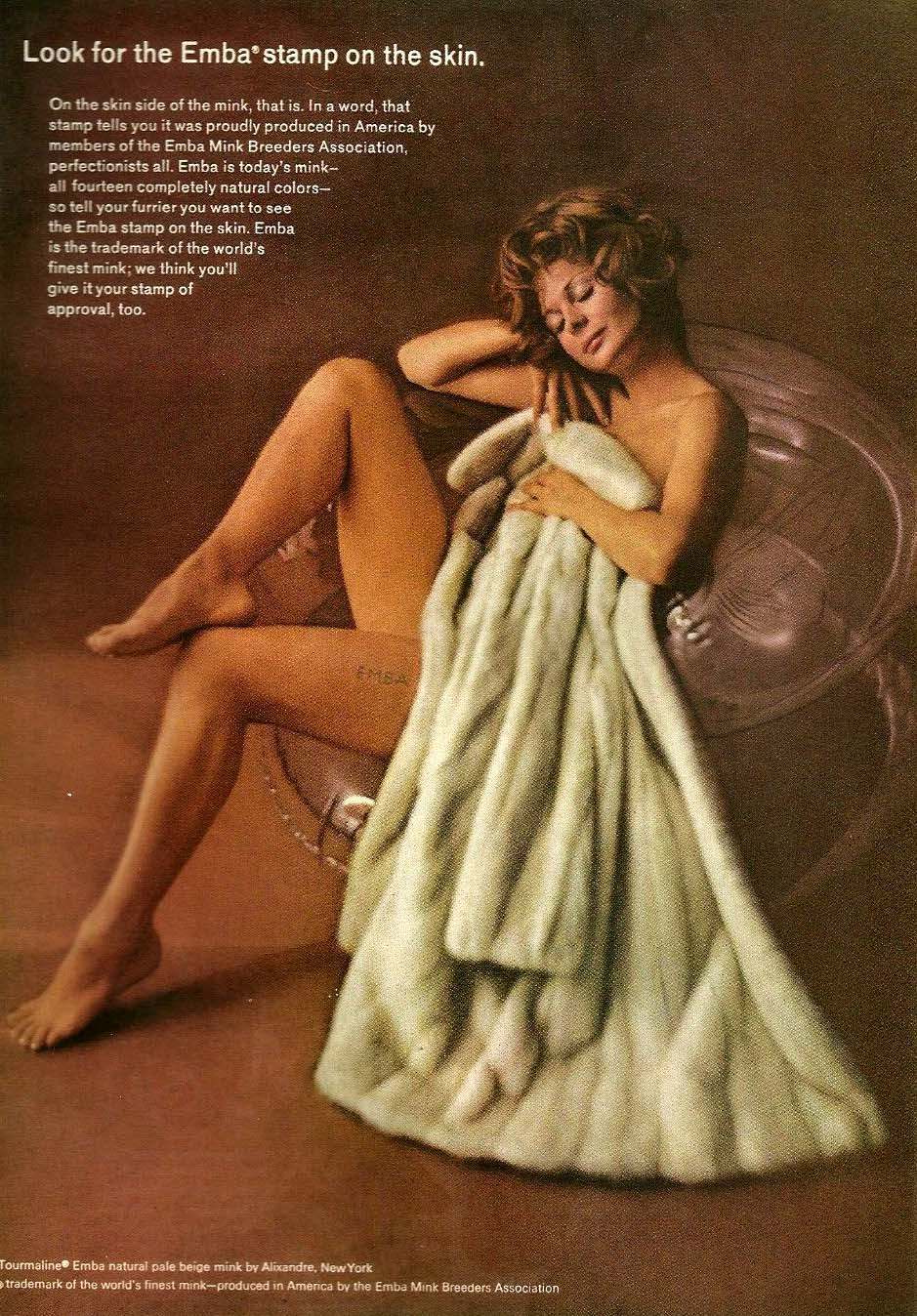 I've got to think that sitting naked on that plastic chair was a bad idea.  The whole luxuriousness of the dead minks is sort-of ruined by the sweaty stickiness of bare ass on inflatable plastic.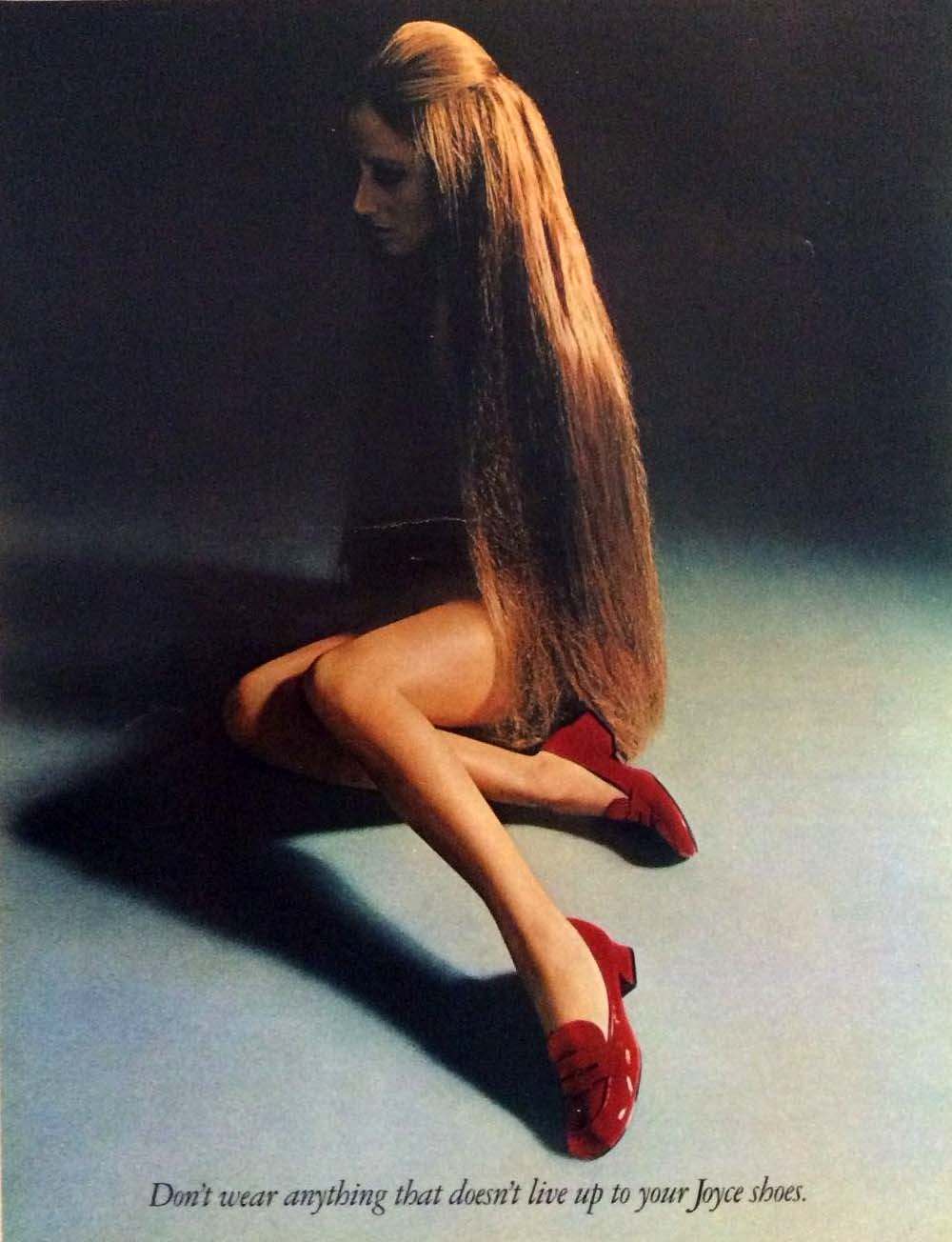 "Don't wear anything that doesn't live up to your Joyce shoes"…. and, I guess, sit naked, alone and depressed.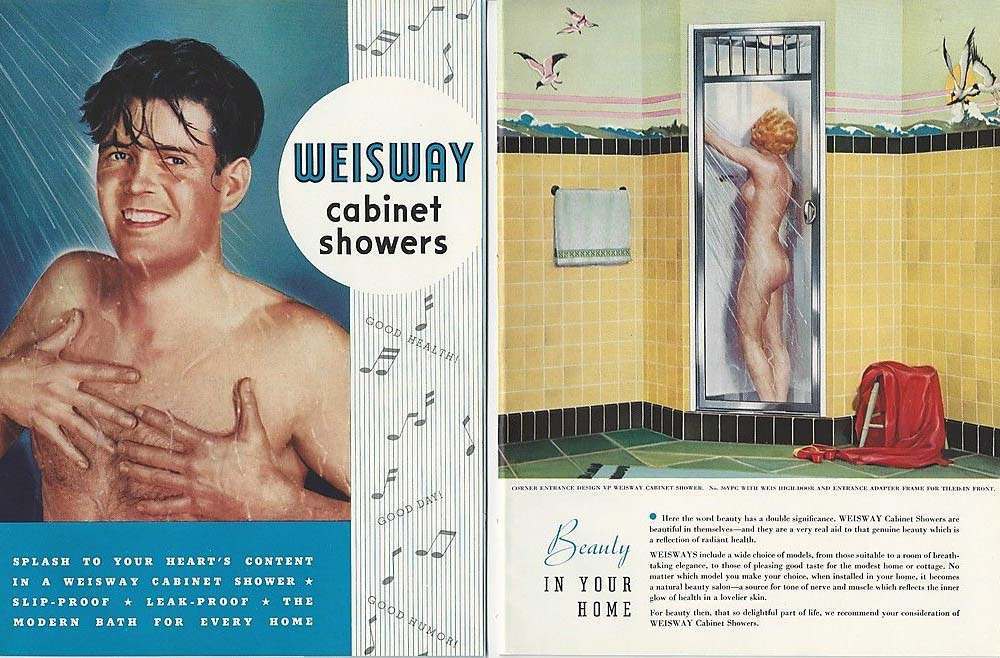 It's 1948 and you're tasked with selling cabinet showers for the Weisway company.  How do you go about designing an advert?  Naturally, you feature a fully nude woman and a man feeling himself-up.  Well played.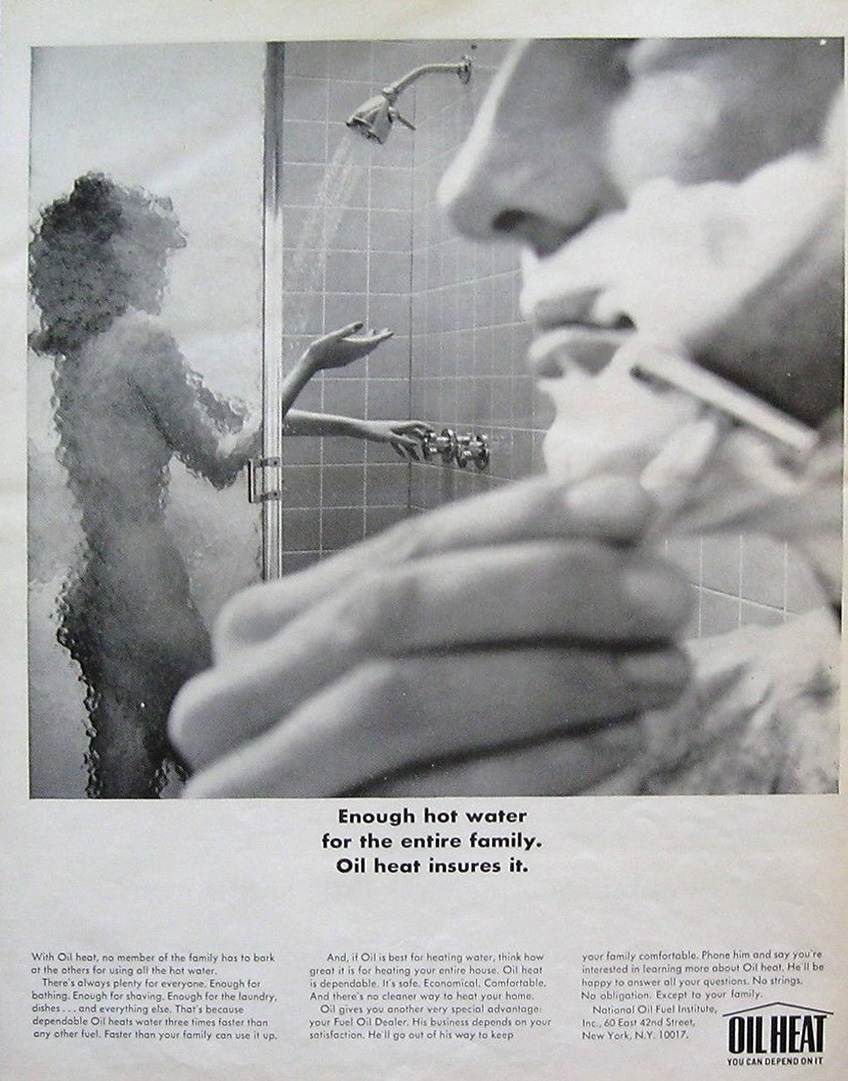 This seems an odd choice to feature a nude woman in a 1964 oil heat advert.  Vintage nudevertising simply knew no bounds.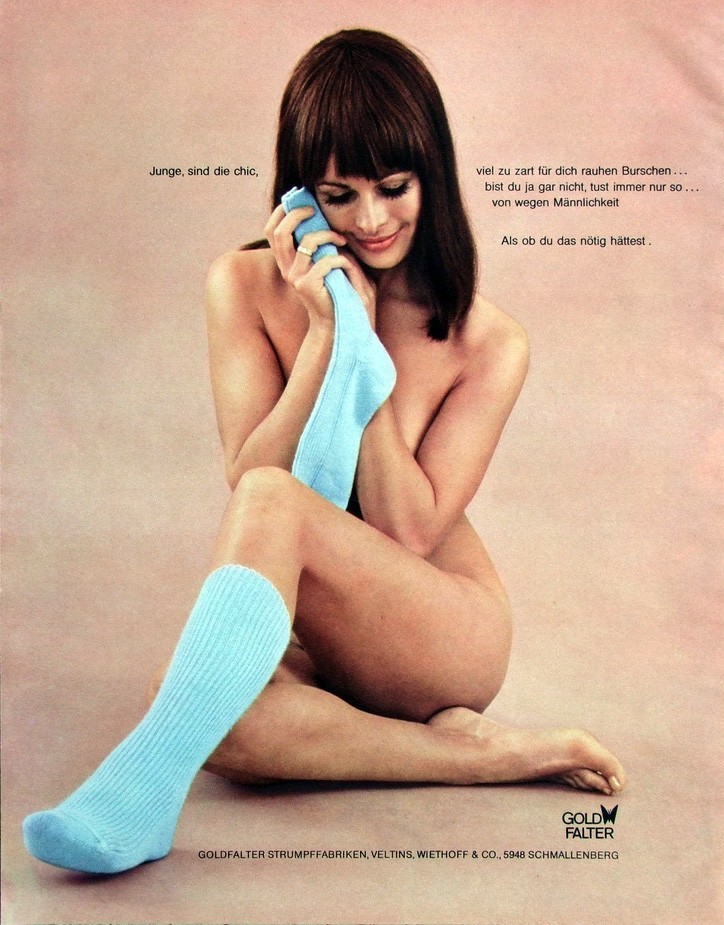 This is an example of when nudity more-or-less works in a sock advert.  The next example is when it most-definitely does not…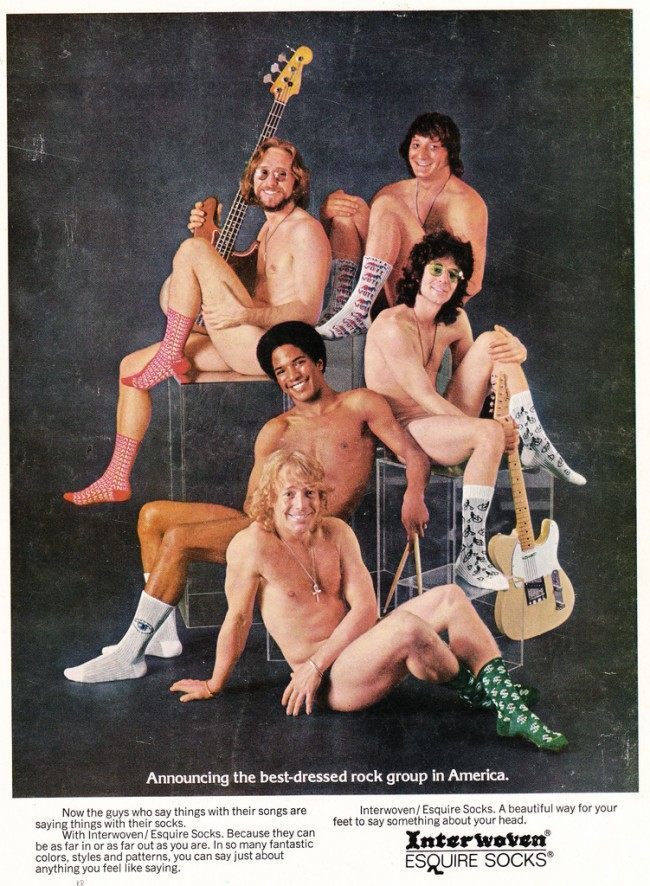 Okay, I'll admit there's a bit of gender bias going on.  But I think you'll have to agree, nude men in advertising is rarely a good idea – especially when they're pasty and awkward.
Nudevertising works much better when it's Ali MacGraw…
I can understand selling bath oils in the buff.
Hypo-allergenic jewelry makes sense as well…
…but wigs, not so much…
And, of course, what sort of "nudevertising" article would this be without mention of the topless White Rock fairy?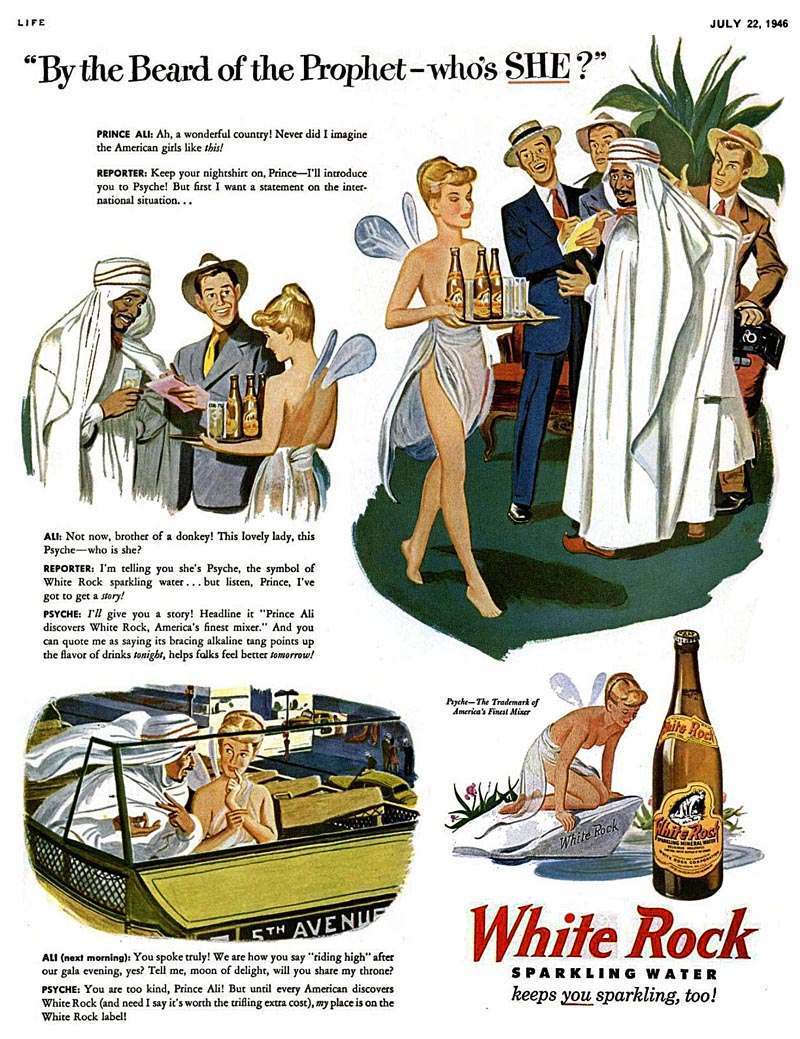 For more on this bizarre example of nudevertising check out: The Art of Selling Mineral Water with Topless Fairies.  A must read.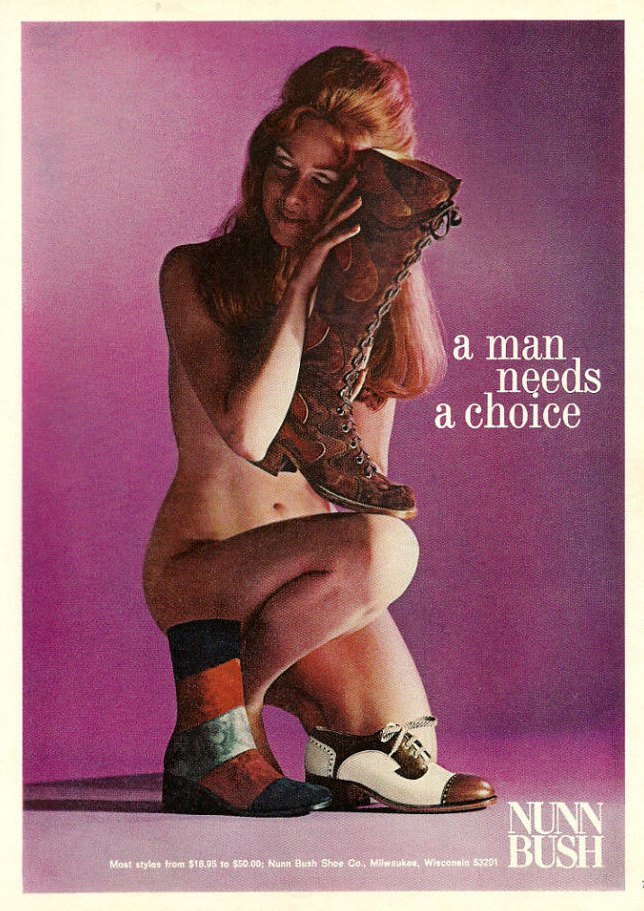 This early seventies Nunn Bush shoe advert is easily among the most sexist of all time.  She is butt naked, and worshipping his smelly discarded shoes. Just wow.
For more on this check out:  Peace, Love & Hush Puppies: Far-Out Men's Footwear from the 1970s.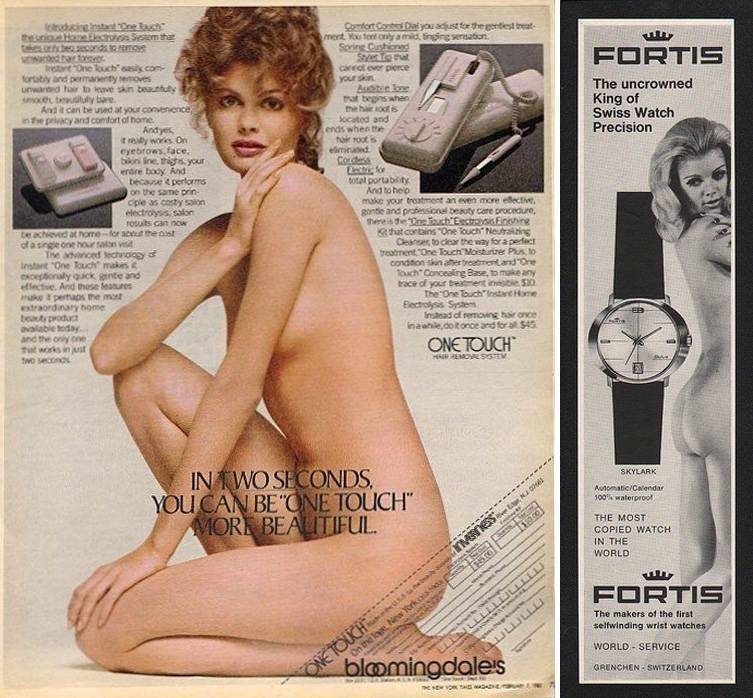 From home electrolysis systems to wrist watches, "nudevertising" was tried-and-true marketing method of choice.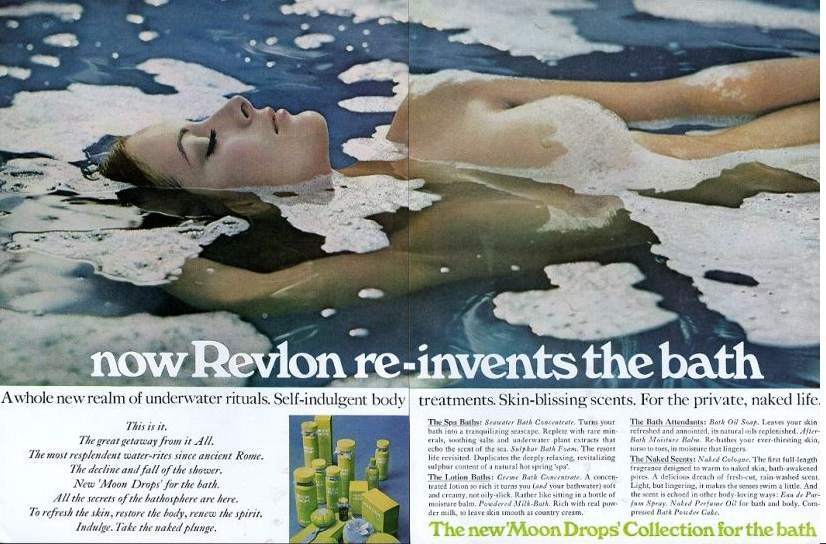 Those are some well-placed bubbles in this 1967 Revlon advert.  With suds it's a tasteful, yet edgy body treatment advert; without suds – pornography.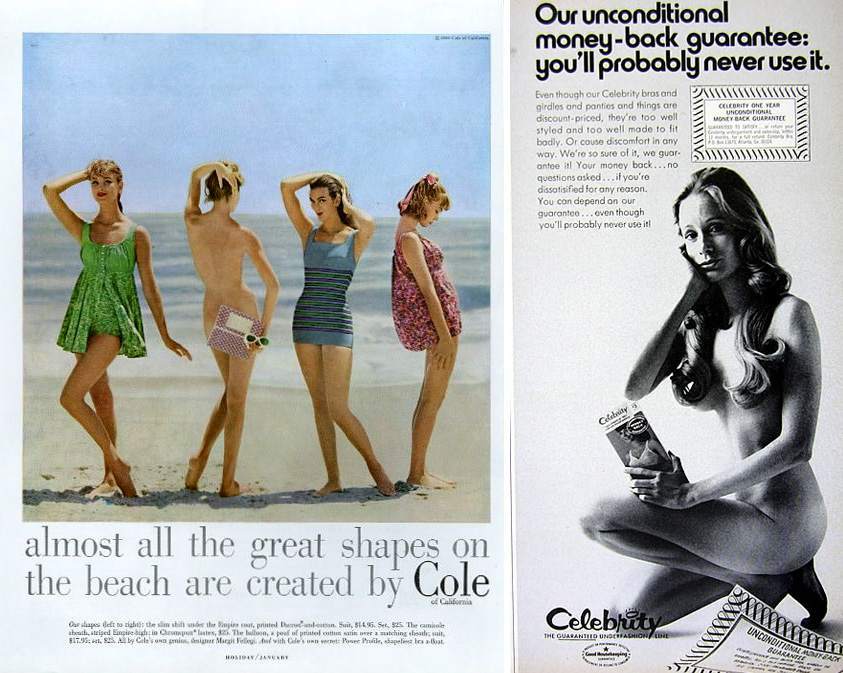 This advert by Cole was pretty risque for 1959.  The Celebrity advert wasn't quite so controversial in 1971.  Neither one makes much sense to have a naked chick in their advertising, but who am I to judge?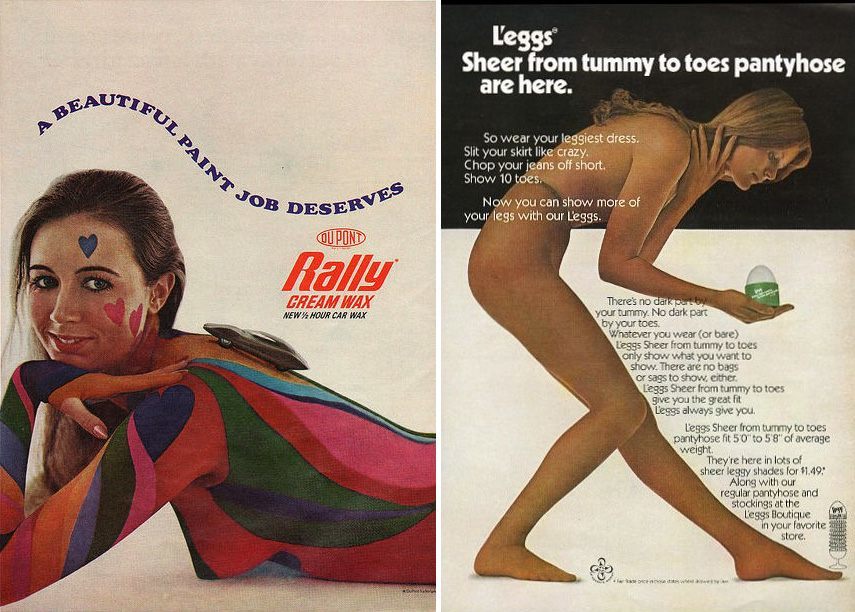 1969 Rally Cream Wax – because a car wax advert naturally should include a nude woman.
1973 L'eggs pantyhose makes more sense.  In fact, pantyhose adverts were notorious for implementing the "nudevertising" technique (we could do an entire article on this variety alone).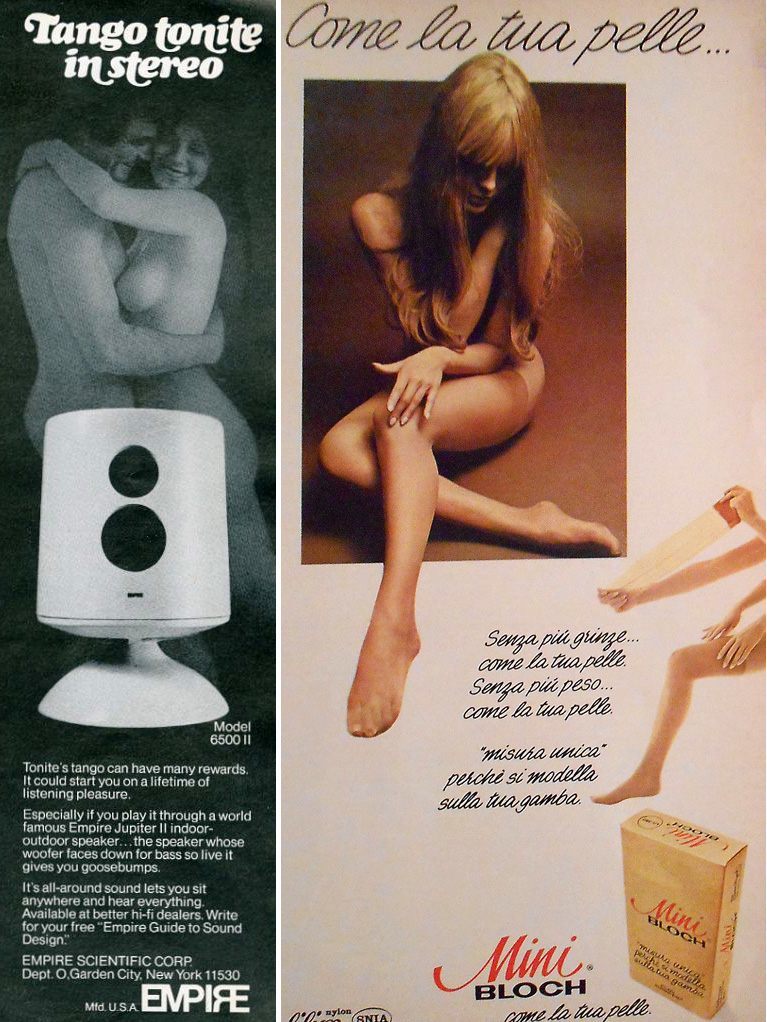 This Jupiter II indoor-outdoor speaker advert from 1974 is just classic.  Nudevertising at its finest.
I include the Mini-Bloch hosiery advert because it's so similar to the Joyce shoes advert.  You'll note that a lot of these put the women in very similar positions: the home electrolysis advert is much like the Reid-Meredith wig advert.  The Gold Falter sock advert is not that different from the Nunn-Bush shoe advert, which isn't that different from the Celebrity bra advert…. I suppose there's only so many positions you can put the nude model in before "naughty parts" start getting exposed.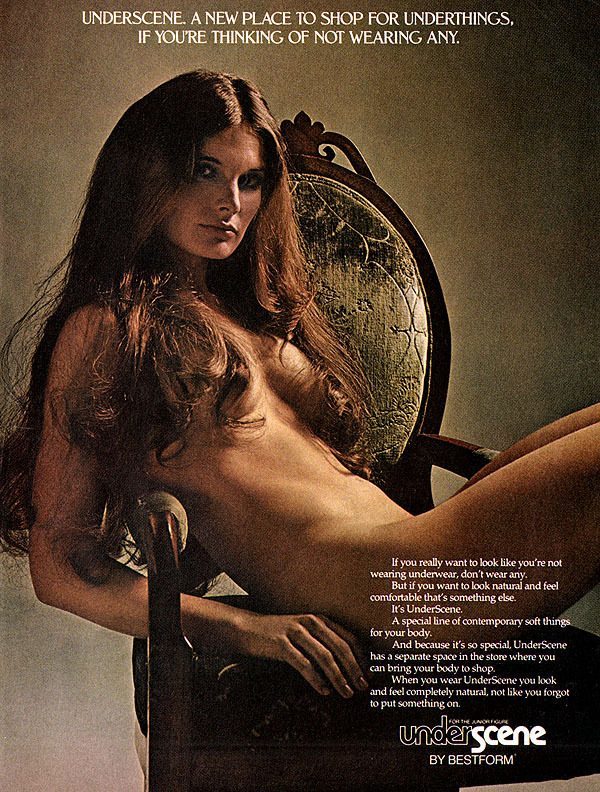 "If you really want to look like you're not wearing underwear, don't wear any.  But if you want to look natural and feel ccomfortable, that's something else.  It's UnderScene."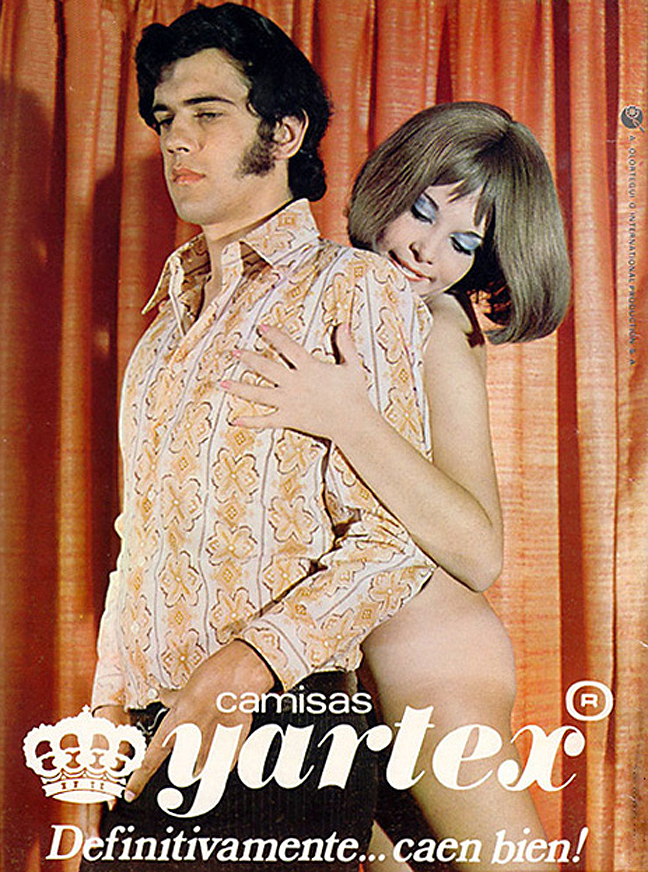 For more groovy menswear action read: Drive the Chicks Wild! Vintage Menswear Adverts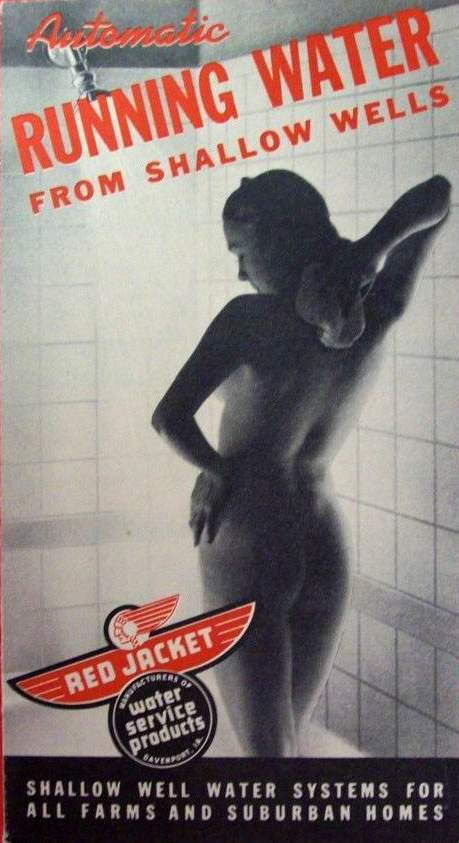 This advert from 1940 is just inexplicable.  Who would have thought they'd use nudevertising to market "shallow well water systems" in 1940?  Perhaps they were less prudish and more comfortable with nudity back then than we would give them credit.   Indeed, the next bed linens advert comes to us from 1946…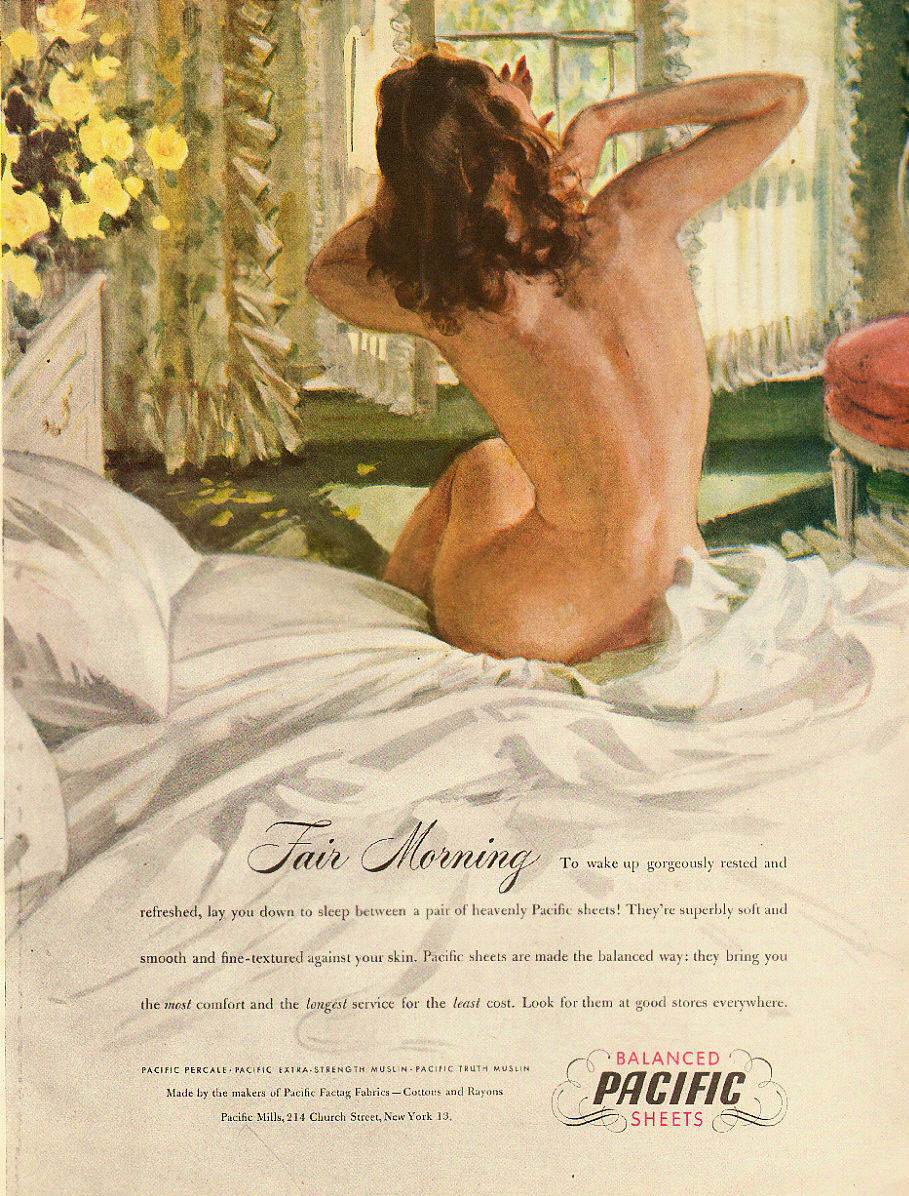 Thankfully, she's not sitting on inflatable clear plastic.
And here's more evidence of the surprising acceptance of nudity in 1940s advertising…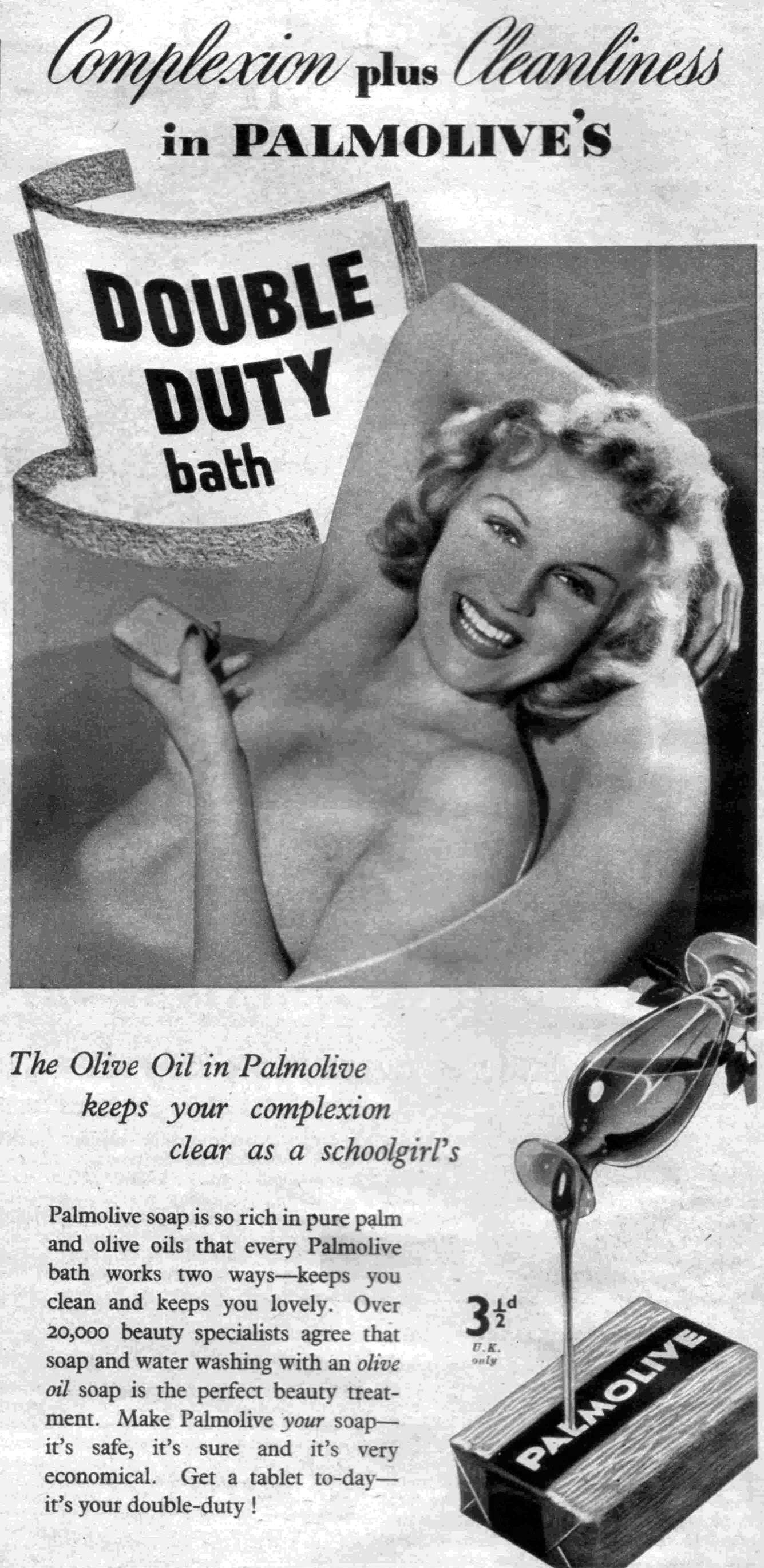 So much for midcentury repression and body-shame.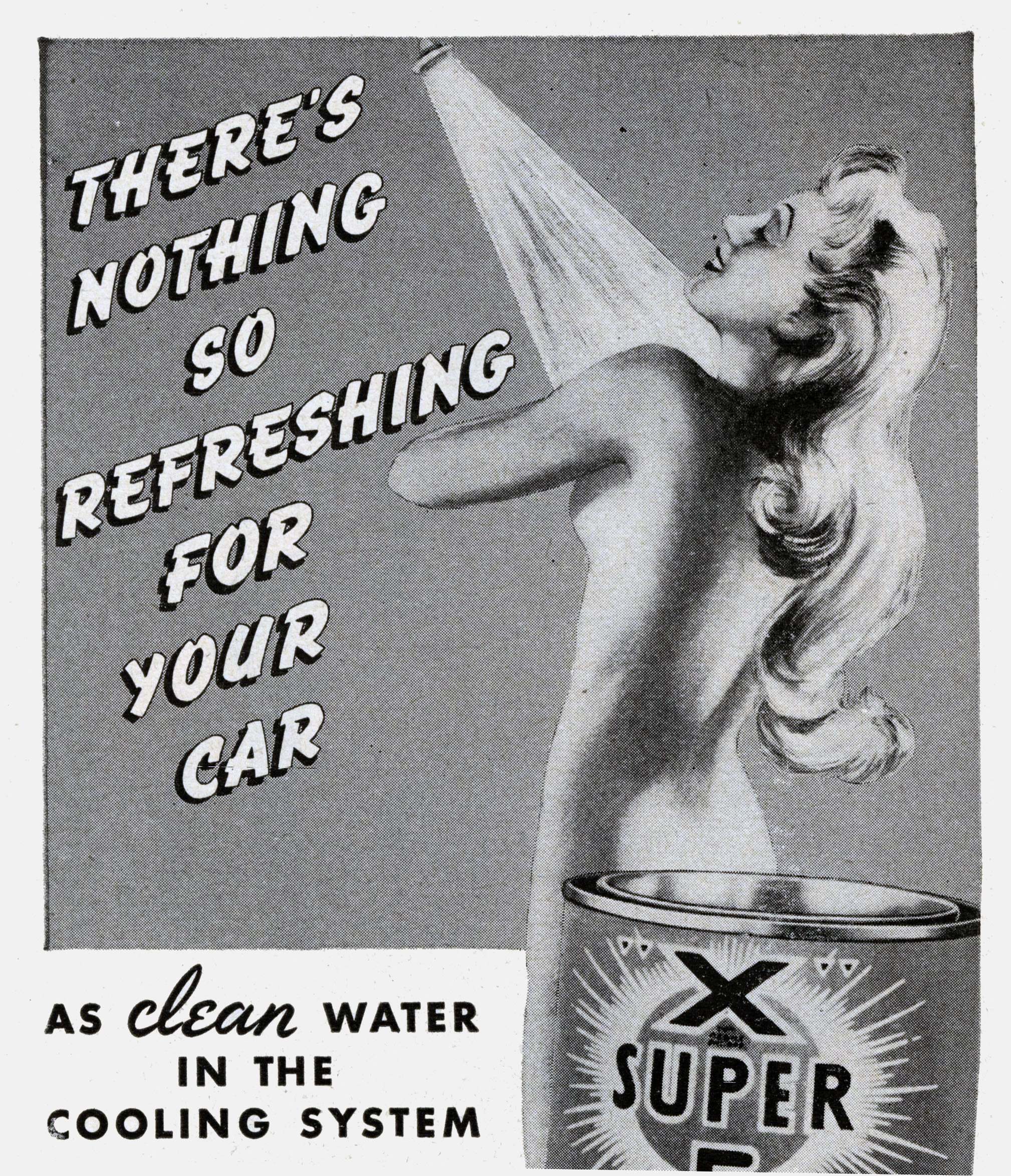 This makes absolutely no sense.  Why would they feature a nude girl showering for an automotive product?  Well, it's 1947, and if there's anything we've learned so far, it's that the 1940s were all about nudevertising.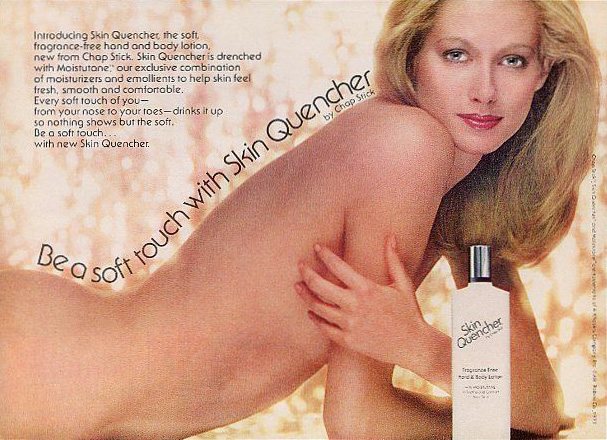 Well, we could go on all day and not even scratch the surface of the "nudevertising" method.  So, we'll exercise a little self-restraint and end with an example of "nudevertisng done wrong"….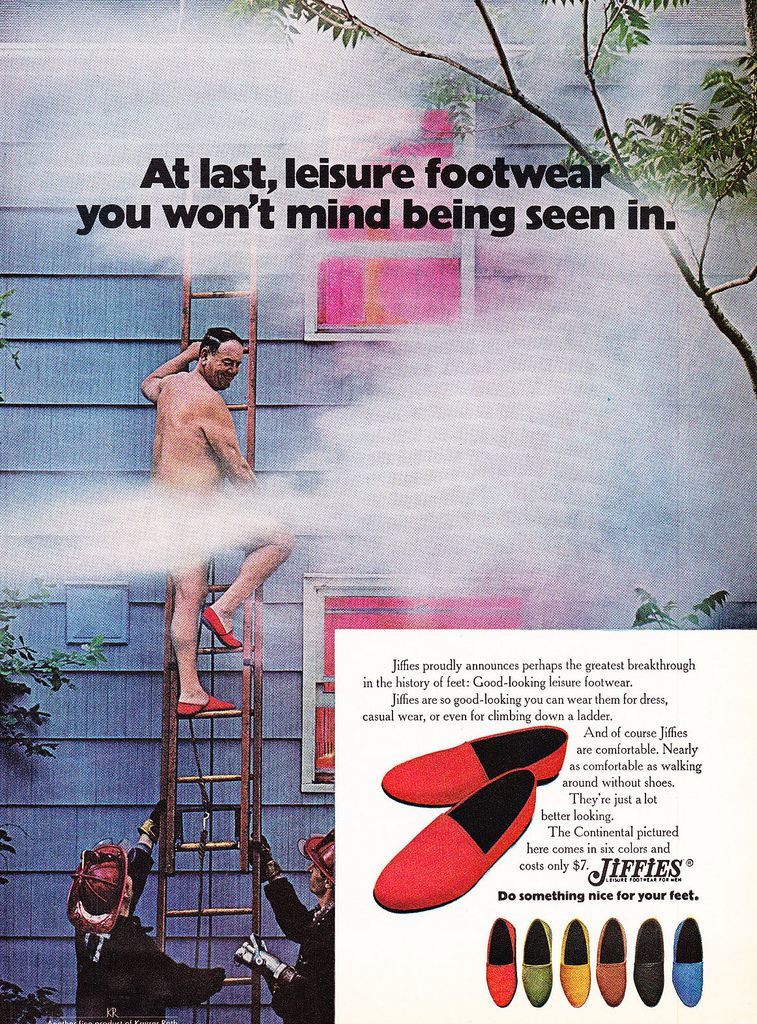 Youch! The view those firemen are getting!