Remember Saturday mornings in the 1970s and early 80s? All was right with the world. Back then, there weren't 24 hour kid networks, so Saturday morning was sacred. If you were still eating Frankenberry in your footie pajamas, chances are you didn't notice this time zone was actually chock full of foxes. Yes, you read that right – real, non-cartoon, smoking hot ladies of Saturday morn.   In case you forgot, here's a rundown of 8 of them in no particular order….
1. Isis (The Secrets of Isis)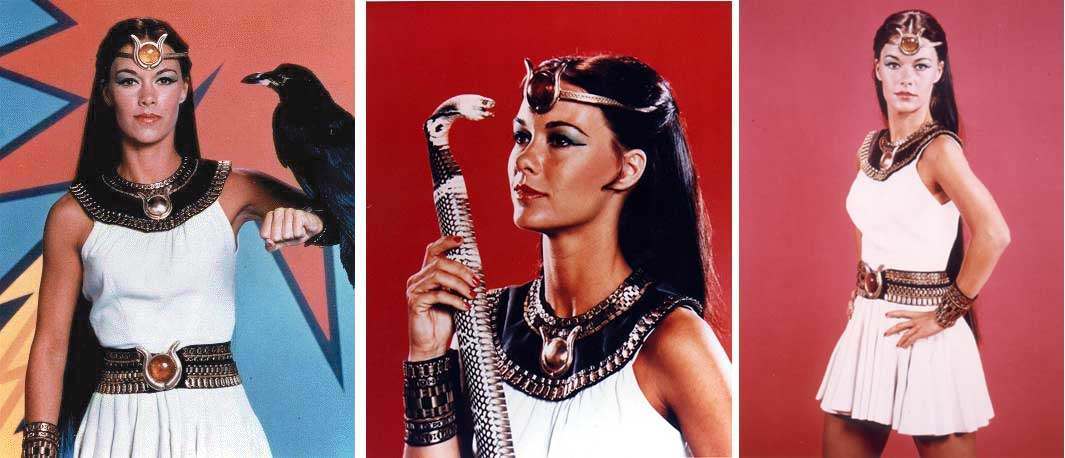 You may remember Joanna Cameron as a stone cold fox in the very adult film Pretty Maids All in a Row, starring Rock Hudsun as a high school coach and serial rapist. But most know her as Isis, who looked awesome twirling and flying around in her micro-miniskirt; although, her sexist asshole partner, Rick, nearly ruins every episode. Trust me – he was a real douche.
2. Electra Woman (The Krofft Supershow)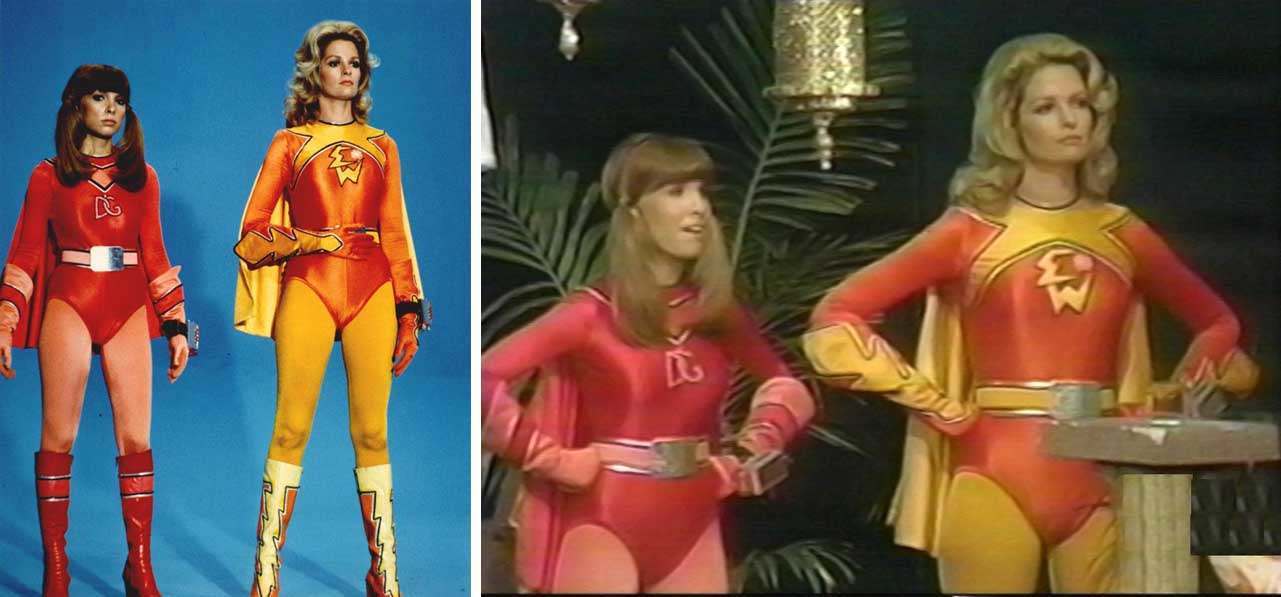 Before she became Marlena on Days of Our Lives, Deidre Hall was the spandexed super gal Electra Woman on The Krofft Supershow. While Dyna Girl was none too shabby, Hall's character was transcendent. Electra Woman will forever be embedded in the memories of American boys who grew up in the 70s.
3. Emmy Jo (The New Zoo Revue)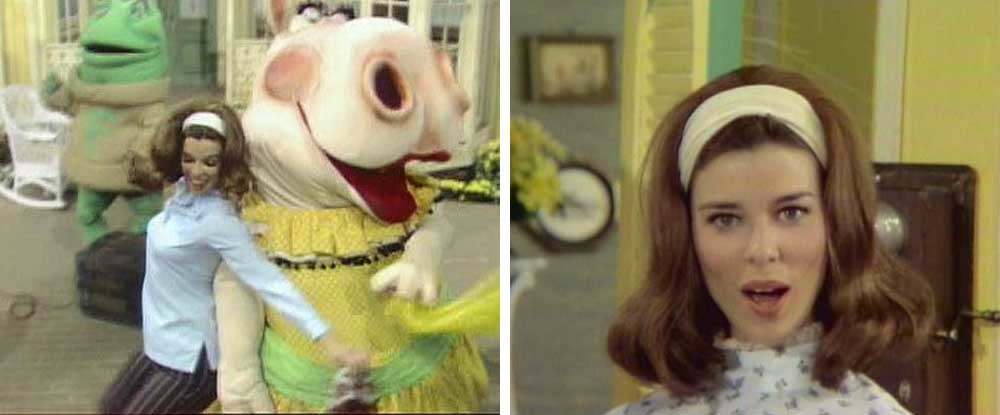 Just as many young girls had stars in their eyes for the likes of Shaun Cassidy and Leif Garrett, there were also a healthy number of little boys in the 1970s who couldn't peel themselves away from the lovely Emmy Jo (Emily Peden). The fact that she often wore a mini skirt and danced go-go style in nearly every episode might have had something to do with our infatuation.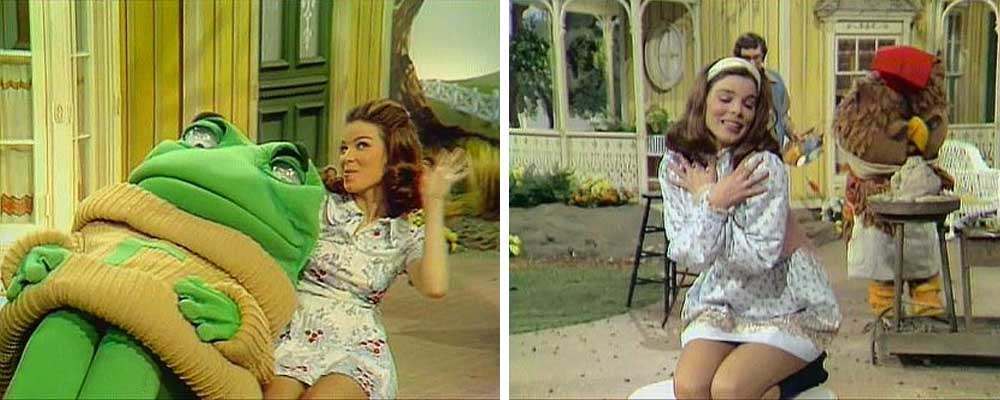 As many of you will recall, The New Zoo Revue came on well before the "good stuff" (The Superfriends, Hong Kong Phooey, Captain Caveman, etc.). So, it was on a bit too early for kids old enough to appreciate Emmy Jo…… but those early-risers were rewarded with one of the prettiest chicks to ever grace Saturday morning TV.
4. Avril Chown (The Hudson Brothers Razzle Dazzle Show)
Unlike the Bay City Rollers, the Hudson Brothers had enough sense to feature a pretty lady on their program: Canadian actress/musician, Avril Chown. You can catch her in the intro right after Murray Langston (who would later become The Unknown Comic) and just before the bear (0:26).
It's also worth noting that Bill Hudson (one of the three Hudson brothers) was one of the biggest playboys of his day. He would end up marrying Goldie Hawn (their daughter is Kate Hudson), but I can't help but think Playboy Bill had Avril on the casting couch a time or two. (Just a theory, mind you.)
5. Rani (Land of the Lost)

Rani was only in one episode [Season 1, Episode 15: "Elsewhen" (1974)], but that was more than enough screen time for young boys of the 1970s who might have exploded had they been served Rani every Saturday.
Rani is probably a future Holly who has come to warn her and give her strength to carry on when her father and brother are gone. The actress who played Rani, Erica Hagen, was in Soylent Green, a few other movies and tons of television throughout the Seventies. By the end of the decade she had faded into obscurity.
6. Glorious Gal (The Kids Super Power Hour)

Becky Perle was glorious indeed. This girl in her skimpy outfit and superhero go-go boots was eye-candy par excellence for the pre-teen set. The show featured animated segments ("Hero High") integrated with live performances primarily consisting of lame jokes and schmaltzy musical numbers…
Becky Perle went on to play an anonymous screaming vixen in Bachelor Party, then disappeared into obscurity. But there was another member of the Kids Super Power Hour that deserves a place on this list…
7. Dirty Trixie (The Kids Super Power Hour)

What kind of name is "Dirty Trixie" for a Saturday morning superhero? The actress who played this character with a name like a filthy whore is married to Willie Aames ("Eight is Enough", "Charles in Charge", Zapped!). While she didn't wear a bathing-suit style costume like her cohort, Glorious Gal; Dirty Trixie lived up to her name with a puberty-inducing skin tight full body leotard.
8. Ruth (Ark II)

Oh, to travel with Jean Marie Hon aboard her futuristic RV – this is what dreams are made of.
Yes, I know. There's a frighteningly annoying chimp on board as well, but if he knows what's good for him, he'll stay out of our way.
Honorable Mention: The Animated Ladies of Saturday Morning

From Captain Caveman's Angels (top left) to Alexandra Cabot of Josie and the Pussycats (top right) who wore the shortest skirts in TV history, Saturday mornings were full of smoking hot animated mamas: Daphne from Scooby Doo, Tarra from Herculoids, Princess Ariel from Thundar the Barbarian, Rosie the Operator from Hong Kong Phooey……  yes, they were all animated; but 70s kids weren't too particular.  In fact, it sounds like a worthy topic for another day.  Until then.