THE obvious way to sell men's clothing is to proclaim that the garments will somehow turn the average guy into an irresistible Studasaurous.  From the late Sixties to early Eighties, when Baby Boomers were in their sexual prime, this marketing tactic went into hyperdrive.  Boomers were ready to mate, and menswear adverts proclaimed that their apparel was the gateway to sweet, sweet lovemaking.  Here are a few examples.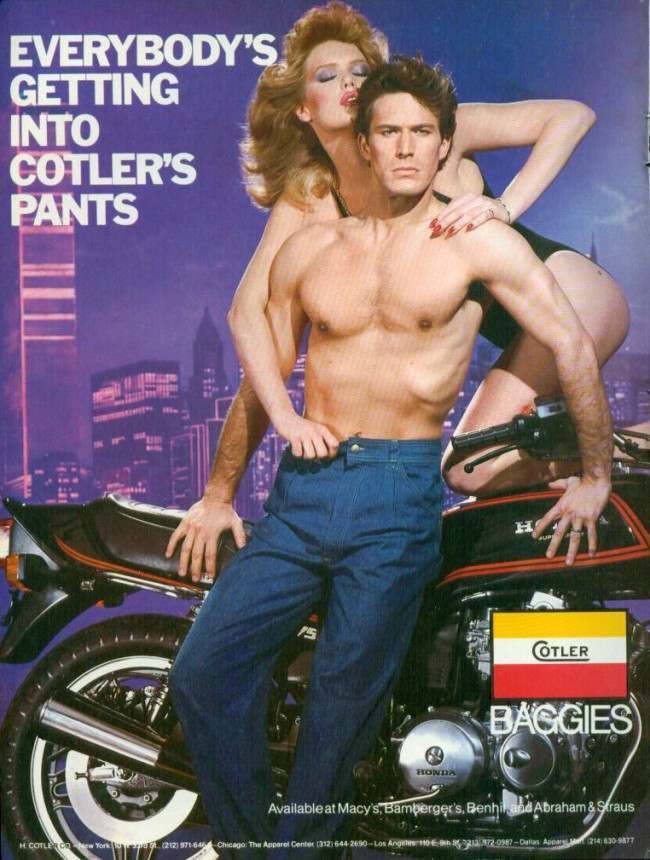 Translation: Cotler pants will get you laid by a hot model, guaranteed.
[Disclaimer:  You also have to drive a cool motorcycle and look like an Adonis.  Otherwise, you can probably forget it – these are blue jeans, not magic fertility slacks.]
Here's another advert that should come with a disclaimer:  "Claims of 'scoring' only apply if you are a Hall of Fame baseball player with thick wads of cash.  Otherwise, these are just normal jeans."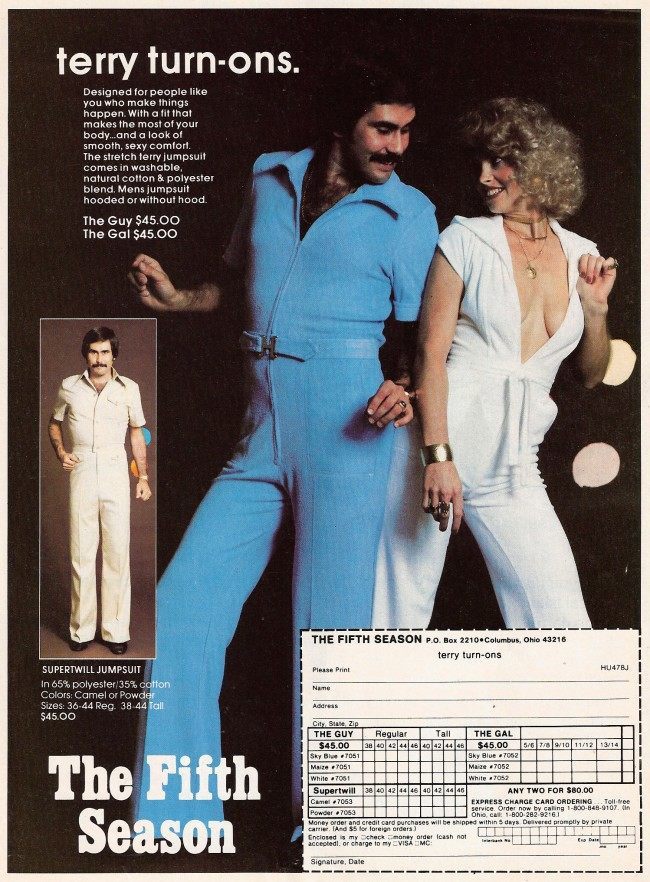 Nothing drives women wild like a tight fitting terry-cloth jumpsuit.  As an added bonus, the super absorbent towel-like fabric can clean up any spills or messes in a jiffy!  And with the "turn on power" of terry-cloth, there's bound to be plenty of mess to clean up.
Facis Ventanni shirts will turn women into sex animals, clawing and braying for your manhood.  That's because our shirts have powerful pheromones woven right into the fabric.  [Warning: Facis Ventanni shirts may cause genital exhaustion.]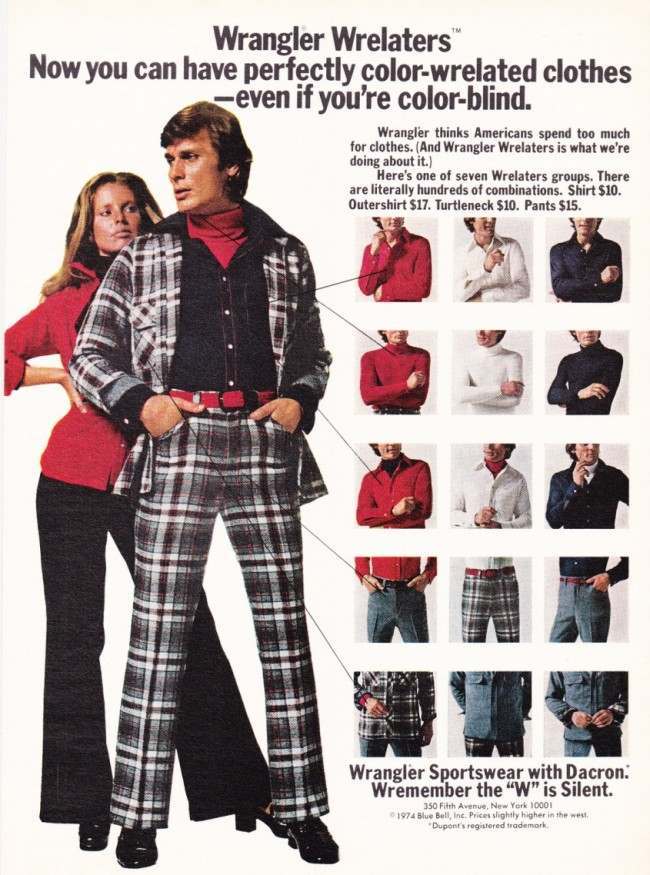 When you wear Wrangler Wrelaters, there will always be a sexy female close behind.  So, be careful – it could lead to Wromance….. or Wrape.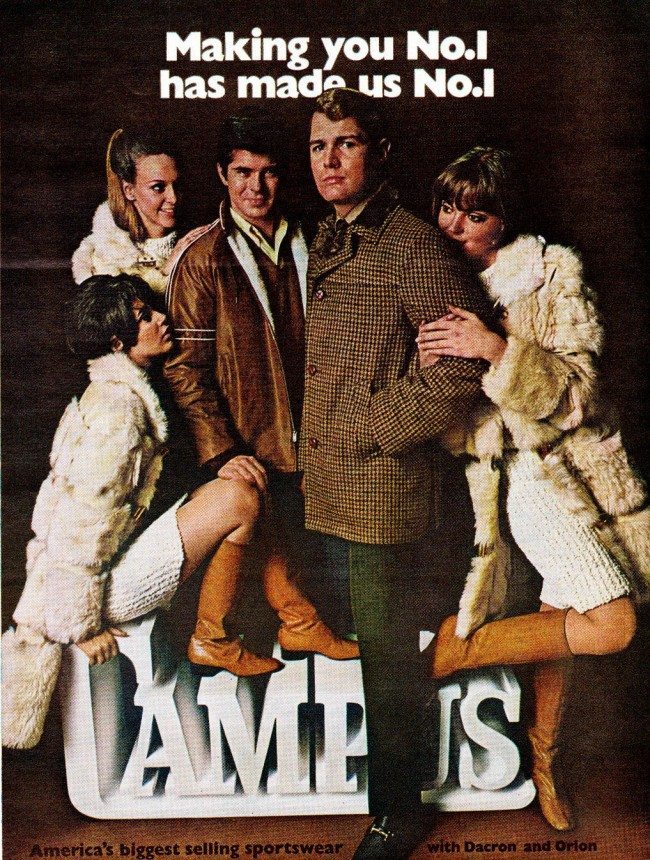 You'll notice that men in these adverts come in only two varieties: (1) about to get laid and giddily grinning, or (2) about to get laid but maintaining a stoic über-cool composure.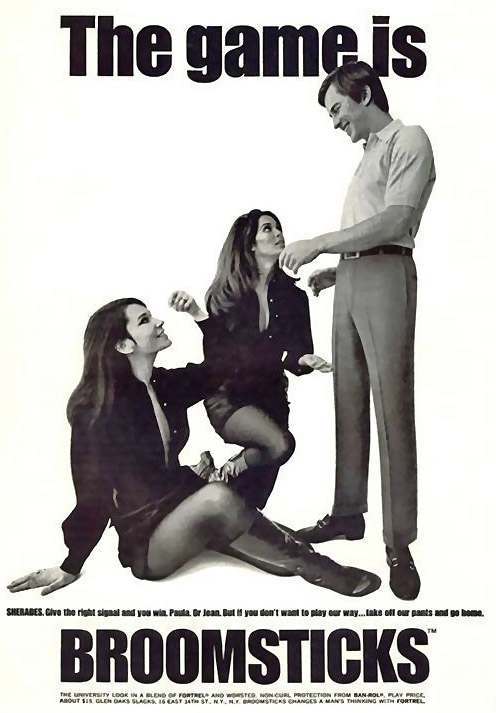 "SHERADES.  Give the right signal and you win.  Paula.  Or Jean.  But if you don't want to play our way… take off our pants and go home."
Only during a Sexual Revolution do adverts for men's slacks provide instructions for turning charades into a sex game.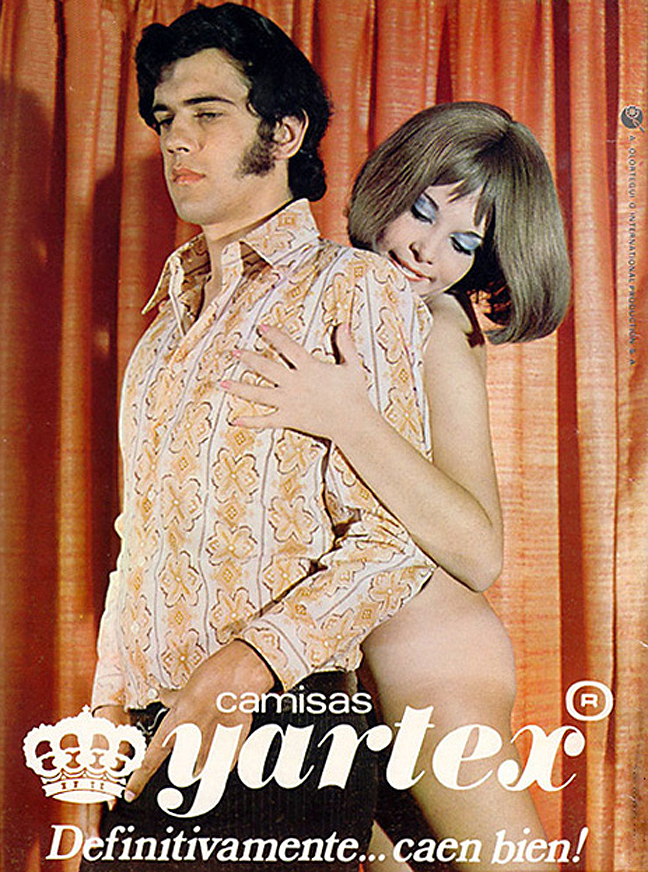 With so many fully naked women throwing themselves onto Yartex shirts, it started to become a serious health and hygiene issue for men.  We are proud to announce that Yartex clothing now is made with antibacterial fabric, so the nude chicks can still rub themselves upon you, while you relax in disinfected comfort!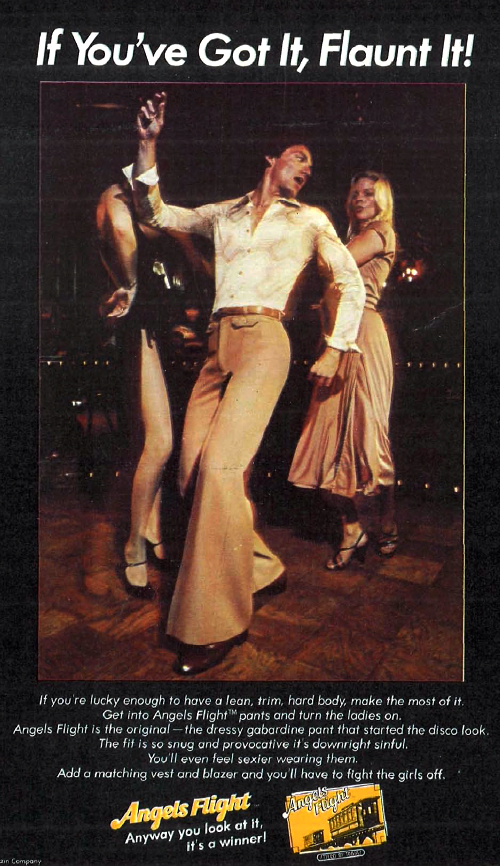 This Angels Flight advert is my favorite of them all.  No beating around the bush – it's spelling it as clear as crystal: These pants are made for lovin'.
"If you're lucky enough to have a lean, trim, hard body, make the most of it.  Get into Angels Flight pants and turn the ladies on….. The fit is so snug and provocative it's downright sinful.  You'll even feel sexier wearing them.  Add a matching vest and blazer and you'll have to fight the girls off."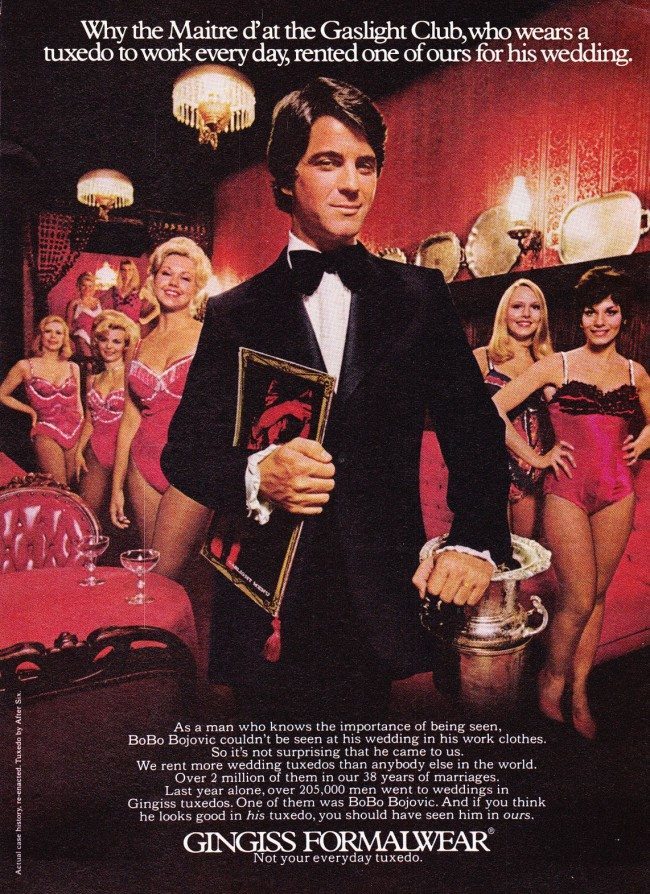 Well, we could throw adverts at you all day, but we'll stop here.  Suffice it to say, men's clothing is basically marketed as tools for securing the undying affection of ladies.  Were it not for this compulsion, men would roam the earth in sweatpants and smelly t-shirts.  We need these adverts to remind us of why we button our shirts and starch our collars – to drive the chicks wild.