The BBC said it was 60 million while The Guardian wrote that it was twice as much, The Scotsman, no doubt proud of the band's Scottish roots, guessed it was 300 million. Whatever the amount, the Bay City Rollers sold a lot of records although they always grumbled about how little of the profits they saw.  The lead singer, Les McKeown,  just eighteen when he joined the band late in 1973, had his name inked onto a million school bags and notebooks. He was the Harry Styles of the day, maybe even more popular – there was far less music to go round in those days.
In Edinburgh in 1966, a bassist Alan Longmuir, his younger brother, drummer Derek Longmuir, and their schoolfriend lead singer Gordon "Nobby" Clark formed The Saxons. Two years later they changed their name to The Bay City Rollers by throwing a dart at a map of the United States and it landed near Bay City in Michigan. In 1971, with the help of producer Jonathan King who had chosen a song for them called Keep On Dancing but also provided all the backing vocals, the band had a hit that sold enough to reach no. 9 in the charts which got them an appearance on the BBC's Top of the Pops.
Then there was nothing, and in 1973 so completely disillusioned with the band's future Clark left the band. Unfortunately, at least for him, it was with spectacular bad timing because the Rollers' new single Remember (Sha La La La) immediately charted. Les McKeown who had only just replaced Clark re-recorded the vocals and the song went on to reach No 6 in the UK charts.
Remember (Sha La La) – Bay City Rollers
To the surprise of most people, and almost certainly the band, the popularity of the Bay City Rollers exploded and a string of UK hits followed. They included Shang-a-Lang (no.2), Summerlove Sensation (no.3), and All of Me Loves All of You (no.4). By 1975 they were the highest-selling act in the UK and a 20 week television series was commissioned. It was called Shang-a-Lang and to hundreds of thousands of girls Tuesdays became known as Roller Days when they'd all rush home to see their heroes on the TV. A cover of the Four Seasons' Bye Bye Baby stayed at no. 1 for six weeks in the spring of 1975 and would become the biggest selling record of the year.
By now the distinctive clothing worn by the fans of the band was seen all over the country and not just in Scotland. The uniform featured calf-length trousers with tartan trimmings and small tartan scarves tied around the wrists. In 1975 Michael Parkin of The Guardian unkindly wrote of, "a monstrous regiment of girls" and described that some of them had: "faint scars on their forearms where they have drawn blood while scratching "Eric" or "Les" with a pin – the stigmata of pop. Mine turned Septic" said one girl, "and me mum was right mad"."
The obsessive nature of the obsessive fans became known as 'Rollermania' and it even had its own song. Over and over and over again the fans chanted (to the tune of This Old Man):
B-A-Y, B-A-Y,
B-A-Y, C-I-T-Y,
With an R-O-double-L, E-R-S,
Bay City Rollers are the best!
Eric, Derek, Woody too,
Alan, Leslie, we love you,
With an R-O-double-L, E-R-S,
Bay City Rollers are the best!
In May 1975 19 year old Les McKeown was probably feeling rather cocky when he was driving his turbo charged Ford Mustang around Edinburgh. Life was pretty good. An elderly woman, however, called Euphemia Clunie hadn't read the right script. One evening she walked across a four-lane road in the dark and McKeown slammed right into her. She was killed instantly. He later said: "She only lived across the road from me, and I wanted to knock on her family's door and say, 'I'm really, really sorry', but I wasn't allowed to do that. I wasn't allowed to go to her funeral." Despite some witnesses originally claiming he was driving at 70 mph (he was initially charged with causing death by dangerous driving) McKeown was found guilty of driving recklessly, fined only £150 and banned for a year.
McKeown was never really the same again. He told The Guardian's Simon Hattenstone in 2005 that he had been told to try to put the death to the back of his mind and forget about killing his neighbour; "They didn't see it from a helpful, human way. It wasn't like, 'We're going to get through this together', it was more like, 'We need you on stage tomorrow, you wee cunt, so you better stop fucking crying.' A struggling McKeown broke down at a gig in Oxford later that year; "I was singing some song and I just lost the plot," he recalled "I burst into tears, couldn't handle it anymore. There were all these fans and when I started crying they came forward wanting to mother me. And then my attention suddenly focused on the orchestra pit. There were girls coming over and getting hurt and all these photographers were taking pictures of them, and for some reason in my twisted little mind I thought that was out of order so I jumped into the orchestra pit and started beating up a photographer. Promptly got arrested and got a two-year suspended jail sentence for that as well."
Meanwhile the Rollers continued having hits for another few months, but certainly by 1977, as is almost always the way with the cyclic nature of pop music, the Rollers were suddenly yesterday's men. Except in the odd suburban teenage room Rollermania was no more. The following year they left for Los Angeles to try and reinvent themselves. McKeown, however, was more interested in taking cocaine with his teenage heroes such as John Bonham and Keith Moon than playing with the Rollers. Just a few years earlier, McKeown had been in the front row when Led Zeppelin played the King's Theatre in Edinburgh, now he was taking drugs with some of them.
There were also women, apparently. McKeown was seen at a few Hollywood film premieres with Jodie Foster, but he later said, not entirely surprisingly; "I never really got into her drawers or anything." A less innocent relationship with Britt Ekland followed but that ended suddenly when McKeown slept with Ekland's daughter. "She was hot to trot," he would later say, "I don't know if she did that with all her mum's boyfriends, but she was certainly wanting a good shag."
In 1978 McKeown told fellow Rollers that he wasn't happy with their new direction (most of the members wanted to write more of the songs and not rely on session musicians to play on their records) and they should all leave the band. They wrote back saying, "Fuck you, you're fired." By the age of 22, he was an insignificant has-been. "It was horrible. I was fucked, basically." Not exactly impressed with the talent in the rest of the band, McKeown would later say, "Eric Faulkner really did think he was John Lennon born again, and you know, he has never written anything you can spit on".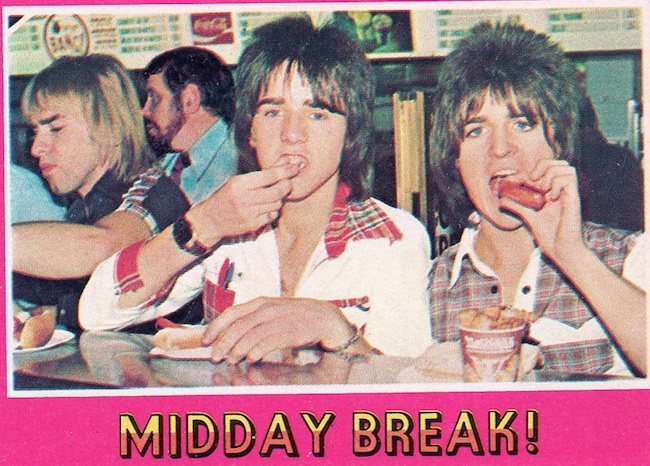 The Bay City Rollers' first manager was Tam Paton, the son of an Edinburgh potato merchant and a former leader in a show band who played at Edinburgh's Palais de Danse. He also put on teenage nights every Thursday and soon realised that the Bay City Rollers were going down better than anybody else. Paton was convinced that it wasn't their music but that they wore very, very tight trousers. Paton went on to sell the Rollers to the world as utterly innocent and clean-living young men. Girlfriends, at least openly, were banned, they fronted an anti-smoking campaign while saying they couldn't stand girls who smoked. The teen magazines were told and dutifully wrote that the band only ever drank milk and that Stuart "Woody" Wood was so afraid of the dark that he always slept with a teddy bear.
Tam Paton, who was openly gay (as much as you could be in those days) even subjected himself to the squeaky-clean image machine and was photographed with his fiancé along with the rest of the band to publicise his engagement. He later explained to Hannes A. Jonsson in a year 2000 interview, "I got engaged to a female and the reason for that was simply that I had the News Of The World floating around at the time, in the 70's, that I was having it off with little…that I was rolling from one room to another and all that kind of crap. If they thought that they had that homosexual manager, you know, they could all be rolling about in bed with me. So, I got wangled into this stupid engagement thing."
In 1979 Paton was fired from what was left of the band and three years later was convicted of gross indecency with teenage boys, for which he served one year of a three-year prison sentence. He told Jonsson; "Well, I am gay but I'm not into small boys and in all the articles…you know, I did go to jail for gross indecency. The youngest boy was fifteen. People have said he was thirteen or fourteen, and shit like that, but that's just crap. There was nobody in my house at fourteen or thirteen; there was one guy at fifteen, who actually just watched a movie with me, called Tina With The Big Tits and we had a couple of lagers. I didn't lay a hand on him, nothing like that, and we watched a picture with women's boobs in it – hardly anything homosexual about that. And I can prove that. And the rest of them were sixteen, seventeen and eighteen-year-olds. One of those chaps was actually the youngest soldier to serve in the Falkland Islands conflict, one of the marines. So it was alright for him to go and shoot some Argentinians at seventeen or eighteen, but it was not alright to roll about with somebody who was thirty-nine or thirty-eight at the time. But, unfortunately, on my record, I have 'Gross Indecency'; I've been a naughty boy."
In later years Paton became very ill, suffering two heart attacks and a stroke. He was arrested on more child sexual abuse charges in January 2003, but was later cleared of all allegations. The following year in April 2004, Paton was convicted of supplying cannabis and fined £200,000. In 2007, he was accused but cleared, due to lack of evidence, of raping one of the band's guitarists, Pat McGlynn, in a hotel room in 1977. Paton died of a suspected heart attack aged 70 at his Edinburgh home which he shared with several young men, on 8 April 2009.
In 2008, Les McKeown, admitted he was an alcoholic and was addicted to cocaine. His doctor told him that he had just months to live. In 2009 he agreed to appear in a Living Channel reality show called Rehab which filmed him at the expensive Passages clinic in Malibu. During the show McKeown revealed an early sexual encounter with Paton under the influence of drugs which had left him with feelings of guilt, anger, fear and self-loathing. McKeown initially said that he had slept with men 'now and again' saying, "I've been a bit of a George Michael, meeting people, often strangers, for sex. Not in public toilets – I'm not big on the unhygienic side of things. These days you'd meet online and figure out a place where to meet – your place or mine."
In between judging Scotch Pie contests Les McKeown was still performing until relatively recently, albeit with no other original Rollers in the line-up, he admits, "my tartan trousers are a little bigger these days". In 2015 Les McKeown's Legendary Bay City Rollers performed in the Once In A Lifetime – The Final Tour that also featured the Osmonds, David Essex and Showaddywaddy.
Just over fifty years after he formed the Bay City Rollers Alan Longmuir died aged 70 on the 2nd July 2018. On Thursday 22nd April 2021 the family of Les McKeown wrote on Facebook:
It is with profound sadness that we announce the death of our beloved husband and father Leslie Richard McKeown. Leslie died suddenly at home on Tuesday 20 April 2021.
Like many essentially manufactured bands throughout the history of pop music the Bay City Rollers made some very good records.
The Bay City Rollers Trading Cards
The Bay City Roller And Ann Margaret's Saturday Night Special: The Greatest Audience Video