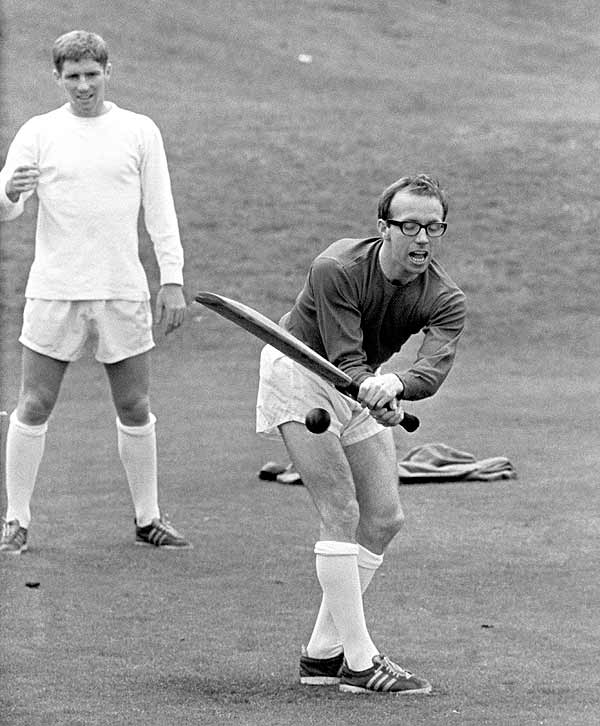 The Johnny Cash song "A Boy Named Sue" tells the tale of a man whose father gave him a girl's name in order to toughen him up – the reasoning being that he would be taunted mercilessly and forced to defend himself.
The former Manchester United and England footballer Nobby Stiles puts forward a similar explanation for his development as a hard man of the tough-tackling terrier variety. With a name like Norbert, he didn't have much choice. It probably didn't help that he was a speccy little herbert. Or, if you prefer, a four-eyed midget.
But when he was on the pitch he ditched the bins in favour of new-fangled contact lenses, and underwent a transformation along the lines of Clark Kentto Superman. This wasn't for aesthetic reasons (he used to take his false teeth out, which didn't improve his appearance). It was for footballing reasons, and it can't have harmed him, because he ended up with a World Cup winner's medal in his trophy cabinet. (Nobby created criticism throughout the tournament for his dirty play, and there were calls for him to be dropped from the team.)
All very impressive. But in Holland they went one better. In 1970 Feyenoord won the European Cup (for younger readers, that's the big silver one they call the Champions League). Their captain, and the scorer of the winning goal in the final (pictured), was Rinus Israel. Rinus was a big lad, and he certainly wasn't afraid to walk around in a pair of thick-rimmed glasses. He wore them on the training pitch, and he wore them for official photos, as our evidence shows
Joop's bins were unceremoniously smashed by an Argentine opponent – Oscar Malbernat grabbed Van Daele's glasses and stamped on them, offering, "You are not allowed to play with glasses. At least not in South America."
But for the sheer foolishness and bravery of wearing them in the first place, we salute you, sir.
Update:
Joseph Armand Jurion, aka Jef Jurion, who won 64 caps for Belgium (40 as captain), between 1960 and 1967.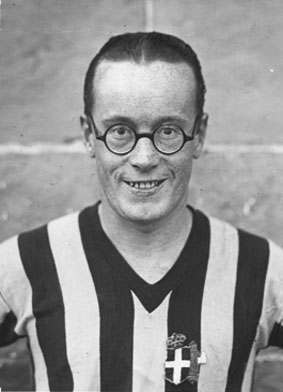 Annibale Frossi was a footballer from Muzzana, Italy. He made 147 appearances for Internazionale scoring 50 goals.
He was a member of the Italian team, which won the gold medal in the football tournament at the 1936 Summer Olympics.
Eric Ross
Signed by Glentoran from Boyland in 1962, Ross had five highly successful years at the Oval, only the lack of an Irish Cup winner's medal proving a disappointment. Famed for taking to the field in his glasses, he was a deep-lying inside-forward more a creator than a scorer of goals. His time with the Glens culminated with a trip to the USA with the Detroit Cougars in the summer of 1967.
On his return from America Ross joined the Northern Ireland contingent at Newcastle United. In two years at St James' Park he played just four firstteam games, and on the periphery of the side that won the Fairs Cup in 1969. He had much more success with Fourth Division Northampton Town, but he will be Best remembered for his role in an FA Cup tie against Manchester United in February 1970. The Reds ran out 8-2 winners, with another Belfast-man, George Best, running in six! To Ross' credit, he had been given the job of marking Bobby Charlton who failed to score.
Any more?