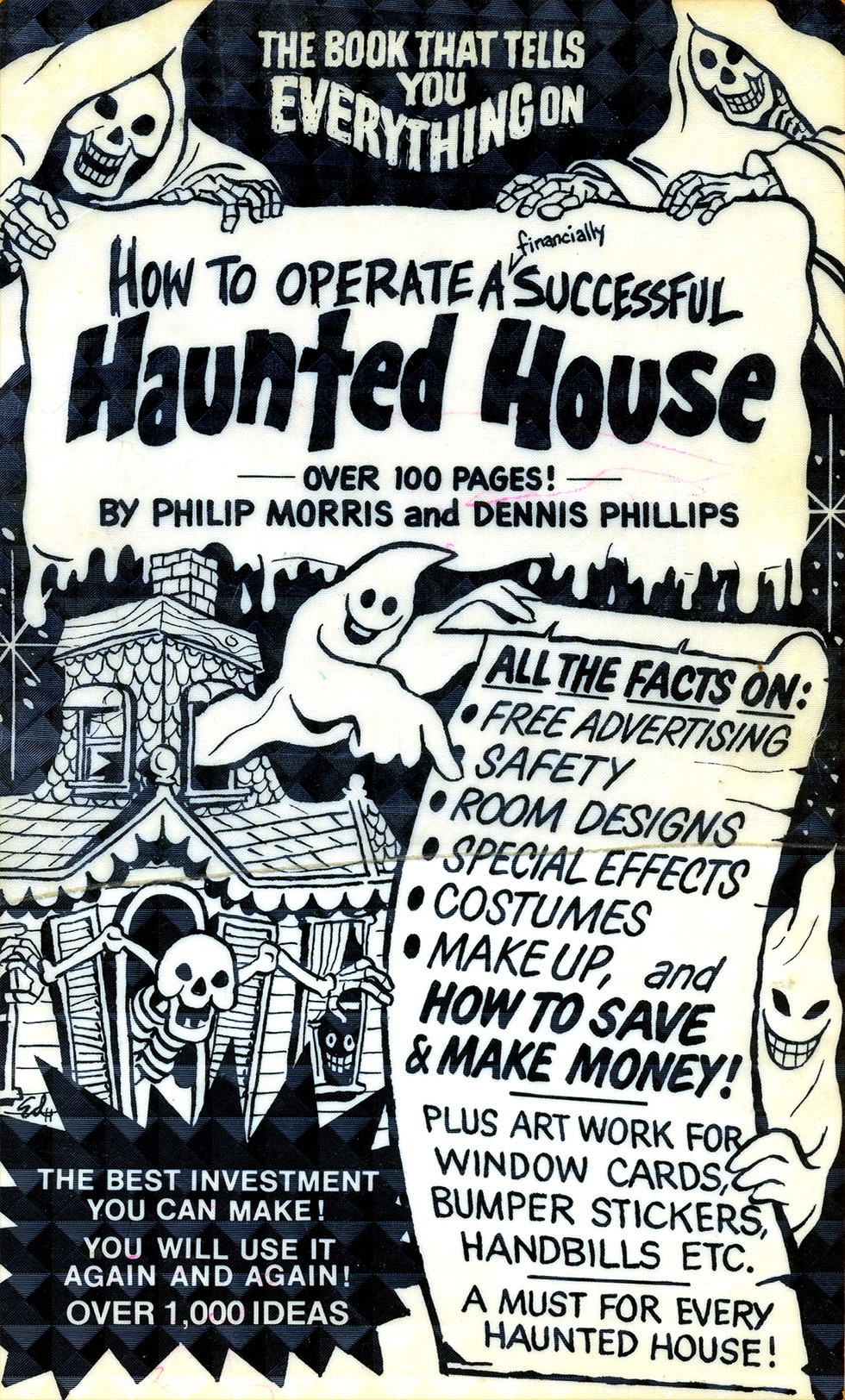 So, I came upon this wonderfully illustrated how-to guide called How to Operate a Financially Successful Haunted House by Philip Morris and Dennis Phillips.   It's a great read even if you have zero interest in starting a haunted house; the Halloween nostalgia throughout is what makes this truly special.
The copyright is a mystery.  The edition I possess is the third (1985), but there's no telling when the original edition was released.  We do know about the authors: Philip Morris is the man behind Morris Costumes, a very successful costume company to this day. Dennis Phillips owned a production company called Showcrafters which which worked closely with Disneyland on their productions.
Anyway – on with the book.  It's divided into two sections: (1) Promotion – dozens of charming nostalgic illustrations to market your new haunted house, and (2) Design – groovy artwork to illustrate how to set up a ton of horrific attractions.
PROMOTIONAL MATERIAL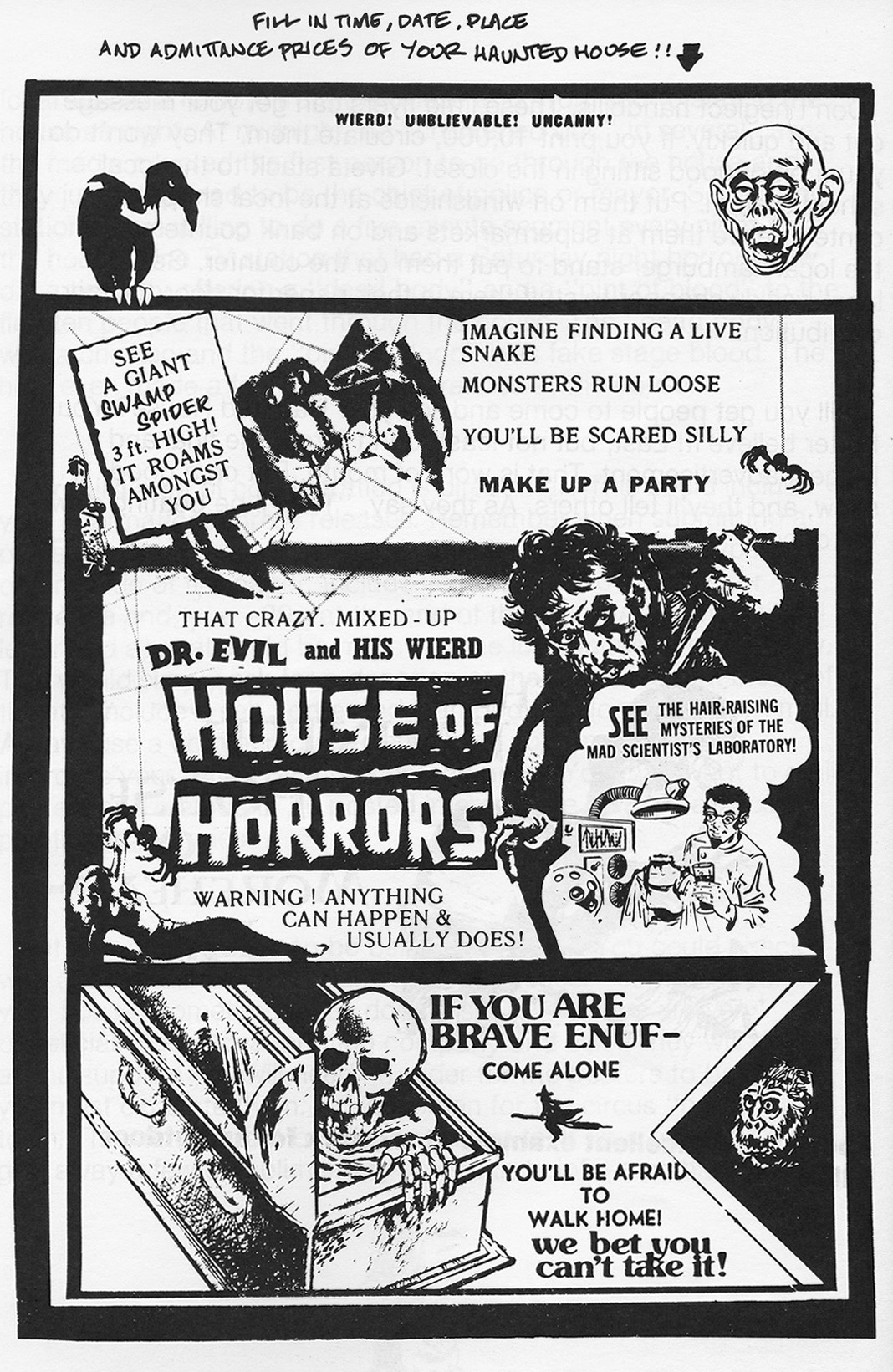 Now the fun begins, with some sample promotional materials for your new haunted house….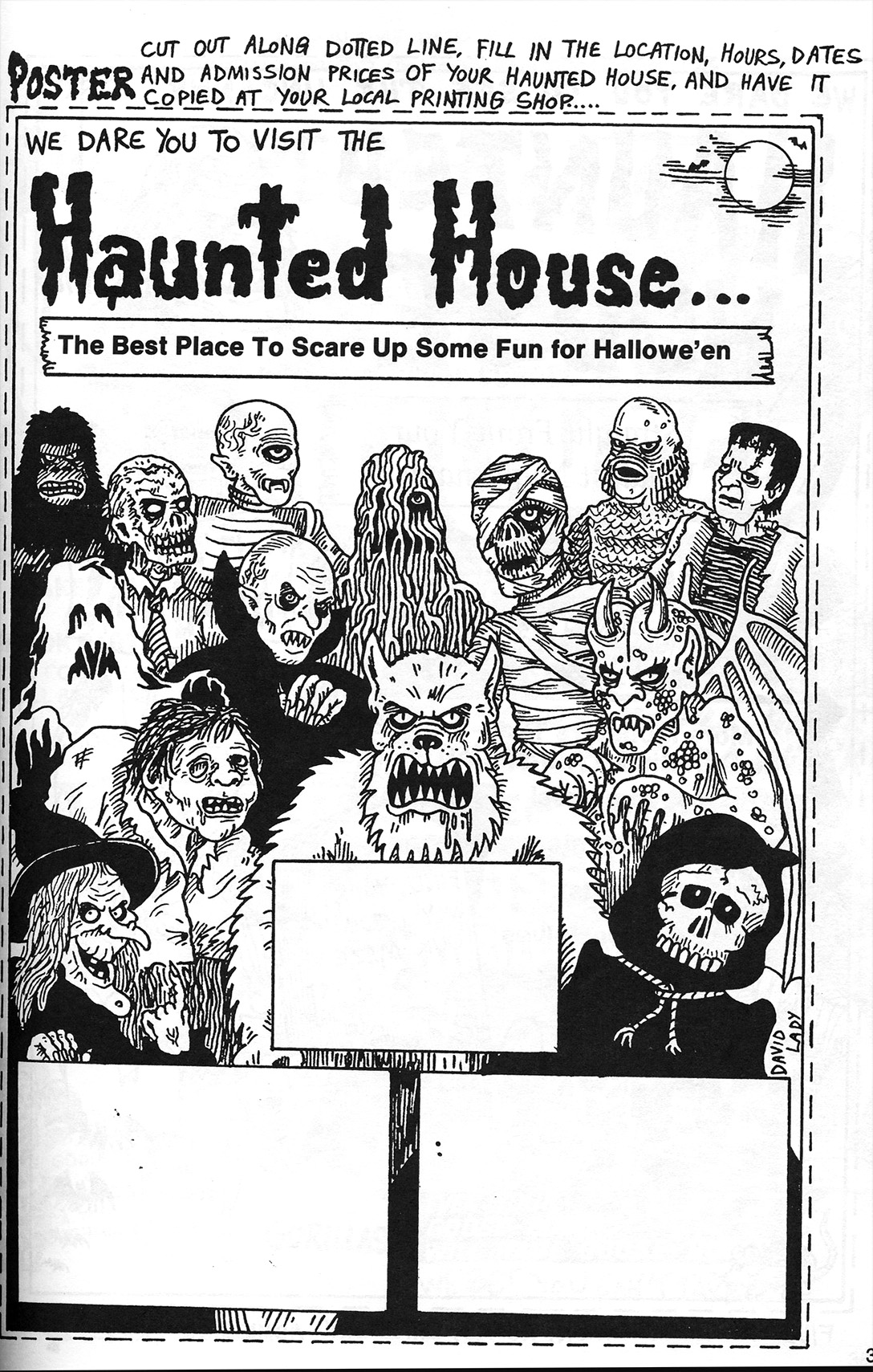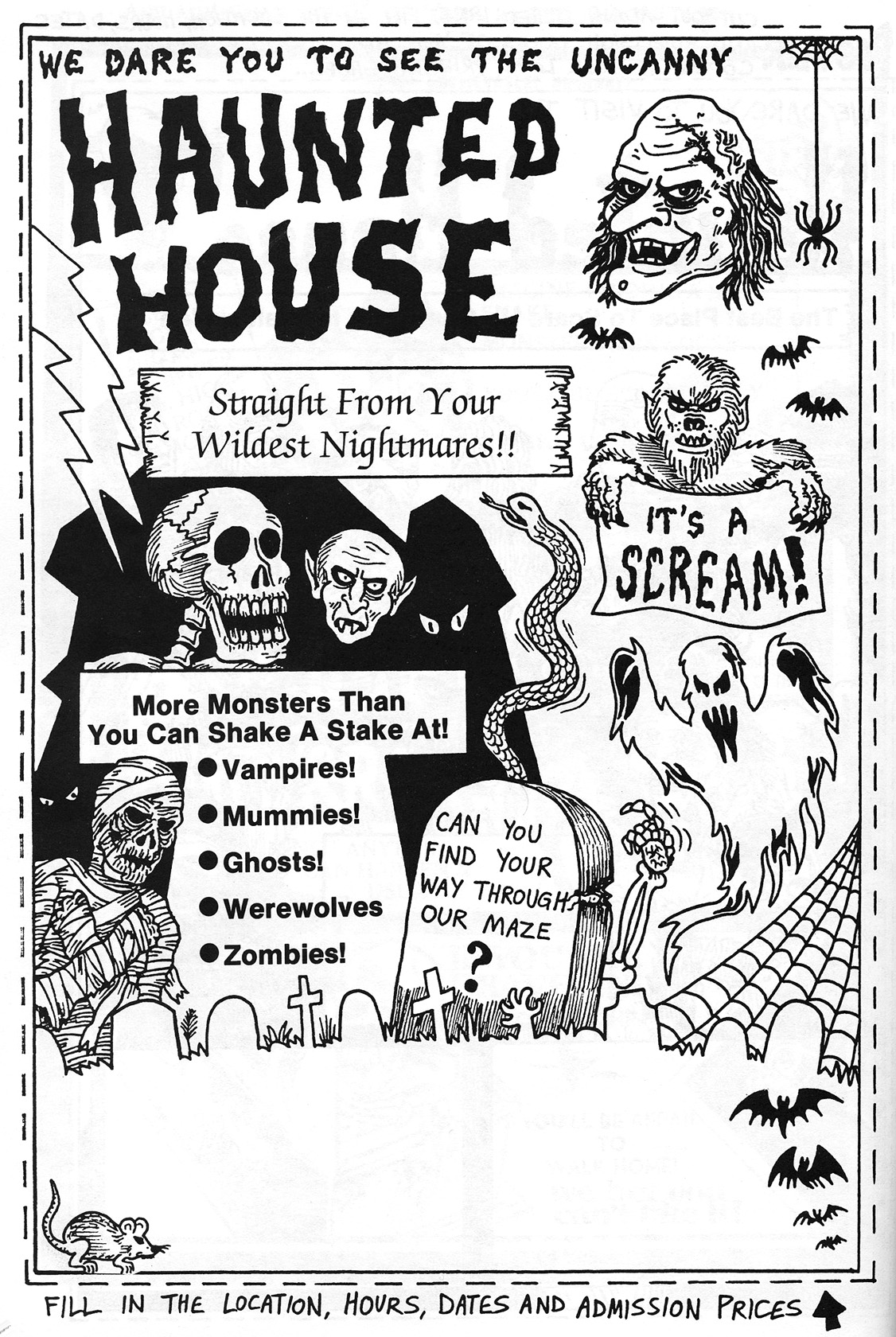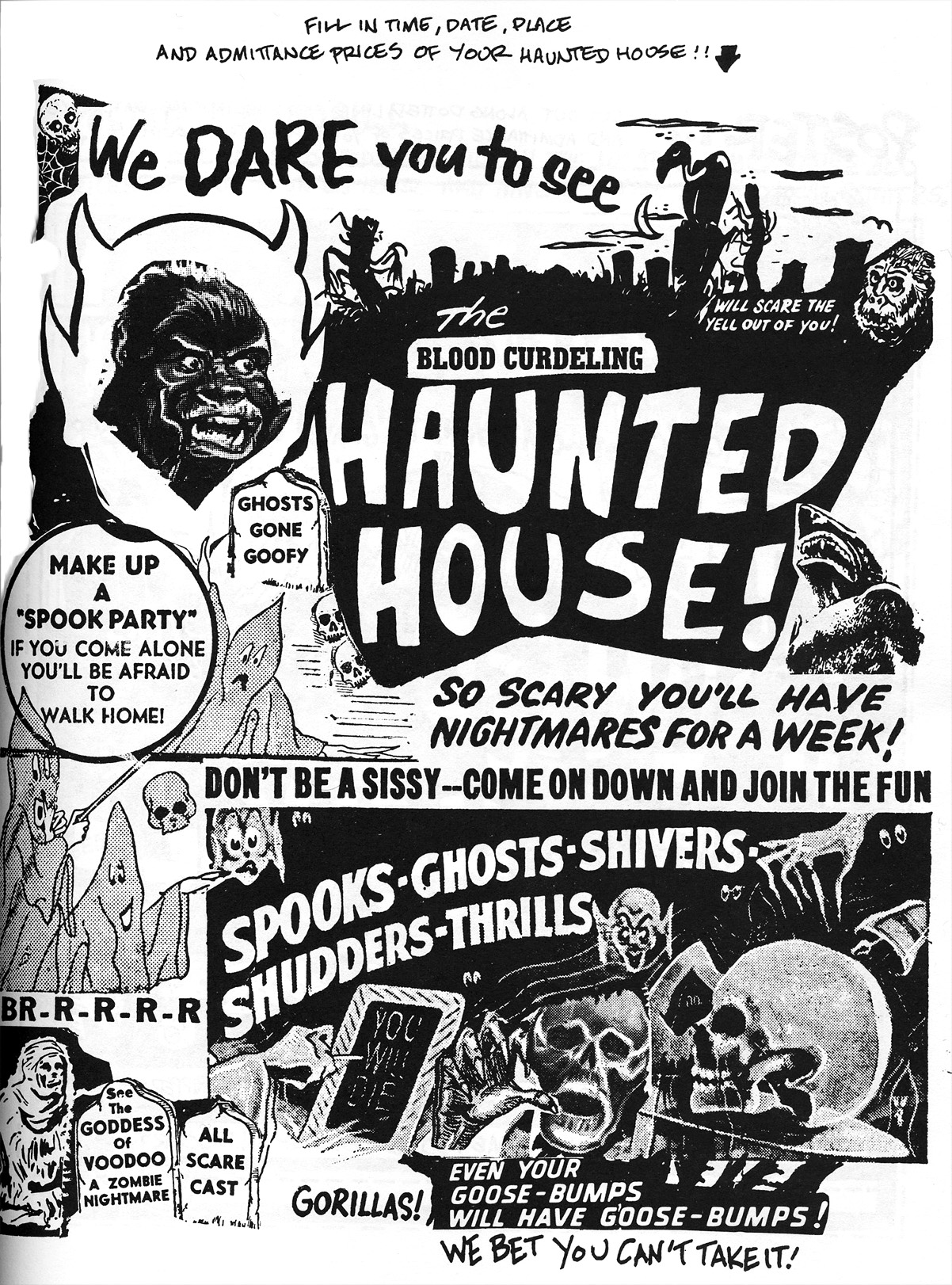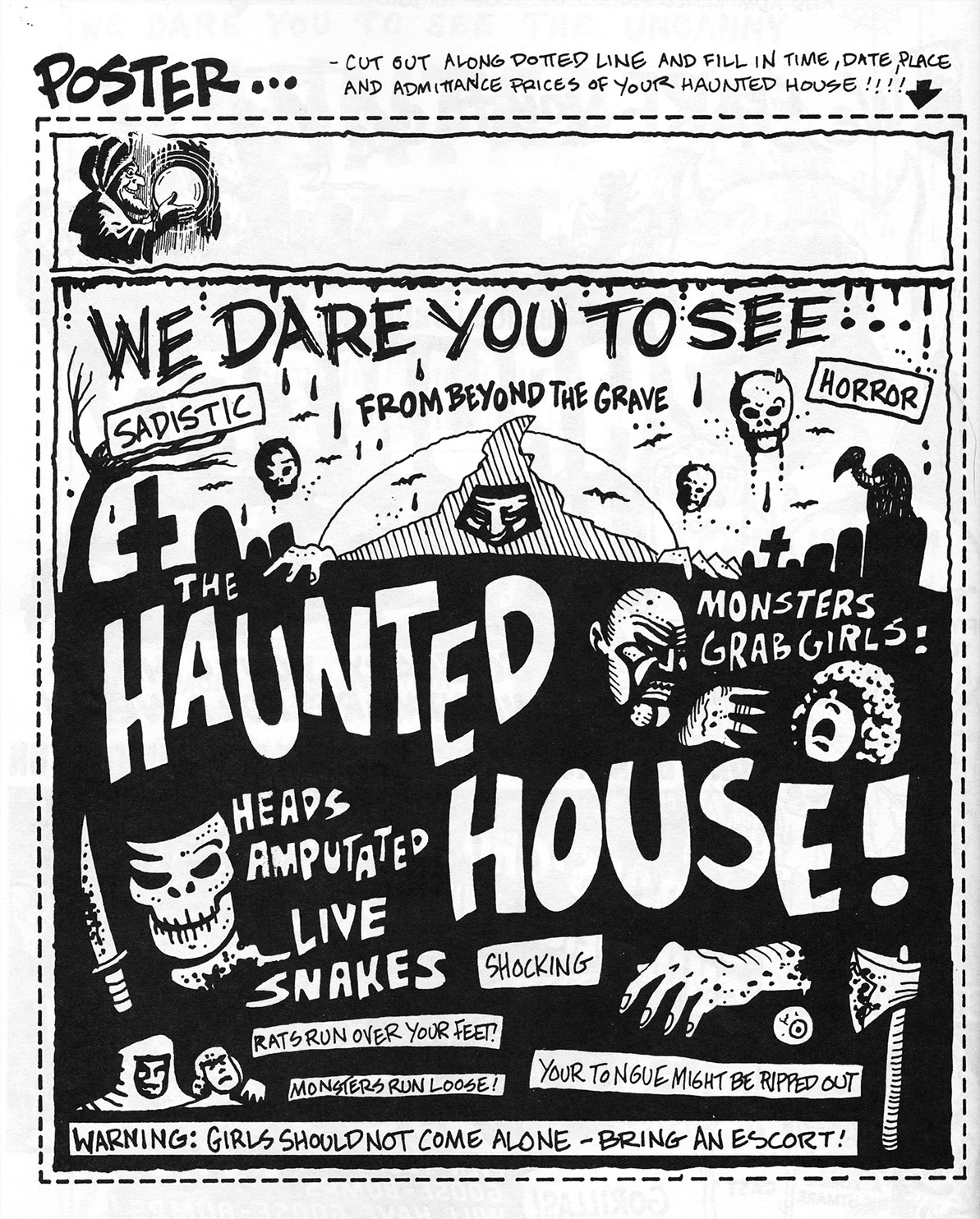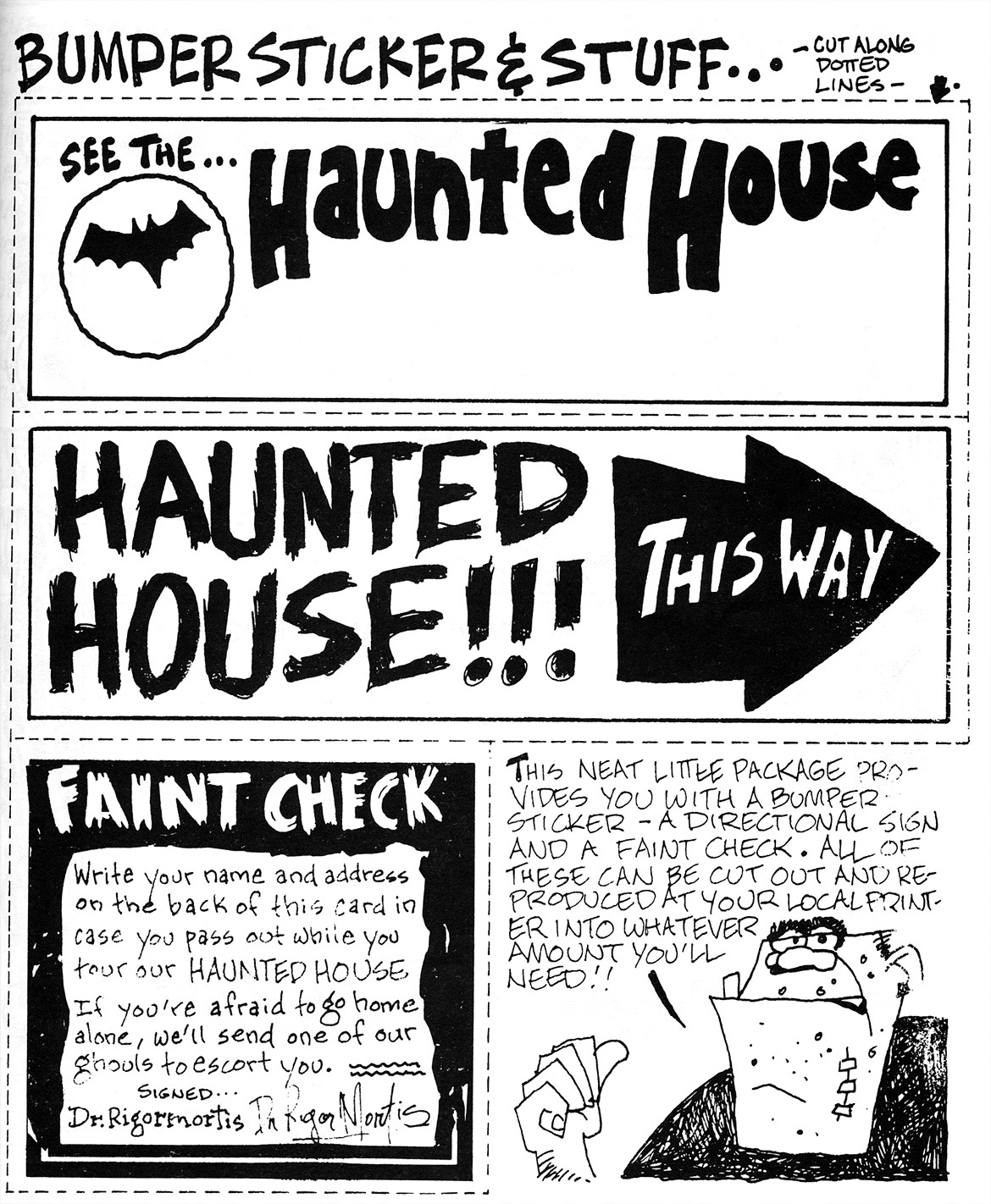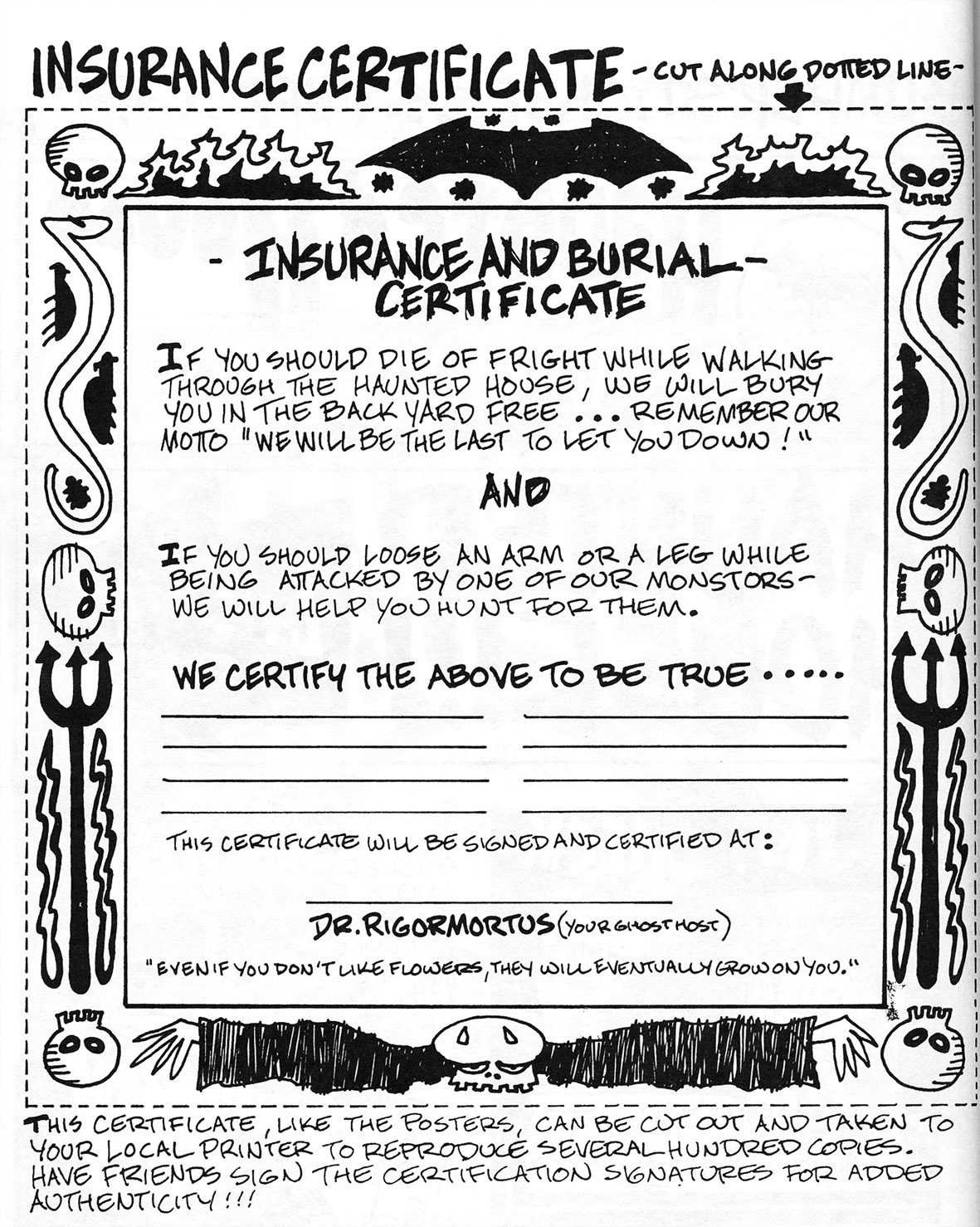 Clip Art…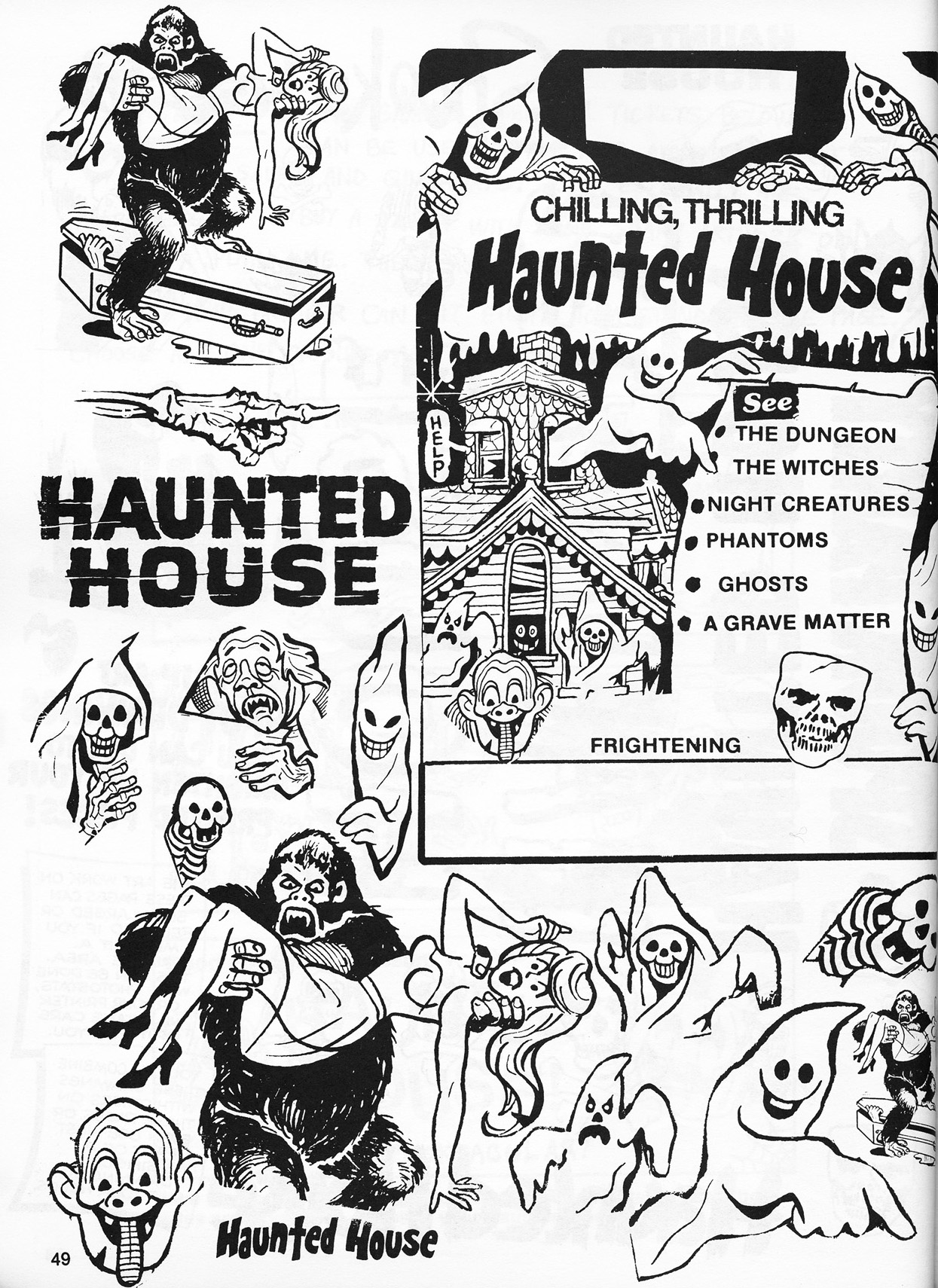 This clip art would have gone well with our post: Carried Away! 40 Examples of the Most Insanely Overused Image in Vintage Pop Art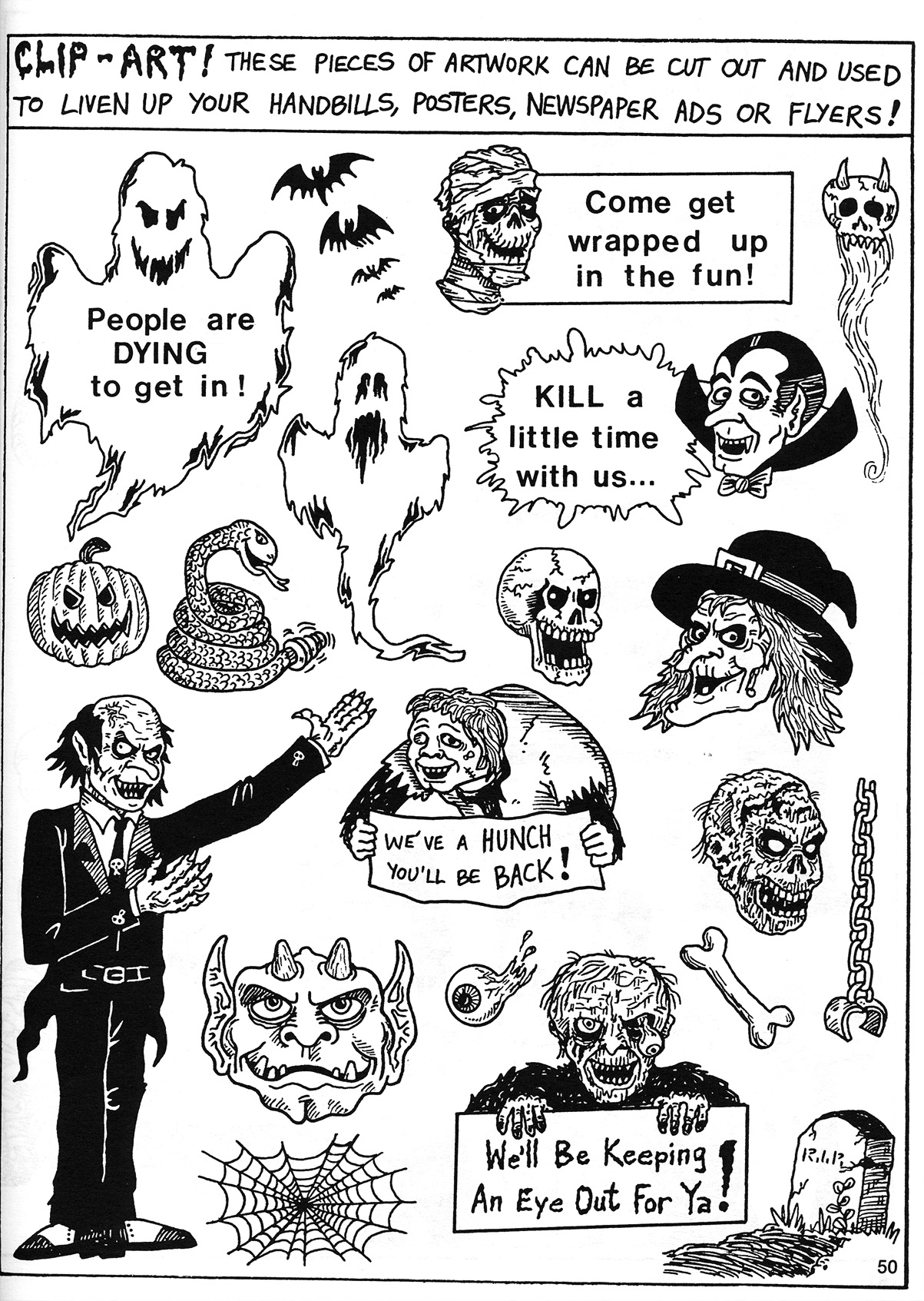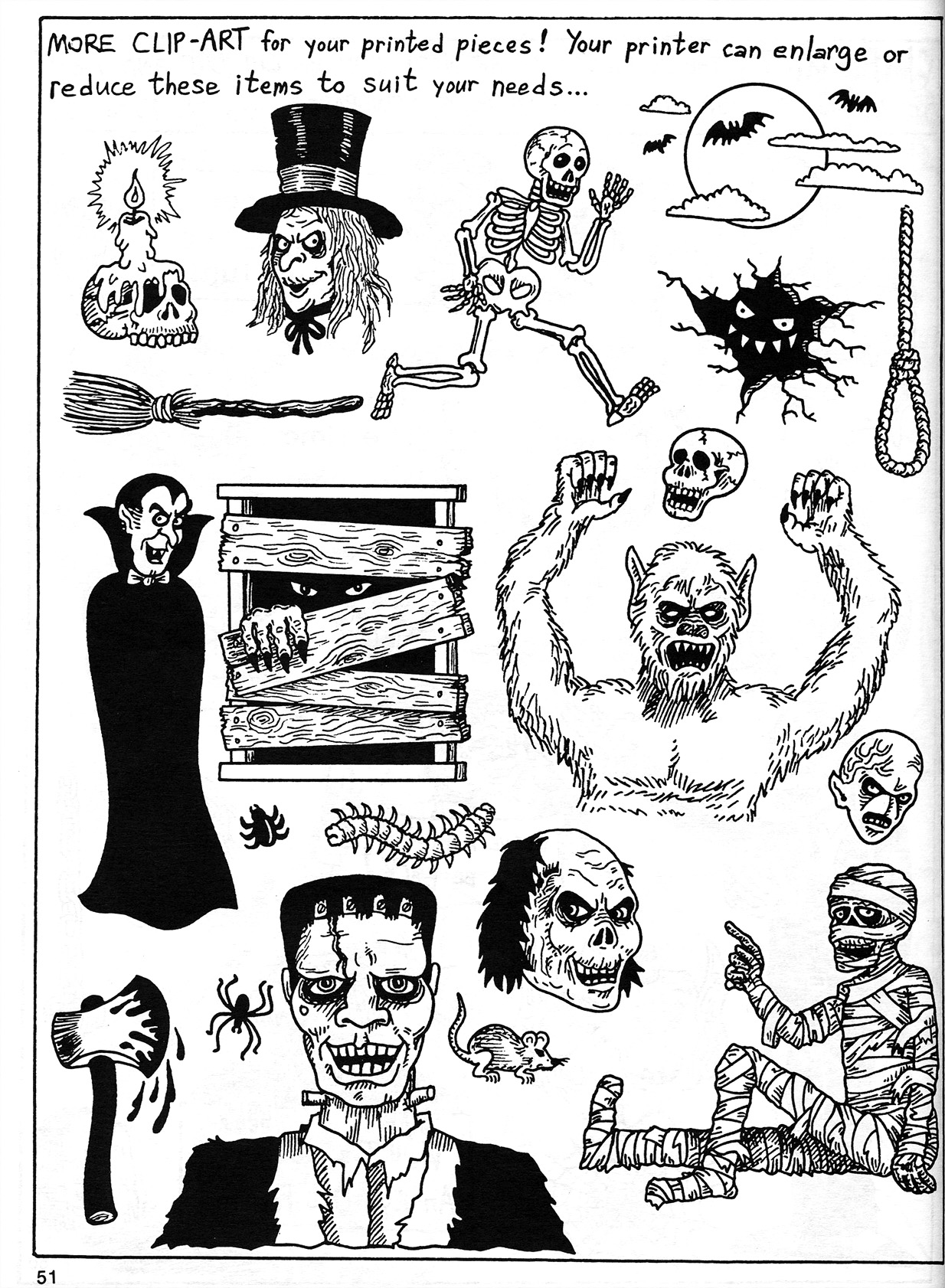 ATTRACTIONS
Moving away from promotional art, here is how to set up the attractions at your haunted house.  We begin with the age-old "classic spirit method" where a normal person (usually a beautiful girl) is transformed into a monster, gorilla, skeleton or something…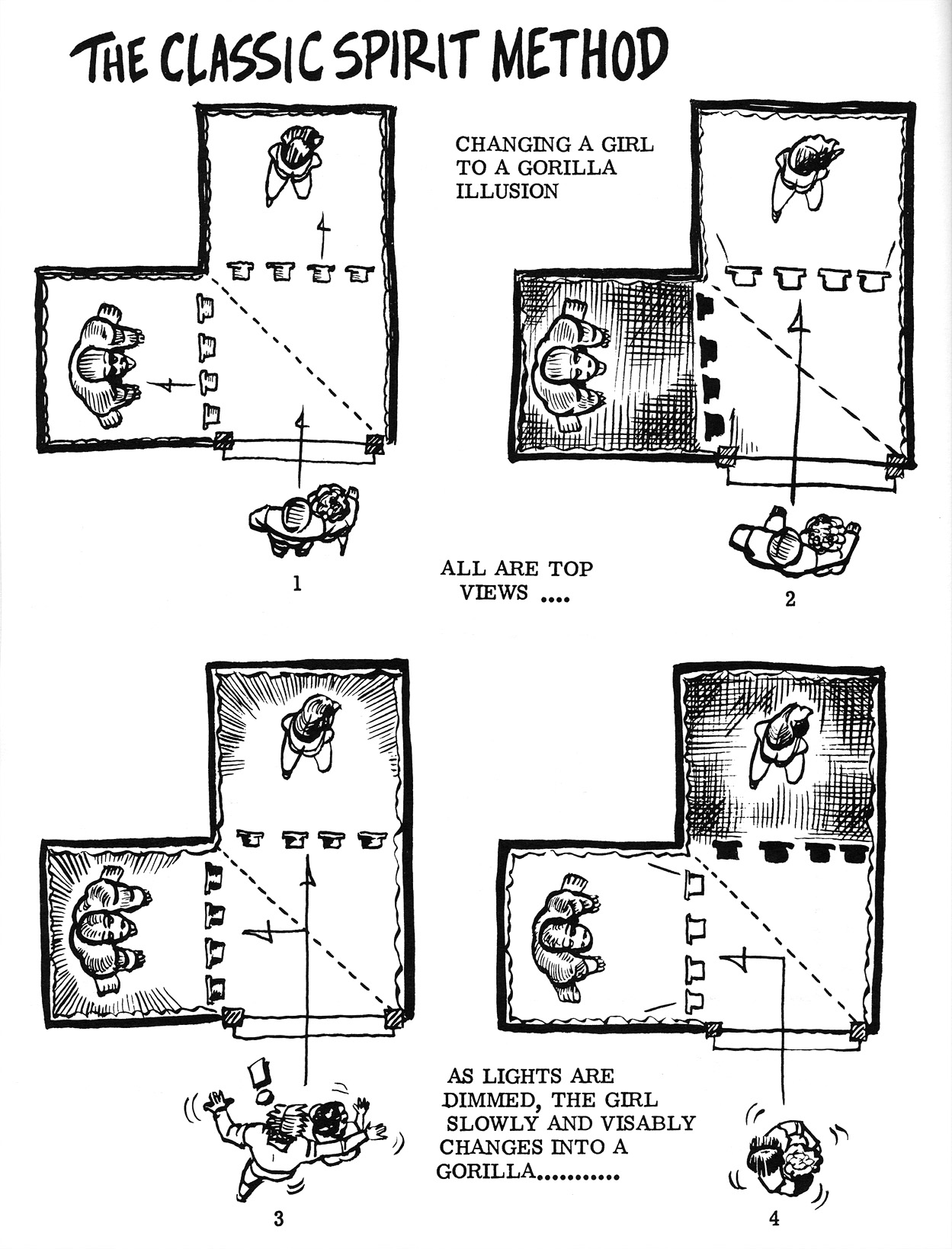 The dotted line represents a sheet of glass at a forty-five degree angle.  As you alternately adjust the lights where the girl and the gorilla are, the effect of having the girl "transform" into the gorilla is achieved.  Brilliant!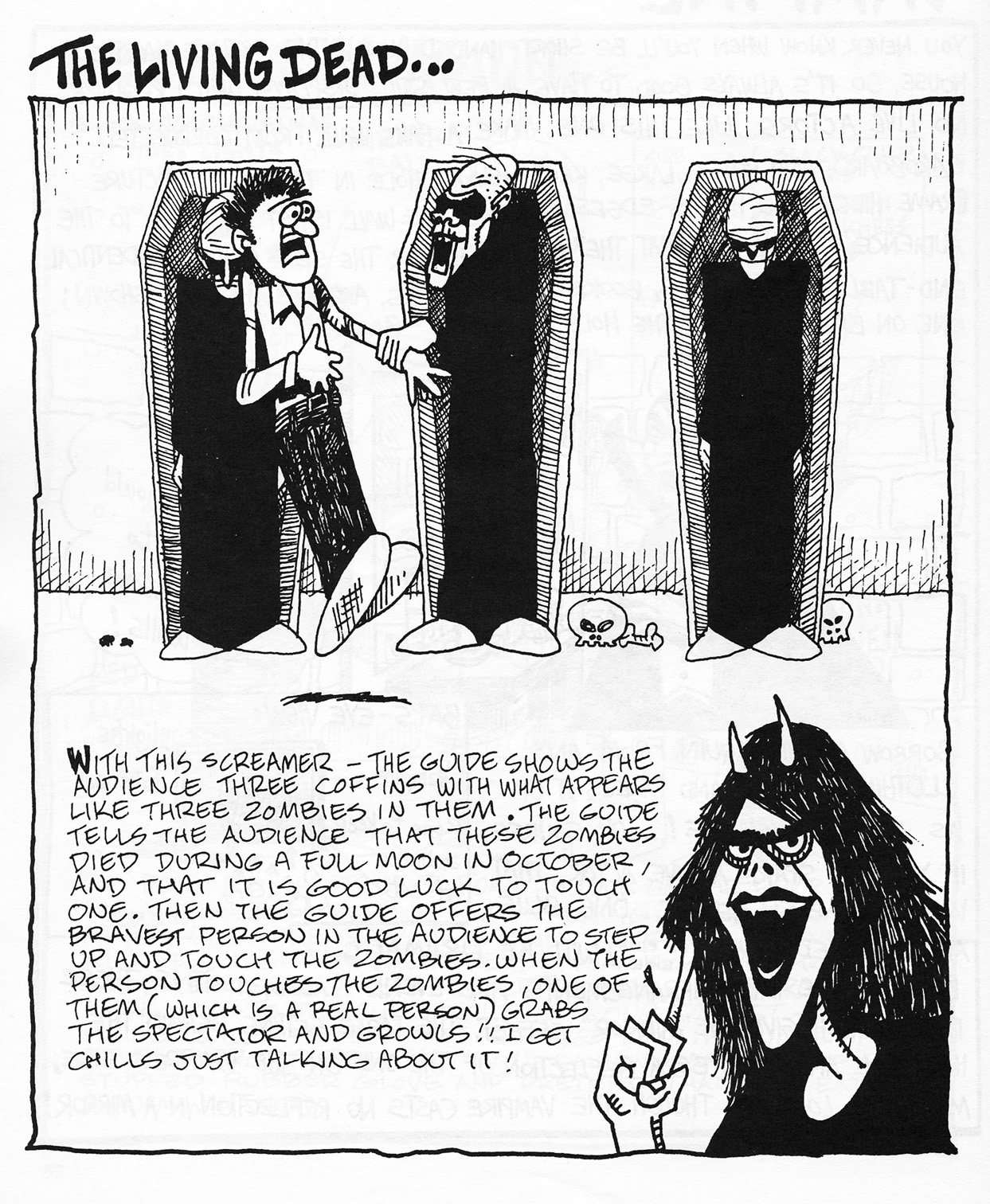 This attraction relies on a zombie actually grabbing a person.  Nowadays, I'm not sure if that is a liability risk – I don't see too many current haunted attractions which allow the monsters to grab, or even touch, the customers.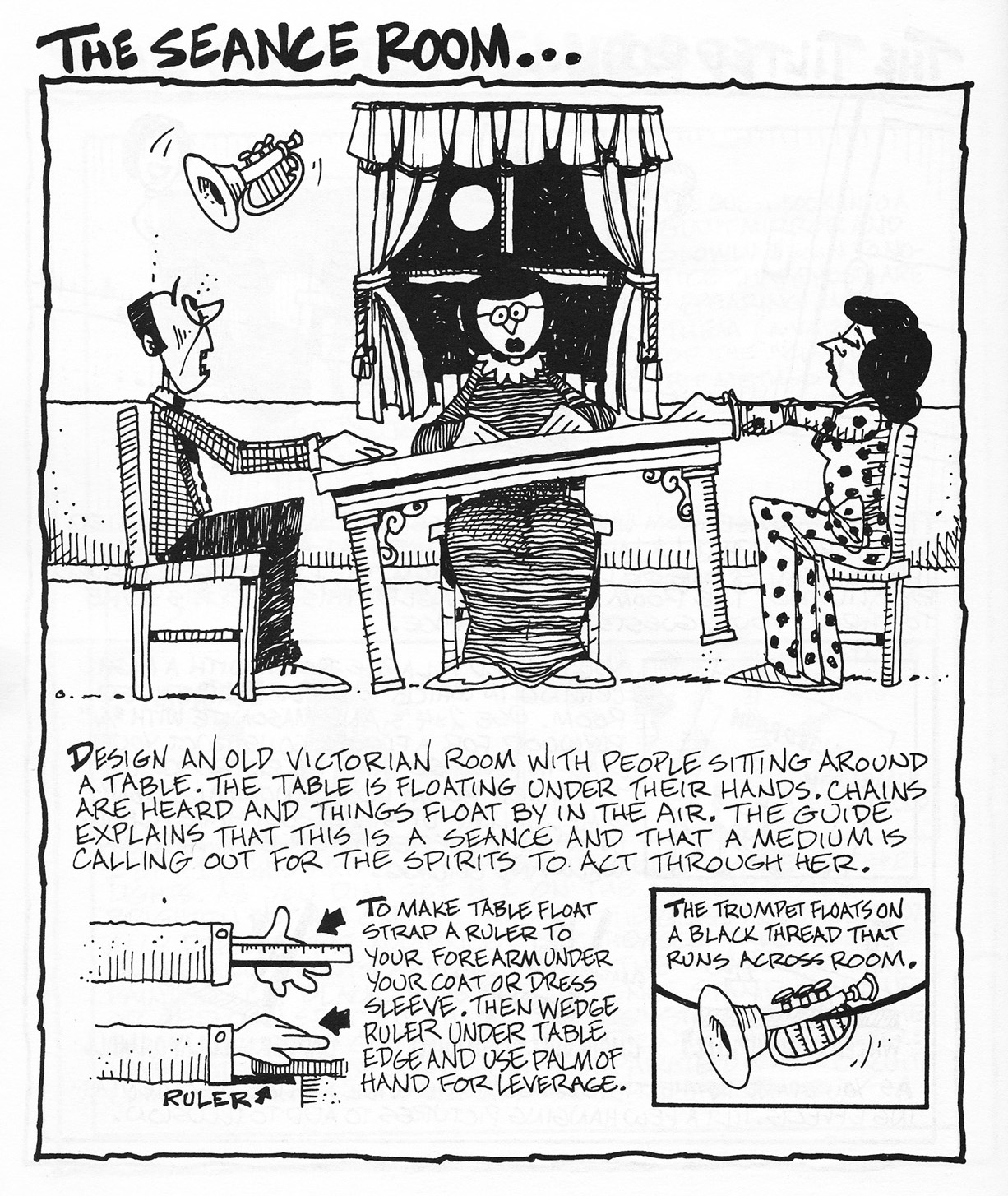 That's a pretty nifty trick – to slide a ruler under your sleeve to make the table move.
Now, for what's known in the biz as "The Head on the Sword" trick: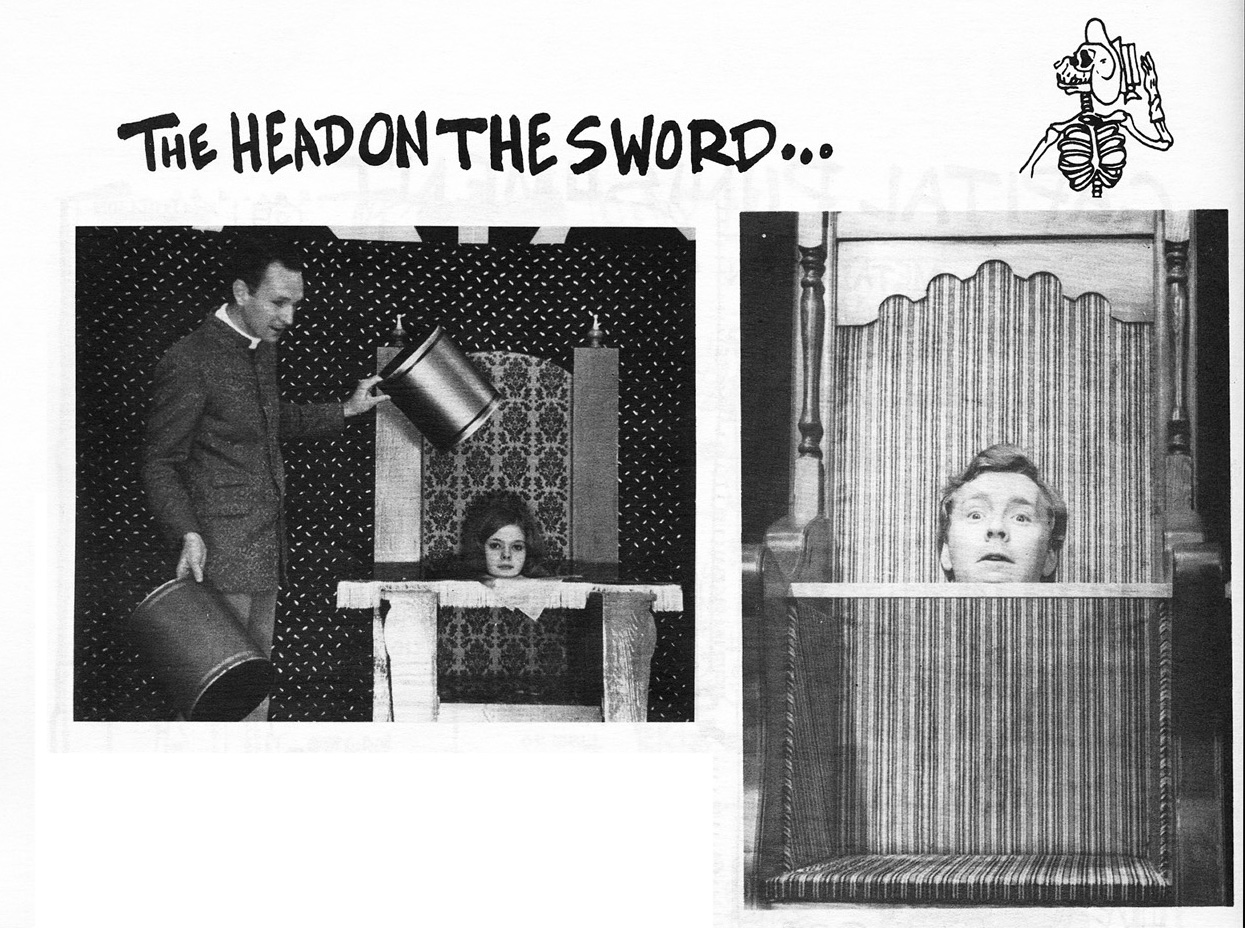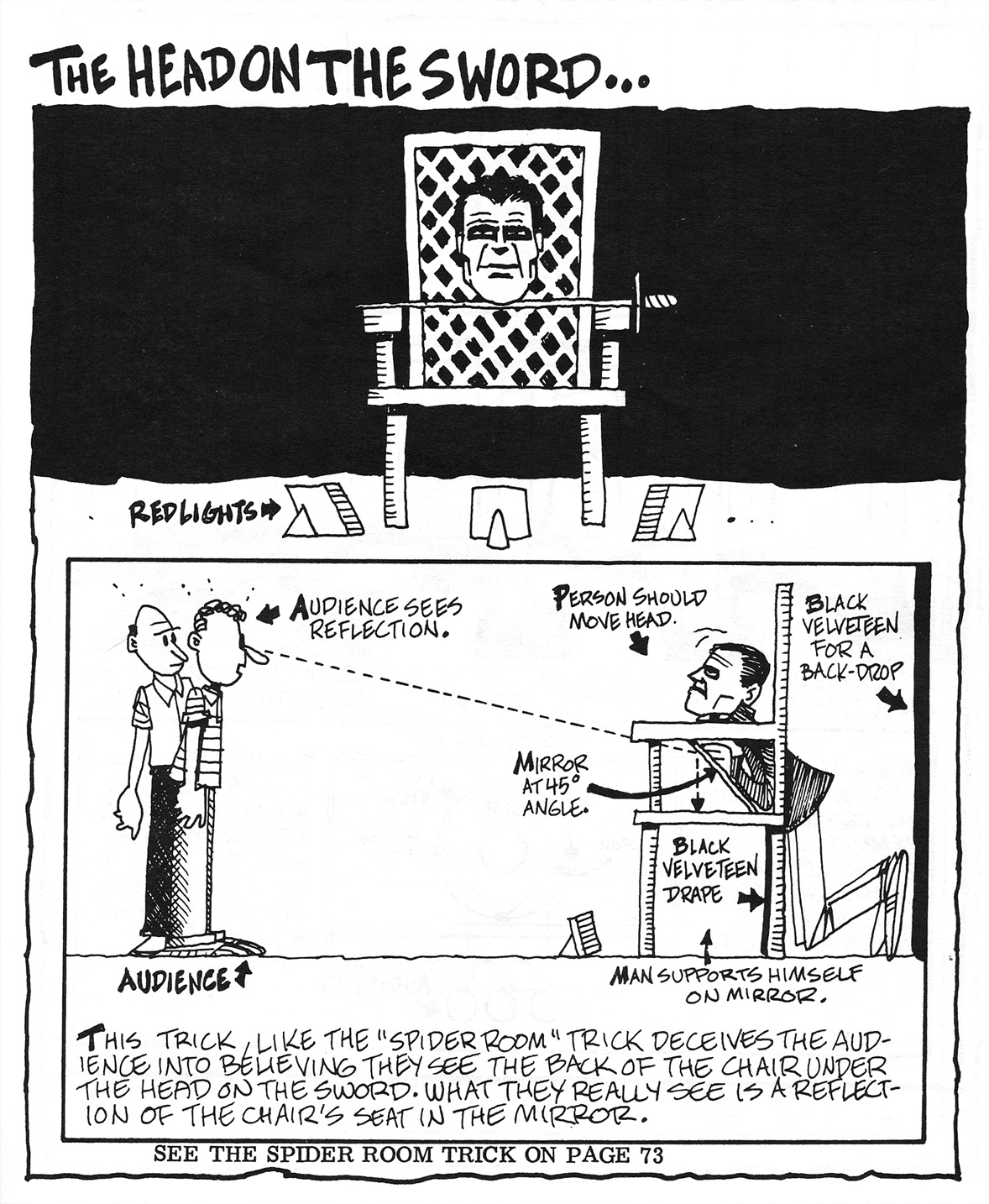 It's amazing what you can do with just a couple mirrors and some ingenuity.  This is a pretty impressive effect with just a simple setup.
The next attraction is "The Operating Room"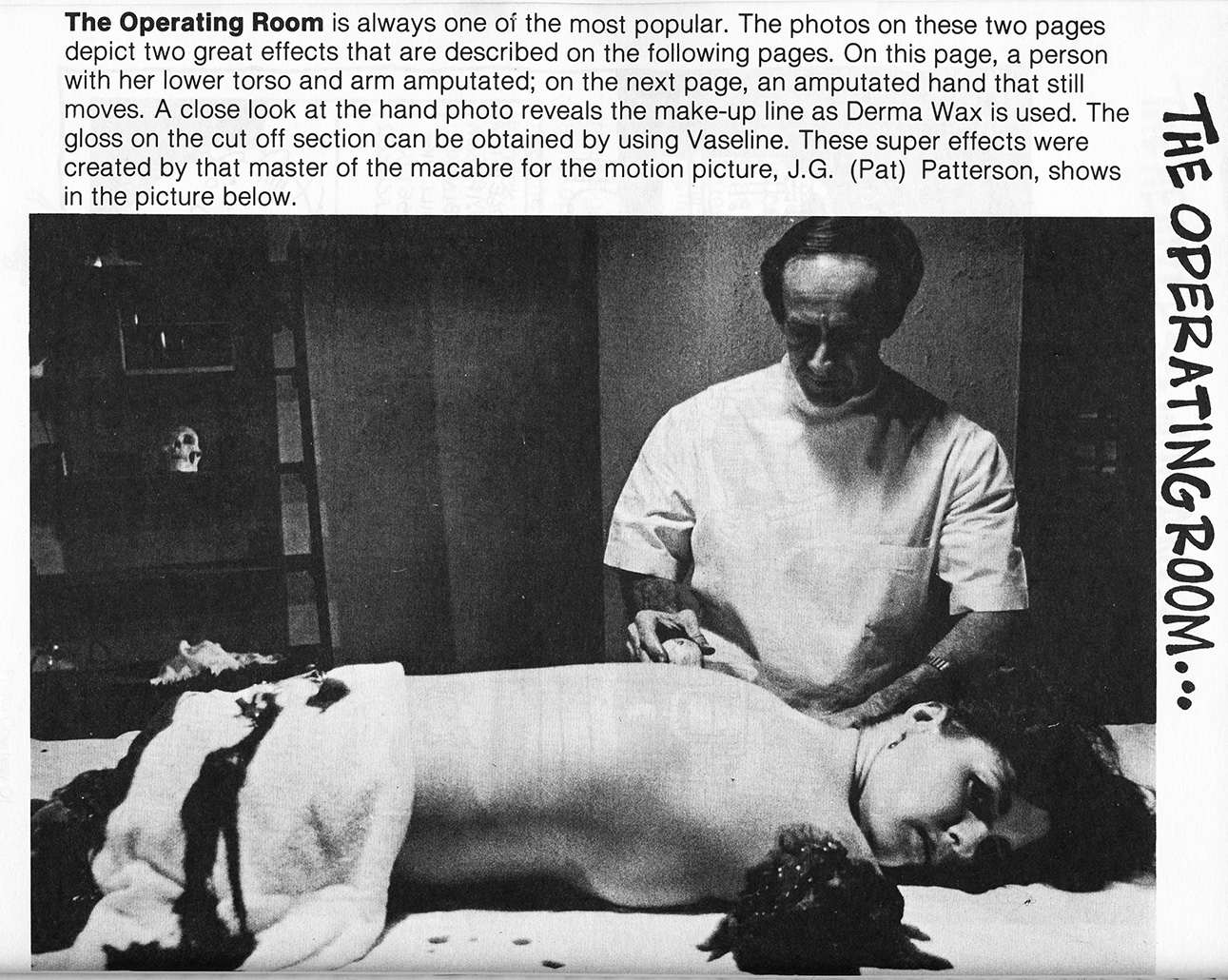 Well a topless woman is an unexpected surprise.  Let's see how the masters pull off this illusion…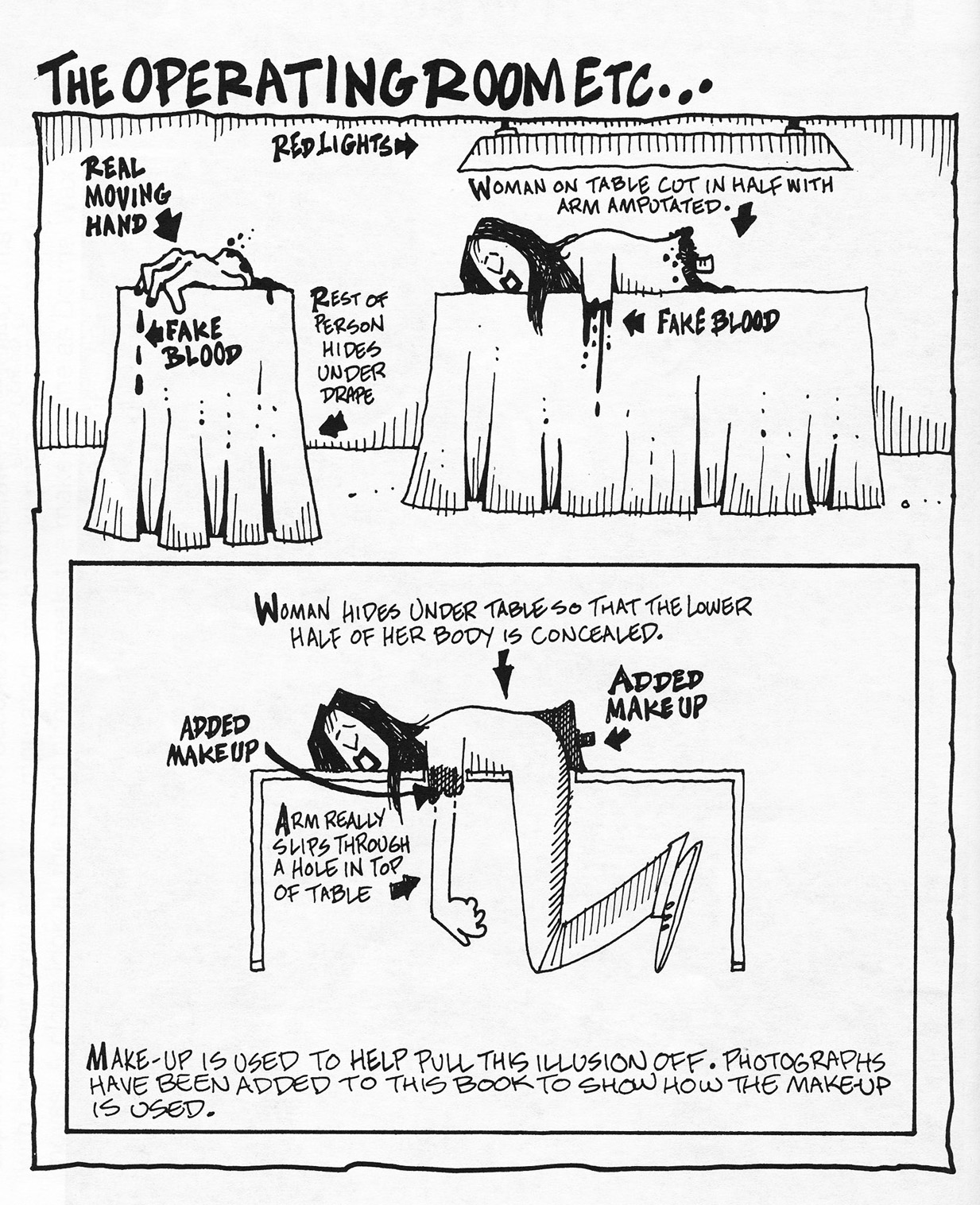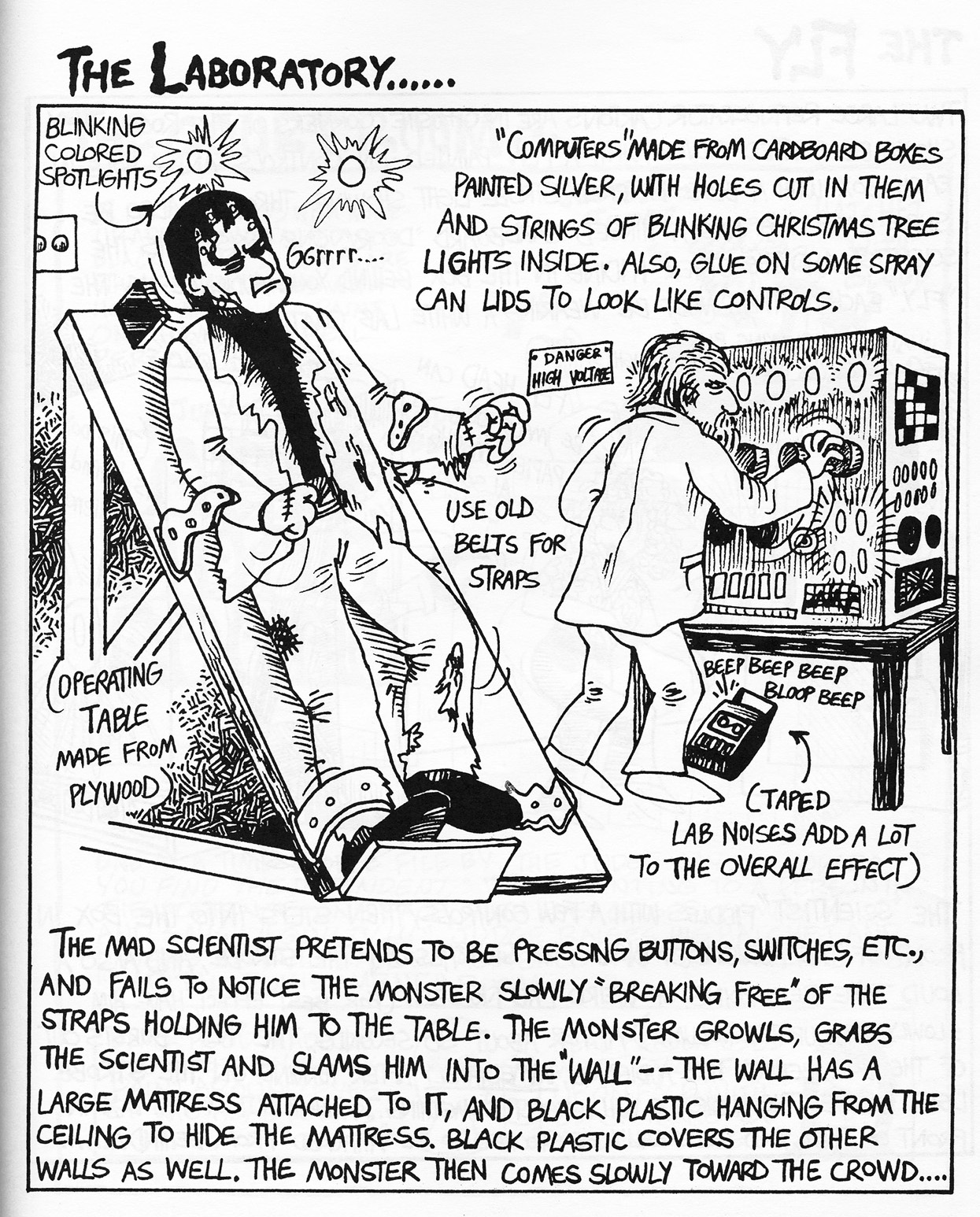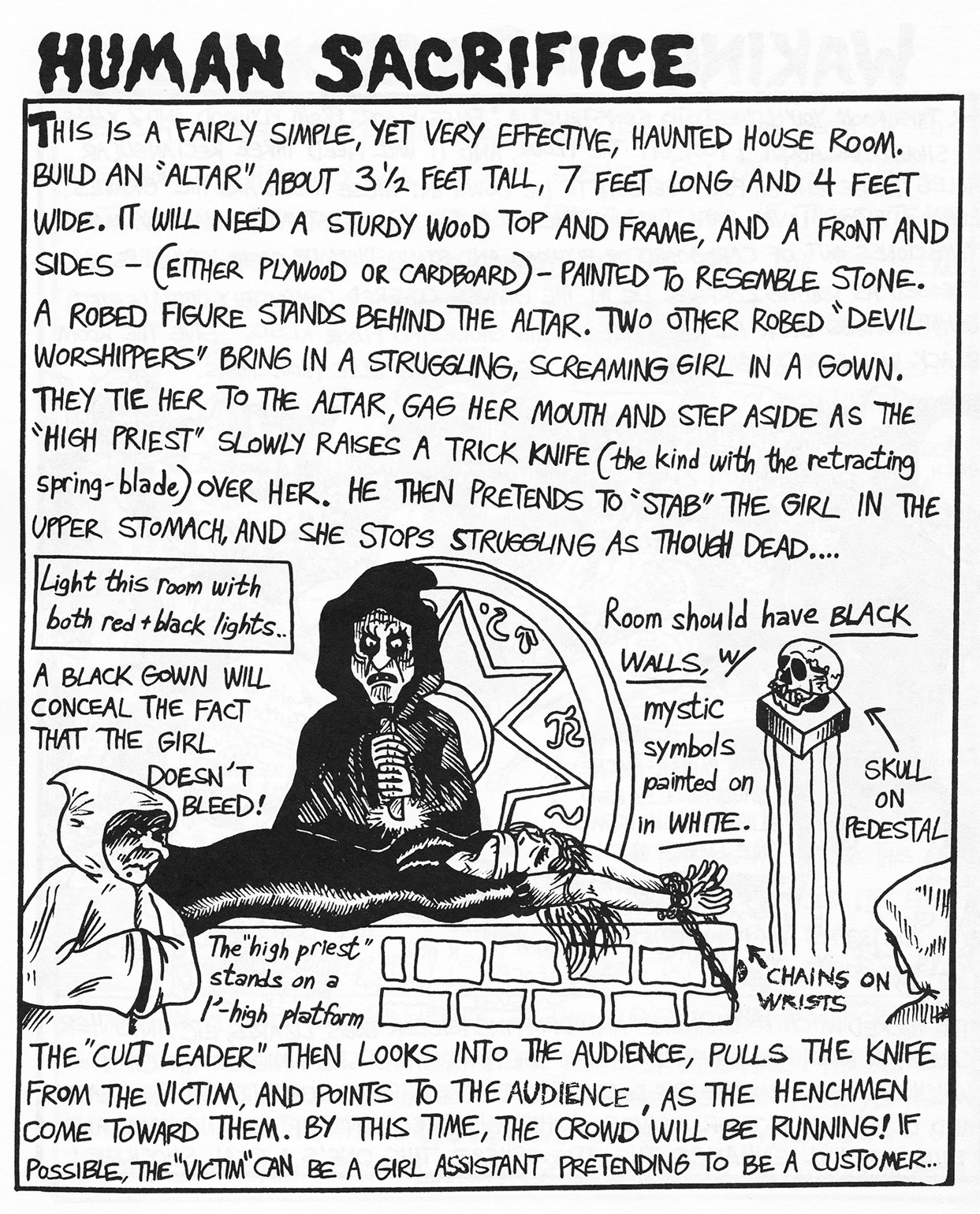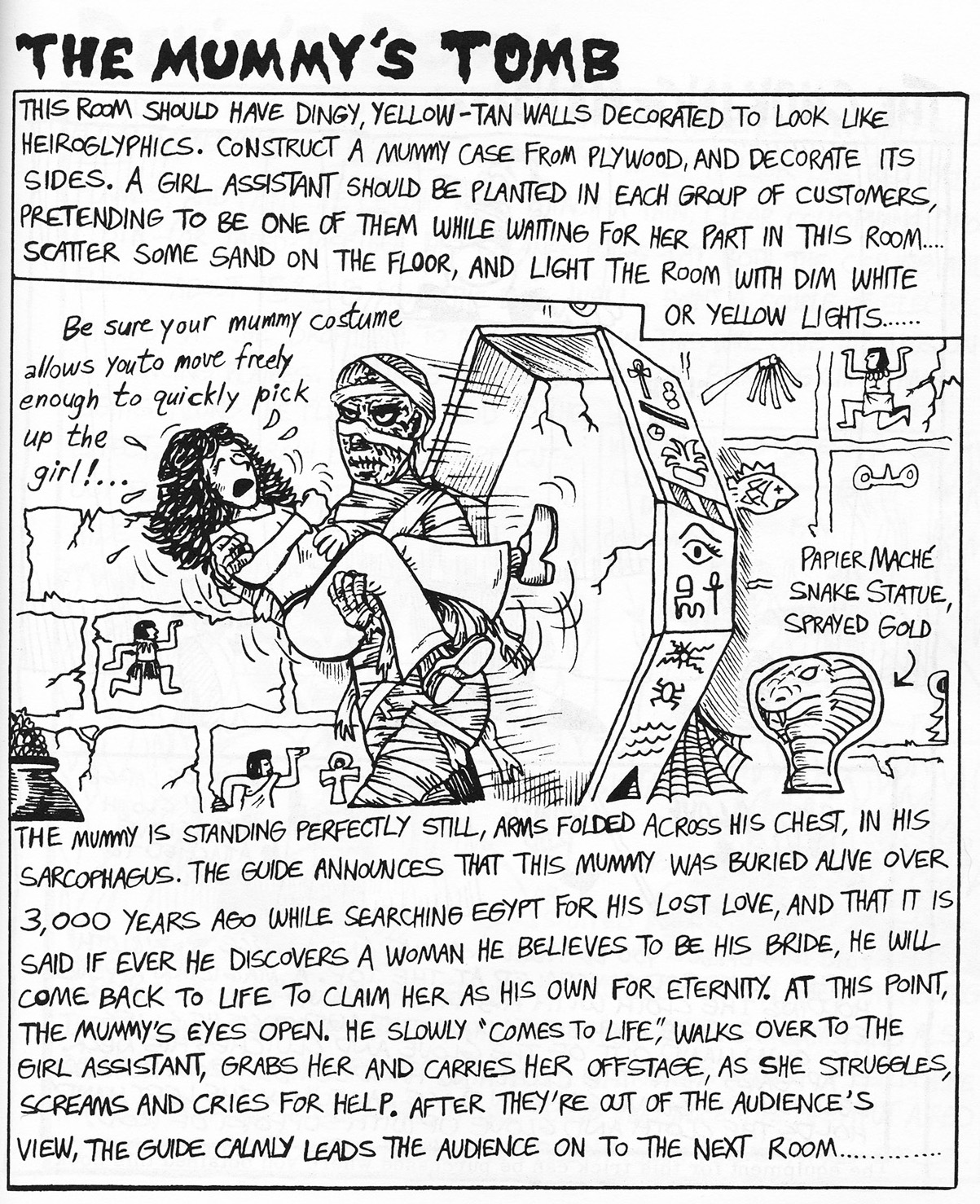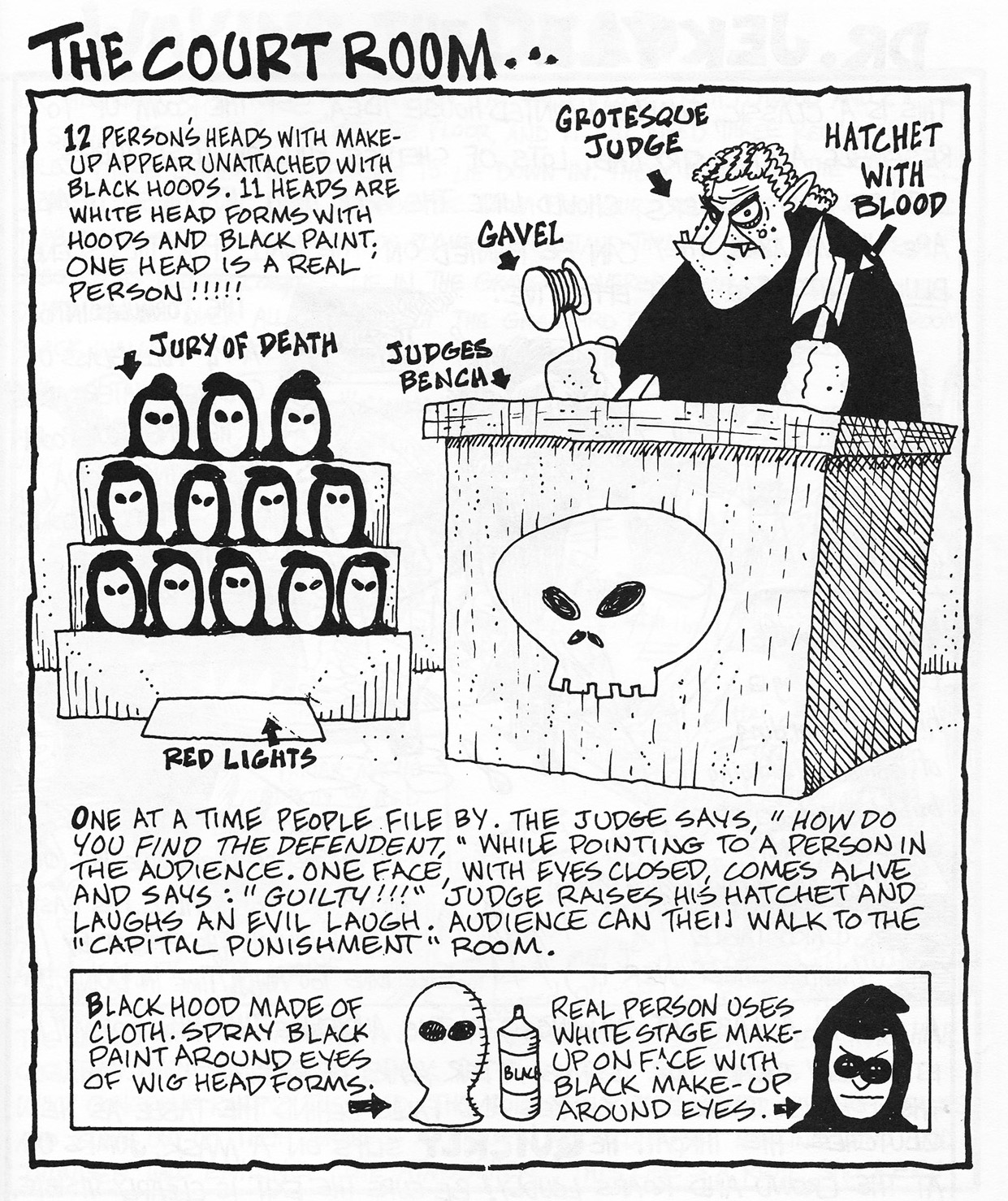 Well, there are many more attractions outlined in this wonderful book, but we'll stop here.  The book ends with Philip Morris and Dennis Phillips wishing us good fortune on our new haunted house business… and, inexplicably, this picture, which I am sure will provide me with nightmare fuel for years to come.