Lon Chaney, the silent movie actor known as "The Man of a Thousand Faces" on account of his uncanny ability to transform his features into some of cinema's most memorable screen characters–The Phantom of the Opera, The Hunchback of Notre Dame–once gave advice to a struggling actor–Boris Karloff–telling him that if he wanted to succeed in movies then he had to find a role no one else could do. Karloff was middle-aged, thought he was past his prime and was supplementing his work as an actor by digging ditches to pay rent and feed his family, but he hoped for the chance to one day make Chaney's advice come true. He didn't have too long to wait, in 1931 Karloff was offered the role that no one else could do–the Monster in James Whale's Frankenstein. It was a career-making performance, and one by which all of other Frankenstein's Monsters are compared.
Peter Cushing had similar success with two roles that defined his career–Van Helsing in Hammer's Dracula, and Baron Victor Frankenstein in The Curse of Frankenstein. It's fair to say no other actor has come close to Cushing's performances in these roles–as with Karloff as Frankenstein's Monster–he brought a depth of subtly and complexity to both Van Helsing and the obsessive Baron that has rarely been equalled.
Born on the 26th May 1913, Peter Cushing was the youngest of two boys born to George and Maria Cushing. His mother had hoped for a daughter and masked her disappointment in a second son  by dressing him as a girl. She kept his hair long and provided him with an enviable wardrobe of dresses to wear.
One day Peter went missing, having wandered off in his frock to paddle in some puddles. He was soon found by a policeman, who took him to the local police station. When his father called to ask if by any chance they had found a missing boy, the desk sergeant replied there was no boy, just a little girl. It turned out the little girl was Cushing–it was the last time he was ever dressed as a girl.
Another quirk of his mother Maria was the unusual punishment she meted out to her children whenever they were naughty–she would collapse and pretend to be dead. This caused Peter considerable distress. His brother, however, was less sentimental and suggested kicking their mother to ensure she was indeed dead.
While his mother had considerable hold over her son, it was another woman, the actress Violet Helen Beck, who proved to be the greatest and most profound influence on Cushing's life.
Peter met Helen in 1942 and it was a genuine tale of love at first sight, so much so, that Cushing later said he preferred to see the year of his actual birth as as the year of their meeting. They  married in 1943, and thereafter, Helen became the centre of Cushing's life–encouraging him throughout the early, lean years of his career. As Cushing later said, "I owe it all to Helen. She was an actress and gave up her career for me. She made me what I am. She gave me a confidence, I could never have found on my own."
Like Karloff, success was elusive, and Cushing turned his hand to painting headscarves to make money. In his forties, he had his first major success starring as Winston Smith in Nigel Kneale's adaptation of George Orwell's 1984. It was one of the most controversial and talked about television dramas of the day and its success led to Cushing be cast as the Baron in Hammer's The Curse of Frankenstein–it was the first of five occasions he would play the Baron.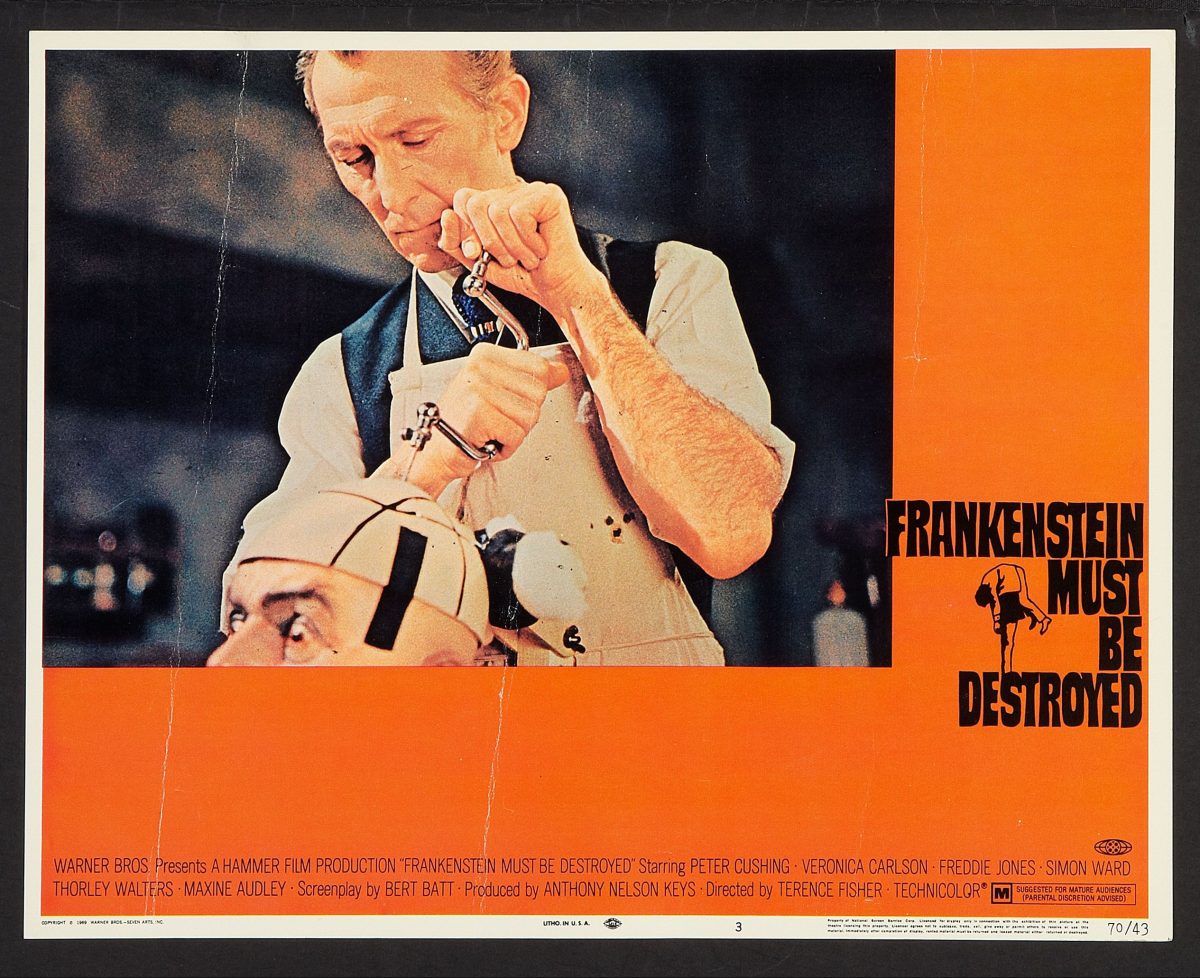 Cushing went on to star as Van Helsing in Dracula, Sherlock Holmes in The Hound of the Baskervilles, as Doctor Who in the awesome Dr. Who and the Daleks, and of course, as Grand Moff Tarkin in Star Wars, amongst dozens of other box office hits.
In many of these movies a small silver framed portrait of Helen was placed as a prop on Baron Frankenstein's desk or in Van Helsing's study. Cushing said his life with Helen was lived more on a mental plane rather than a physical one, and told New Reveille in 1974, "We didn't consider the physical aspect of marriage very important." Cushing may have had a few infidelities along the way, but his love for Helen was so great that he claimed his life ended the day Helen died in 1971.
That night, Cushing repeatedly ran up and down stairs in an attempt to induce a heart attack. He failed and later said he had been out of his mind with grief and his actions were caused by the sheer trauma of his Helen's death — "I had always hoped that we would depart this life together, but it was not to be."
From then on, Cushing had a death wish, and stated death was the only happy ending to his love affair with Helen.
"I am not a religious man, but I try to live by Christian ethics. Helen has passed on but she is with me still. She is all around. What I am doing is merely existing – longing for the day when I shall die and join her for ever. We will be together again but time does not heal."
Before she died, Helen wrote Peter a poem telling him "not to be hasty to leave" and that he had to live the life he had been given.
"I could not take away my life, because that would be letting Helen down," Cushing said, "But I would be so happy if I could die tomorrow."
It took him thirteen years to get over her death. He survived by working continuously, being consoled by the letter Helen left him, and his belief that they would somehow meet again. Peter Cushing died on 11th August 1994.
Frankenstein Must Be Destroyed was Cushing's penultimate performance as the nutty old Baron, and unlike his previous appearances, where he gave the character a modicum humanity, this time he was a ruthless, brutal, obsessive psychopath who, as the title suggests, had to be destroyed. It was a fittingly nihilistic film for the close of the Swinging Sixties–a decade that had hoped for (promised) so much but ended in violence, murder and the relentless rise of big business.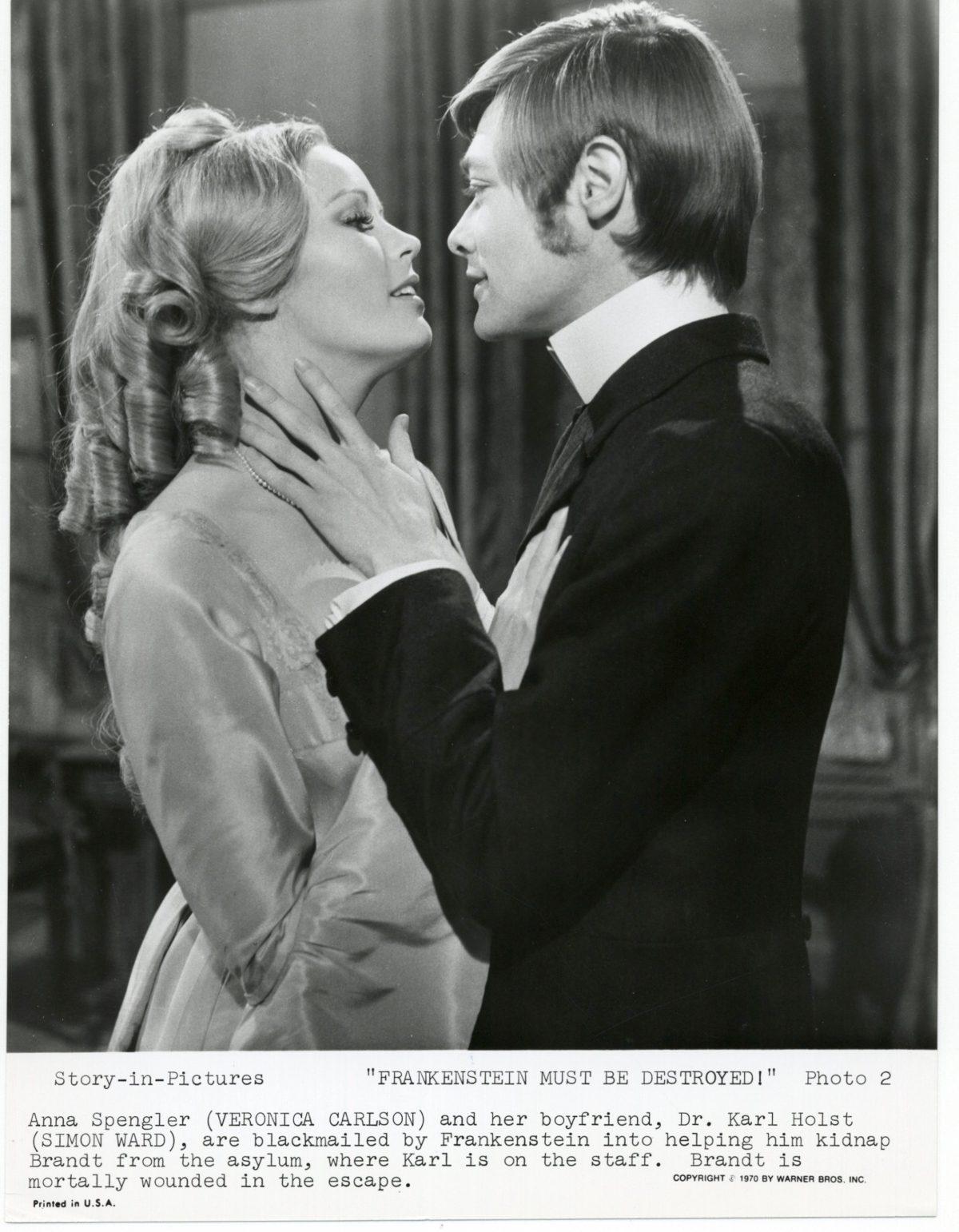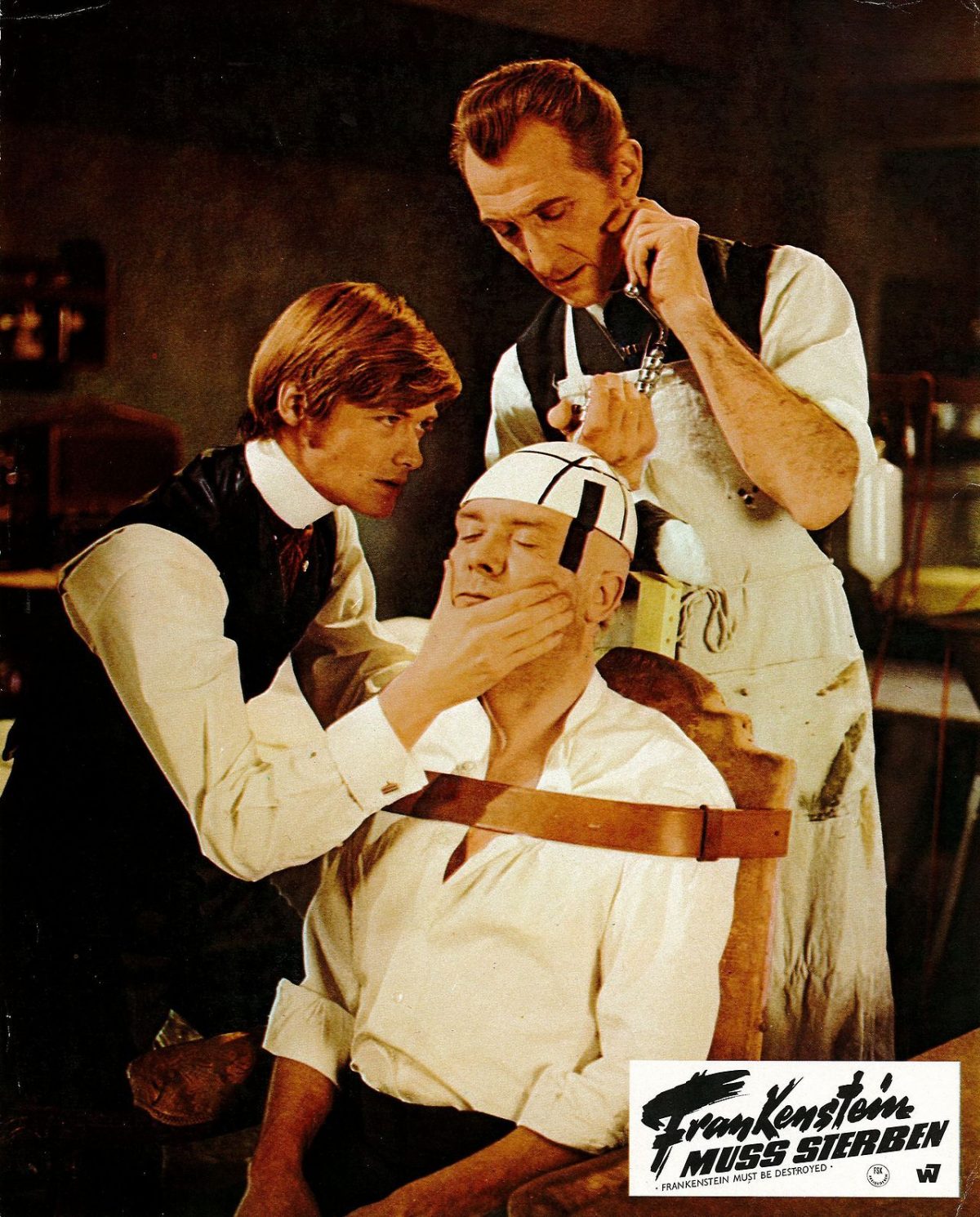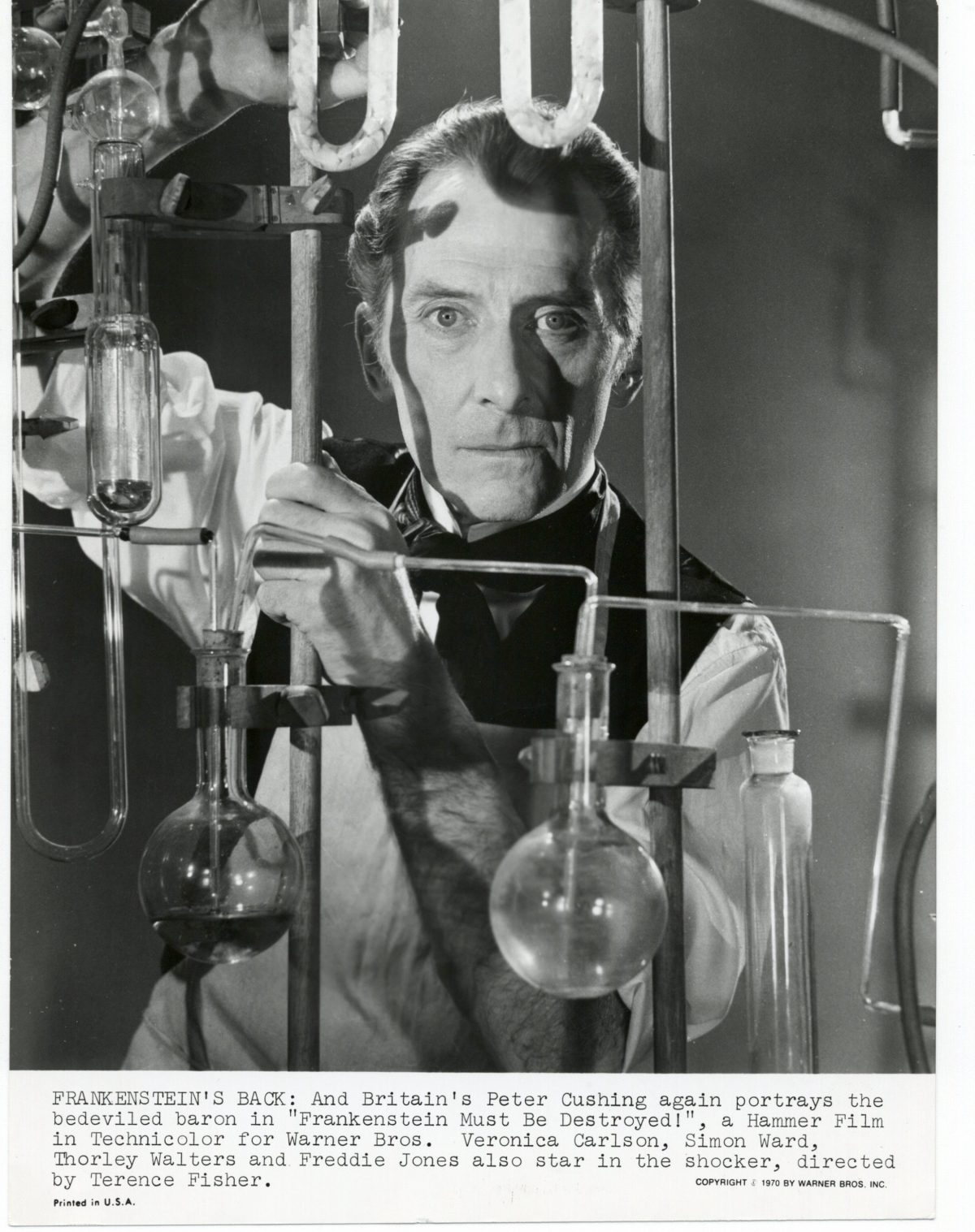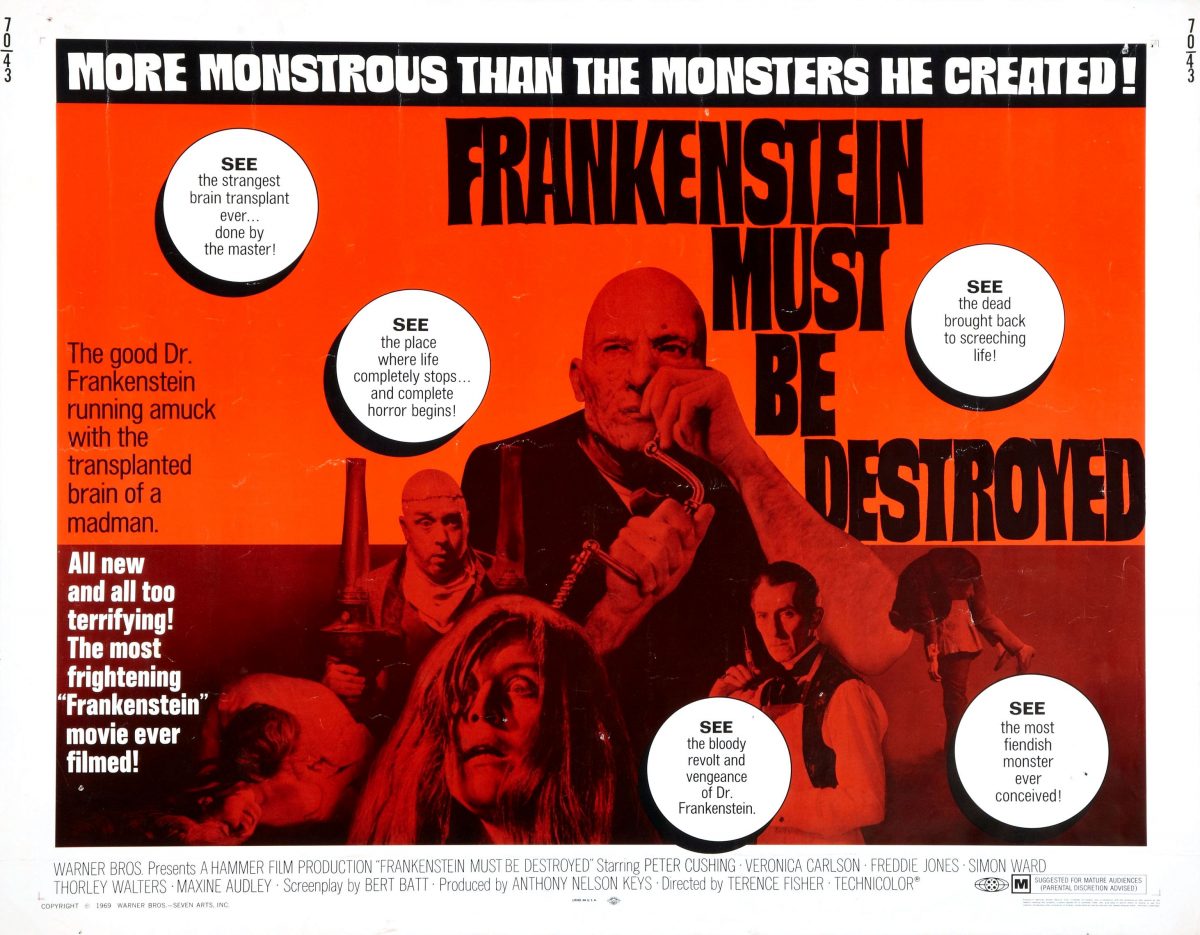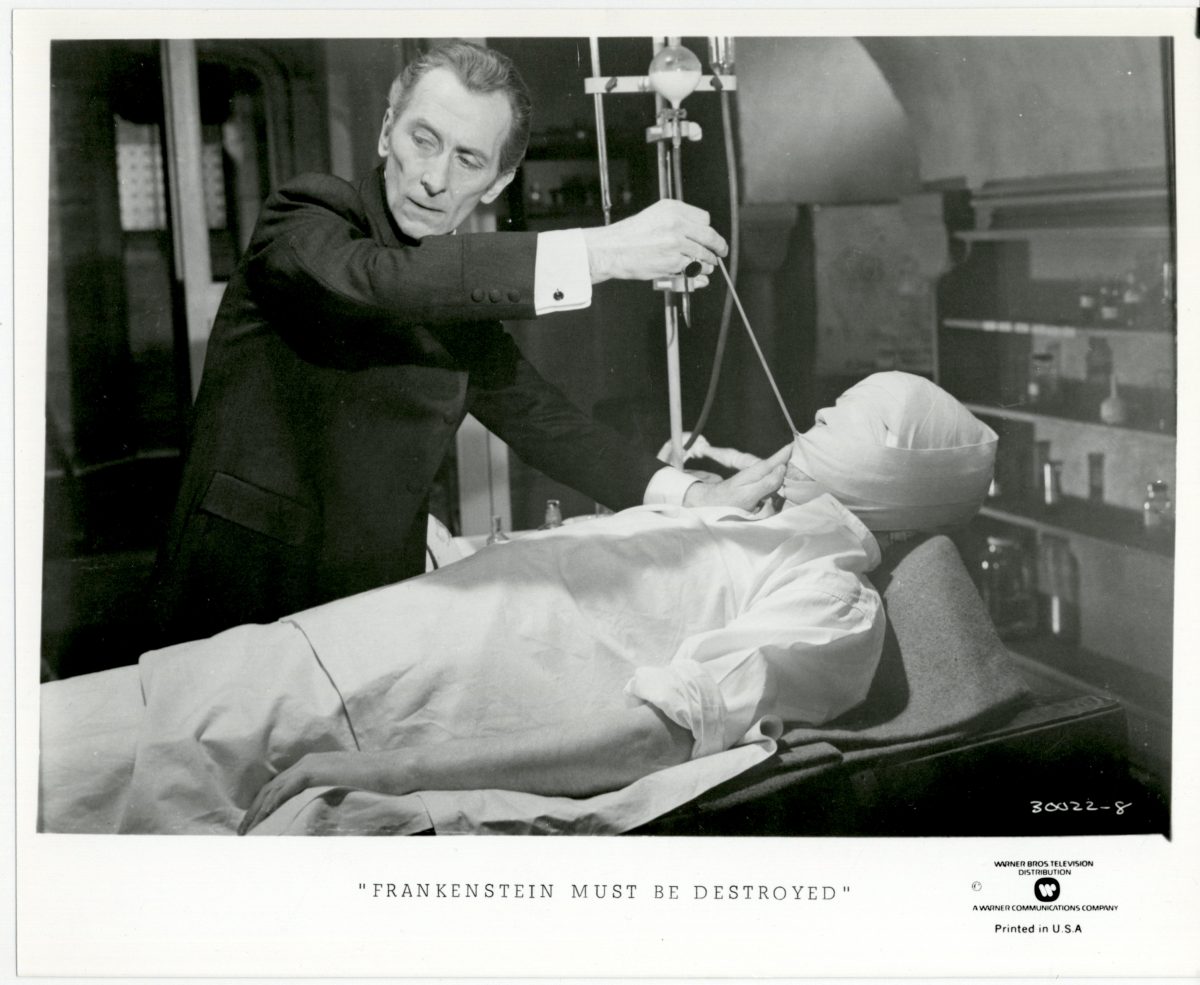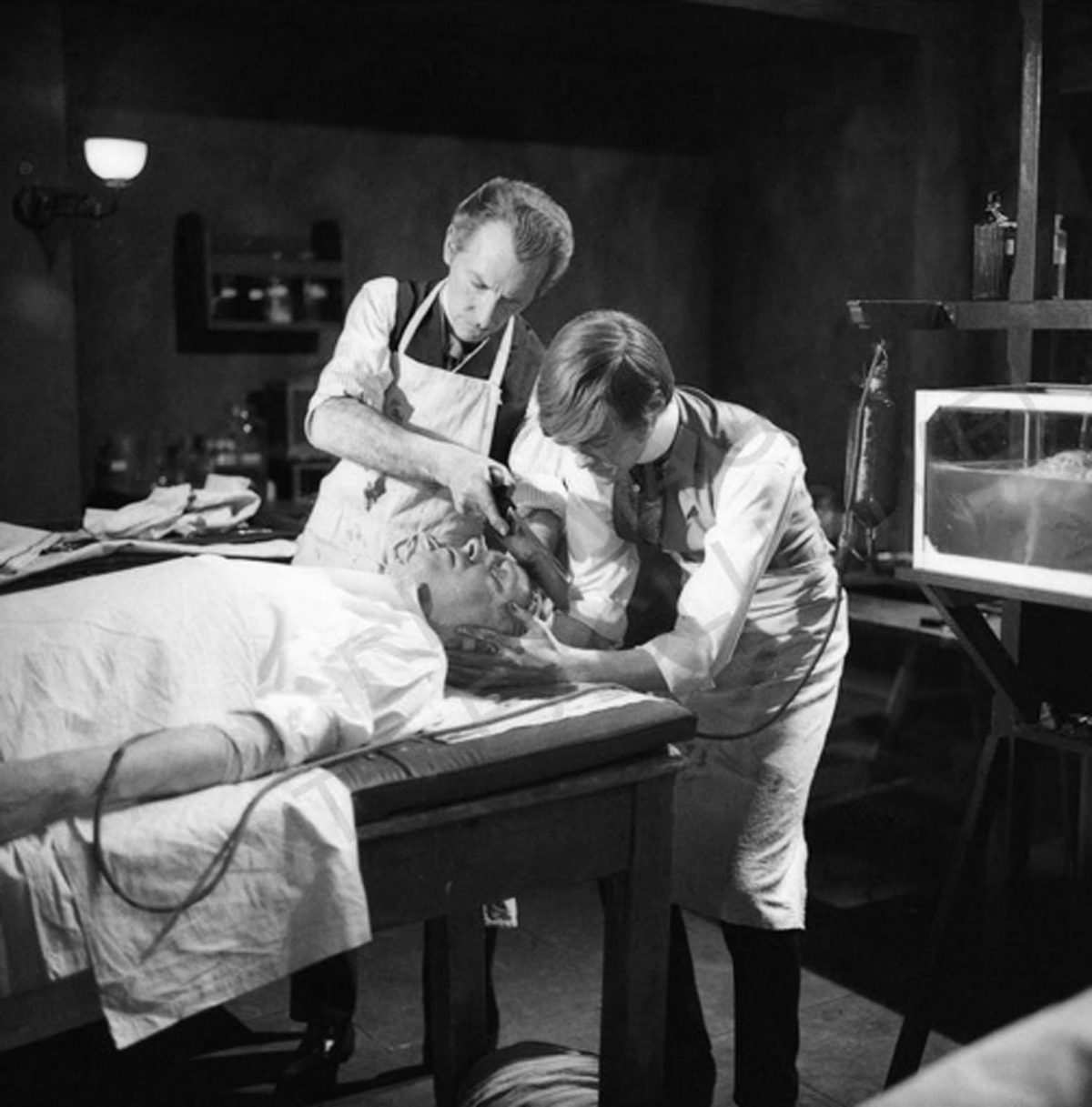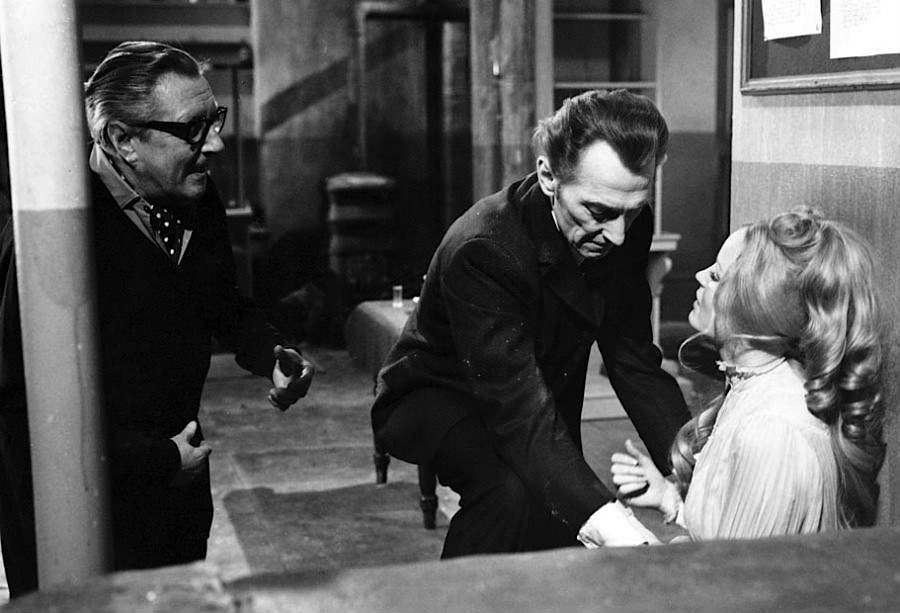 Director Terence Fisher puts Peter Cushing (Frankenstein) and Veronica Carlson (Anna Spengler) through through their paces.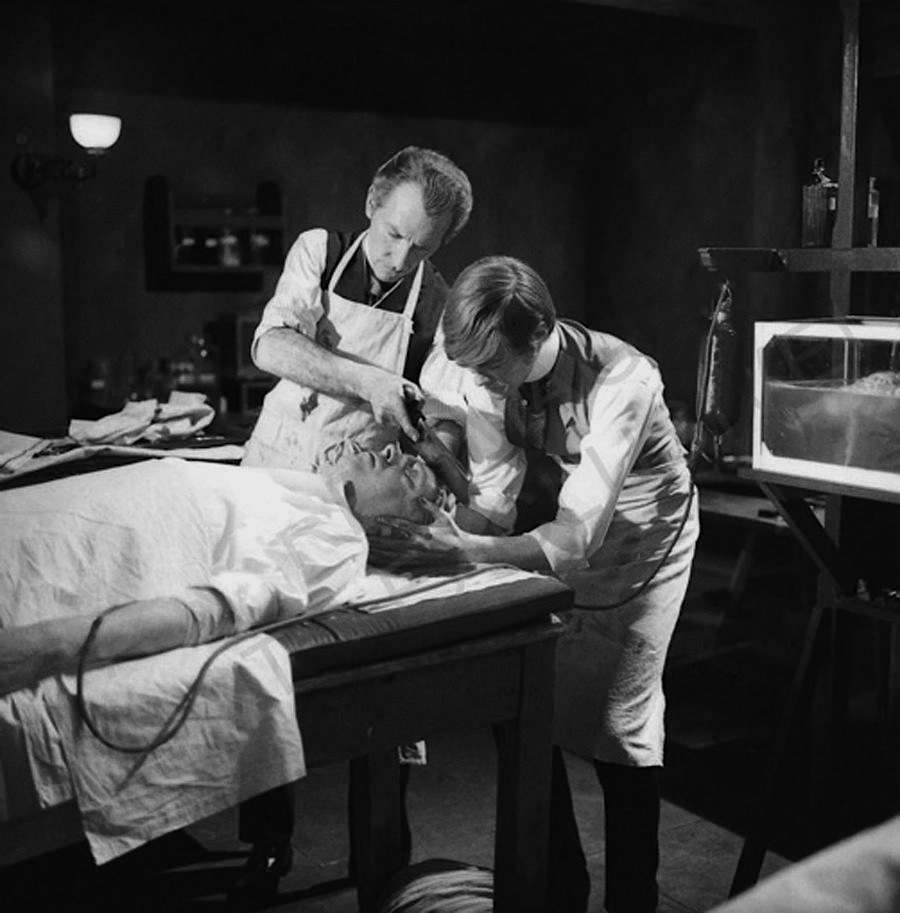 Sawing tonight! Cushing and Simon Ward (Dr. Karl Holst) seek the perfect brain for their creation.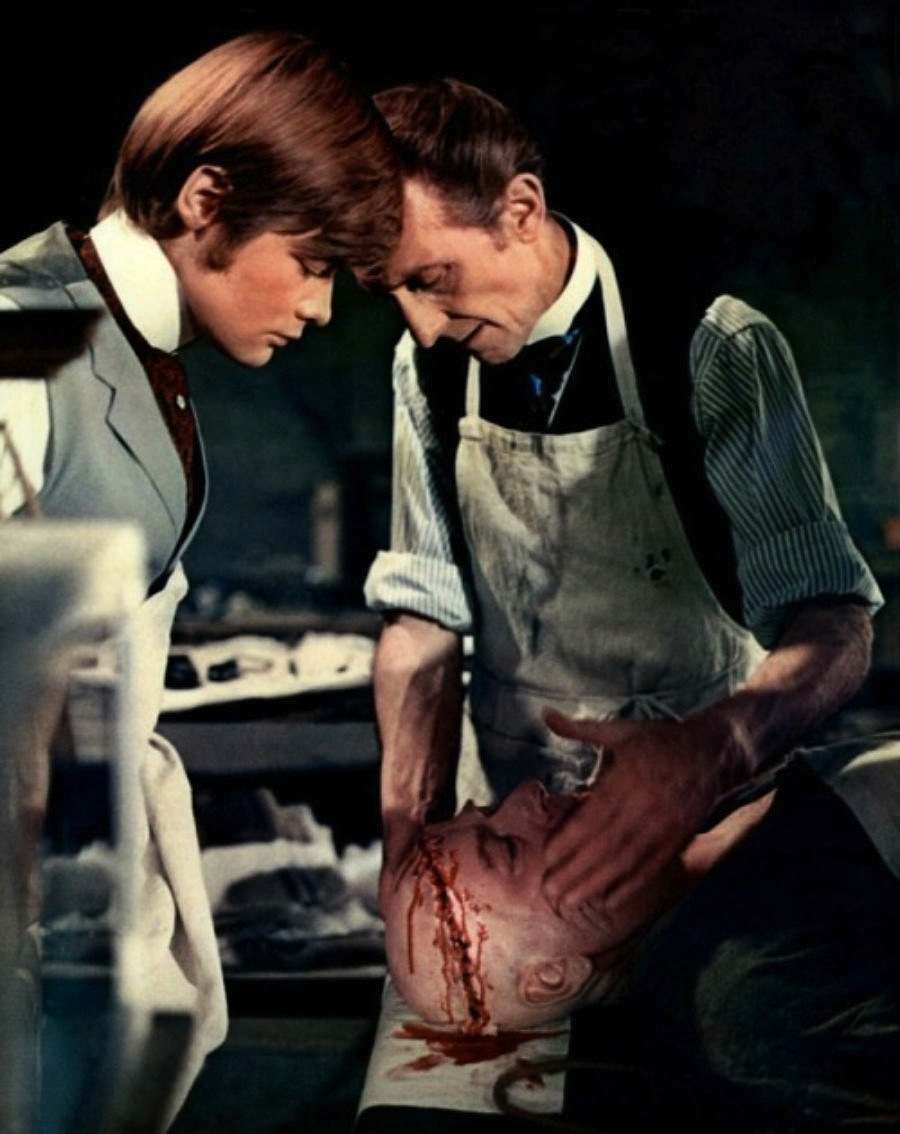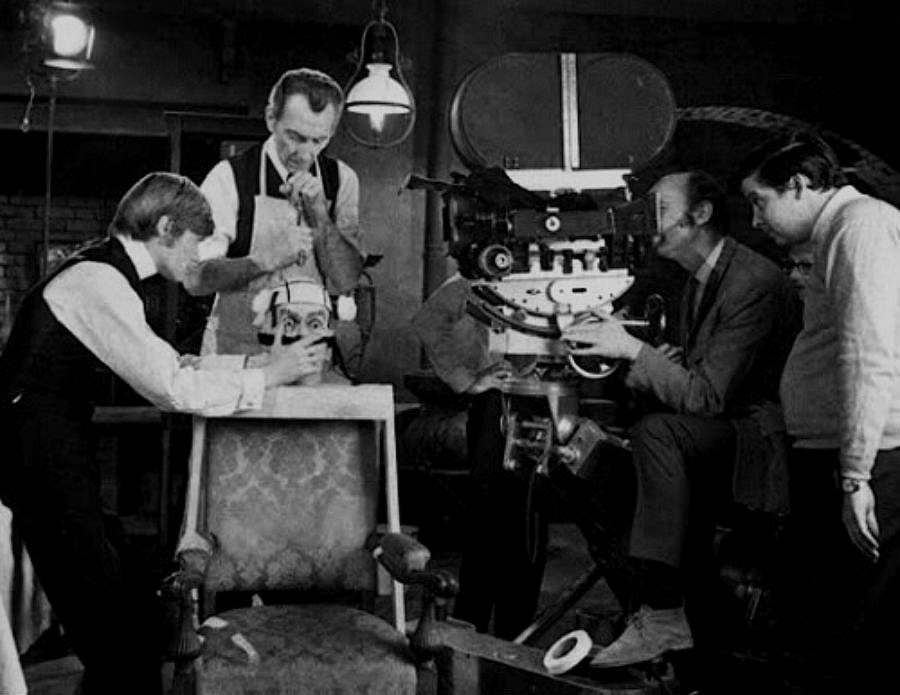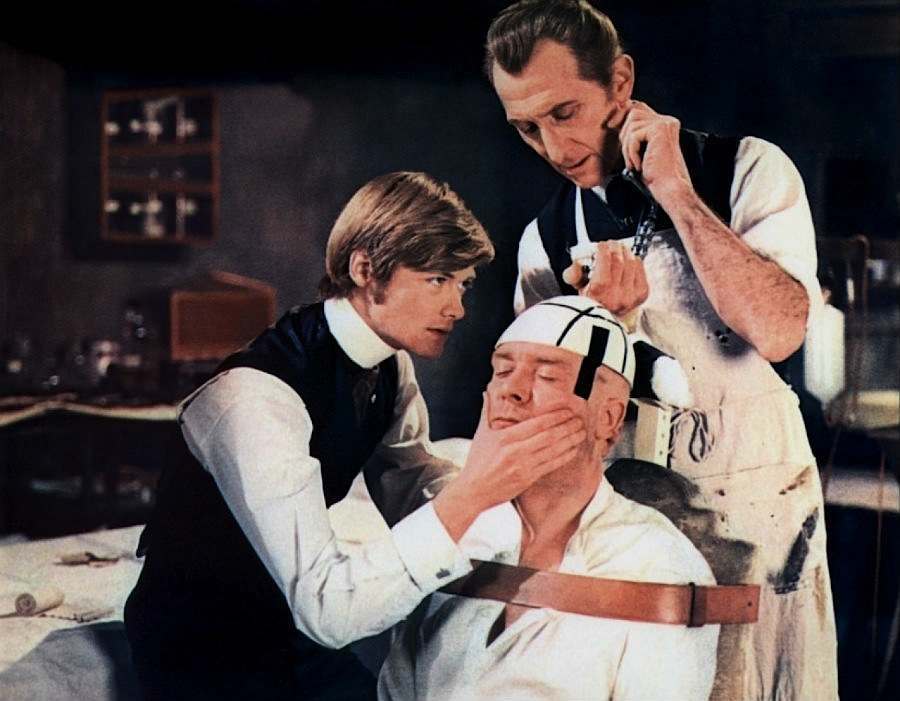 Ward and Cushing prepare Freddie Jones as Dr. Frederick Brandt for his close-up.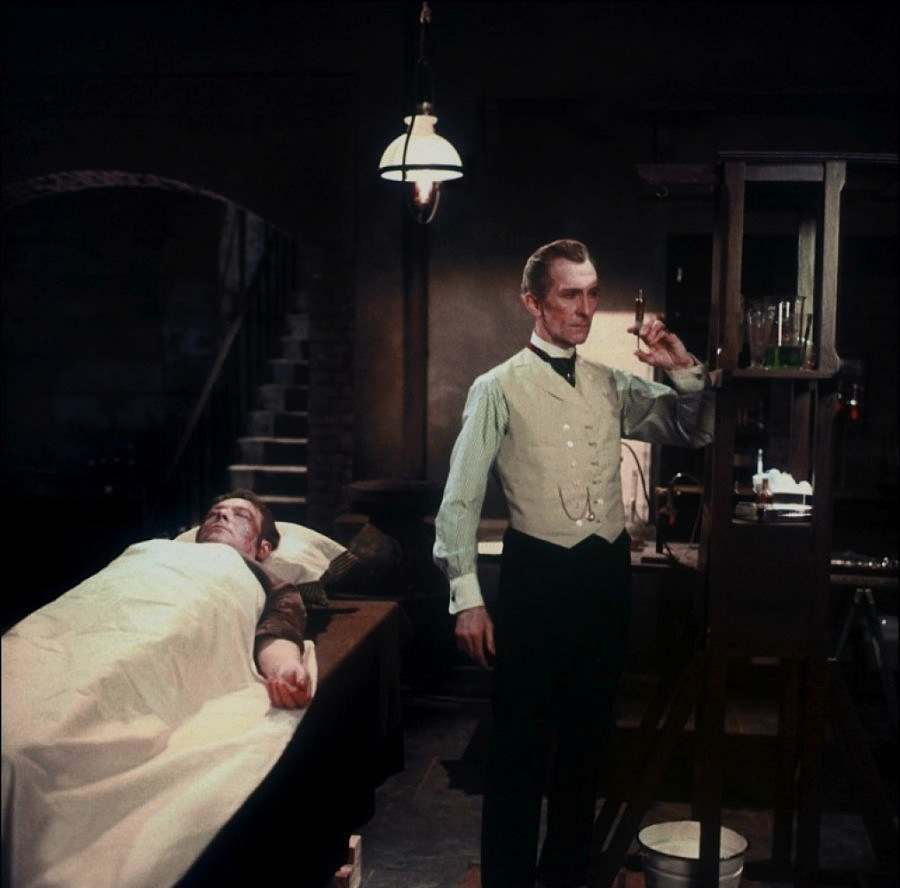 Ah, winter, time for the flu jab.