In 1975, Britain's National Coal Board launched a recruitment drive with the slogan 'People will always need coal'. The video invitation to become a miner and 'get more out of life' promised much. With a job at the coal face you'd get money, women, security, skiing holidays, great teeth, a gun, a canoe, a swimming pool, squash, wine and dinners in happening eateries. Women need not apply.
It's a delightfully kitsch advert for tough, uncompromising and dangerous work.
The National Coal Board (created 15th July 1946) introduced its film unit in 1947, producing films until 1984. It's Mining Review films (1947-83) were shown in 700 cinemas in mostly mining areas across Britain on a monthly basis.
Initially the NCB commissioned films from established production companies, using government-supported firms such as the Crown Film Unit and commercial firms such as Data Film Productions. Recruitment, training, public information films and the industrial cine-magazine Mining Review (1947-83) were the mainstay of this initial burst of production. The NCB also provided logistical support to a number of feature films, including Blue Scar (d. Jill Craigie 1949) and The Brave Don't Cry (d. Philip Leacock 1952).
The Data collective emerged from the prewar documentary movement. The group included the likes of cinematographer Wolfgang Suschitzky (29 August 1912 – 7 October 2016), who worked on the 1958 Oscar winning film The Bespoke Overcoat, and filmed Get Carter, Entertaining Mr Sloane and Worzel Gummidge (1980-81).
Simon Baker writes:
In 1952 the NCB published The Plan for Coal, a national plan for the reconstruction and reorganisation of the industry. The plan would lead to an increased demand for training and recruitment, a demand that led the film officer, Donald Alexander, to put forward a proposal for the NCB to set up its own film unit – thus the National Coal Board Film Unit was born. Initially the three-year programme of technical films allowed for half the films to be made by outside companies, with the remainder by the NCB Film Unit…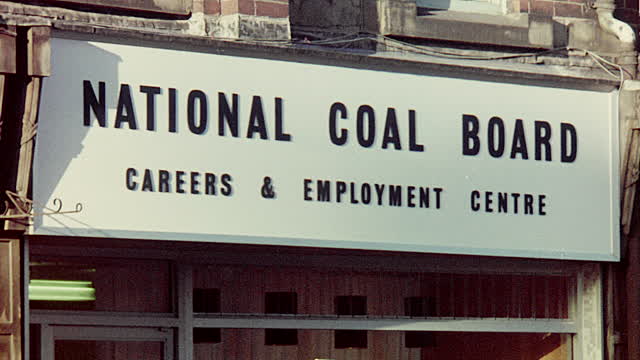 In total over 900 films were sponsored or produced. However, 1980 marked the highpoint of the NCB's output. The decline of the coal industry in the early 1980s, increasing production costs for films and videos, and budget cuts within the NCB saw an inevitable drop in production. The last of the Review series (formerly Mining Review), Review 36th Year No. 5, was released in March 1983, and on April 1984 the NCB Film Unit closed.

 
While much of the advertising targeted men, like this ad below, the Mining Review did feature working women.
In 1969 the Mining Review featured Denise Cochrane and her twin sister Avril from Mexborough.