I've been enjoying researching materials relating to the late photographer David Parkinson for a feature for GQ magazine, so thought I'd share some of the images I dug out of the Parkinson archive concerning the 70s King's Road retro clothing store Acme Attractions.
Parkinson's position as fashion editor of Paul Raymond's sophisticated soft-porn magazine Club International enabled him to style and present Acme clothing for a wide readership, on occasion using the shop team as models.
Acme was opened by Parkinson's friend Stephan Raynor (they'd known each other since they were part of a gang of style-obsessed teenagers in Leicester in the early 60s) with John Krivine, previously a Brixton-based jukebox dealer, in 1974.
I remember Acme well and had a few pieces from there; as I wrote in The Look, first from a stall on the ground level and subsequently in the basement of the King's Road's antiques market Antiquarius, Acme Attractions offered an inclusive counterpoint to Malcolm McLaren and Vivienne Westwood's SEX, cherry-picking the best of what would be now termed vintage from the 40s to the 60s.
The walls of the basement shop were lined with Parkinson's selection of photographs, including a portrait of Princess Margaret and her photographer husband Lord Snowdon (who Parkinson had assisted after leaving college) jumping in mid-air and a collection of zoot-suit clad stylers. A frame from the Club International shoot appeared on a promotional poster.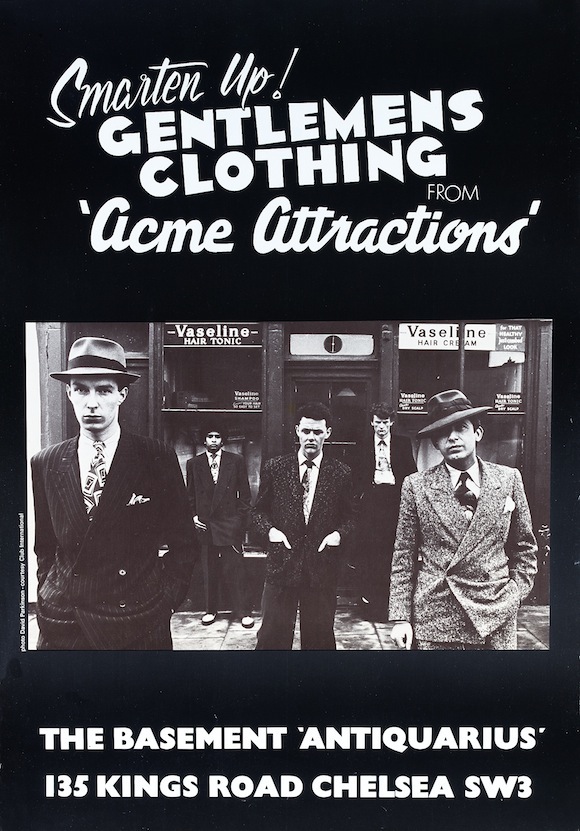 In the outlet, an original 60s scooter, provided by customer Jay Strongman, was a focal display piece, and managers Jeanette Lee and Don Letts pumped out the very latest releases from what was in hindsight the heyday of dub reggae.
Like the manifestations at 430 King's Road (which Parkinson's work also showcased), Acme Attractions was both a delight and an education. It was also an important building block in the visual identity of both punk and post-punk, particularly New Romantic.
In 1977 Raynor and Krivine went all out and gave up Acme in favour of a new outlet selling new, Seditionaries-influenced designs at 135 King's Road: BOY.
Enjoy these images and look out for the Parkinson feature in GQ, which will include previously unpublished photographs of McLaren and Westwood, some inside Let It Rock when it first opened, and clothes from that incarnation of 430 King's Road as well as Paradise Garage, Too Fast To Live Too Young To Die and SEX. It is scheduled to appear in a few months.