Wednesday 12th April 1961: During a break in camera rehearsals for The Avengers, actors Ian Hendry and Patrick MacNee were having a sneaky lunchtime drink in the Angler's Arms, near A.B.C.'s Teddington Studios, when producer Dennis Vance burst in wielding a carving knife. Vance demanded to know the whereabouts of his then girlfriend Janice Willett. Neither Hendry or MacNee knew, but asked why Vance wanted to see her? The producer replied he was going to kill her. It sounded like a bad joke, which was what MacNee thought as he later described the incident in his memoir The Avengers and Me:
We laughed at this and he thundered out of the door. He didn't kill her of course, but we learned later that he had stormed into her office and raced around with the carving knife, scaring her associates half to death. At the same moment, the coffee lady came by, pushing her trolley, which was piled up with cups and saucers and a huge coffee urn. As she turned to enter the office, Vance spotted his girlfriend standing behind her. Knocking the startled coffee lady aside, he lunged through the door, reached out with the knife, and nicked the girl in the cheek. Her didn't do her any great harm, but they took him into custody and he spent some time in jail for assault. I don't know how long he served, but he was back at work in a couple of weeks.
Dennis Vance was a respected producer best known for The Adventures of the Scarlet Pimpernel and ABC's prestigious Armchair Theatre from 1956-58. He had just finished directing an episode of The Avengers "Please Don't Feed the Animals", when the incident took place.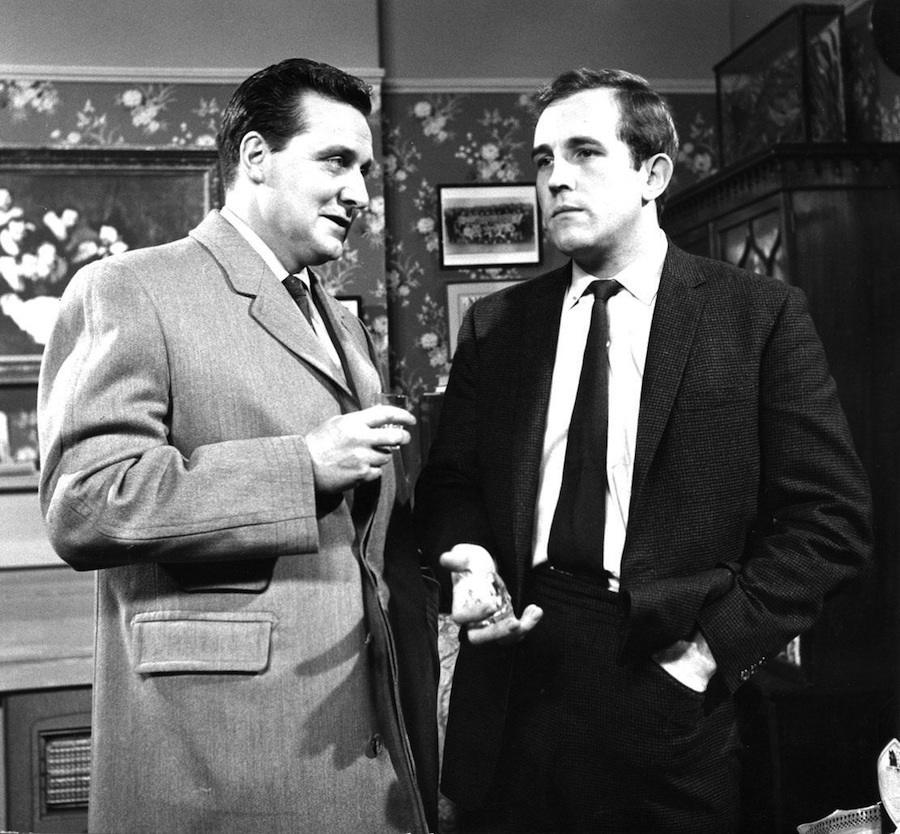 Patrick MacNee and Ian Hendry in the first series of 'The Avengers' 1961.
The Avengers was in its first series with Hendry as Dr. David Keel and MacNee as his assistant, secret agent John Steed. After Hendry left to pursue a film career, MacNee topped the show with three iconic co-stars: Honor Blackman as Cathy Gale (1962-64), Diana Rigg as Emma Peel (1965-68) and Linda Thorson as Tara King (1968-69).
When MacNee recalled Vance's theatrical entrance into the Angler's Arms, he rather played down the bloody events that happened next. The deranged Vance left the pub and went in search of his girlfriend Janice Willett.
Vance had first met Willett around 1956, when she became his personal assistant at A.B.C. They worked together on Theatre Royal and ITV Playhouse. Before long, their association was romantic as well as professional.
By the late 1950s, Janice Willett had become a director and producer–responsible for ABC's religious youth show Sunday Break, for which, in March 1961, Willett produced a modern interpretation of the Passion play, with a Beatnik Jesus in denim that outraged the tabloids and elderly viewers.

Dennis Vance, 'The Avengers' titles, and Janice Willett.
At the beginning of April 1961, Janice Willett ended her relationship with Vance after a violent argument that led to the police being called to her flat. Vance had been unable to come to terms with the end of his relationship with Willett, and on Tuesday 11th April 1961, he assaulted her by pushing her down a flight of stairs. The violence escalated, and a day later Vance stopped Willett's car and threatened her with a kitchen knife. Later that day, he went in search of Willett, telling any who would listen he intended to kill her.
After he had quizzed MacNee and Hendry about her whereabouts, Vance attacked Willett in her first floor office at Teddington Studios. Willett's screams were heard below by actors and technicians in Studio 2, where a camera rehearsal was in progress. A tea girl, passing in the corridor raised the alarm.
Willett was found lying badly injured and bleeding in her office. Vance had stabbed her in the back with a carving knife, causing "a wound four inches deep." An ambulance was called. Willett was taken to West Middlesex Hospital at Isleworth. Vance gave himself up to the police later that afternoon, where he charged with causing grievous bodily harm at Teddington Police Station.
The Daily Express reported:
Girl stabbed in TV studio

AS 'PC' ACTORS REHEARSE 'THE AVENGERS'

Express Staff Reporter

JANICE WILLETT, 31-year-old TV director, was stabbed yesterday in her office at the A.B.C. studios at Teddington.

She was taken to West Middlesex Hospital, Isleworth.

Later Denis Vance, 37-year-old Liverpool-born producer, was charged at Teddington with doing grievous bodily harm to Miss Willett by stabbing her in the back with a knife.

He has worked for the B.B.C. and ITV and as a freelance. His last play for A.B.C. was "Flight for Treason" last summer.

The studios where 350 people are employed were getting down to the afternoon's work.

In one of the main studio a dress rehearsal for a programme called "The Avengers" was being held

Controversial

Actors taking the part of policemen were on stage. For "The Avengers" concerns a woman whose life has been threatened and is being protected by police.

Suddenly a tea girl gave the alarm. She ran down the corridor shouting: "Someone's been hurt."

And her first-floor office overlooking the Thames they found Miss Willet lying injured.

Dark-haired, vivacious Miss Willett runs the religious programme "Sunday Break."

She was responsible for the controversial "Christ in Jeans" teenage Passion play televised two weeks ago.

Miss Willett's injuries are said to be "not minor."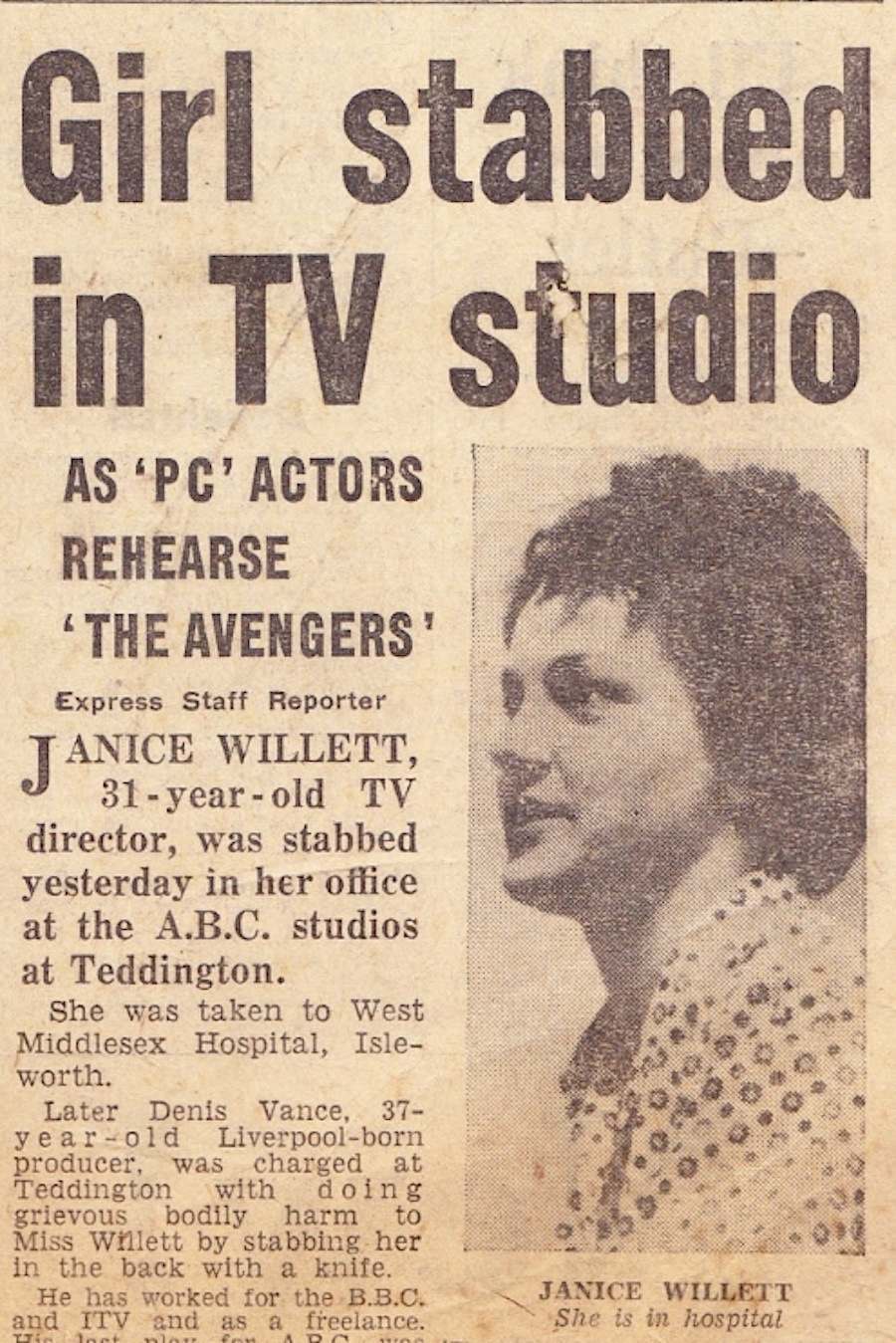 The Glasgow Herald reported:
Dennis William Vance (37), television producer, of the Willows, Maidenhead Road, Windsor, was charged at Teddington, Middlesex, Police Station last night with causing grievous bodily harm to Miss Janice Willett, a programme director of A.B.C. Television, by stabbing her with a knife.

Miss Willett was stabbed earlier yesterday while in an office near a television set at A.B.C.'s Teddington Studios. Vance is due to appear to-day before Feltham, Middlesex, magistrates.

Miss Willett, aged about 29, directs the religious programme "The Sunday Break," designed for young people and televised early on Sunday evenings.
Patrick Macnee as John Steed and Ian Hendry as Dr. Keel in 'The Avengers' 1961.
In television you can get away with anything, and when Vance appeared at Feltham Magistrates' Court to apply for bail, his defence contested that Vance had been working under increasing emotional pressures and nervous tensions–a doctor had been attending him since February.
Vance appeared rueful and spoke of his regret at the incident, as you do…:
"I am desperately sorry to cause injury to any human being, and can only hope that the wound is not serious, and that this girl, whom I love very dearly, will soon recover."
Of course, everyone is always sorry after the event–especially the perpetrator. Vance went onto explain why he had been carrying a knife, allegedly because of "interference in my life" from a music producer called Norman Kay. He did not explain why he had burst into a pub threatening to kill Miss Willett, or explain his behaviour towards her prior to the stabbing. His application for bail was dismissed. He was remanded in custody until his trial, which was held at the Old Bailey on Thursday 27th April 1961. Dennis Vance was found guilty. A plea of diminished responsibility was accepted, and he was sentenced to three years' probation with a year's psychiatric counselling.
Punishment by law is class based. The professional middle class are rarely punished with the same force as the working class. Vance was given probation, while youths involved in a bit of a punch-up on Brighton beach in 1964 received three-six month jail sentences.
Surprisingly, Vance continued to work for A.B.C. and other television companies as a freelancer–though he worked again on The Avengers. For a man so emotionally devastated by his split from Willett, he married the third of his six wives the following year. Vance died in 1983 at the age of 59.
Janice Willett recovered and was discharged from hospital within a few days after her admission. Willett continued as a producer and director in television until 1979.
H/T Hold the Front Page and Declassified: The Avengers.