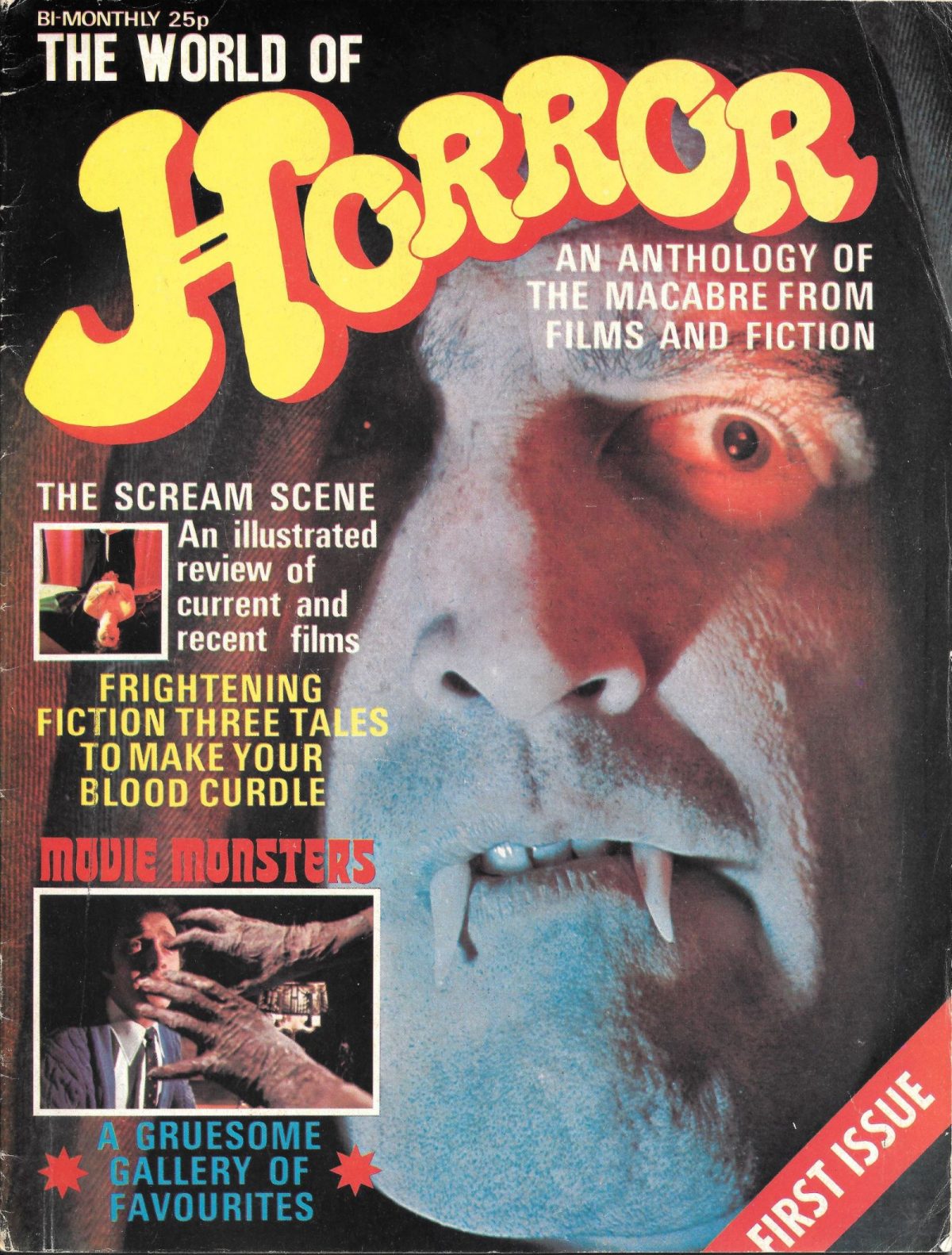 World of Horror magazine was an "anthology of the macabre from films and fiction". It was first launched by the Gresham Publishing in 1974 and was later produced by the Dalruth Publishing Group. The magazine folded after nine issues in 1975.
World of Horror was probably the best cult horror magazine produced in Britain during the 1970's. Its mix of fiction by the likes R Chetwynd-Hayes, Playten Syder, John Mills, and James Lee, together with reviews of films (Zardoz, Andy Warhol's Dracula, The Ghoul, Young Frankenstein, Rollerball, Ken Russell's Tommy), alongside theatre productions (Peter Wyngarde in Dracula, The Rocky Horror Show, and Jack the Ripper), and full-colour photo-spreads made World of Horror essential reading.
The first issue edition contained a long essay on horror movies which essentially detailed the areas of interest the magazine would cover. Many of the photo features in that debut issue (I, Monster, Frankenstein and the Monster from Hell, Plague of the Zombies) were lifted from another cult magazine Target. The blacked-out name Target is still visible on the double-page "Price of Fear" spread.
Target (1970-74) was a teen magazine which had articles on football, films, bands, a cartoon strip about a skinhead called Bovver Boy and a column by Christopher Lee. WOH was a more cultured, single-minded version of Target. Aimed at an adult audience, WOH pulled in a large number of children and teenagers, Hence the articles on Star Trek, Space 1999, and Doctor Who. Its only rival was Monster Mag–a fold-out poster series which was sold to adults only. Monster Mag offered blood and gore. WOH offered readers considered reviews and some fine writing alongside potted biographies of stars like Boris Karloff, Bela Lugosi, Peter Cushing and Barbara Steele.
Why WOH failed, is anyone's guess. Poor readership? Lack of funds? Too clever for its own good? Difficult to say. WOH should have lasted through the seventies into the eighties to present-day. For those who recall it, the following selection will hopefully bring back some choice memories. For everyone else, here's some of what you missed.