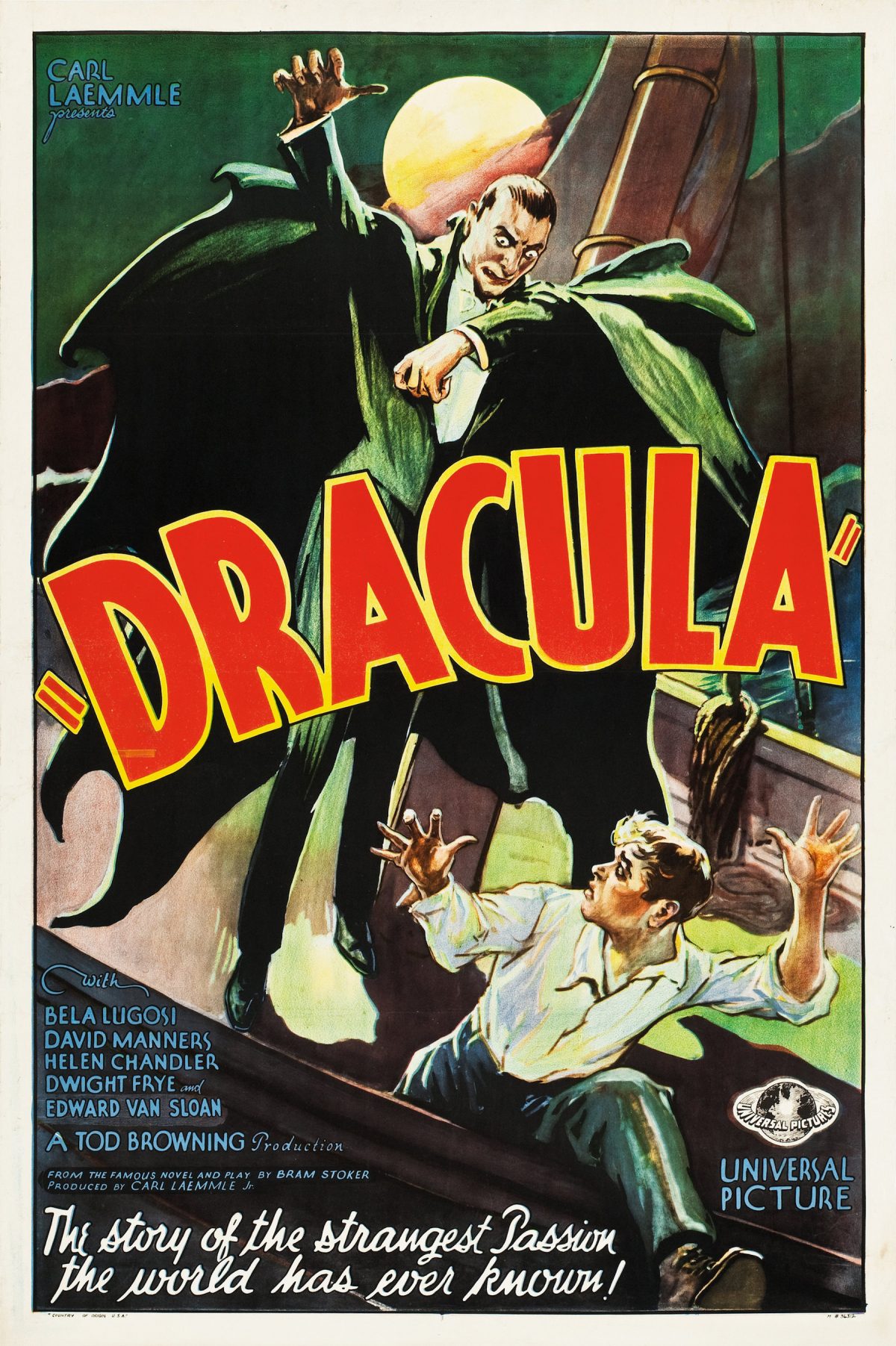 In 2009, Nicolas Cage was in hock to the tax man. He sold off a few of his properties and a lot of his belongings to pay the money owed. Among the precious objects sold was a poster for Tod Browning's classic horror movie Dracula starring Bela Lugosi. Cage's original "Style F" one sheet poster (see above) sold for $310,700.
In 2017, a "Style A" Dracula poster (see below)–one of only two known existing copies–was sold for a record-breaking $525,000–making it the most expensive film poster ever sold at auction.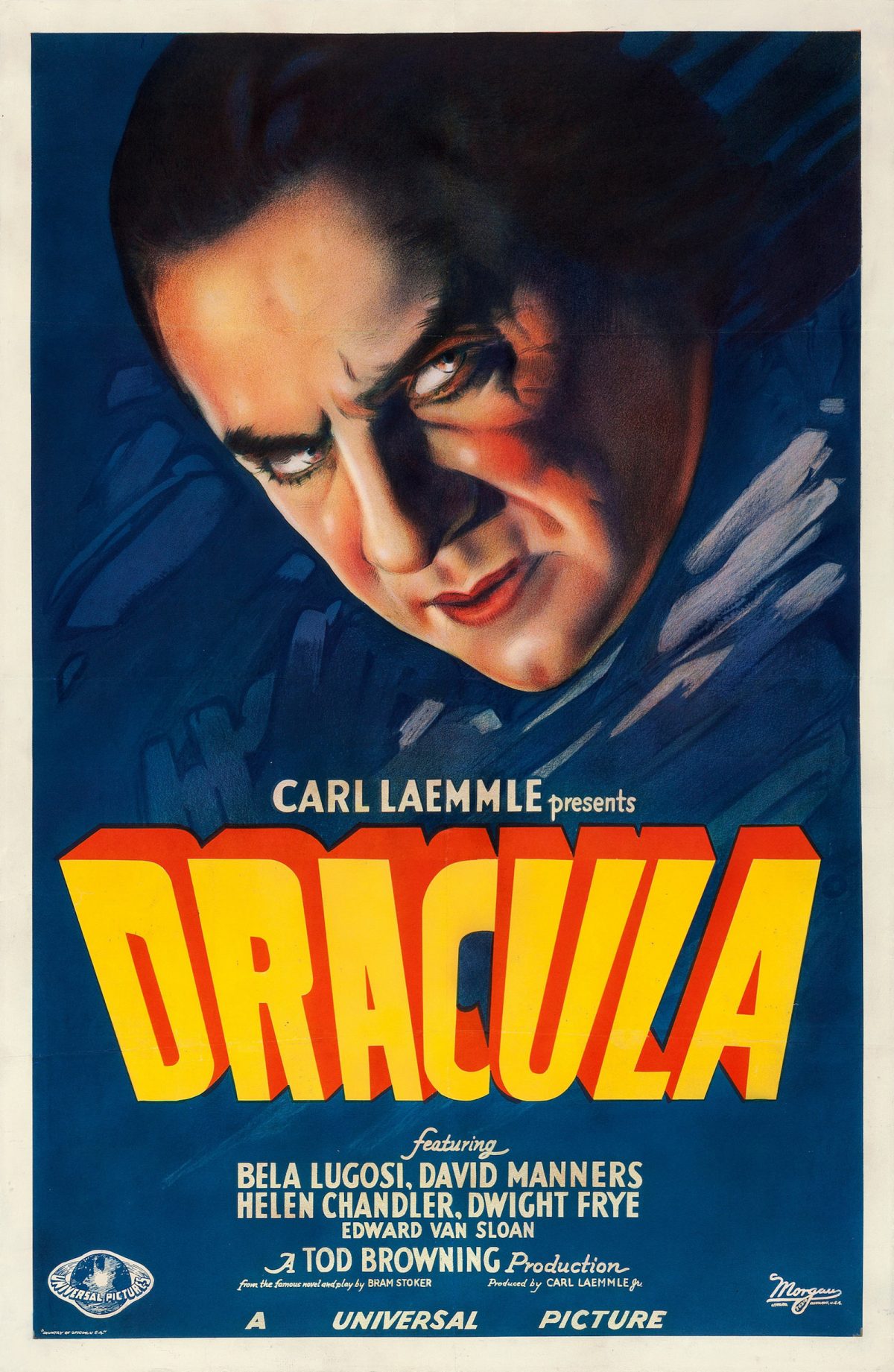 The appeal of Browning's Dracula rests with Bela Lugosi's performance. He was the first to portray the Count on screen. Lugosi's Dracula is the one against which all other Counts must be judged.
Christopher Lee who made his name as Count Dracula in Hammer Horror films thought Lugosi's interpretation poor and too affected, and his accent wrong. Lee seems to have forgotten Lugosi was Hungarian and Transylvania was in Hungary when Bram Stoker wrote his novel, and not Romania, as he claimed.
Gary Oldman, who starred in as the Count in Francis Ford Coppola's Dracula, thought Lugosi the best and used some of the actor's mannerisms and pronunciations in his own iconic interpretation.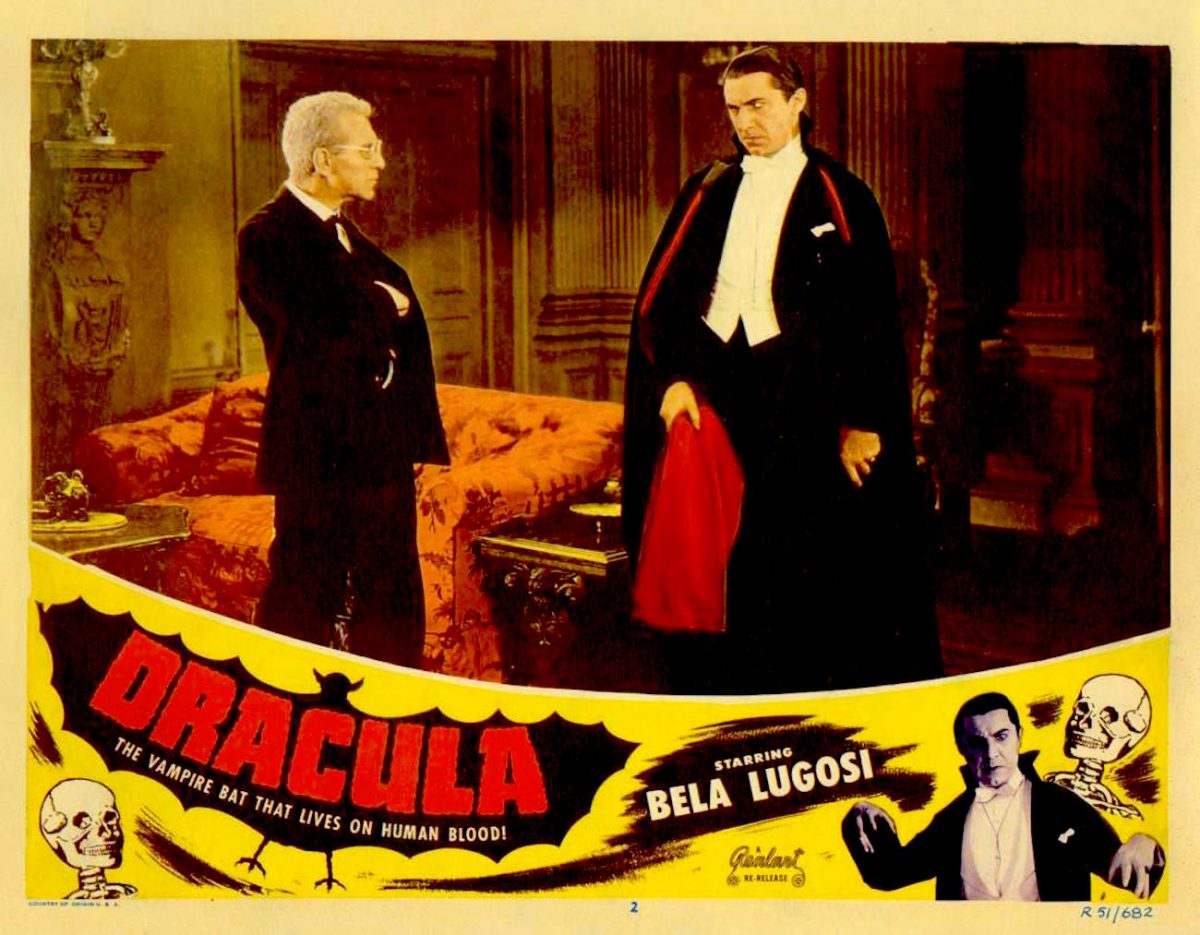 Lugosi certainly fixed the image of Dracula in the public imagination as an evening-suited, cloak wearing ghoul, whose aristocratic charm never quite hid his lower, baser instincts. Though Lugosi made the role his most memorable, he was not the first choice to play the Count. Paul Muni (the original Scarface) was offered the role as was Raymond Huntley who had first starred as the Count in the theatrical production (written by Hamilton Deane and John L. Balderston in 1924) which formed the basis for Browning's film.
Huntley's Dracula had been a smash-hit in London's West End and on Broadway. Now better remembered for his performances in British comedies, thrillers and TV series as men from the ministry, or slightly pompous judges, or serious businessmen confused by the world, Huntley was the first to present Dracula in evening dress and cloak with red silk lining. His make-up stuck closely to the description in Stoker's book:
A tall old man, clean shaven save for a long white moustache. His face was a strong, a very strong, aquiline, with high bridge of the thin nose and peculiarly arched nostrils, with lofty domed forehead. His eyebrows were very massive, almost meeting over the nose, and with bushy hair that seemed to curl in its own profusion. The mouth, so far as I could see it under the heavy moustache, was fixed and rather cruel-looking… For the rest, his ears were pale, and at the tops extremely pointed. The chin was broad and strong, and the cheeks firm though thin. The blue eyes transformed with fury.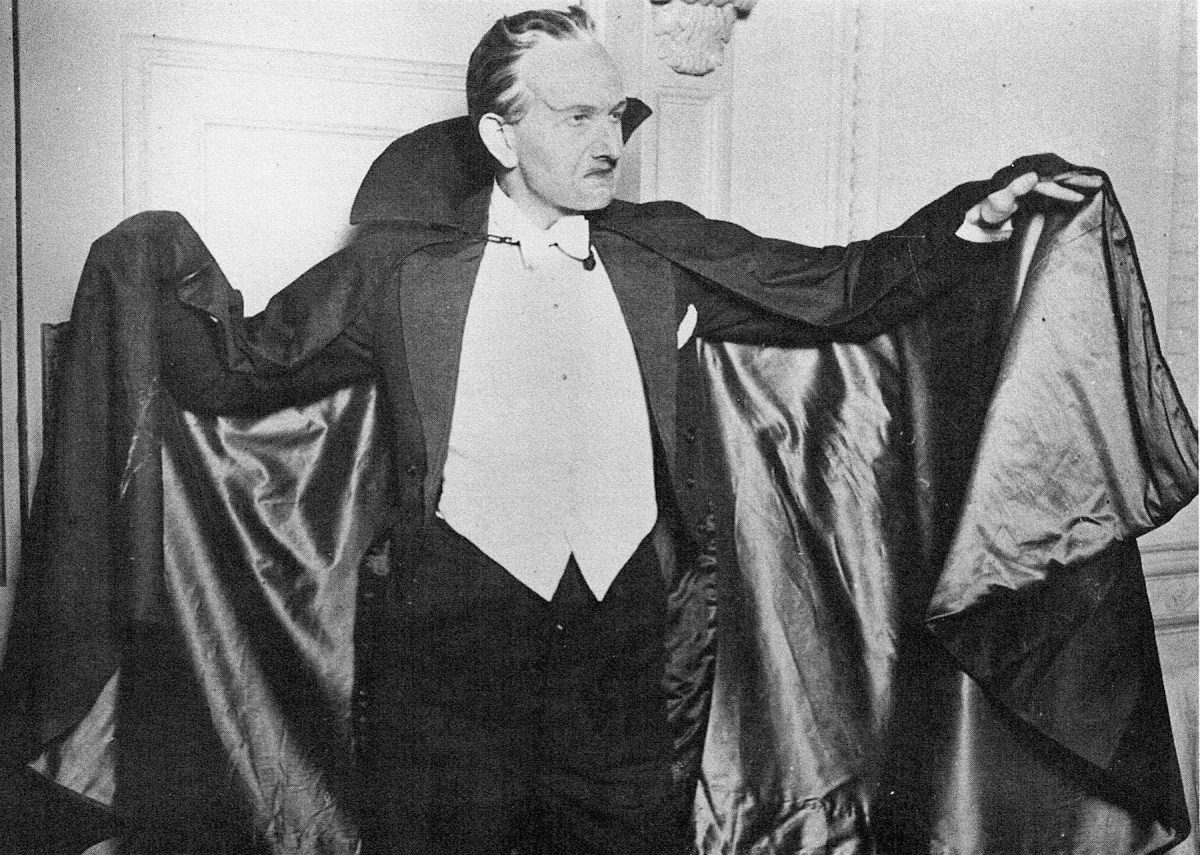 Huntley tired of playing Dracula on Broadway and returned to England. He was replaced by a young actor called Bela Lugosi, who had achieved considerable success and some controversy as the Sheik in Arabesque. Women in the audience reputedly fainted at Lugosi's unbridled sex appeal.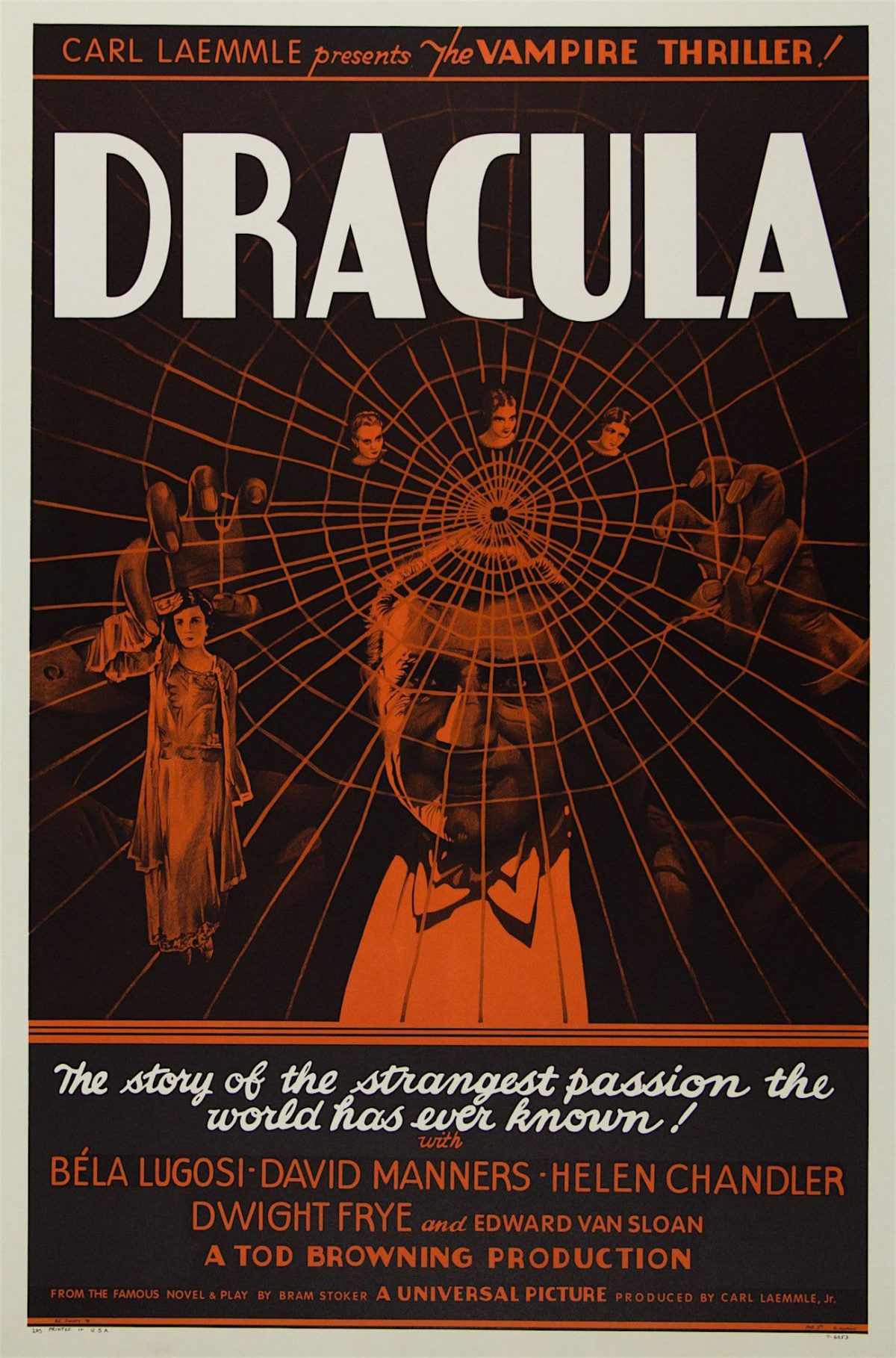 What also makes Lugosi's performance exceptional is the manner in which the film was shot. Browning had mainly directed silent movies. He followed a similar approach–long scenes with little or no dialogue, the use of titles or newspapers to develop the story, and a focussing on Lugosi's mesmeric performance.
However, it should be noted that Browning was absent for a considerable amount of the filming. He relied on camera operator Karl Freund to direct in his absence.
Lugosi was concerned during production that Dracula would be a curse, a role that would possess him all his life. He stated he would never be tempted to play the part again. Dracula was hugely successful. It was rereleased several times right-up to the mid-1960s. Lugosi played Dracula once again in Abbott and Costello Meet Frankenstein (1948), and as a vampire twice in Mark of the Vampire (1935) and Return of the Vampire (1944).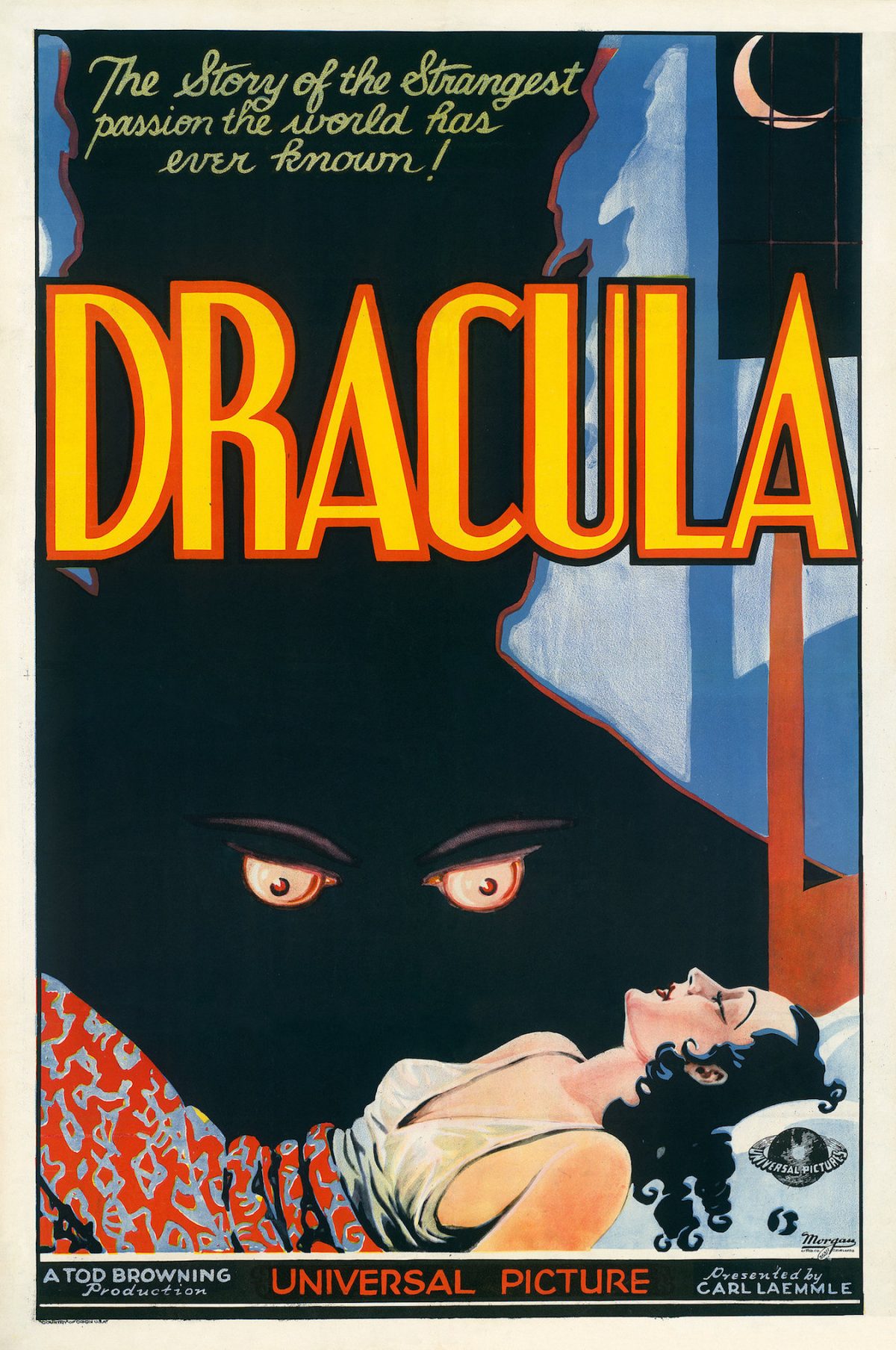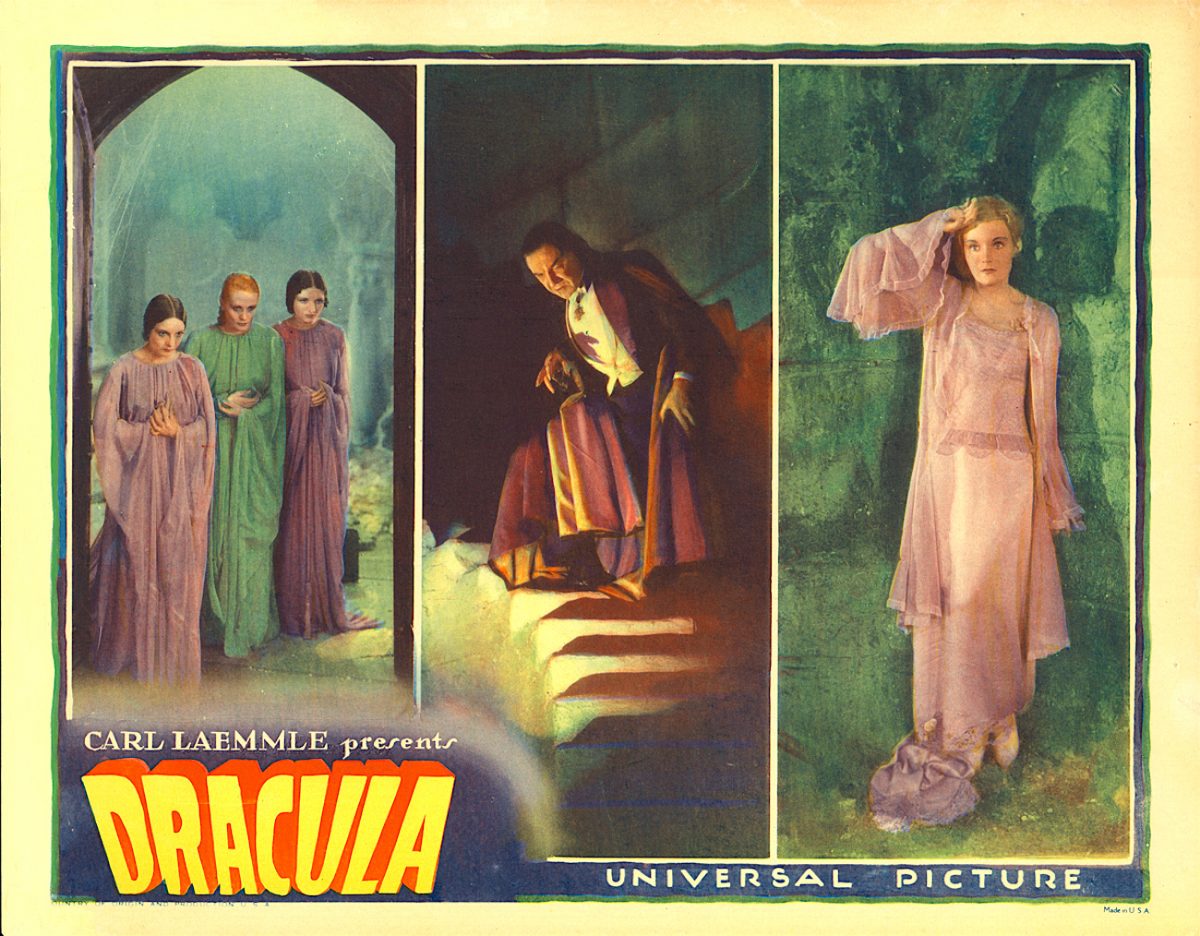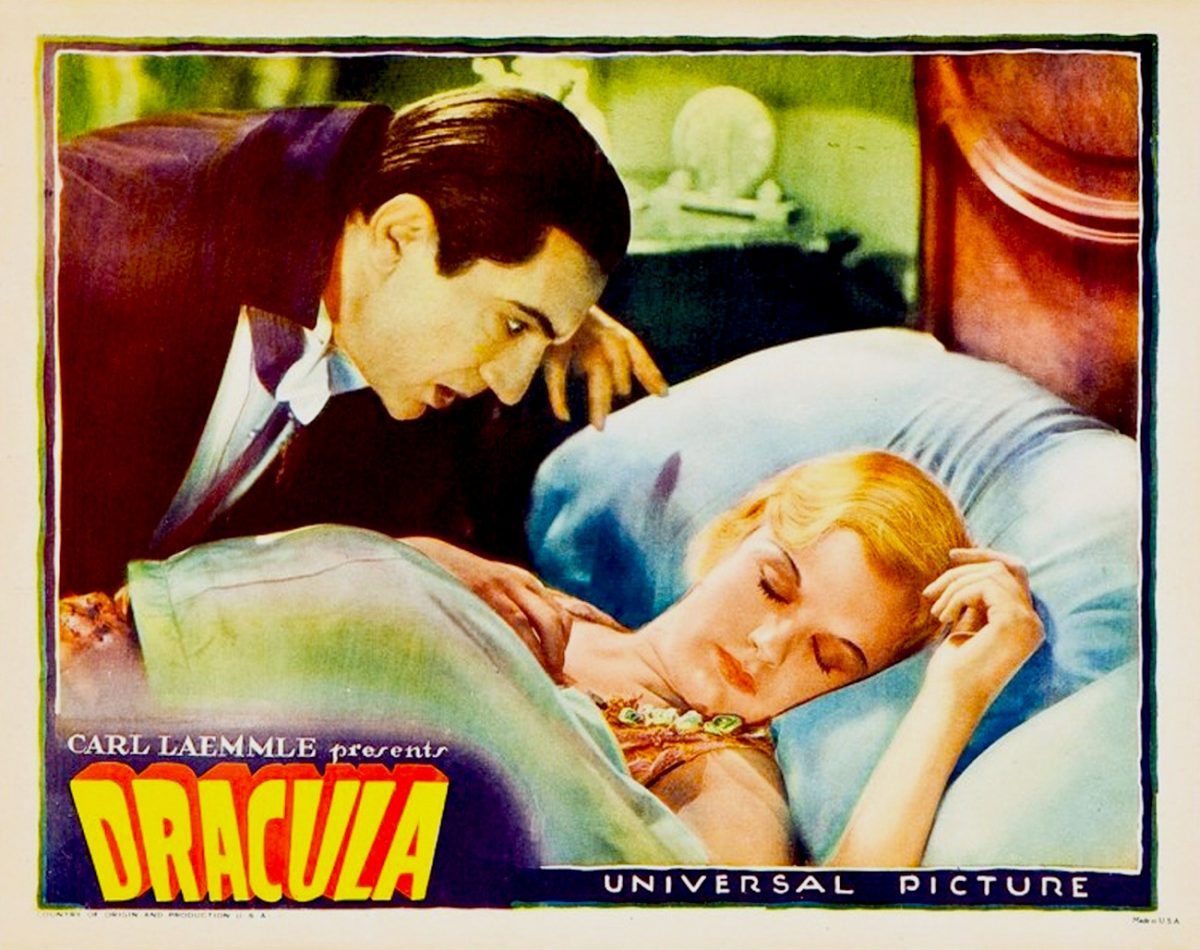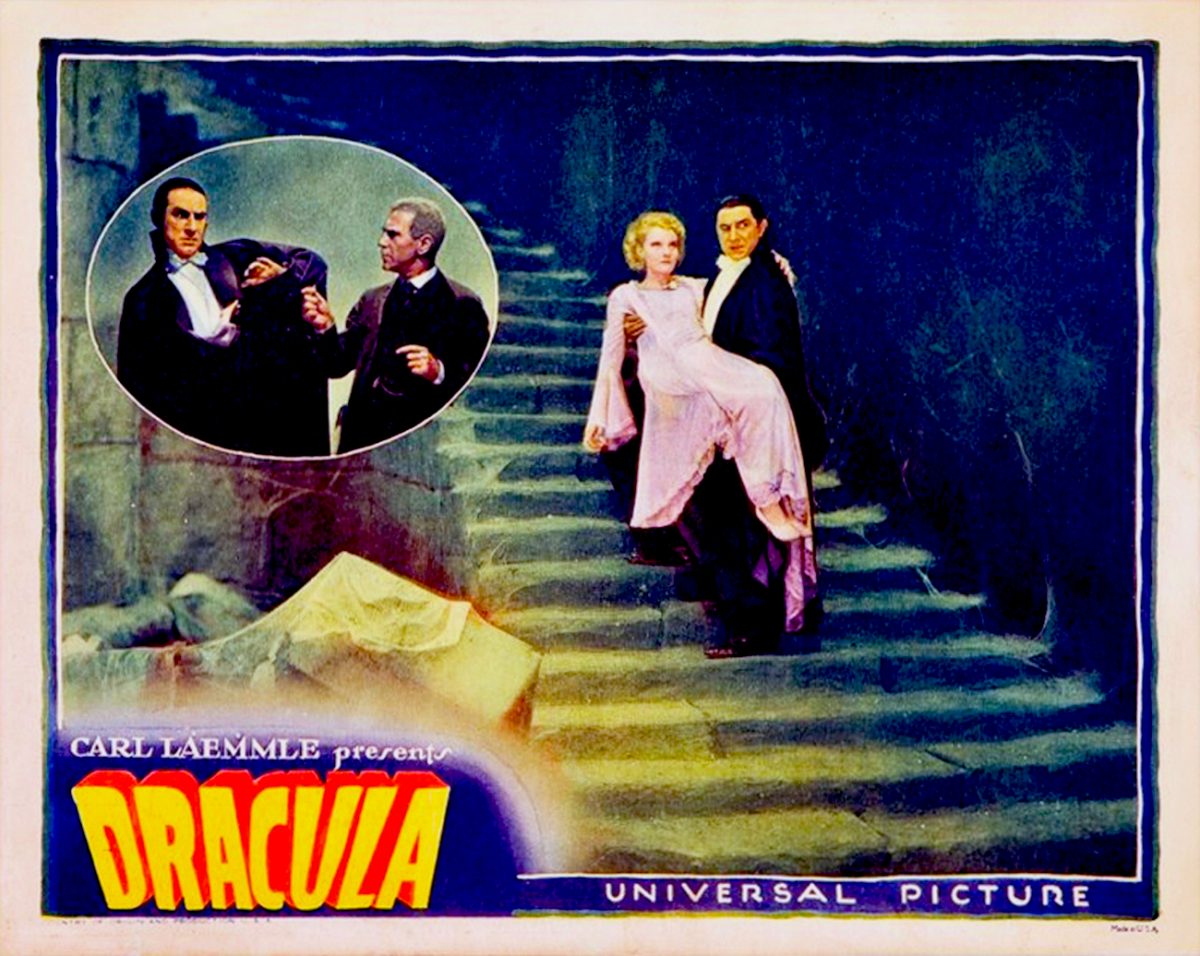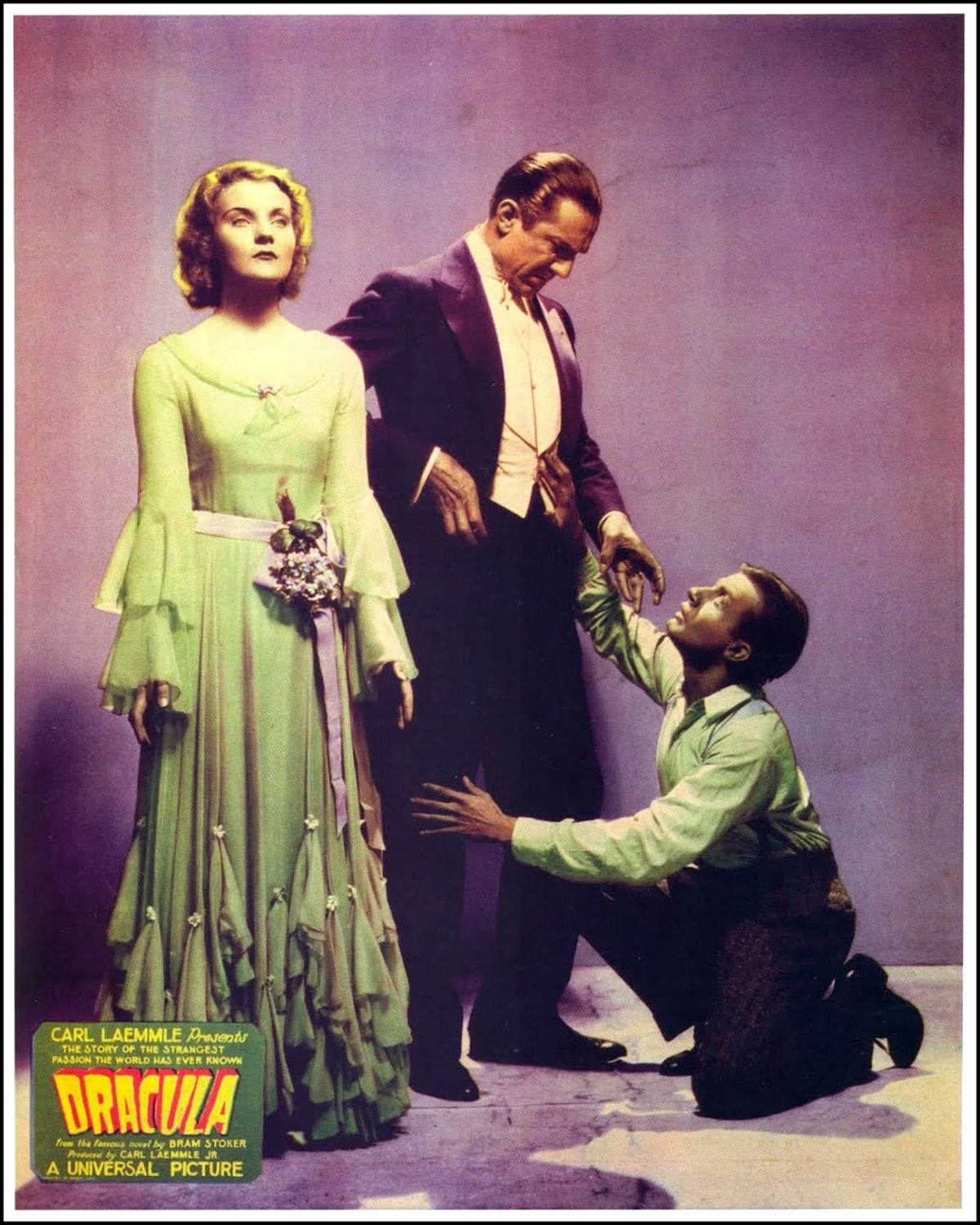 Buy gorgeous fine-art prints of these great posters here.
H/T WikiMedia Commons.