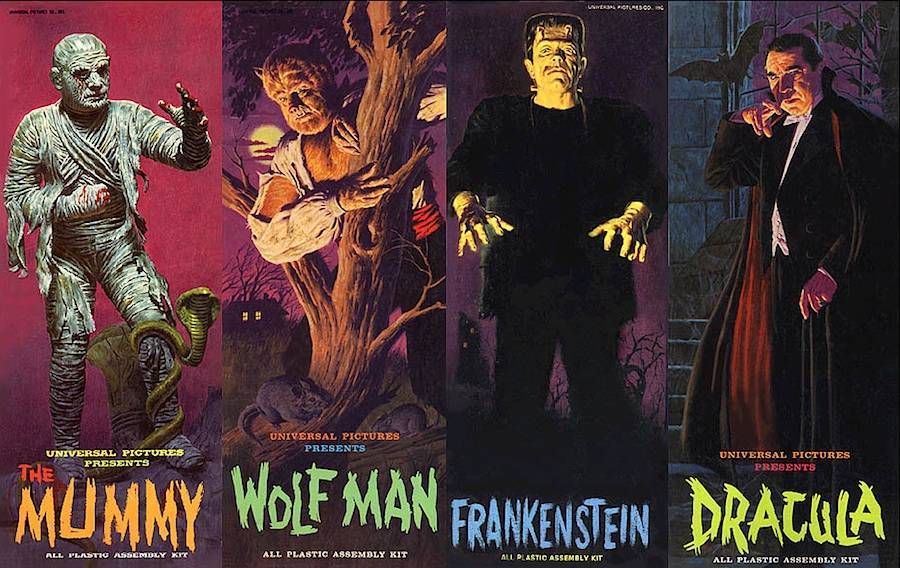 There they were. Beckoning me on. Calling my name. Letting me know they were just waiting on me to come and buy them. It seemed they were in every issue of The Amazing Spider-Man or Batman or Avengers comics, these damned ads for Aurora plastic assembly kits of my favourite Universal Pictures Monsters. Dracula, the Wolfman, the Mummy and, of course, the one I wanted most of all, Boris Karloff as the creature from Frankenstein.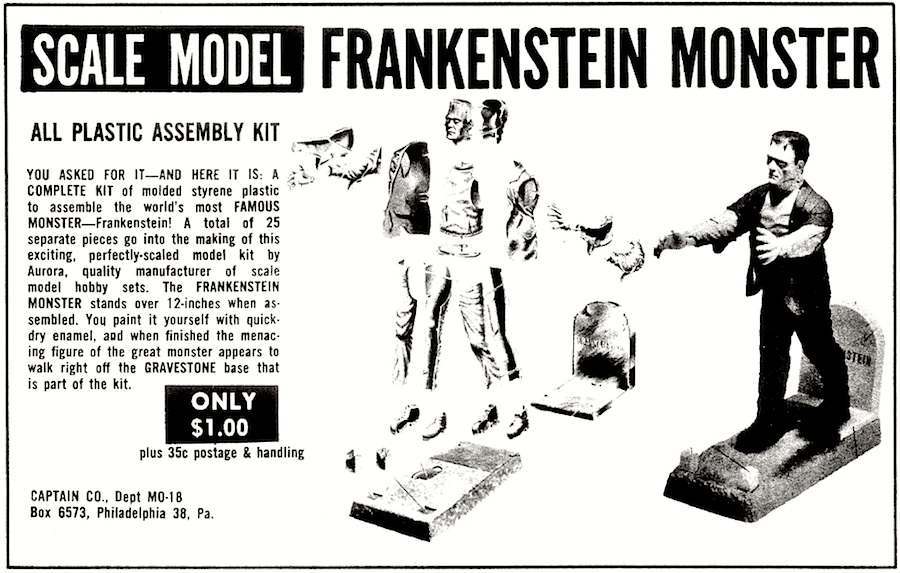 I'd been smitten with horror films since being scared shitless in a "Haunted Corridor of Terror" at some travelling amusement park–where the walls opened and hands came out to grab and pull and nip and chase. It was meant for the over twelves, but being taller than any other seven-year-old I knew, I blagged my way in, and never once regretted the sheer bloody terror of it all.
Then came late night horror movies on our local TV station that screened Boris Karloff in Frankenstein, and The Mummy; Bela Lugosi in Dracula; and Lon Chaney jnr in The Wolfman. There was also Peter Cushing and Christopher Lee in their Draculas and Frankentseins, and Oliver Reed suffering The Curse of the Werewolf, but ye olde black and white movies held their spell as first true love.
Then I saw the ads for the Aurora glow-in-the-dark Frankenstein Monster, and I thought it would probably be like all those other ads for X-Ray Spex or sneezing powder or Sea Monkeys–better looking on paper than in reality. But when I saw the colour ads and the glorious boxes and the expanding list of characters available "to add to your collection" (has there been more tempting words?)–The Creature from the Black Lagoon, The Bride of Frankenstein, Godzilla….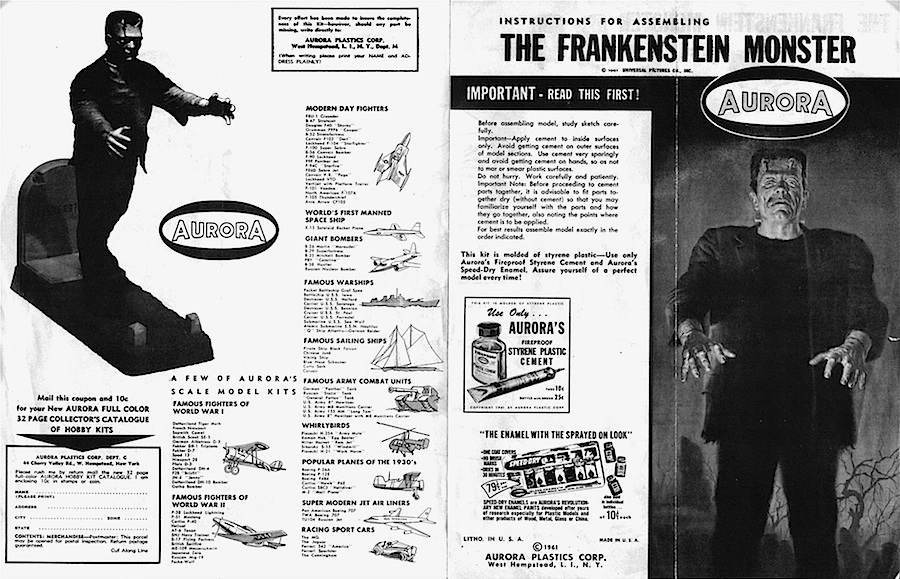 …But I also knew that I'd never get my hands on one of these beauties as Scotland is a hell of a distance from New York for seven-year-old boys, and the pocket money would never last to pay the postage and packaging. So, I contented myself with just looking, and dreaming, and reading about Peter Parker, and watching ye olde films on TV, and reading the books they were based on, which turned into a greater love.
Time passes–and now when I see these assembly instruction leaflets for Frankenstein's Monster, Dracula, the Wolfman, and the Mummy, it all makes me think that now I'm older and can afford it, it's maybe time to go and buy one….