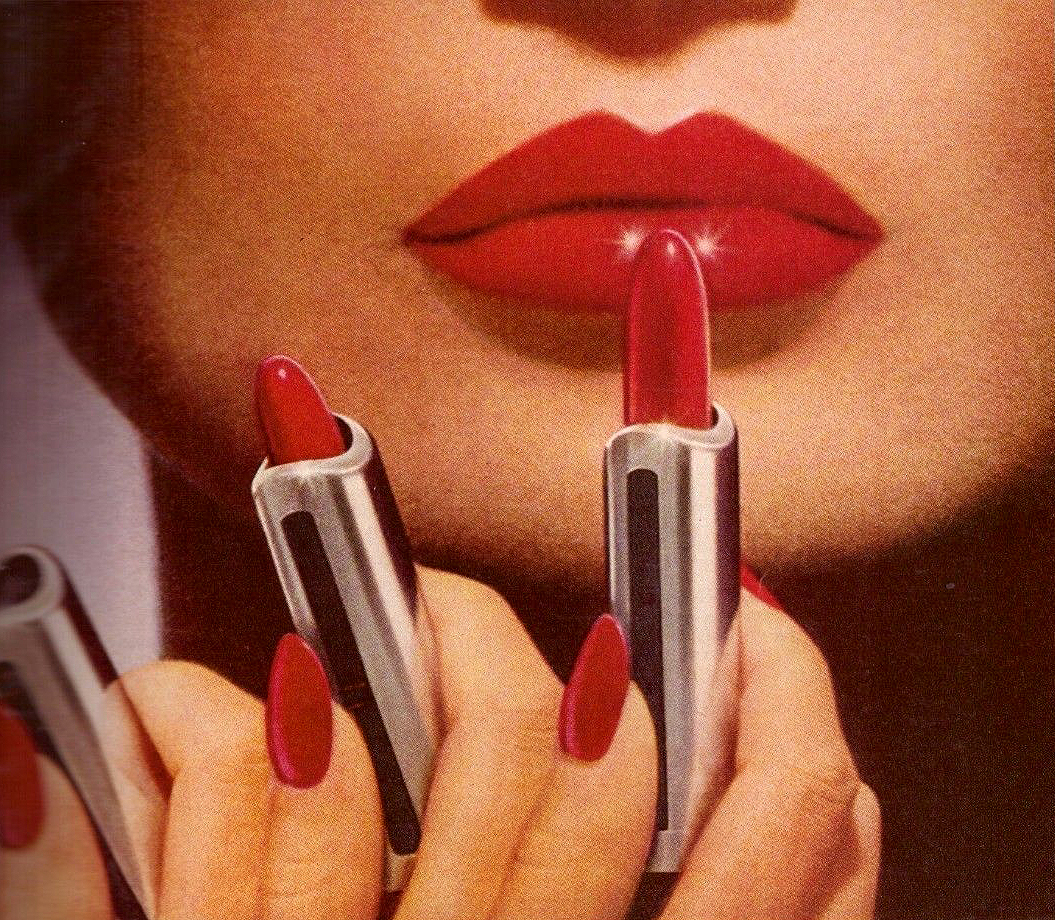 Let me breakdown the history of lipstick fashion for you in a quick timeline:
1950s to early 1960s: Classic red matte look; bold and elegant
Mid-1960s to Late 1960s: Youth culture takes over: gone are the bold reds – now it's pearl pink, coral – even white.
Late 1960s to mid-1980s: BAM! The high-gloss look is IN.  And it's back to the bold colors of old.  Shiny, dewy bright pinks and reds rule the day.  This is the Golden Age of Lip Gloss.
It's this last phase that we're looking at today – when the "new generation" embraced the wet look and went with wild, bold colors.  It was an exciting time for lips.  Let's have a look…
THE SIXTIES: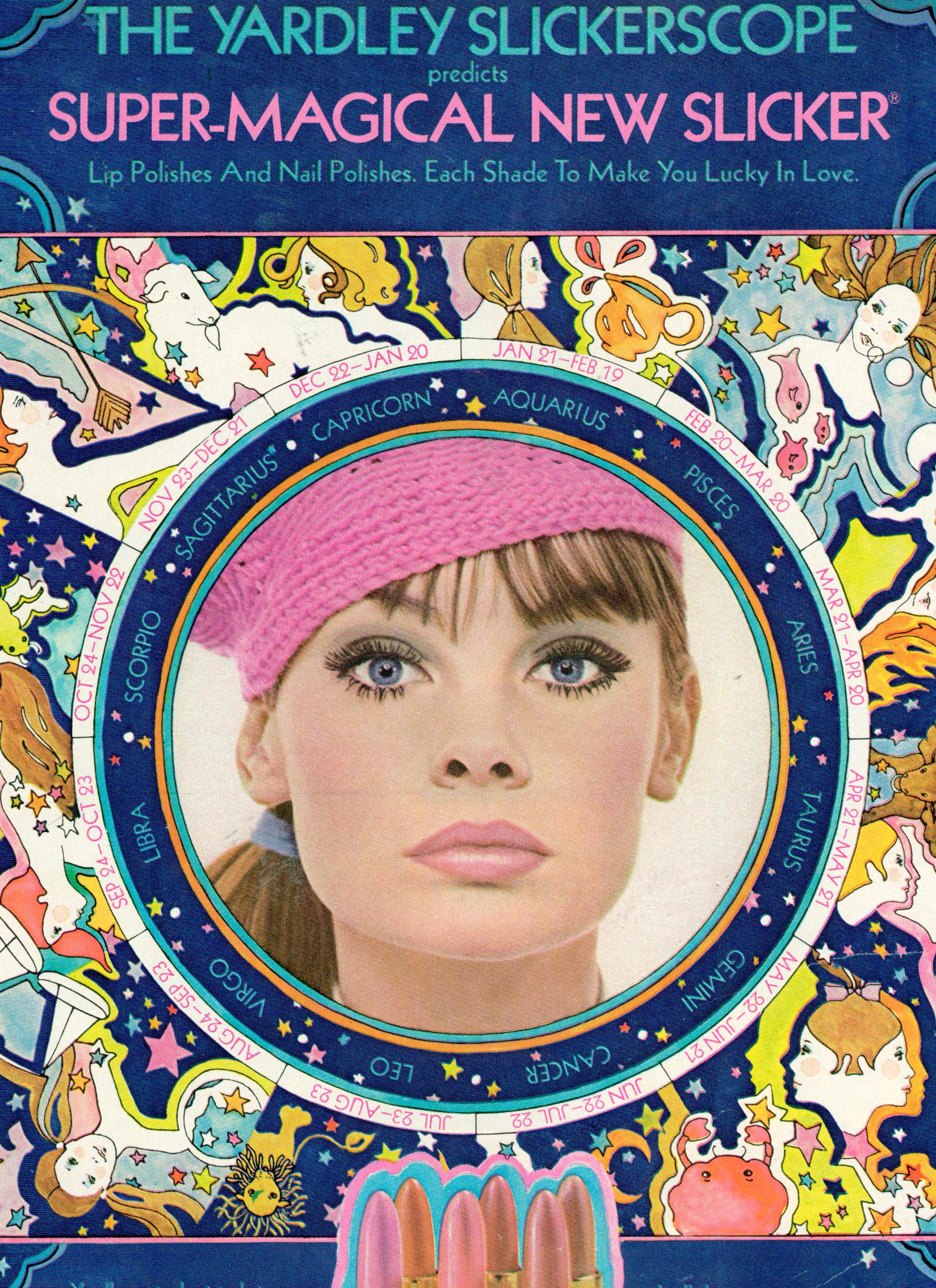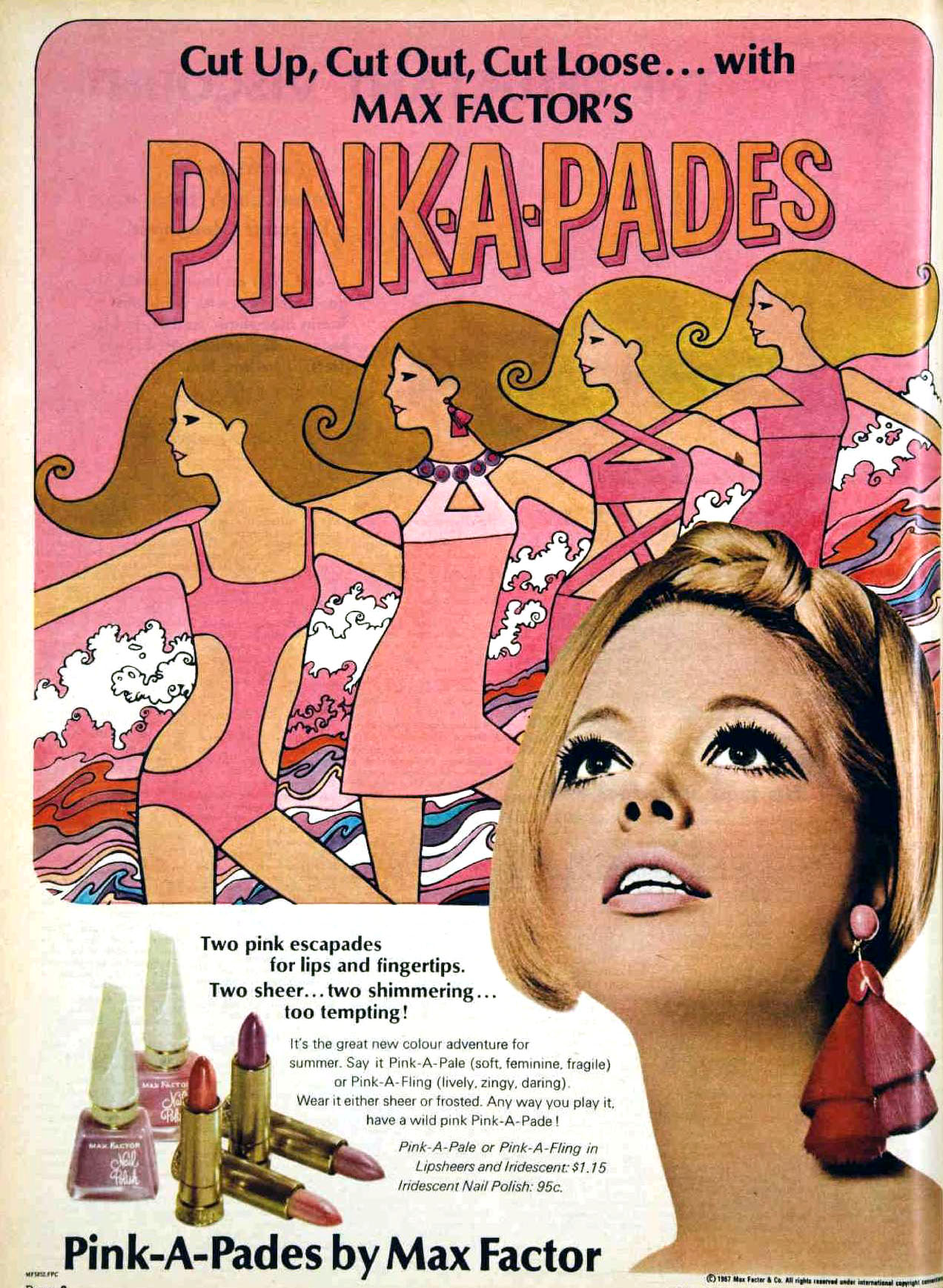 It's 1968 – you can wear it "sheer or frosted…. any way you play it, have a wild pink Pink-A-Pade!"
Yes, in just a few short years, lipstick had gone from conservative to "They're almost incandescent!"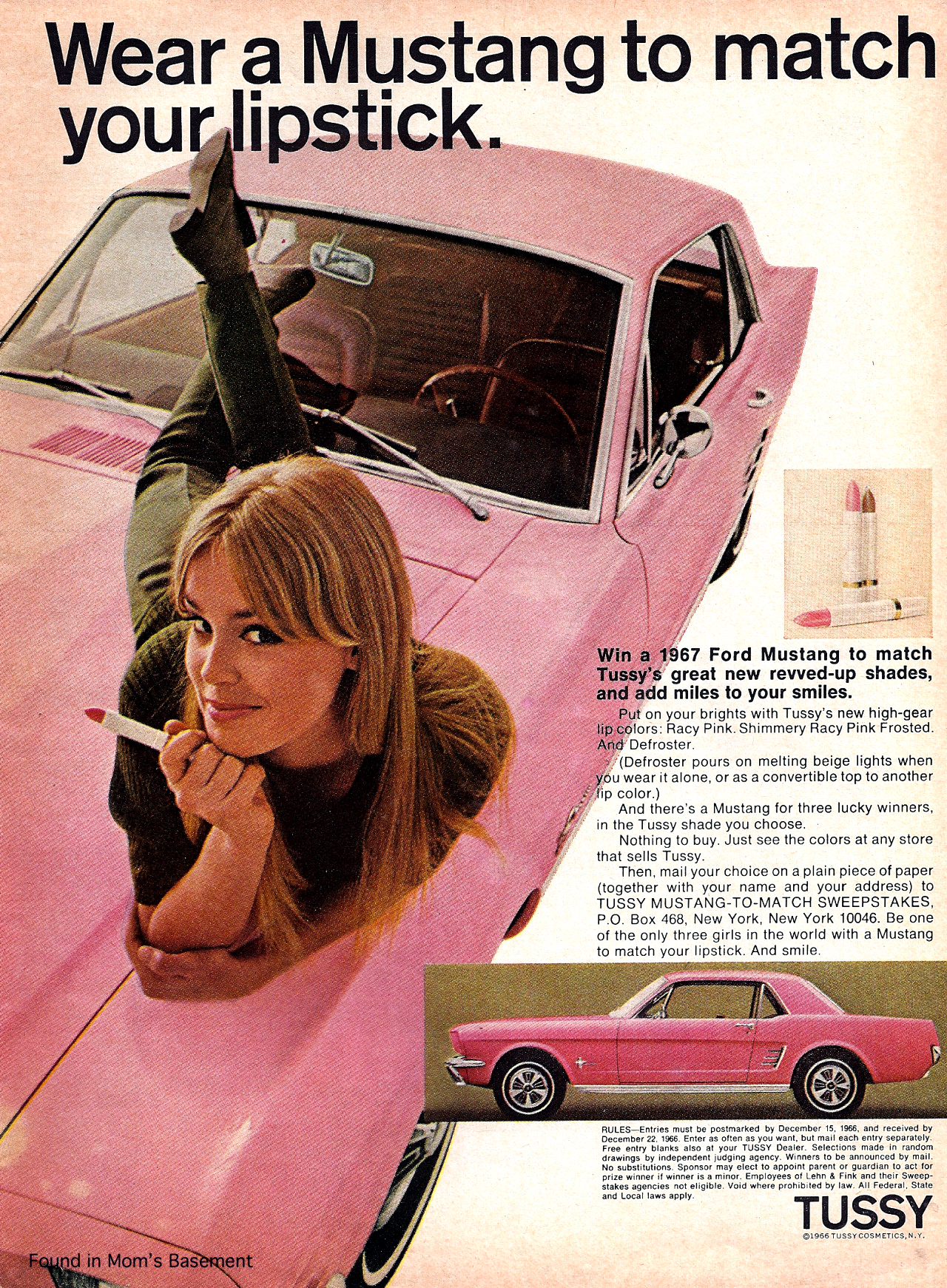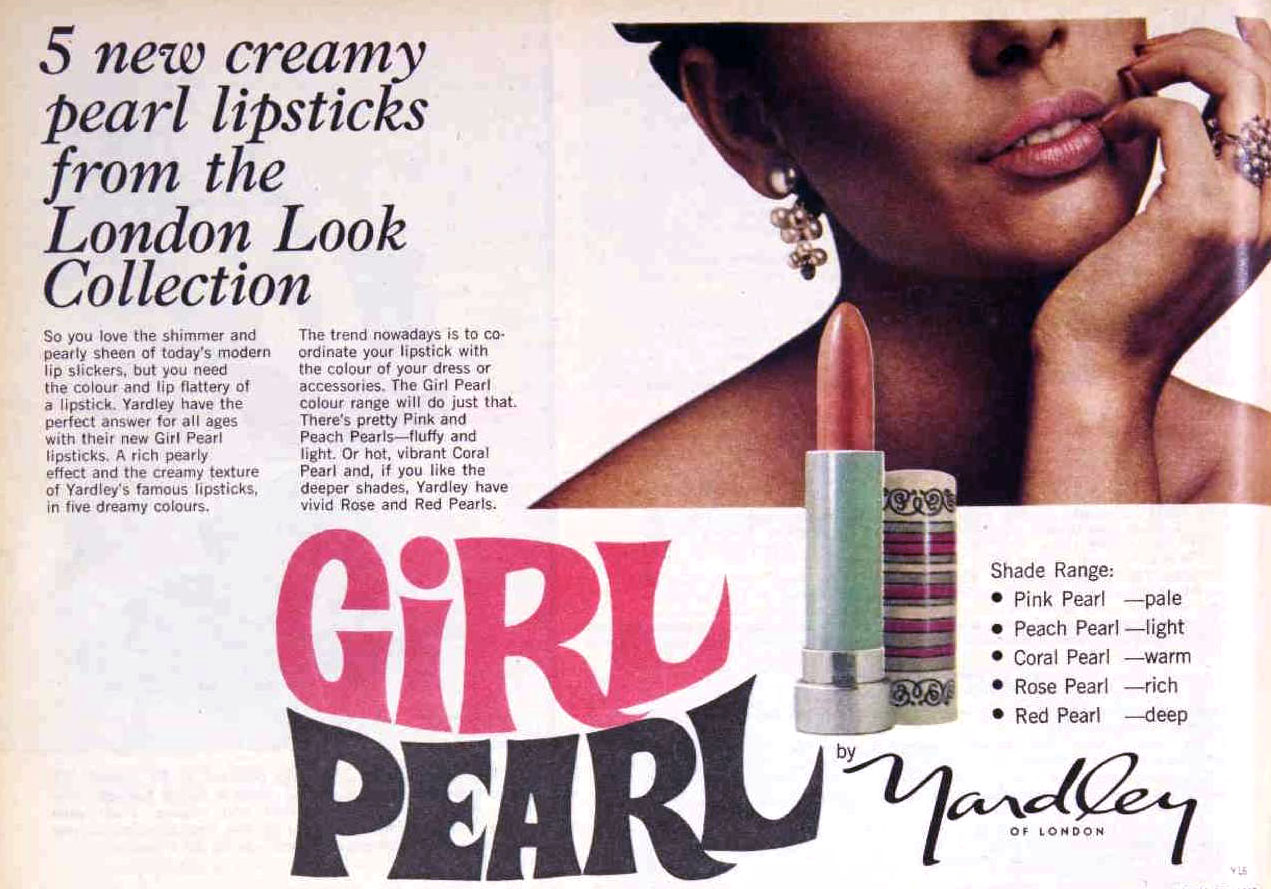 "So you love the shimmer and sheen of today's modern lip slickers, but you need the color and lip flattery of lip stick."  Yardley has the answer: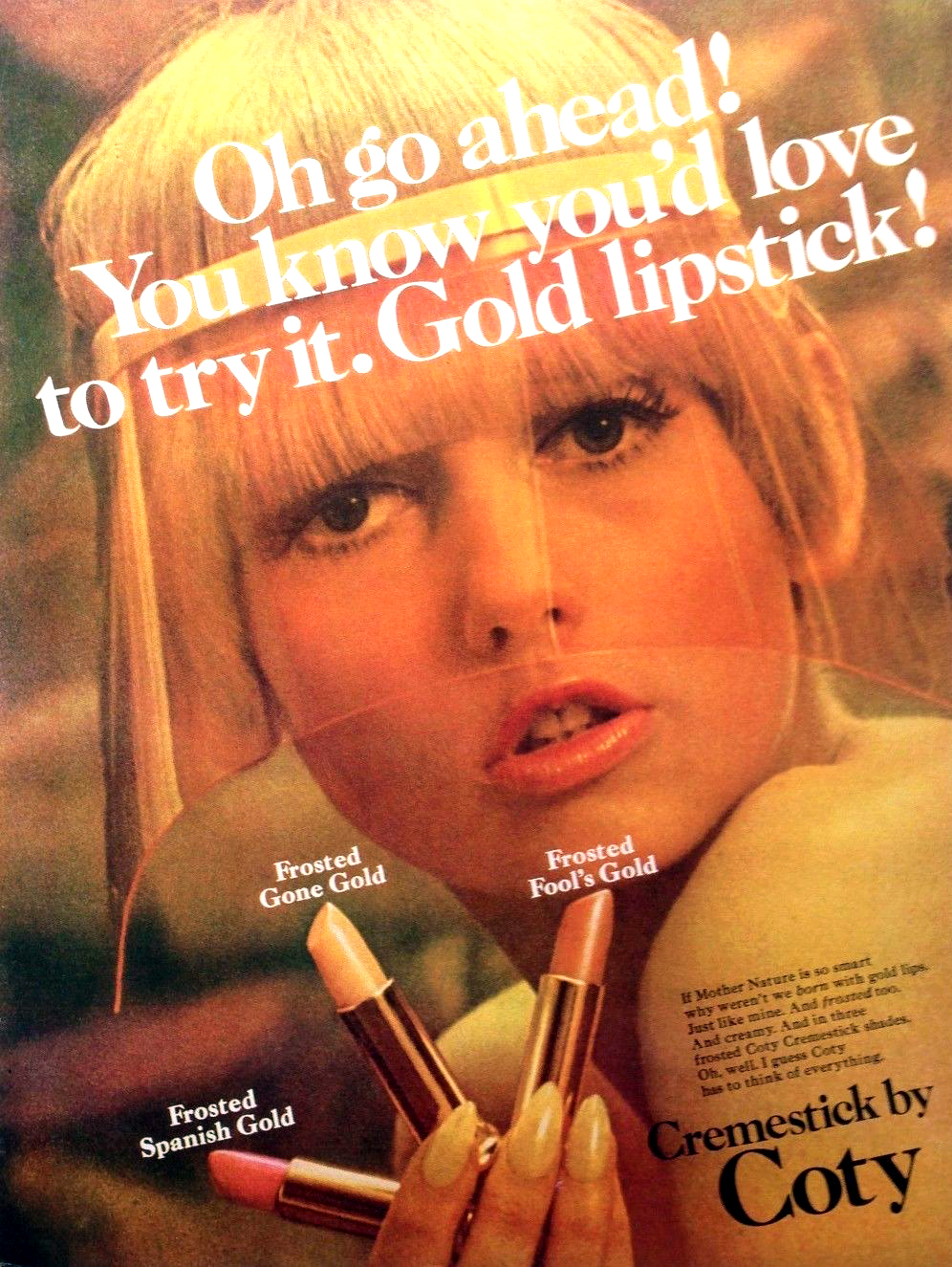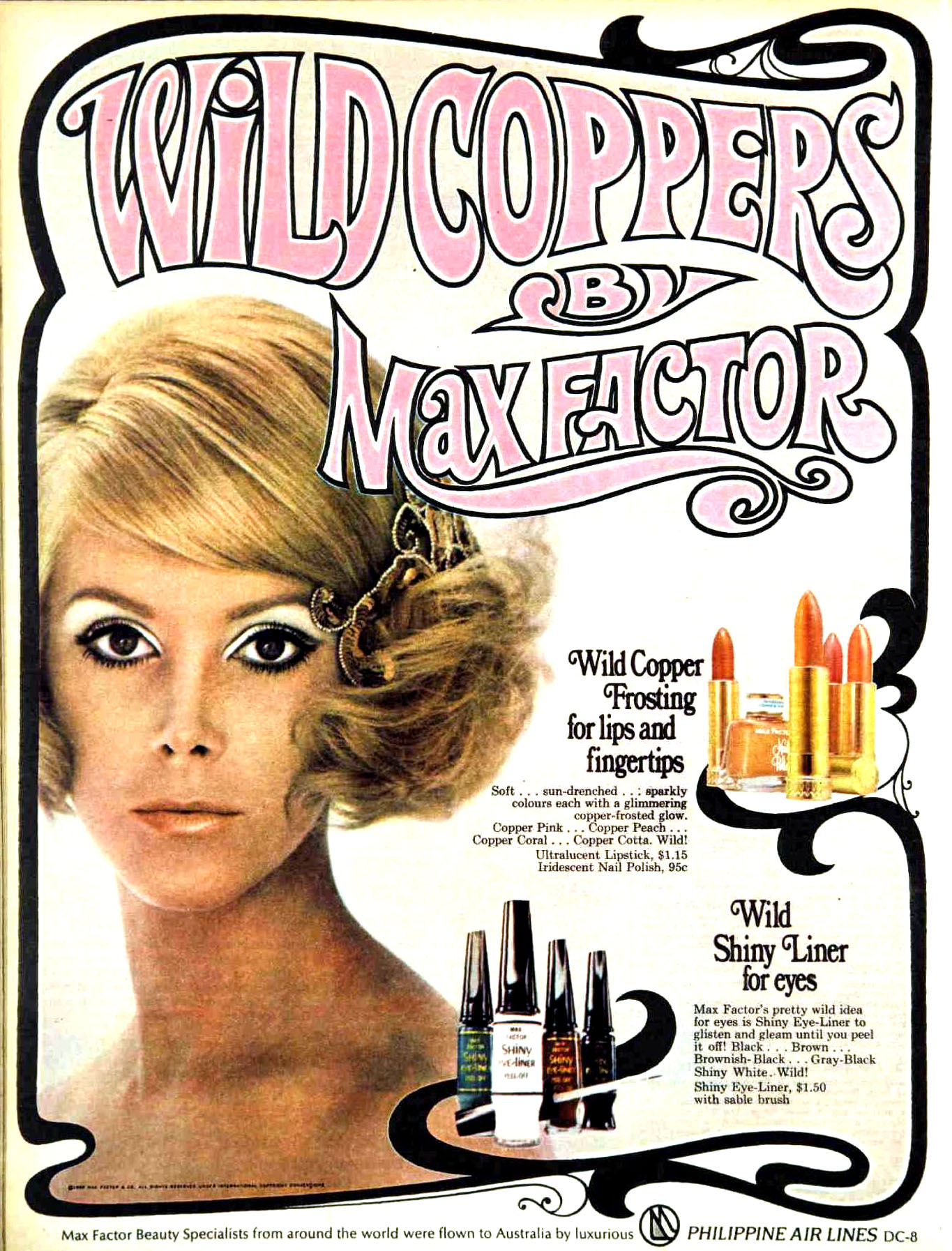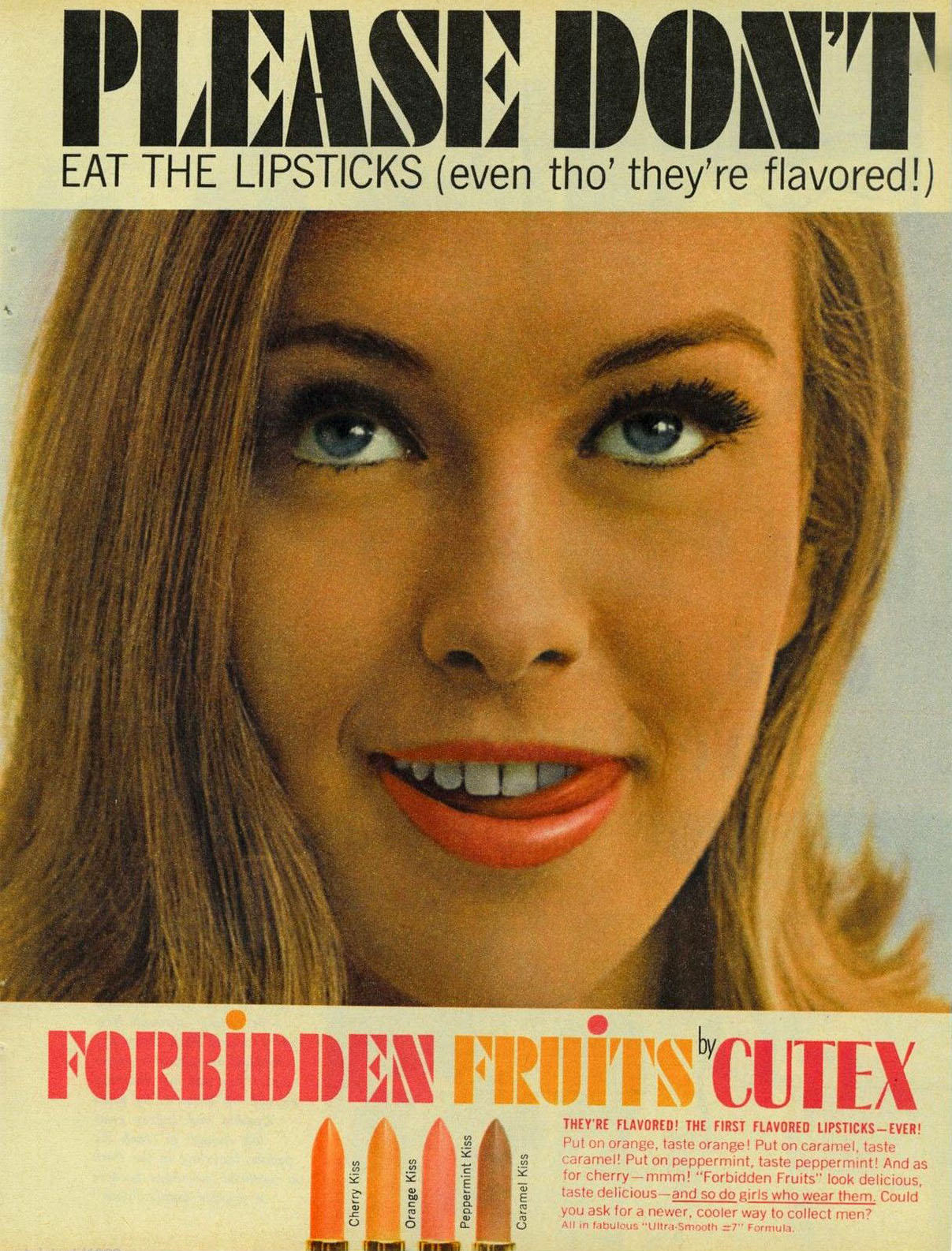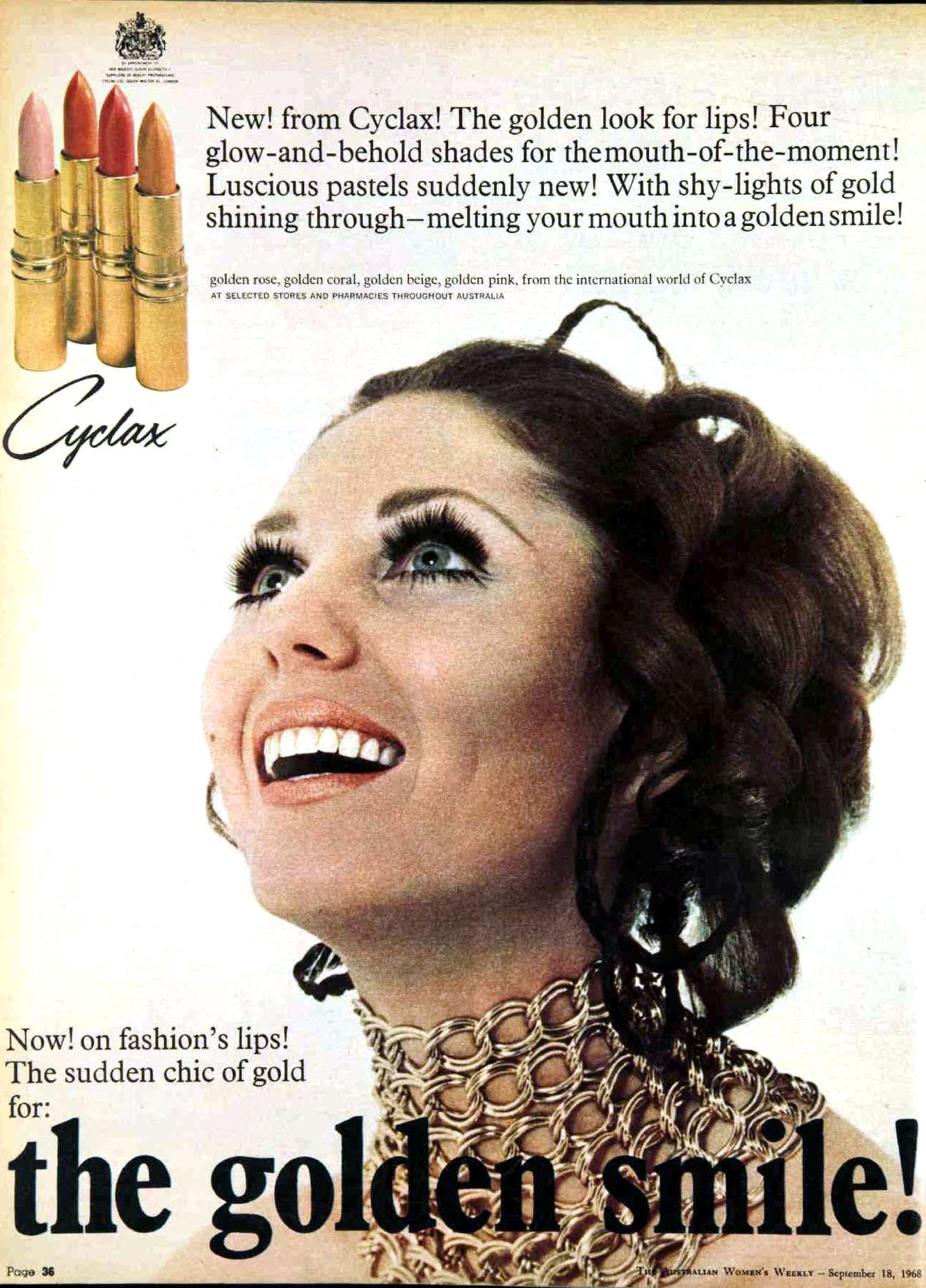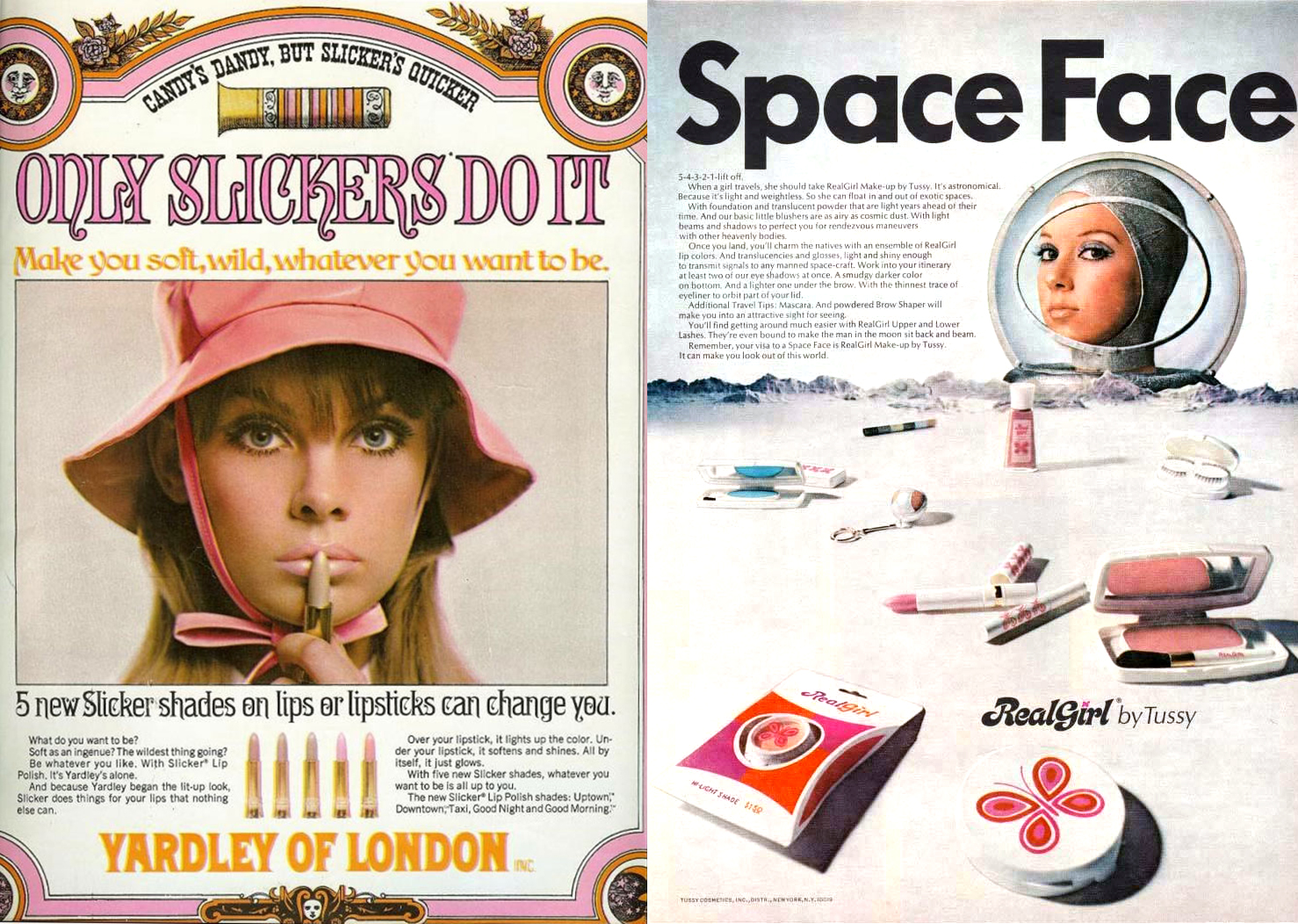 THE SEVENTIES: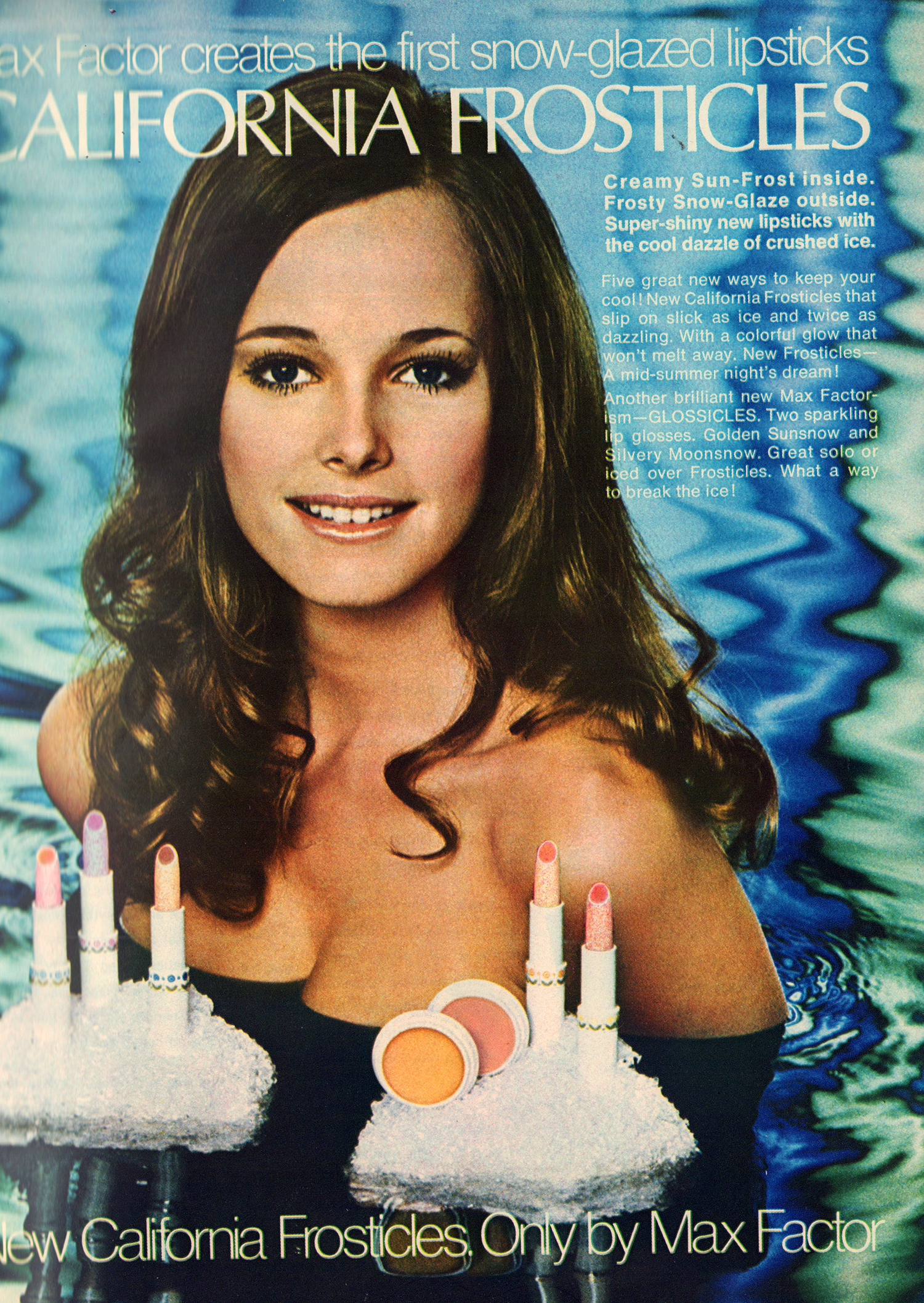 Ingenue magazine – July 1970
It's 1970 and the glossy look is in effect.  Among the first lipsticks to put forth the gloss were Revlon's Moon Drops and Max Factor's UltraLucent Creme; both introduced in the late 1960s.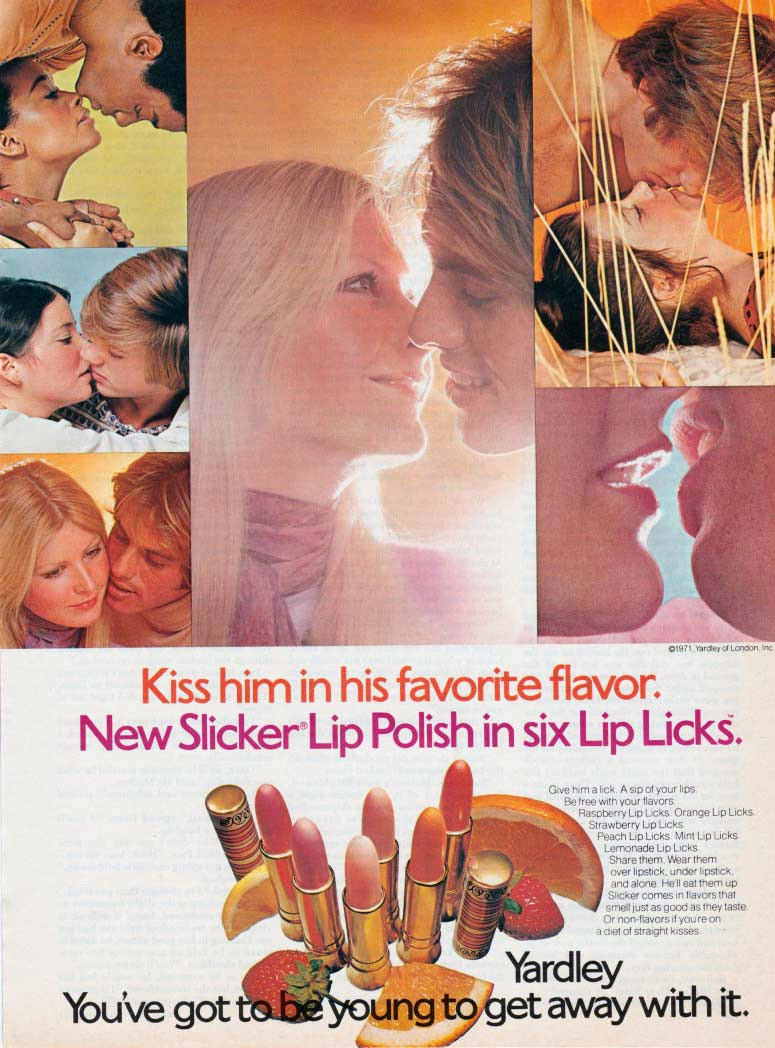 This advertisement from 1971 kicks things up a notch with "Give him a lick.  A sip of your lips."  The sexual revolution had finally hit cosmetic advertising.
The next commercial is just downright creepy…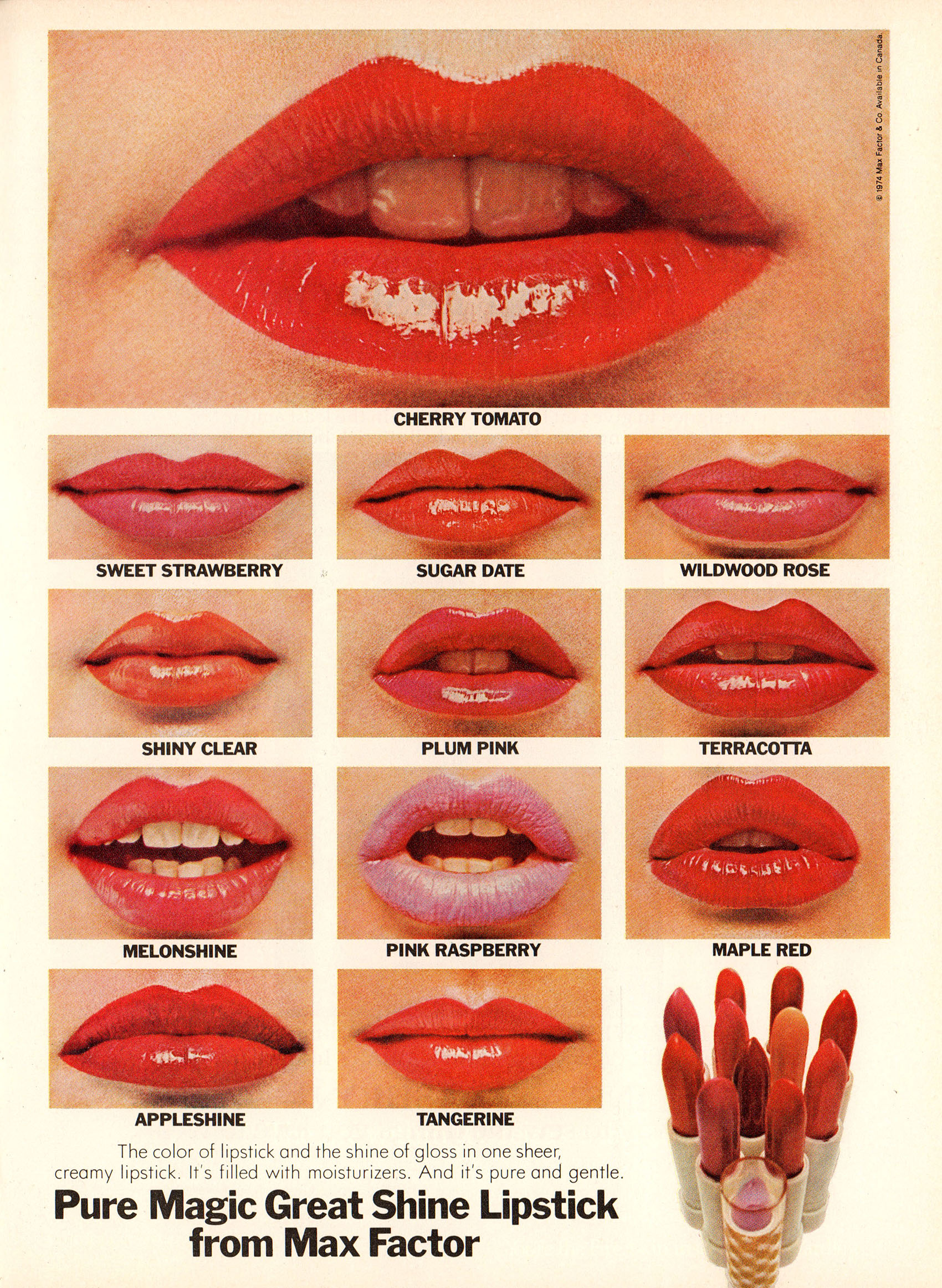 Check out all these amazing colors.  By the end of the 1980s, these bold colors and ultra-wet looks went out in favor of the matte again.  But for over a decade we were able to enjoy the sparkling disco-friendly  "Melonshine".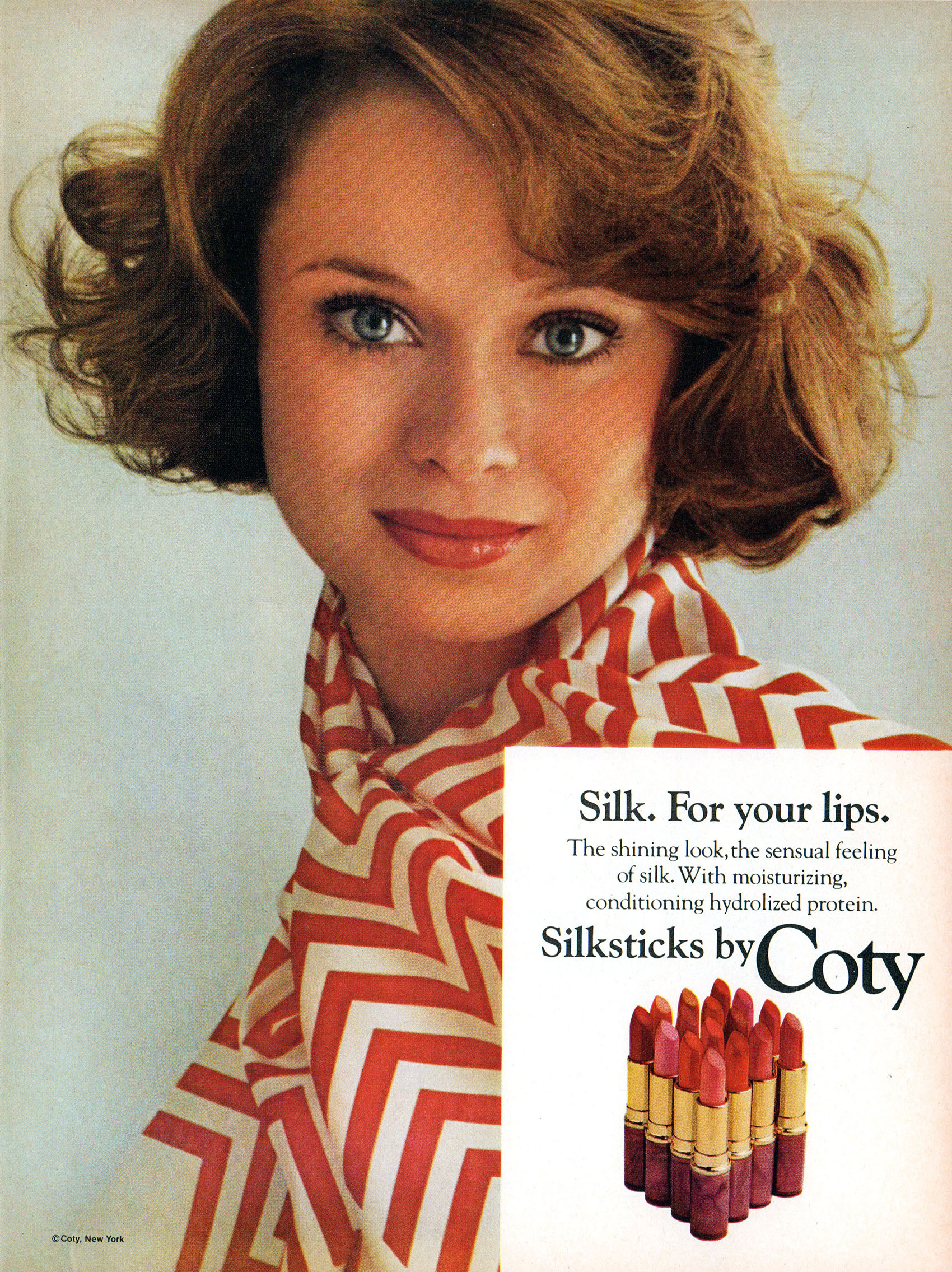 "The Shining Look" – now in our new "Redrum" color.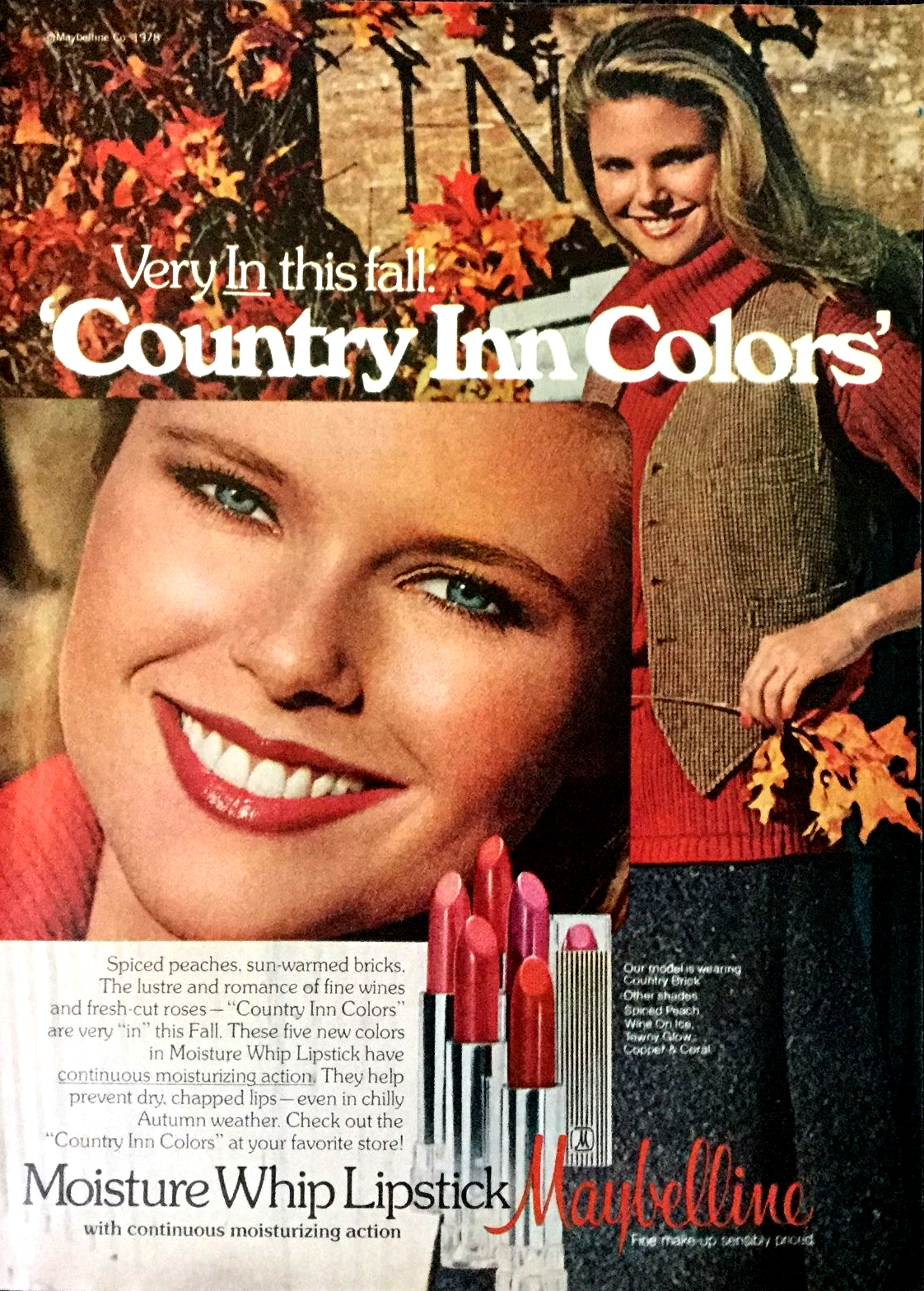 1978 – perhaps the pinnacle year for the wet-look; the high water mark for glossy lipstick.  Here we have "Moisture Whip" lipstick for the Fall.
Also from 1978…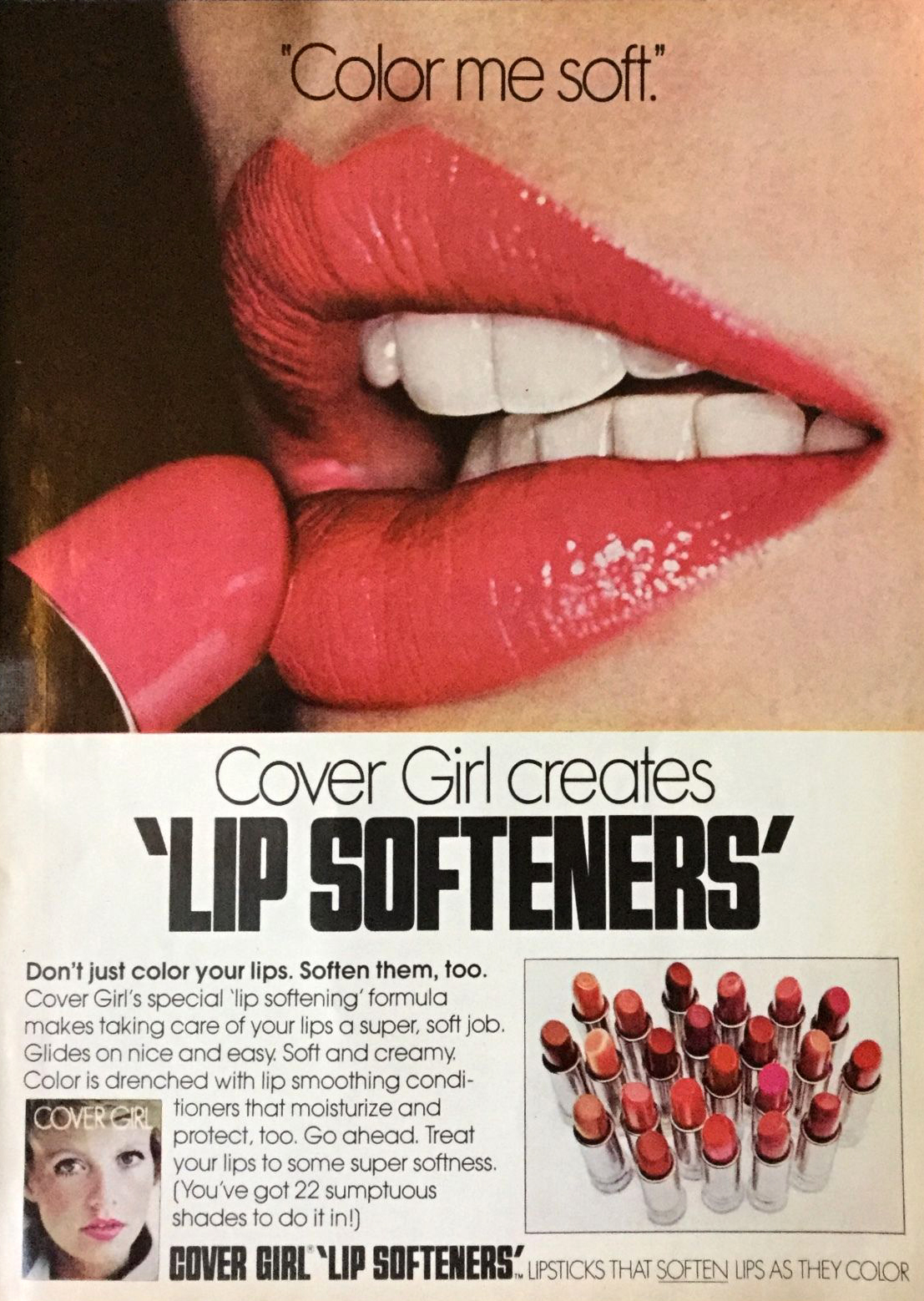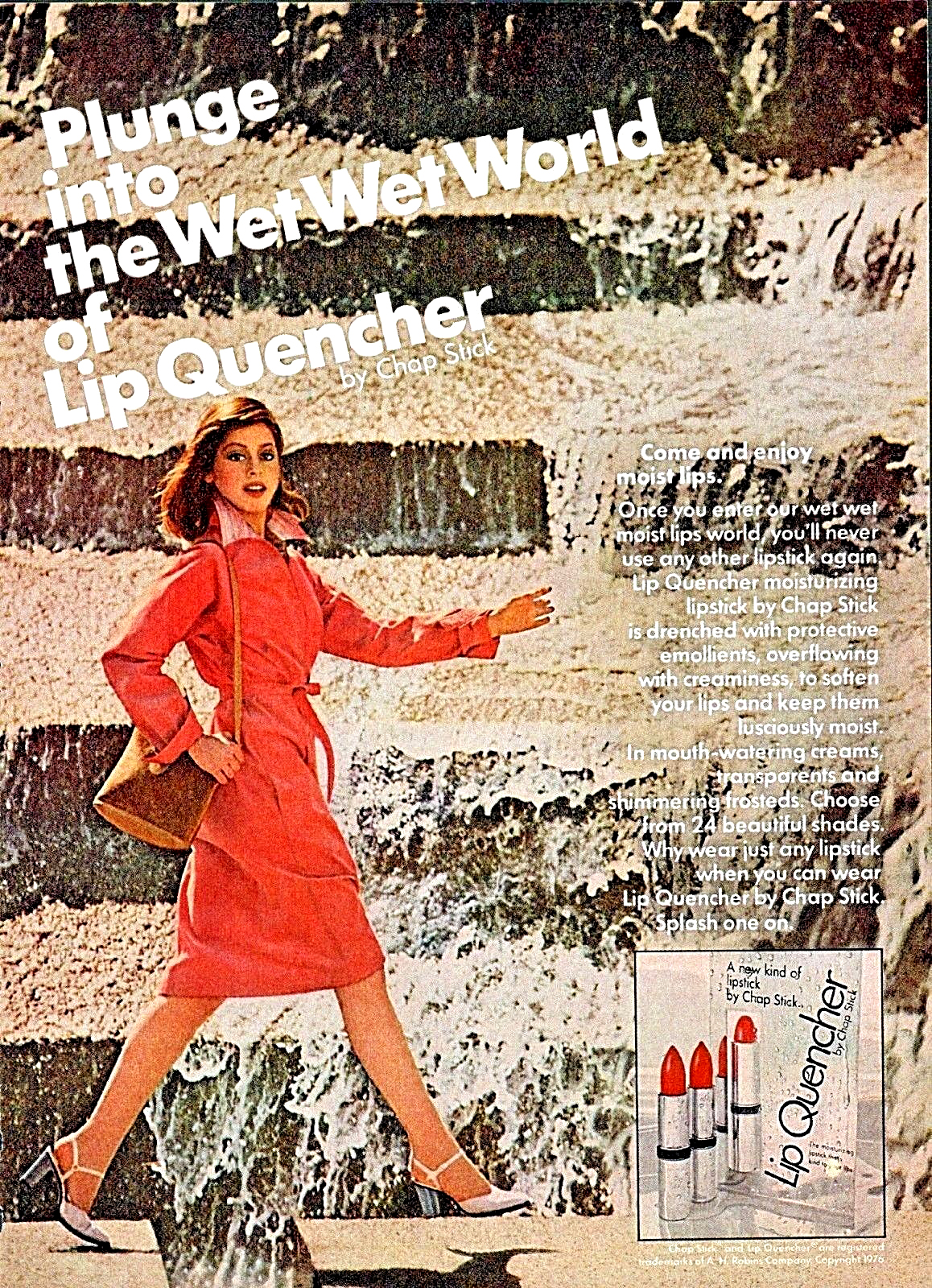 I don't think I need to underline the fact that the "wet look" was big…  lipstick advertising during this period was indeed a "wet, wet world".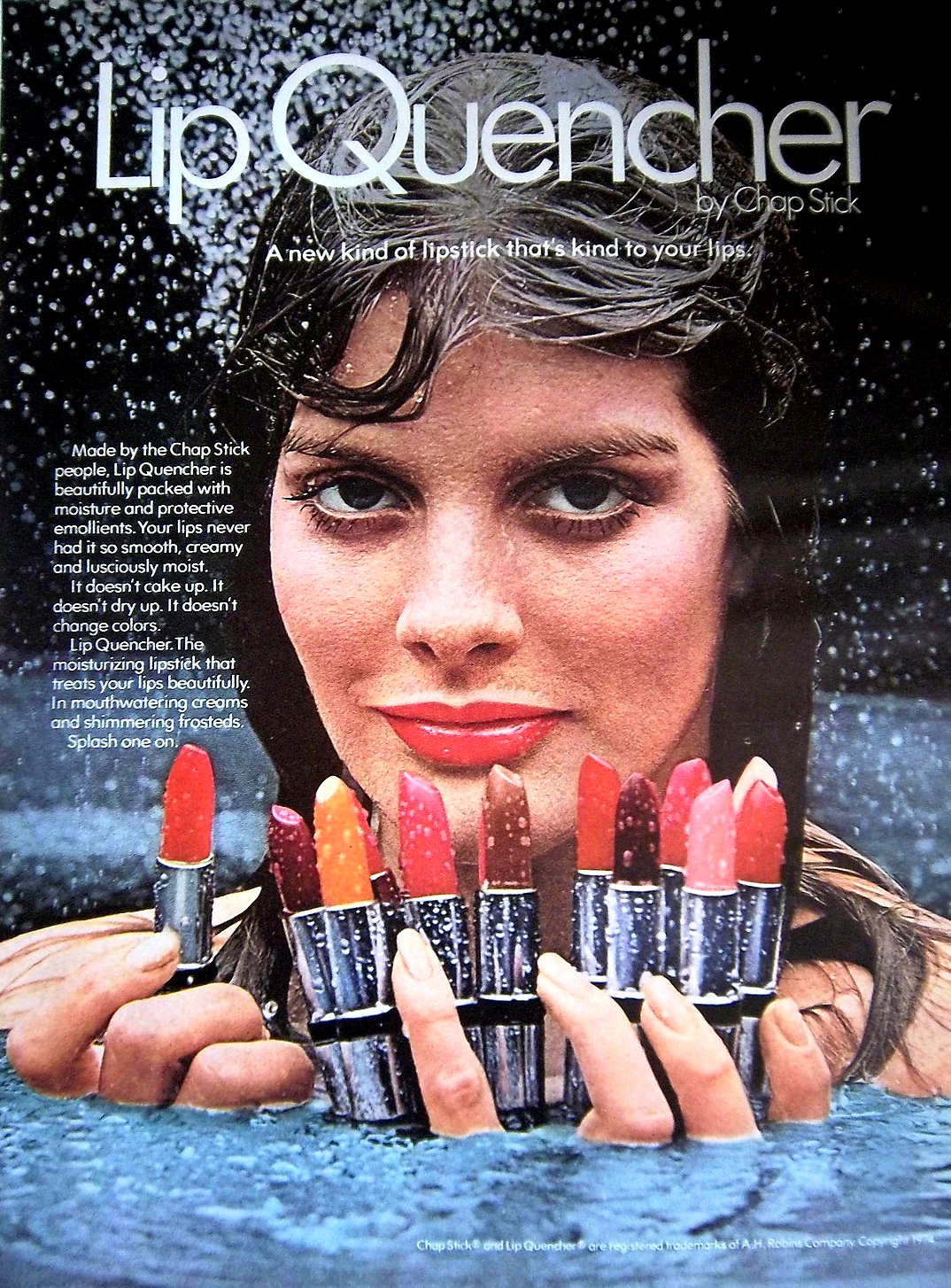 THE EIGHTIES:
It's the mid-80s, and girls are still down with the gloss…. but I'm a bit wary about that "Kissing Potion"… sounds like it may have something beyond just "strawberry flavor" in its ingredients.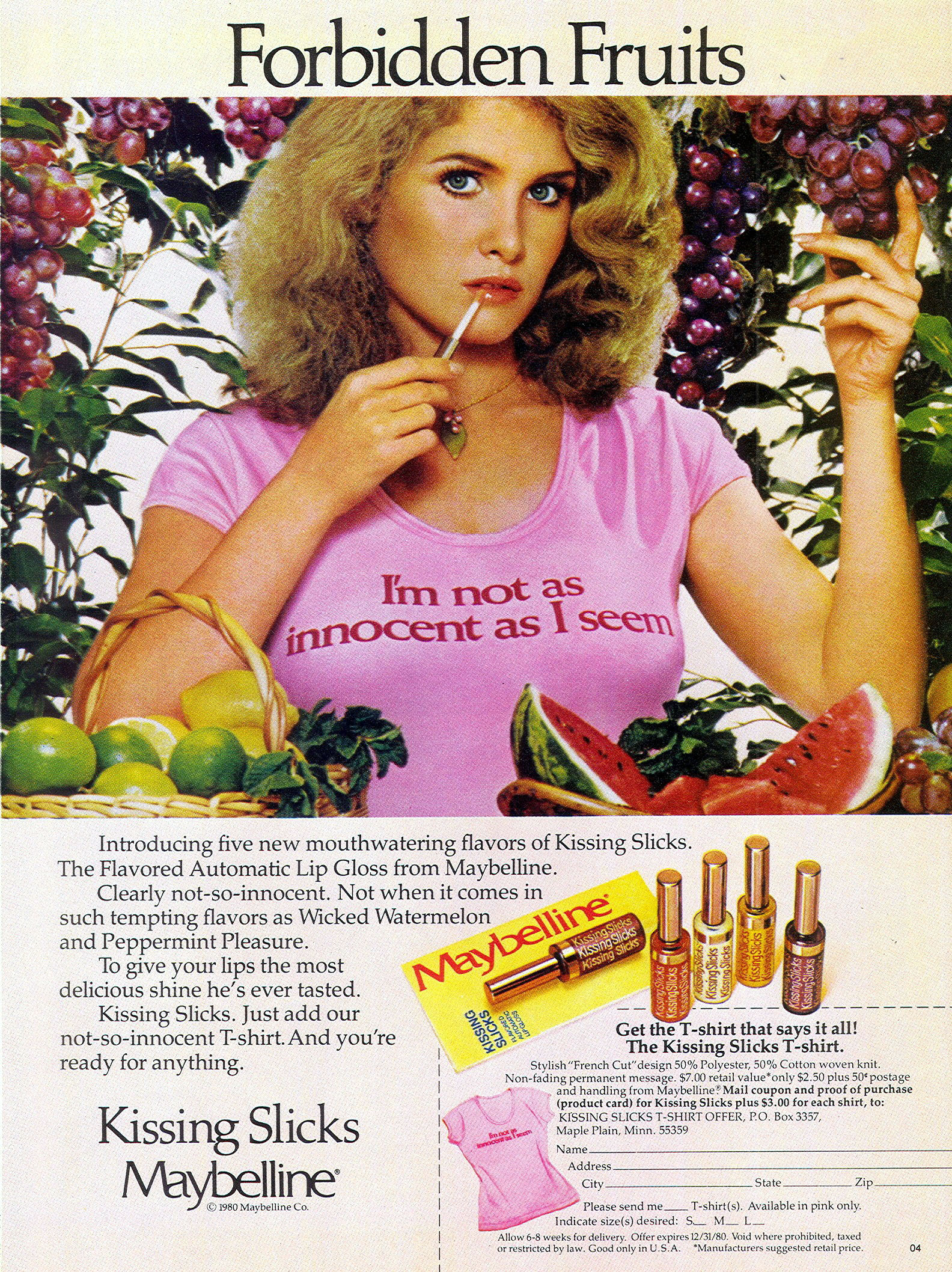 "Wicked Watermelon", "Peppermint Pleasure" were nice flavors, but my personal favorite was "Promiscuous Plum".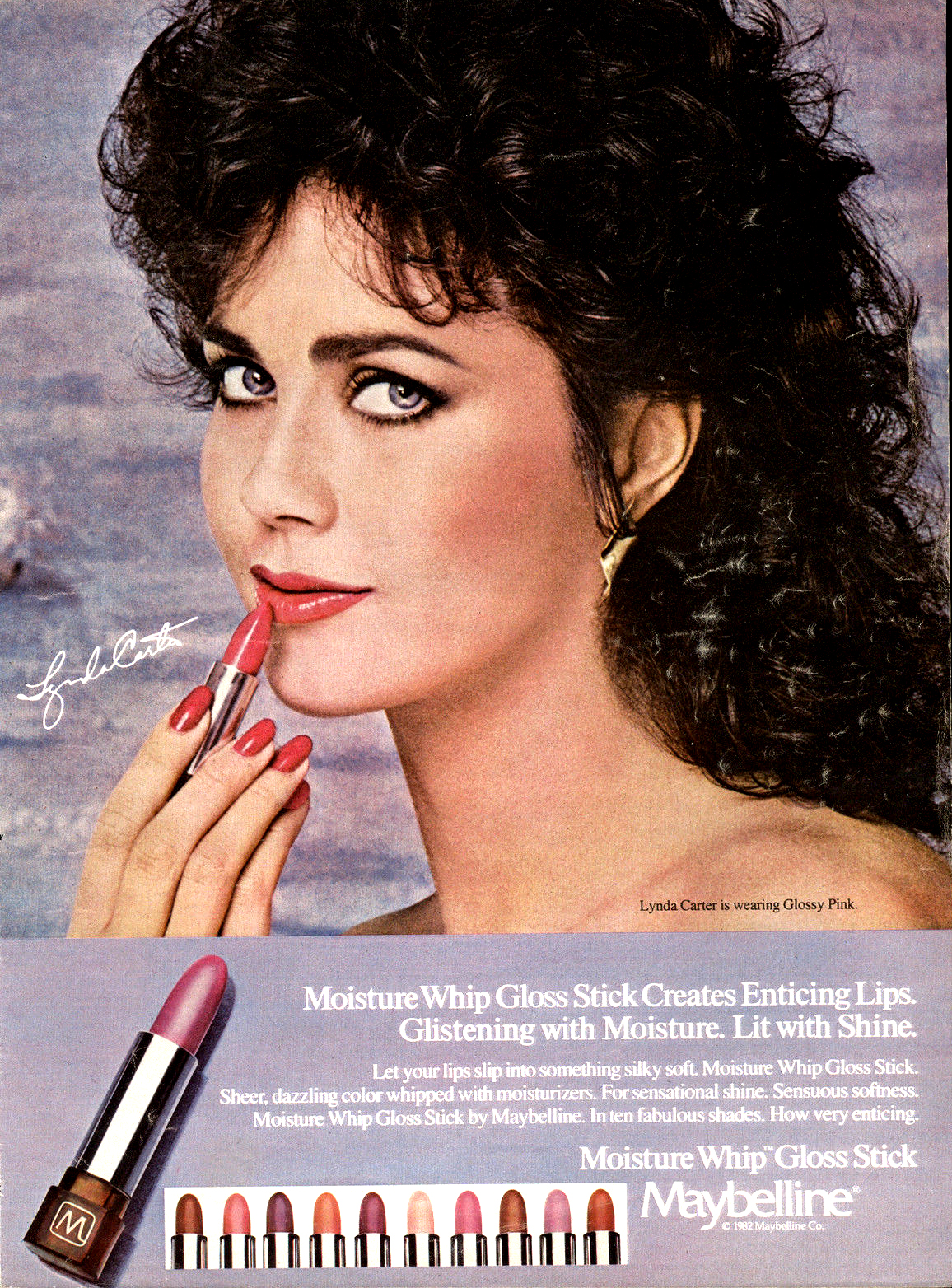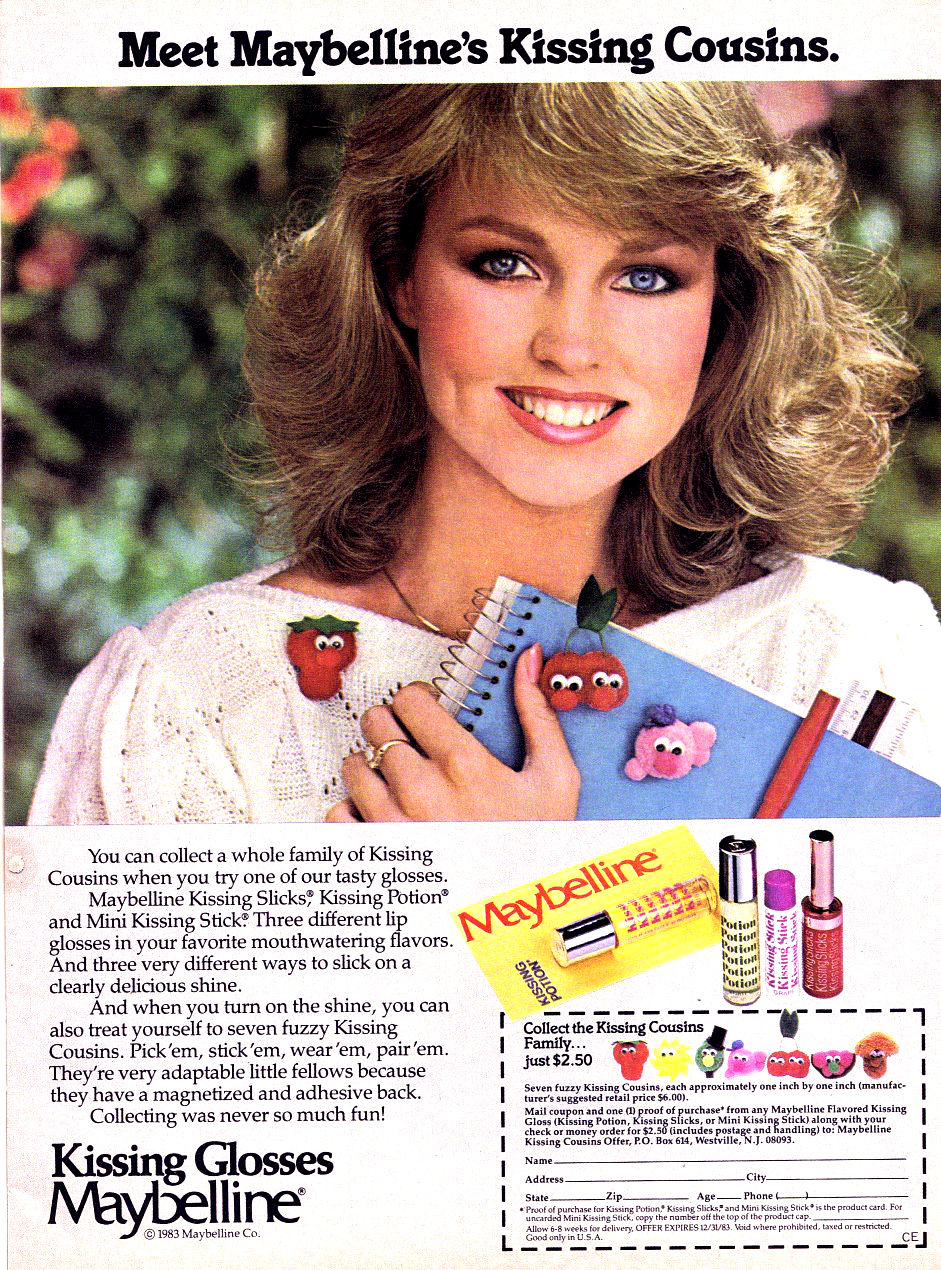 But all this sparkling color and wet, shimmering lip splendor was, like any fashion trend, destined to fade away.  The late eighties brought back the matte look and the zany colors were soon suppressed in favor of more conservative tones.  Will the glossy look return?  Well, currently the muted gloss is making a comeback – but whether we'll ever see the deliciously wet ultra-high-gloss again remains to be seen.