Let's have a look at a few old TV Guide schedules and see what was on the boob tube around Halloween way back when.  So, get comfortable in your La-Z-Boy recliner, grab some beer and popcorn – scary late-night movies, festive specials and more await…
October 31, 1984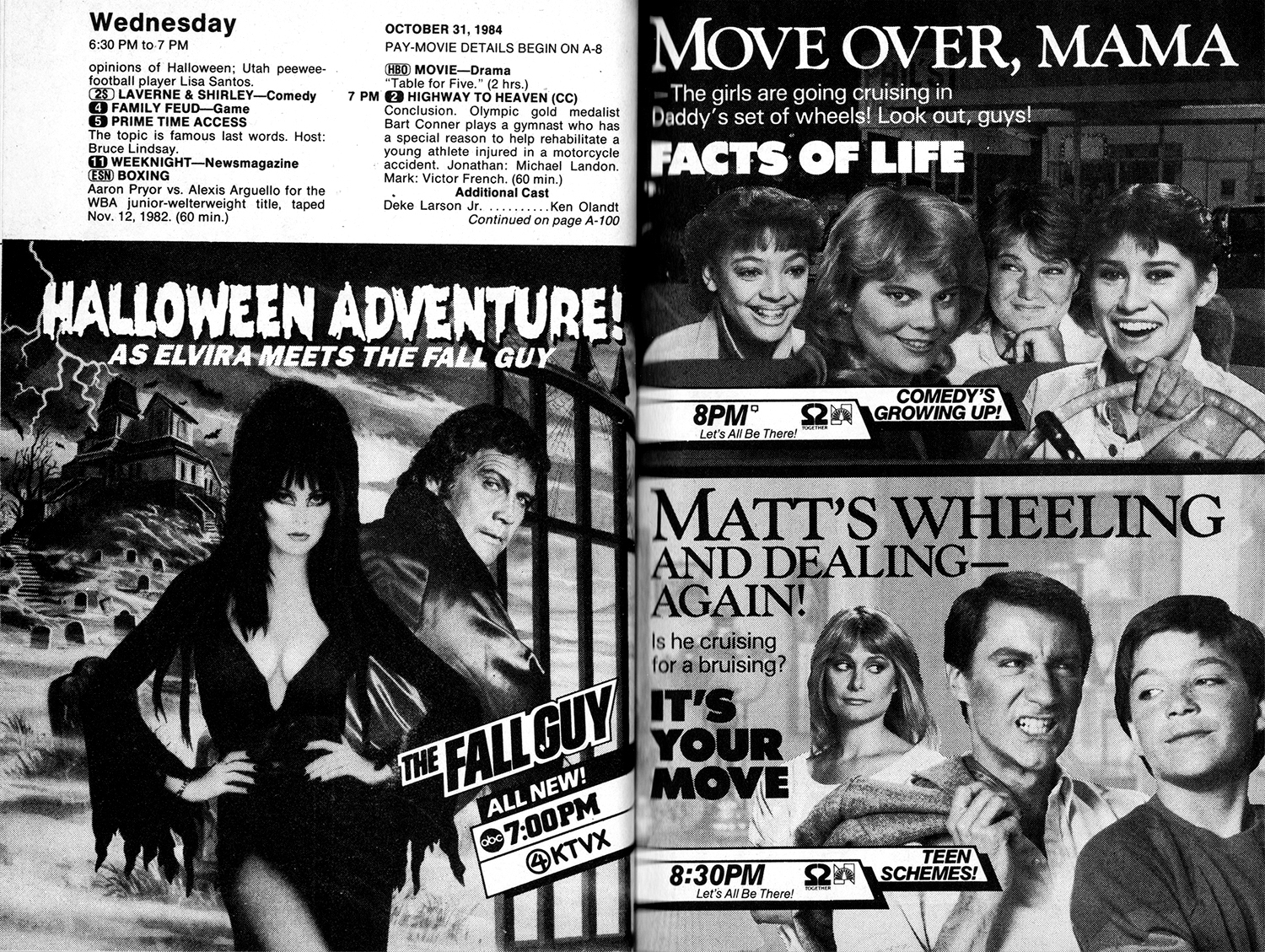 Looks we have the mother of all team-ups to look forward to tonight – Elvira and 6 Million Dollar Man.  Yeah, I know – he's The Fall Guy now, but he'll always be Steve Austin to me.
Also, we have one of the most underrated, under-appreciated comedies of the eighties: It's Your Move, starring a young Jason Bateman.  It was genuinely funny, and could have become a classic had it lasted longer.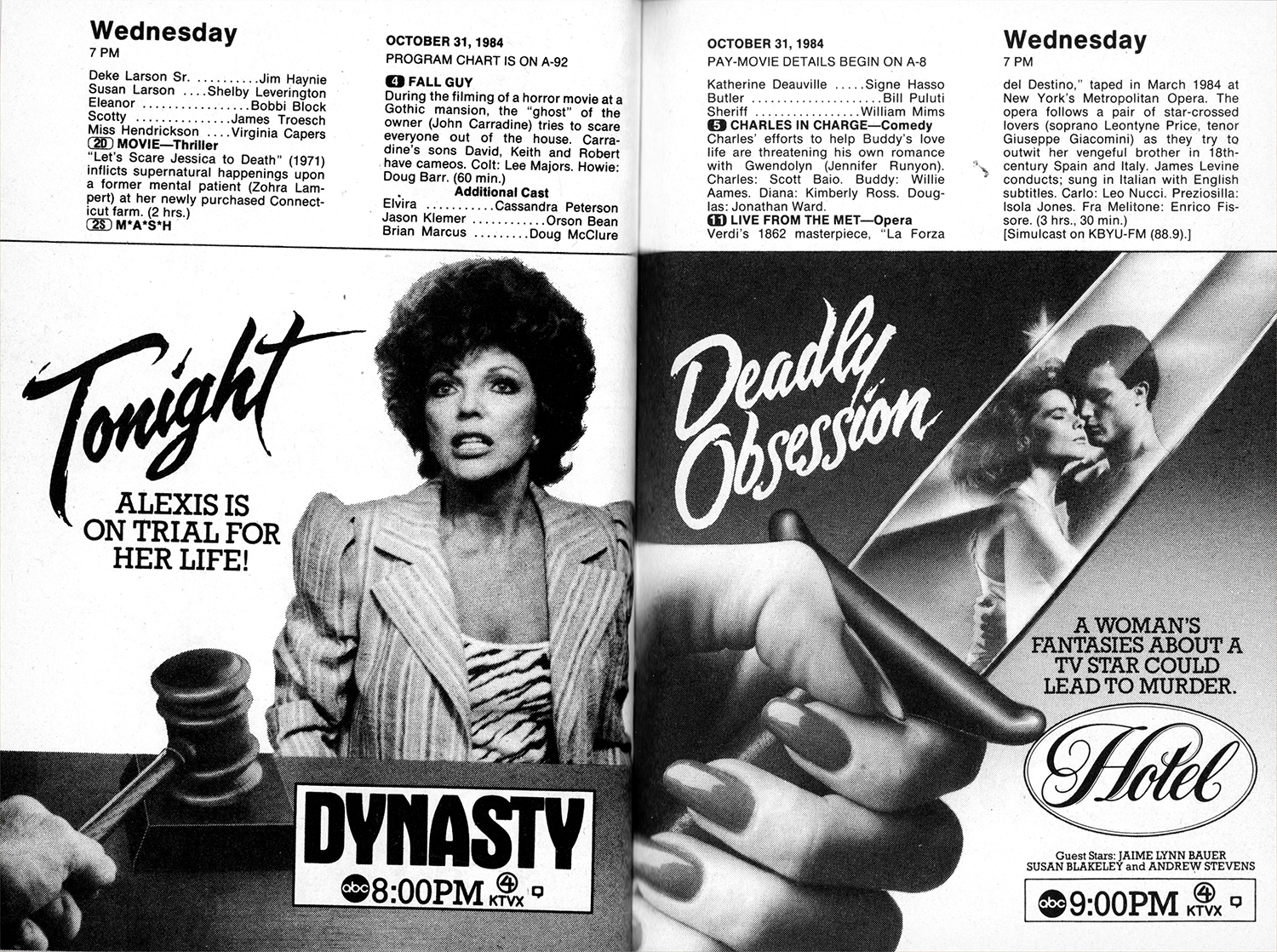 I love – repeat LOVE – that they're playing Let's Scare Jessica to Death.  For some reason, this very subtle low budget horror flick from the 1970s was played over and over again whenever the networks wanted to play a horror movie.  It was like Gilligan's Island or The Brady Bunch of the horror genre – always and forever in heavy rotation.  I suppose it was because it didn't have anything truly offensive – no boobs or blood to be edited out – so it was easy to just throw into a lineup.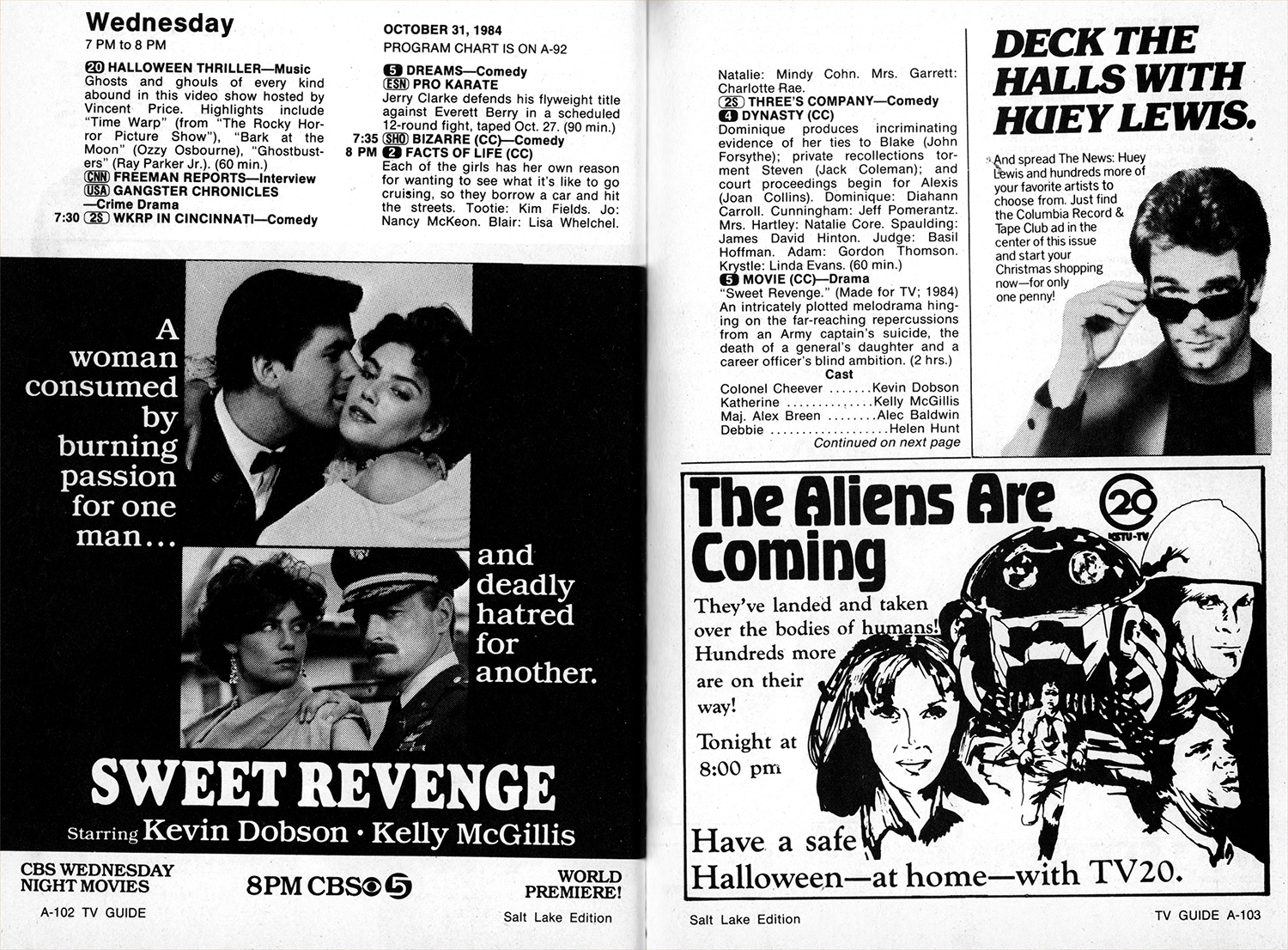 "Halloween Thriller" features Ozzy Osbourne doing "Bark at the Moon", The Rocky Horror Picture Show, Vincent Price as host, and Ray Parker Jr. performing the Ghostbusters theme… sounds absolutely amazing.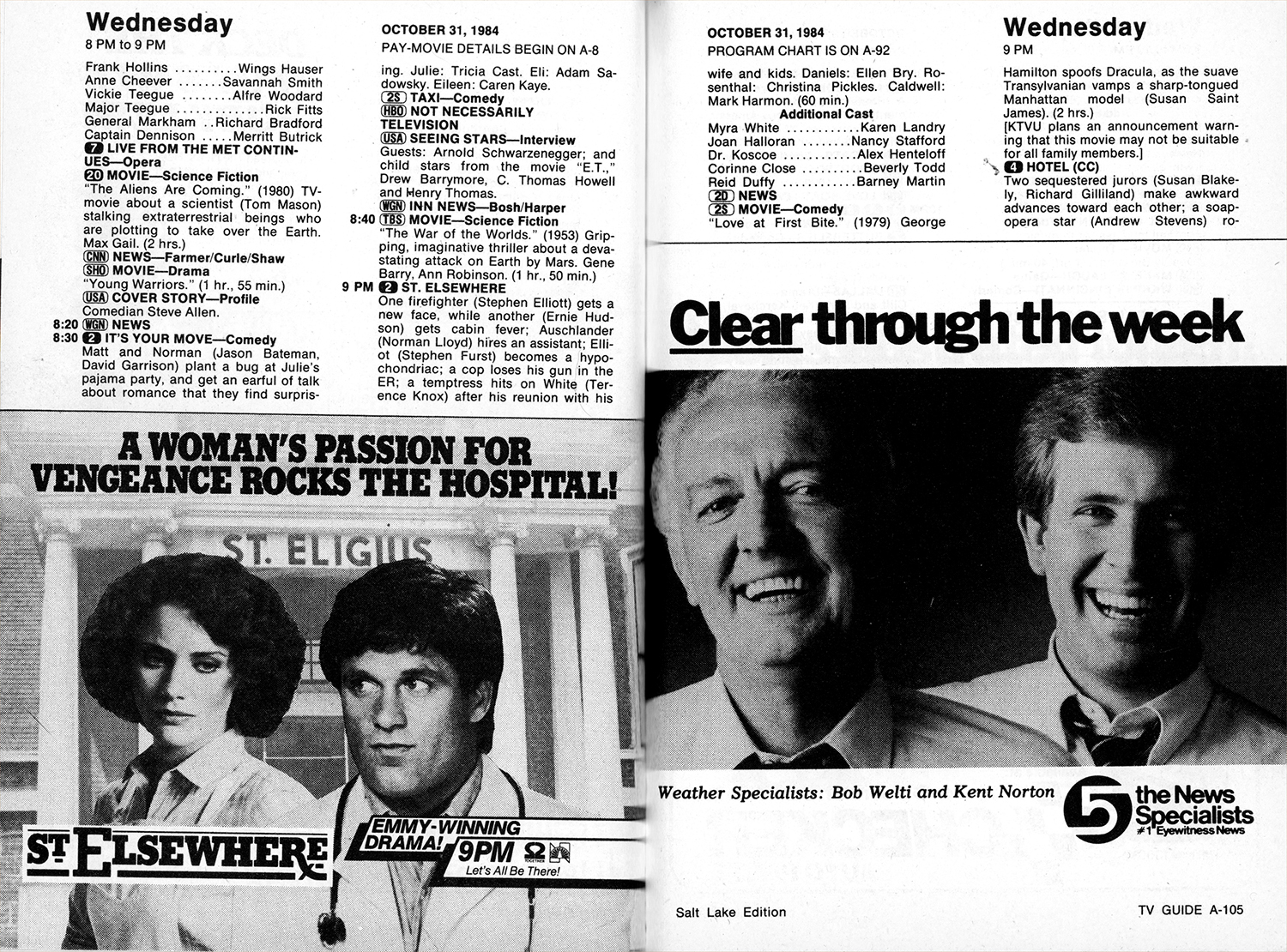 There are couple movies on the tube perfect for a Halloween evening at home: War of the Worlds and The Aliens are Coming (1980).  But there even better ones later tonight…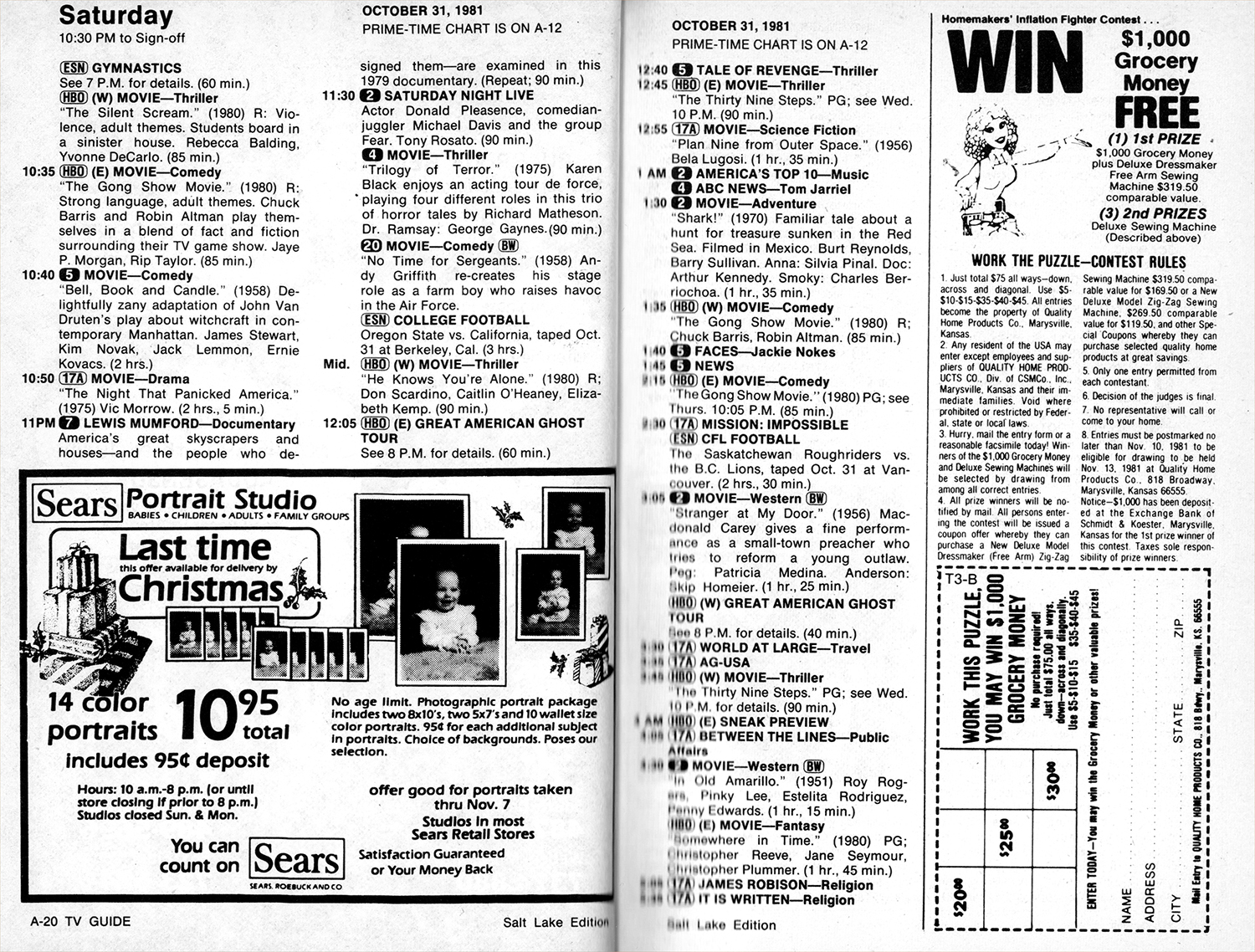 The infamous Ed Wood Jr. film Plan 9 from Outer Space comes on after midnight.  Before that, the scariest TV movie of all time: Trilogy of Terror, featuring a Zuni doll that terrorizes Karen Black.  Also on tonight: Bell Book and Candle, The Silent Scream, and Donald Pleasence (Halloween's Dr. Loomis) on SNL.
October 31, 1981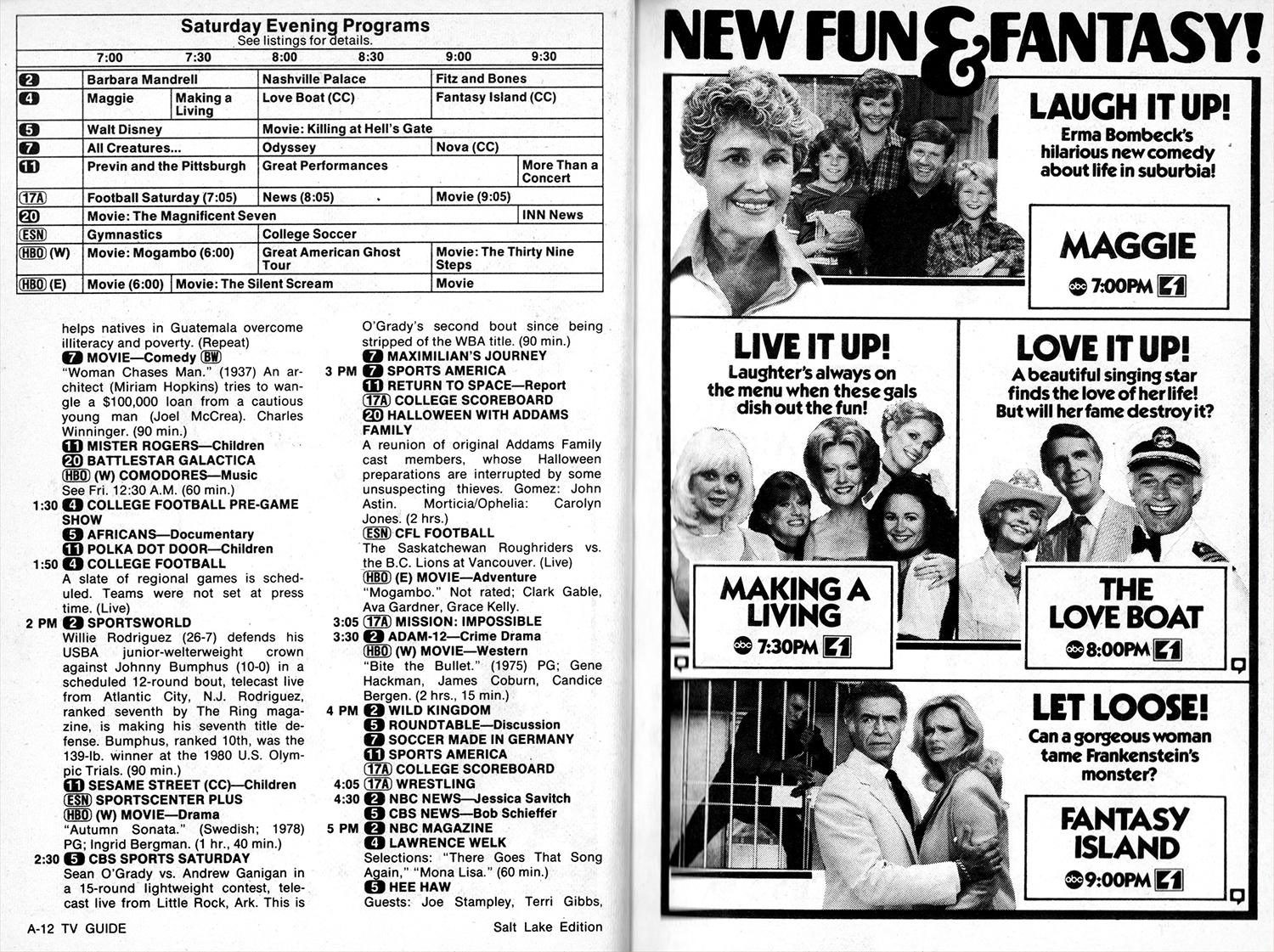 This afternoon we have "Halloween with Addams Family", and a Fantasy Island episode to look forward to where a "gorgeous woman" must tame Frankenstein's Monster!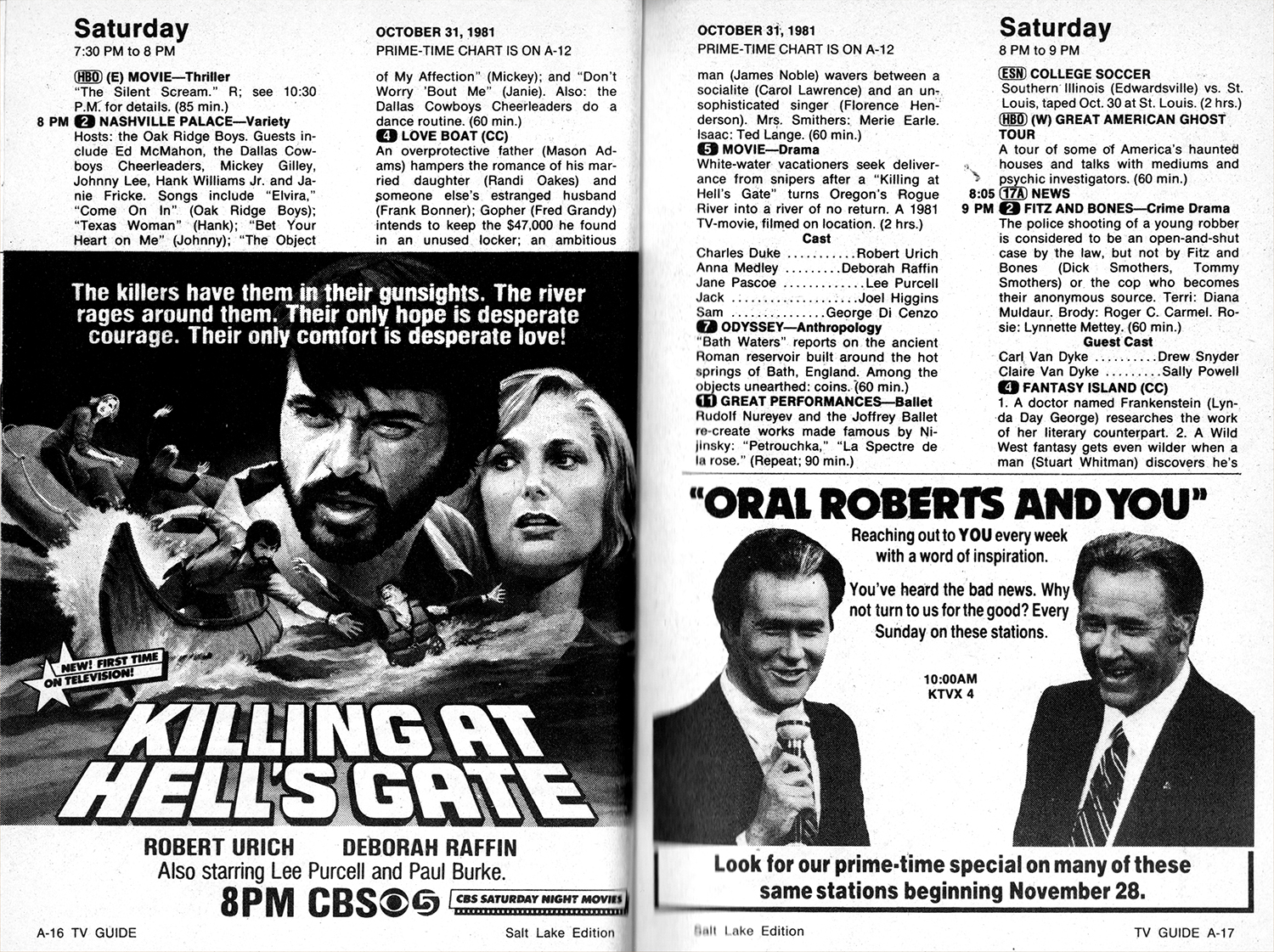 "Killing at Hell's Gate" looks like a Deliverance ripoff.  But then, beggars can't be choosers.  There's not much else festive for Halloween.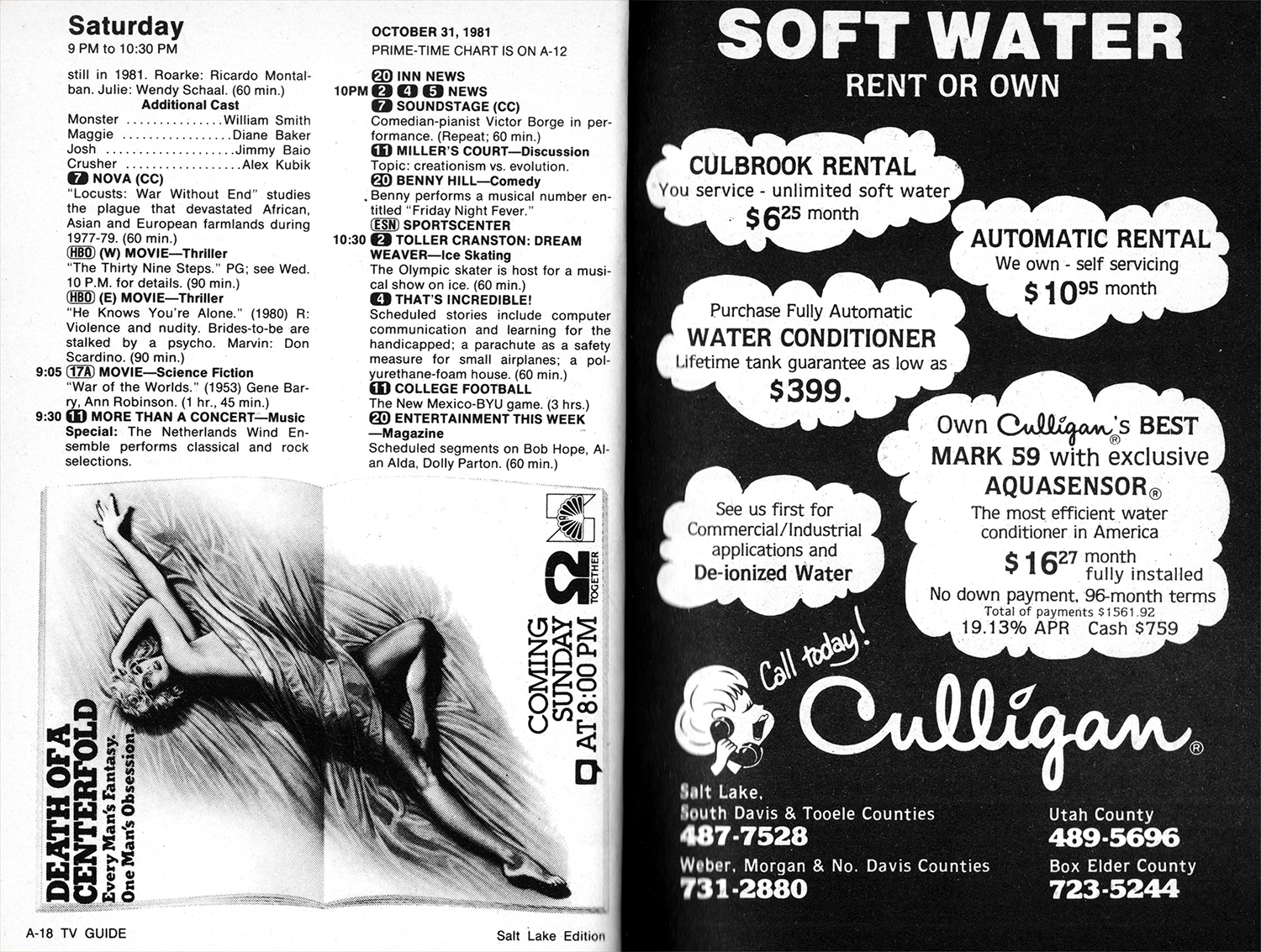 He Knows You're Alone (1980), War of the Worlds, and Benny Hill performing "Friday Night Fever"… looks like a perfect evening to me.
October 29-30, 1992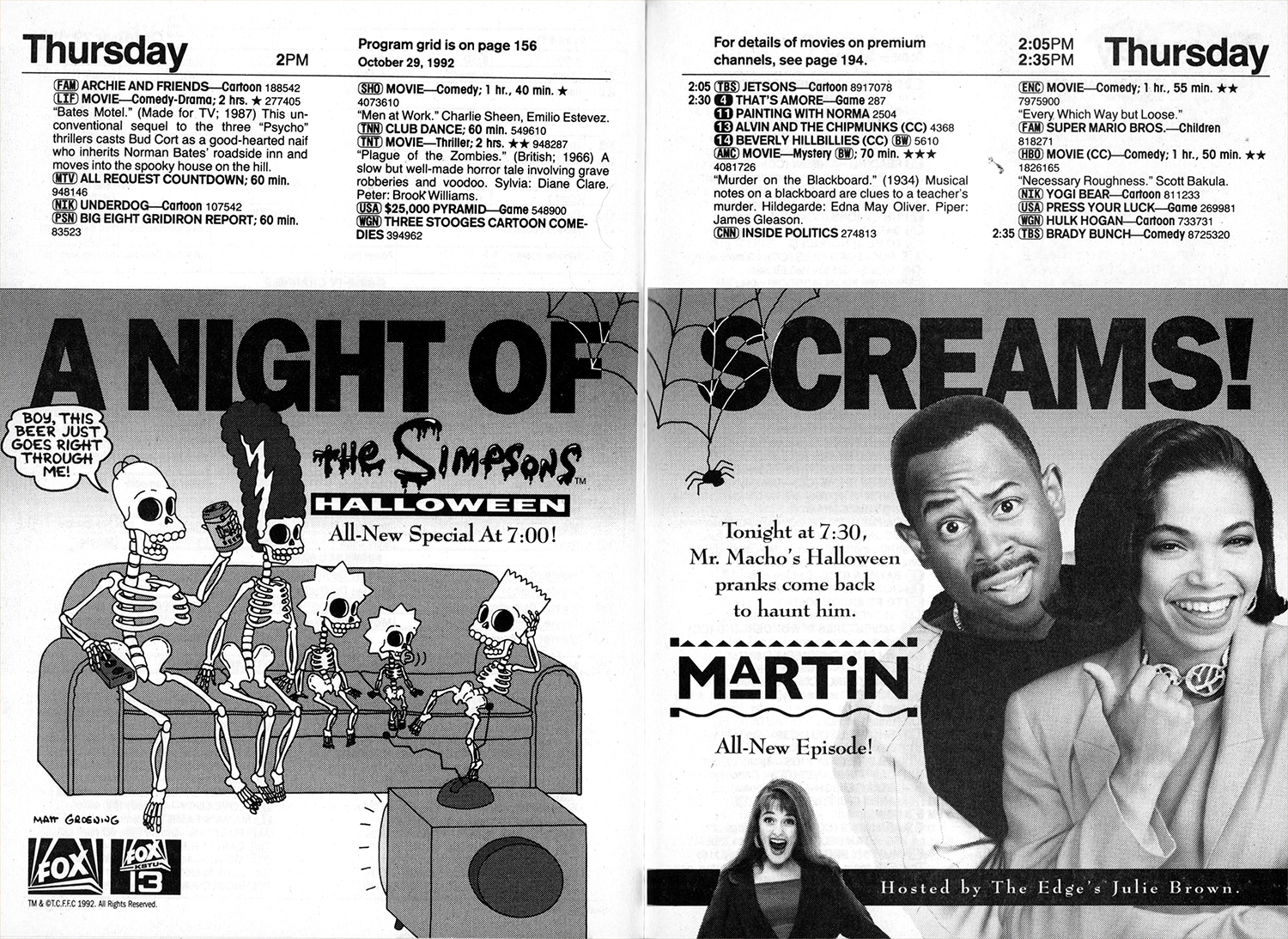 Ah, yes. For Halloween on the small screen, you can't do much better than The Simpson's Halloween episodes.  The Treehouse of Horror began in the second season (1990).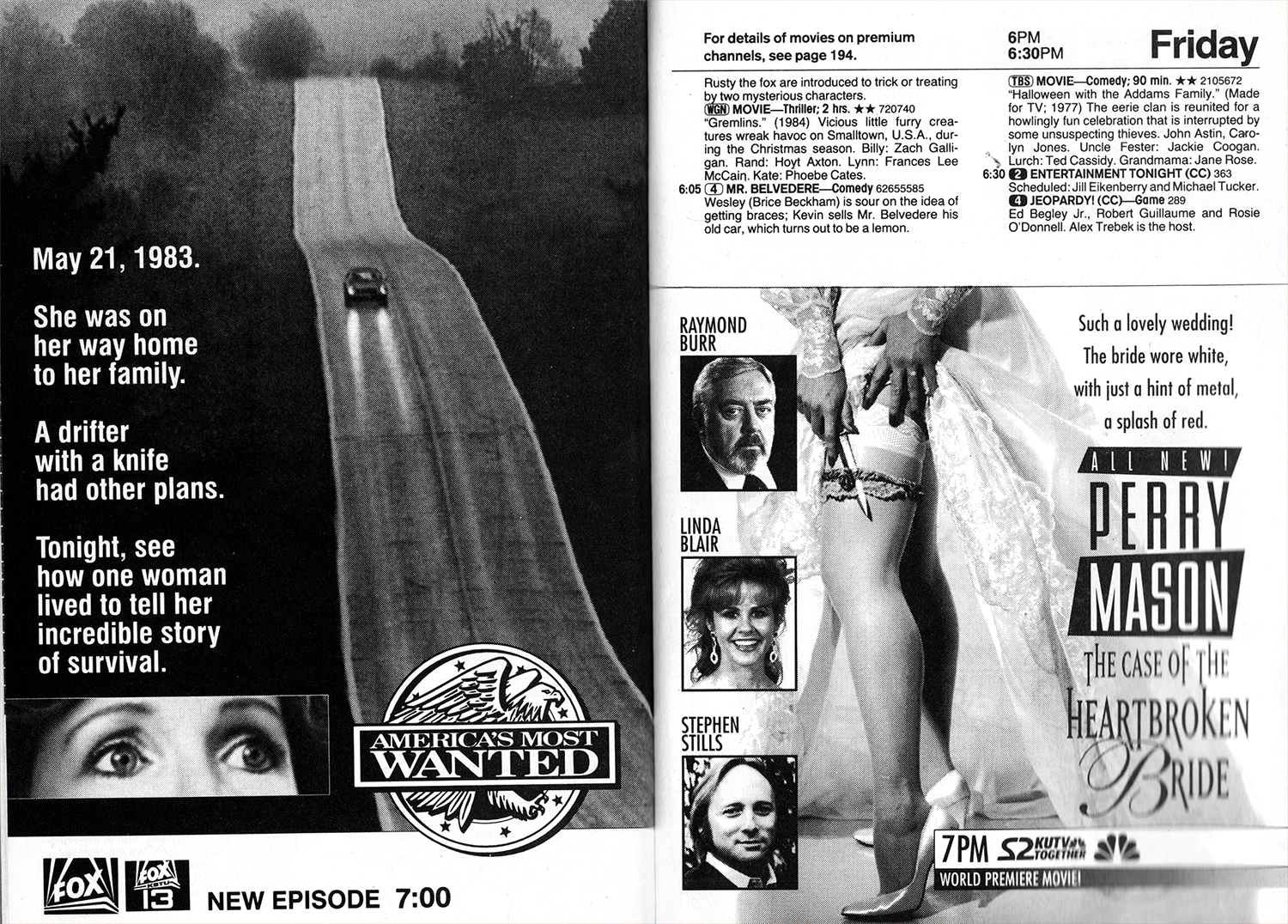 Remember "Halloween with the Addams Family" from our look at 1981?  Here it is again.  Take note that Linda Blair and Stephen Stills are on tonight's Perry Mason… what an odd guest star lineup!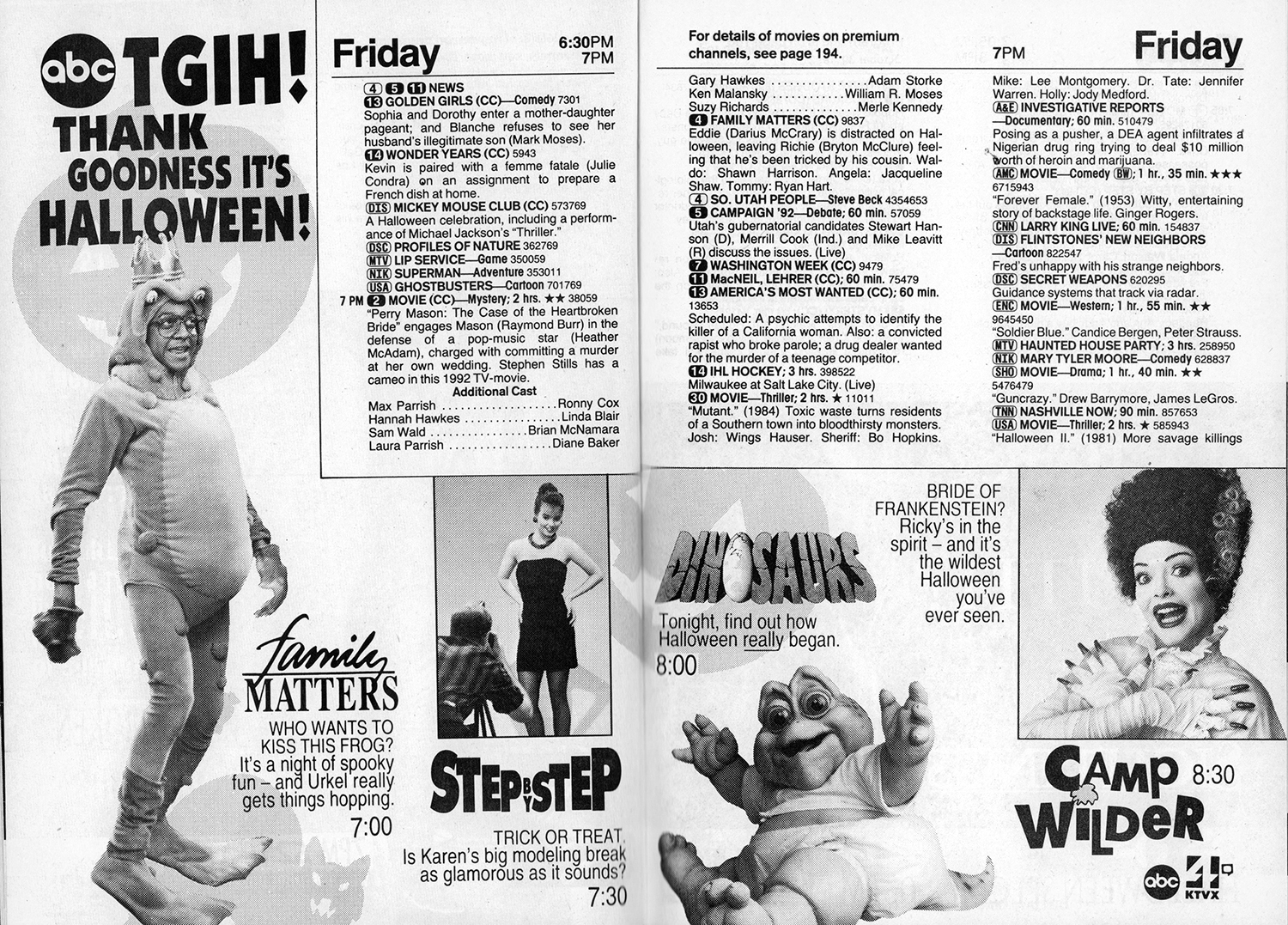 I'm happy to see Mutant (1984) is playing tonight, as well as "Haunted House Party" on MTV and Halloween II on the USA Network.  In stark contrast, we have the so-called TGIF lineup of Family Matters, Step by Step, Dinosaurs and Camp Wilder celebrating Halloween…. a nightmare of a different sort.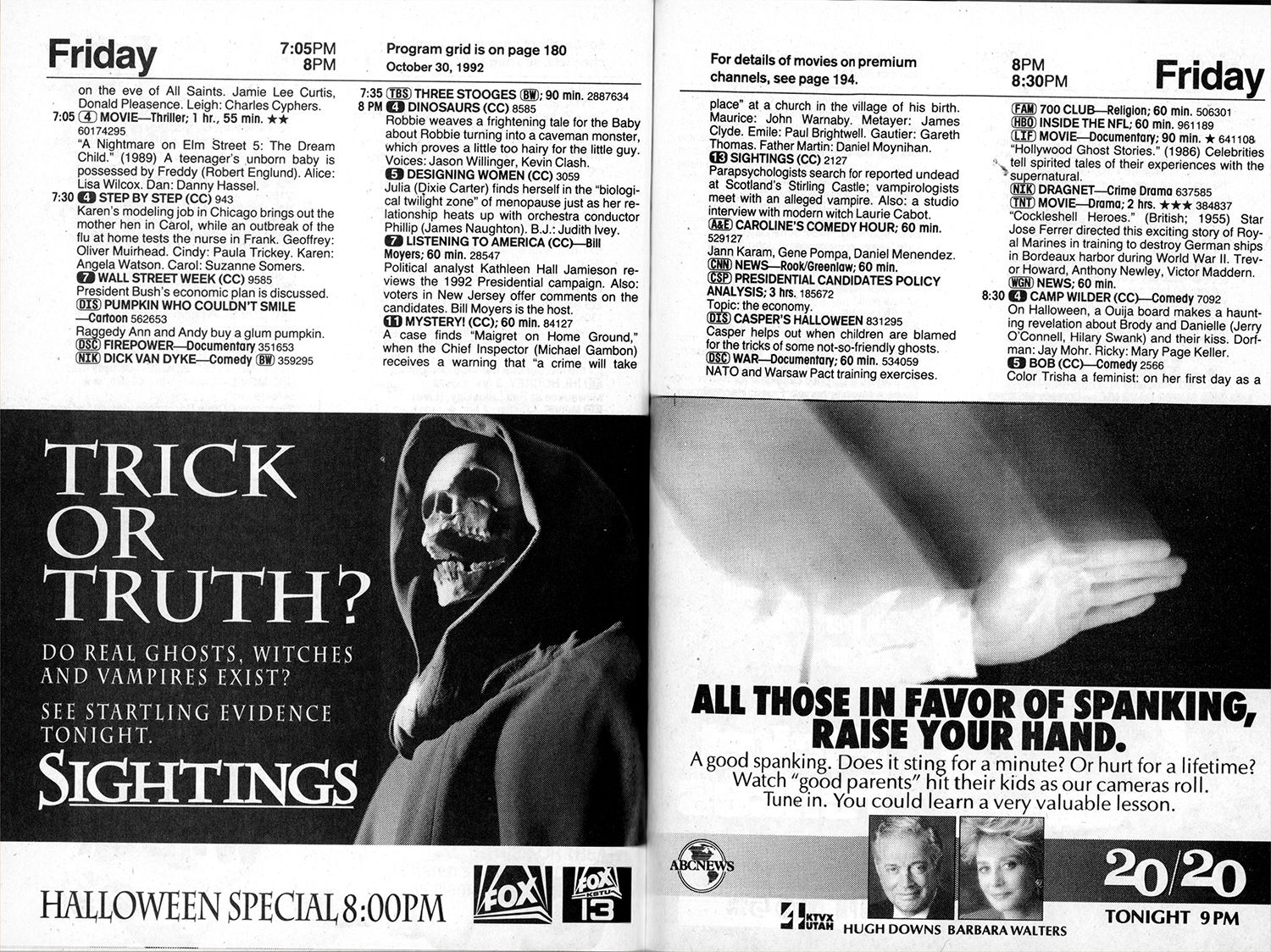 Halloween programming tonight: A Nightmare on Elm Street 5 (no thanks) and an episode of Sightings that looks pretty damn creepy.
And finally, let's take a step back to the early seventies…
October 31, 1973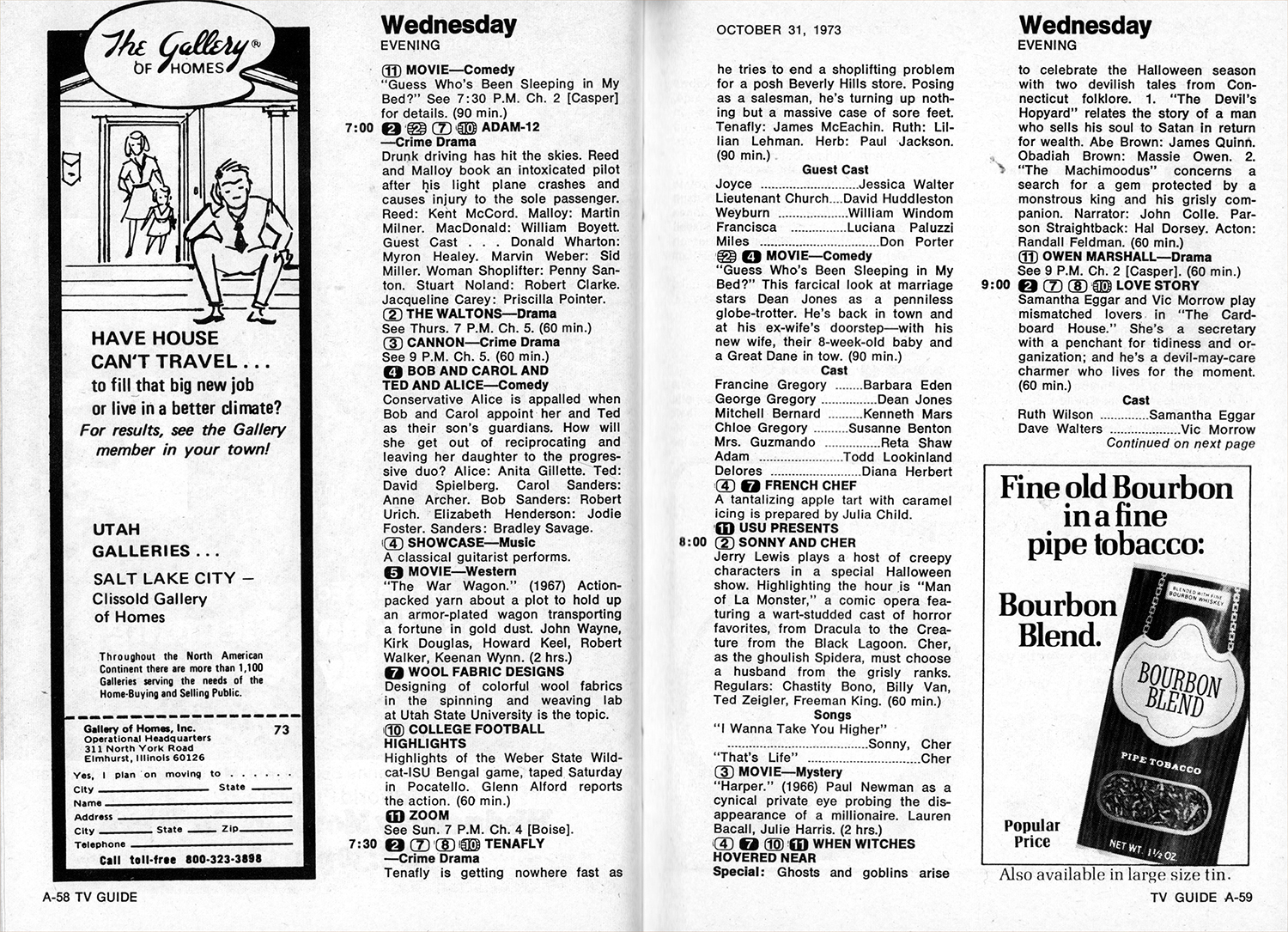 A couple neat Halloween themed programs on tonight: Jerry Lewis is on Sonny & Cher, with Frankenstein's monster and the Creature from the Black Lagoon.  Also, a special called "When Witches Hovered Near" which sounds incredibly interesting (and absolutely horrifying).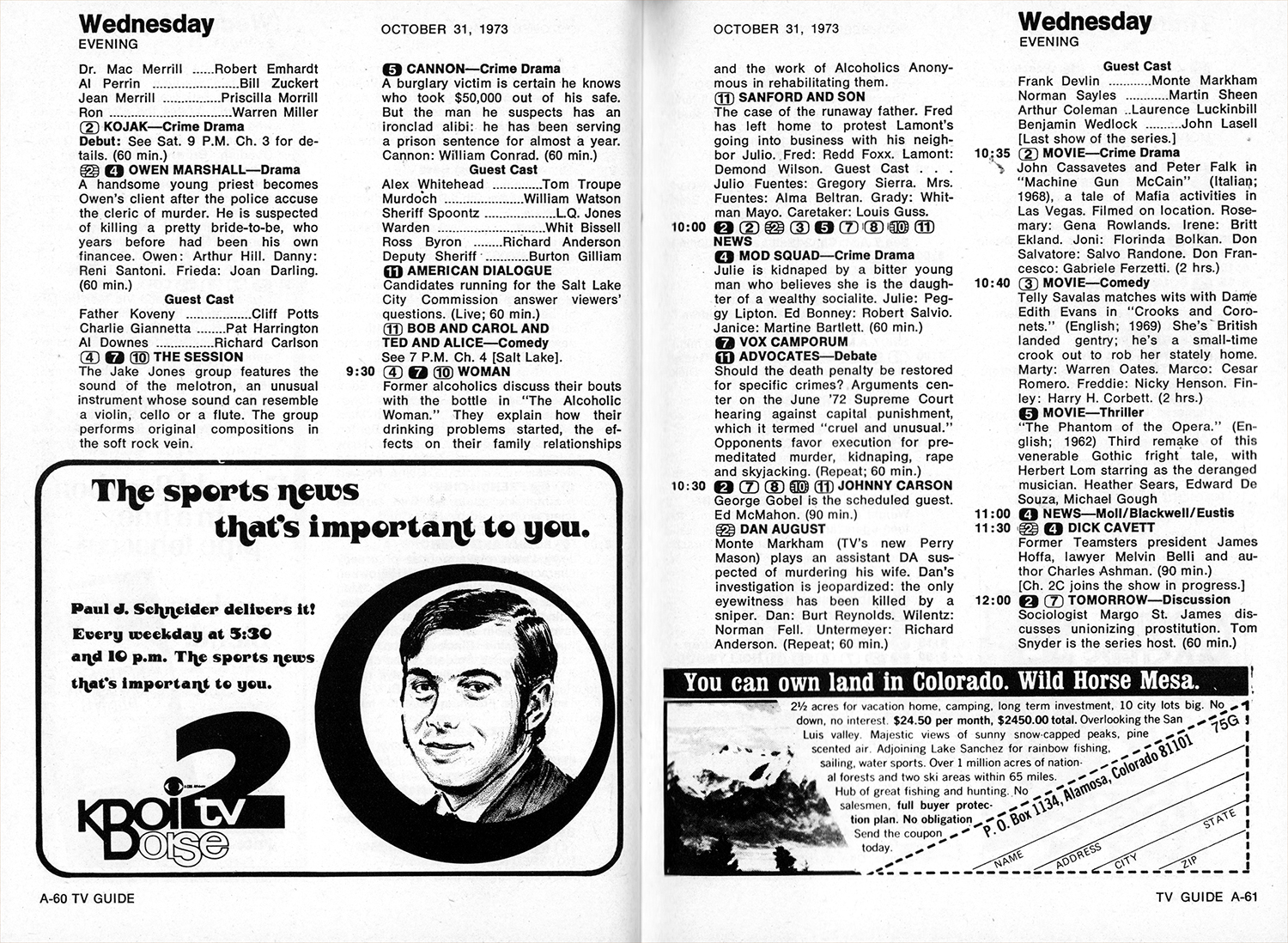 Jeez.  As you can see, the networks didn't really play up the Halloween programming back in the early seventies.  Other than a Phantom of the Opera remake, there's not much on TV that screams Halloween.
Before we go, I'll leave you with a couple additional pages from various years which are a bit more festive.  Happy Halloween!