"This is the theory… that anything that is art… is presumably about some certain thing, but is really always about something else, and it's no good having one without the other, because if you just have the something it is boring and if you just have the something else it's irritating" – Edward Gorey, 1968
Between September 1968 and October 1969, Edward Gorey (February 22, 1925 – April 15, 2000) collaborated on three children's books with writer and teacher Peter F. Neumeyer – Why We Have Day and Night, Donald and the… and Donald Has a Difficulty.
Their meeting was auspicious:
On their first encounter, Neumeyer managed to dislocate Gorey's shoulder when he grabbed his arm to keep him from falling into the ocean. In a hospital waiting room, they pored over Gorey's drawings for the first time together, and Gorey infused the situation with much hilarity.
Gorey and Neumeyer exchanged scores of postcards and letters, often wrapped in illustrated envelopes. That Gorey worked on his witty illustrations alone adds to the missives' potency. Gorey is the author and artist who began his alphabet book for children "A is for Amy who fell down the stairs" (read on in The Gashlycrumb Tinies). His letters are legend.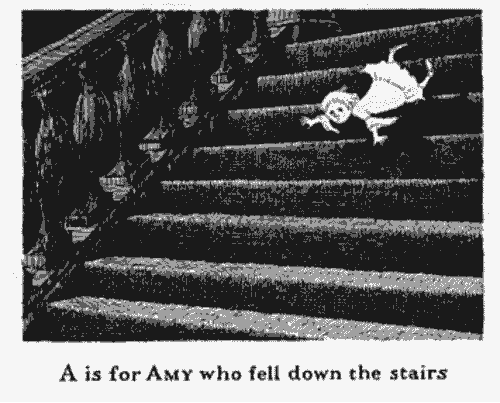 Neumeyer introduces this collection of those letters:
"In light of his body of work, and because of the interest that his private person has aroused, I feel strongly that these letters should not be lost to posterity. I still read in them Ted's wisdom, charm, and affection and a profound personal integrity that deserves to be in the record. As for my own letters to Ted, I had no idea that he had kept them until one day a couple of years ago when a co-trustee of his estate, Andras Brown, sent me a package of photocopies of my half of the correspondence. I am very grateful for that."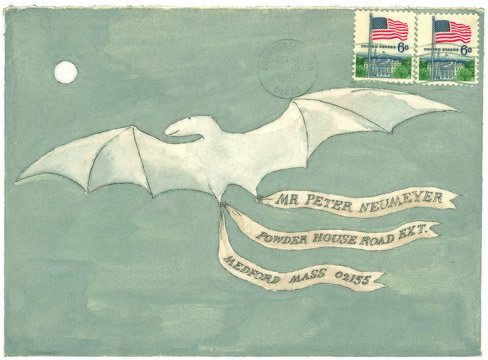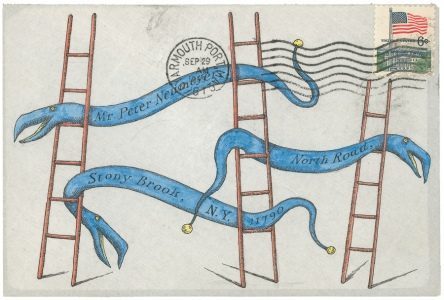 Floating Worlds is available through Pomegranate. Via: PrintMag, The Atlantic.
Read on in Floating Worlds: The Letters of Edward Gorey and Peter F. Neumeyer
.