The Naming of Cats is a difficult matter,
It isn't just one of your holiday games;
You may think at first I'm as mad as a hatter
When I tell you, a cat must have THREE DIFFERENT NAMES.
– T.S Eliot, The Naming of Cats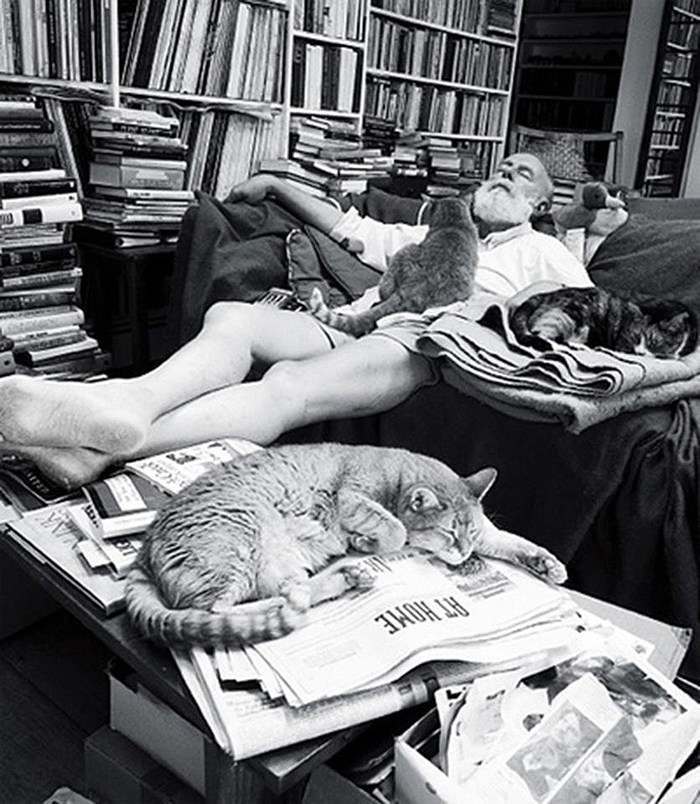 Letters T.S. Eliot (September 26, 1888–January 4, 1965) wrote to his godchildren became the delightful 1939 collection Old Possum's Book of Practical Cats
.
In 1982, one year after Andrew Lloyd Weber adapted the book for his musical composition
Cats
, Edward Gorey (February 22, 1925 – April 15, 2000) illustrated Eliot's work. The poems were in good hands.
Gorey had celebrated the life of felines in Dancing Cats And Neglected Murderesses, Workman
(
1980). Like Eliot, Gorey enjoyed their company. "Cats share with ballet dancers the quality of graceful movement," Gorey
told
Cats Magazine
in 1978. "As an artist, I find their expressions endlessly and frustratingly fascinating."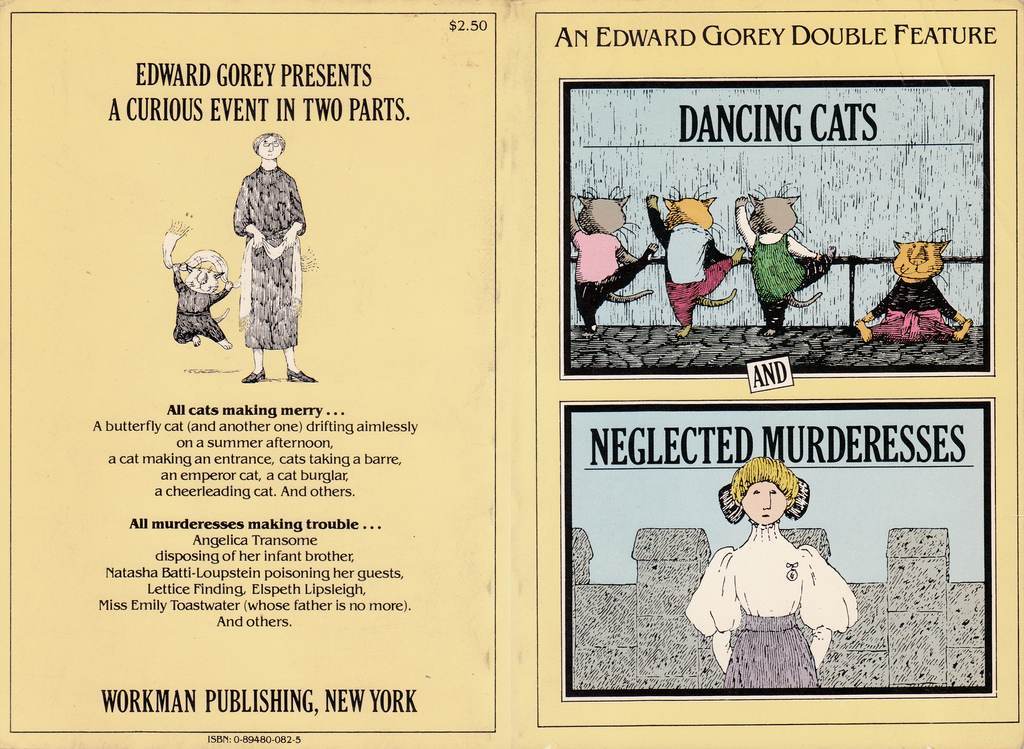 In Edward Gorey, Floating Worlds: The Letters of Edward Gorey and Peter F. Neumeyer
,
the artist writes:
"I just got a rather nasty shock. In looking for something or other I came across the fact that one of my cats is about to be nine years old, and that another of them will shortly thereafter be eight; I have been labouring under the delusion they were about five and six. And yesterday I happened to notice in the mirror that while I have long since grown used to my beard being very grey indeed, I was not prepared to discover that my eyebrows are becoming noticeably shaggy. I feel the tomb is just around the corner. And there are all these books I haven't read yet, even if I am simultaneously reading at least twenty…"
He explained the power of cats in succinct terms, their value encapsulated in a mantra for happiness: "Books. Cats. Life is Good."
When he died in 2000, Gorey left his entire estate to animal charities, including an animal rescue for cats (and dogs).
Eliot's cats were in good hands:
The Rum Tum Tugger is a Curious Cat:
If you offer him pheasant he would rather have grouse.
If you put him in a house he would much prefer a flat,
If you put him in a flat then he'd rather have a house.
If you set him on a mouse then he only wants a rat,
If you set him on a rat then he'd rather chase a mouse.
Yes the Rum Tum Tugger is a Curious Cat–
And there isn't any call for me to shout it:
For he will do
As he do do
And there's no doing anything about it!
And when you heard a dining-room smash
Or up from the pantry there came a loud crash
Or down from the library came a loud ping
From a vase which was commonly said to be Ming–
Then the family would say: "Now which was which cat?
It was Mungojerrie! AND Rumpelteazer!"
And there's nothing at all to be done about that!
He is quiet and small, he is black
From his ears to the tip of his tail;
He can creep through the tiniest crack,
He can walk on the narrowest rail.
He can pick any card from a pack,
He is equally cunning with dice;
He is always deceiving you into believing
That he's only hunting for mice.
He can play any trick with a cork
Or a spoon and a bit of fish-paste;
If you look for a knife or a fork
And you think it is merely misplaced–
You have seen it one moment, and then it is gawn!
But you'll find it next week lying out on the lawn.
And we all say: OH!
Well I never!
Was there ever
A Cat so clever
As Magical Mr. Mistoffelees!