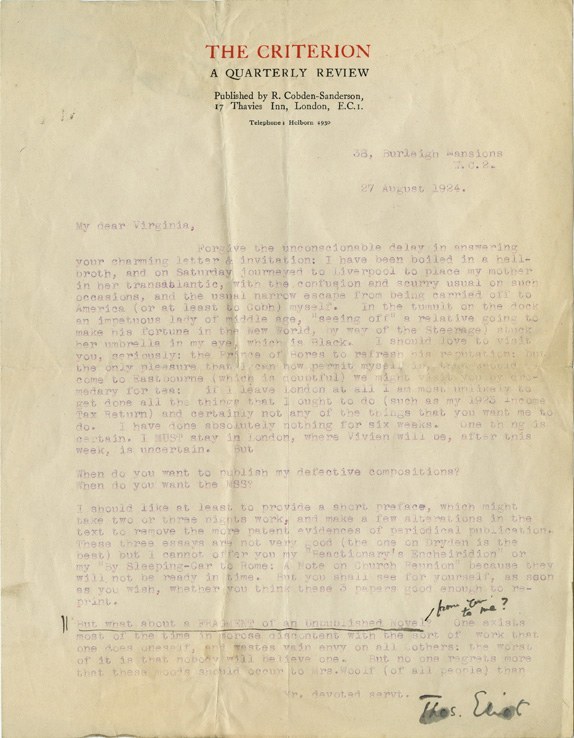 On July 8 1923, Virginia Woolf completed her work hand typesetting the first English edition of T.S. Eliot's The Waste Land, published by she and her husband Leonard's' Hogarth Press. Virginia wrote to a friend: "I have just finished setting up the whole of Mr. Eliots [sic] poem with my own hands – you see how my hand trembles." Such dedication and skill prompted P. H. Wallis to call Woolf "the apostle of culture".
Hogarth had worked with Eliot before, publishing his Poems in 1919. Though both writer and publisher sought to "reflect and alleviate the burden of anxiety and fear" in our quotidian lives, they were not fast pals. Woolf noted in a diary entry of April 1919: "I amused myself by seeing how sharp, narrow, & much of a stick Eliot has come to be, since he took to disliking me."
Virginia's husband, Leonard Woolf recalled that "real intimacy" between the writers began with a "loosening up the pomposity and priggishness which constricted [Eliot].. in an envelope of frozen formality." One loosener occurred when Leonard took a leak whilst out walking with Eliot and Virginia: "..when I caught them up again, I felt that Tom was uncomfortable, even shocked. I asked him whether he was and he said yes, and we then had what gradually became a perfectly frank conversation about conventions and formality. Tom said that he not only could not possibly have done what I did, but that he would never dream of shaving in the presence even of his wife."
And so to the letter that you see above.
The Transcription:
38 Burleigh Mansions, St Martins Lane, London W.C.2.
27 August 1924

My dear Virginia,

Forgive the unconscionable delay in answering your charming letter and invitation. I have been boiled in a hell-broth, and on Saturday journeyed to Liverpool to place my mother in her transatlantic, with the confusion and scurry usual on such occasions, and the usual narrow escape from being carried off to America (or at least to Cobh) myself. In the tumult on the dock an impetuous lady of middle age, 'seeing off' a relative going to make his fortune in the New World, by way of the Steerage) stuck her umbrella in my eye, which is Black. I should love to visit you, seriously: the Prince of Bores to refresh his reputation: but the only pleasure that I can now permit myself is, that should I come to Eastbourne (which is doubtful) we might visit you by dromedary for tea: if I leave London at all I am most unlikely to get done all the things that I ought to do (such as my 1923 Income Tax Return) and certainly not any of the things that you want me to do. I have done absolutely nothing for six weeks. One thing is certain: I MUST stay in London, where Vivien will be, after this week, is uncertain. But When do you want to publish my defective compositions? When do you want the MSS?

I should like at least to provide a short preface, which might take two or three nights' work, and make a few alterations in the text to remove the more patent evidences of periodical publication. These three essays are not very good (the one on Dryden is the best) but I cannot offer you my 'Reactionary's Encheiridion' or my 'By Sleeping-Car to Rome: A Note on Church Reunion' because they will not be ready in time. But you shall see for yourself, as soon as you wish, whether you think these three papers good enough to reprint.

But what about a FRAGMENT of an Unpublished Novel from you to me? One exists most of the time in morose discontent with the sort of work that one does oneself, and wastes vain envy on all others: the worst of it is that nobody will believe one. But no one regrets more that these moods should occur to Mrs. Woolf (of all people) than
Yr. devoted servt.
Thos. Eliot
Read more in The Letters of T. S. Eliot
, edited by Valerie Eliot and Hugh Haughton.