We've seen steam-powered flying contraptions before, notably in this fantastic gallery of future visions. But it wasn't all wonderful. In 1820 Shortshanks (aka Robert Seymour, whose nom de ink was a parody of caricaturist George Cruikshank) saw a world ruined by steam. His illustration for the Edinburgh Review (1802 to 1929) warned against pollution from steam-powered teapot carriages, flying machines (the ornithopter) and a steam-powered mobile walking device, a precursor to Aardman's Animations' The Wrong Trousers.
The picture is headlined: "Walking by Steam, Riding by Steam, Flying by Steam."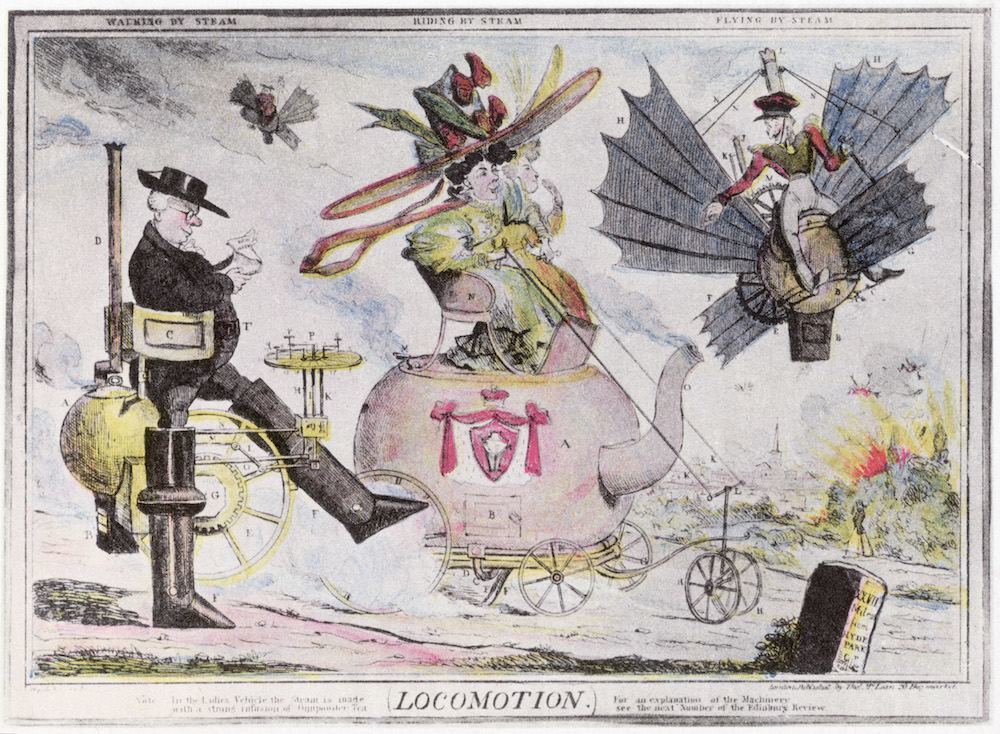 Lest you suppose steam power a faultless technology, albeit filthy, Shortshanks reminded readers that when it broke you were well and truly scuppered.
Lambiek has more on the artist:
Robert Seymour was an English draughtsman from the early 19th century. Although he ranked among the greatest artists and engravers of his time, he never entered fully into the society for which his success suited him. He began his career as an oil painter, but eventually he started working for publishing house of Knight & Lacey. He was paid half a guinea for each illustration, which was low compared with others. He then went to work for a small printer named McLean. He signed his work at this time with "Shortshanks", a comical derivation of "Cruikshank". However, fellow illustrator George Cruikshank complained and the pseudonym was dropped.

It was in the period from 1827 to 1831 that Seymour provided a series of illustrations for two series of plays published by Richardson, 'New Royal Acted Drama' and 'New Minor Drama, 1827-1830'. He also produced some panels containing sequential art, and he even used speech balloons. His most famous work is probably illustrating 'The Pickwick Papers', by the then relatively unknown Charles Dickens. Unfortunately, Seymour committed suicide before the book appeared.
The Victorian Web adds intrigue:
Returning to London and the writing of The Pickwick Papers from his one-week honeymoon in the village of Chalk in Kent, Dickens was disappointed with Seymour's proposed design for the etching to accompany "The Stroller's Tale" in the second number of Pickwick. Although type two had never met before in person, Dickens requested the artist to drop by his rooms at Furnival's Inn to discuss how Seymour's depiction of the characters could be improved. At least twelve years Dickens's senior, Seymour as an established artist realised that the young upstart was damning him with faint praise when the writer extolled the furniture as he offered suggestions for improvement. The meeting of the 18th, intended to be a convivial colloquy with the publishers over a glass of grog, closed with the abrupt departure of the sulky artist.

On 20 April 1836, having seen his project for a monthly series of plates involving the comic misadventures of a club Cockney sportsmen overtaken by young Charles Dickens's "commentary," Seymour returned home to begin a fresh design according to the young writer's instructions; them, humiliated and frustrated, he rushed into the summer-house in his Islington garden, set up his gun with a string on its trigger, and shot himself in the head. Thus, only the first two parts of The Pickwick Papers were illustrated by Seymour, who had completed only one of the two plates for Part Two, and a total of seven plates for the series. The whole project, which depended upon the popularity of the artist, was now in jeopardy. As a replacement, Dickens considered Robert W. Buss (1804-75), who had illustrated "A Little Talk about Spring and the Sweeps" in The Library of Fiction in June 1836 (and who provided plates 8 and 9 for Part Three of The Pickwick Papers) , but settled instead on the obviously more able Hablot Knight Browne (1815-82).
Steam powered jetpacks never happened – more's the pity.