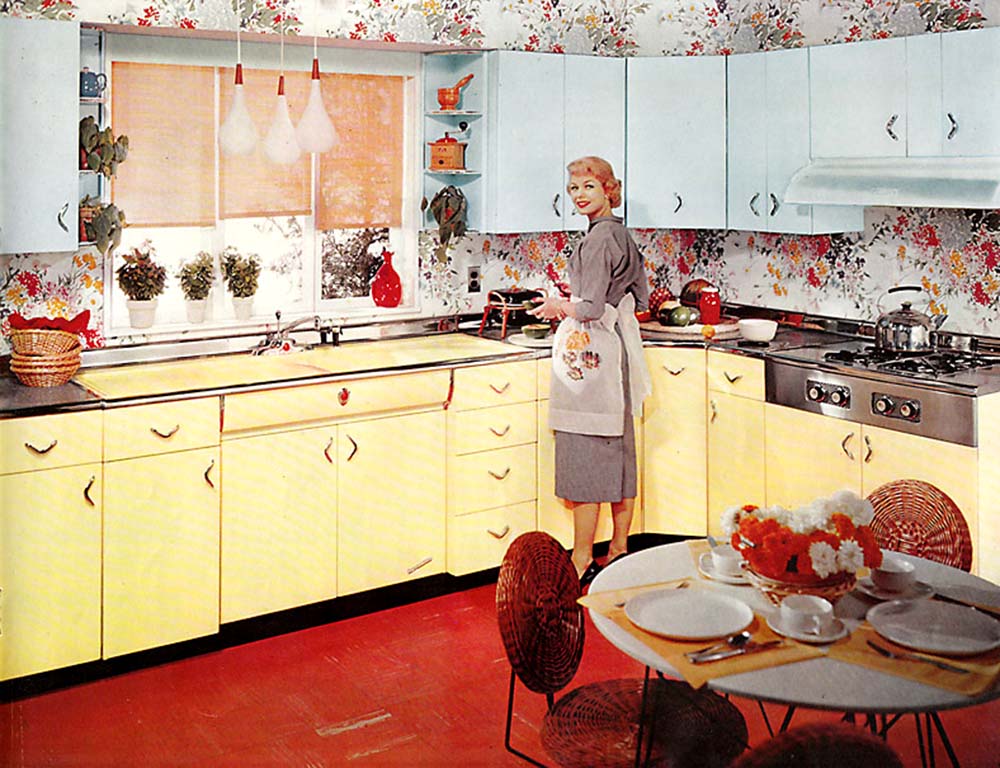 After World War II, Americans found themselves flush with cash in a booming economy, and nowhere was the new era more evident than the kitchen. Seemingly overnight, new appliances entered the home, and the kitchen ceased to be just a functional room where mom slaved away – now, it could be a dazzling spectacle of innovative décor and technology.
By the late sixties, the novelty had perhaps worn thin. Women started entering the workforce, having less time to bask in the splendor of their shiny new appliances. The kitchen was no longer the proud centerpiece of the working class home, but reverted back to being functional. This occurred at a time when Boomers were more than ready to cast off the shackles of traditional aesthetics, and experiment with new ideas for interior décor. Thus, the optimistic enthusiasm of the Atomic Age kitchen gave way to basic functional kitchens with bold designs (which perhaps haven't aged very well).
So, let's have a look at a kitchen miscellany – images gathered from advertising and other ephemera from the 1950s through the 1970s. Enjoy.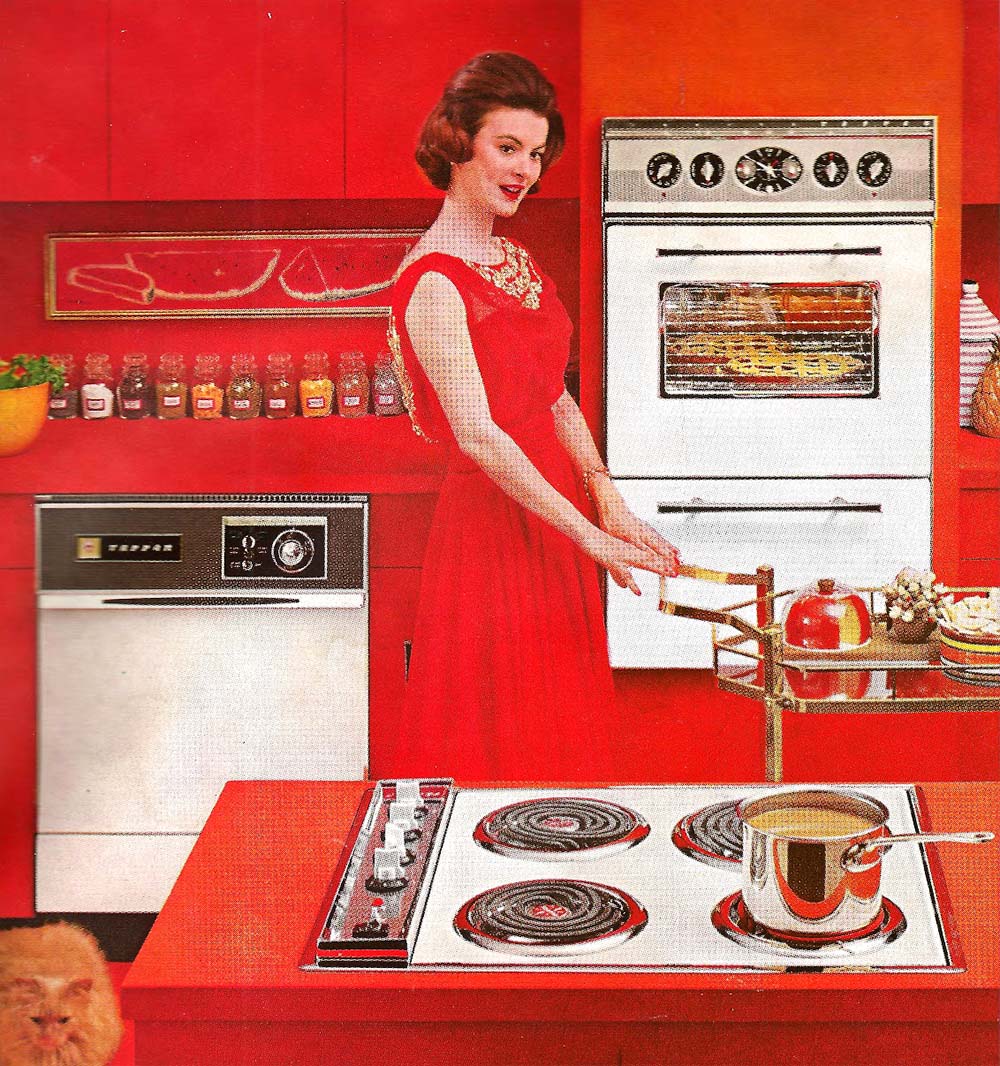 (1) The apple pies in the oven, the neatly arranged spice jars, the ill-tempered cat, the sparkling new appliances – it's the Atomic Age Homemaker's slice of paradise.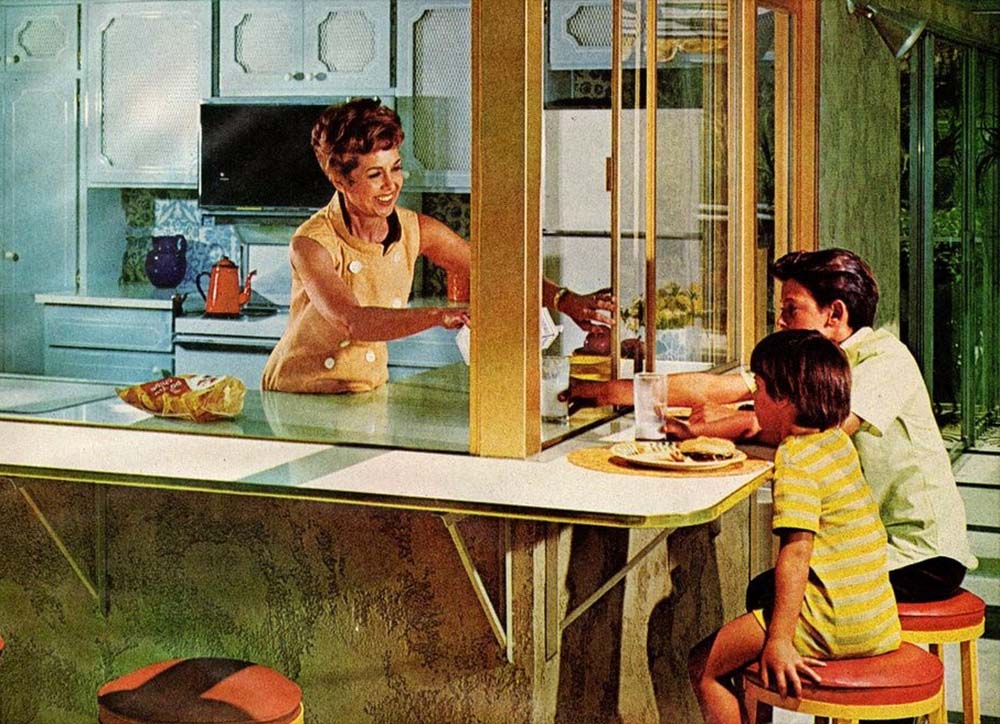 (2) With this design you can observe the Modern Housewife in her natural habitat behind a glass enclosure.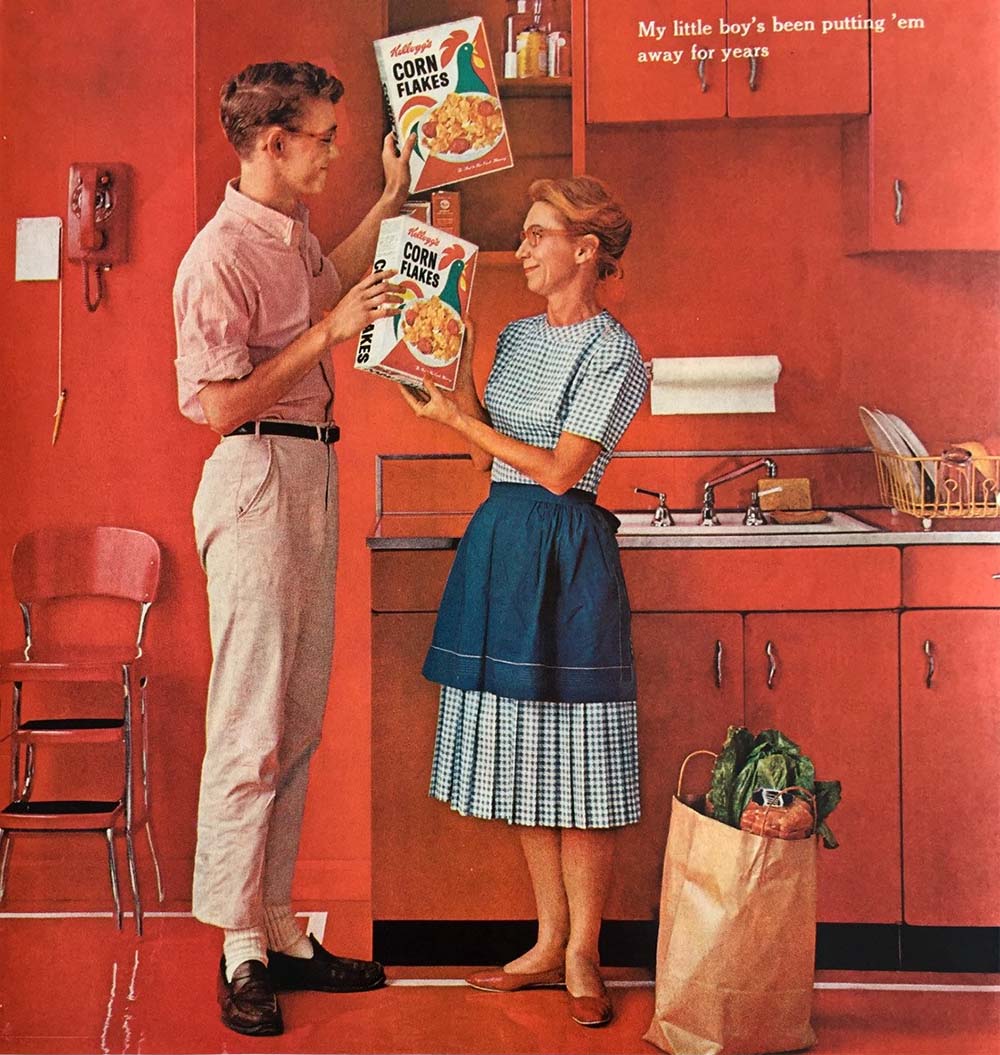 (3) This cornflakes advert (and the first kitchen pic on this list) illustrates the love for the eye-scalding red kitchen.  For more see: Seeing Red In The 1970s: Seeing Red In The 1970s: A Decade's Fixation With The Colour Of Death, Fear And Regret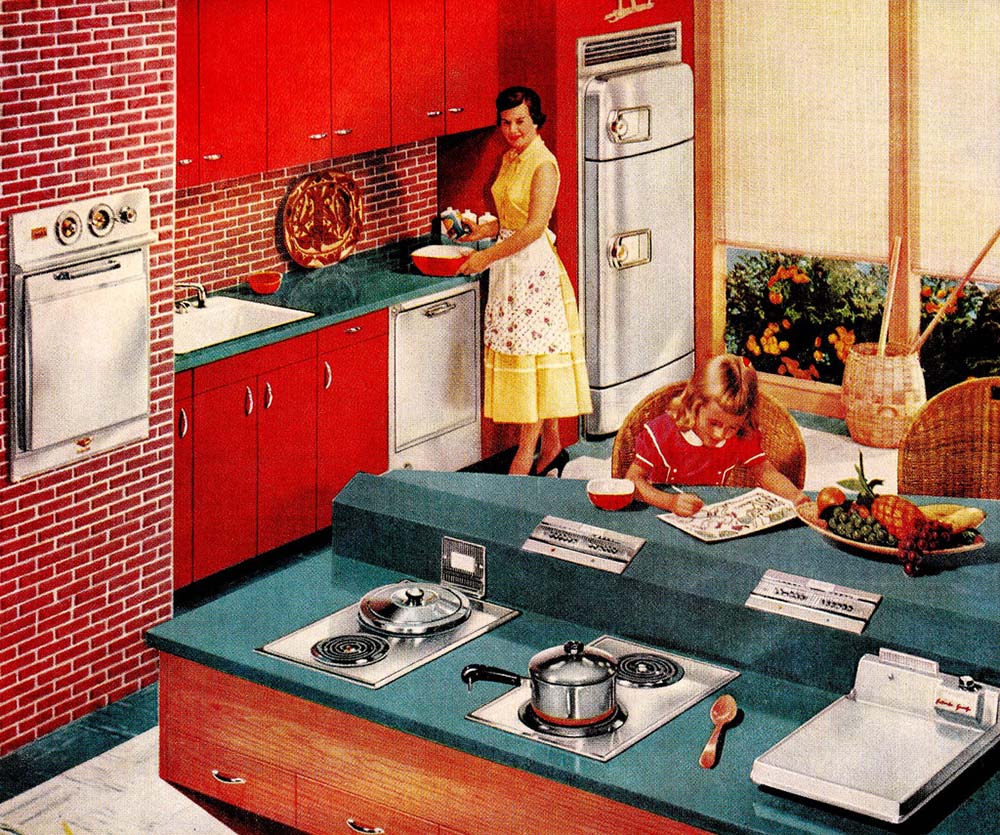 (4) And more red.  What home was complete back then without its bowl of fake fruit? I well remember the ubiquitous glass grapes.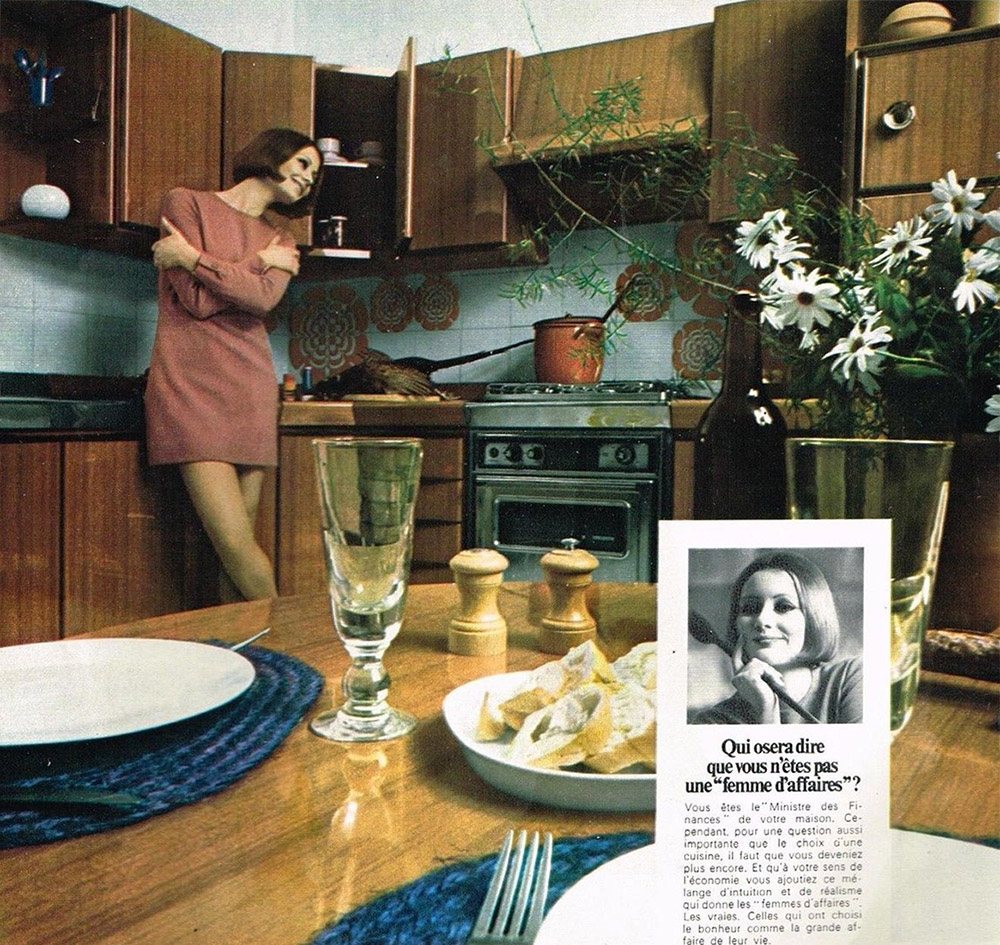 (5) This woman is literally tingly with emotions over her new kitchen cabinetry.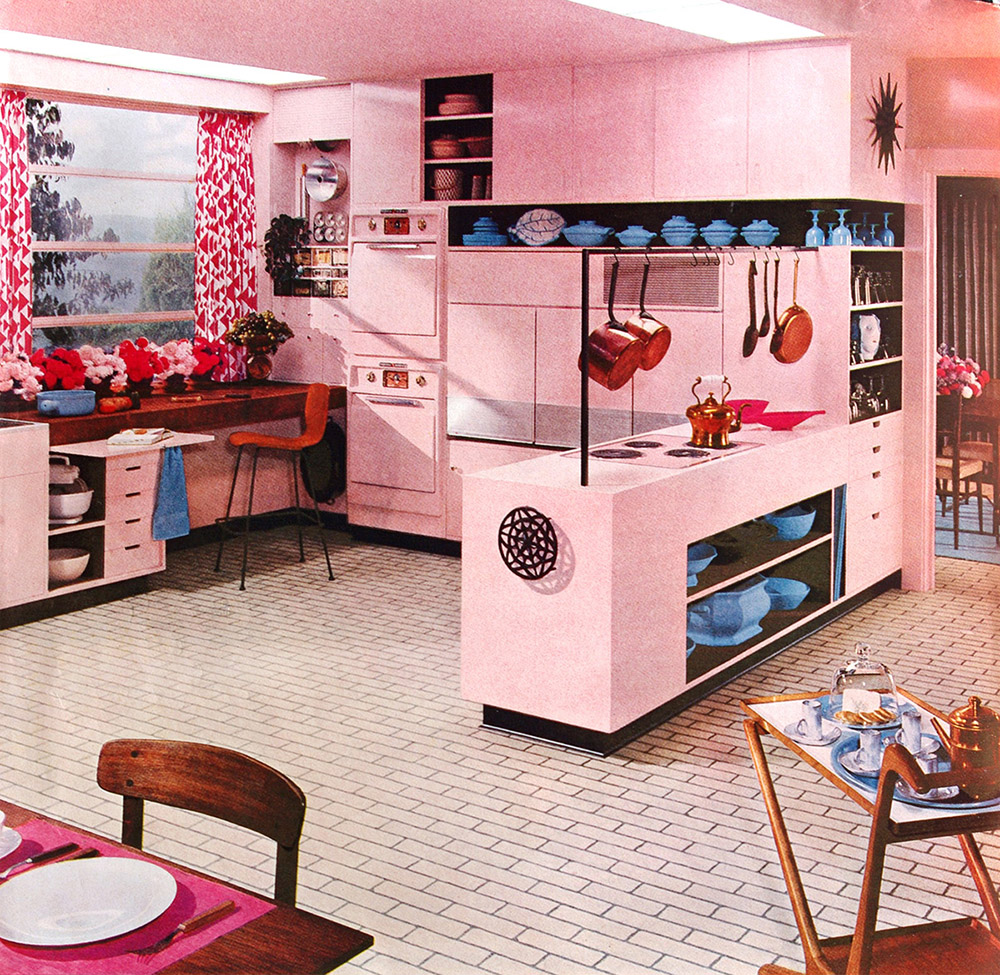 (6) This 1956 kitchen was, for some reason, painted the color of Strawberry Quik.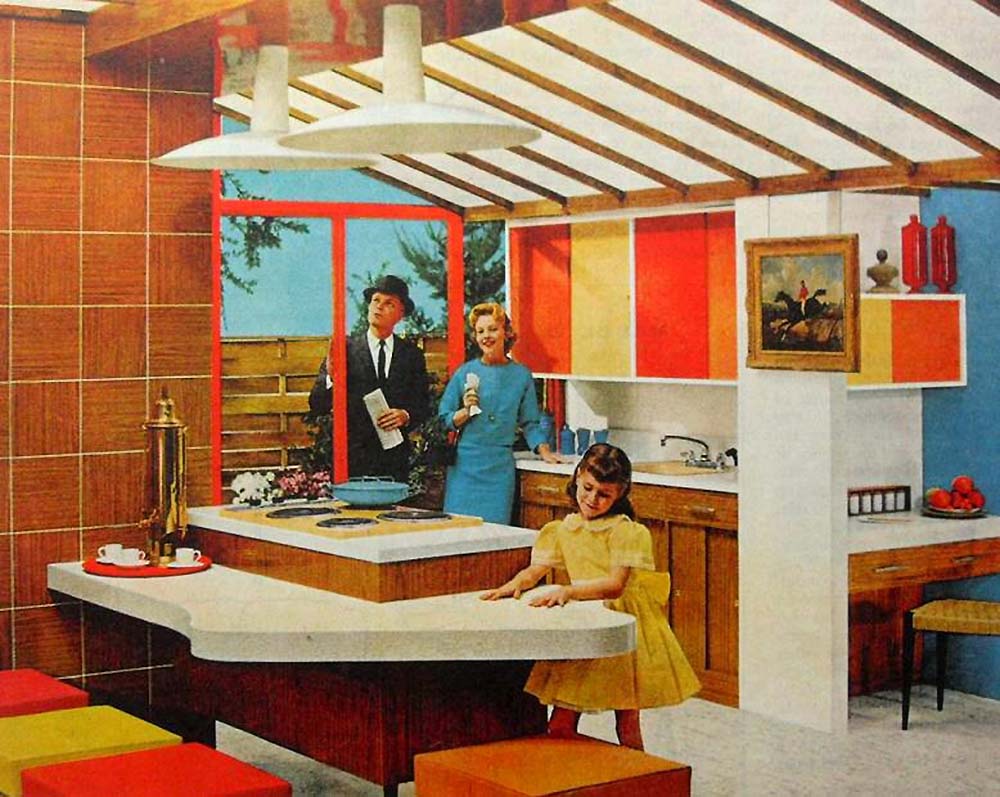 (7) Perfect.  Everything is neat and tidy, befitting a Cold War Kitchen… except a painting which is wider than the wall.  WTF?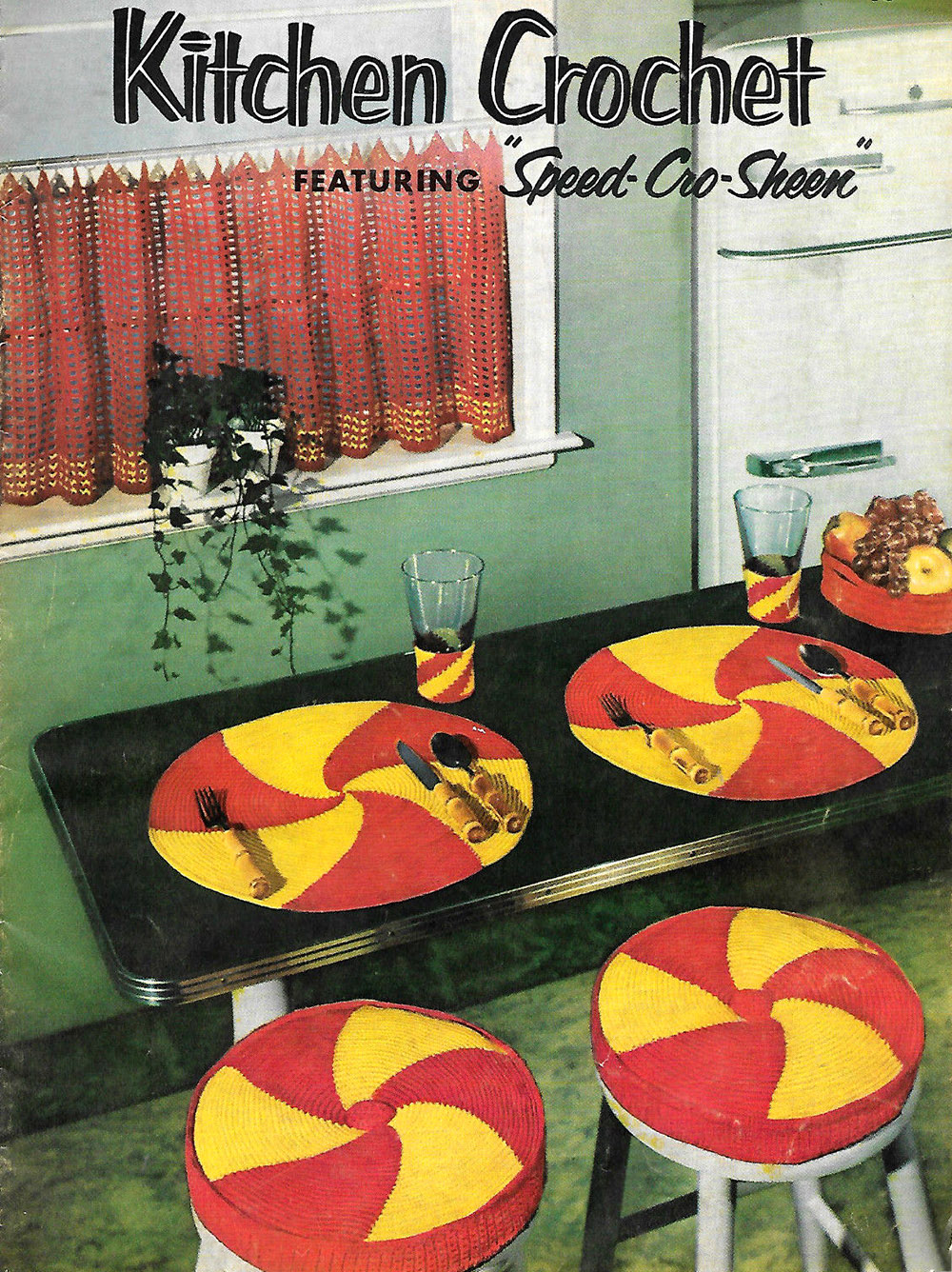 (8) I'm all for DIY decor… but the swirling ketchup/mustard theme has got to go.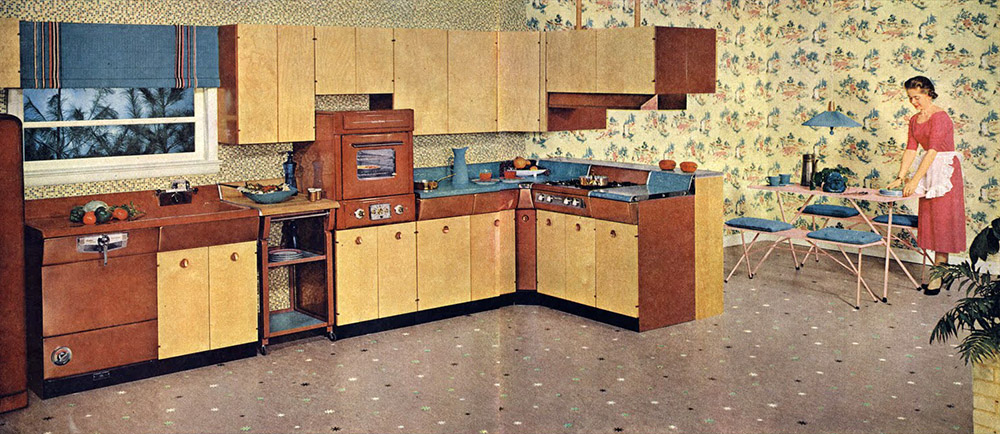 (9) The kitchen area is nice, but the patio furniture lost within an obnoxious wallpaper eyegasm just isn't doing it for me.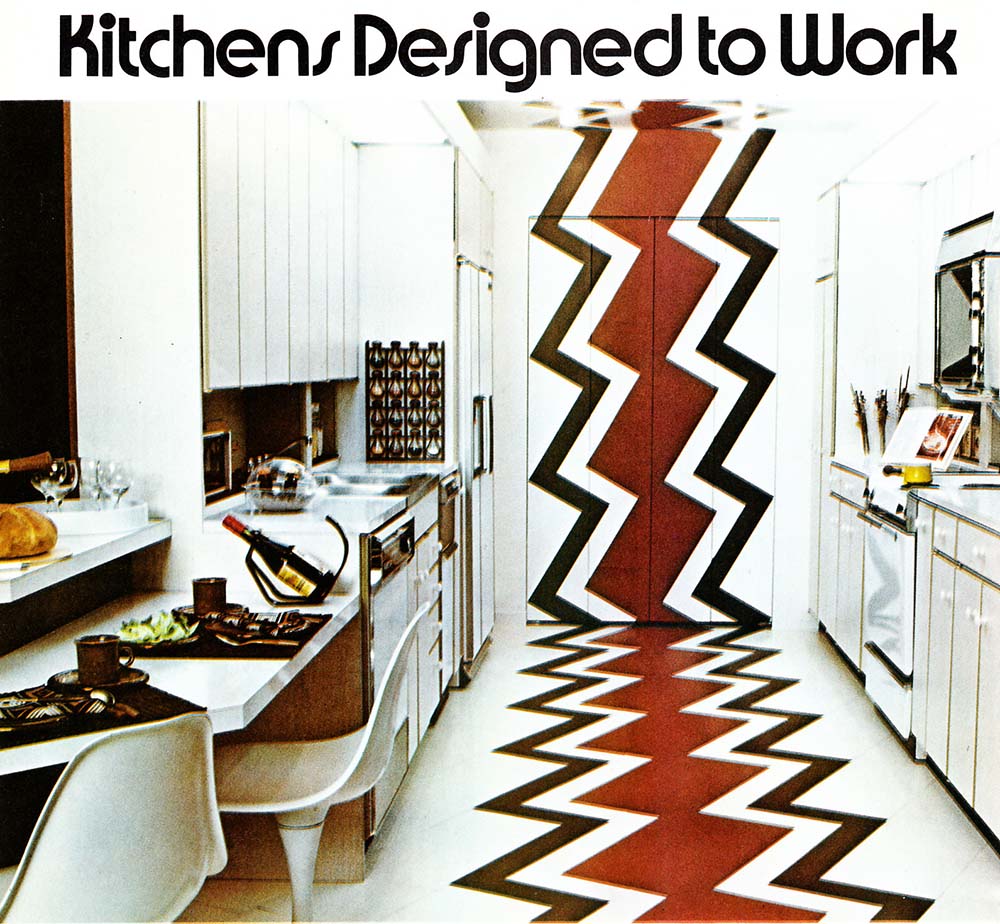 (10) These obnoxious designs became popular in the mid-seventies… until people realized that they'll have to actually live in these spaces.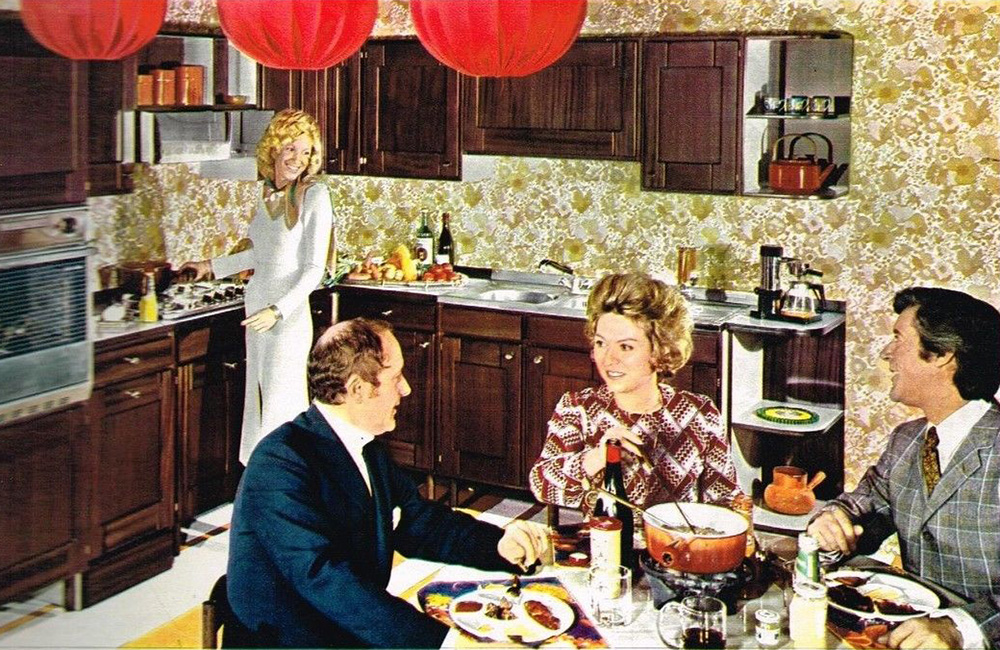 (11) It's 1971 – every good key party begins with some fondue.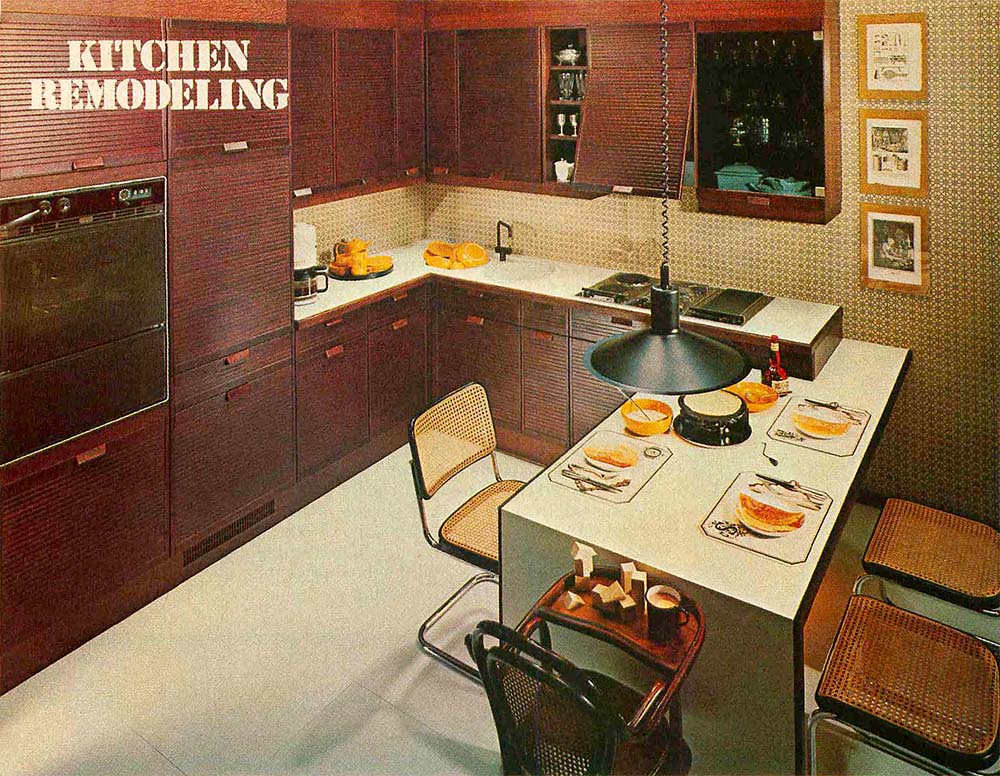 (12) From 1979 – hence the omnipresent wicker and brown (the official color of the seventies)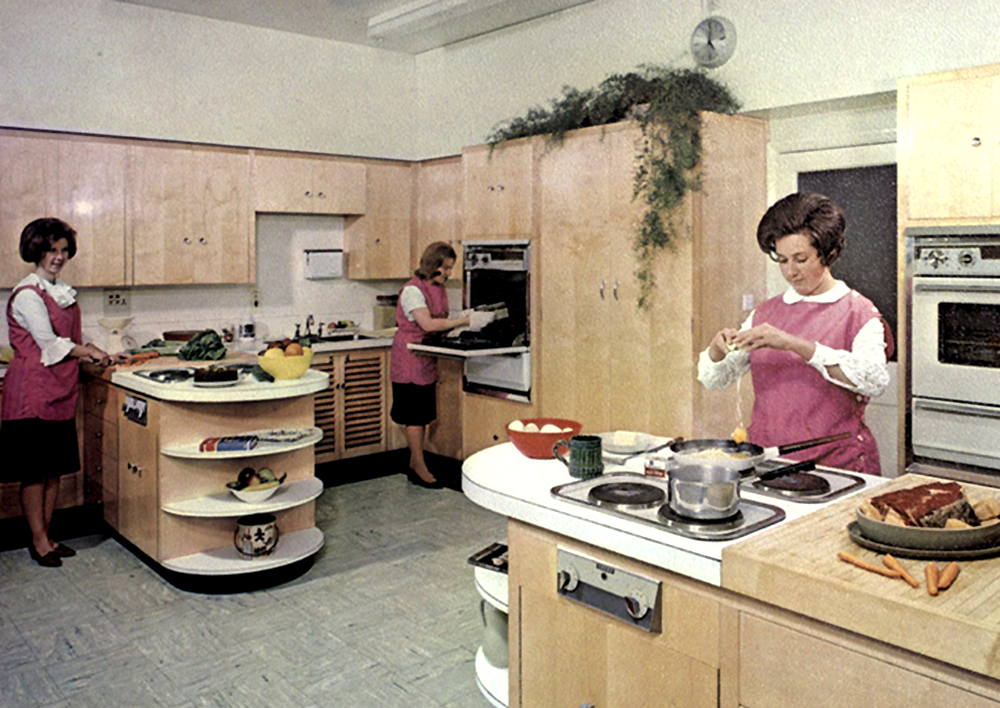 (13) The "Domestic Science Laboratory"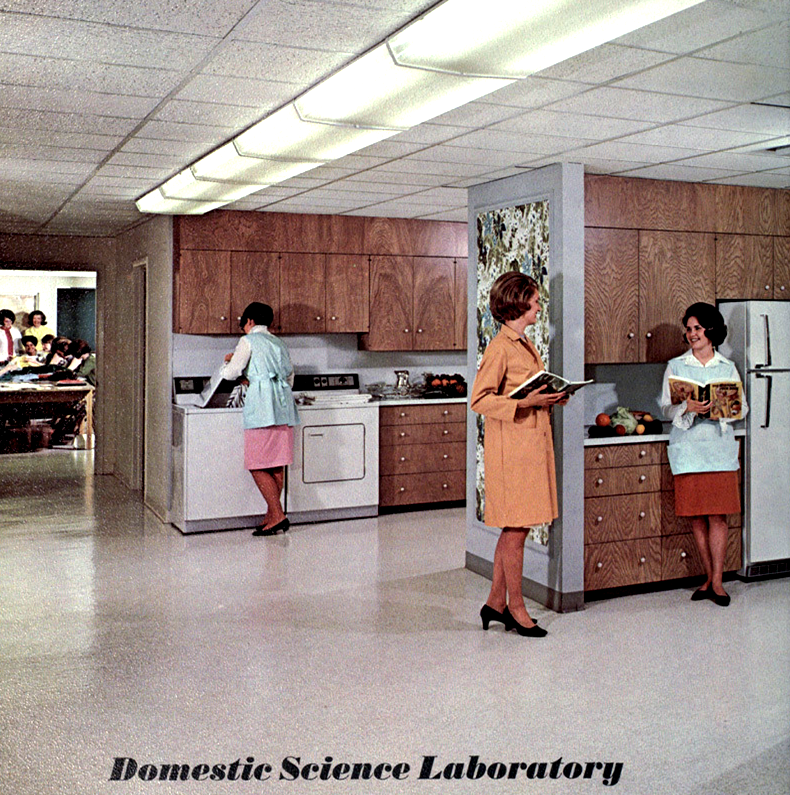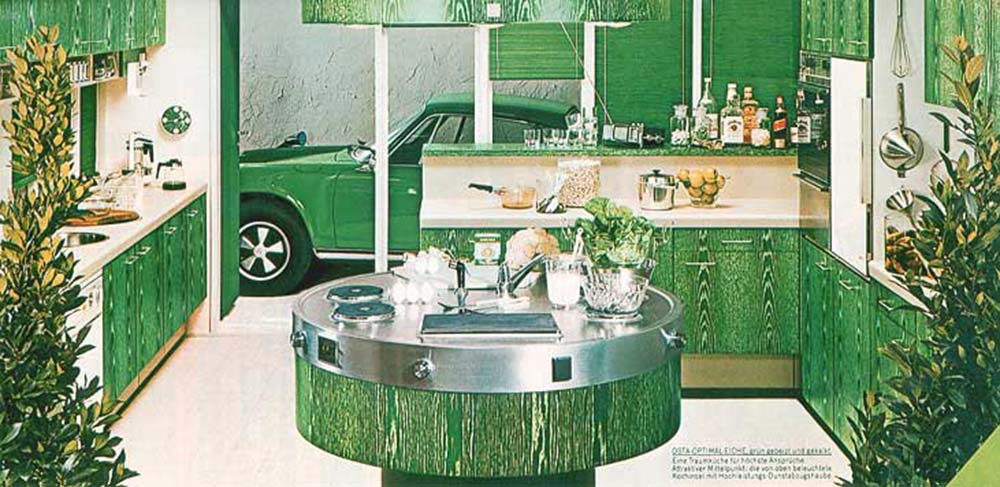 (14) A rather bold kitchen from 1974.  For more 70s kitchens see: Those Fabulous and Frightening 1970s Kitchens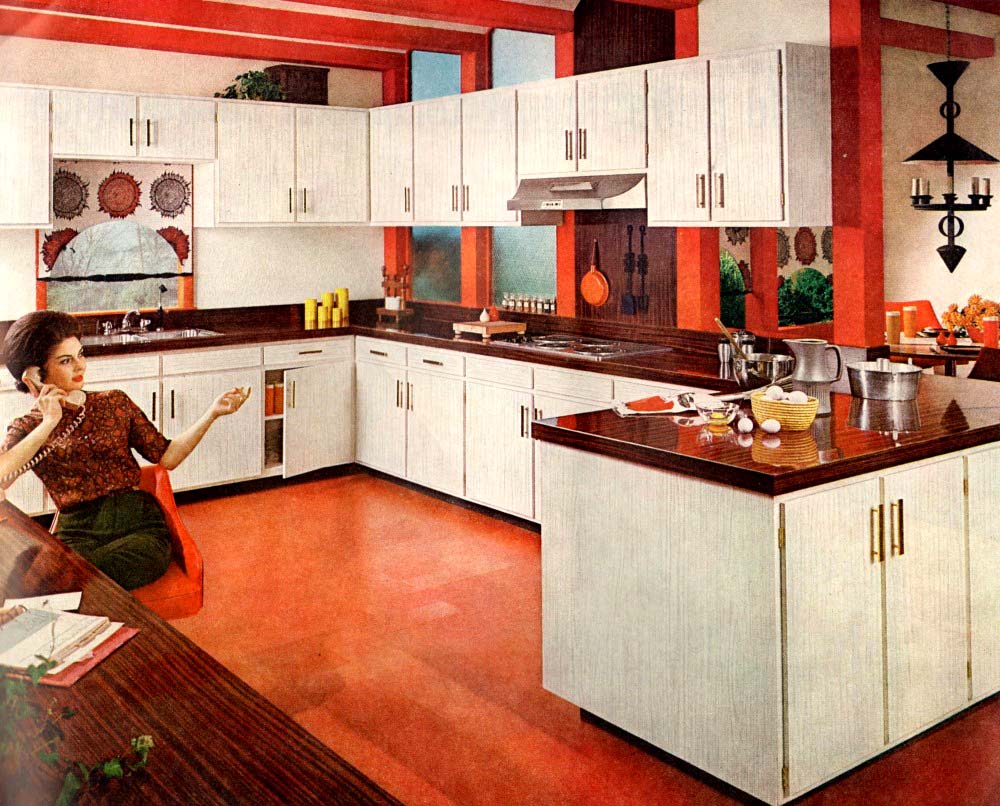 (15)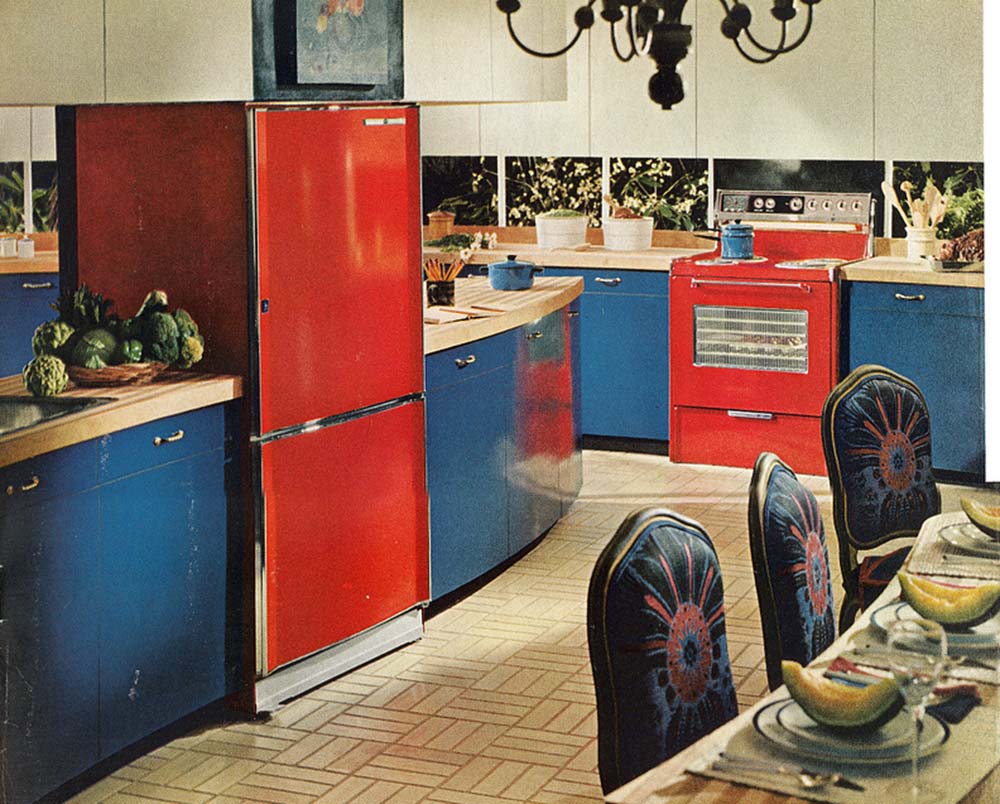 (16) This may be ugliest of the bunch.  It looks like the dinner party couldn't even stay long enough to eat their melons. Can you blame them?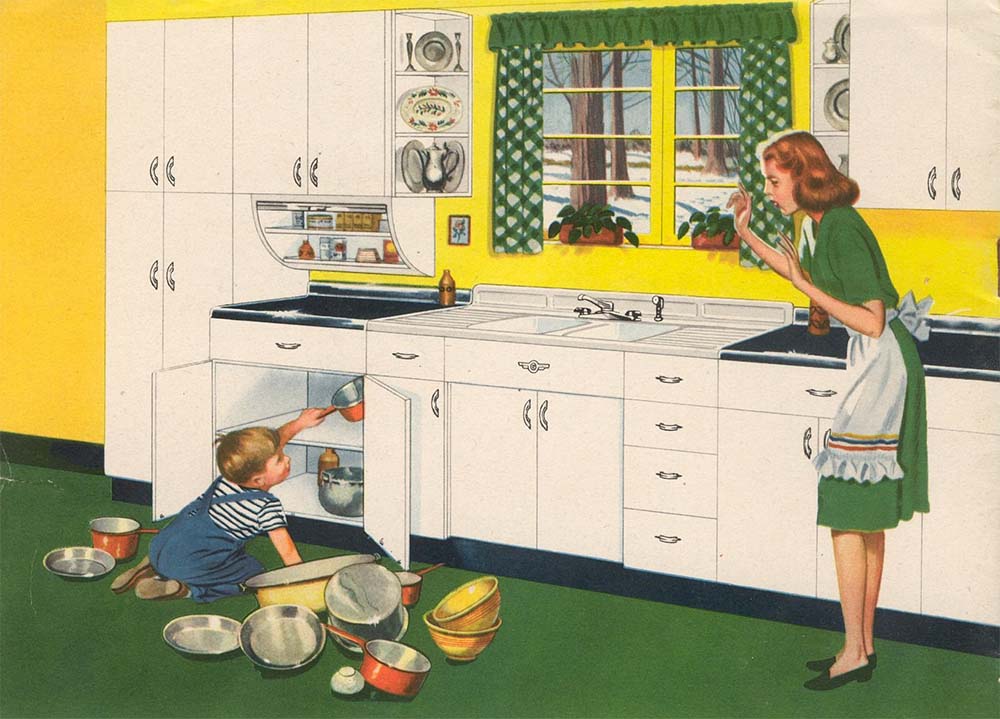 (17) A few pages from a Youngstown Kitchen brochure from 1947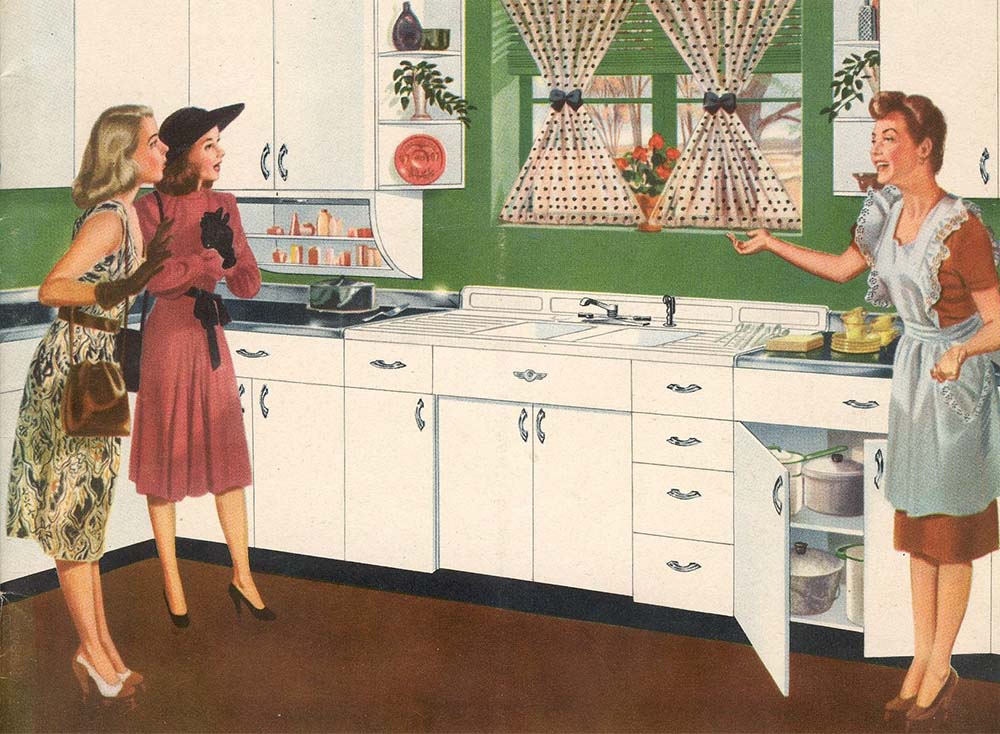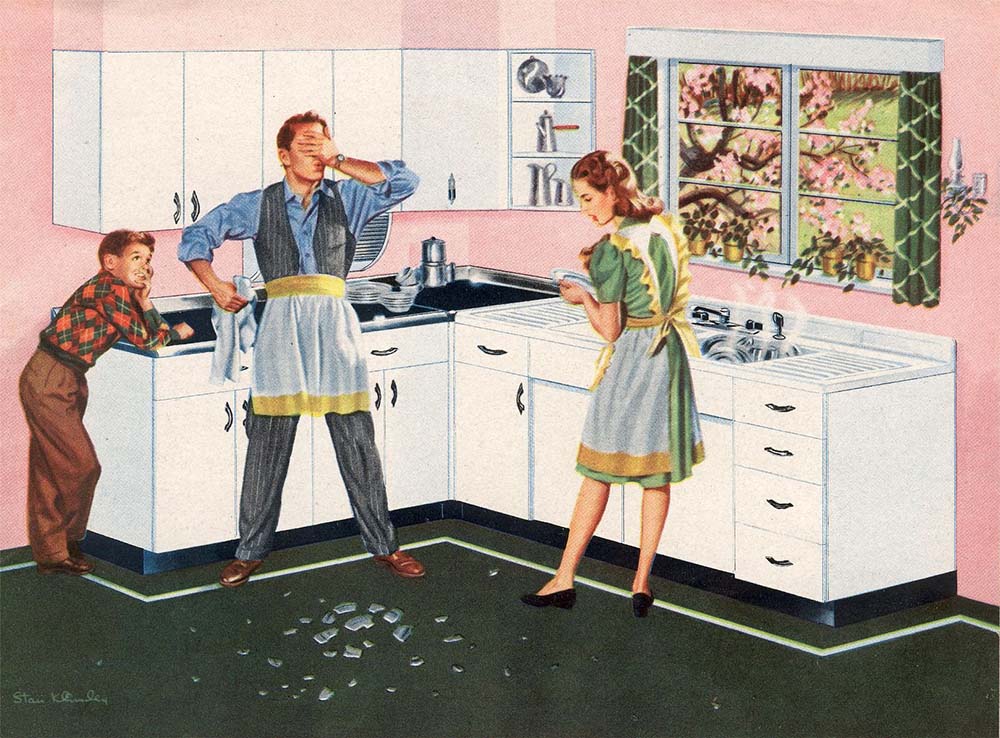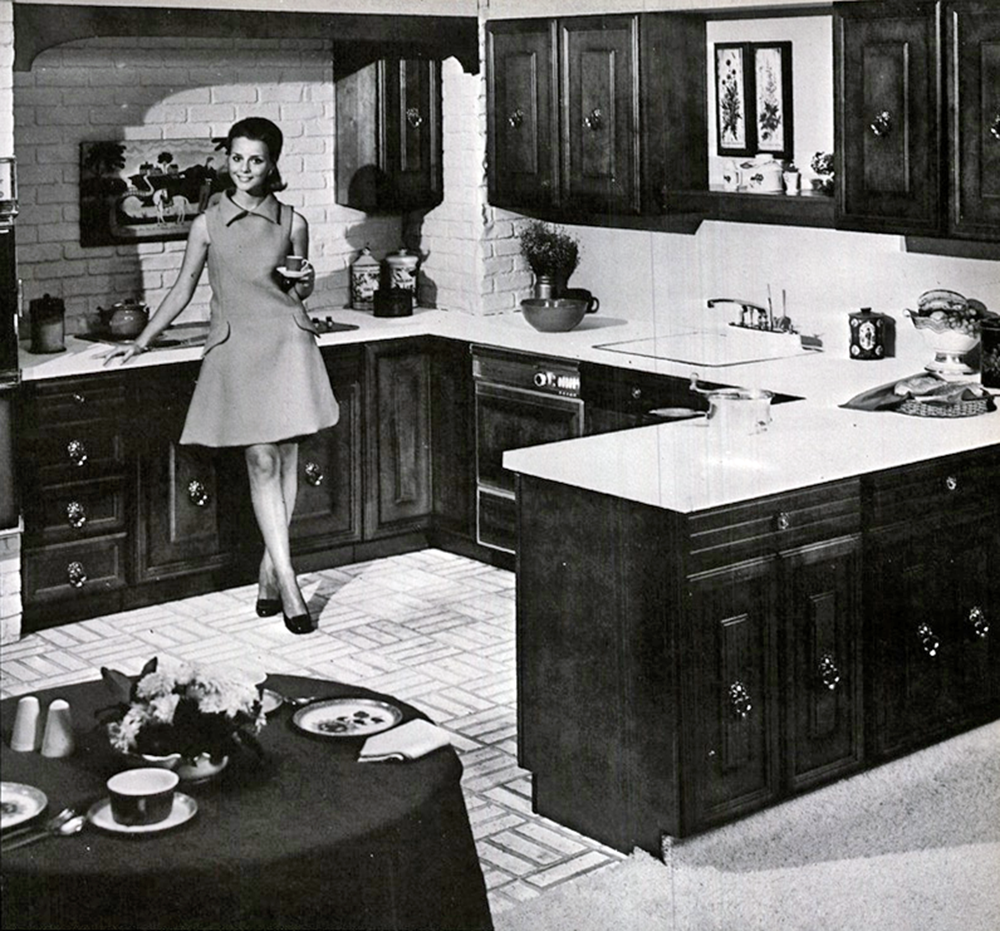 (18)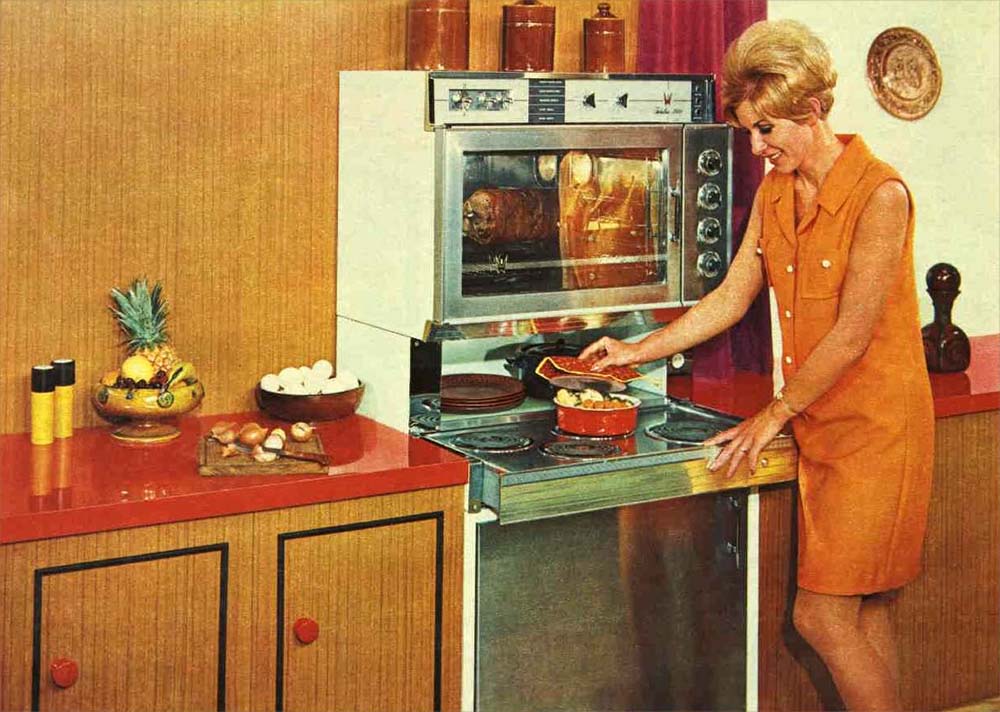 (19)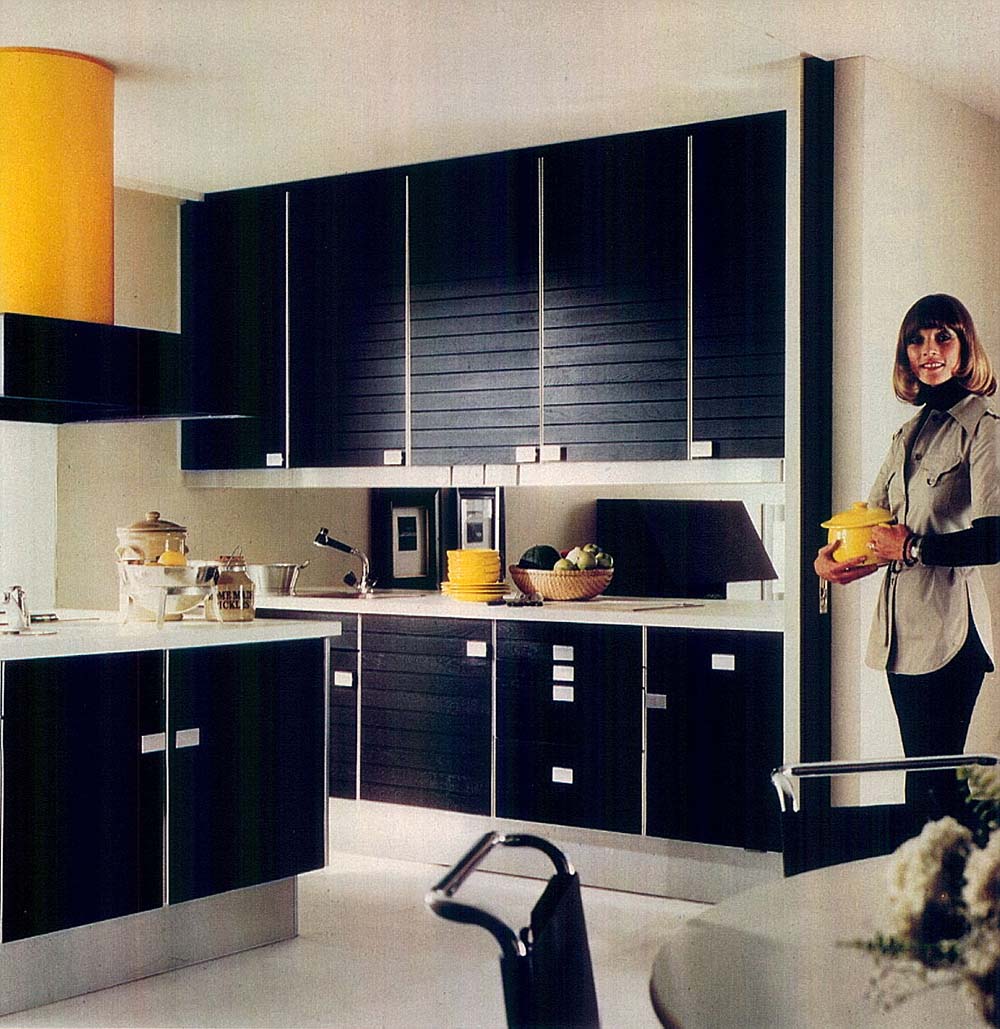 (20) This 70s kitchen design is pretty groovy – I wouldn't mind having a kitchen like this today.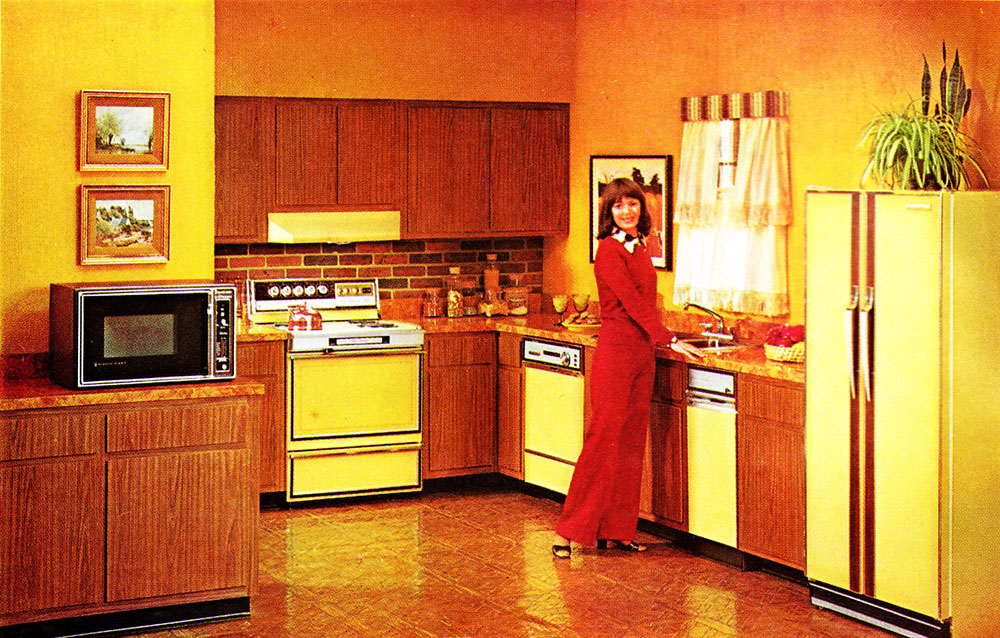 (21) If anything blue enters this kitchen it will instantly explode.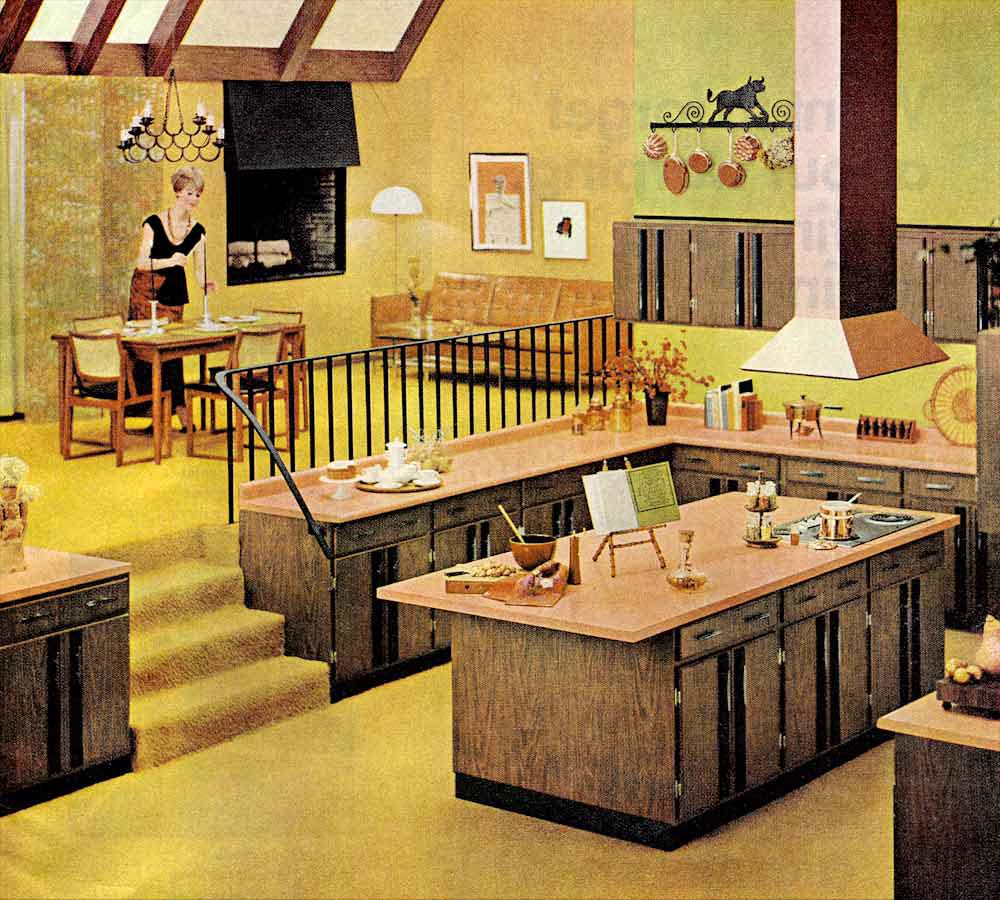 (22) I'm in love with design.  I want to live here.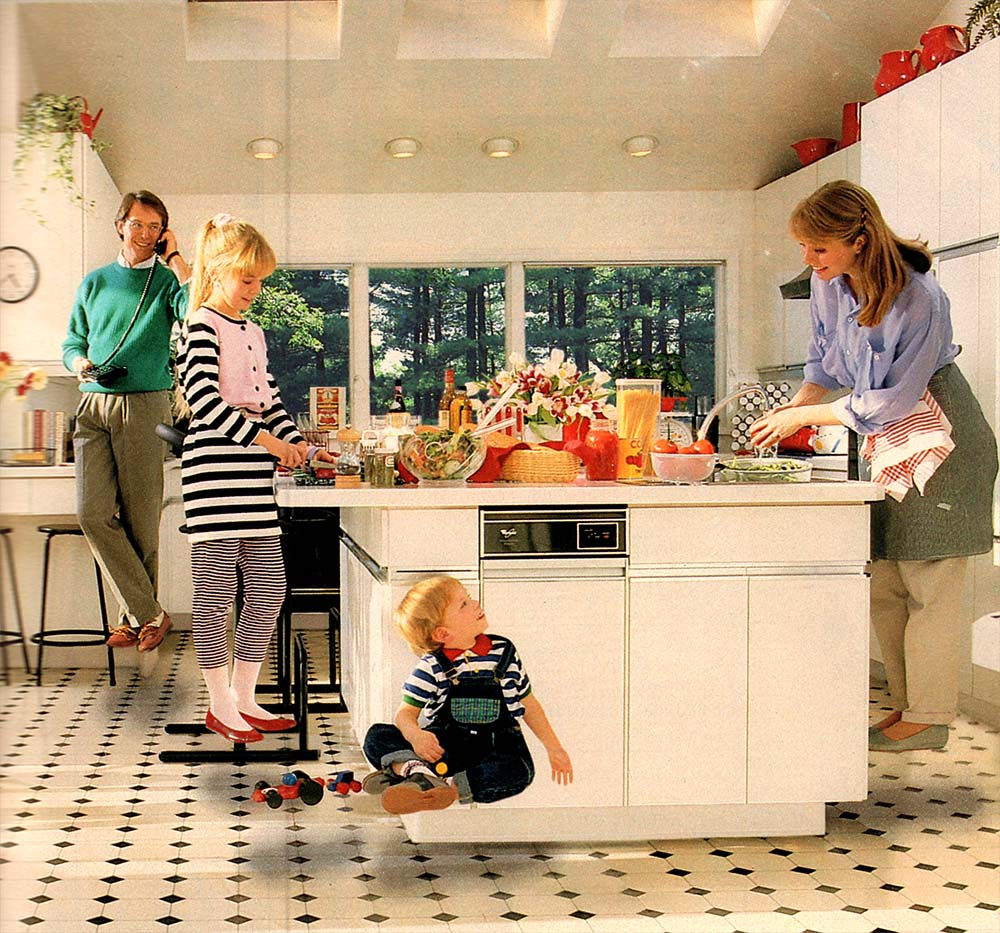 (23) I couldn't help it – I had to let an 80's kitchen into our list… especially when it's this level of strange.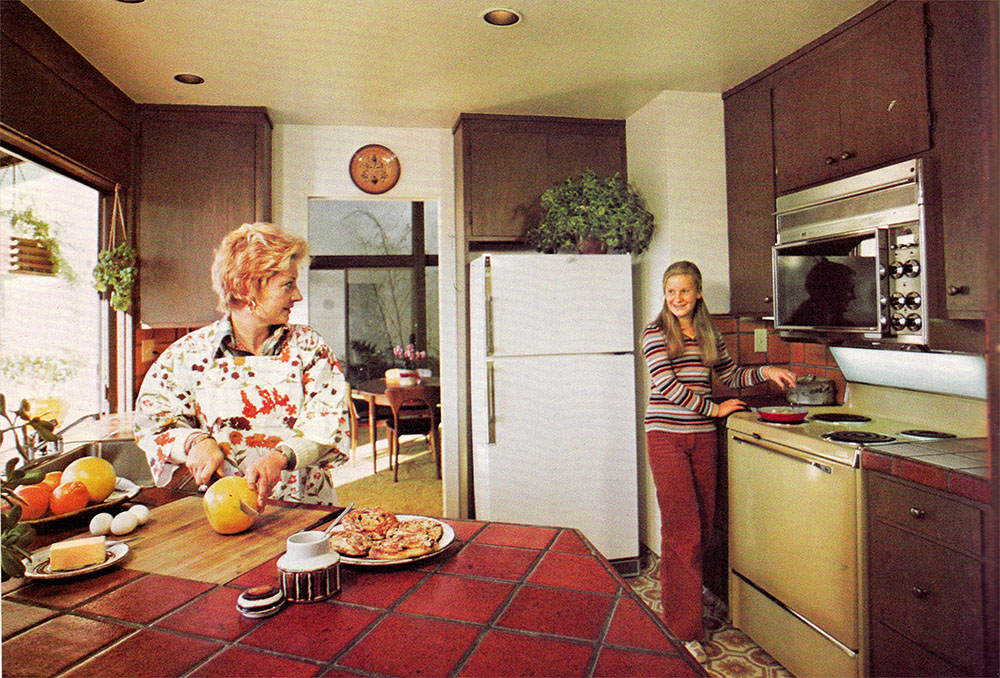 (24) Kitchen '76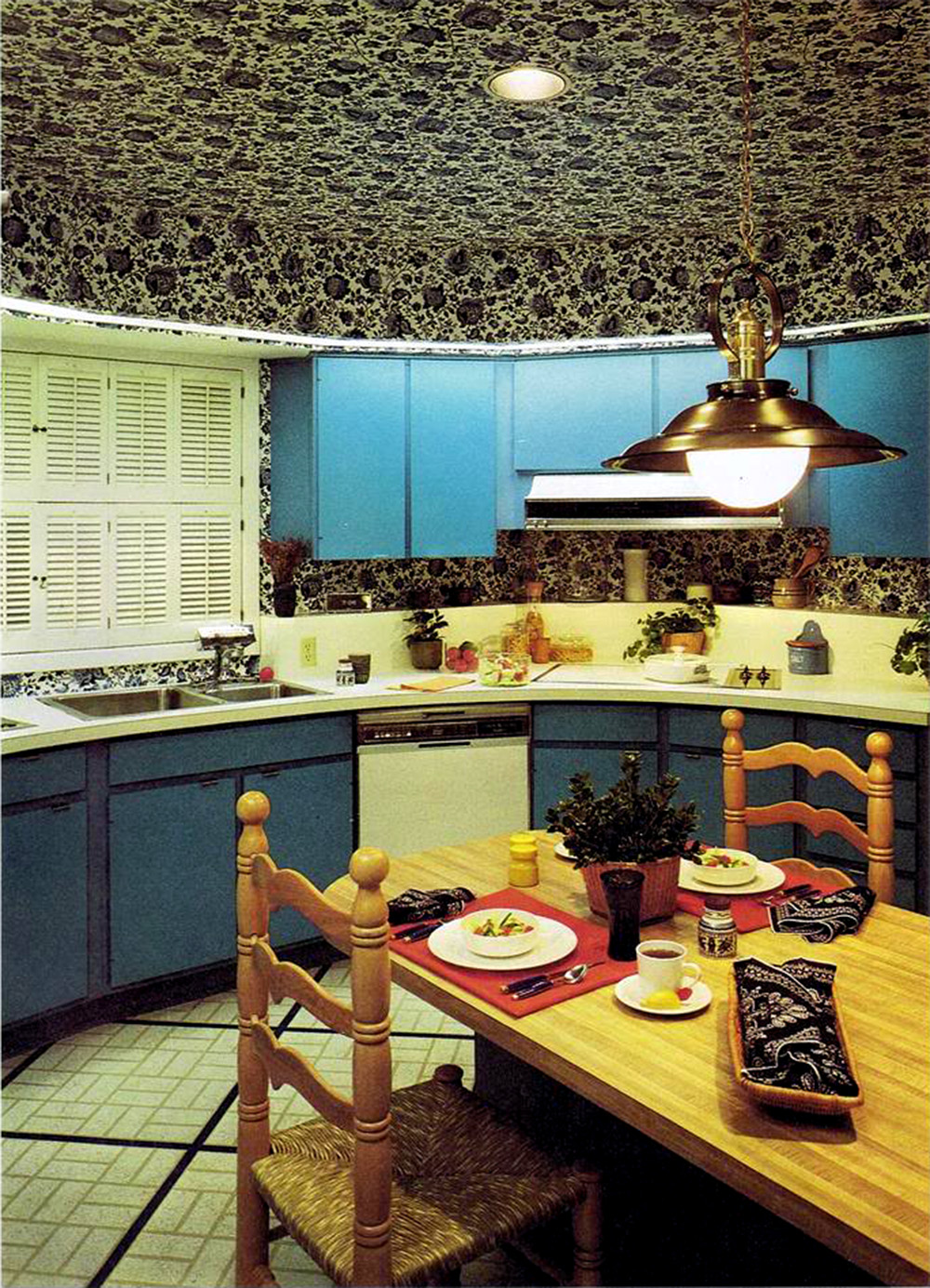 (25) The rule when you're eating in this kitchen – whatever you do, do not look up.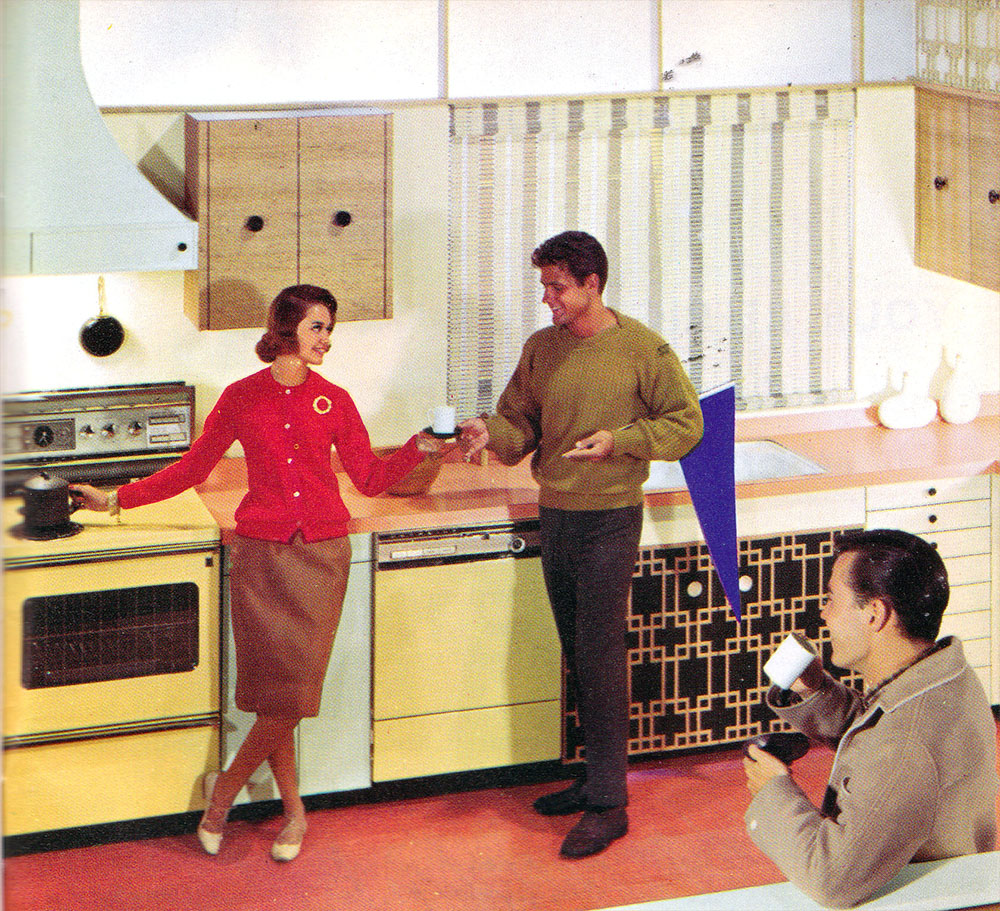 (26) Better Cooking Electrically 1963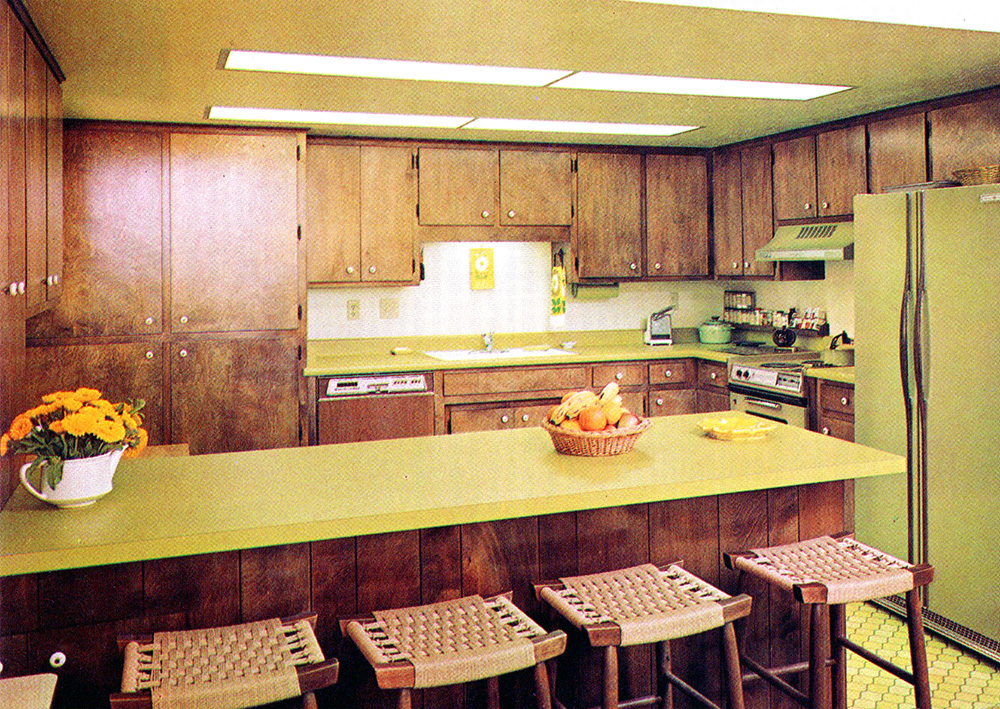 (27) From a 1970 issue of Phoenix Magazine – this looks a lot like the Brady Bunch kitchen.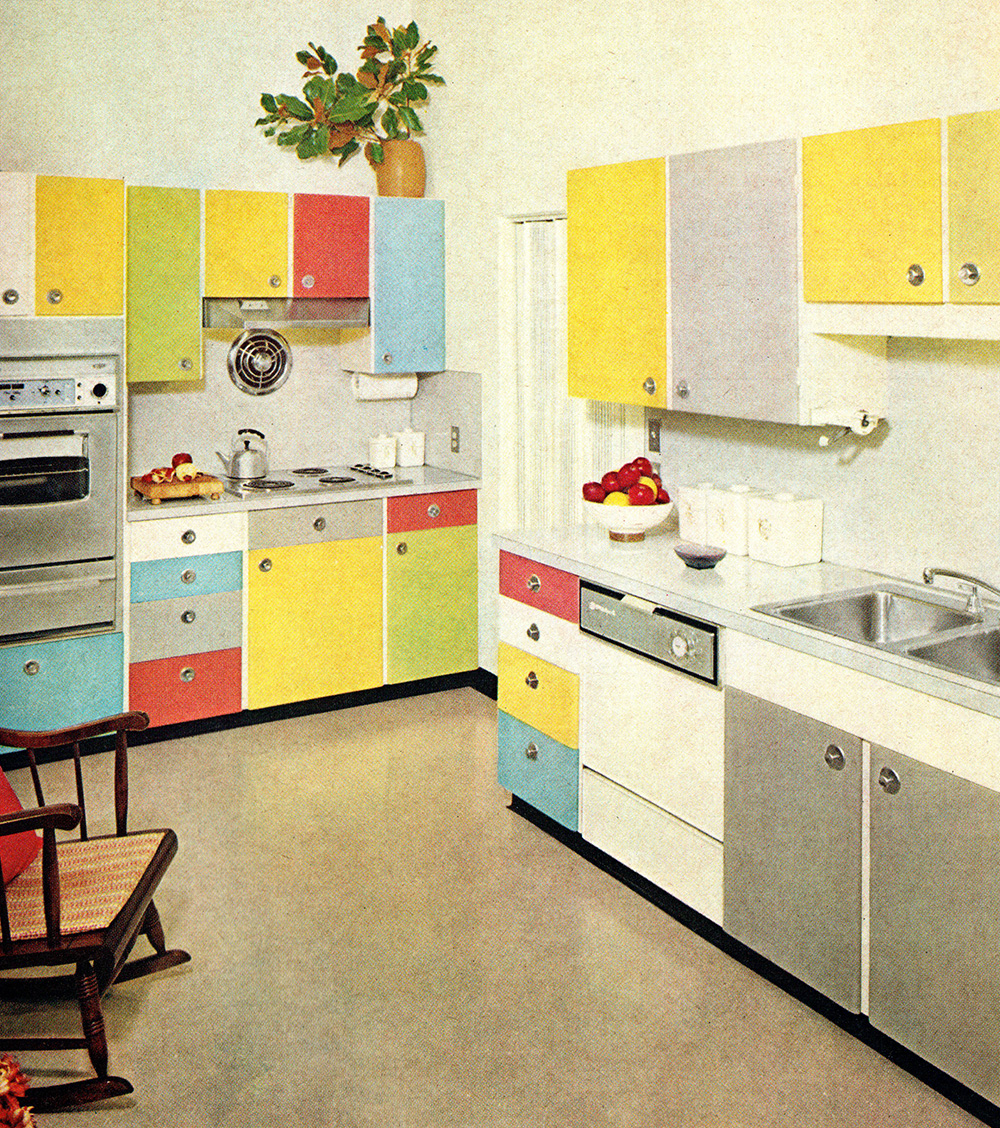 (28)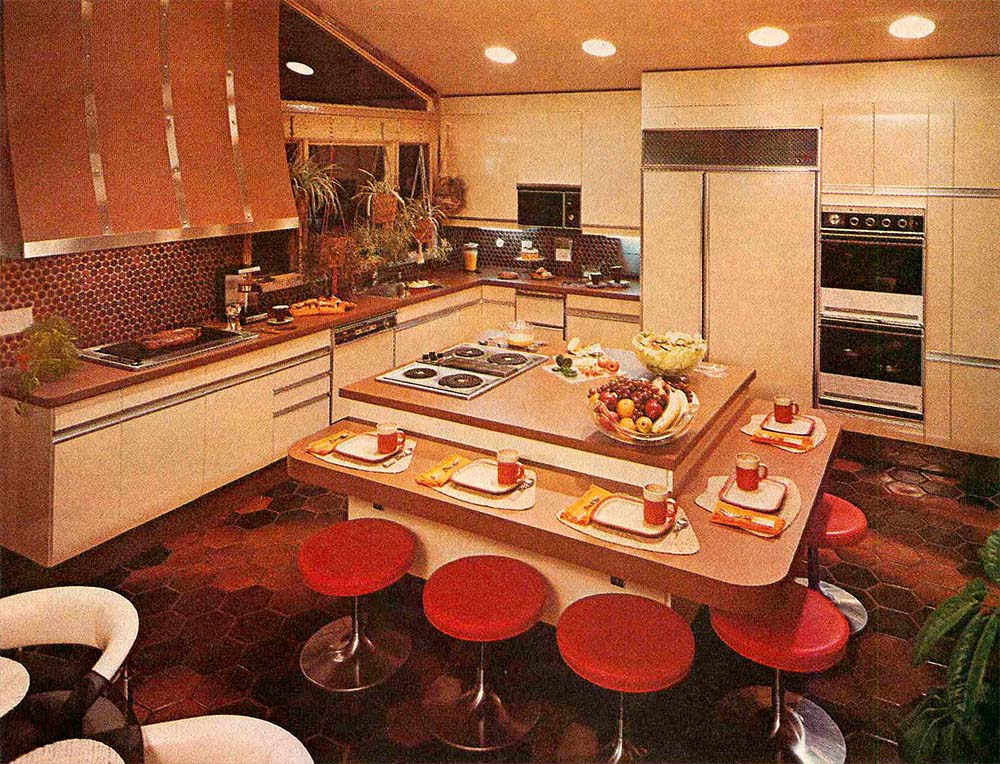 (29) From 1979 – I can't help it; I actually dig this.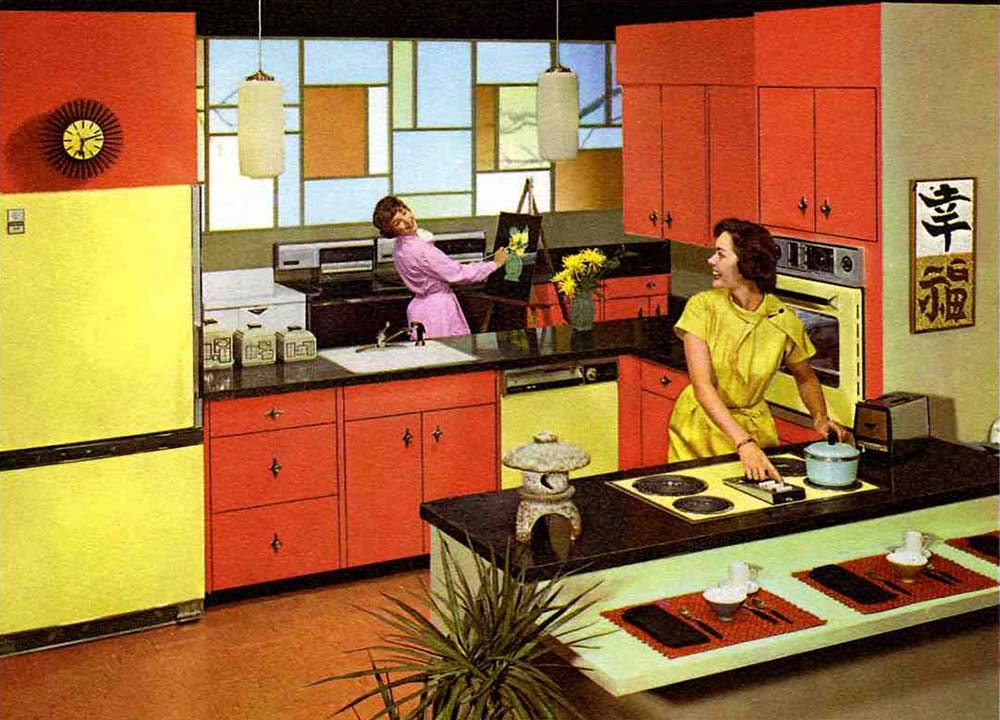 (30) The kitchen's so spacious you'll have room to cook.. and randomly start painting the houseplants.