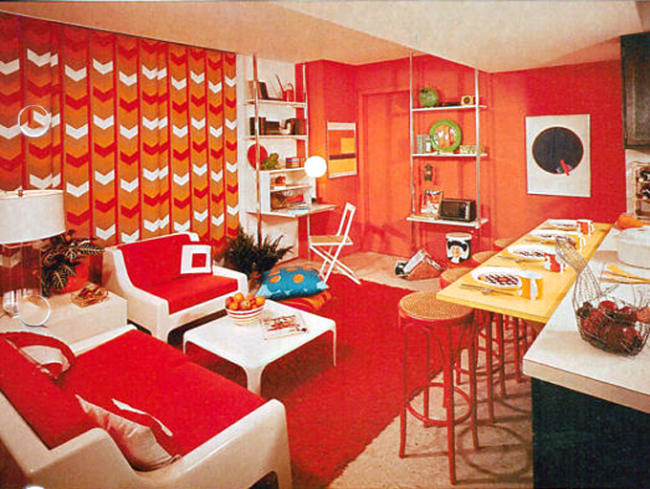 JUST imagine for a moment what living in a room like this would do to your psyche.  It's like your entire field of view is awash with ketchup.  This is the opposite of Feng Shui… this is Fen Shite.
Today we're taking a quick look at Red in the Seventies.  Not just in décor, but the whole strange crimson enchilada.
Be prepared for near lethal amounts of red.  Anorak is not responsible for retinal scarring or mental deterioration incurred during the reading of this article.  Protective eye-wear is advised.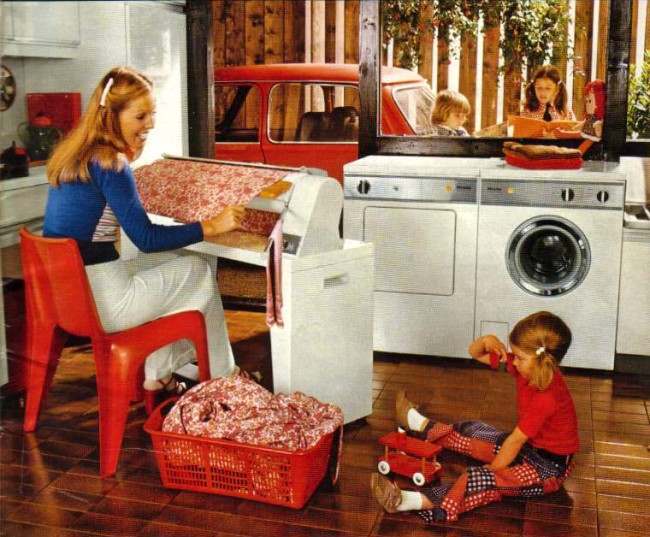 When you think of the colors of the Seventies, you think of browns and earth tones (Harvest Yellow, Avocado, etc.).  However, the late Sixties brought an air of experimentation and obnoxiously bold colors.  It was a rebellion against the dull palette of earlier times.
At this moment the American household is probably the most colorful in the world, Latin America and Southeast Asia notwithstanding…. In a country once starved for color, there is now an embarras de richesse

– Decoration U.S.A. by Jose Wilson and Arthur Leamon (1965)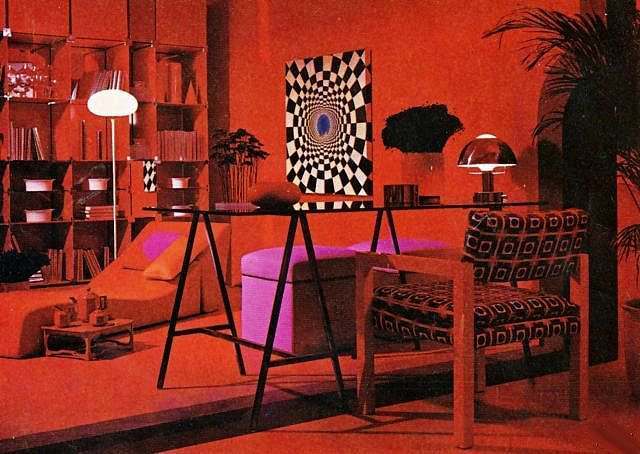 This room would likely have driven the residents mad, but it didn't matter.  Gone were the days of beige and taupe; it was time to open your heart (and shield your eyes), because red was officially "in".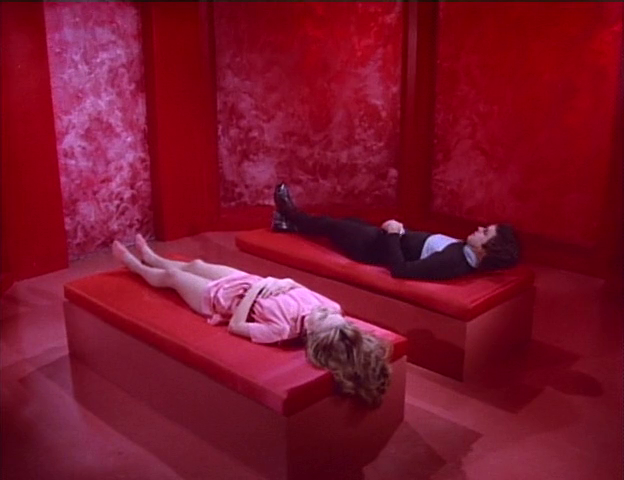 This, from the Logan's Run TV series, demonstrates how big bold colors were seen as futuristic or progressive.  As mentioned, the conservative palette was yesterday's news.  To accurately depict the future, you needed heaping helpings of red!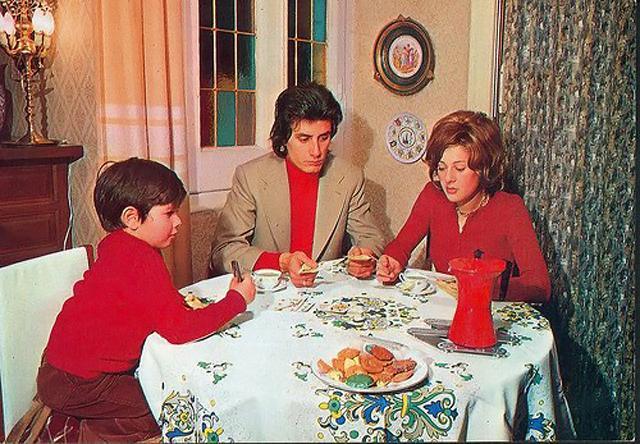 This is the most depressed family I've ever seen in my life. The man appears to be silently choosing how best to kill himself. Meanwhile, his wife stares silently into the abyss….
It's well known that colors affect your moods.  The color red is associated with rage, anger, longing, malice, and wrath.  Perhaps, the generous helpings of red around the house had a little something to do with the misery.
Here's another red bedecked family on the brink…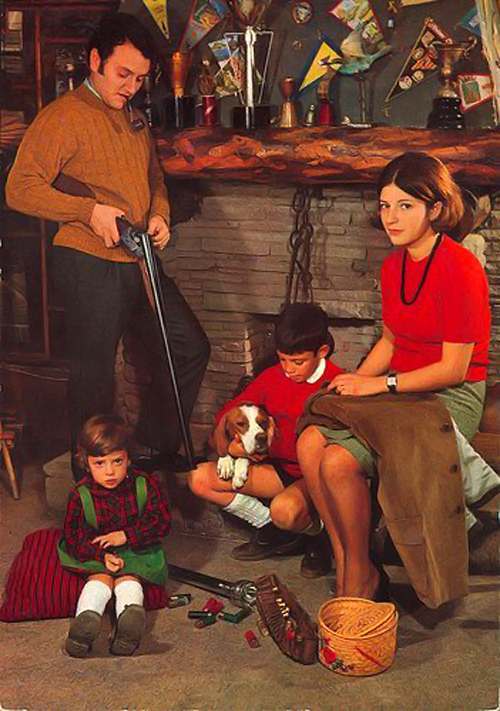 "Help us!"
This is the look you get from a hostage. It's that "I can't say anything or he'll blow us away with his shotgun, so I'll just pray that someone will see the distressed expression on my face and rescue us" kind of look.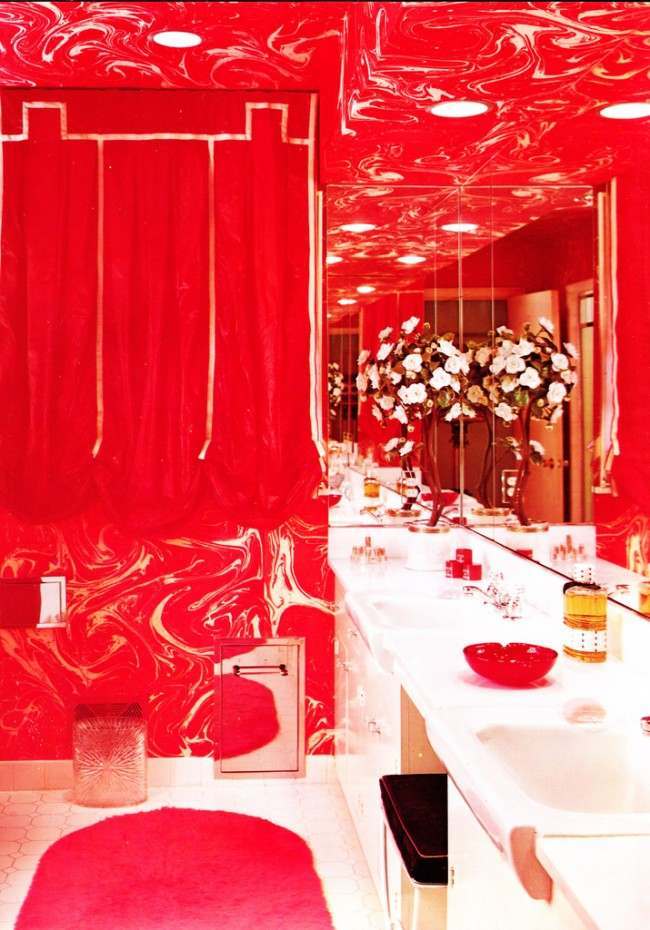 Remember the red bathroom from The Shining (1980)?  The bathroom pictured above isn't from the warped and psychotic mind intent on killing his family with an axe… it's from an old decorating book.  Here's the caption:
"No one nowadays would blink an eyelash at a bathroom like the one above with its riot of red and white marbleized paper, its red rug and curtains and its white tile floor and lavatories – for white is still needed to keep color in its place."
No one would blink an eyelash?  Was it because they were so accustomed to red or because they were frozen in fear?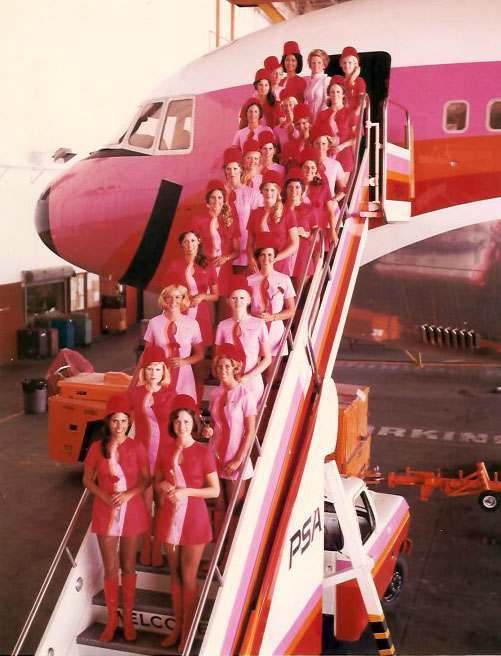 Pacific Southwest Airlines combined pink and red to create some incredibly hot stewardess uniforms.  A far, far cry from today's bland flight attendant garb.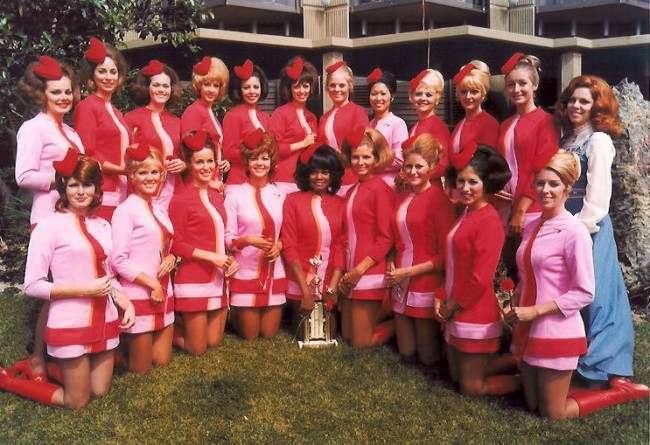 Say what you will about the berserk color palette of the Seventies, it made life a bit more interesting.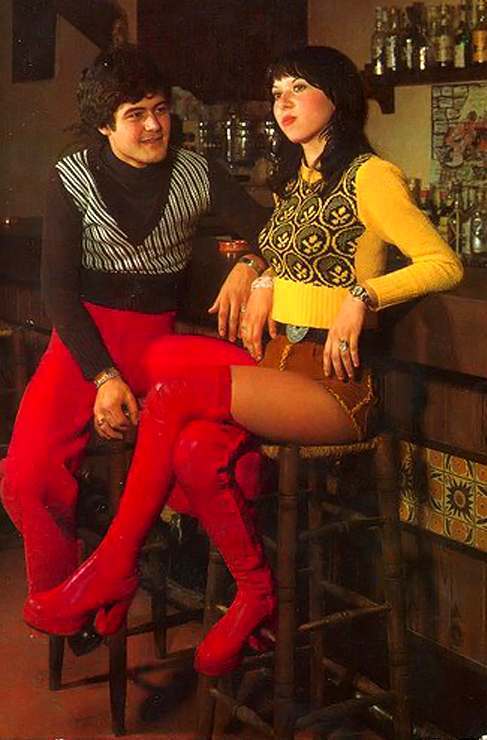 Good Lord! What in the name of King Crimson are these people wearing?   This sort of thing would never have flown in the 1980s; but, somehow in the 1970s, it made sense.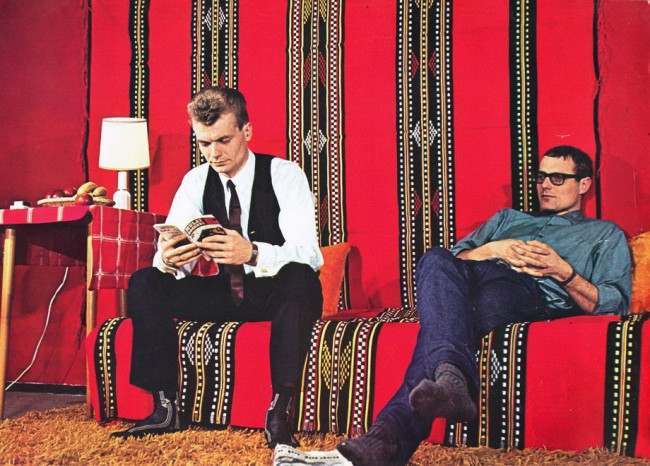 Today, red is used as an "accent color".  Back then, it was more of a "torment color".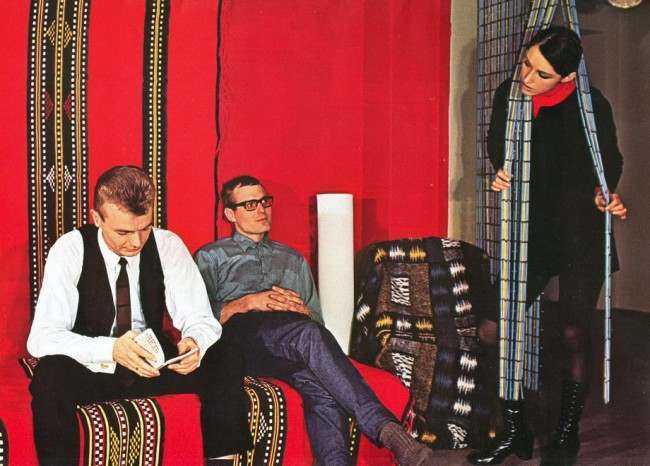 A tip to the lady who just entered this room – don't make eye contact and back away slowly.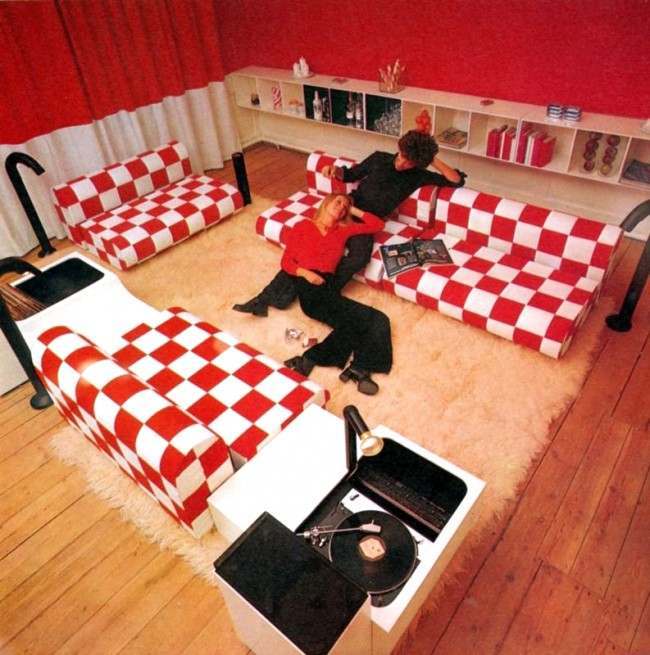 What songs is playing on the Hi-Fi?  I can't zoom in enough on the label to tell.  Perhaps, Neil Diamond's "Red Red Wine" or my favorite "red" song – "Red Telephone" by Love.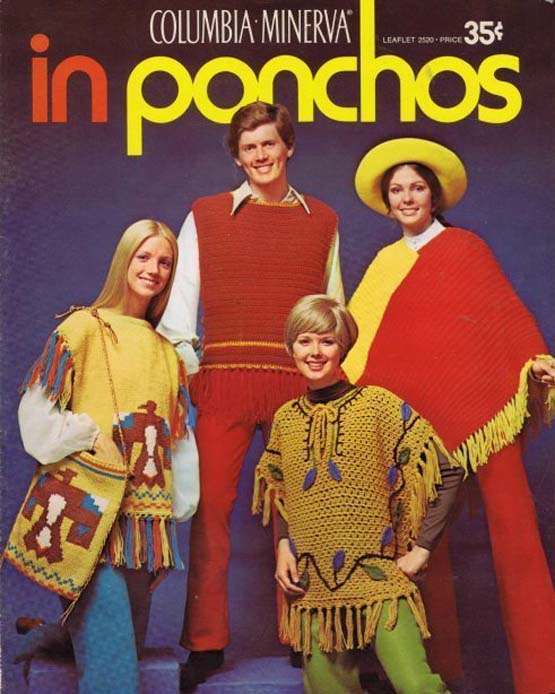 Red was popping up on all kinds of 70s-wear.  Let's just say that recreational drug use was at an all-time high and leave it at that.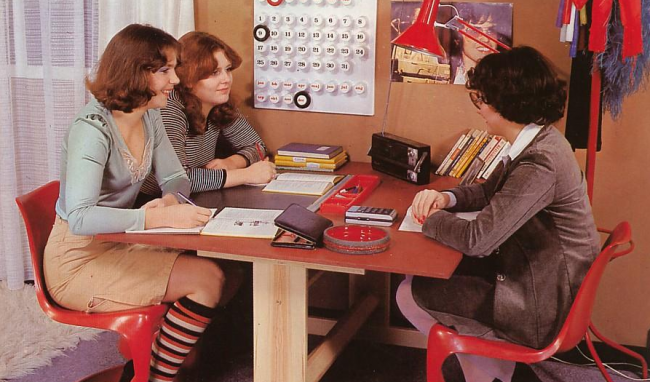 Red chairs, red lamp, red ashtray, red striped socks, red scarf, red desk tray, red coat rack…. the array of red is impressive, but this next desk has them beat….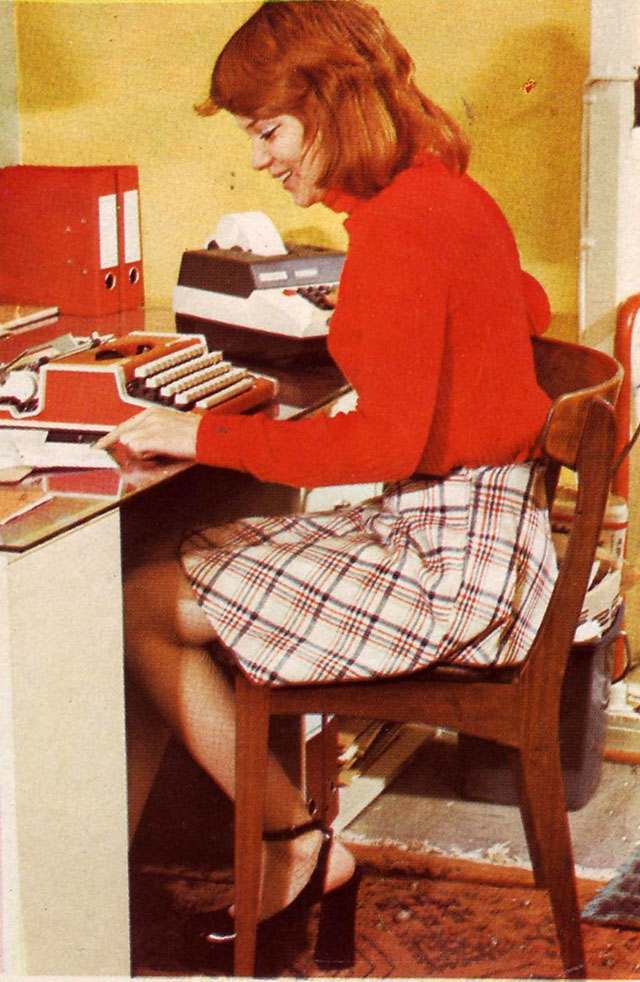 There were all kinds of shades of red to choose from (cardinal red, rose, brick, ruby, raspberry, etc.); yet, it seems more often than not, the people of the Seventies opted for "cornea scalding red".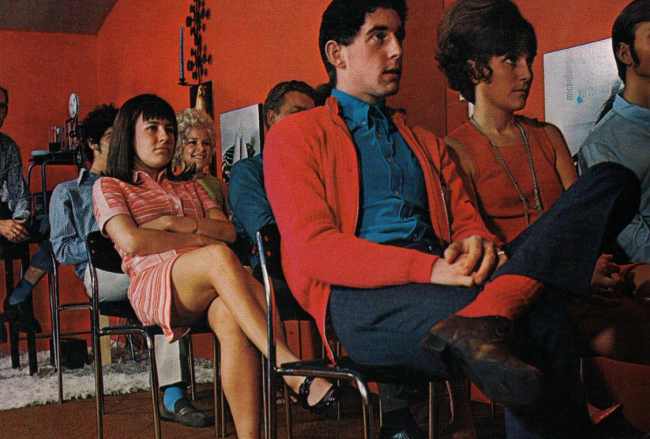 Let's face it: red isn't a family friendly color.  Do you get a creepy vibe from the picture above?  I don't know what they're all watching, and I don't think I want to find out.
And finally, our final 3 contestants for Best Red Outfit of the 1970s. (Drumroll, please)
Contestant #1 – Marcia's Miniskirt from The Brady Bunch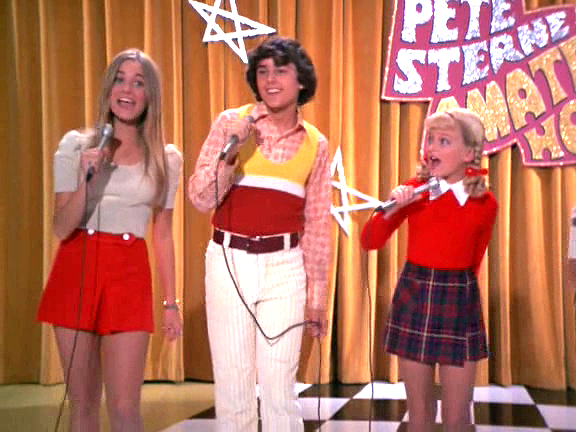 Contestant #2 – Gabrielle Drake's dress in The Au Pair Girls (1972)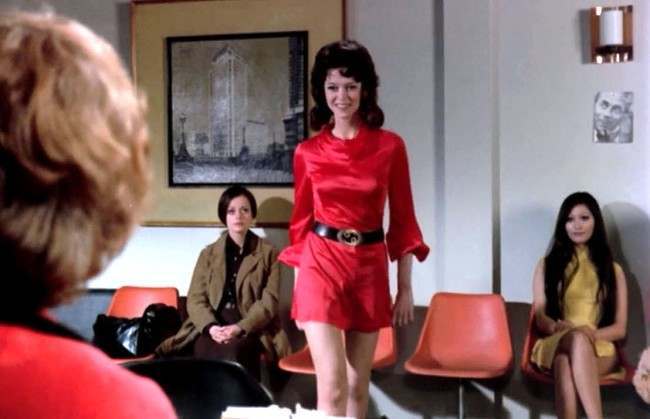 Contestant #3 – Markie Post's space age getup from Buck Rogers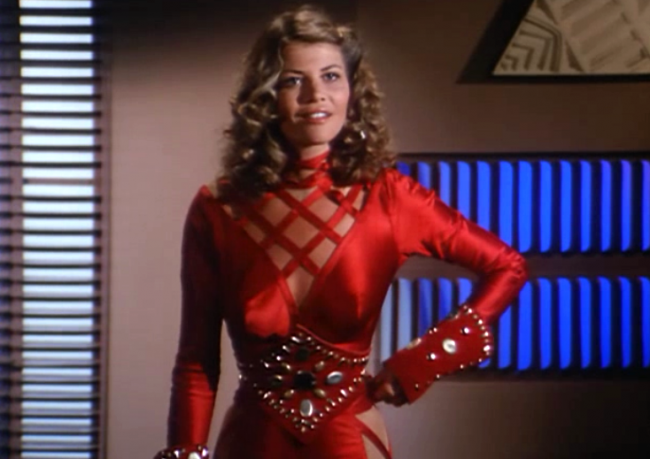 And the winner is…. now, that's just not fair… that's cheating…
Miss Drake for the win.