Quentin Crisp described the cinema as a "forgetting chamber"–a place to escape the problems of everyday life.
If we go to the movies often enough," Crisp wrote in his introduction to his collected film writing, How To Go To The Movies, "and in a sufficiently reverent spirit, they will become more absorbing than the outer world, and the problems of reality will cease to burden us.
Crisp loved the cinema and preferred American movies to British films–which he thought as boring as real life. He adored screen heroines like Greta Garbo and Marlene Dietrich, and had a particular liking for gangster movies.
In September 1997, Quentin Crisp listed his ten favourite gangster movies in the (sadly) short-lived film magazine Neon.
10. Miller's Crossing (Joel Coen)
A gangster plays two rival gangs against each other. Screenplay: Joel Coen and Ethan Coen. Starring: Gabriel Byrne, Marcia Gay Harden, John Turturro, Jon Polito, J. E. Freeman, and Albert Finney.
Quentin Crisp described Miller's Crossing as "[a] chilling bleak film, with a real plot," highlighting one key scene with Gabriel Byrne:
"Mr Byrne makes a man kneel down in the forest, and the man prays for his life. Later the guy says, 'Look into your heart–you'll see that you don't have to do this.' Mr Byrne says, 'What heart?' and shoots him dead. Lovely."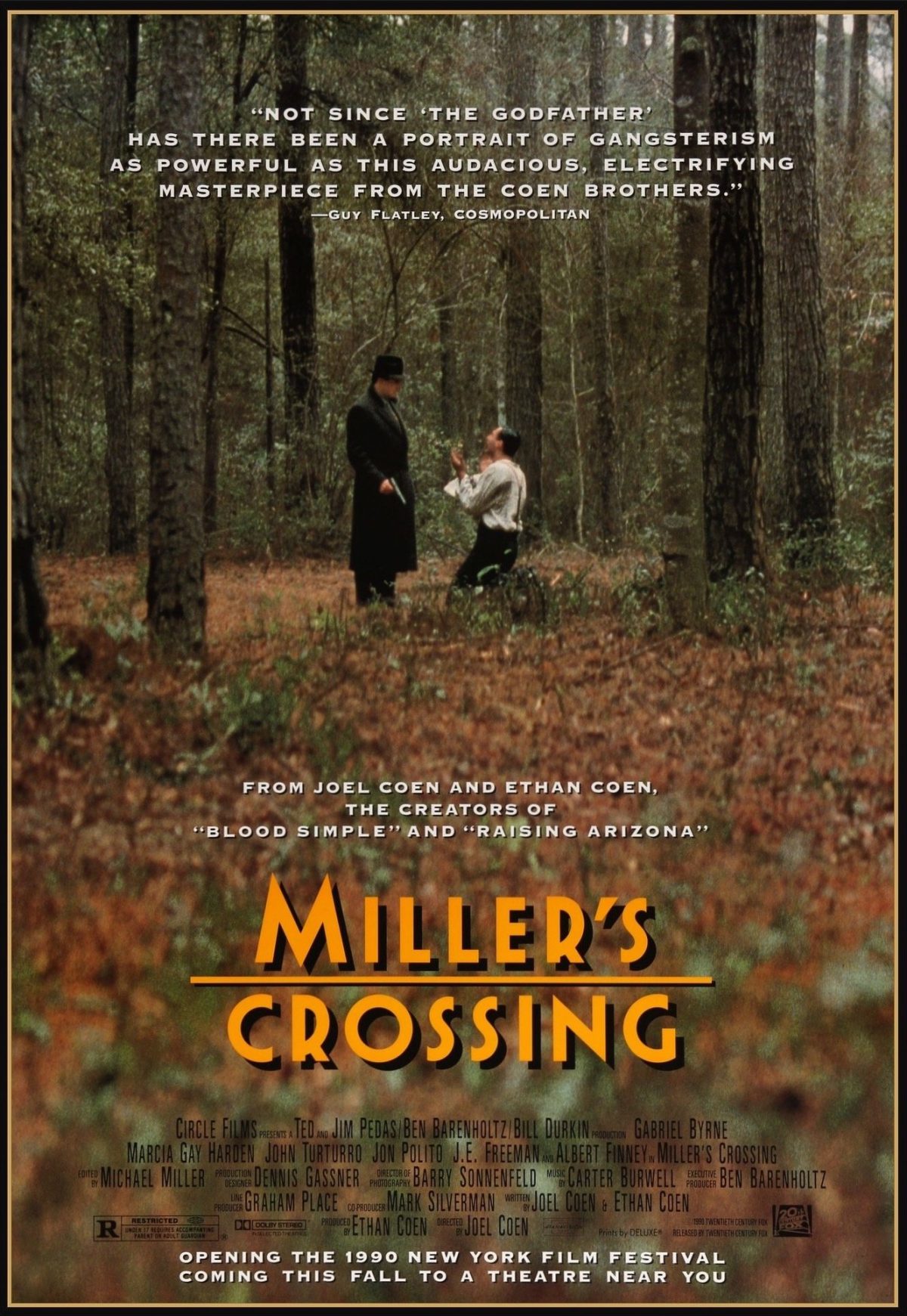 9. Trial By Jury (Heywood Gould, 1994)
Screenplay: Jordan Katz and Heywood Gould. Starring: Joanne Whalley, Gabriel Byrne, Armand Assante and William Hurt
Mr. Crisp considered this film as having "all the ingredients," with its tale a woman juror (Joanne Whalley) threatened with "a typical Mafioso ploy" to find the accused innocent–which places her against the jury.
"I loved the sustained threat from the word go. It has a rather weak ending, when she puts on a slinky evening dress and goes out with a knife in her handbag and all that, but it was a wonderful film."
8. Scarface (Howard Hawks, 1932)
A film loosely based on the rise of Al Capone and his fight with rival gangsters to rule Chicago. Screenplay: Seton I. Miller, John Lee Mahin and W. R. Burnett. Based on the novel 'Scarface' by Armitage Trail. Starring: Paul Muni, Ann Dvorak, George Raft, Osgood Perkins, and Boris Karloff.
In this classic crime movie, Paul Muni "shoots dead George Raft, who, it was said, was a gangster in real life."
"Mr Muni thinks Mr Raft had deflowered his sister, who was Anne Dvorak, who never came to anything because she wasn't beautiful. But in fact he had married Anne Dvorak–and that was the great tragedy."
Mr Crisp considered Scarface "a sentimental gangster movie. You were meant to weep, and for Mr Raft, which takes some doing."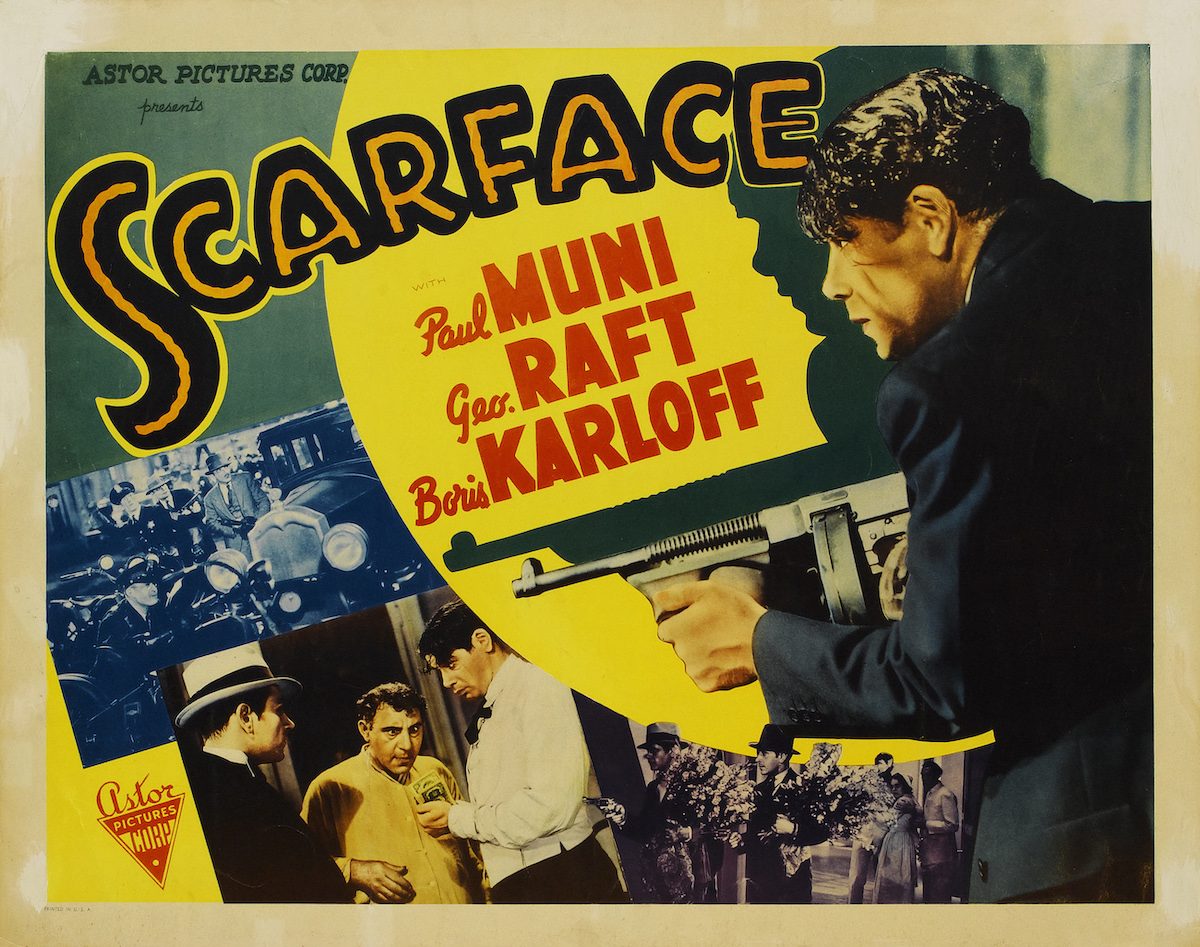 7. The Usual Suspects (Bryan Singer, 1995)
A petty criminal Roger "Verbal" Kint (Kevin Spacey) recounts the story of a heist gone wrong. Screenplay: Christopher McQuarrie. Starring: Gabriel Byrne, Benicio del Toro, Chazz Palminteri, Pete Postlethwaite and Kevin Spacey.
Though he did not consider this "strictly a gangster film," Mr. Crisp thought The Usual Suspects a "wonderful film" (one of his favourite and over-used descriptive terms), with Kevin Spacey coming in for special praise as "the best thing" about the movie. However, there was one weakness for Mr. Crisp.
"For me, the police have to be involved in a great gangster film: you need to see them against each other."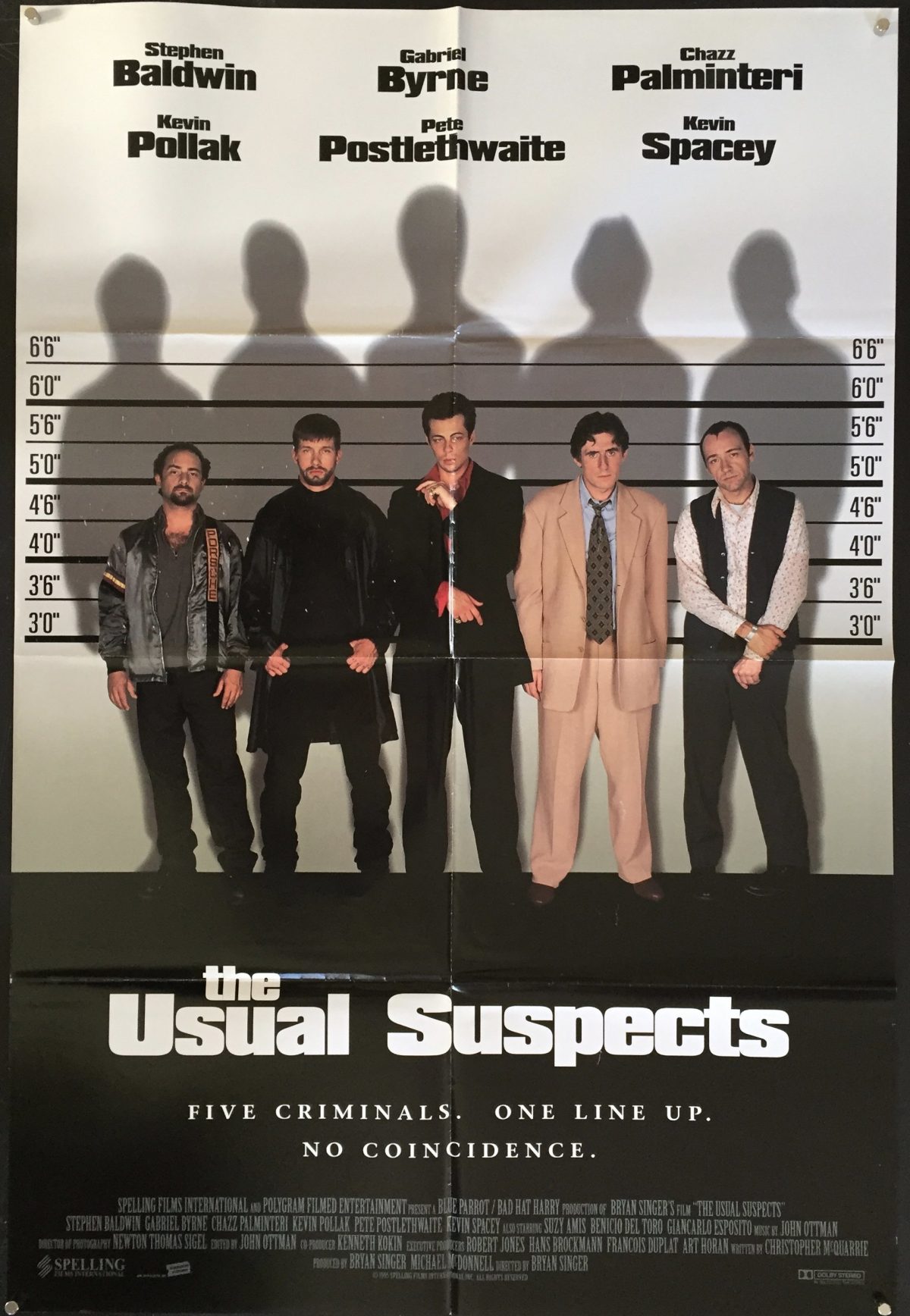 6. Reservoir Dogs (Quentin Tarantino, 1991)
A robbery goes wrong with bloody and dramatic consequences. Screenplay: Quentin Tarantino. Starring Harvey Keitel, Tim Roth, Chris Penn, Steve Buscemi, Lawrence Tierney and Michael Madsen.
Another "wonderful film," this time because "the plot is so clear."
"We have a heist, to steal some diamonds, which we never see–only a man running with a briefcase. I loved the tension, the grimness. I couldn't believe we'd see them cutting off that policeman's ear but we do, and that man [Michael Madsen] walks around with his ear in his hand. Wonderful. Other people's deaths affirm our existence but people in films die in such quantities that it impedes its purpose. If they blow up the White House, that doesn't impress you unless you can see Mr Clinton's head fly through the air."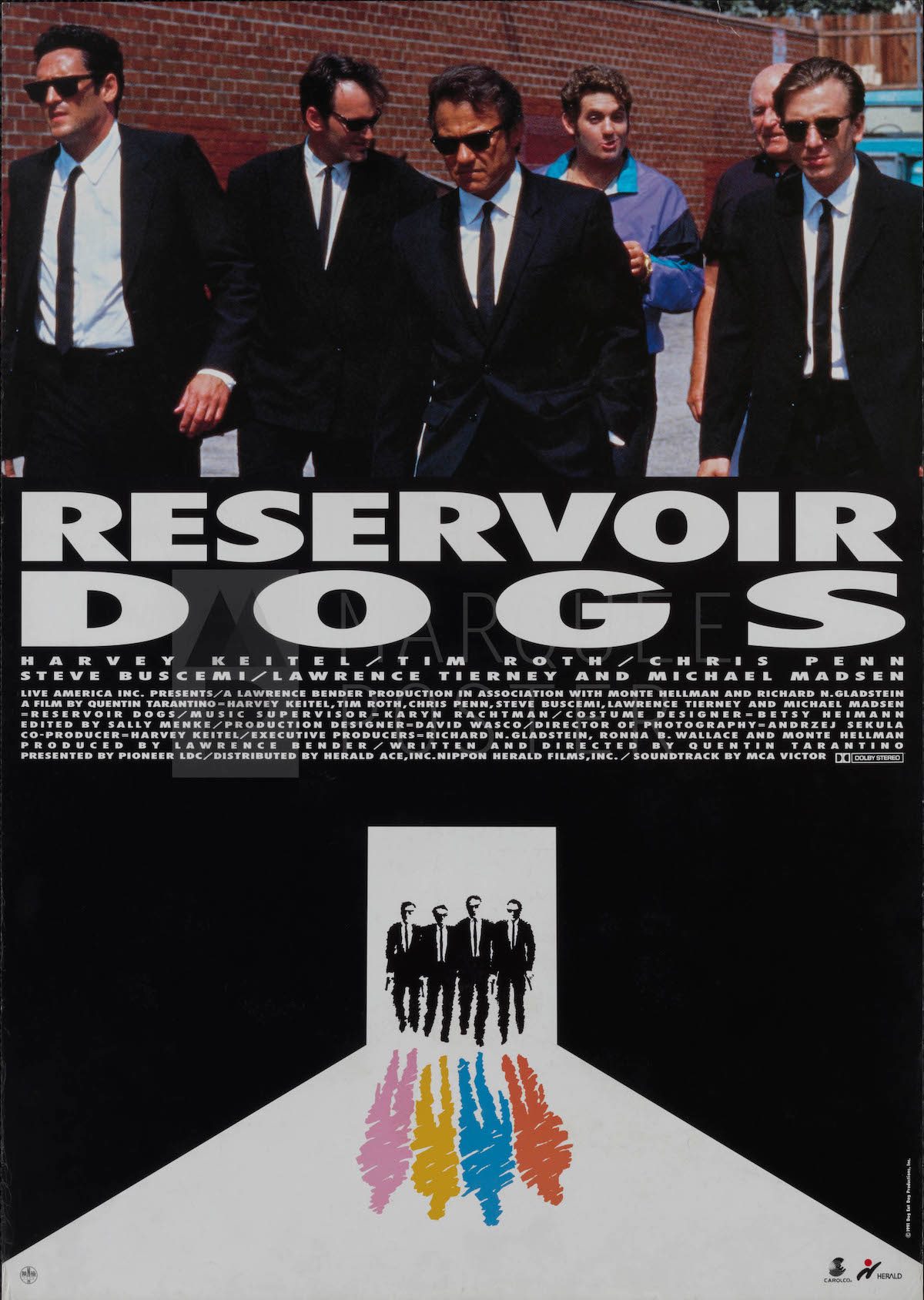 5. Goodfellas (Martin Scorsese, 1990)
The rise and fall of a Lucchese crime family as told through criminal turned FBI-informant Henry Hill. Screenplay: Nicholas Pileggi and Martin Scorsese. Adapted form the autobiography 'Wiseguy' by Nicholas Pileggi. Starring Robert De Niro, Ray Liotta, Joe Pesci, Lorraine Bracco and Paul Sorvino.
It was the lives of the women that interested Mr. Crisp in Goodfellas, as other gangster movies had molls, whose lives were very dreary.
"…the wives lived an enclosed life: they could never know anyone except the wives of other gangsters because no-one would want to know a gangster's wife. It's like being married to a policeman–no-one's ever going to speak to you. So you saw the wives preparing endless fattening meals of spaghetti for these men, in an atmosphere of bonhomie and terror. And that was very good."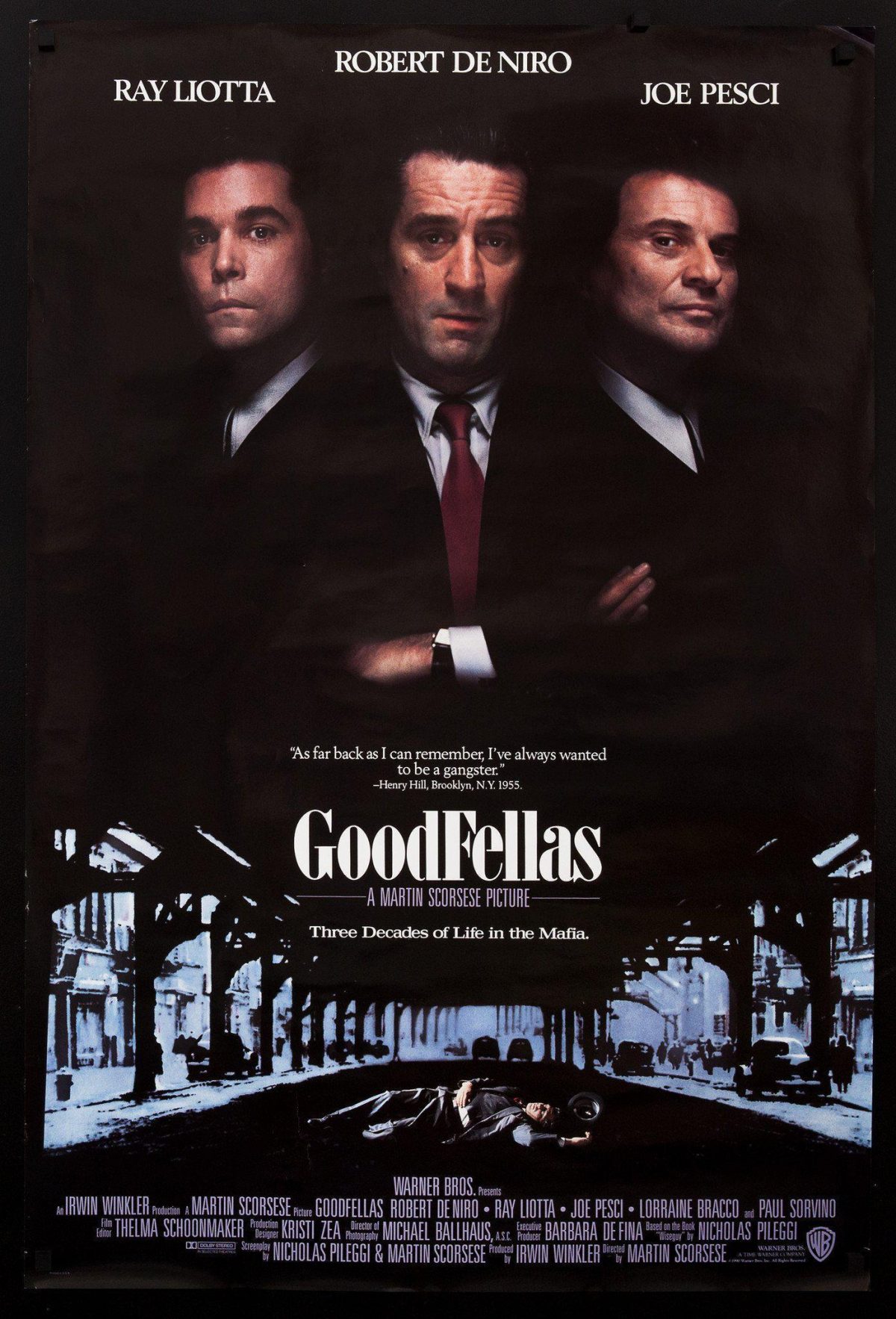 4. Donnie Brasco (Mike Newell, 1997)
Story of an FBI undercover agent who infiltrated the Bonanno crime family in New York City during the 1970s. Screenplay: Paul Attanasio. Based on 'Donnie Brasco: My Undercover Life in the Mafia' by Joseph D. Pistone with Richard Woodley. Starring: Al Pacino and Johnny Depp.
Mr. Crisp never believed in Johnny Depp "because he appeared in such frivolous escapades as Edward Scissorhands," but had to concede that he was "very good in this."
"As a Fed disguised as a Mafioso, he has to show us how afraid he is but conceal his fear from the other cast members."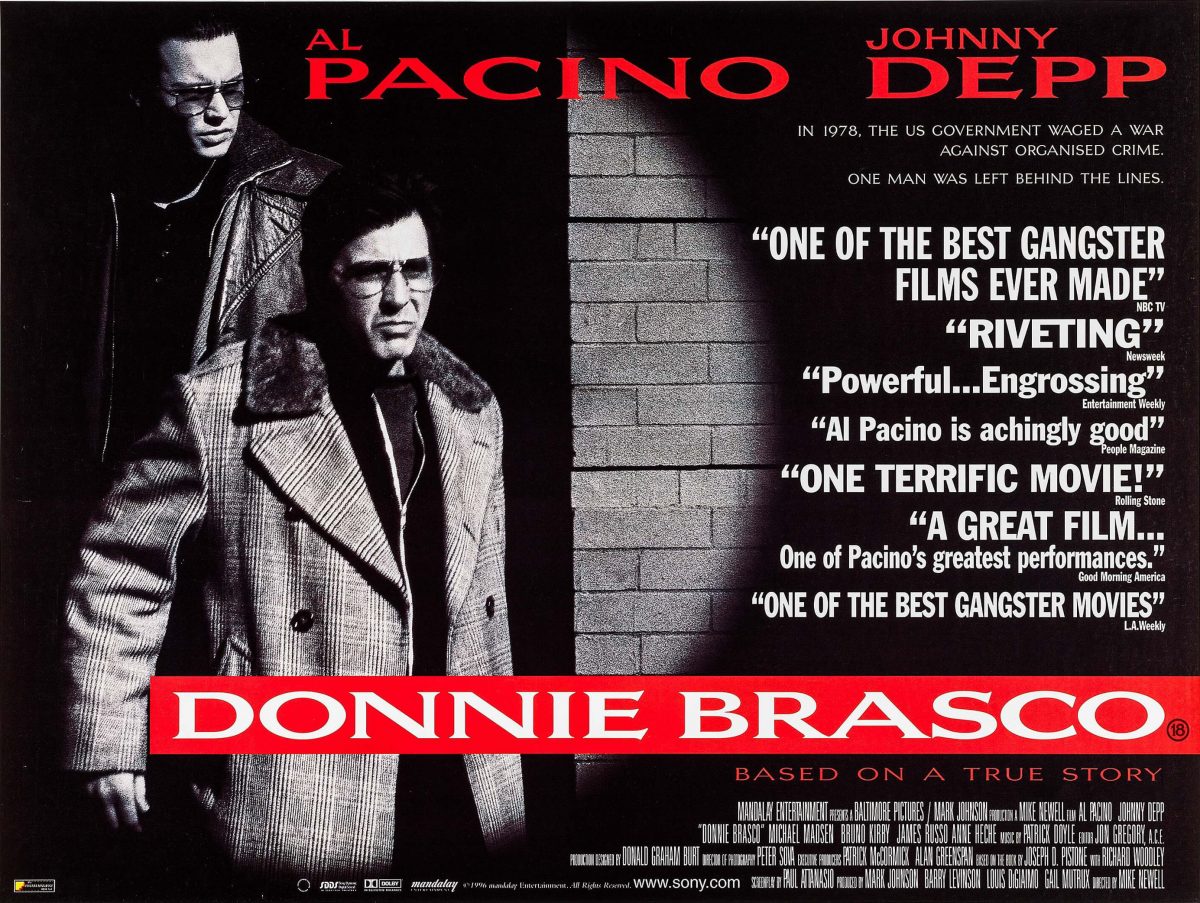 3. The Big Heat (Fritz Lang, 1953)
A cop takes on a crime syndicate after they murder his wife. Screenplay: Sydney Boehm. Based on the novel by William P. McGivern. Starring: Glenn Ford, Gloria Grahame and Lee Marvin.
It's the scene that everyone remembers from The Big Heat that Mr. Crisp best recalled:
"At one point, I remember Mr [Lee] Marvin looks around the room for something with which to draw Miss [Gloria] Graham's attention. He sees a cauldron of boiling coffee and…when I saw it, as his hand stretched out, the woman behind me said, "Nooo!" Anyway, he takes the coffee and he flings it at her. Later on, she throws coffee at Mr Marvin and she says, "You'll end up like this"–and she tears off her bandages and her face is a mass of blisters. Wonderful."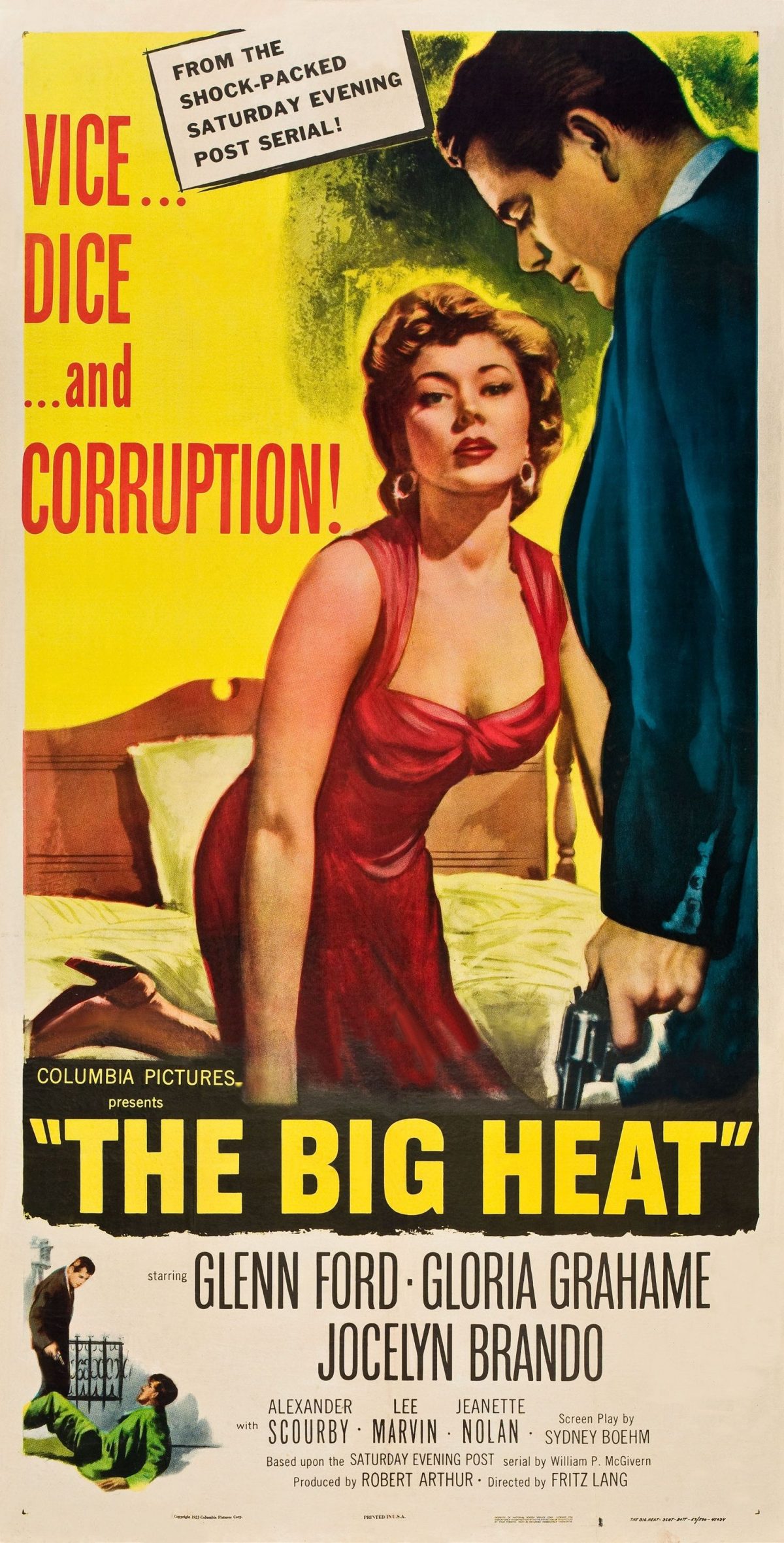 2. Little Caesar (Mervyn LeRoy, 1930)
The rise of a small time hoodlum, Caesar Enrico "Rico" Bandello (Edward G. Robinson) to the top of the criminal underworld. Screenplay: Francis Edward Faragoh and Robert N. Lee. Based on the novel 'Little Caesar' by W.R. Burnett. Starring: Edward G. Robinson, Douglas Fairbanks, Jr. and Glenda Farrell.
Though he could not remember its story, Little Caesar was a film that represented what Mr. Crisp liked about gangster movies.
"I love gangster movies because you can be afraid. The only emotion you can really feel is fear….when you're afraid, you know you're afraid. Films about 'whether I love you more than you love me' are a waste of time."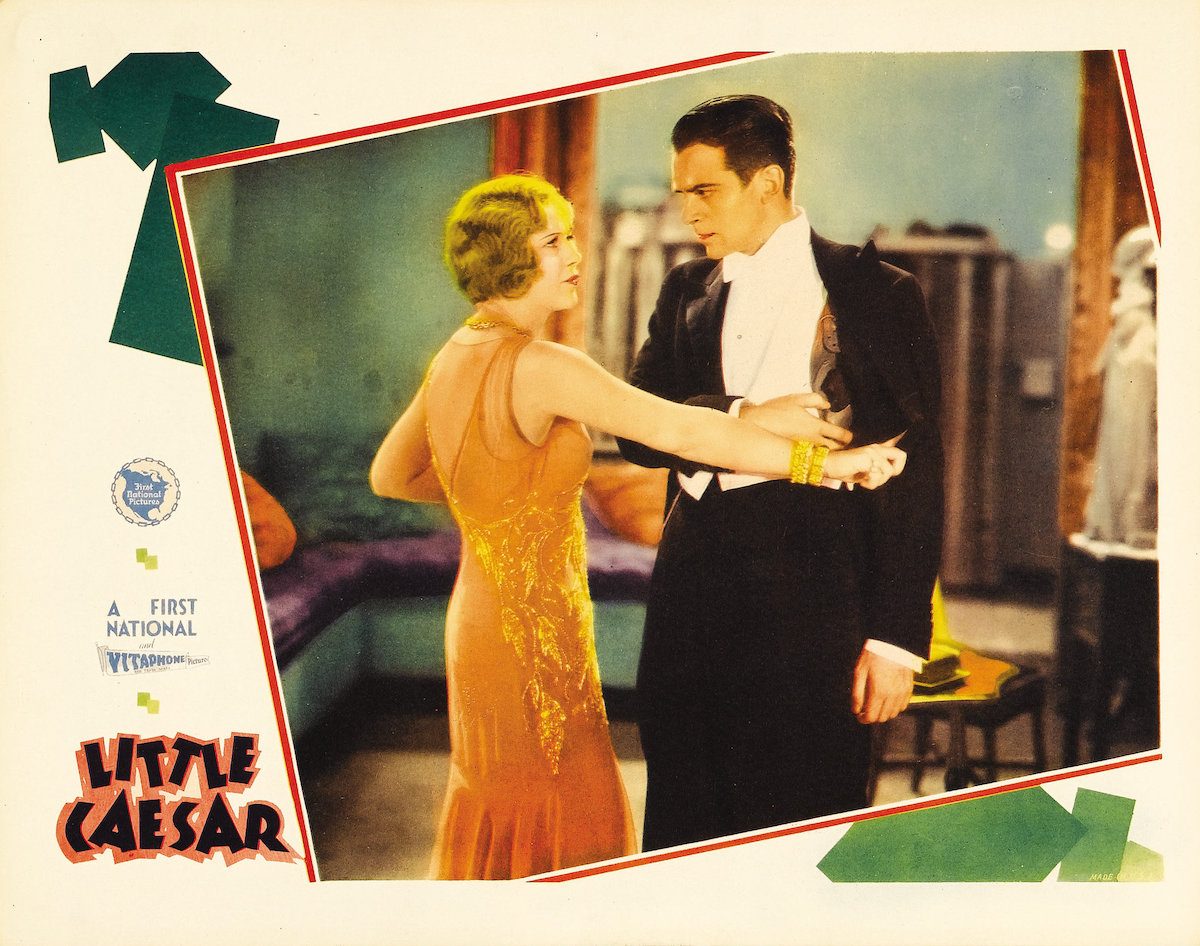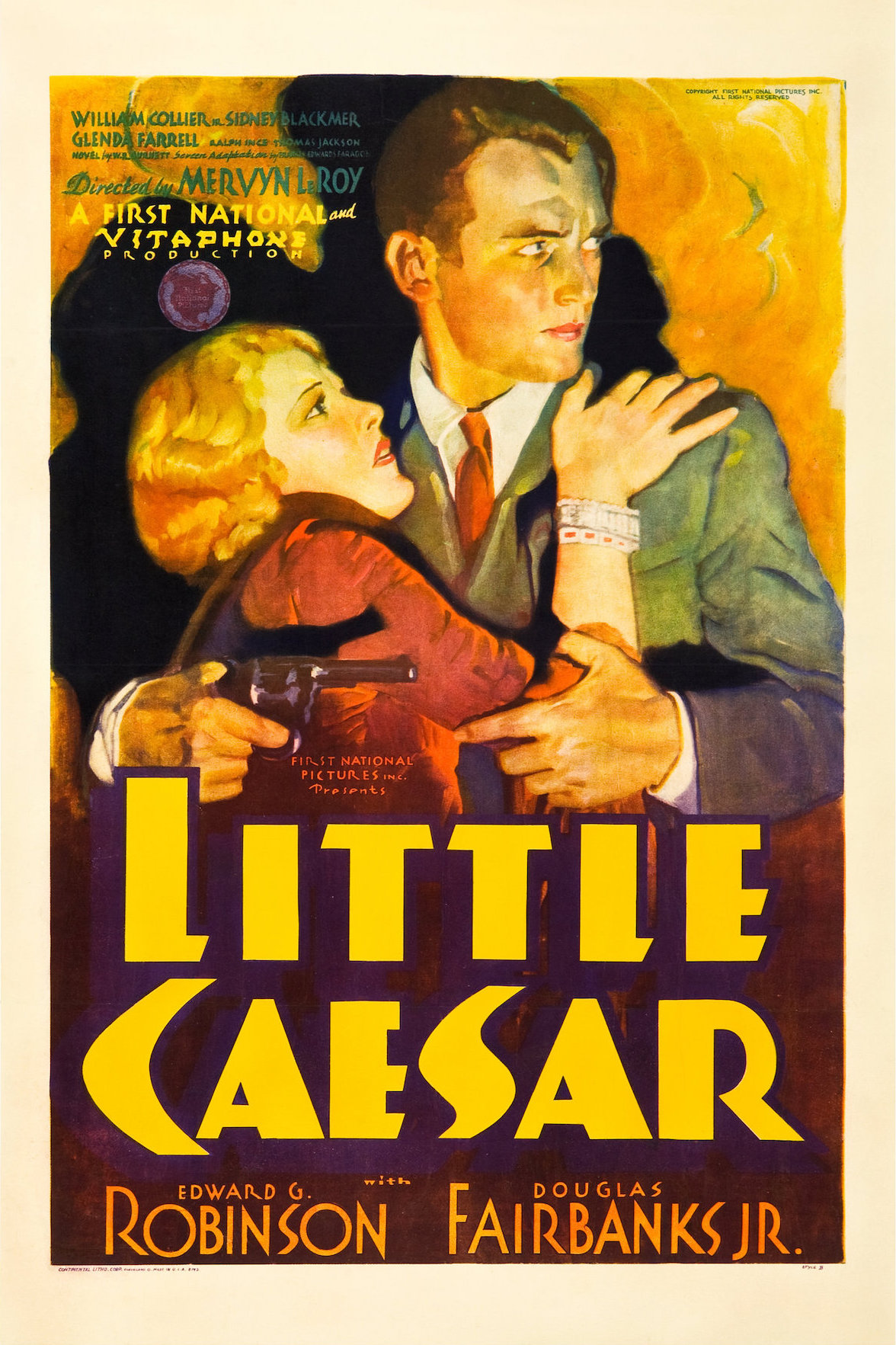 1. The Godfather (Francis Ford Coppola, 1971)
The story of a fictional New York crime family told over a ten-year period from 1945-55. Screenplay: Mario Puzo and Francis Ford Coppola. Based on 'The Godfather' by Mario Puzo. Starring: Marlon Brando, Al Pacino, James Caan, Robert Duvall, Sterling Hayden and Diane Keaton.
Mr. Crisp's favourite film because of its star Marlon Brando, who "should have played more gangsters because he has a built-in threat which is difficult to cultivate."
"From the beginning, when he stands in that darkened room and says, "YOU ask me favours but you do not call me Godfather," he is a man trying to do his best for his family, many of whom he dislikes."
Mr Crisp also thought it important that the main gangster dies, "preferably violently."
"I do like death–especially other people's."