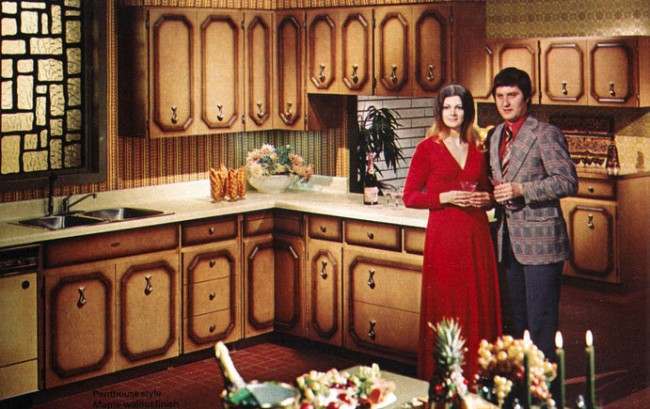 THIS couple looks genuinely afraid of their new kitchen – and well they should be.  Kitchens around the 1970s could be a fearful sight.   Retina scorching wallpaper, oddly unmatched linoleum, and miles and miles of wood paneling can strike fear into the hearts of men and women alike.  Take a look.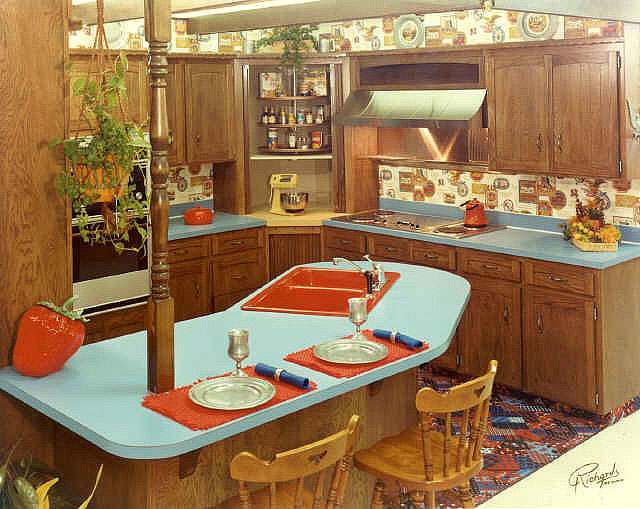 In the Seventies, mismatching was "in".  Look no further than Sears catalog fashions for evidence of this: pants, shirts and vests which never should have been in the same room together, somehow found their way onto the same body in the Seventies.  The same holds true for home décor.  Check out the mismatched wallpaper and linoleum in the picture above…. but don't be distracted by the random gigantic strawberry on the left!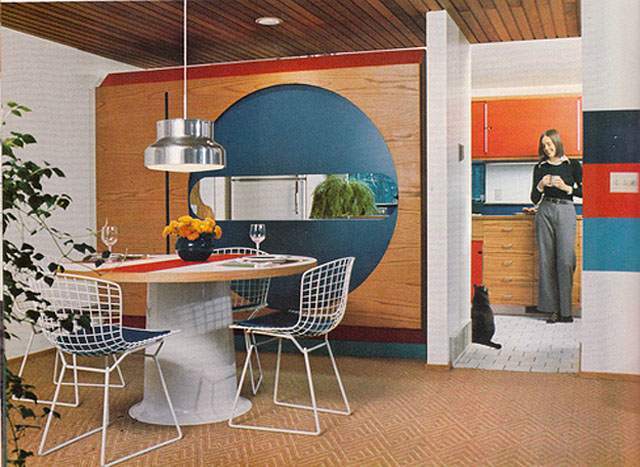 This lozenge shaped port into the kitchen is insane.  Of course, the owner appears to be carrying on a conversation with her cat, so maybe it's to be expected.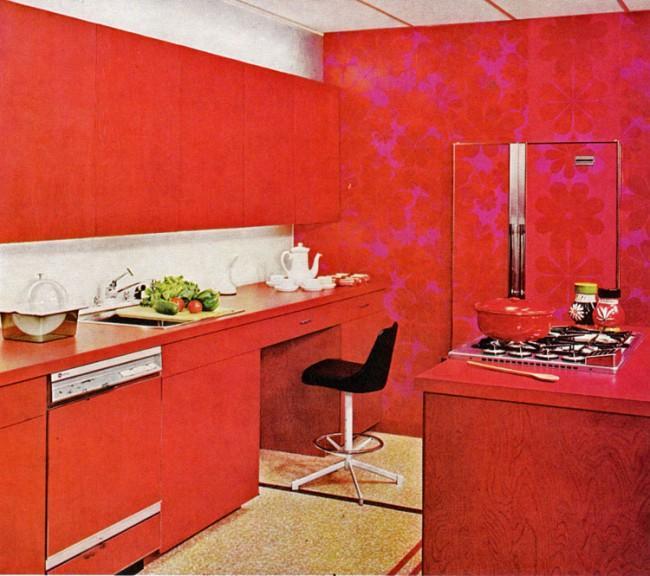 This 1971 kitchen looks like something from The Shining.  Warning: May cause retinal scarring and mild to debilitating insanity.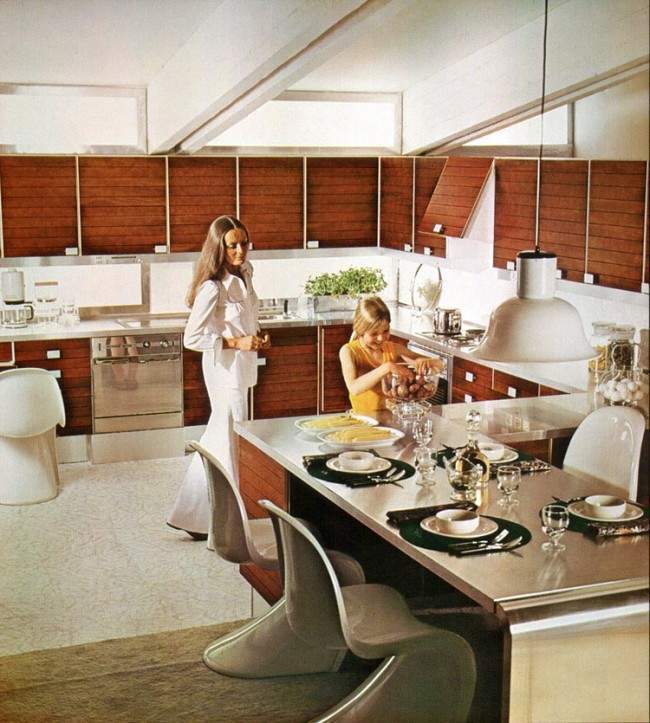 It's hard to imagine a time when this space-age decor wasn't "retro"; when it truly looked modern.  I, for one, never entered a home in the 1970s which looked this cool and hip.  To continue the Stanley Kubrick references, it has A Clockwork Orange feel, don't you think?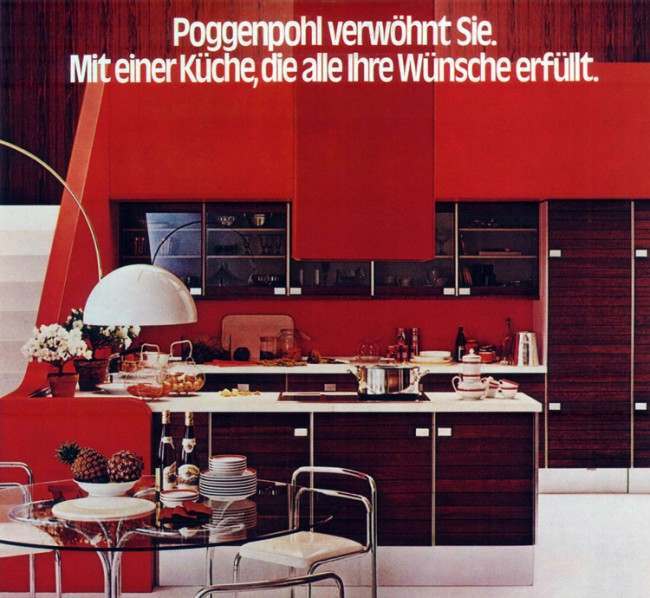 Of course, the West German kitchen designs of the 1970s were impeccably clean, neat and efficient.  A stark contrast to the busy, badly matched, endearing tackiness of American kitchens.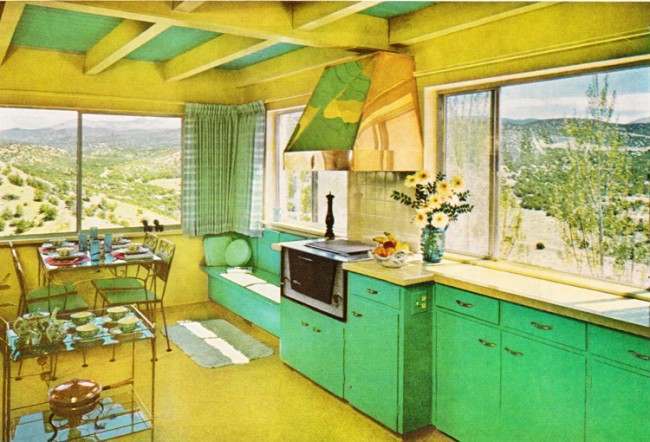 At first glance, this looks to be from the early 1960s (they had a peculiar fondness for mint back then); but, in fact, it's from 1971.  Modern homebuyers would be appalled by the lack of granite countertops, but I actually dig this setup.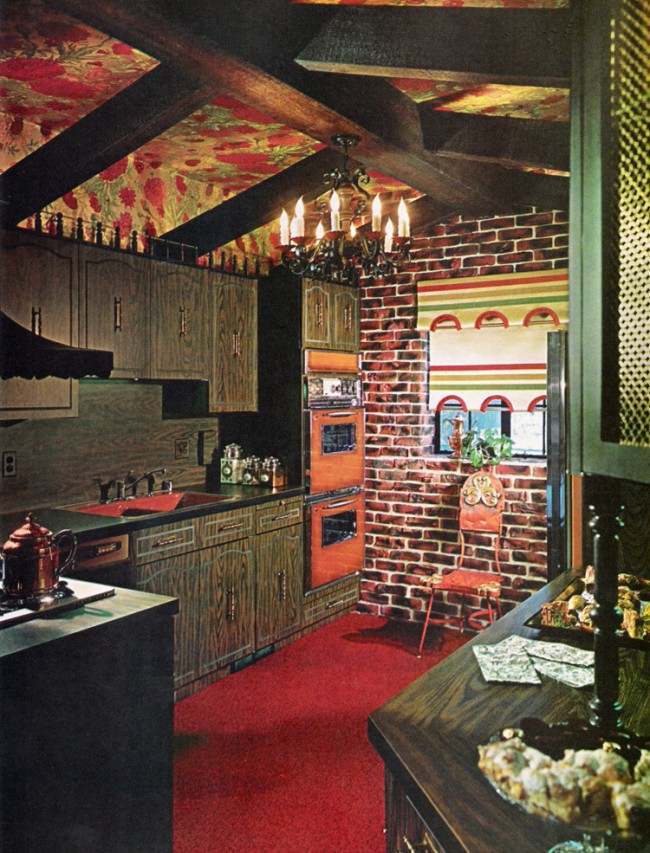 This kitchen is also from '71.  There was tendency to go Ye Olde English with décor back then.  It wasn't uncommon for living areas to resemble dimly lit oaken taverns (with shag carpet, of course).  Many readers may recall that when indoor shopping malls first appeared in the States, they often had this feel, with fake cobblestone and faux gas streetlamps.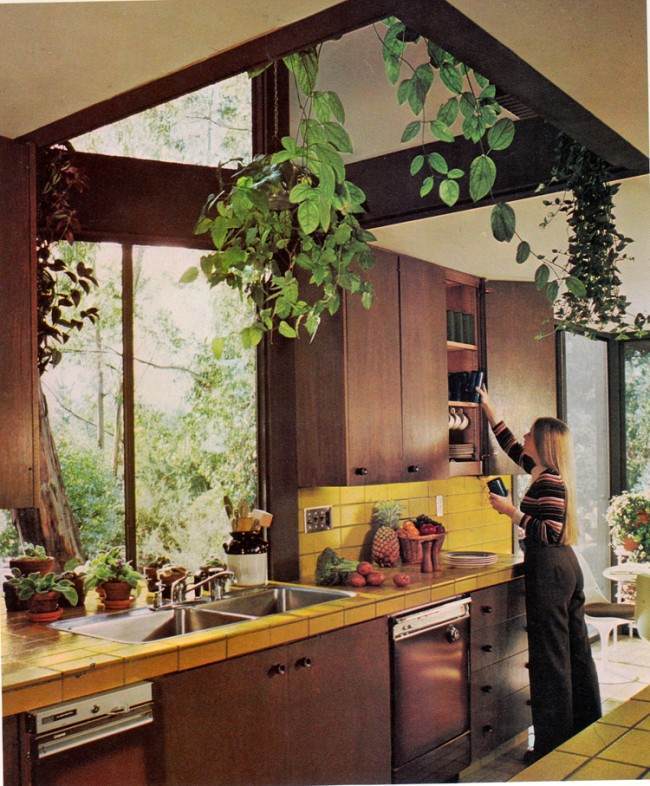 As people got a lot more "Earth conscious", more and more plant life started entering our homes.  Maybe it started as just a couple ferns hung with macramé.   Soon, your addiction to newly freed oxygen got kicked up a notch.  It wasn't long before your living quarters became less like a house and more like a terrarium.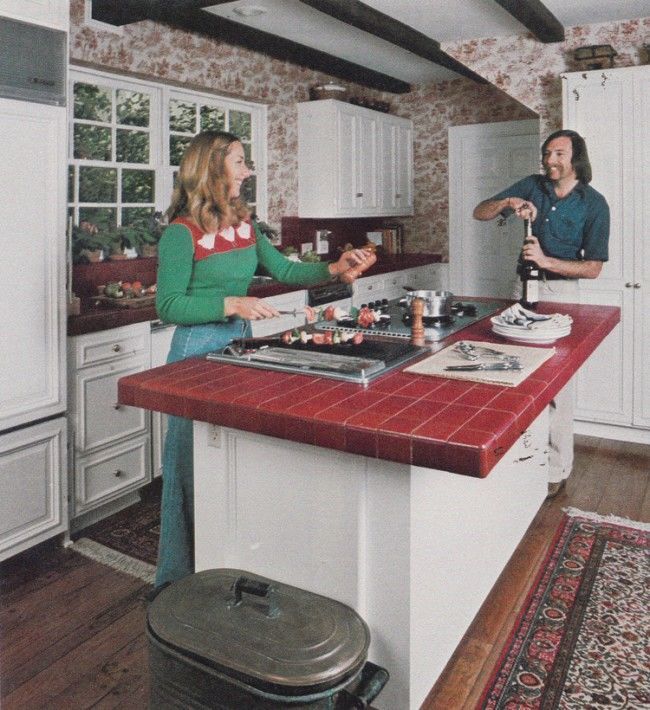 There are only two things I know in this world: (1) that trashcan belongs outside, and (2) this couple will be having sexual relations before those shish kebabs are done.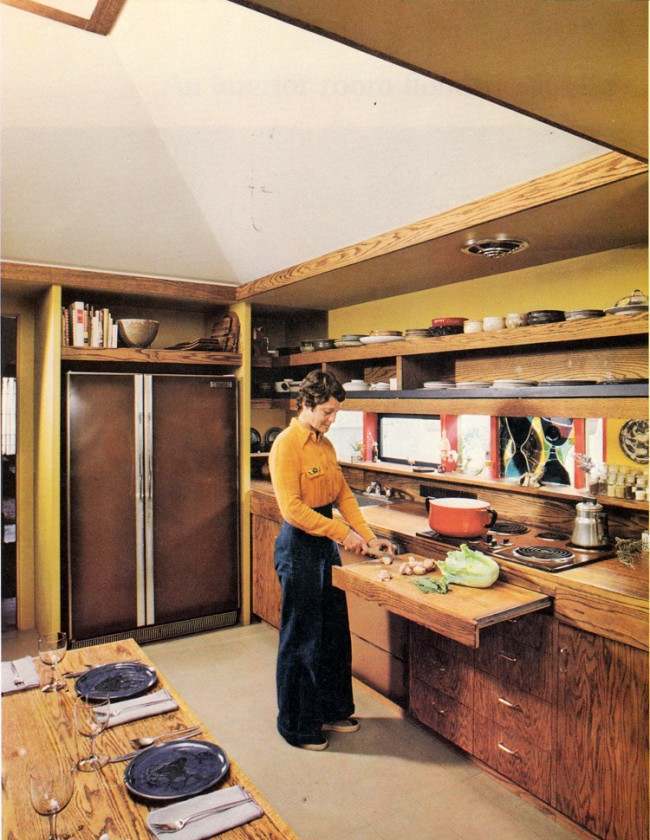 This 1976 kitchen demonstrates nicely the Seventies love-affair with wood.  A holdover from the earthy hippie mentality which had gone mainstream, wood and the natural palette was "in".
Those that remember the Seventies will notice a glaring omission in every one of these photographs: the ashtray.  Back then, a filthy smelling vessel to tap your cigarette was rarely an arm's length away – whether it was an airplane or home kitchen, there was always one handy.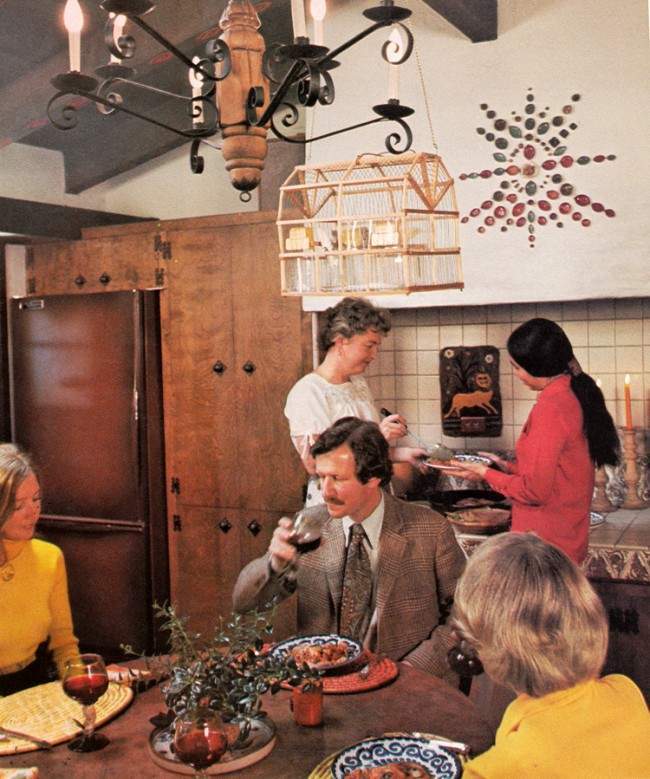 Finally, a birdcage is the perfect complement to your new earthy 70s kitchen.  But be careful where you put it.  I think this guy just found a "present" in his wine glass.