"Man is the only creature endowed with the power of laughter, is he not also the only one that deserves to be laughed at?"
– Thomas Rowlandson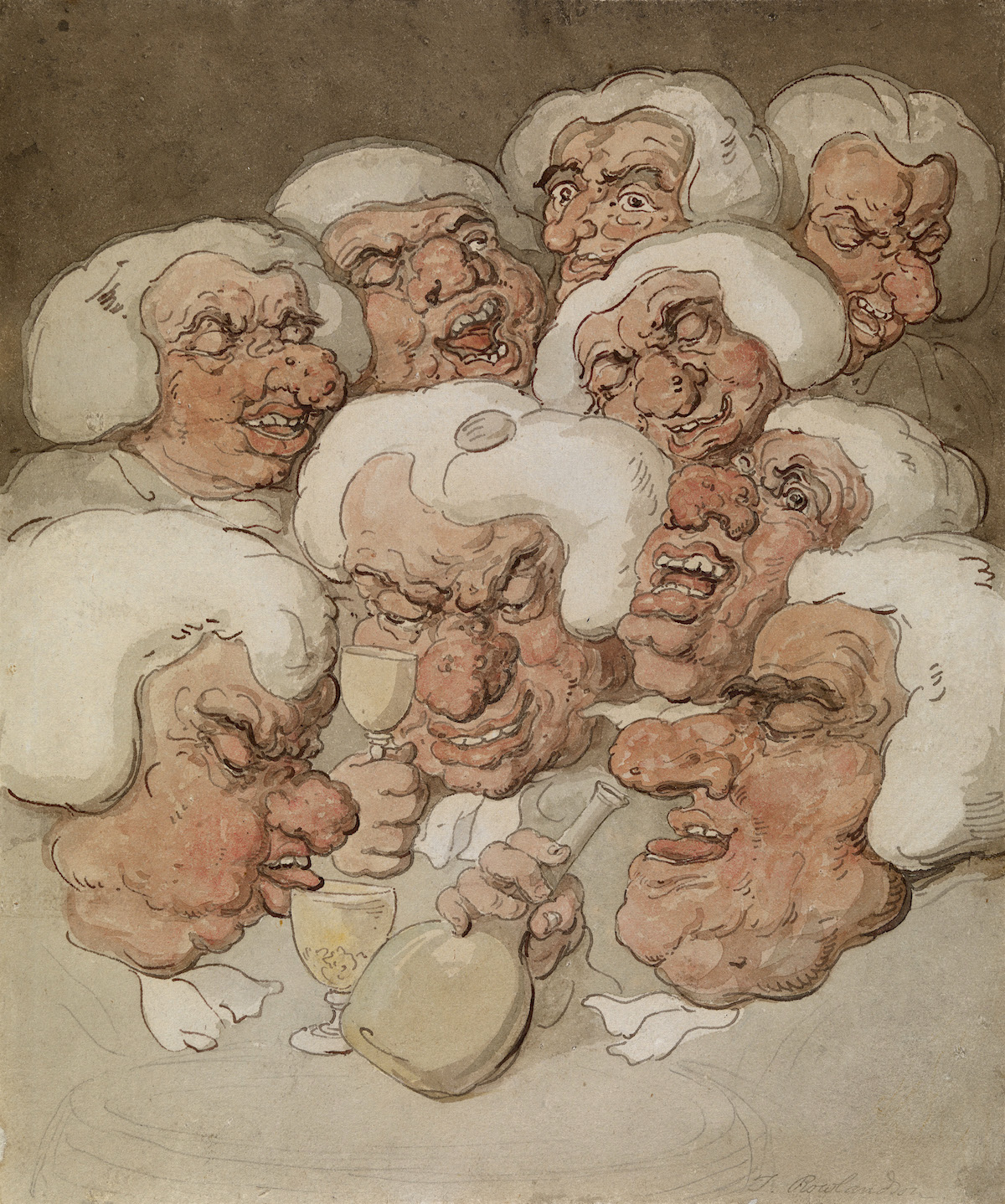 Bright Lights. The loud whirr of film through a projector. White flickering on a large screen before a caption appears: Coming Attractions.
The voice-over is jolly and upbeat: 'They're back! The hilarious Carry On team with their latest laff-a-minute comedy Carry On Merrie Old England!'
Sid James yuk-yuk-yuks to the camera.
The voice continues: Starring Sid James as the bawdy artist Thomas Rowlandson.
Sid surrounded by a gaggle semi-clad girls: Cor blimey. I think you've bent my nib….
Hattie Jacques as his long suffering wife… Hattie: But why must all your models be naked?
And Kenneth Williams as the King's Privy Council… Kenneth: Psst, psst. I'm looking for Amanda Gobble…
Charles Hawtrey: Aren't we all, dear.
Featuring Charles Hawtrey as the Bishop of Westminster.
Joan Sims as Lady Amanda Gobble.
And Barbara Windsor as Naughty Nell from Bristol.
Barbara: I suppose you have to have a good pair of eyes to be an artist.
Sid: Don't you worry, you've got a lovely pair, har-har-har…
And Frankie Howerd as King George.
Frankie: I turned down Olivier for this…?
It should have happened. A Carry On movie loosely based on the life of artist, caricaturist and all-round bad-boy Thomas Rowlandson (1757-1827). It would have been fun. It would have been great. Sid James as Rowlandson. There are similarities. Both men enjoyed a drink. They liked to gamble, loved women and saw life as an adventure to be gained.
Rowlandson was an artist and caricaturist whose work poked fun at the mores, politics, and attitudes of Georgian England. What little is known about Rowlandson comes mainly from his obituary, as published at the time of his death, and a few anecdotes from friends and acquaintances about his early education, career, and hairstyle. Though maybe less about his hairstyle.
He was born in the slums and dirty tenements of Old Jewry, London. His father harboured ambitions for a better life and soon abandoned his life as a textile worker to become a trader in the City. It was ambitious but foolhardy. Rowlandson's father lost all his money and was declared bankrupt. Fearing debtors' prison, he fled the city and relocated his family in Yorkshire.
Rowlandson's mother died when he was very young—not more than a toddler—and his childhood may have been ruinous had not one relative (a distant uncle, by some accounts, an aunt by others) died leaving the young Rowlandson funds for his education.
This money paid for Rowlandson to attend a private school in Soho Square, London. According to his contemporaries, it was here that Rowlandson first showed a talent for drawing. He filled his schoolbooks with sketches and caricatures of his friends and teachers. Around 1772, or thereabouts, he attended the Royal Academy studying painting and drawing. He travelled to Paris where he lived under the auspices of another aunt. After three years, he returned to London where he exhibited his paintings. None of them sold.
However, good fortune once again came his way when his aunt died and Rowlandson inherited a small fortune of £7,000, which he quickly squandered on women, drink, and gambling.
Once more in poverty, Rowlandson was encouraged by friends to start his career as a caricaturist producing work for books (Tobias Smollett and Laurence Sterne), magazines, and private collectors. He worked in pen, ink, and watercolor. These pictures were engraved to make etchings and then hand-colored. During his lifetime, he produced over 10,000 etchings and illustrated some 70 books. He also wrote and illustrated his own books starting with Tour of Dr Syntax in Search of the Picturesque in 1812. His work proved highly successful and he was described as "one of the most talented British draftsmen, unsurpassed in his expressive flowing sinuous lines, and tactical use of watercolor."
The magnificence in his pen and ink work is easily seen in his drawings across the genres of his career. His contemporaries were William Blake, known for his poetry and mysticism, and William Hogarth, for his extensively detailed satirical drawings. Among them, Rowlandson is incomparable in his relaxed, playful creation of renderings and his genius graphic placement of colour.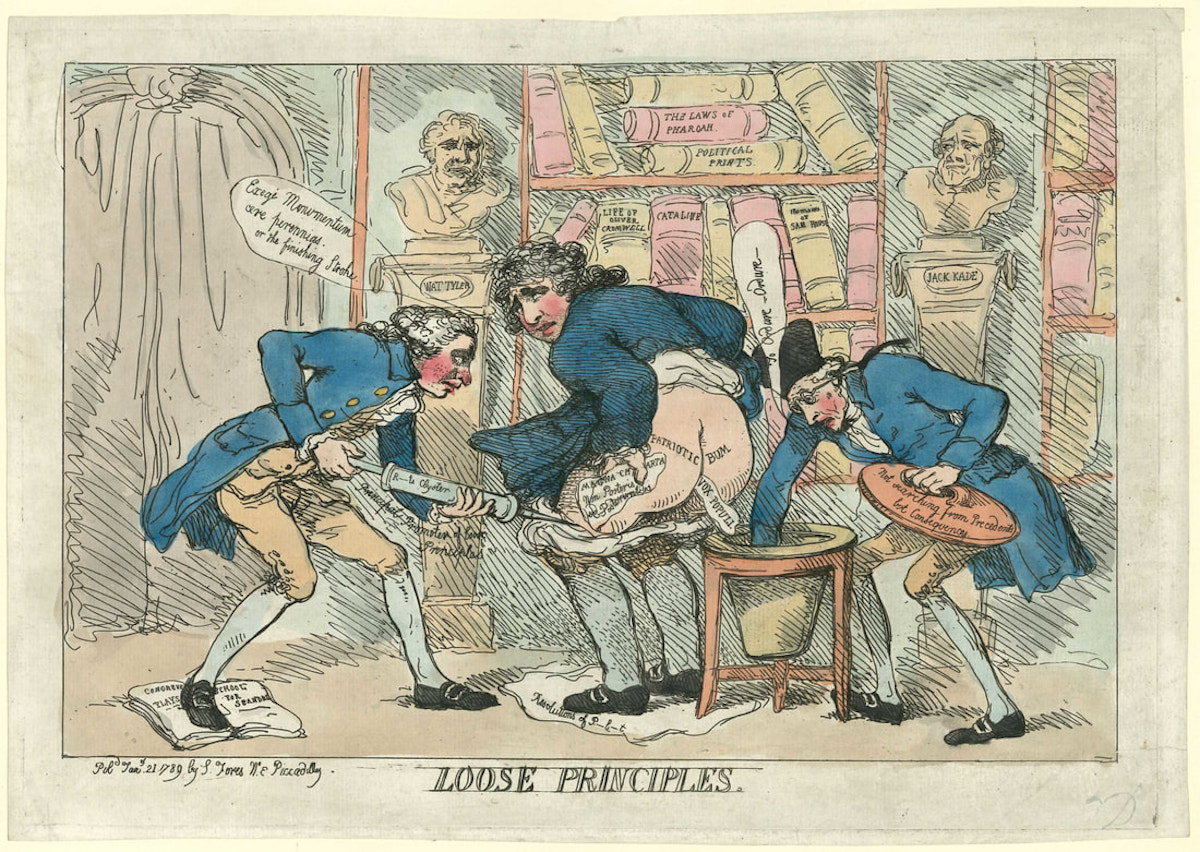 Rowlandson also had a highly lucrative sideline as a pornographer. He produced limited edition, highly explicit erotica for private clients, most notably the Prince Regent, or the heir to the throne, later known King George IV.
It is no secret that Thomas produced for the same royal patron a series of drawings "notoriously of free tendency as regards subject." …Rowly spent much of his play-time in the famous pleasure palaces of London, particularly the Vauxhall, and the unrestrained life in those centers gave him inspiration for many curious and effective erotic pictures.
What kind of erotica Rowlandson drew for the Prince, we will never know, as Queen Victoria had the bulk of these etchings destroyed. What little remains is kept under lock and key at the Royal Collection.
Some, like caricaturist George Cruikshank, criticised Rowlandson for squandering his talent by allowing himself to be "led away from the exercise of his legitimate subjects, to produce works of a reprehensible tendency."
This is rather harsh, for as W.H. Pyne wrote shortly after Rowlandson's death in 1827:
[Rowlandson] has covered with his never-flagging pencil enough of charta pura to placard the whole walls of China, and etched as much copper as would sheath the British Navy.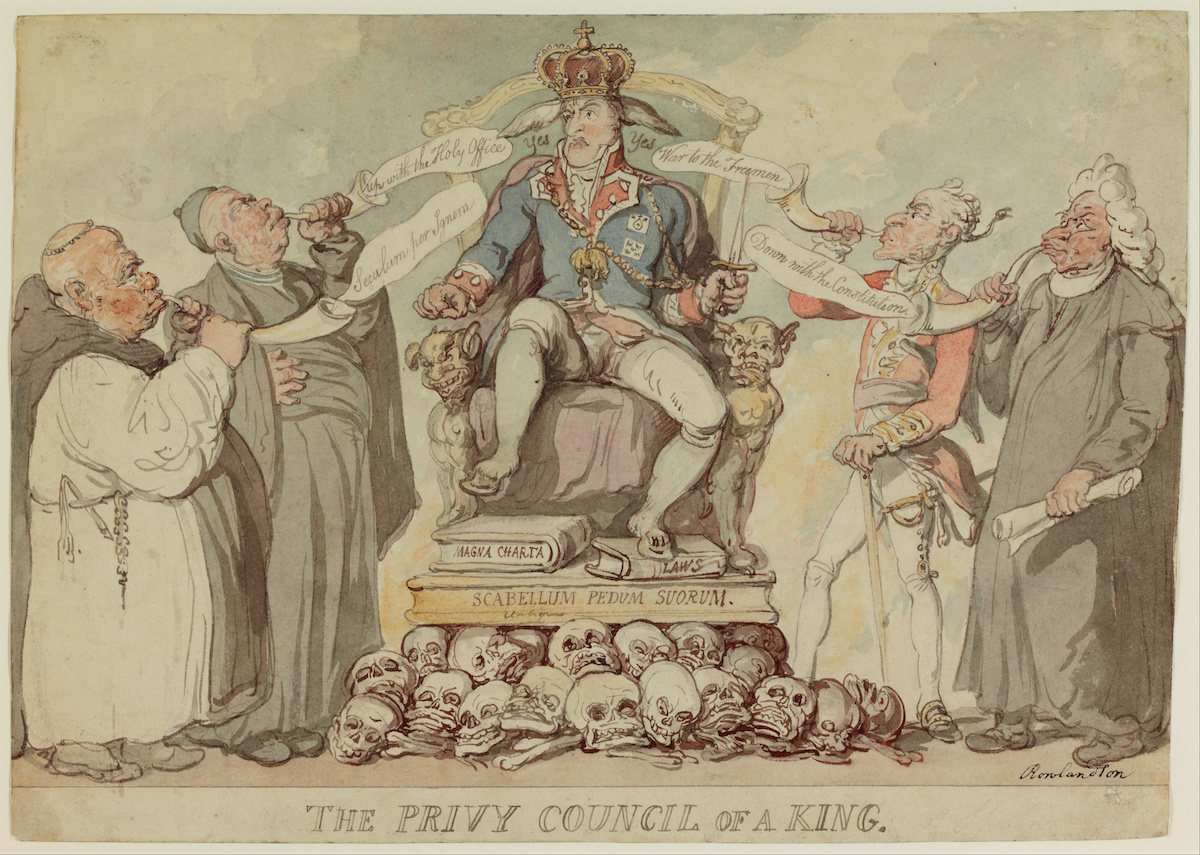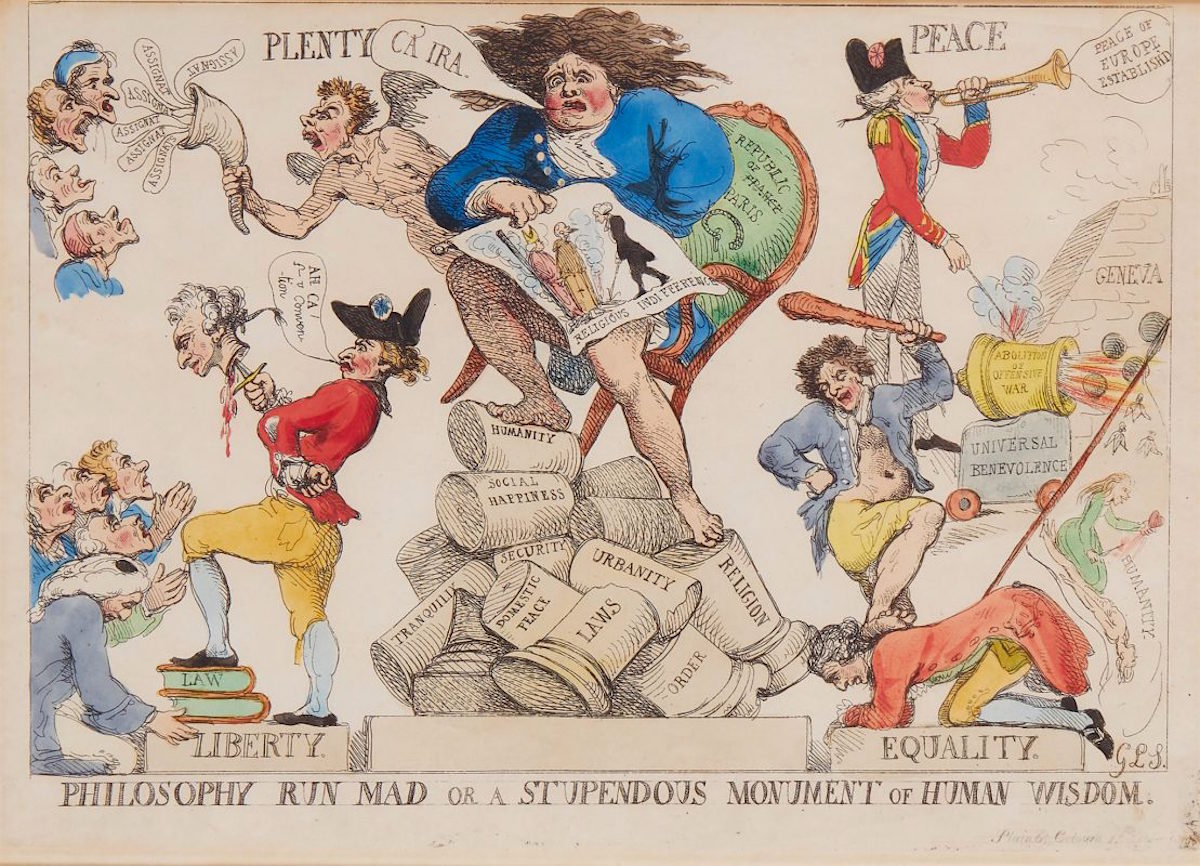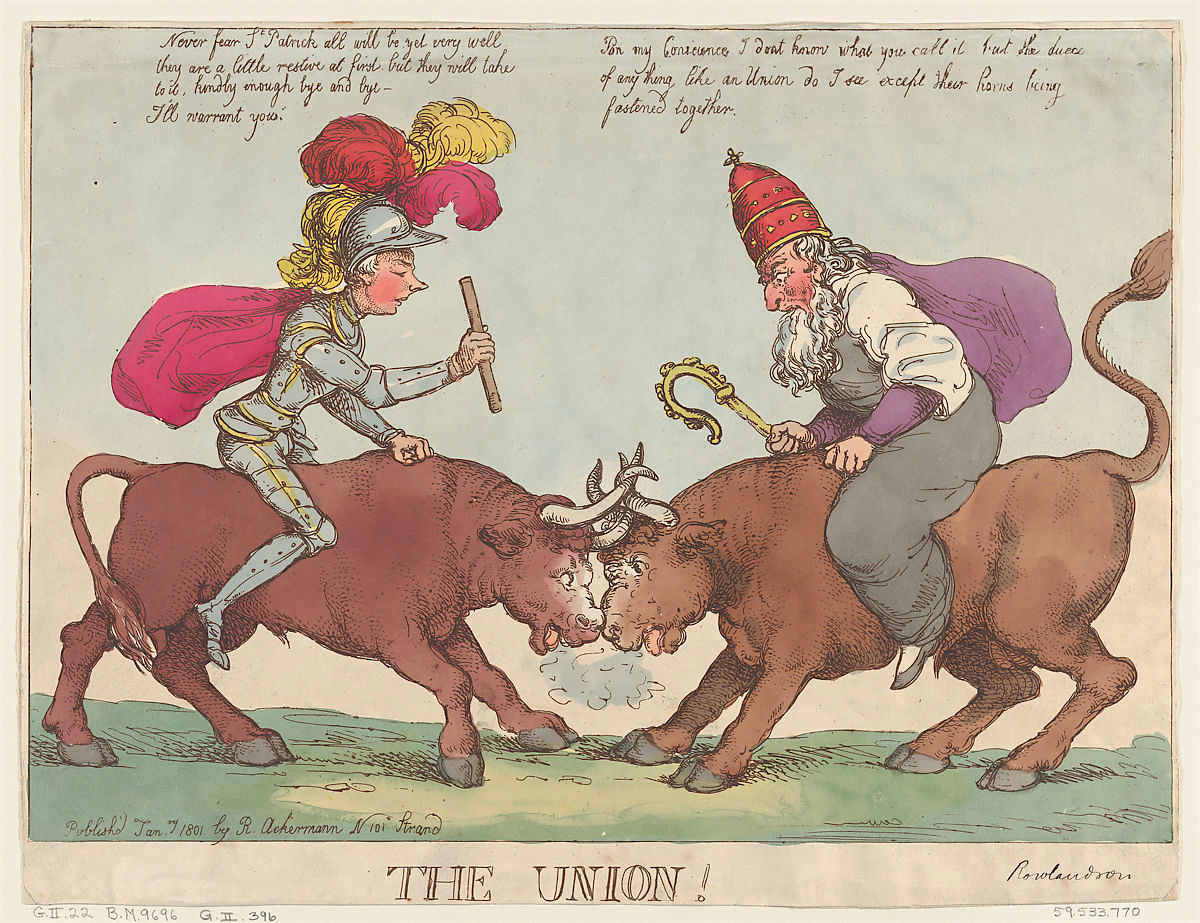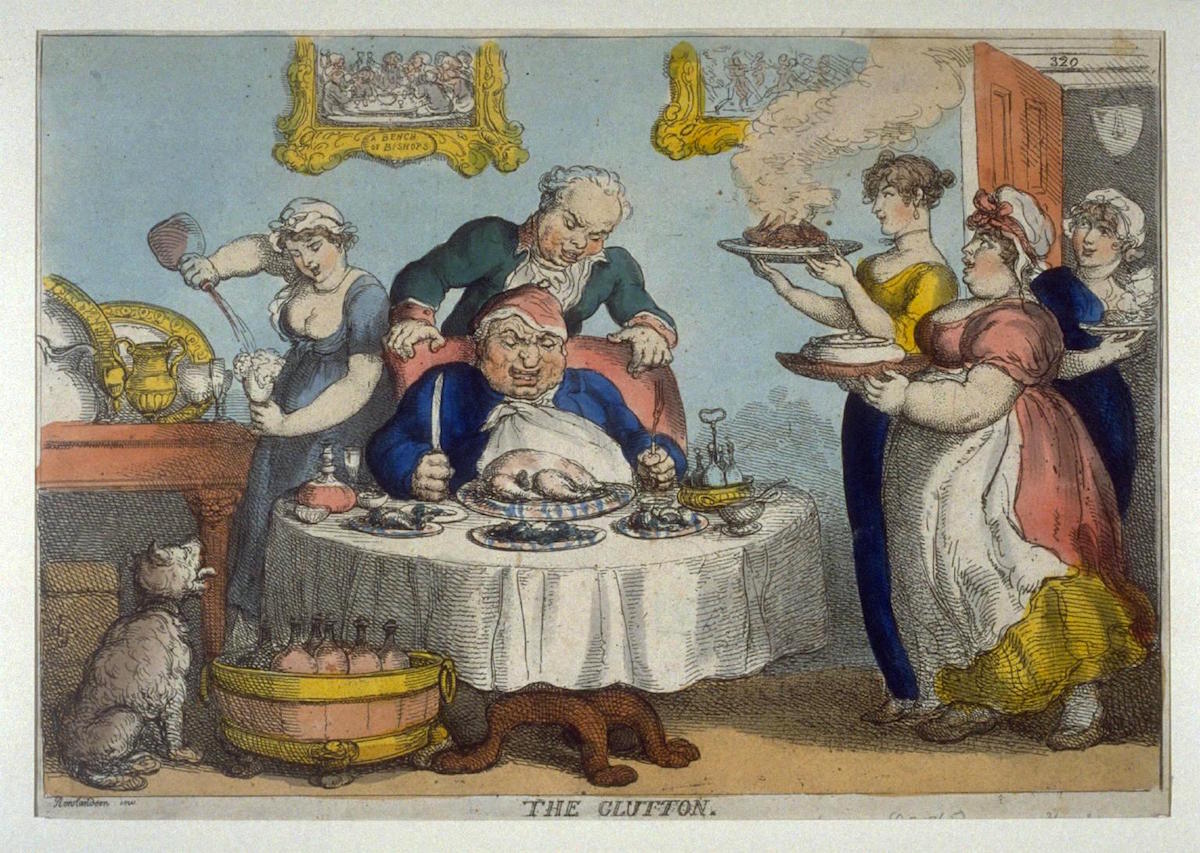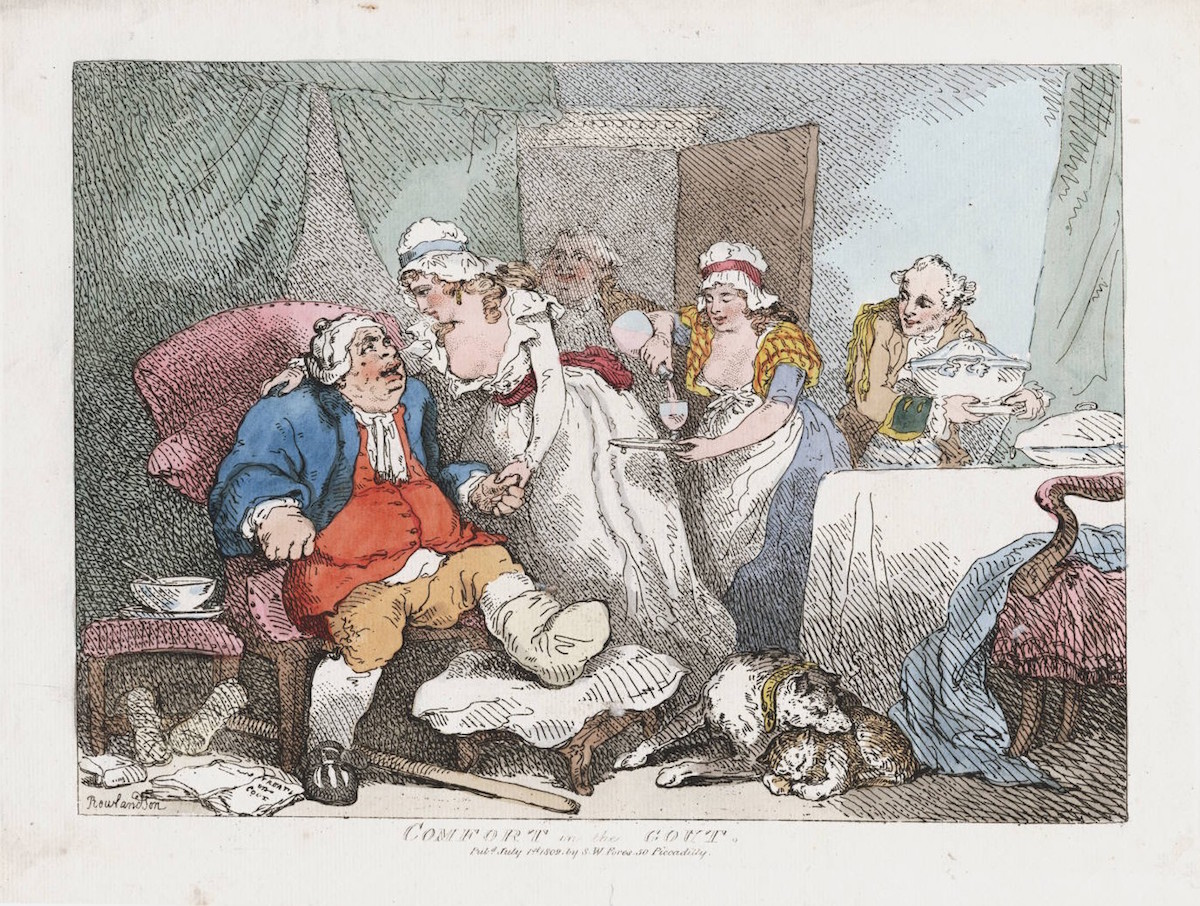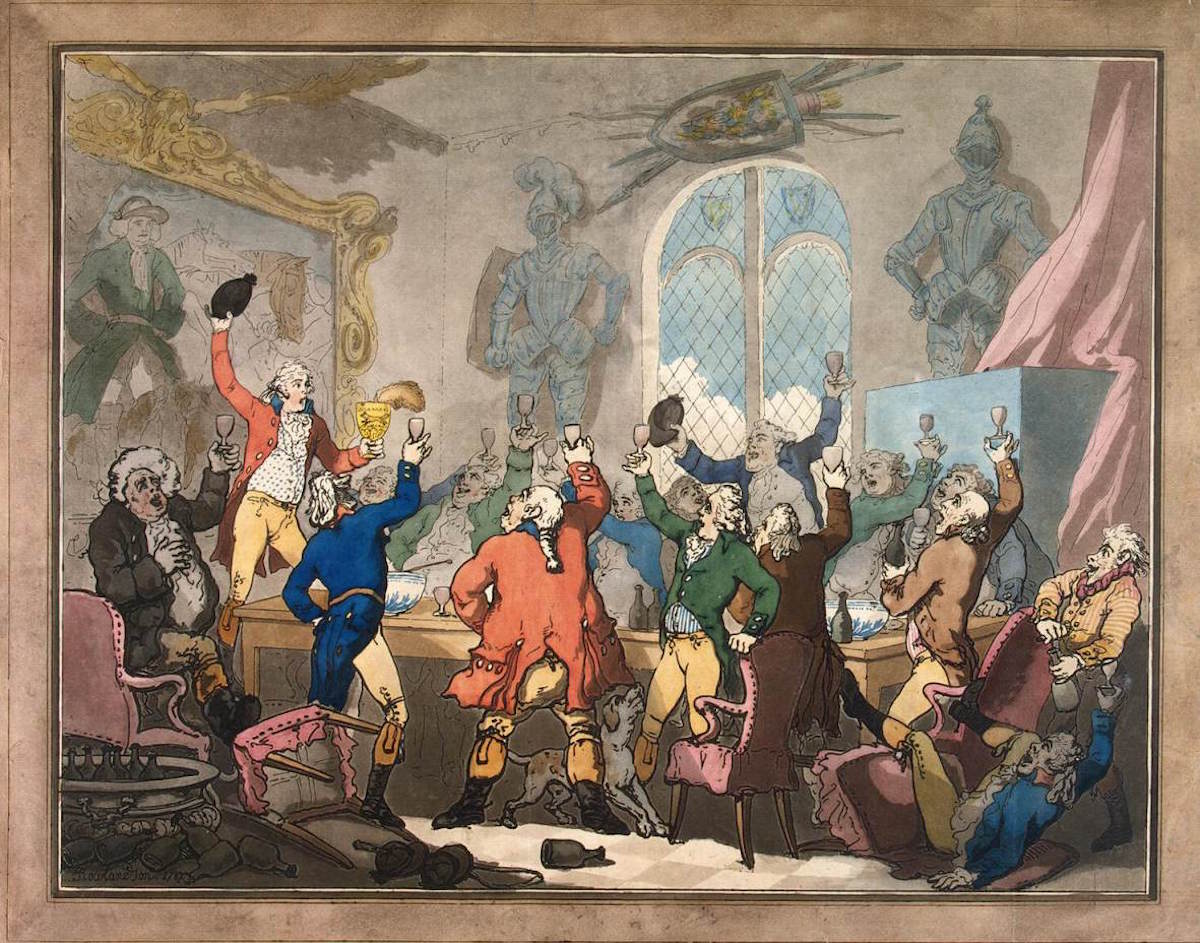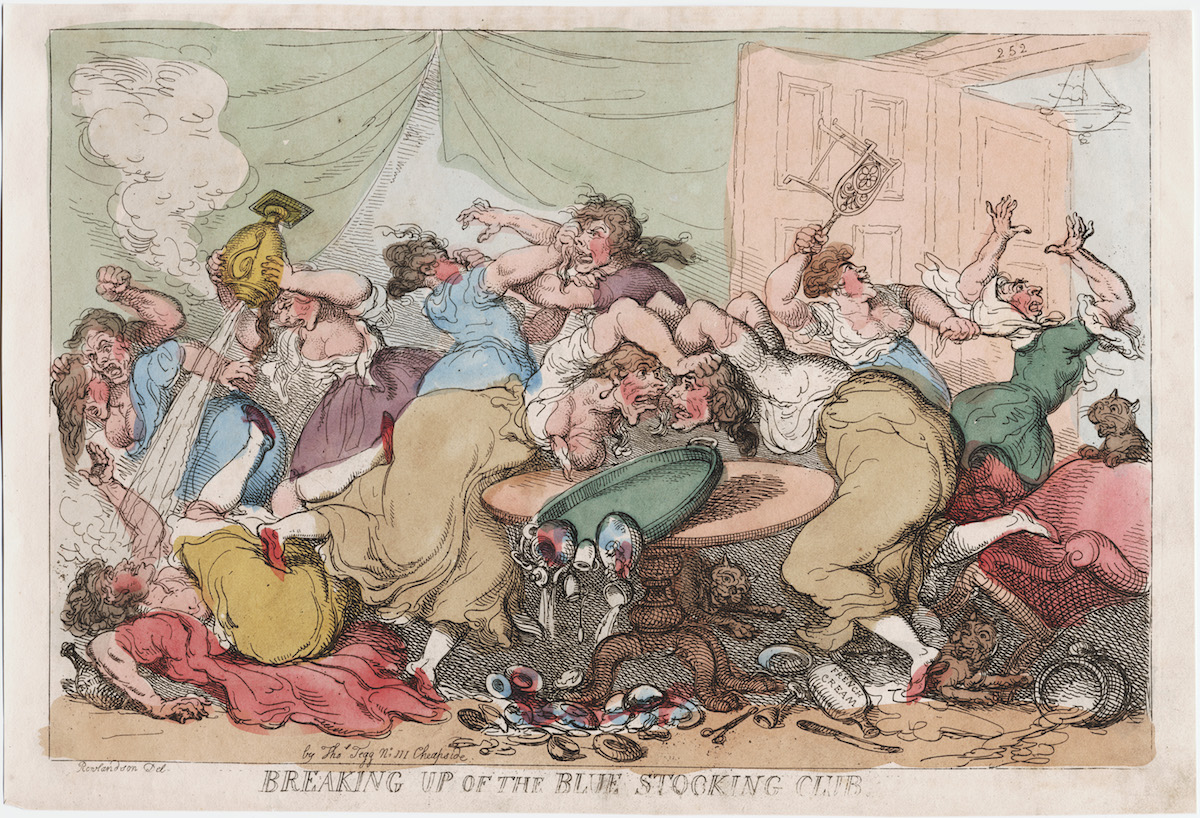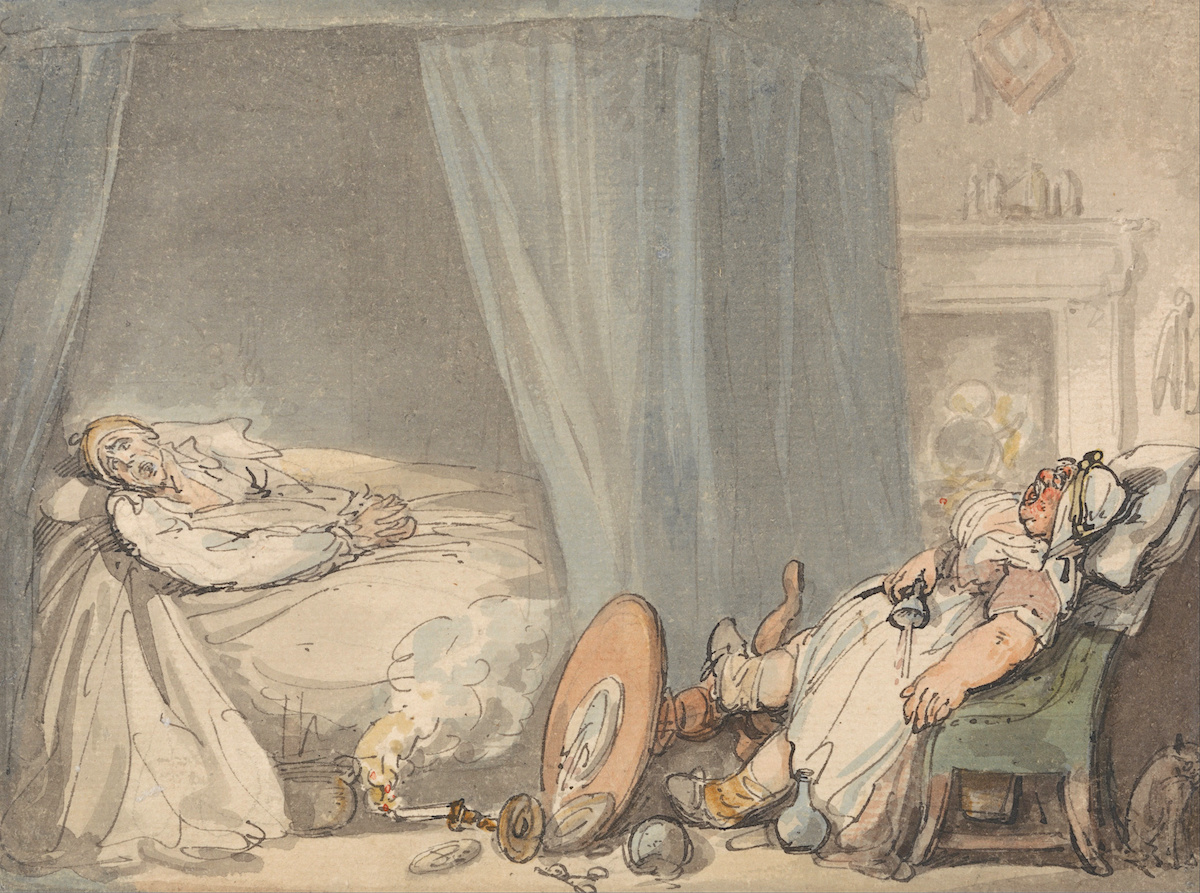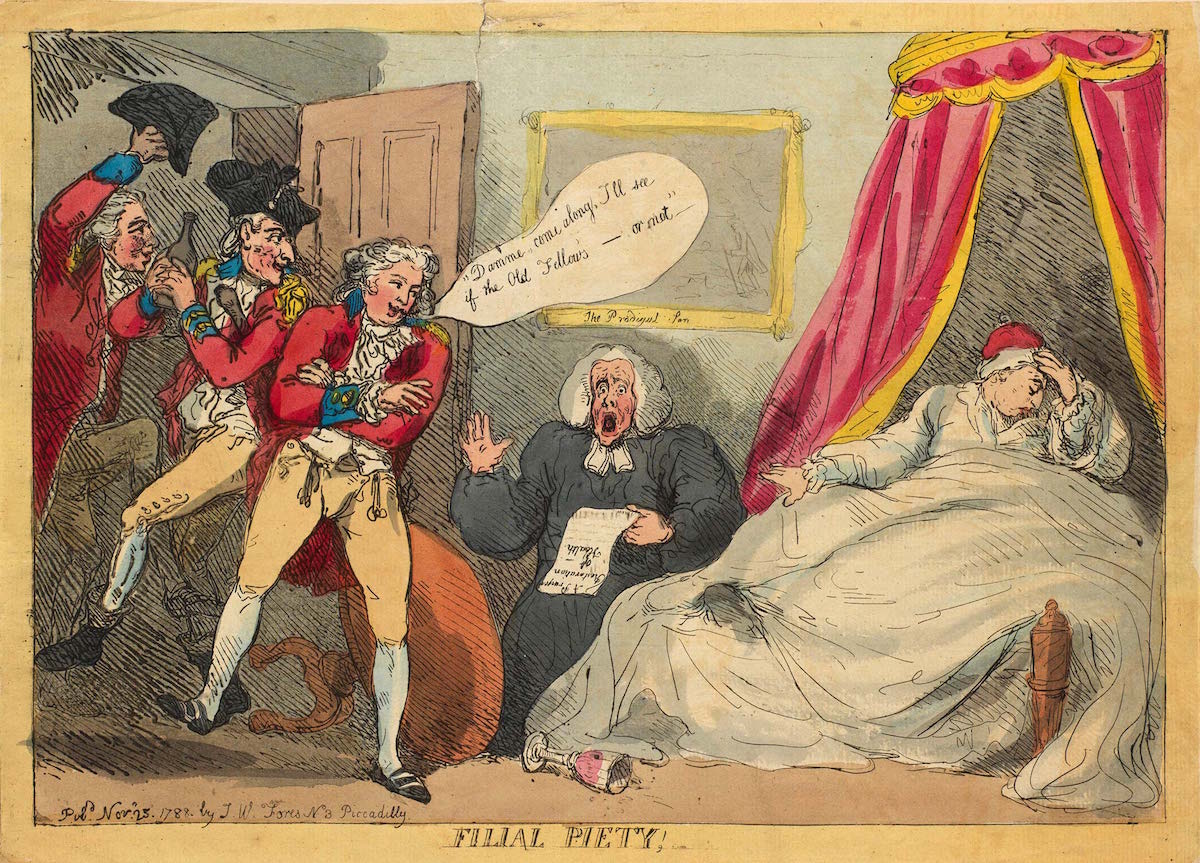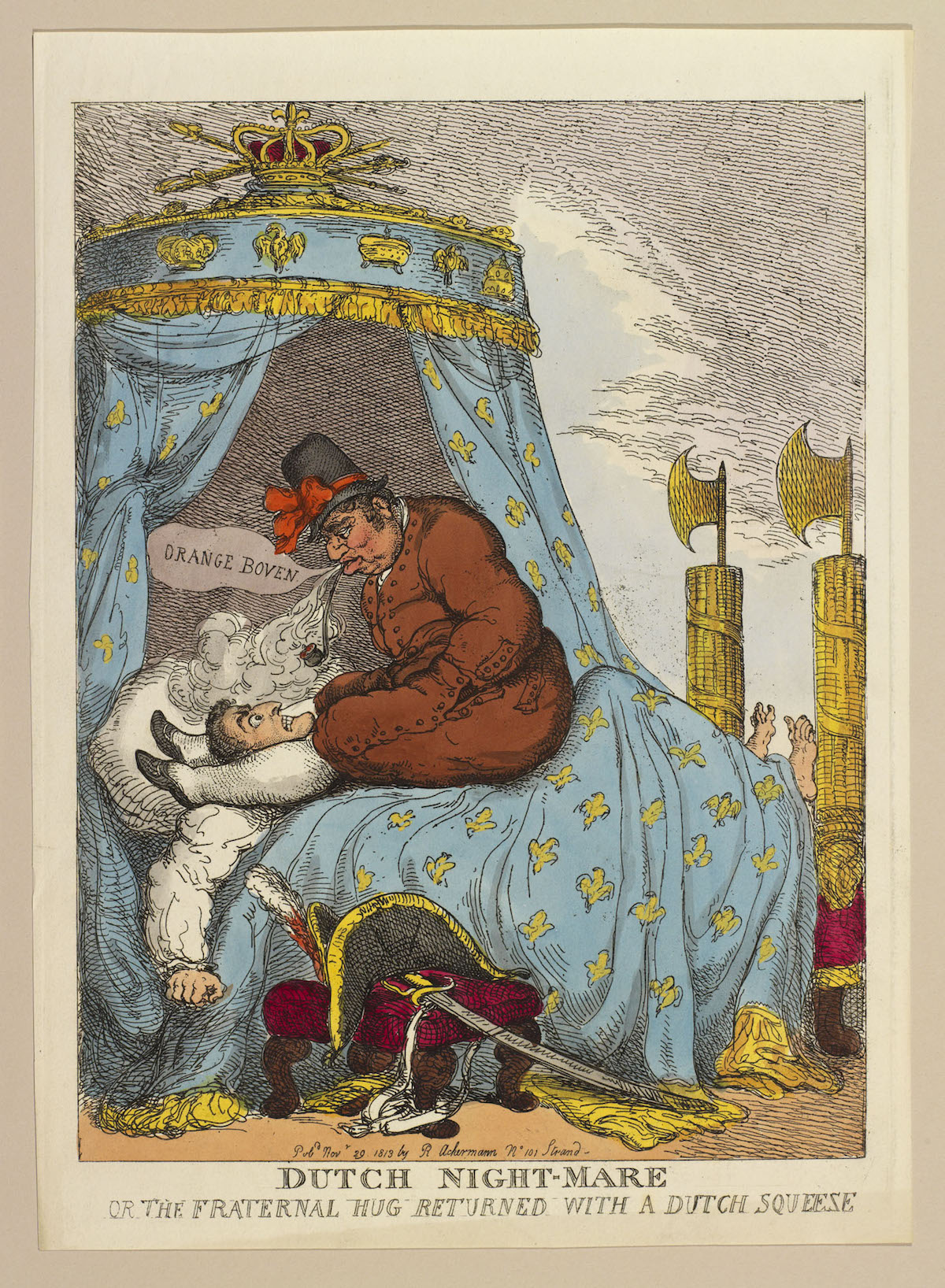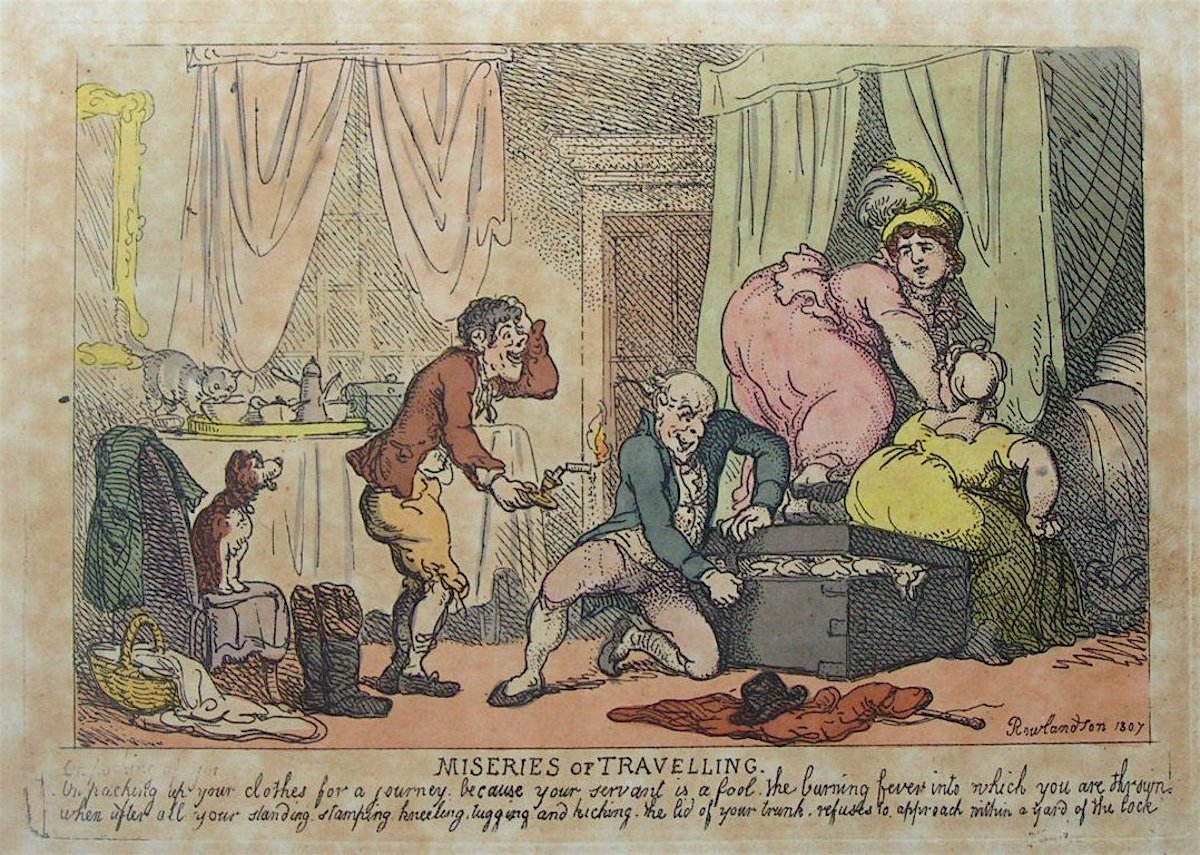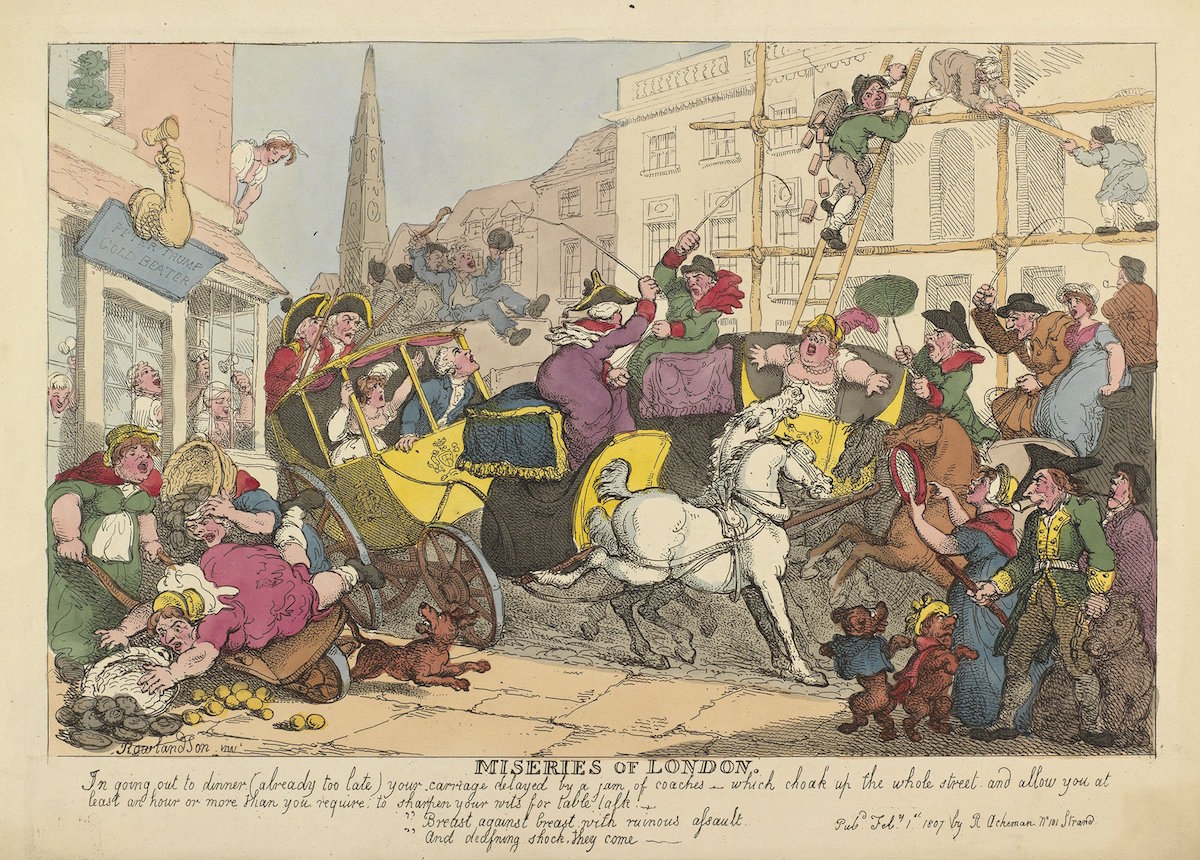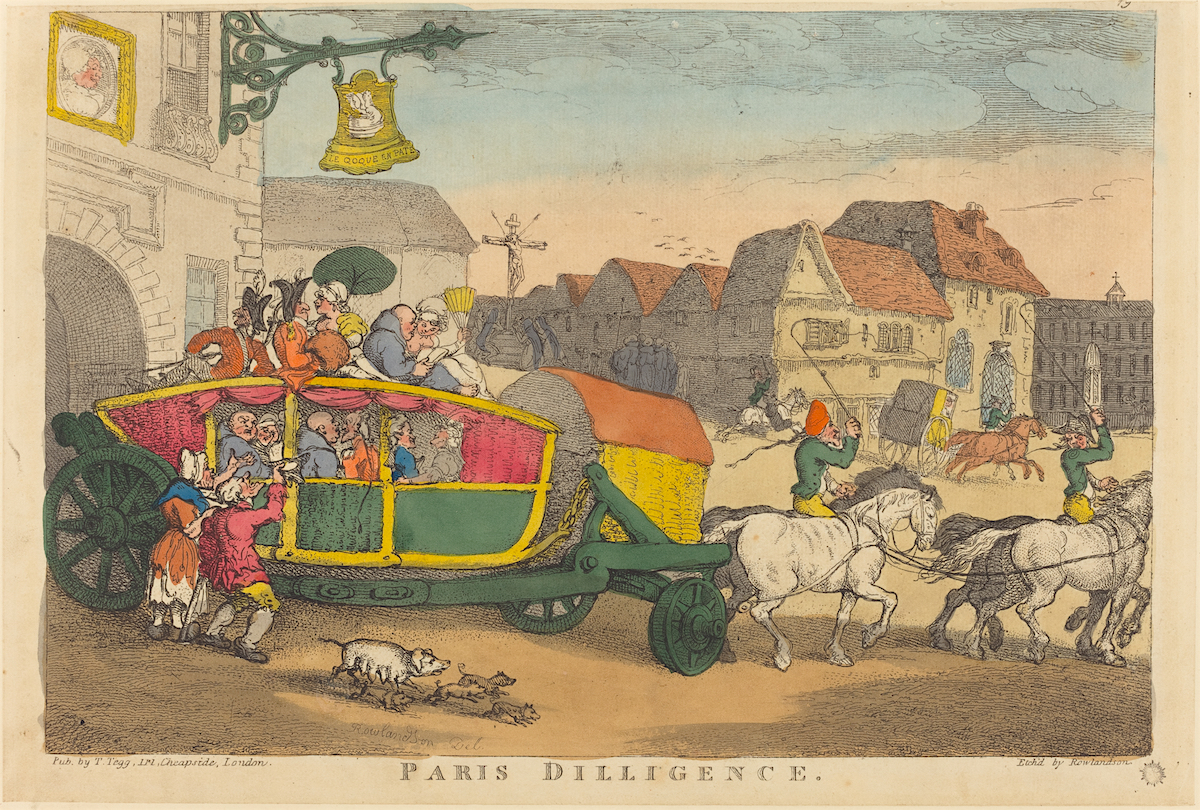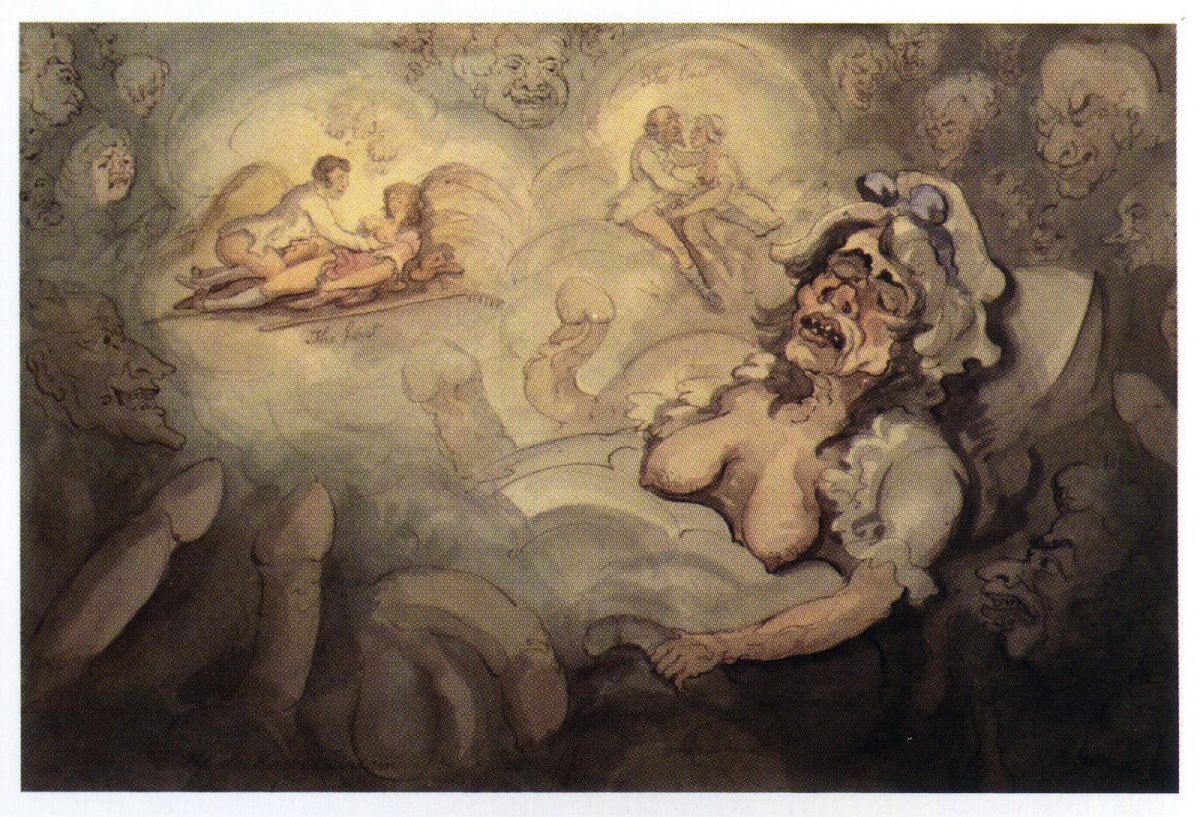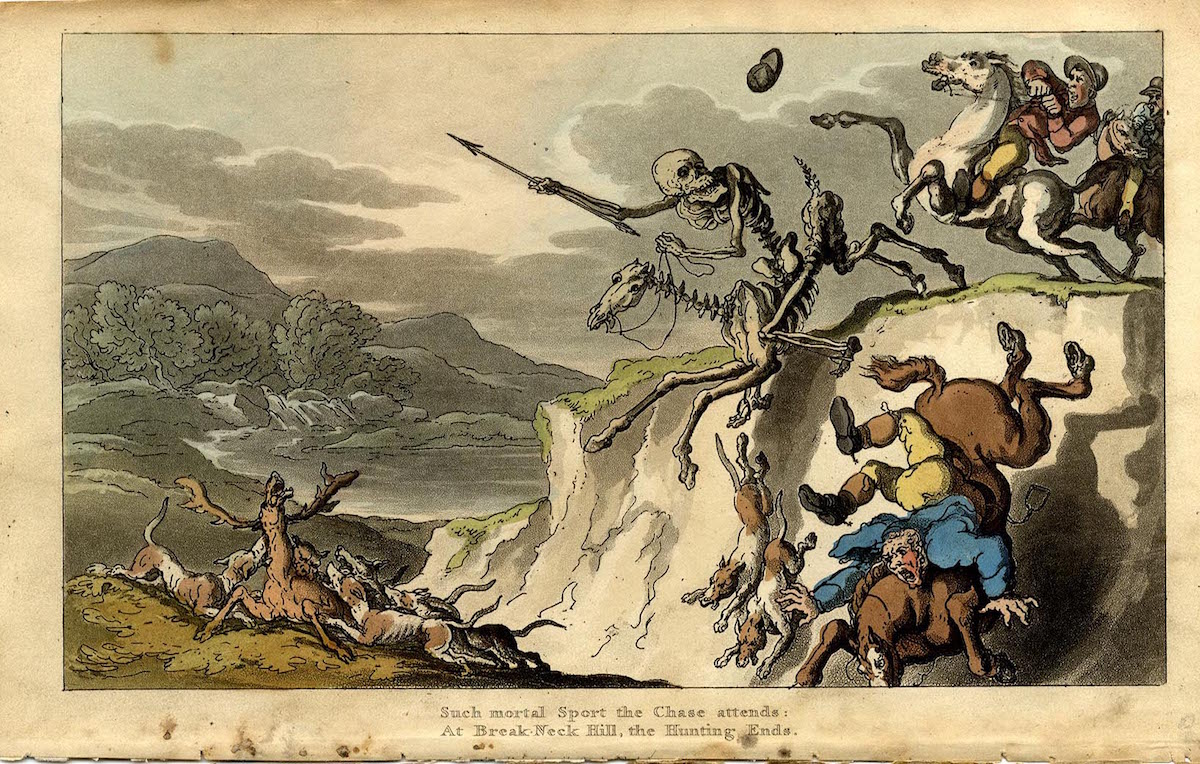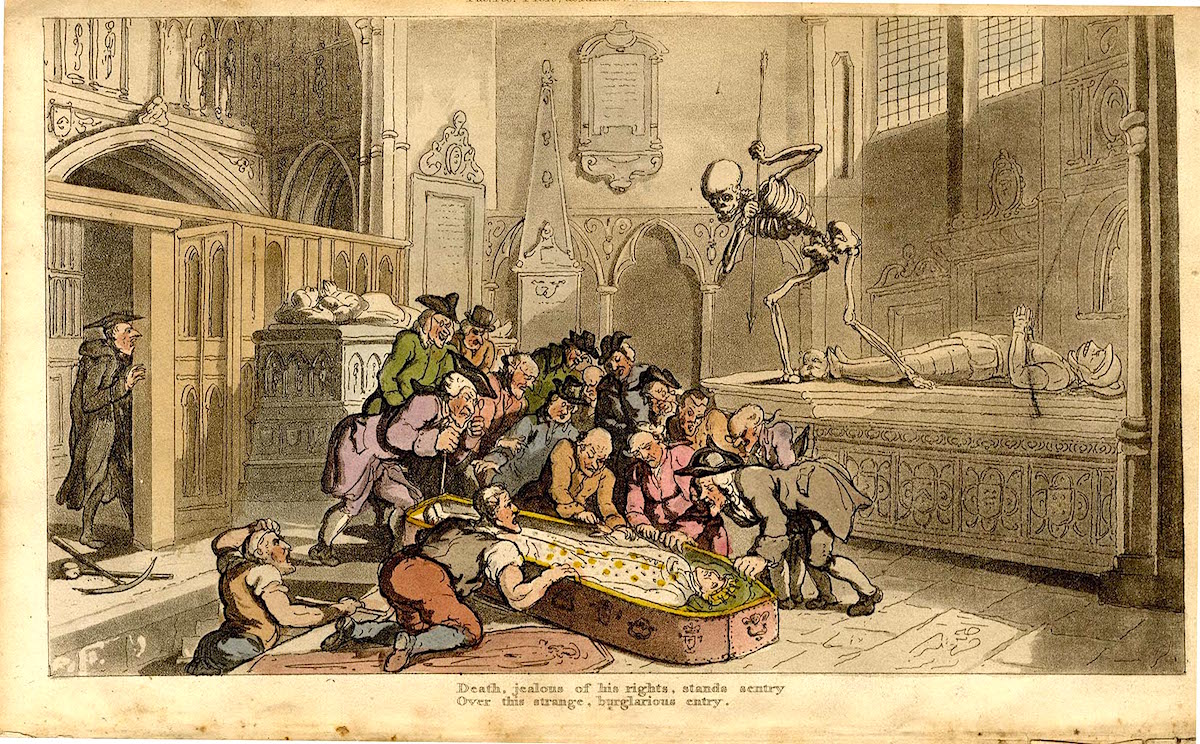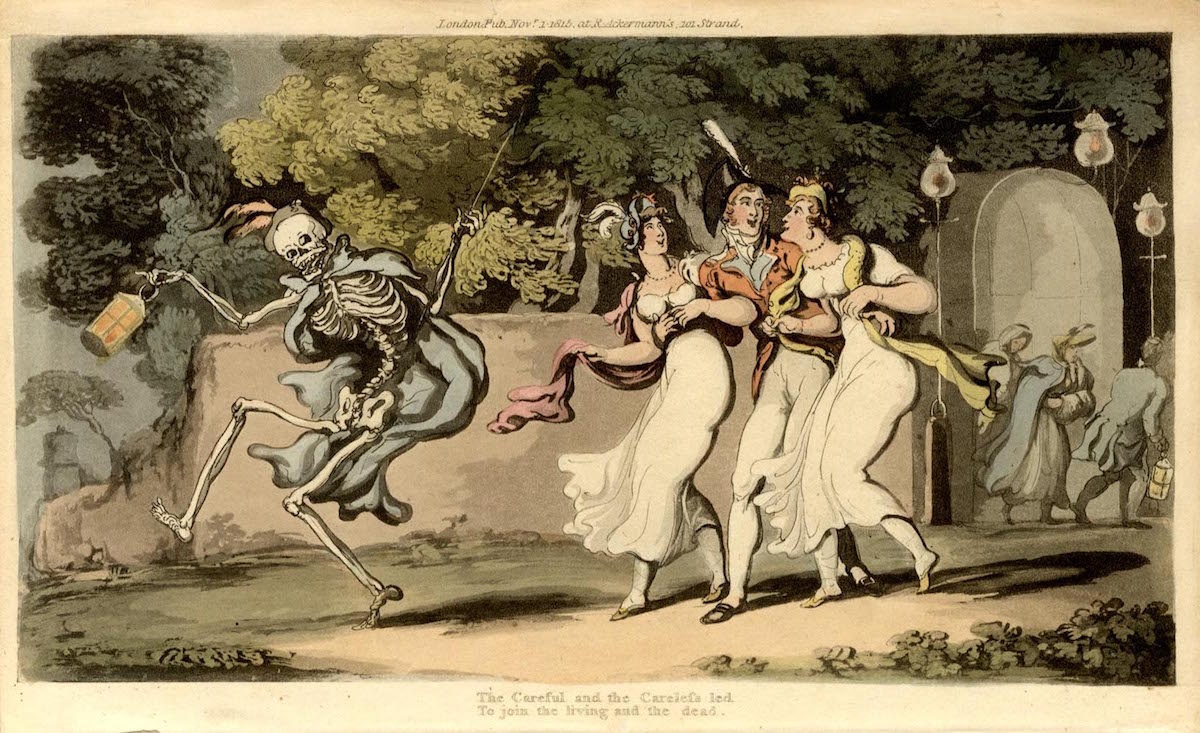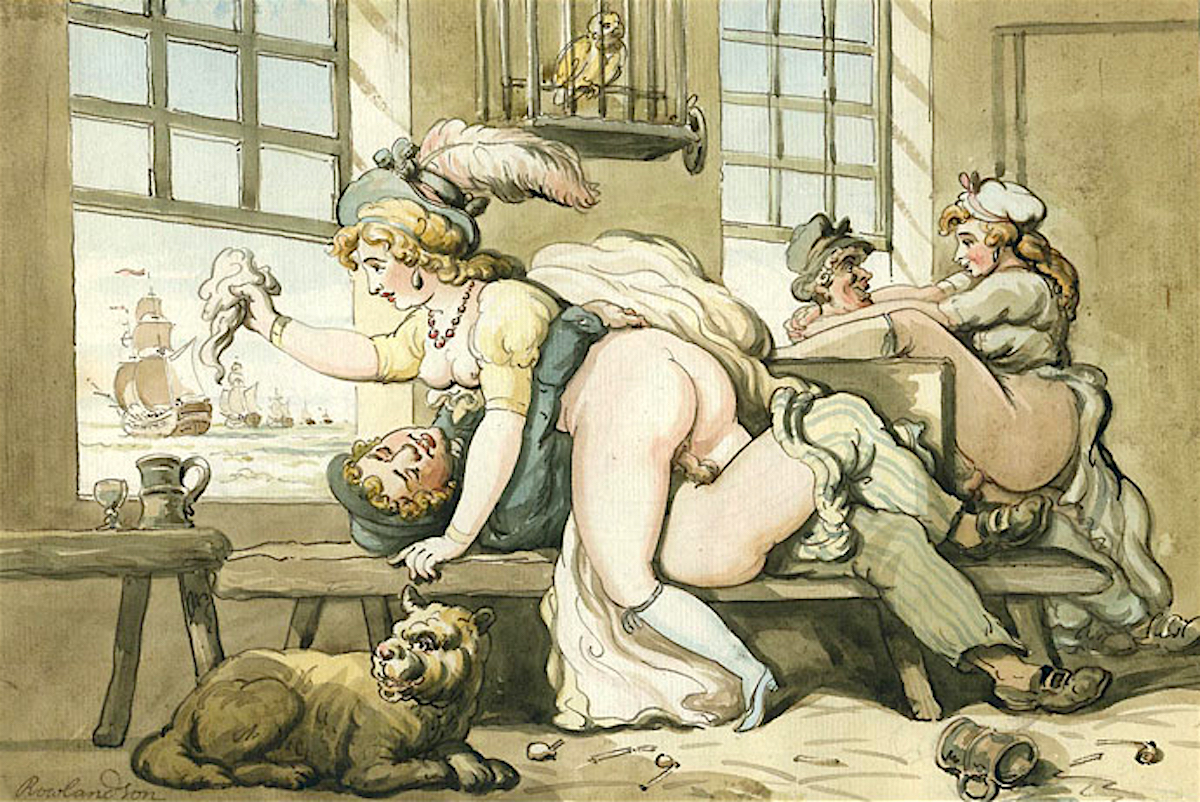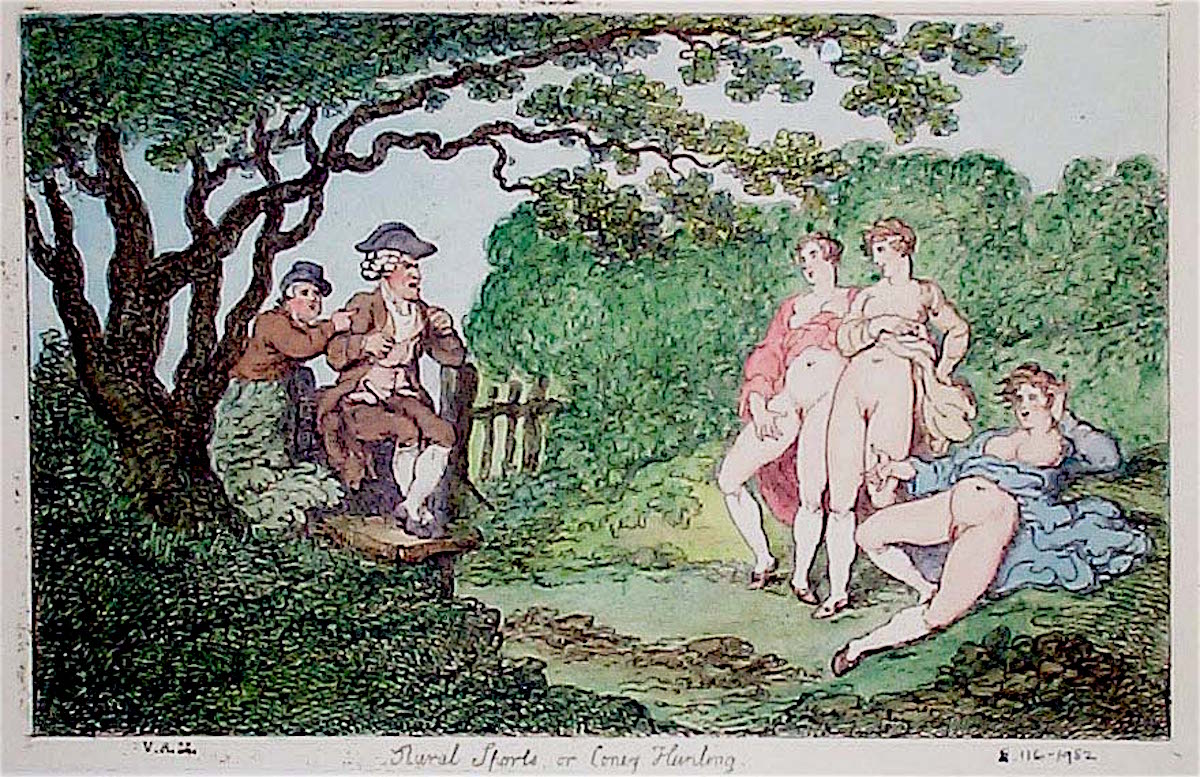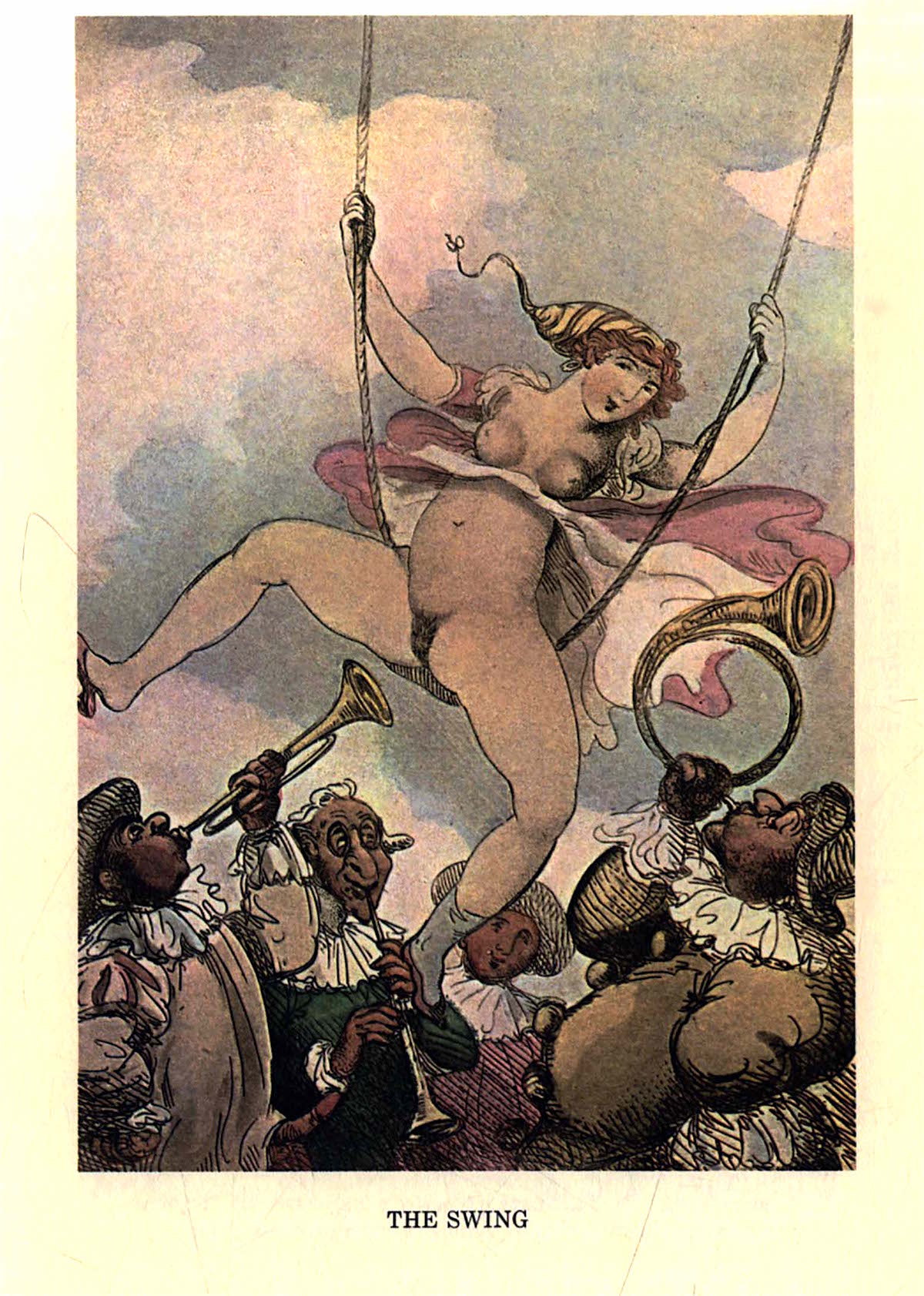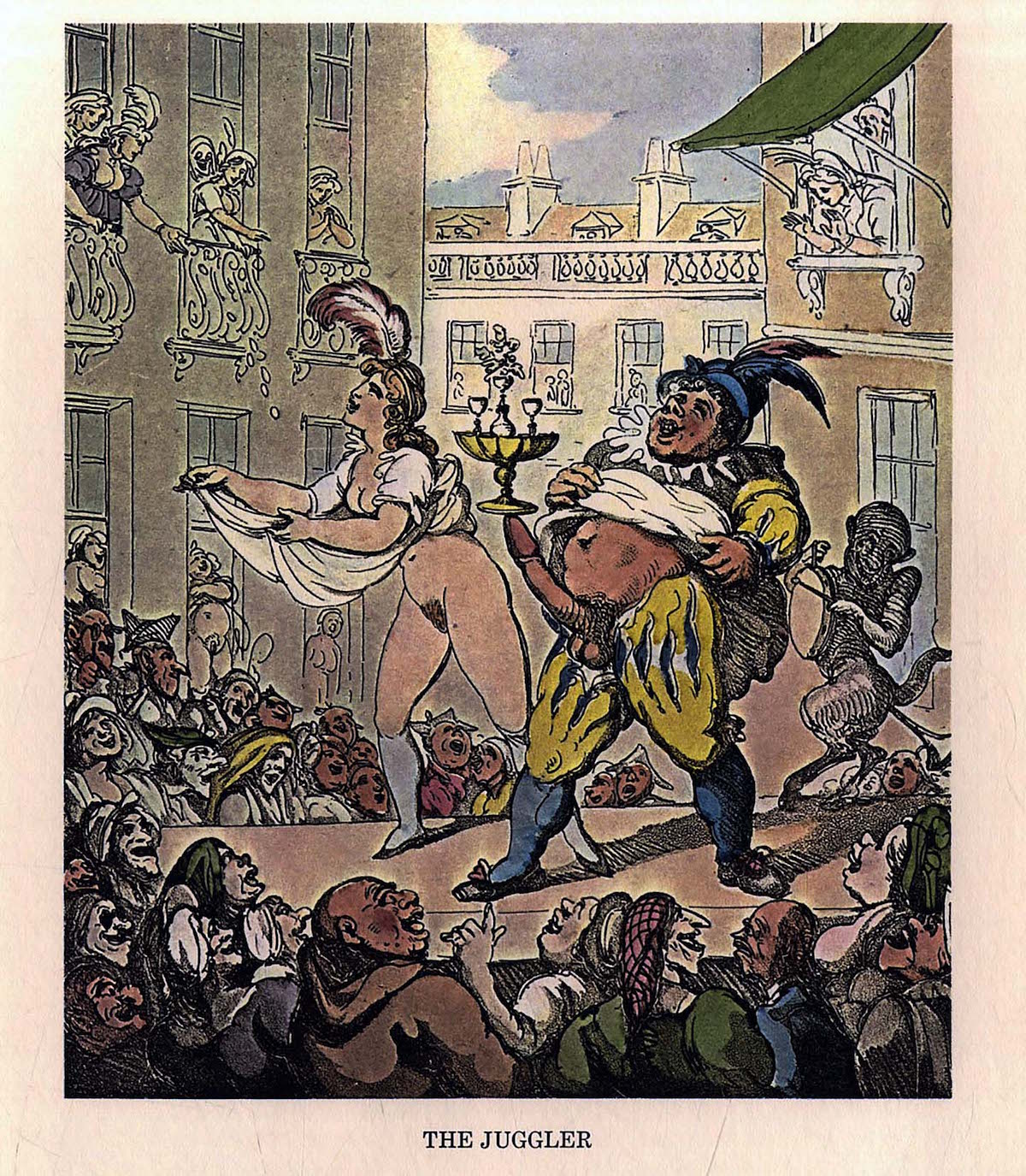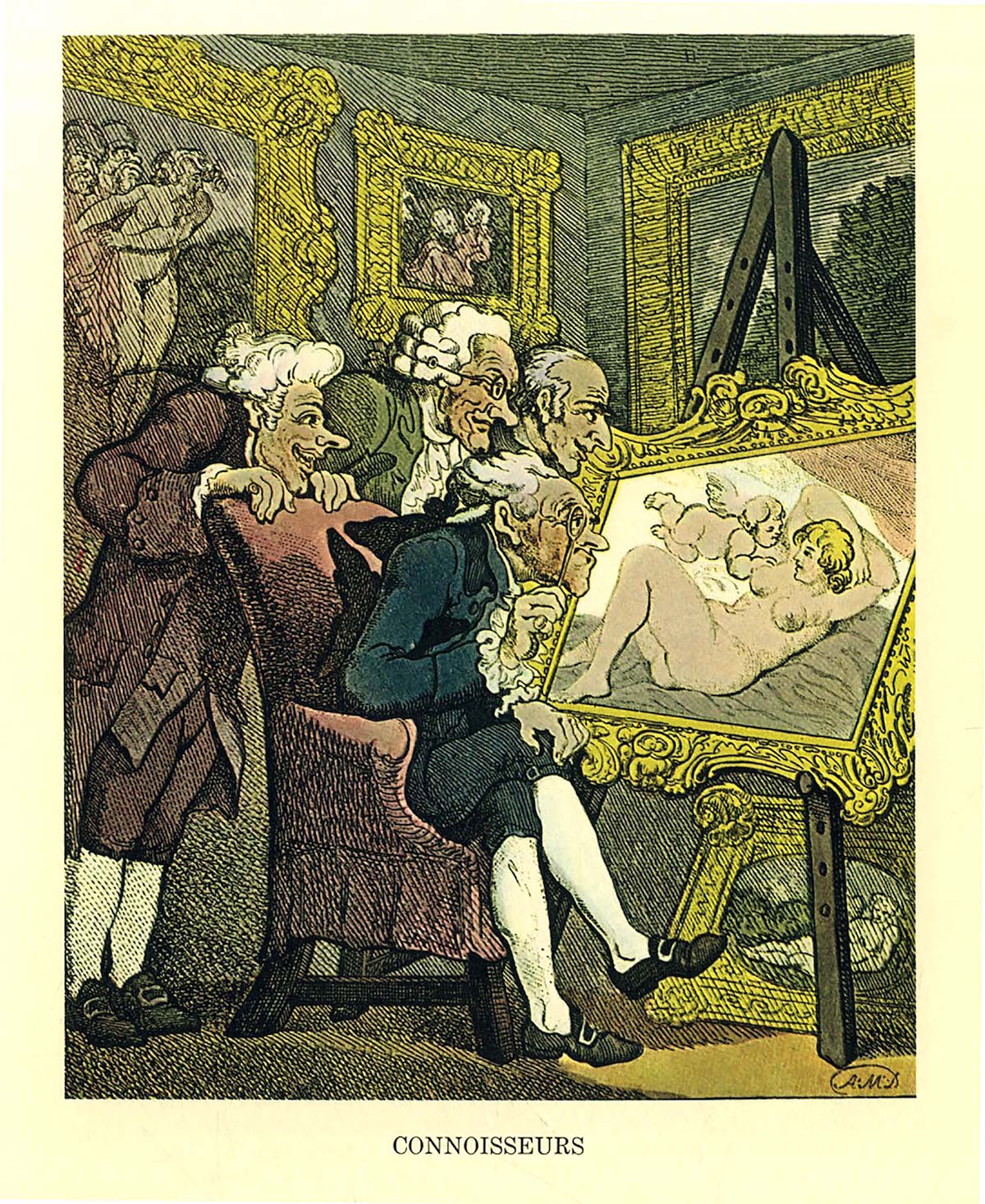 H/T WikiCommons.