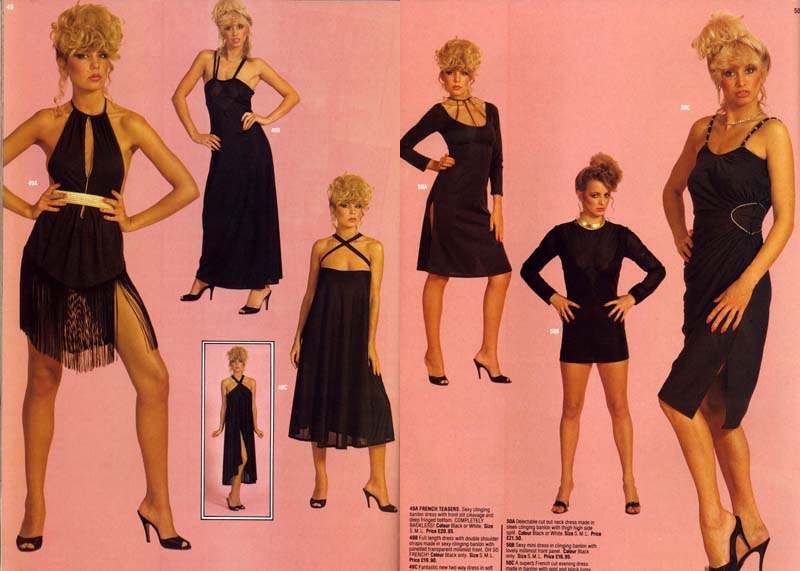 Don't have anything to wear for a night of cocaine snorting and disco dancing? These tacky catalog pages from the late 70s/early 80s have just what you're looking for.
Yes, it's very likely the ladies working the street corners will be wearing the same dress. That will cause a little embarrassment; but you will be the Disco Queen for an evening, and those are the risks one takes.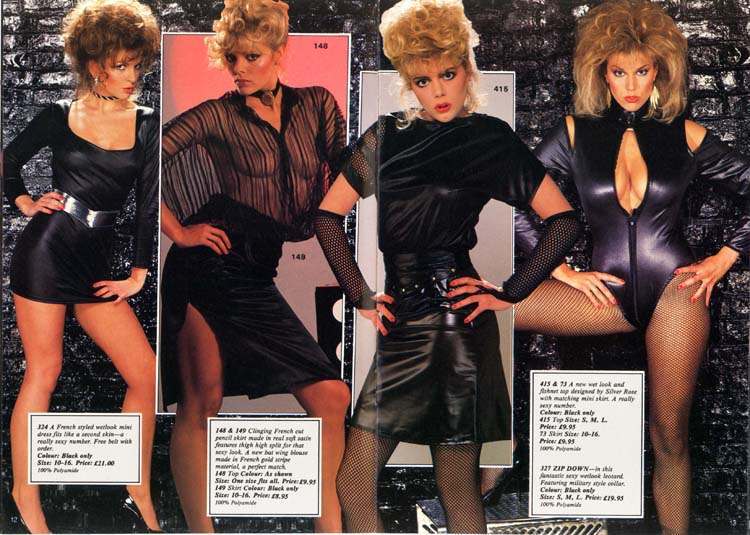 Choose from a wide selection of trashy, sleazy, tacky or slutty. We have the outfit to meet your varied tastes.
You'll be the center of attraction in this ravishing one piece, styled in sleek shiny acetate nylon, plunge halter neck and back with gorgeous frills, fitted at waist and thigh with lavish flare from the knee. Price £10.90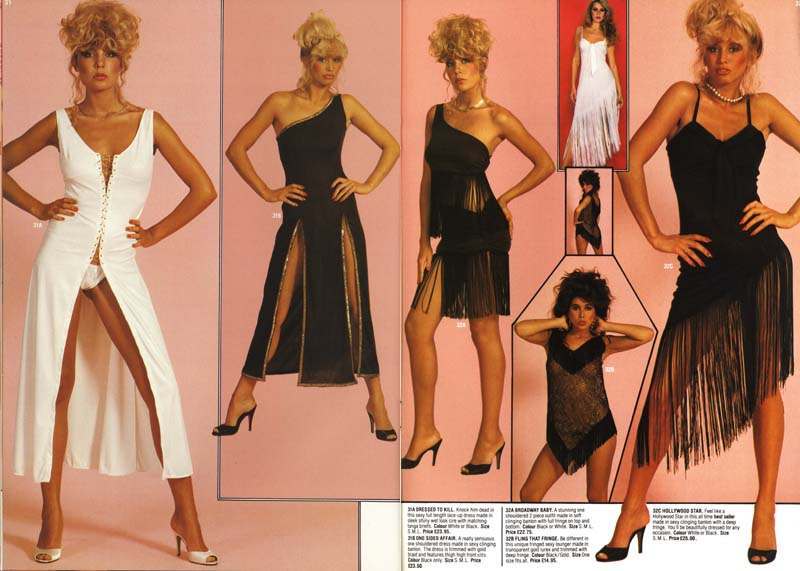 15A (left) "A fabulous jumpsuit made in sexy tri-lobal satin with matching gold stripped chiffon jacket that can be worn day or night." £26.95
15C (second from left): "An unusual sexy evening dress made in sexy clinging banlon that fits like a second skin." £19.90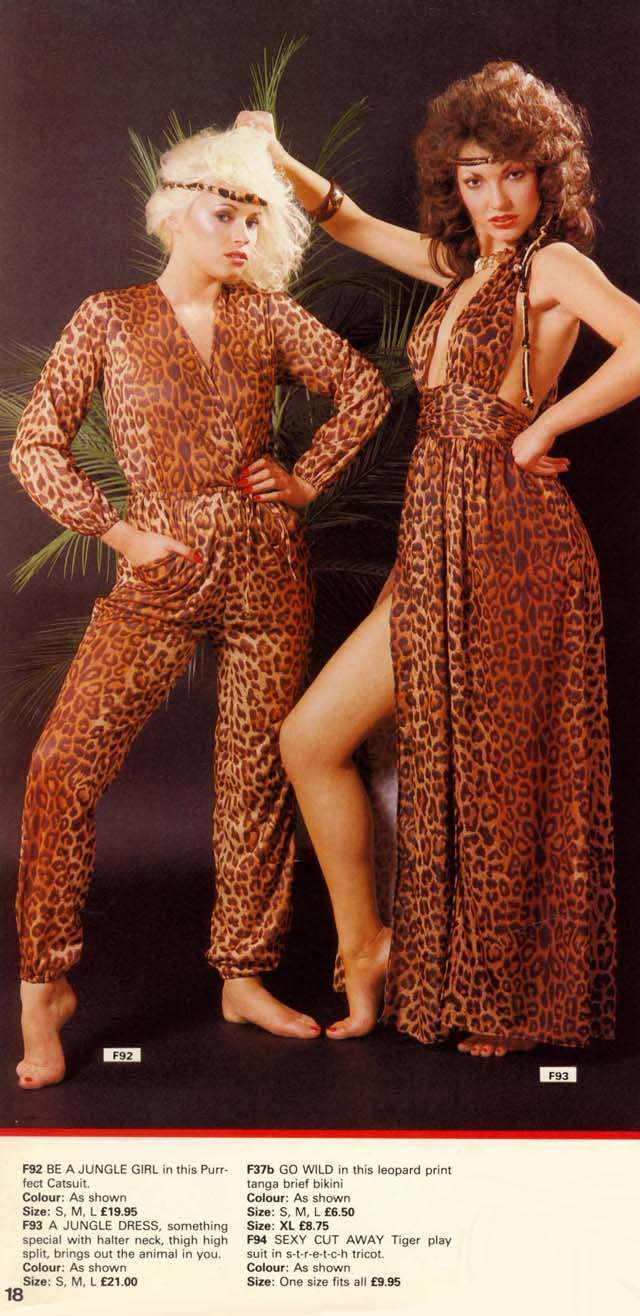 F92 (left) "Be a jungle girl in the Purr-fect Catsuit." £19.95
F93 (right) "A jungle dress, something special with halter neck, thigh high split, brings out the animal in you." £21.00
Don't think you'll have the opportunity to dress in jungle wear? Think again. This is 1979. The dance floors are filled with Disco Dollies in outfits that make this look tame.
F7a (left): "Gorgeous soft banlon jumpsuit designed for those sexy evenings and ideal to wear at parties." £21.00
F70 (center): "Be different in this new seductive dress in soft banlon, unusual hankerchief (sp) design is what makes this dress different." £23.95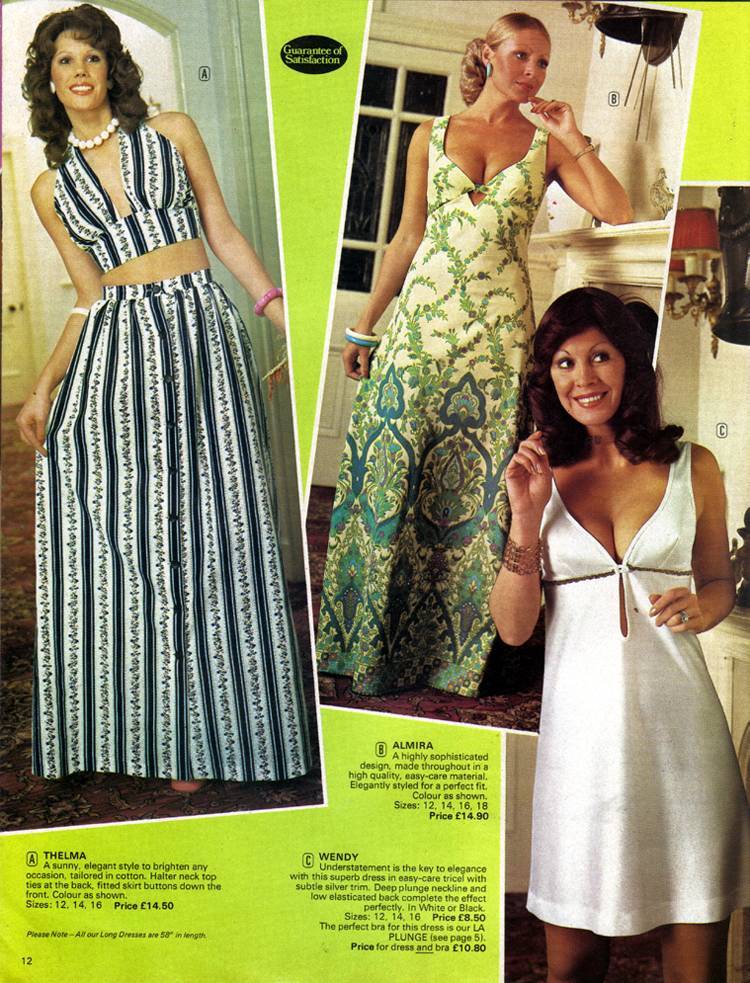 Want to look elegant while still maintaining that 70s standard of tackiness? Want that sophisticated look, but don't want to compromise your lack of good taste? Our dresses will ensure you don't stand out in a crowd by looking tasteful.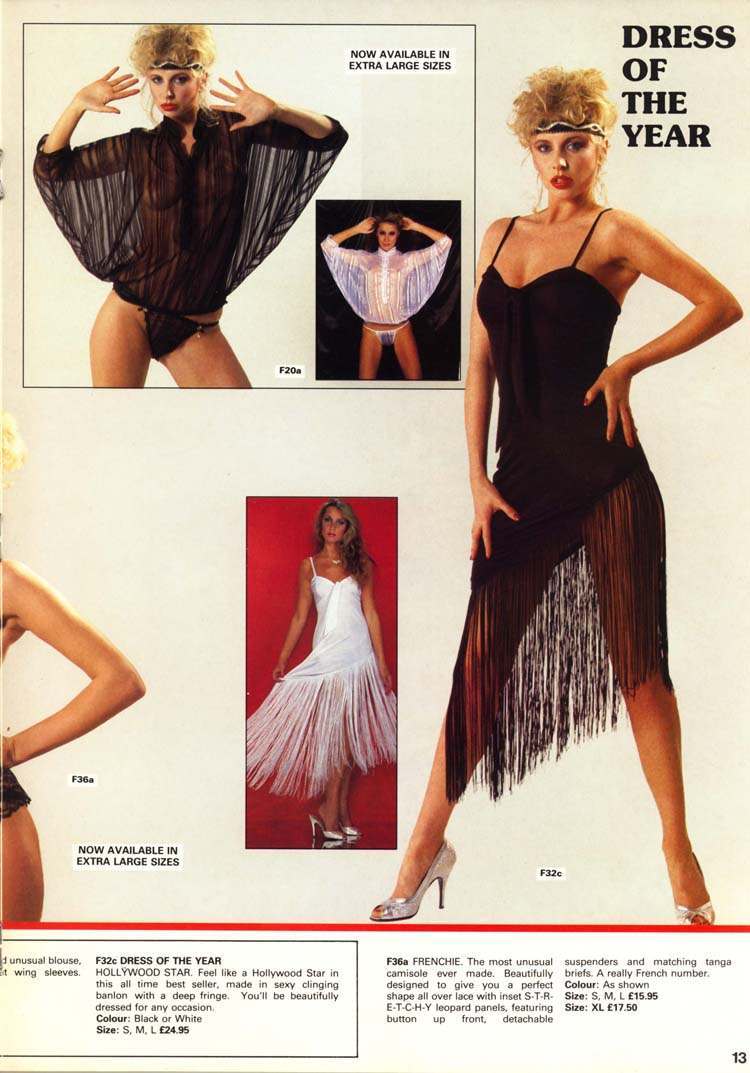 Introducing our "Dress of the Year".
Okay, it's not really a dress per se. More like strings hanging off your waist, but let's not get into semantics.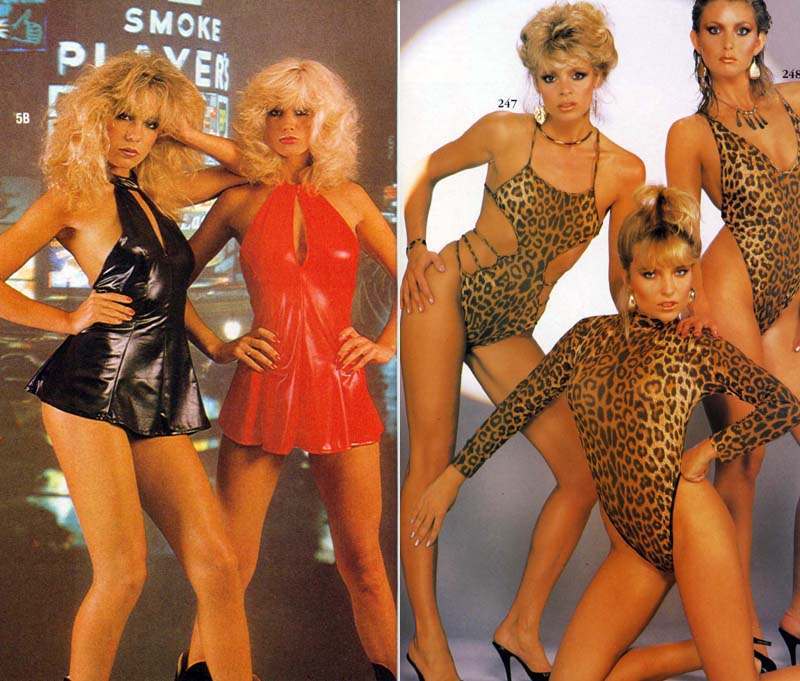 It's 1984 and disco is over. Suddenly, it looks like there's a lot less opportunity to look sleazy in public. What to do?
Answer: Just because they're not playing the Bee-Gees doesn't mean there's not debauchery to be had at your local nightclub. Cocaine use has never been higher – so, you're in luck! (But be careful of powder burn.)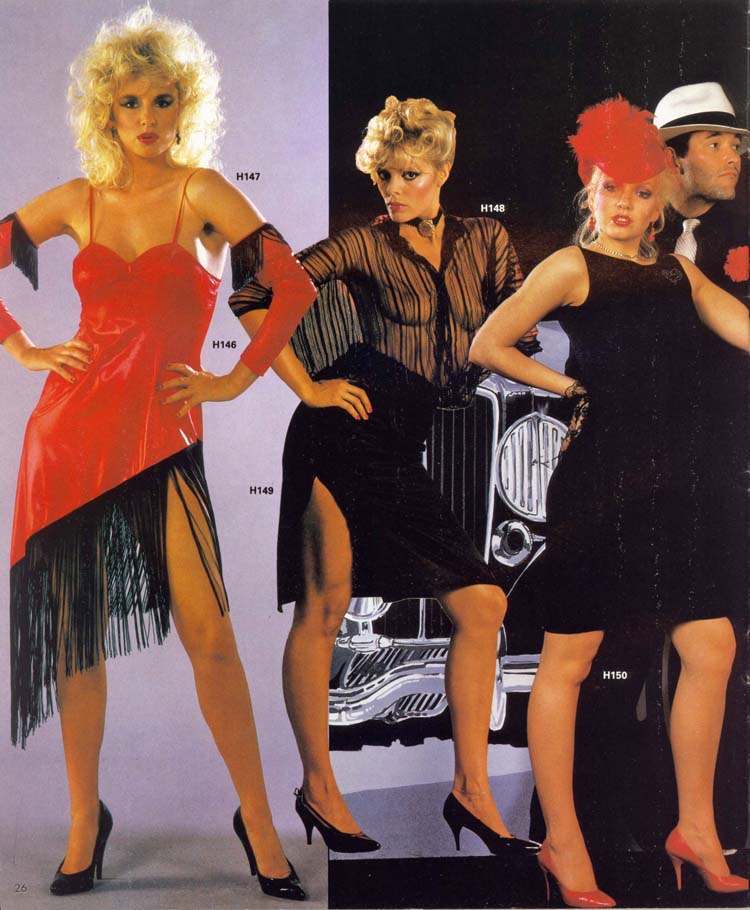 This isn't your mother's prom dress. Actually, this isn't anybody's prom dress… in fact, this will get you ejected from prom and possibly arrested.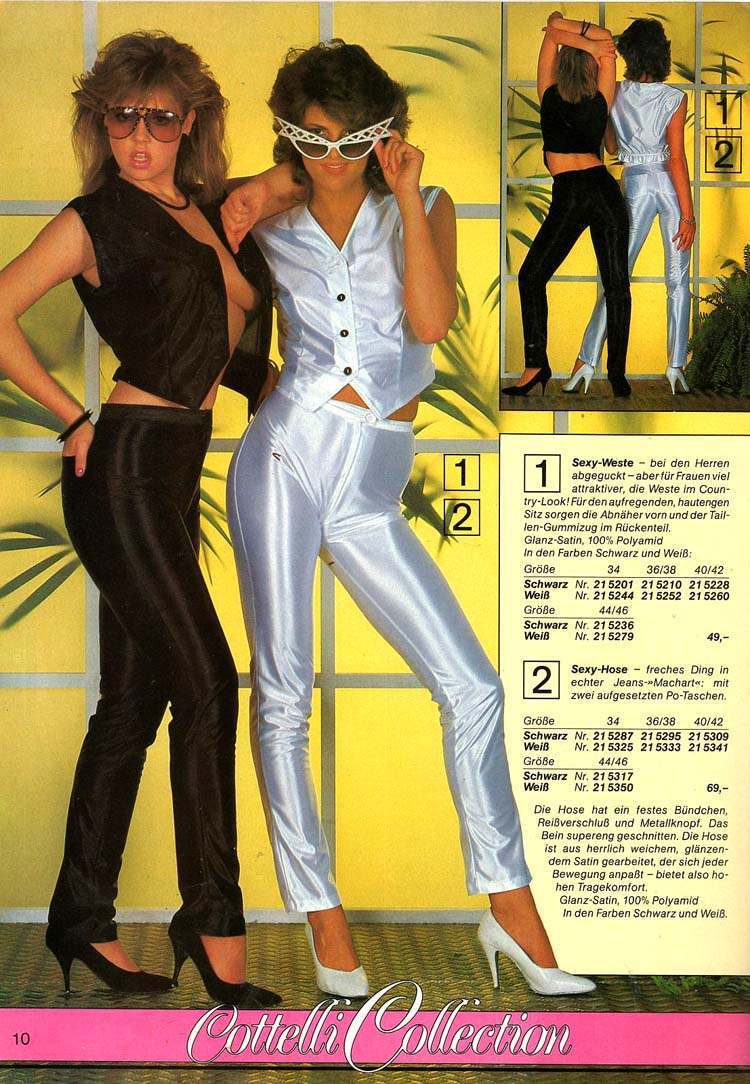 Thus ends our tour through the glamorous night life fashions from three decades ago. I know I've been snarky, but deep down I love these clothes. They were having fun back then; who am I to cast a condescending smirk? If everyone dressed like this today, the world would be a tackier place, but a happier place.