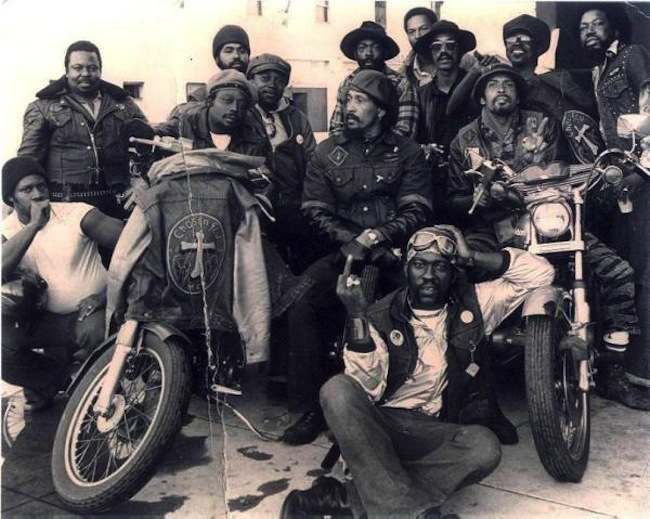 NOT all biker sets are white boys. The Chosen Few Motorcycle Club were formed in 1959 in LA:
"The 60s was a hell of a time. With the Civil Rights Movement, The Viet Nam War, Flower Power & Free Love. Sex, Drugs, and  Rock & Roll. Also the Crazy World of the Outlaw Bikers."
Some history:
"When you talk of the Outlaw Bikers you automatically think of 'Them Crazy White Boys' doing what a lot of folk wish they could do. Live Life Like You Want & F*ck You And Your Rules. Well Guess What? There was some crazy Black bikers who felt the same way, and didn't give a F*ck. Thus was born the Black Outlaw Bikers!"
Whites joined:
The first white boy to come to the Chosen Few was "White Boy Art." He came around 1960, followed by "White Boy Tom". Soon we started to attract other White Outlaw Riders that wanted to join us.
The Chosen Few became a Multi Racial MC with Chapters that were, all Black, all White, half White and Mexican, half Black and half White, all Mexican, Half Mexican & Indian with a few Asians & one Iranian.
Spotter: Theselvedgeyard