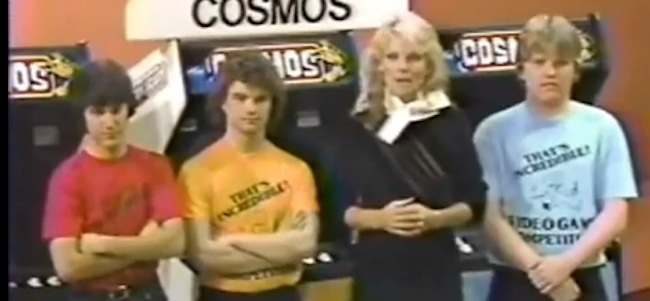 IT'S 1983. The first video game "World Championship" is underway. Twin Galaxies remembers when it was all lacquered whipped hair and lettering ironed onto T-shirts. In the best traditions of US-based 'World' sporting event, only North Americans entered:
Twin Galaxies first Coronation Day Tournament is recognized as history's first video game "World Championship"—held January 8-9, 1983 at the the Twin Galaxies Intergalactic Scoreboard in Ottumwa, Iowa, USA.

Co-sponsored by Twin Galaxies and ABC-TV's That's Incredible, the event featured nineteen of North America's top players competing on five current titles: Frogger, Millipede, Joust, Super Pac-Man, and Donkey Kong, Jr.

The top three finalists won complimentary subscriptions to Joystik, RePlay and Playmeter Magazine and were invited to compete on the "That's Incredible" finals in Los Angeles.

The show was aired to an international TV audience on February 21, 1983.