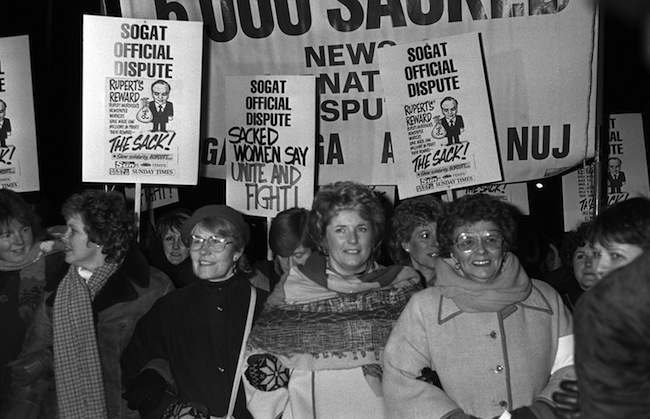 THE newspapers have written millions of words on Margaret Thatcher.  And the writers and owners might all thank her. In the 1991 book Murdoch: The Decline of an Empire, we read of life on Fleet Street back in 1978:
The Times Newspapers management wanted to introduce new technology. This new system would allow advertising employees to take down classified advertisements by putting them directly into the system through electronic keyboards …

The National Graphical Association (NGA), which represented the typesetters, rejected this proposal and called for 'double key-stroking'; 'double' being the operative word …

Copy could be typed by others on the paper, including journalists, but it had to be retyped by NGA members. In the days of hot metal presses this made sense, but the new computer-based technology meant that copy only needed to be 'single-keyed', i.e. it could be typed and set straight into the system … [By 1979] the NGA had already established the double key-stroking principle at three other national newspapers.
In Bad News: The Wapping Dispute, the writers note the relationships between journalists and clerical/production workers:
"Traditionally the journalists saw the printers' practices as an obstacle to getting their stories out and there was a great deal of jealousy because the printers were earning as much, if not more, than they were earning themselves. Their attitude of superiority… was something that many clerical workers experienced in their day to day contact with journalists."
(The Sunday Times journalists, for example, voted 68-60 to move to Wapping.)
The Times Newspapers group lost more than £39 million during a nearly year-long closure over the issue. When the business – such as it was – re-opened in 1979, it had a new feature: double-keying.
Murdoch wanted change.
He wanted to smash the unions. His Sun newspaper had been firmly against the miners in their strike. (Read how it tuned miners' union leader Arthur Scargill into Hitler.)
Investing in new technology would mean fewer staff and bigger papers, with full colour and more sections and advertising. He set about building a new printing plant in Wapping, East London. This would be for a new organ called The London News. That title would never exist. It was a ruse to keep the unions from knowing his true intention.
In the USA "New Technology" had made significant inroads, with cold type first introduced as early as 1973 and job losses as high as 50% resulting from the introduction of information technology. In the face of declining readership and intense competition no strike agreements had been widely negotiated to secure a "habit factor" amongst readers. One of the leading suppliers of IT to the newspaper industry with 500 customers and 50% market share was Atex, a subsidiary of Kodak founded in 1973. The systems Atex produced covered everything from layout and word-processing to printing and classified advertisement sales. In the UK most publishers were experimenting to a greater or lesser extent with New Technology but were nervous about the technological risks and the impact on labour relations. Only Eddie Shah with his Today newspaper had tried to use it extensively, with mixed results.

Murdoch determined to purchase technology from Atex, and to employ it in a newspaper plant to be built in Wapping in East London, ostensibly to produce a new newspaper called "The London Post". The Atex system was developed amidst enormous secrecy, and gave Murdoch the confidence that he could take on the print unions and win. He didn't so much introduce leading edge production techniques as simply take advantage of widely used technology and practices established in other countries and sectors.
Former Independent editor Andrew Whittam-Smith said of those times of change:
Until 1986 nothing had changed in newspaper publishing, The industry was in a time warp,". "What Rupert Murdoch did was break the log jam and bring us into the 20th century".
Where Murdoch led, every other newspaper followed. They all left Fleet Street. They all invested in new print works.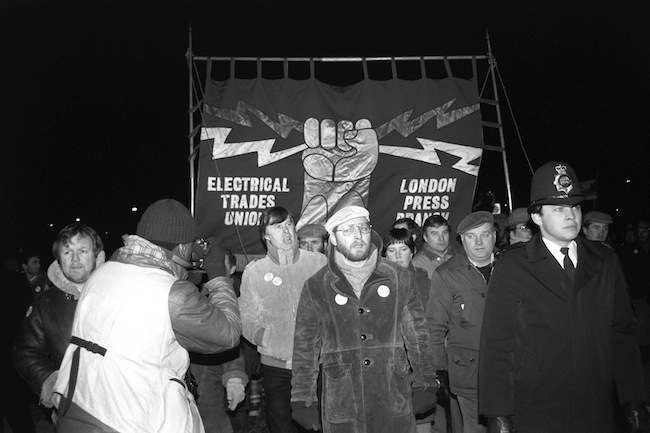 On 16 1986 over 6000 staff striked. At which point they lost their jobs. Members of SOGAT (Society of Graphical and Allied Trades) the NGA (National Graphical Association), the AUEW (Amalgamated Union of Engineering Workers) were out of work.  Members of the electricians union, the EETPU, kept the printers running. Murdoch relocated his papers from Fleet Street to those cheaper premises in Wapping, which soon resembled a fortress.
There was violence. The police were very much on Murdoch's side.
Journalists and printers were bussed in from secret locations and traditional militant rail unions marginalised as Murdoch turned to the road haulage company TNT to run the gauntlet of strikers and get his newspapers out, using articulated lorries (one of which killed a 19-year-old labourer as it was leaving the plant in 1987) and vans known as "white mice".

Journalists still had to endure the chants of "scab, scab, scab" as they drove into Wapping (and then chants of "cunt, cunt, cunt" from Kelvin MacKenzie, according to Peter Chippendale and Chris Horrie's book Stick it Up Your Punter), but at least they were protected by the police.
The general secretary of Sogat '82, Brenda Dean (see lead photo) condemned the violence, as did many other union leaders.
Others were less displeased. This is an extract from one of the last unofficial bulletin's Picket, which was published 43 times during the strike.
Picket 28th January 1987
For months we have taken stick from the police. On Saturday we got one back. Brilliant. They must've wondered what hit them, even the veterans of May 3rd. For hours they had to sit there and take it, the noise of concrete on Perspex deafened us, what must it have been like for them? It was too dangerous for them to charge us as they would have liked. Many thanks to all those people 'unconnected to the dispute' who were right up there in the front, showing they know quite well what the police are about and what they deserve from working class people. We need no excuses for hating the police. Thanks especially to the football supporters from Millwall, West Ham, Chelsea and Charlton. You were an inspiration.
Troubled flared. When the strike ended in February 1987, there had been 1,262 arrests and 410 police injuries. 
"Scab, scab, scab" the pickets chanted as journalist were bussed in. According to the book Stick it Up Your Punter, Sun editor Kelvin MacKenzie chanted back "c*nt, c*nt, c*nt".
The print unions' attempts to gain sympathy for a national boycott of the News International titles .They failed.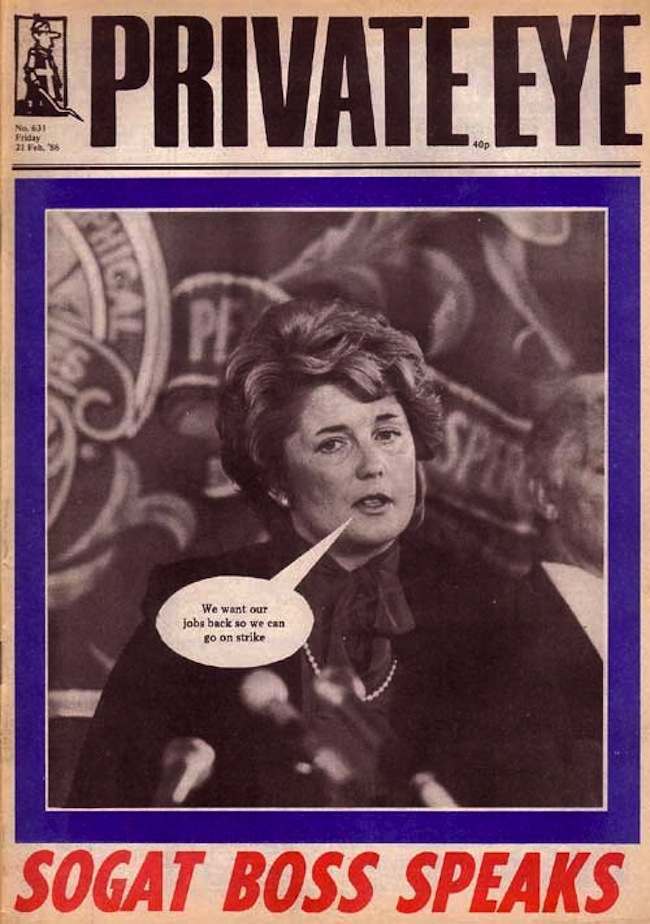 In the end, the strike was called off when compensation for sacked staff was arranged.
Murdoch has won. So too had Thatcher.