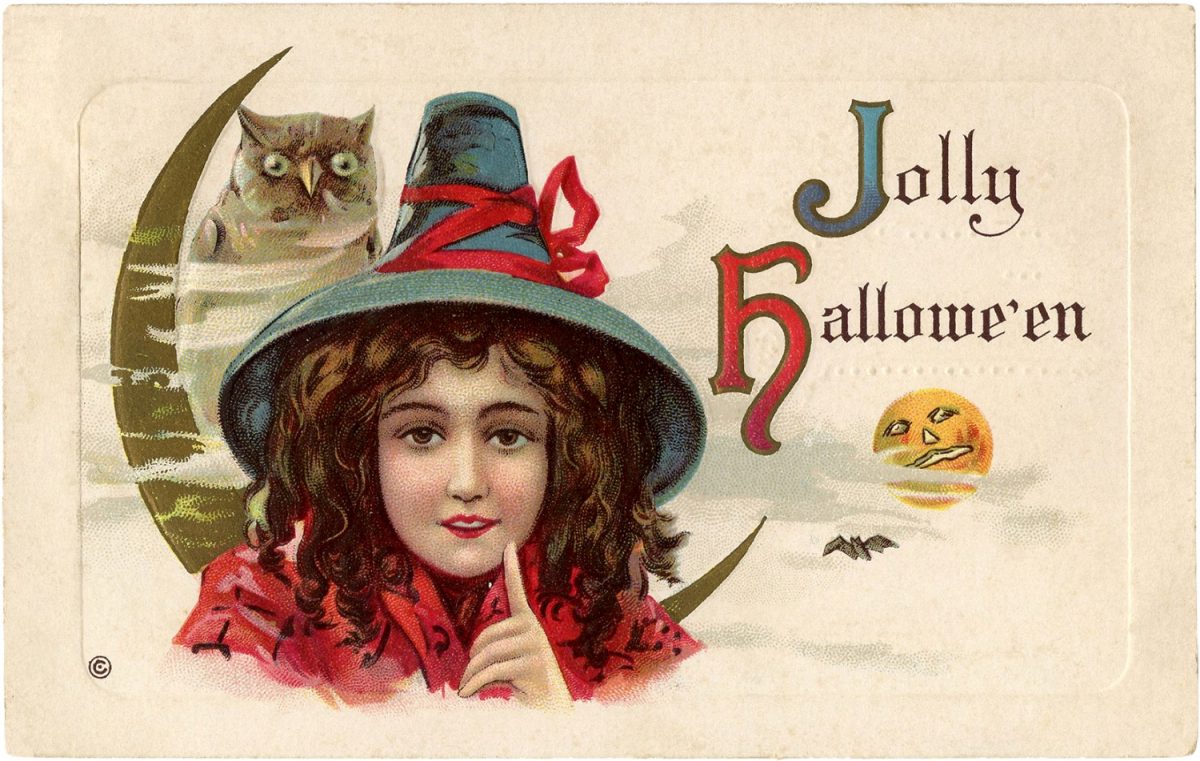 Halloween is a-coming. The night when evil walks the Earth and people tell each other tales of ghosts and sprites when darkness falls.
Do you know the tale of 'Stingy' Jack O'Lantern? Come close, closer, by the light of the flickering screen, I'll tell you my tale…
Stingy Jack was a mean, mean man, o, yes he was. Full of strange passions and lusts, who played the rascal and teased the Devil with his oh-so wicked ways. If there was a chance to lie in the sun rather than till the soil, that was Jack. If there was a dram to be had or a still to be emptied, Jack was first and last there, his cup never empty. If ever there was something to be had for nothing, then Jack's hands would quietly set it free. If there was love to be had, Jack would take it without care.
One night, Jack had drunk more than his fill. His body slurred out of the pub and onto the road. He wandered blindly through the old country lanes than turn and twist like snakes shedding skin. It was a pitch dark night, an unholy night, All Hallow's Eve–not a night to be out wandering on your own.
It was cold, bitterly so. Jack rubbed his hands and stamped his feet. It only made him feel more alone. Tree shadows curled and scratched at his feet. It made him feel uneasy as if this was a warning of something wicked to come.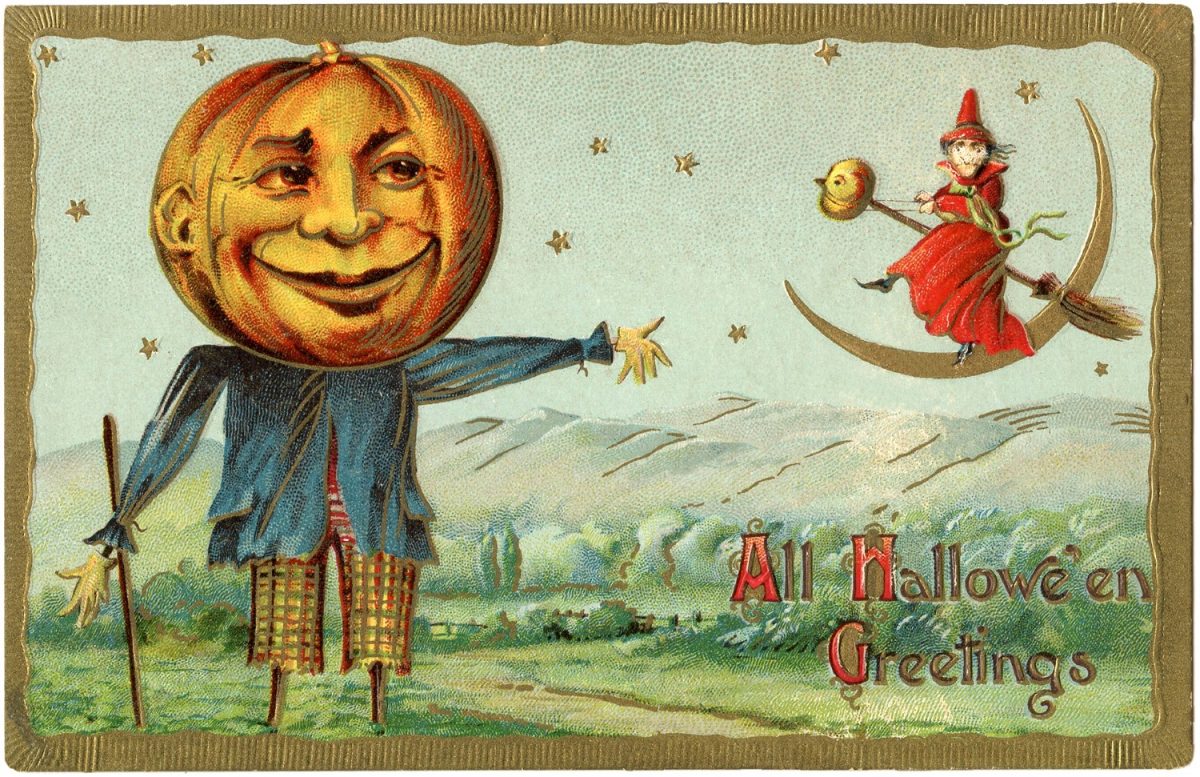 The horned head and cloven hooves of the Devil appeared. His breath snorted steam. This giant wing-backed beast beckoned to Jack.
'It's witching hour,' the Devil said, 'And I have come for your soul.'
'Jesus, Mary, and Joseph,' said Jack blessing himself, 'You can't want my soul, surely?'
'I do, indeed,' said the Devil turning away from Jack's sign of the cross.
'But, surely you can't? Think of all the evil and sin and naughty stuff I could do if you let me live. What an example of evil I could be for you, your Evilness.'
The Devil considered Jack's offer.
'No, Jack, you're too weak, too cowardly, you'll repent and become a good Christian once again. And I can't be having that. Your soul is ripe with evil and ready for the plucking.'
'But…but..' Jack stalled.
'What?'
'Can I at least have a last request before I die?'
The Devil stretched his leathery wings, flap, flap, a dry sulphurous smell of an eternity of torment.
'I suppose I can grant you that, so long as you don't want a priest to hear your confession?'
'A priest? O, no, to be sure, I just want…'
Jack looked around.
'Yes…?'
'I just want…er…'
Jack looked up and saw a fat red apple hanging by a slender branch high above his head.
'I just want…an apple from that tree.'
Jack pointed up the ripe fruit.
'But it's too high for me to climb, I'm drunk, you know, and my legs, well, you see…'
Jack staggered. The Devil saw.
'All right, I'll climb the tree and fetch your apple, rather apt when you think of it.'
The Devil stood on the old dry stane wall that nestled the base of the tree. His hooves sparked fireworks. He pulled himself up on to a branch, then another and another.
Before the Devil could reach the apple, Jack pulled a silver crucifix from his pocket and etched a cross on the bark of the tree. The Devil screamed. An unholy shriek like a thousand banshees. Jack then pushed the crucifix into the tree. The Devil merged into the tree.
'Damn you, Jack, you have cursed me.'
The more the Devil struggled the more his body merged with the tree. The tree withered, turned black, the fruit shrivelled and died. Until all that was left was the Devil's face on the bark like a strange ulceration.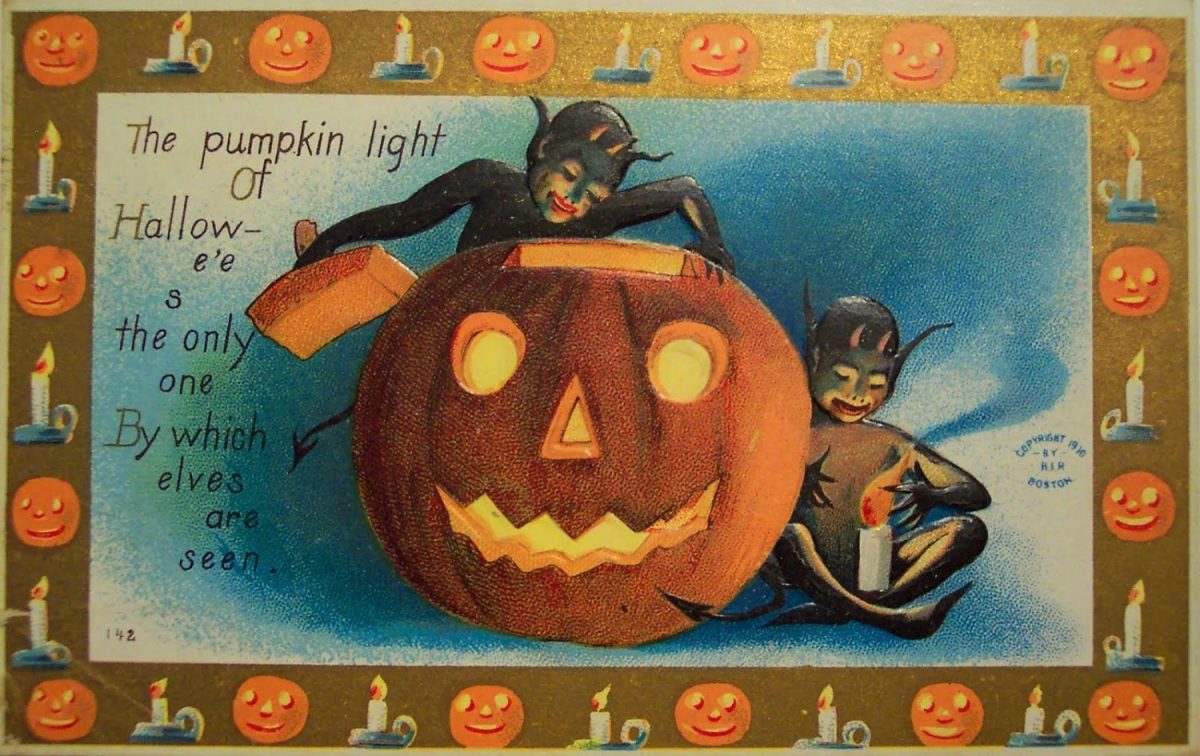 Jack laughed, clapped his hands, and gave a little dance.
'Who'd have thought this, eh?' he said.
The Devil glowered.
'Release me, Jack, and I will grant you anything.'
'You think I'm mad? Release you and you'll gobble me up. No, no, no. I'm happy with where you are.'
'I give you my unholy oath that I will grant you whatever you want, if you but set me free.'
Jack thought for a moment. He could have money, booze, a beautiful wife, immortality. But then he had a better idea.
'I tell you what, Mr Devil, my man, you grant me just this one thing.'
'Anything, I promise.'
'What I want is simple.'
'Name it.'
'When I die, Mr Devil, I want you to promise me that you will never take my soul.'
'I promise, I promise,' the Devil said as face began to harden into wood.
'Done,' said Jack and pulled the crucifix out of the tree and scored out the cross he'd marked.
The Devil fell out of the tree like some monstrous birth.
'I could crush you now,' said the Devil.
'But you won't' said Jack, 'Because you can't have my soul.'
The Devil glared at Jack, 'You think you've won, but have you really?'
With a roll of thunder the Devil was gone.
Jack laughed and laughed and laughed. He'd beaten the Devil and now he could live how he pleased.
Now most people would have learnt a lesson from this little encounter. But Jack took unwarranted confidence from this meeting. He gave himself over to those sins and pleasures he relished so much. He now knew he could do as he pleased as he was safe from an eternity in Hell.
Jack spent his days drinking and stealing, his nights fornicating with women or anything warm. One day, staggering mad with drink out of a pub, Jack died. The villagers were pleased this evil stain was gone, though some poor souls missed his touch.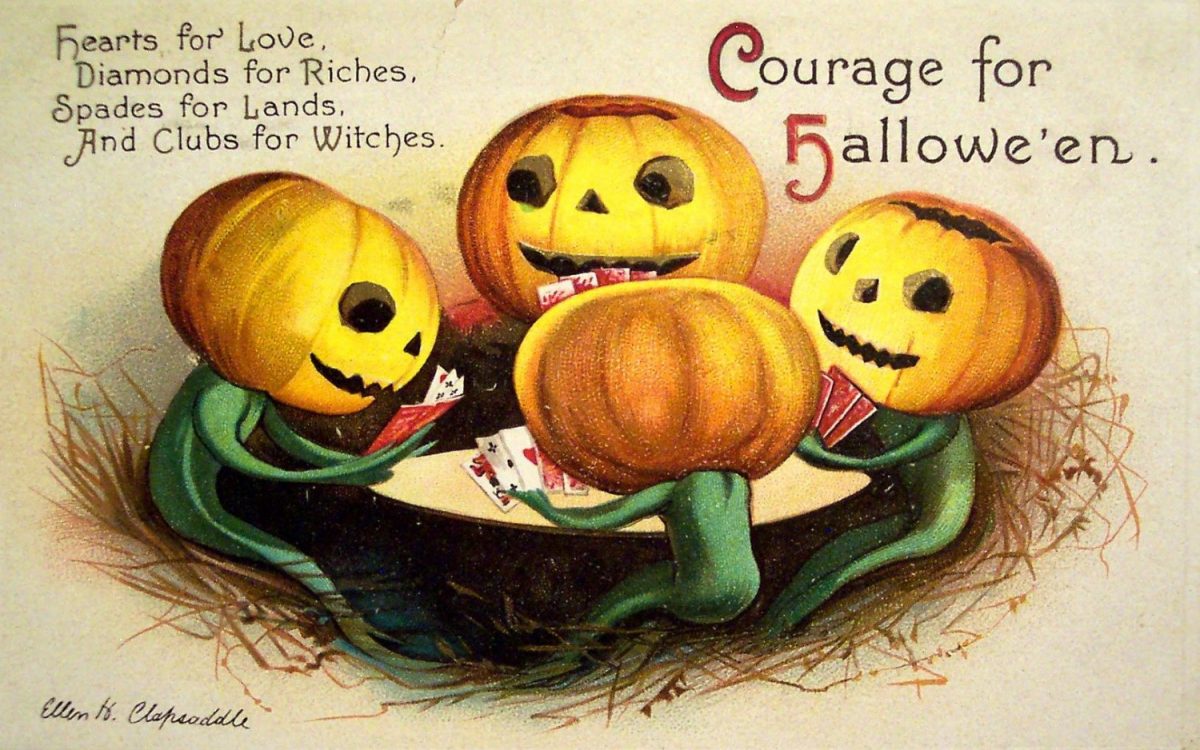 At his death, Jack's soul went up to Heaven. He was met at the Pearly Gates by Saint Peter who tutted and said, 'Jack, Jack, Jack. What are you doing here? Your soul is lost and dark and heavy with sin. You have no place here.'
Suddenly, Jack was falling downwards straight to Hell.
As the flames spiralled above him, the Devil opened the Gates of Hell.
'Ah, Jack, 'tis you.'
Jack was terrified at what now might happen. But the Devil shook his head.
'I made a bargain with you Jack, and I won't break my promise. You're not welcome here.'
'But, but, I'm not allowed in Heaven either.'
The Devil looked at Jack. He picked-up a burning coal from the fires of Hell and threw it straight at Jack.
'You're lost forever now, Jack, cursed to wander for all Eternity. But this coal will keep you warm and guide your way.'
Jack caught the coal. It felt warm and comforting in his hand.
Jack was standing by his grave where the grave diggers were quickly hurling earth over his coffin. By the cemetery was a pumpkin field. Jack walked across and plucked a fat pumpkin. He hollowed it out with his knife and placed the coal inside. He cut two eyes and a mouth. The Devil's coal shone through the eyes into darkening night as Jack O'Lantern trudged his lonely way across the land.
Now every Halloween, when the night is dark, you might see the smudge of a loathsome figure walking alone through the night, a bright fiery pumpkin guiding their way. This is Jack O'Lantern hoping to find a soul to steal to live his life again.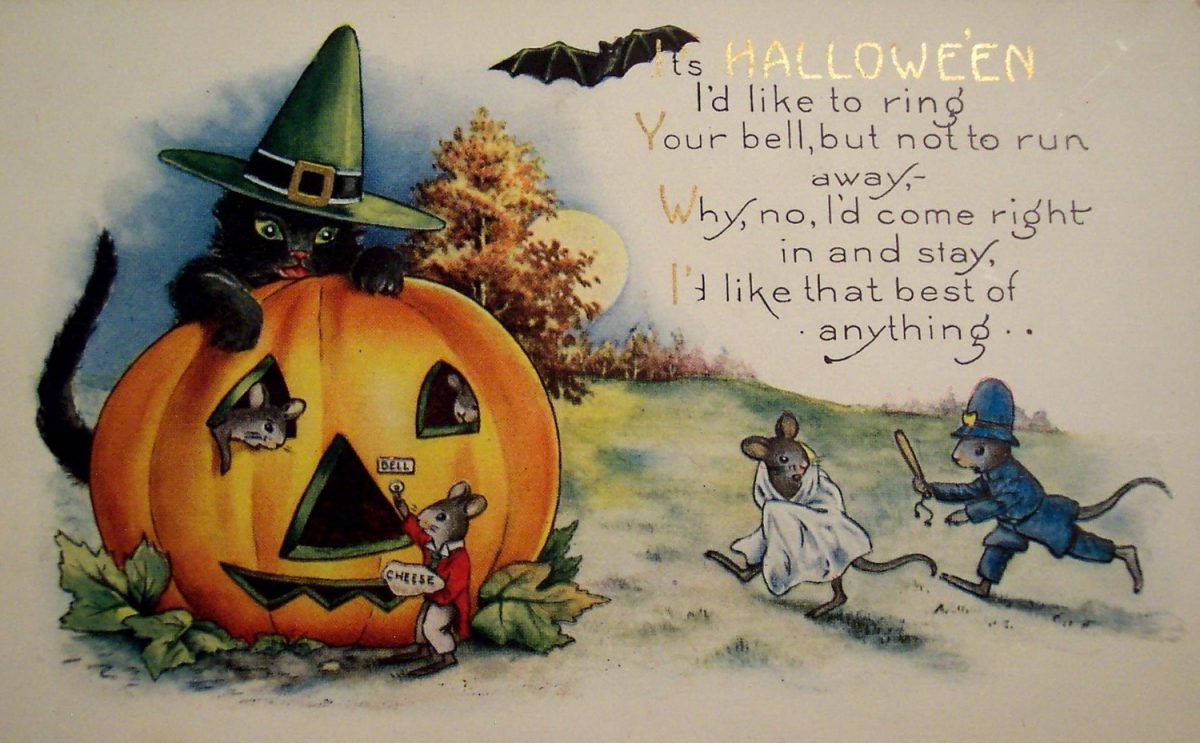 Once-upon-a-time, people sent cards to one another to celebrate Halloween, just like some do at Christmas or Easter, Hanukkah or New Year. It's a tradition I think should be revived, for is there anything nicer than receiving a greeting card wishing you luck, good fortune, and protection from all the evil that walks the night on All Hallow's Eve?
Now here's a selection to set your mood for a splendid Halloween.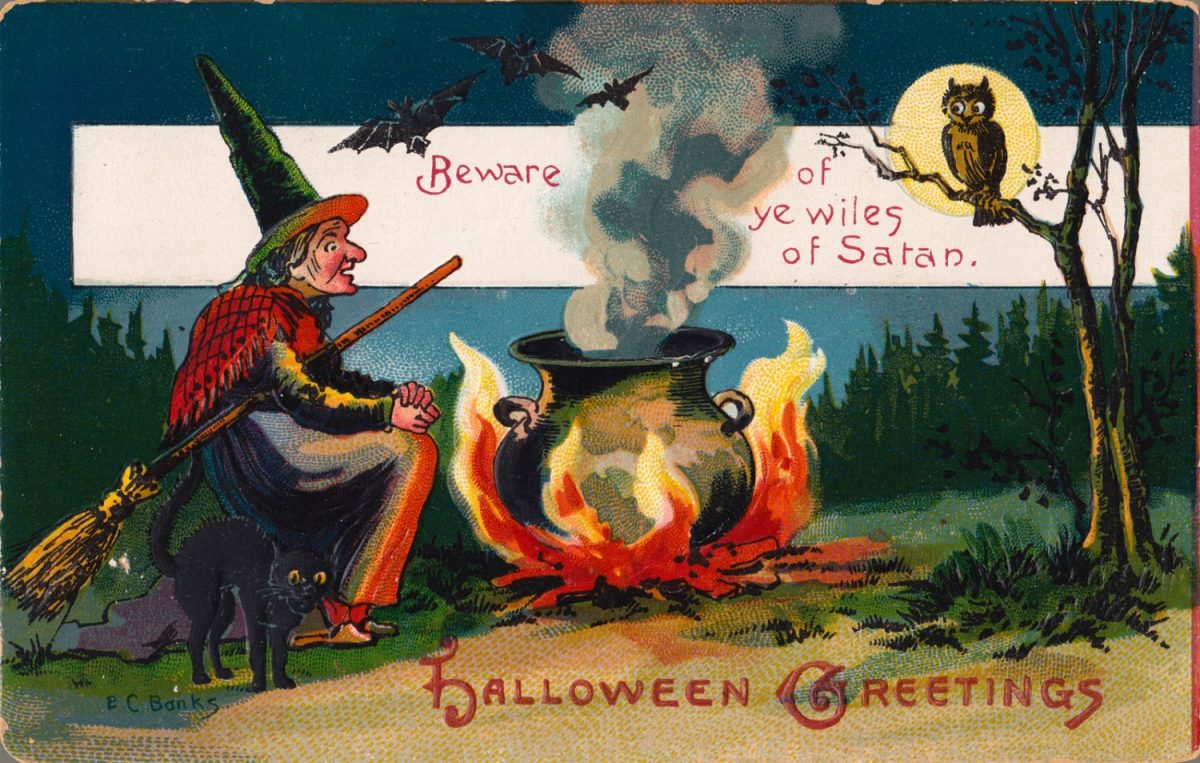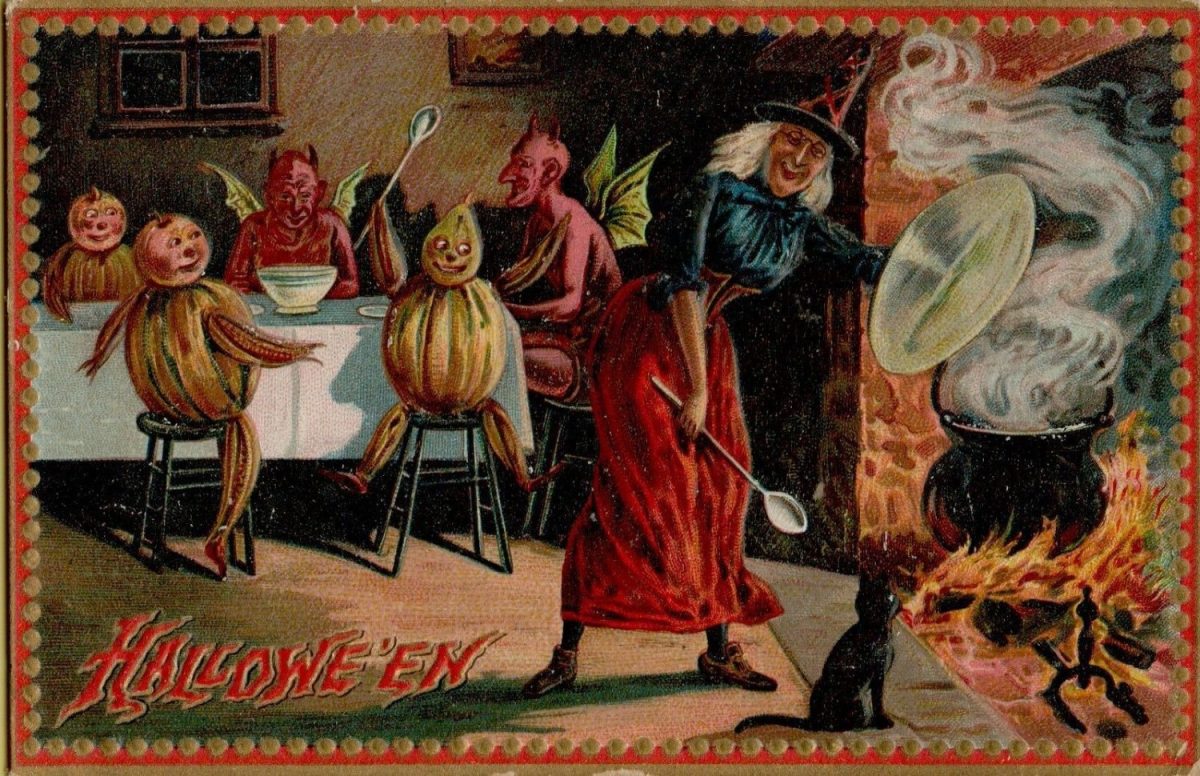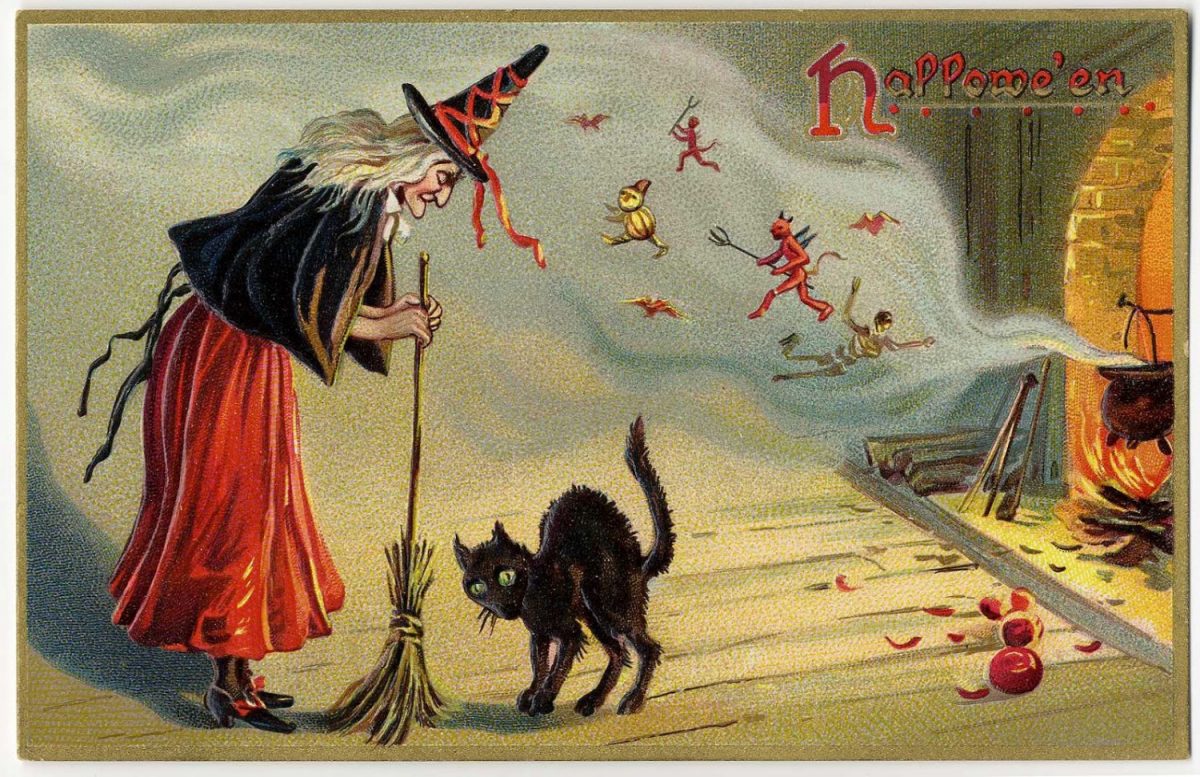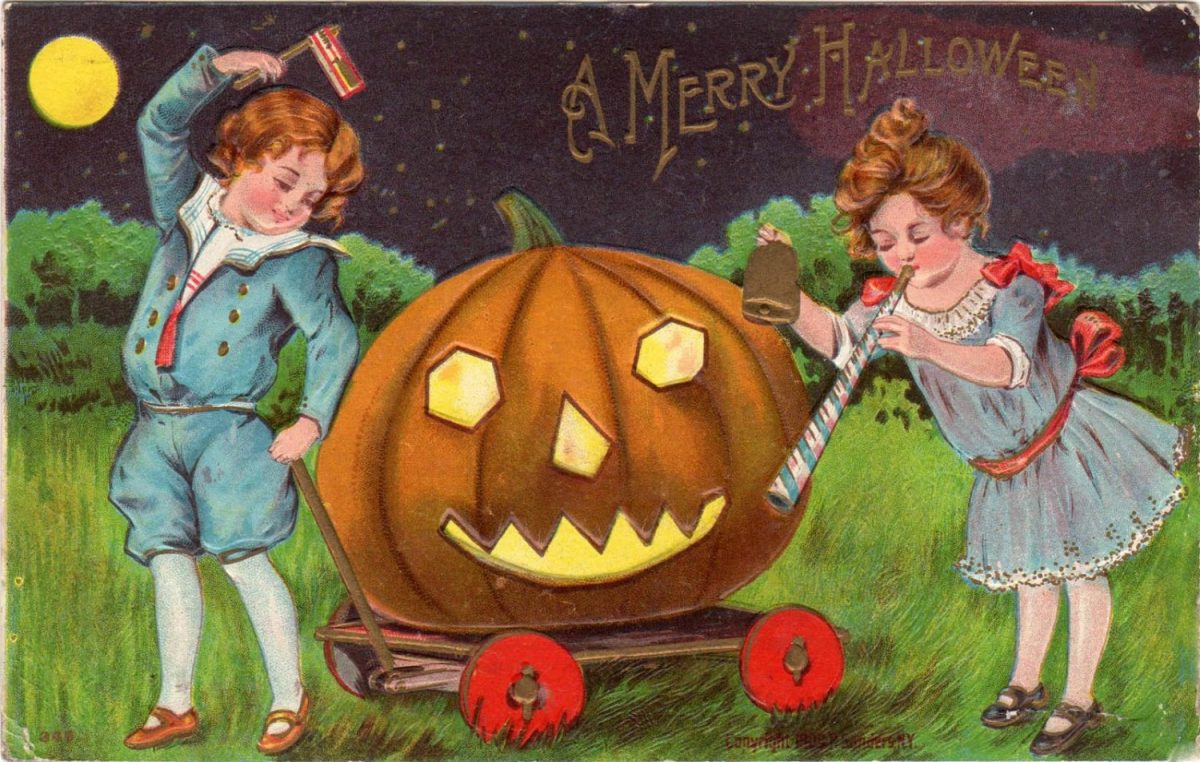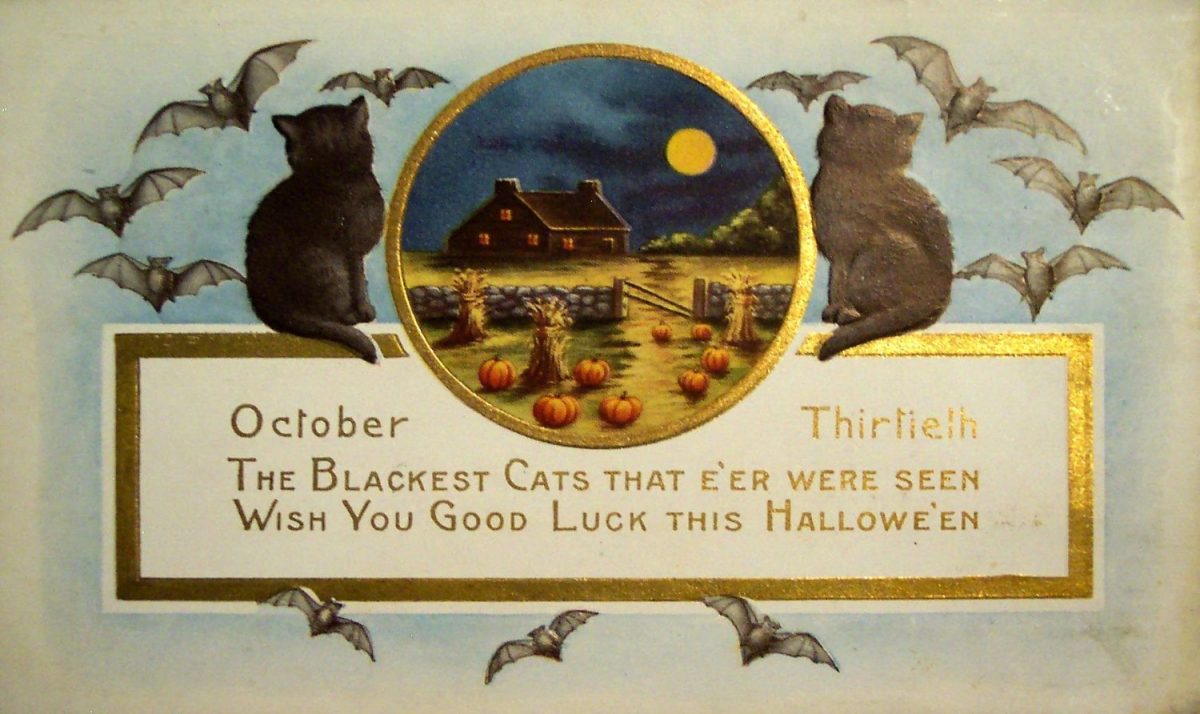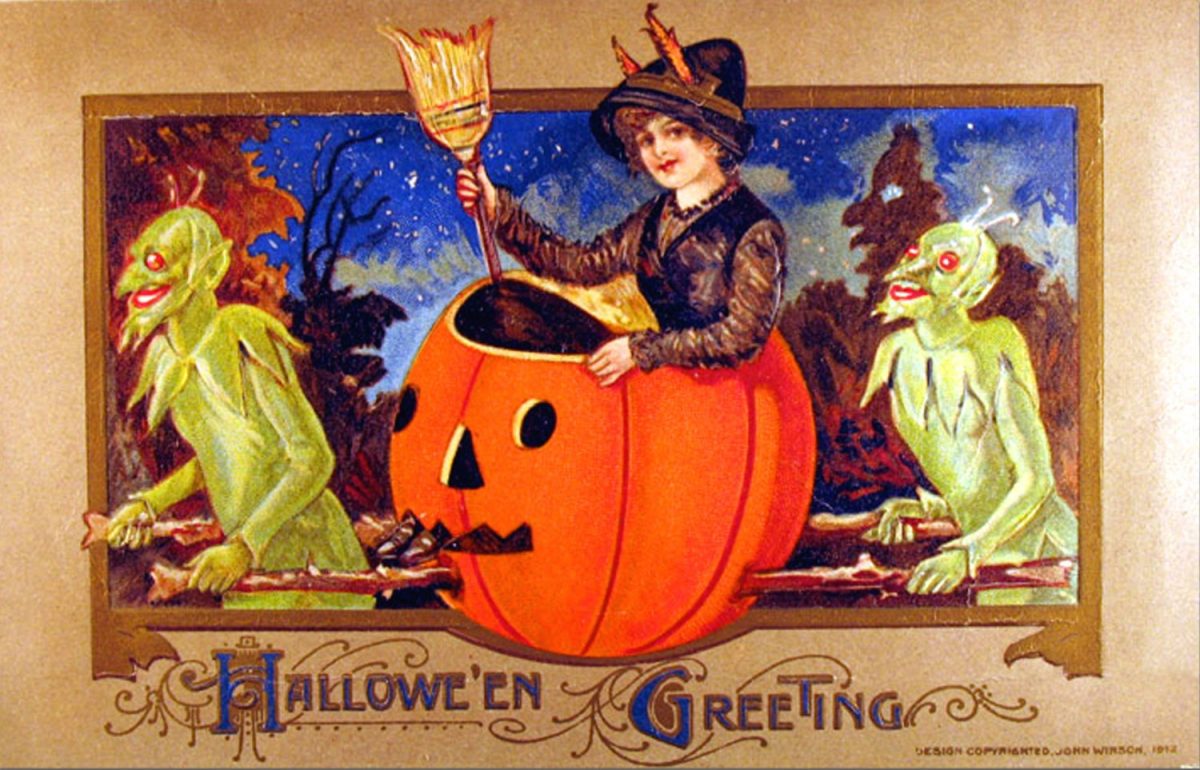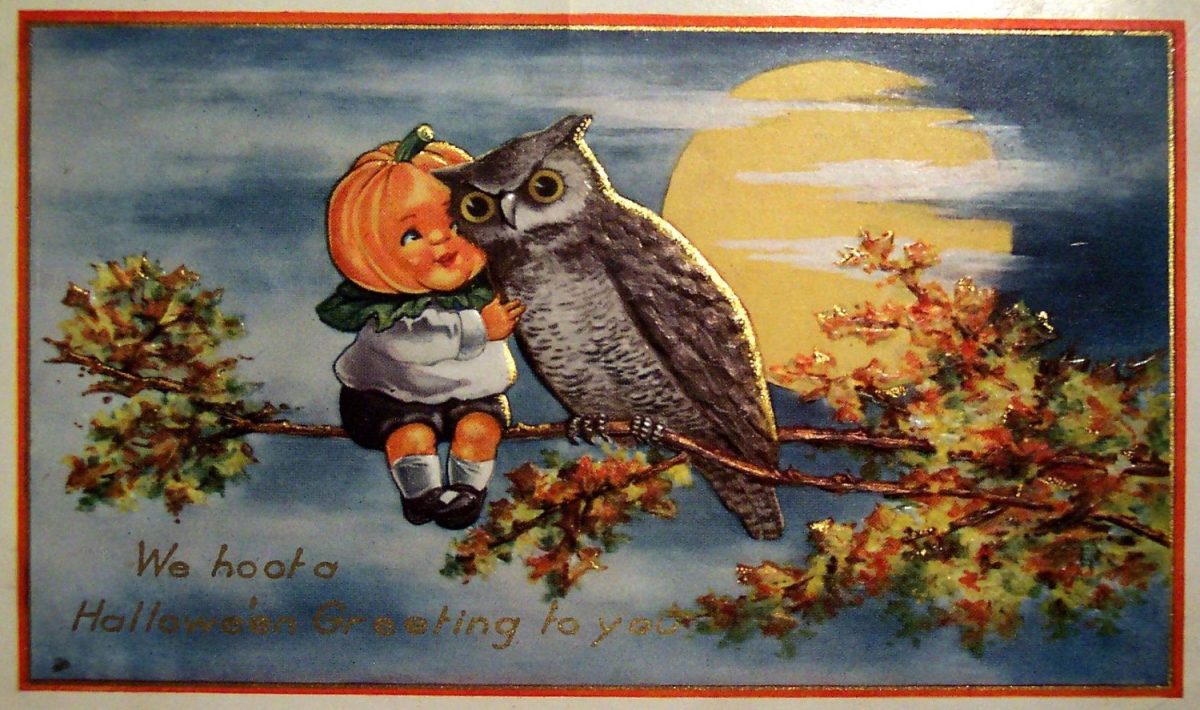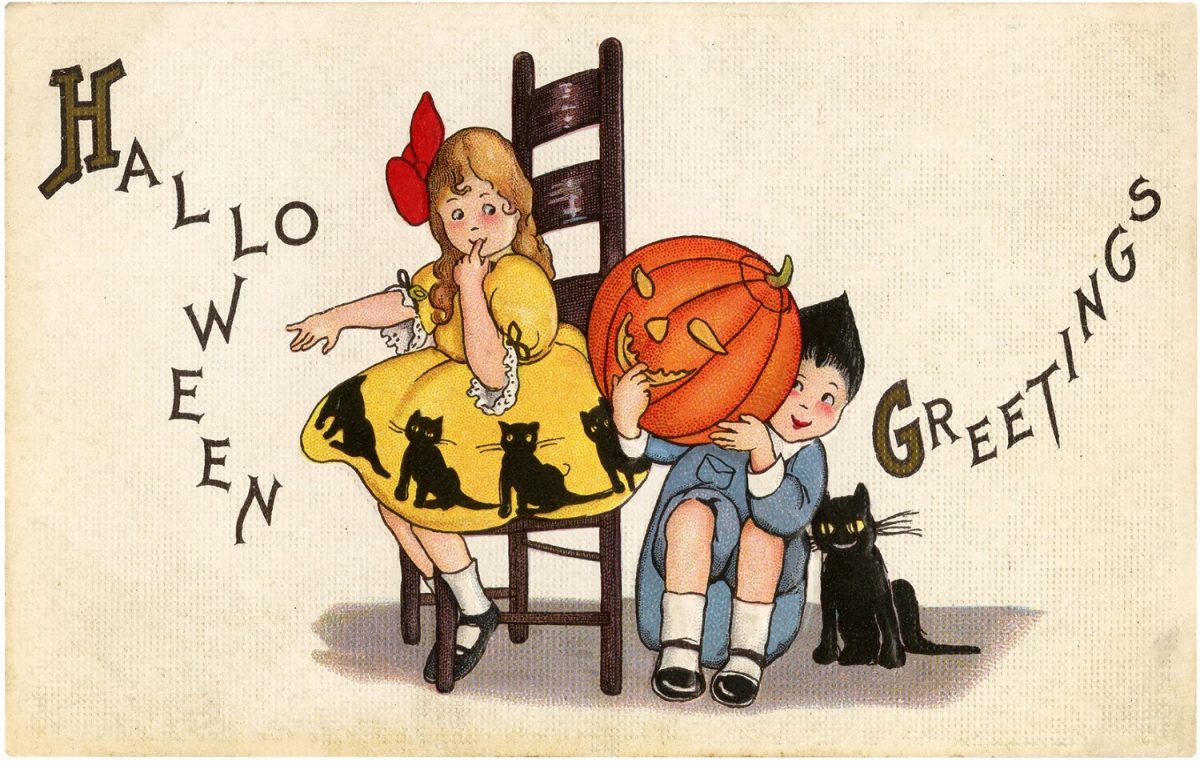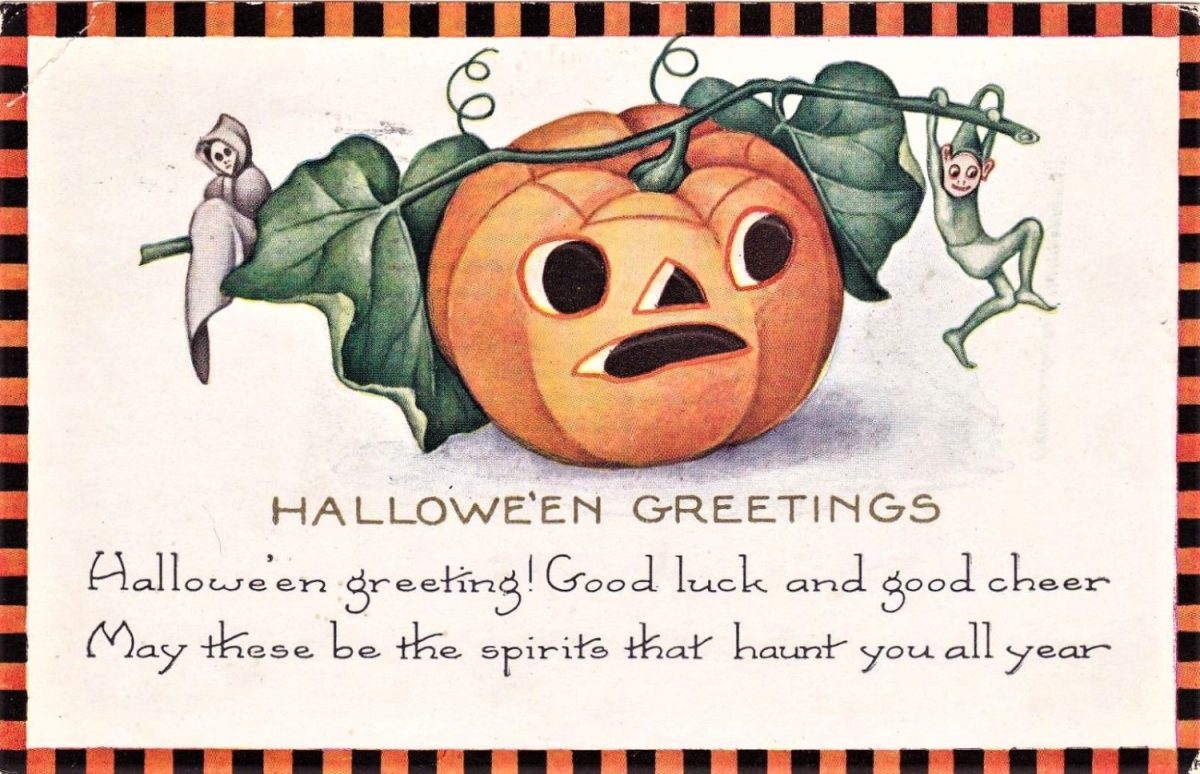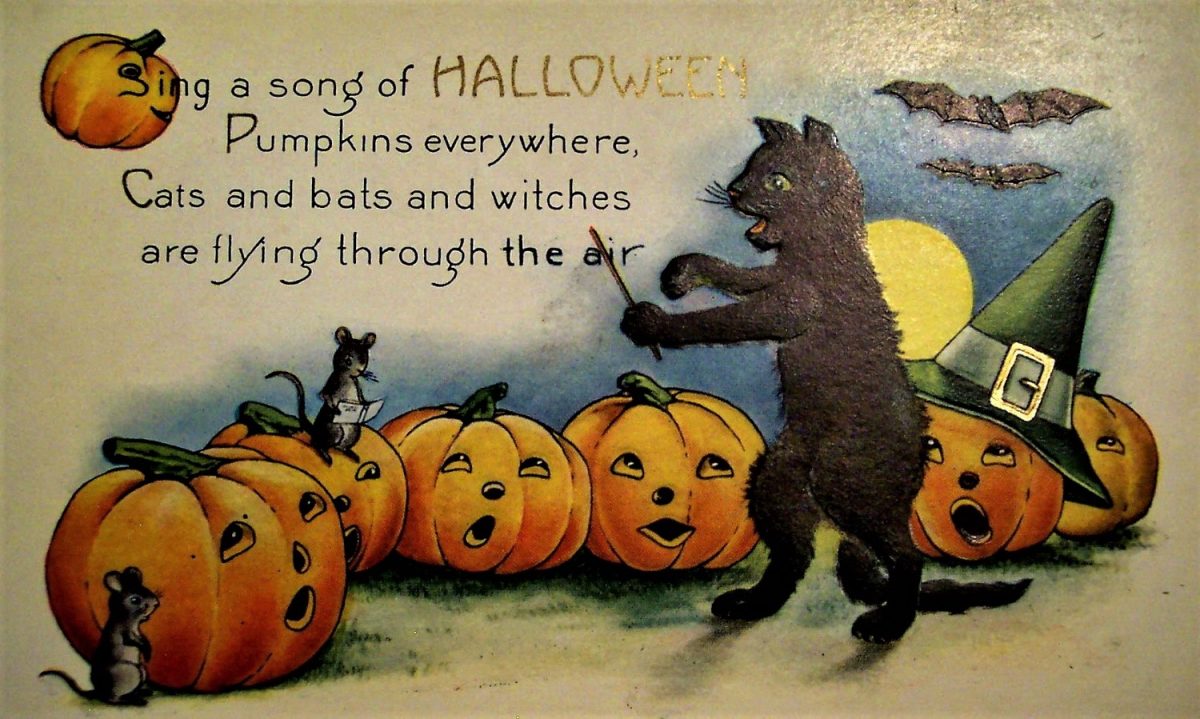 More cards at the Shop.
H/T Threading Through Time and Vintage Everyday.