These fashion pictorials are taken from magazines giving 1970s readers a taste of the coolest of the cool.  Want to see what was considered ultra-stylish in the 1970s?  Get ready to have your tacky and gaudy saturation levels exceeded – these are fashions of the grooviest variety, and not to be trifled with.  You are now entering near lethal doses of funk – take all necessary precautions.  You have been warned.
January 1970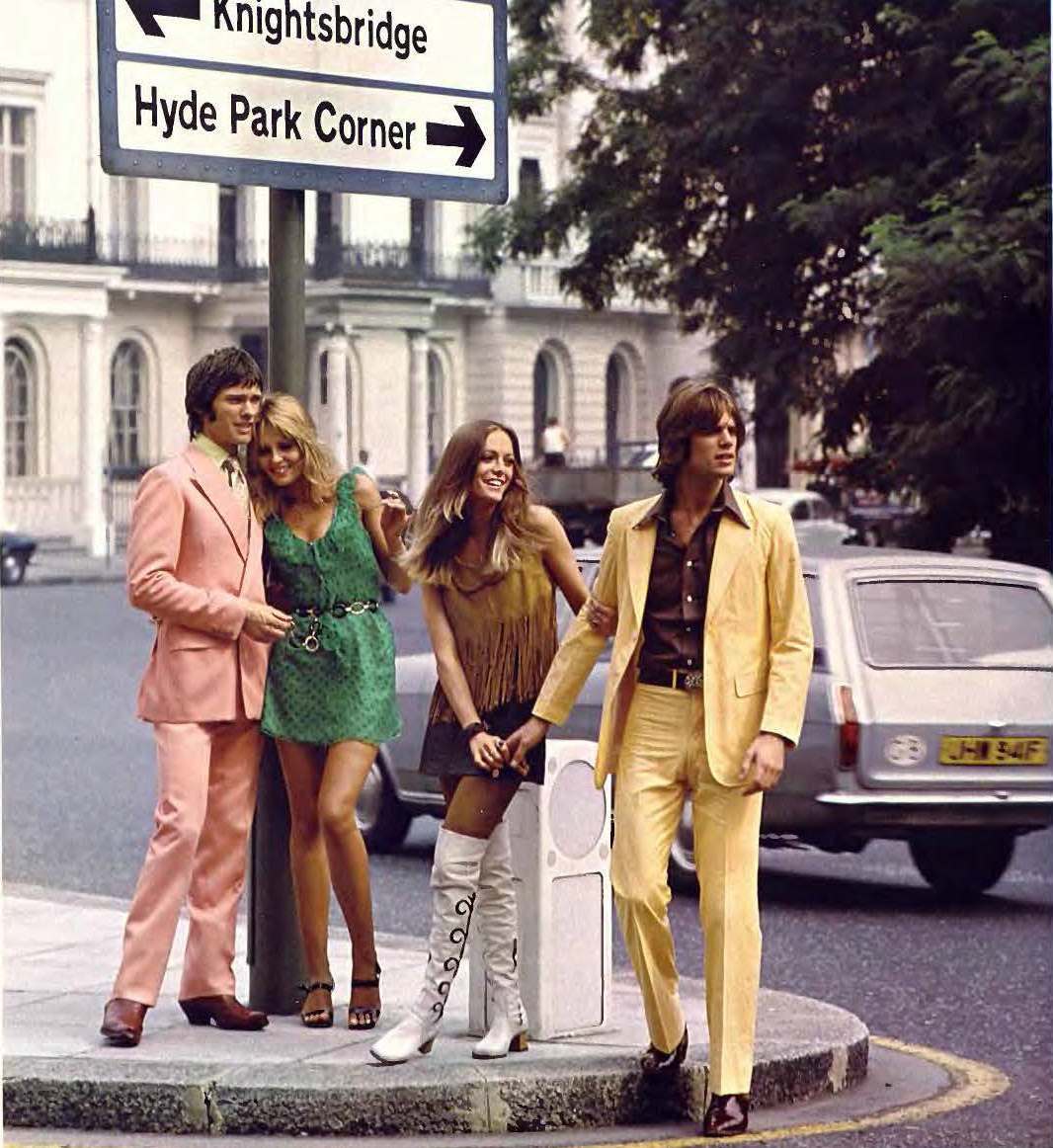 "LONDON: Close by Grosvenor Square, a brace of unsquare bird fanciers boast a far-from-pedestrian look."
It's 1970. and the fashions are still very much Sixties looking.  Give it a year or so – there will be no doubt it's the Seventies.  (Also note: You'll soon see that the accompanying text is often harder to look at than the fashions. Beware of quoted text.)
"ST. TROPEZ: On the French Riviera, fashion informality is the order of the day – and evening – for both sportive sun worshipers and dedicated night people.  The luck lad above enjoying a position of eye catching importance previews next summer's resort look…"
September 1970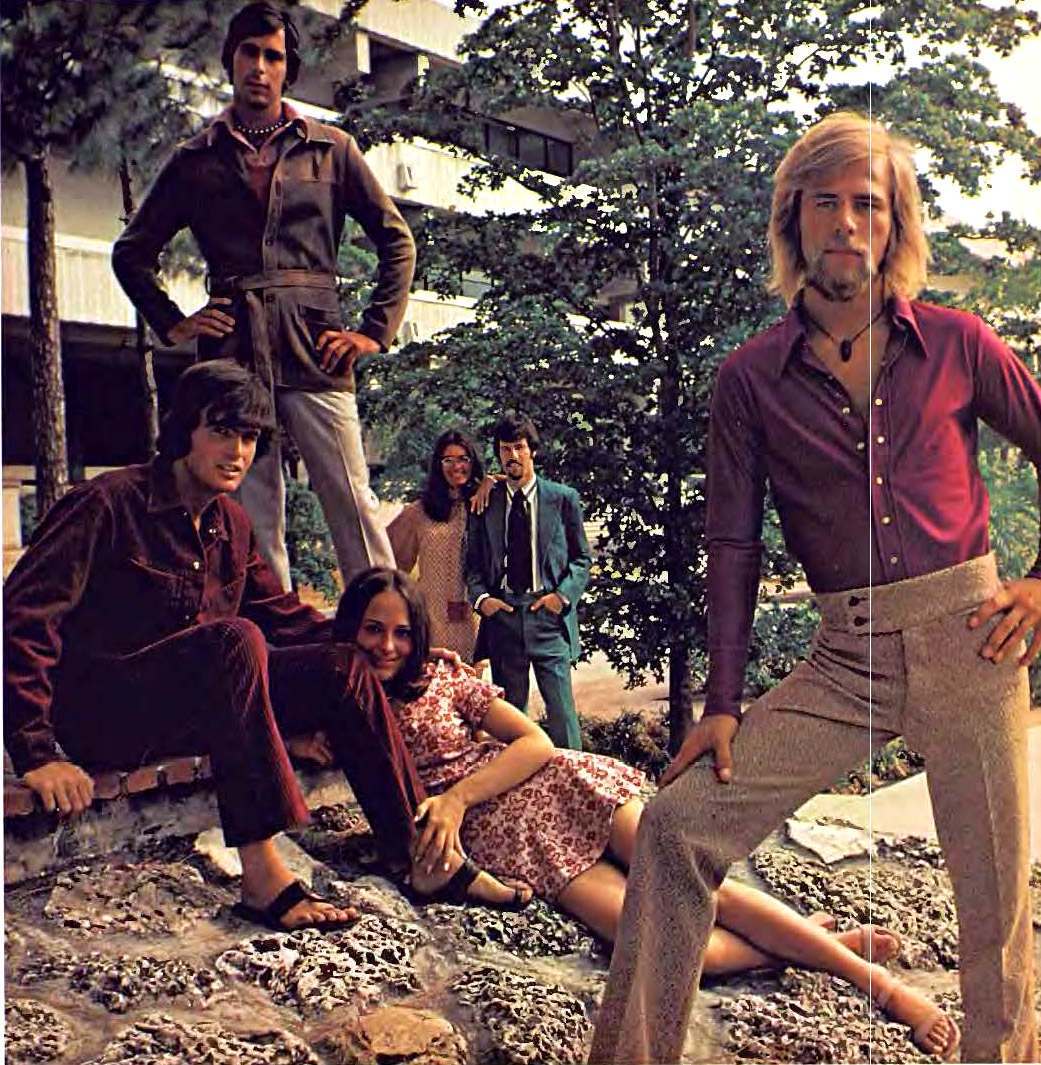 "Fraternities have all but undone whatever was left of their staid, old-school-tie approach to fashion in favor of more contemporary attire.   Students attending even the most conservative Deep South schools are finally getting it all together and sporting garb that they once considered outlandish – flared slacks and body shirts, for example."
"Style-conscious students at Midwestern and Western schools make the point that many local haberdasheries fail to keep abreast of fashion changes and cater to a small, ultraconservative group with predictable – and dated – tastes in clothing."
September 1972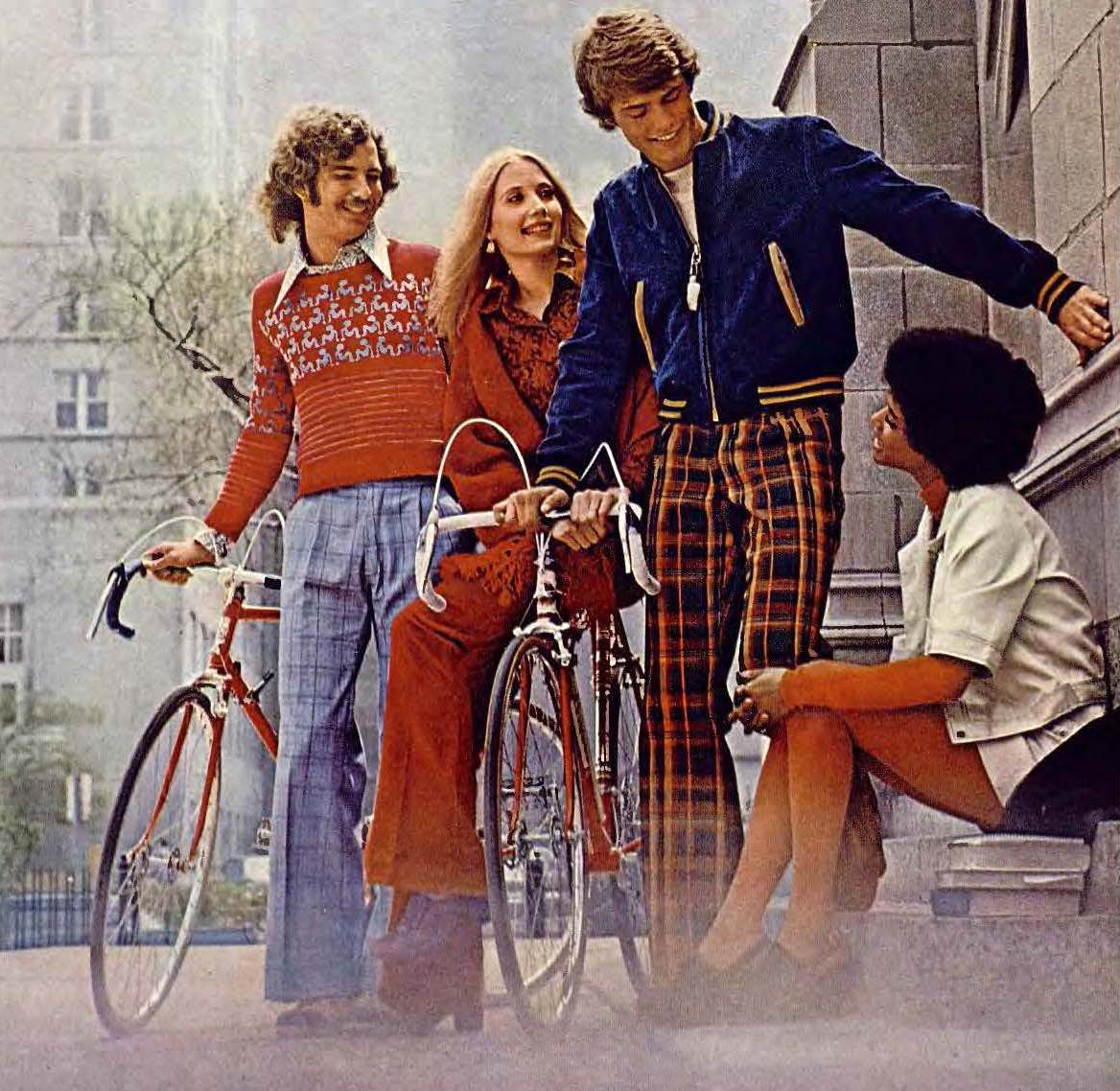 (Plaid pants were everywhere in the early 1970s.)  Mr. Red sweater is digging Miss Blonde, but she obviously has a thing for the dude in the blue jacket; but this being the 70s, there's a better than average chance all four of them will get lucky this afternoon.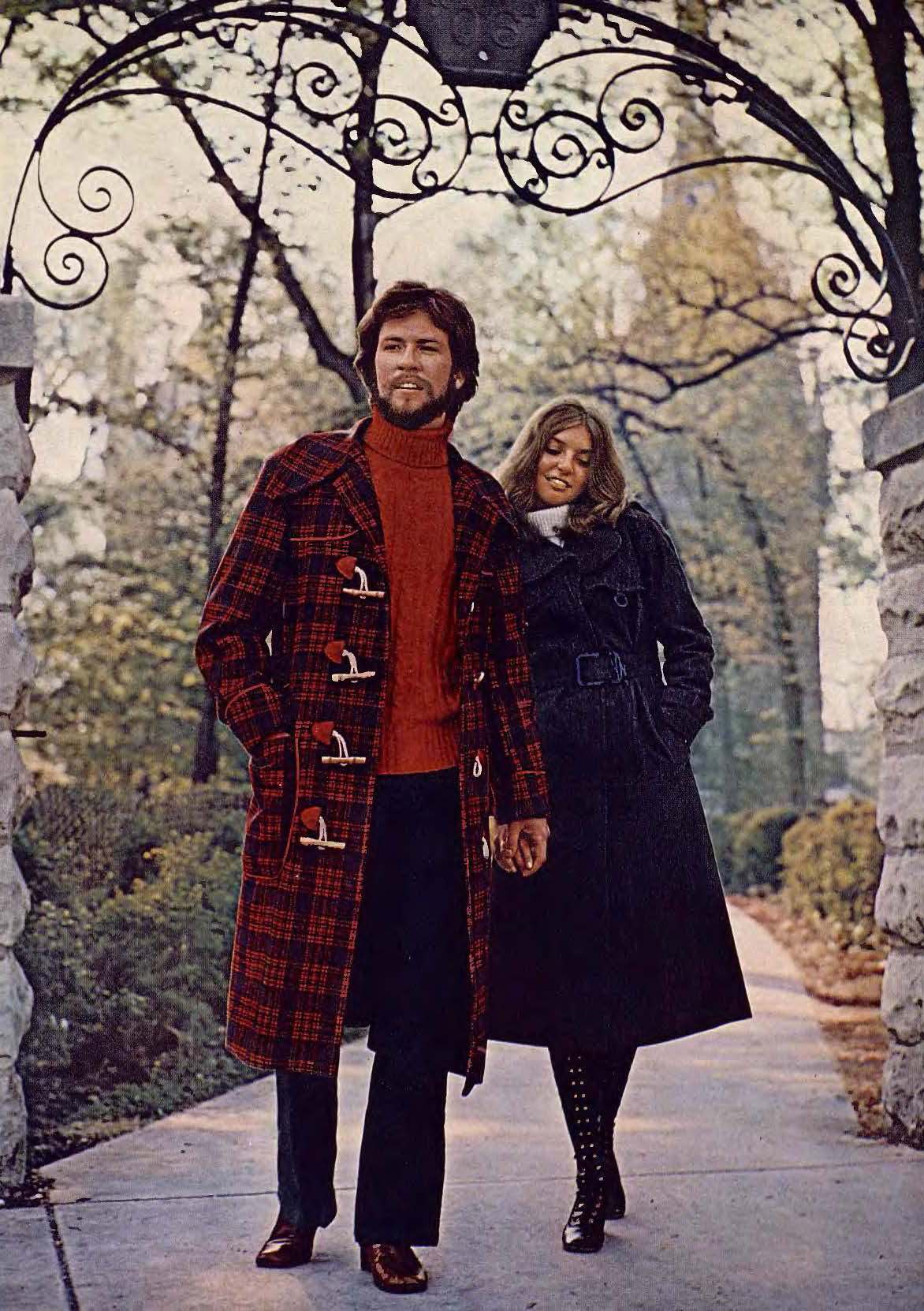 October 1972
 "Conservative types may find these fashion times a bit unsettling; as for us, we'll welcome the surprises of the next six months as designers and manufactures play with the past and borrow from the Continent to bring in creations that are both fresh and enjoyable."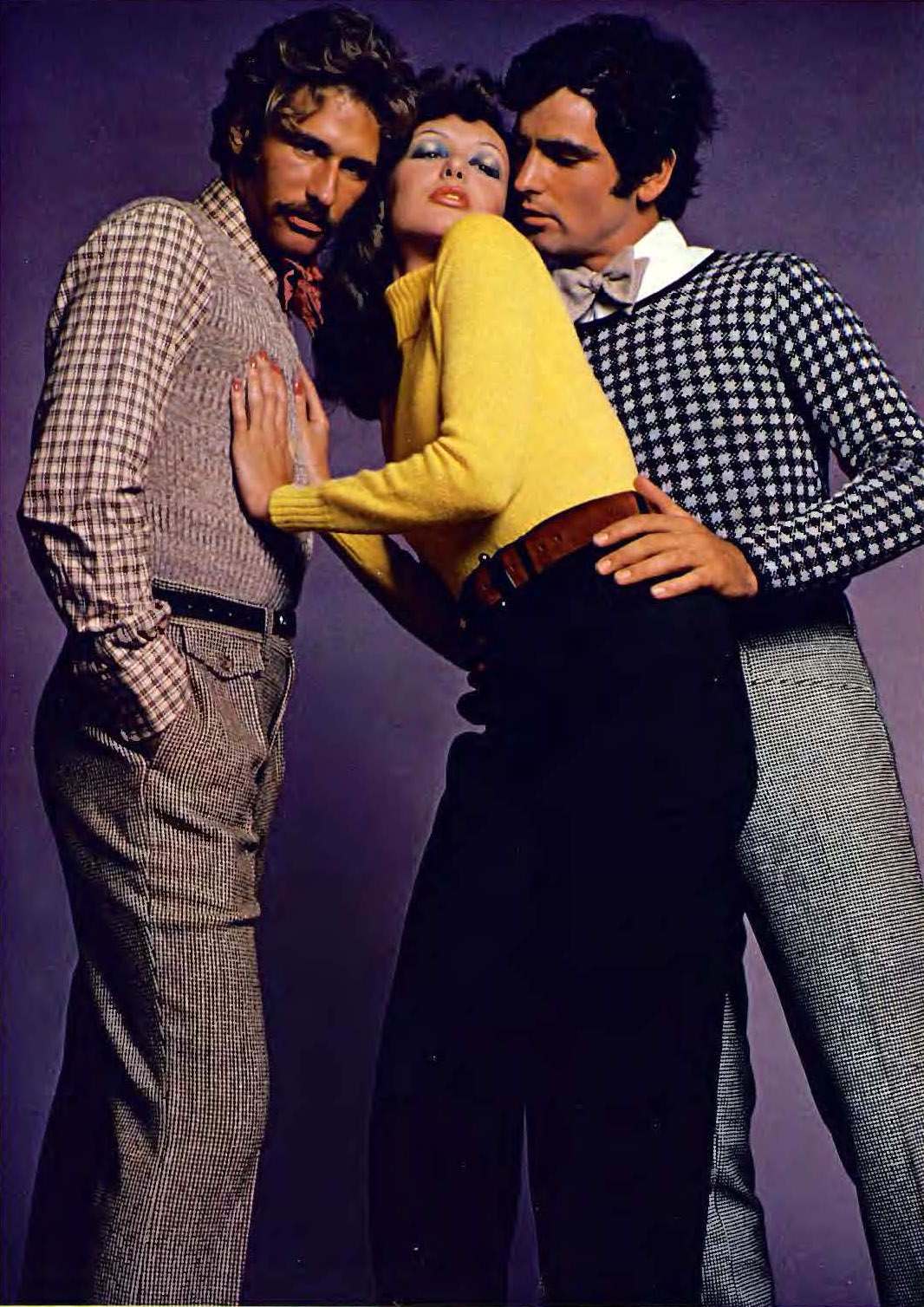 "Left: Jacquard knit polyester V-neck pullover by Himalaya, $9, cotton flannel plaid shirt by Bert Pulitzer, $18, silk print butterfly bow tie by Berkley Cravats, $6.50, cuffed wool checked slacks by Chaps of Polo, $26."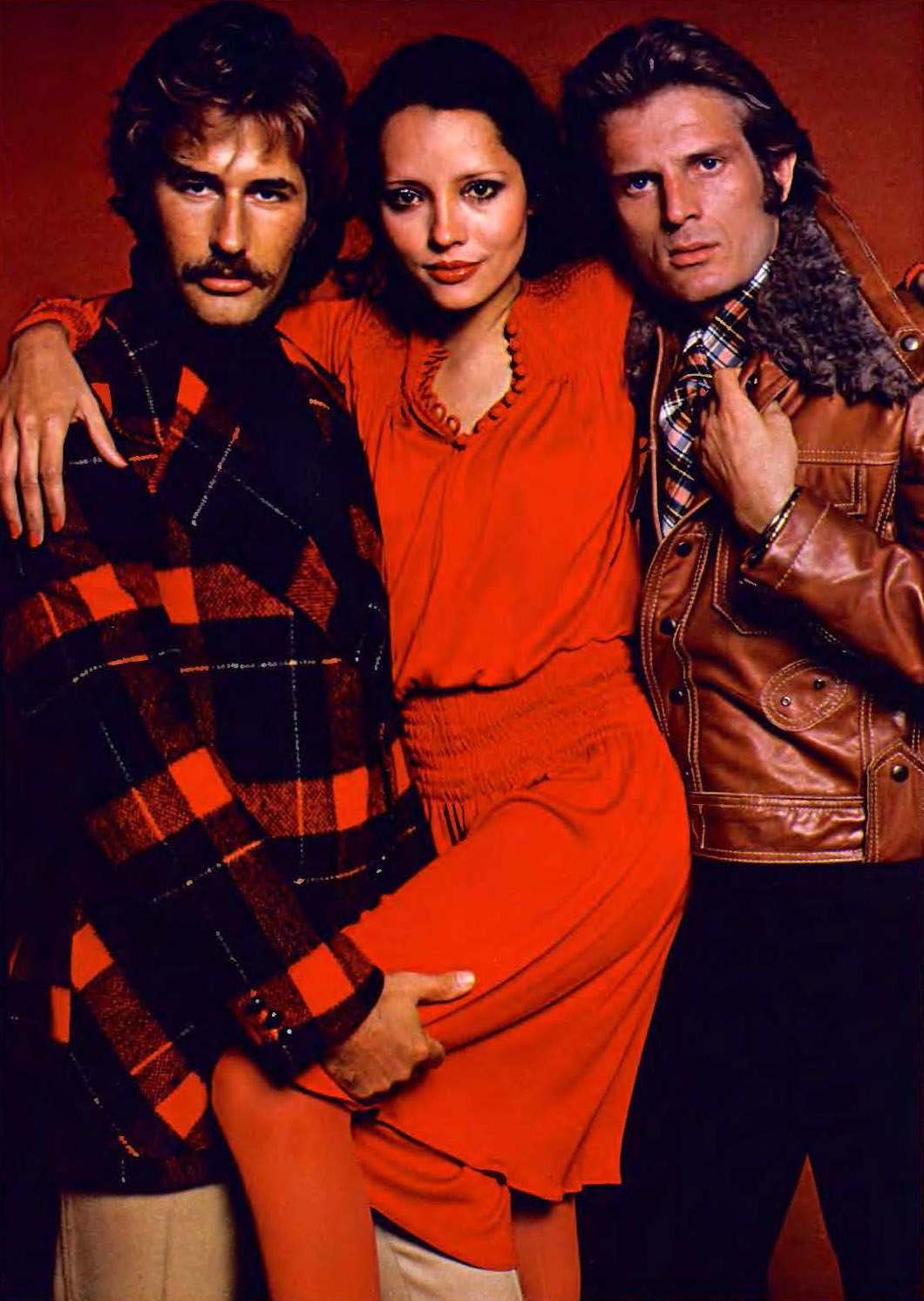 February 1974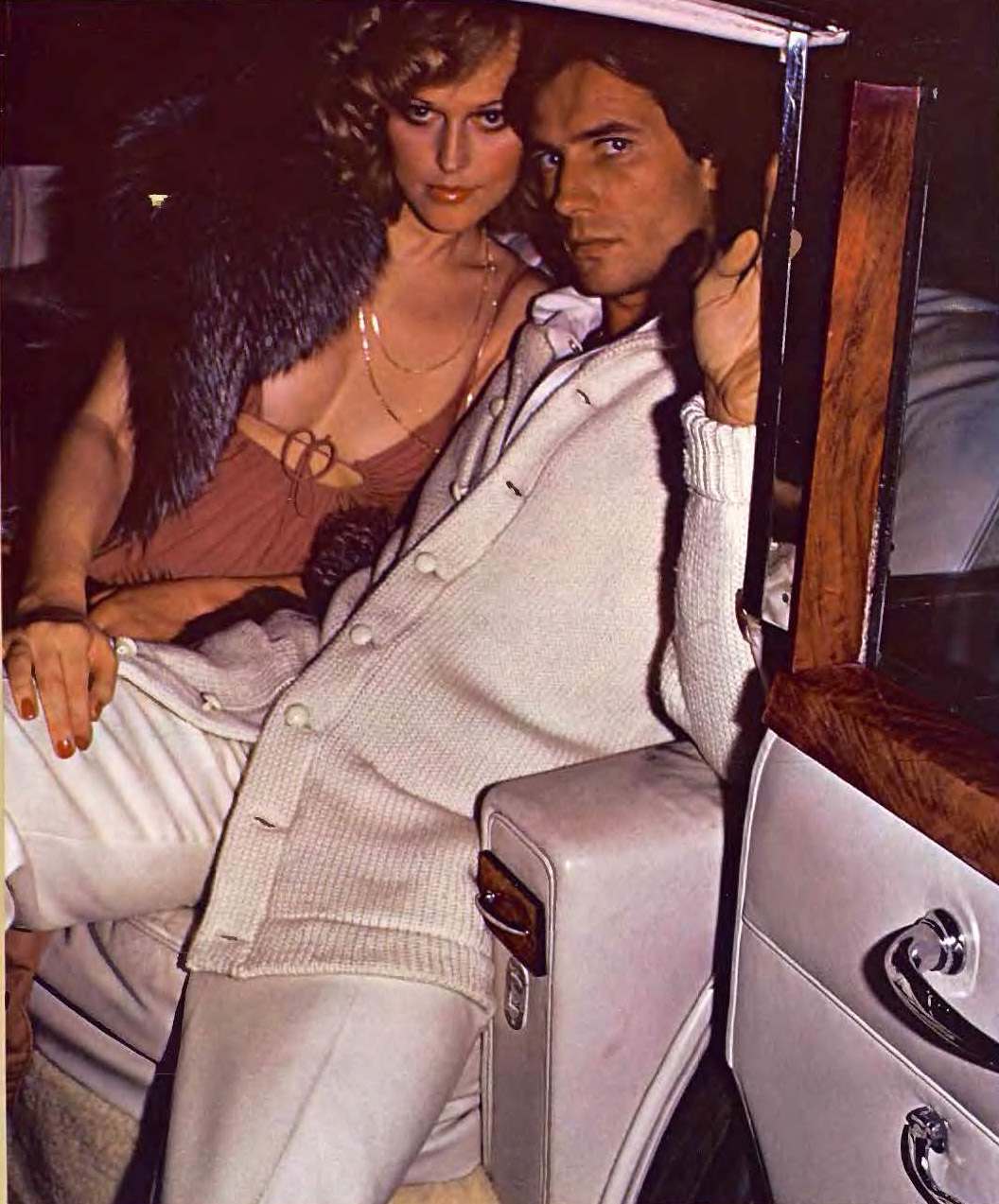 The text accompanying this fashion spread is particularly awful….
 "If we are to believe Darwin, people used to come with built-in sweaters.  This may have had its advantages, but what if a guy was born with a crew-neck and wanted to go a little more formal one evening?  Tough luck, eh?  Nowadays, however, there's more than one way to put skin on a cat.  And if Darwin's modern-day buddies are right, we've been fleecing sheep for their naturals since neolithic times.  From the Angora goat, with its stylish mohair wraps, to the Rambouillet ram, sporting the finest of woolen fibers, these otherwise unprepossessing createrus have occupied the front ranks of fashion since prehistory."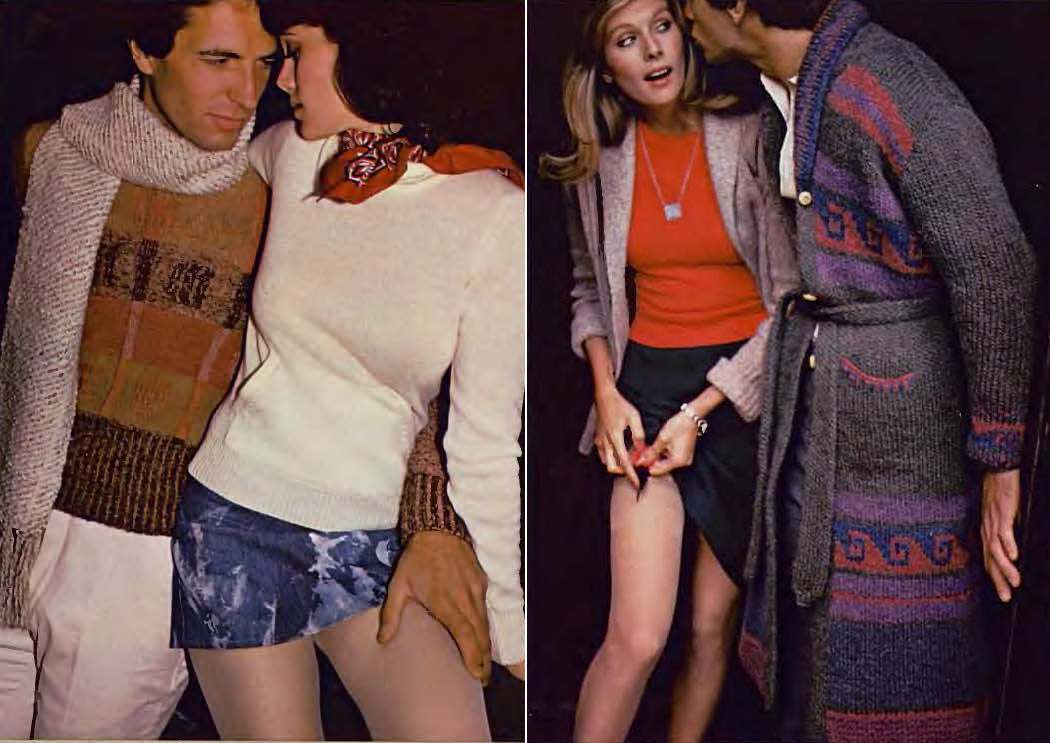 Left: "Of course, the old looped scarf look will get them every time – but a raised front-design mohair/acrylic crew-neck with contrasting neck, sleeves and ribbed waistband is a wise wardrobe addition to have around."
Right: "Remember the bad old days when a girl adjusting her garter rated a "Hubba-hubba"?  OK, then you're old enough to remember the wrap-around, an early version of this wool sweater coat with shawl collar."
September 1974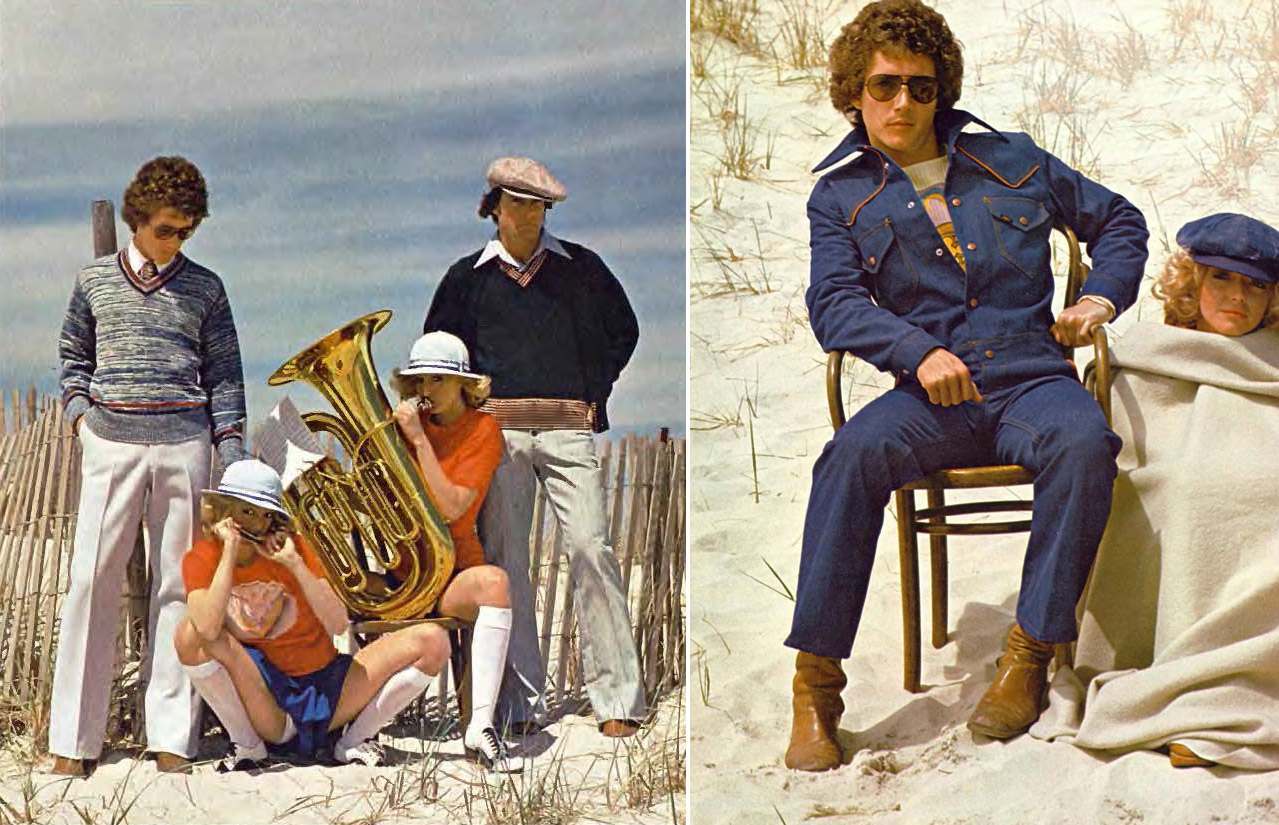 Left: "The girls band together while the man above left harmonizes – his slacks, by Trousers by Barry, $65.  The other guy's got a cardigan and V-neck, by Interwoven Sportswear, $16."
Right: "Denim, no matter what the maitre de might say, is "in."  That is, it's as fashionable as anything else and – at least in the States – it's still relatively inexpensive."
"Double your pleasure, double your fun: This guy seems to have lost his buddy and is squiring the twins about by himself.  Obviously, it's a good thing that he's dressed for heavy action, in a shirt jacket with leather buttons and patch pockets, $36.50."
October 1974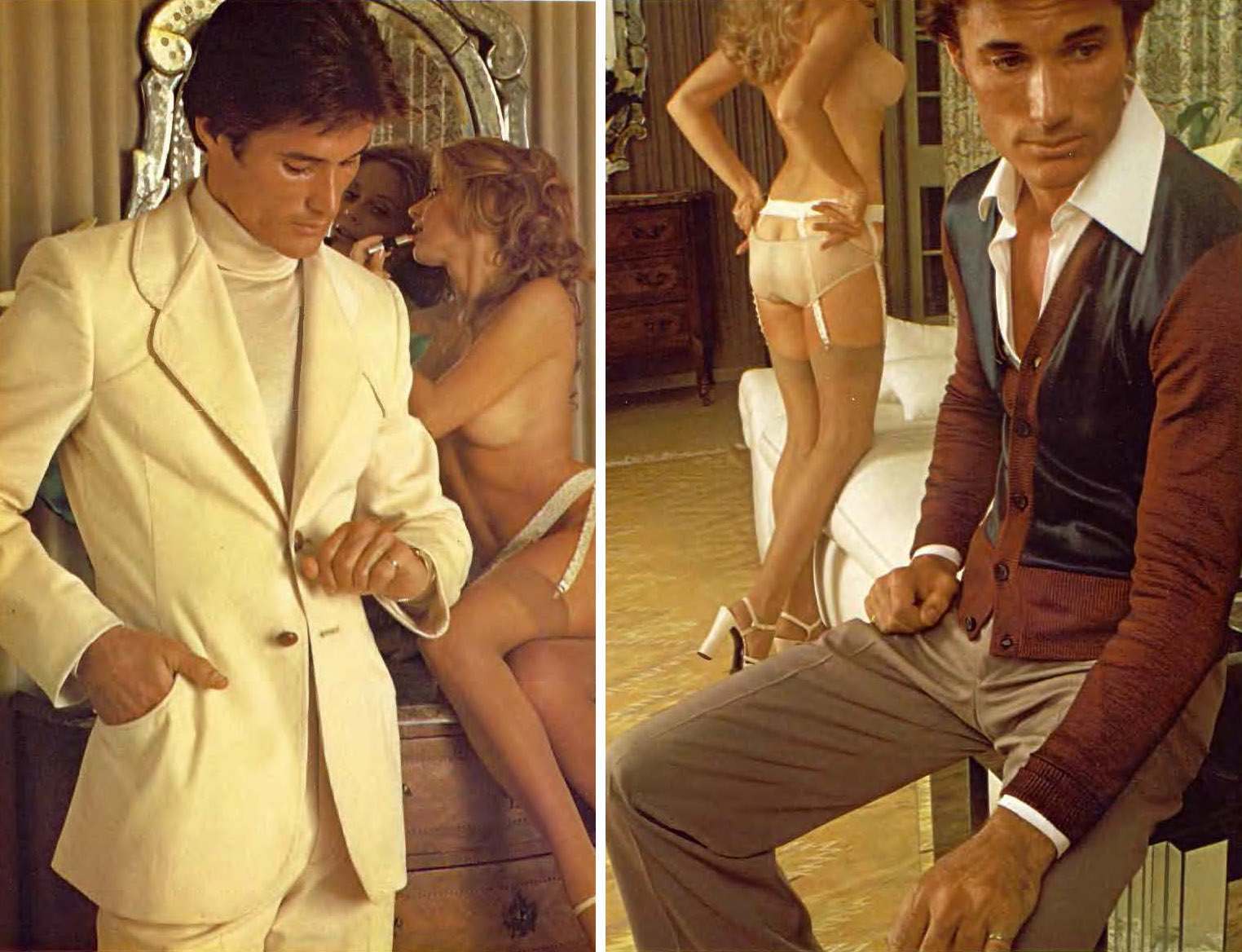 Left: "The mirror doesn't lie; neither does the clock.  (He's checking to see what day it is.) Things, however, are still basically copacetic, particularly that suit of cotton corduroy, with coin lapels and leather buttons by Flo Toronto, $85."
Right: "An overwait problem?  Ah, well, stasis has its own virtues, if the scene is as cozy as this one – and if you're wearing a two tone satin-front cardigan by Gentleman John, $20."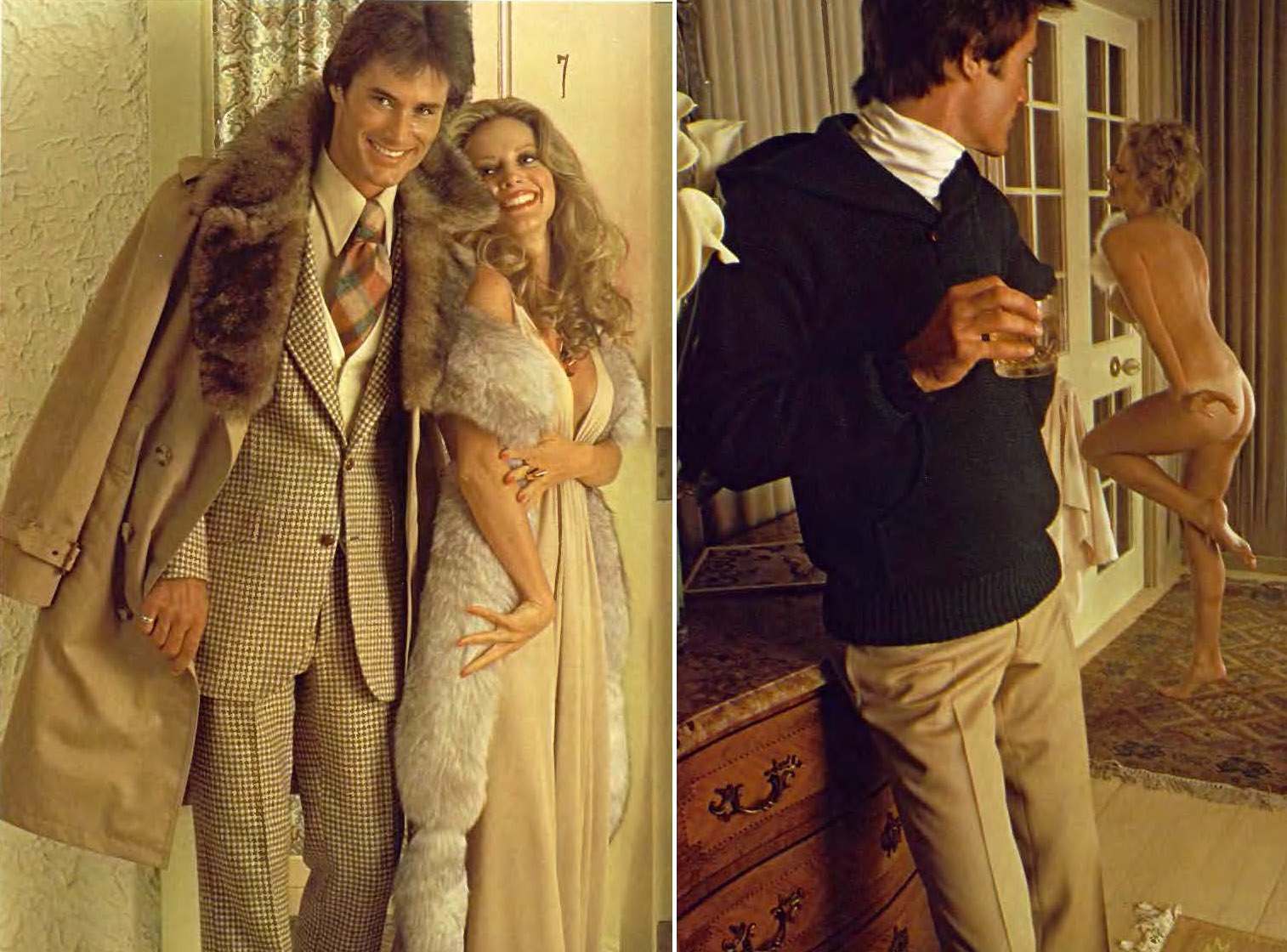 Left: "Finally, the happy couple emerges, to light up the town – an easy task for him with a Shetland wool suit by Lebow, $285"
Right: "Our guy doesn't mind nursing a drink – but this one's starting to turn into steam.  He's looking cool, however, decked out in a Shaker knit, hooded and pocketed pullover, $85"
December 1974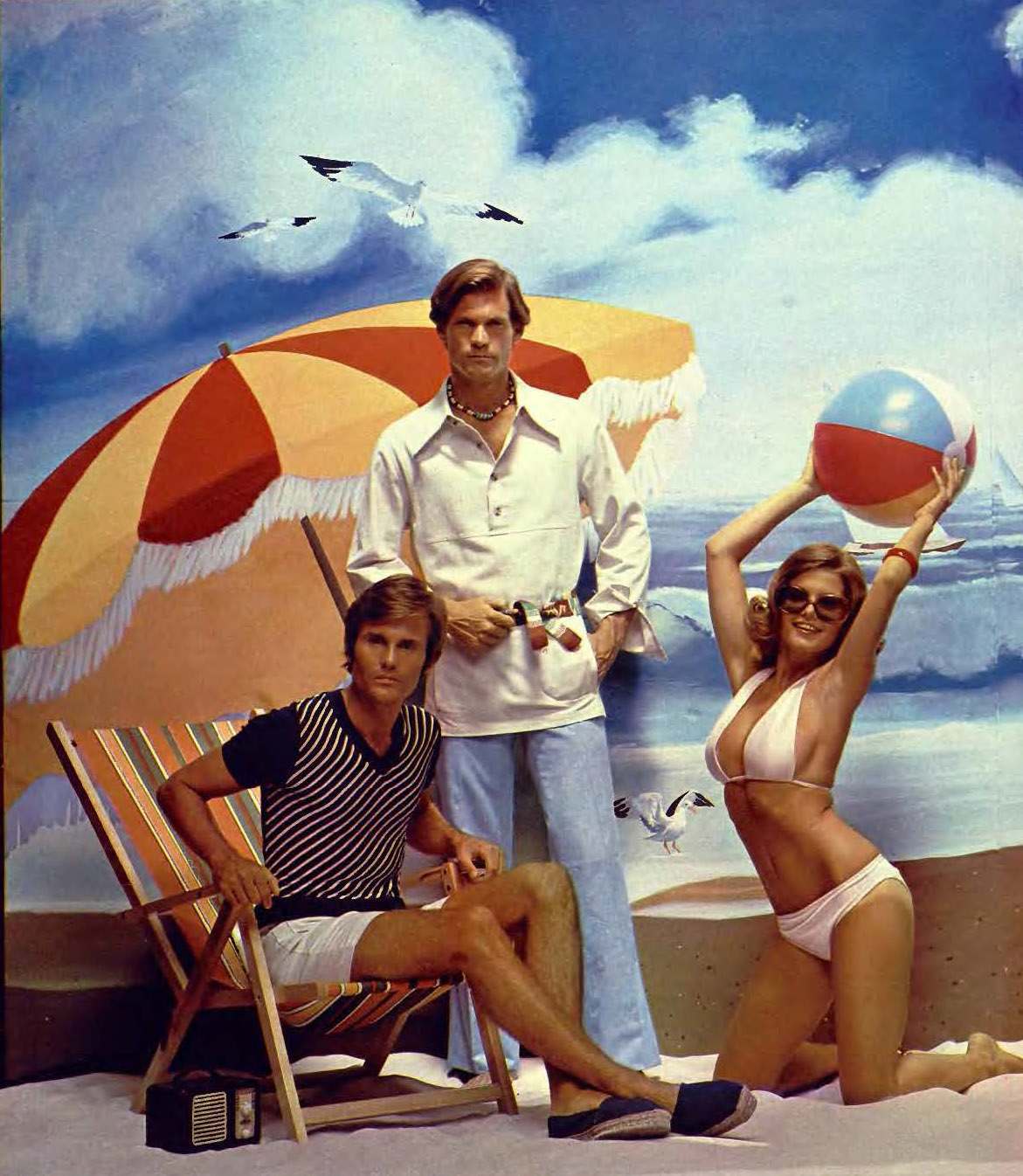 "And now, from whatever tropical paradise you care to imagine: a cotton knit pullover with diagonal stripes by Peter Barton's Closet, $25, and a pair of polyester shorts by Sera, $16.50."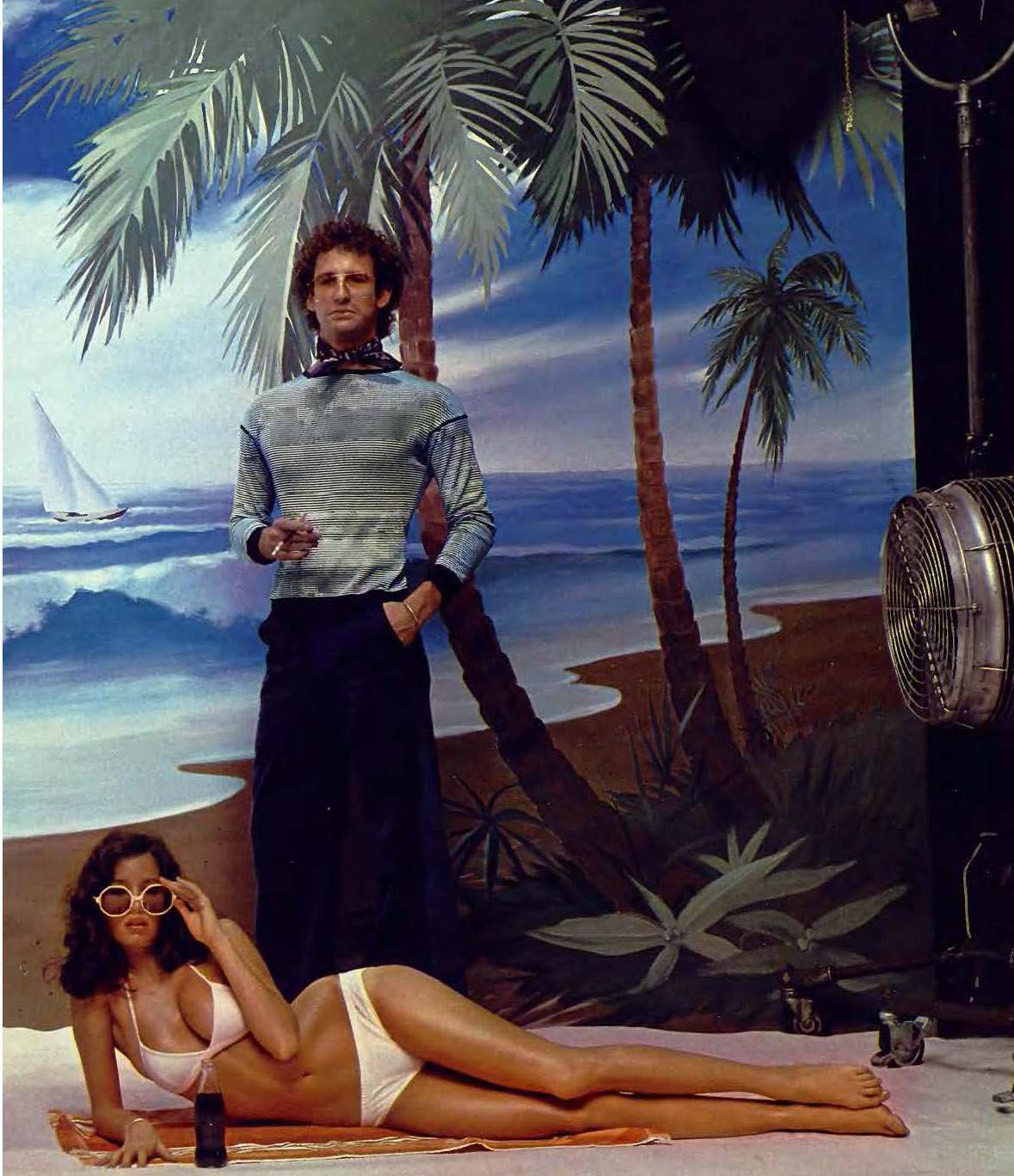 "Completing our island tableau is a cotton knit pullover with contrasting ring neck, cuffs and waist, $50, worn with wide legged jeans, $55, and a polka-dot scarf by Handcraft, $15."