ALEX Salmond is the latest politician to succumb to the temptation to pose in public with a football, and, with the sad inevitability of England conceding an injury-time winner, he is the latest to be reminded that the effects are rarely edifying.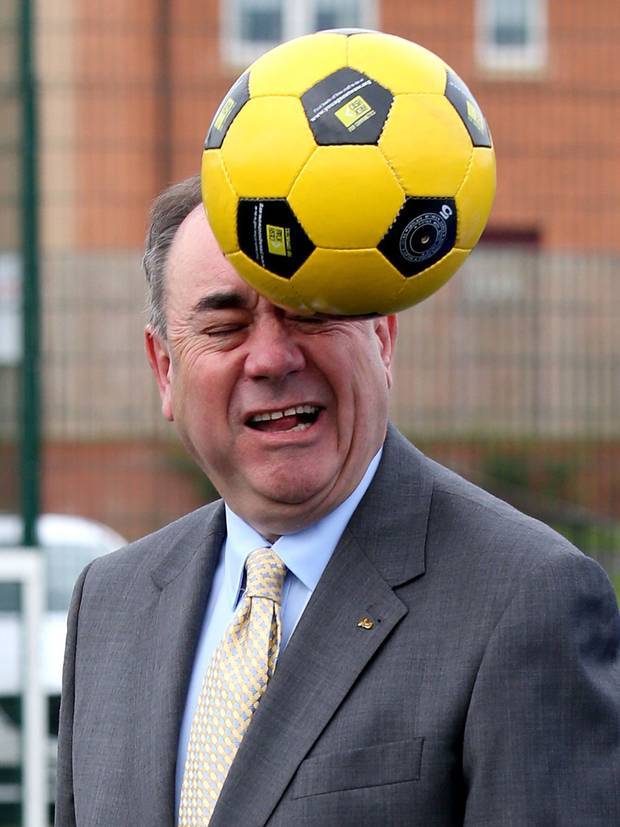 The SNP leader was not in fact smacked in the face by a stray shot. He was playing head tennis with Scotland under-21 midfielder Kenny McLean.
He has done this kind of thing before, as during this election campaign visit to Spartans Community Football Club in Edinburgh a few years ago.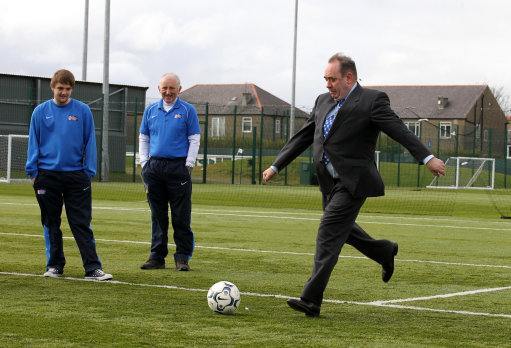 There have always been politicians that liked football. John Major and Roy Hattersley are two obvious examples. But tellingly, it is practically impossible to find any pictures of them in publicity-friendly poses with footballers or even at football matches.
Harold Wilson was the only old-school figure to deliberately capitalise on 'the people's game'. He famously read out the football scores at a party conference, and was happy to exploit the occasional photo opportunity.
These days, however, it is obligatory for English politicians to hitch themselves to the 'beautiful game' as publicly as possible.
Arch media-manipulator Tony Blair professed his love for Newcastle United (although the story about him claiming to have watched 'Wor Jackie' Milburn while 'sitting' behind the goal is, sadly, apocryphal). Alex Ferguson revealed that Blair sought his advice on how to deal with his personal problems with Gordon Brown. Whether he advised Tony to throw a boot at his head is unknown.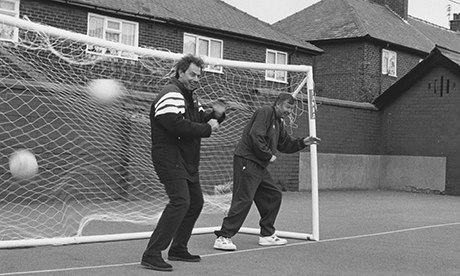 Blair's moment of glory came with Kevin Keegan.
Keegan having previously cosied up to another leader Blair admired – Mrs T.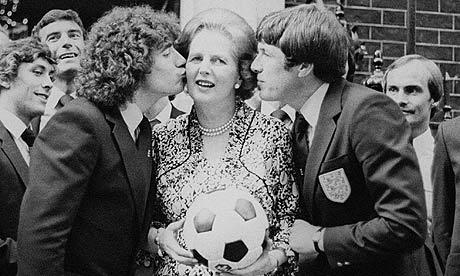 Blair's New Labour gratefully hitched a ride on the football bandwagon, and has clung on for grim life ever since. Every one of his cabinet dutifully listed football among their interests in Who's Who.
Gordon Brown spoke of his love for Raith Rovers, where he is a shareholder. 'Of course there are many more glamorous clubs that have huge amounts of money and watching them on television is very enjoyable,' he wrote. 'But I'm a firm believer that supporting your local team, the team you've been brought up with, is very important.'
Here he is supporting his local team – Team England.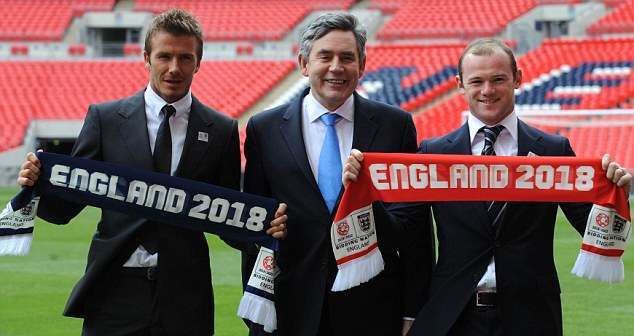 And here, holding Englands 1966 ball…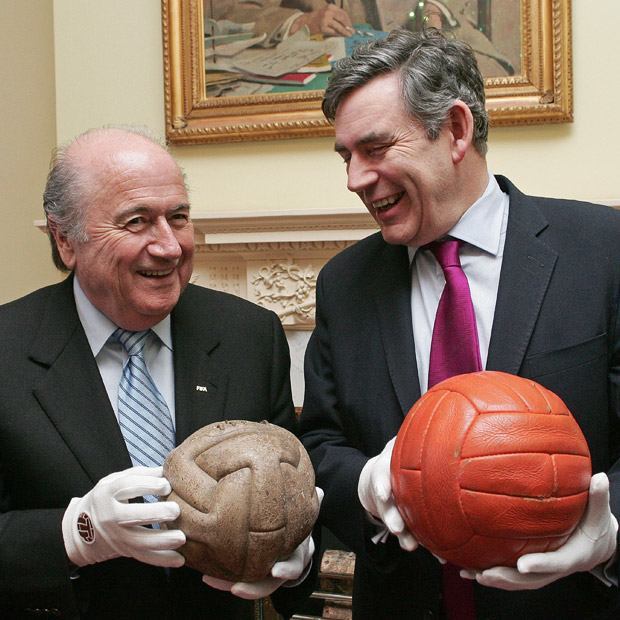 And here, impressing colleagues with his technique…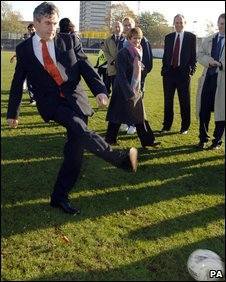 On one occasion he even tried to explain the state of economy by comparing it to Wayne Rooney requiring time to recover from a foot injury.
But he is no Blair, and lacked the shamelessness to go the whole hog, as evidenced by his excruciating performance during a behind-the-scenes documentary in which he was filmed, with Blair and Alastair 'Mr Burnley' Campbell, watching England on TV while sipping uncomfortably at the world's smallest glass of beer.
Now we have the spectacle of Ed Milliband half-heartedly professing to support Leeds United. Here's Ed enjoying a spontaneous kick-about with some Palestinian kids.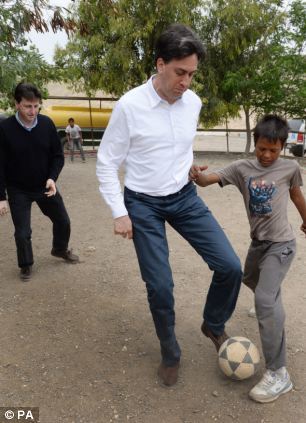 LibDem leader Nick Clegg professes to support Arsenal, and declared himself 'heartbroken' when they were knocked out of the Champions League. Here he is kicking a ball in Sheffield.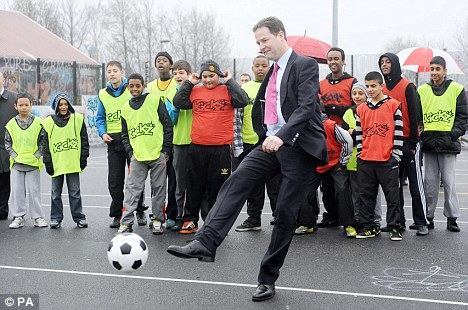 The Tories are in a quandary in that nobody in their right mind believes any of them ever had the slightest interest in the oiks' game.
Boris Johnson at least revealed his ignorance in an amusing fashion, during a game between English and German politicians…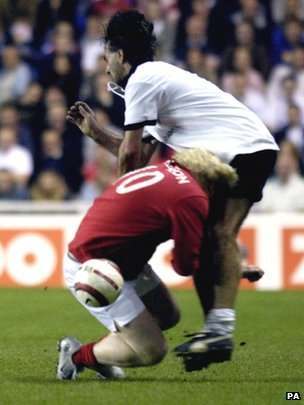 David Mellor at first wrote a column in the Fulham programme, then notoriously switched to Chelsea. The story about making love to Antonia de Sancha while wearing a Blues strip was an invention of his publicist Max Clifford, but it was enough to secure him a career as one of the world's most unpopular sports pundits.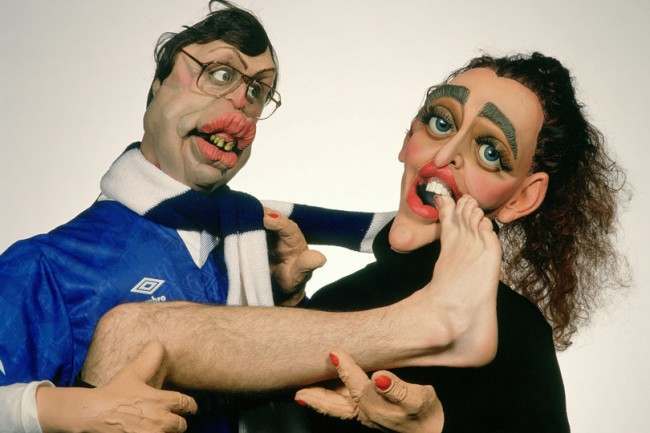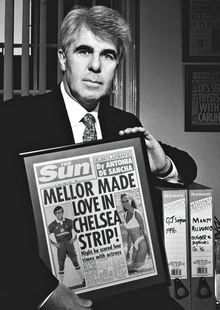 An outspoken opponent of loutish behavior, Mr Mellor can be heard here giving his opinions to a man with 'a ten-quid-an-hour job' in measured and mature tones…
David Cameron supposedly supports Aston Villa, but can be seen here passionately celebrating Chelsea's victory in the 2012 Champions League Final in a way that won the respect of all working-class voters.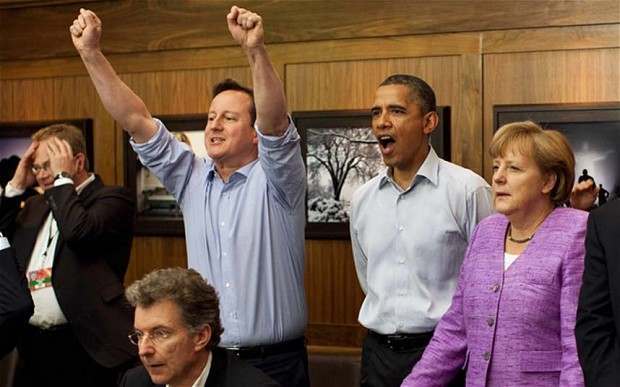 And here's his chancellor George Osborne at the match itself.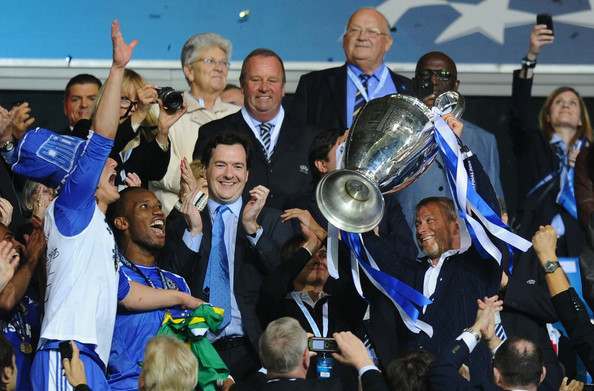 Overcome with pride, and stung by accusations that he was there on a jolly, Osborne wrote an article in The Times in which he explained that he had been a Chelsea supporter since the mid-Nineties.
Since then, soccer has become too corporate for true football fans like George. These days, as befits a man of the people, he prefers to stick to bingo.