IS THERE anything on planet Earth more tasteless and lurid than an a true crime magazine from the 70s and 80s?  Society has long since disowned these tawdry rags, keeping them far out of sight; however, back in the day, they were pretty ubiquitous (most often found in the grocery store checkout aisle).  Their banishment is probably a good thing, truth be told.  These rags could get pretty tasteless…. which makes for an interesting look 40 years later.  Here are 20 I found to be particularly dreadful and simultaneously awesome.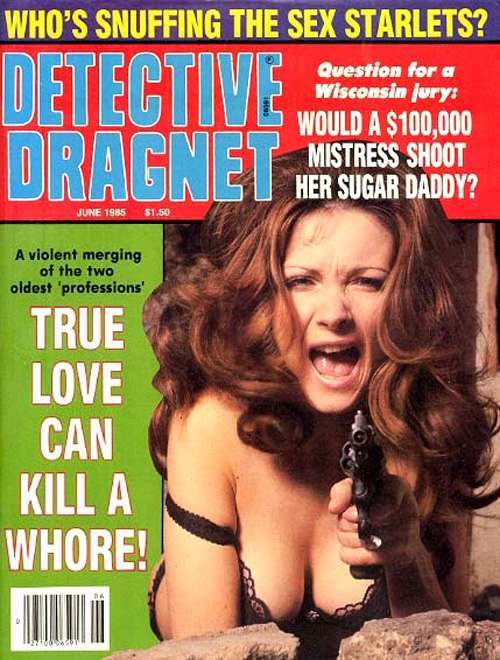 TRUE LOVE CAN KILL A WHORE!
Detective Dragnet, June 1985
Everyone knows that a stake through the heart can kill a vampire and a silver bullet can kill a werewolf…. but this whore killing method is news to me.  So, does that mean Richard Gere never really loved Julia Roberts in Pretty Woman?  My whole world is unraveling.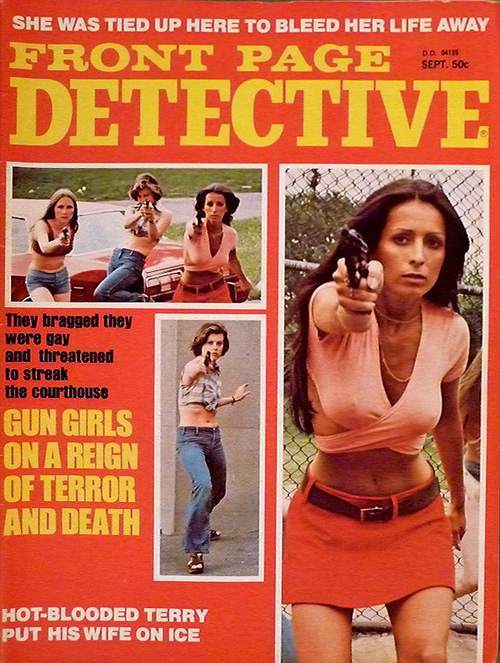 THEY BRAGGED THEY WERE GAY AND THREATENED TO STREAK THE COURTHOUSE
Front Page Detective
Okay, let me get this straight: three beautiful proud lesbians intend to take off all their clothes?  I'm just not seeing a problem here.  In fact, this sort of behavior should be fostered.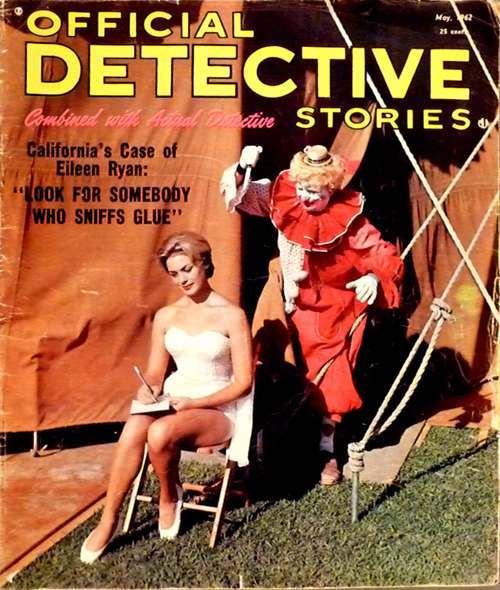 CALIFORNIA'S CASE OF EILEEN RYAN: LOOK FOR SOMEBODY WHO SNIFFS GLUE
Official Detective Stories, May 1962
… or how about we look for somebody that dresses up as a clown?  That might be a tad easier to track down.  I will say, however, that this glue-sniffing circus clown is absolutely horrifying.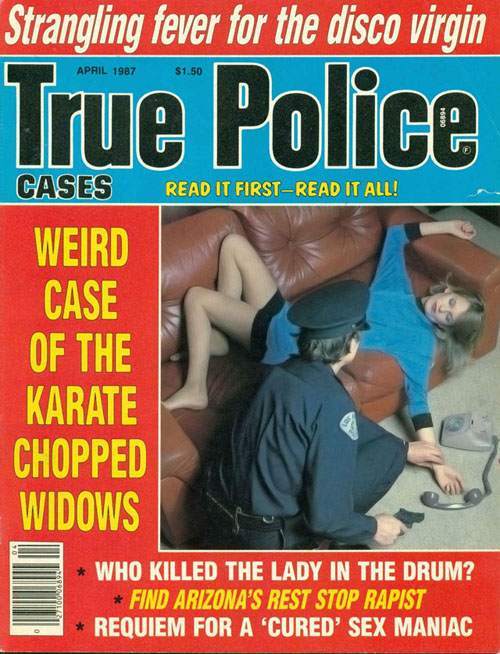 WEIRD CASE OF THE KARATE CHOPPED WIDOWS
True Police, April 1987
Death by karate chop – what a horrible way to go.  I suspect Ralph Macchio is behind this.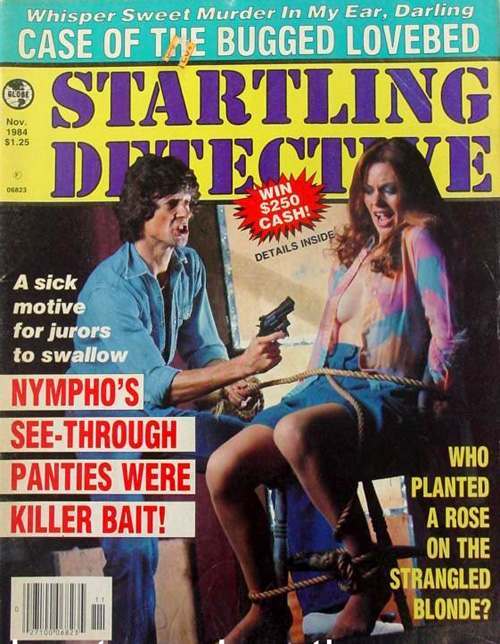 NYMPHO'S SEE-THROUGH PANTIES WERE KILLER BAIT!
Startling Detective, November 1984
Before we go any further, I think it's only appropriate to ask "what the hell was our problem back then?"  We certainly still have issues with violence, particularly in the US, but these horrific magazines were a phenomenon unique to the 1970s and 80s.  William Freidkin, director of The Exorcist, had this explanation for the dark tendencies of the time:
"America was going through a national nervous breakdown. It started with the assassination of John Kennedy and then the assassination of Martin Luther King, then Robert Kennedy, then the onset of the Vietnam War in which America stumbled very badly and has never really recovered. The 1960s ended with the Charles Manson murders – the murder of Sharon Tate and a bunch of people for no apparent reason at all by a bunch of drug-infested people who were aimless and sort of adrift from the American culture."
Of course, equally frightening material abounds on the internet to this day.  At least these old magazines had a touch of kitsch, a hilarious insanity akin to the old pulp fiction rags of the 1940s and 50s.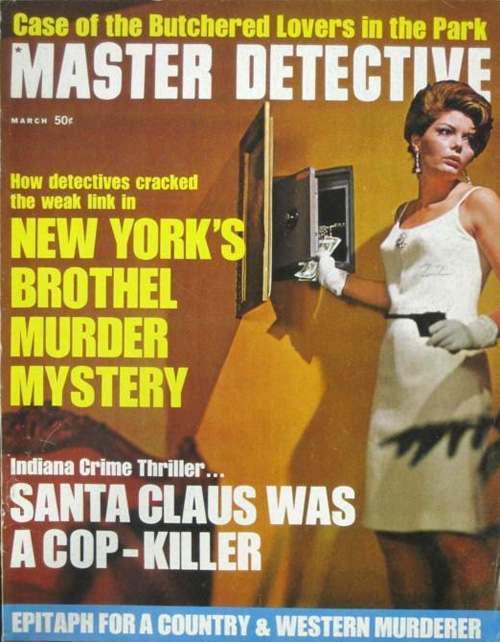 SANTA CLAUS WAS A COP-KILLER
Master Detective
Kris Kringle was framed.  The real killer was Blitzen, but Claus won't snitch on his posse.  He's been on the run from the law ever since.  Haven't you ever wondered why he makes his home in the North Pole?  It was either there or the embassy in Ecuador.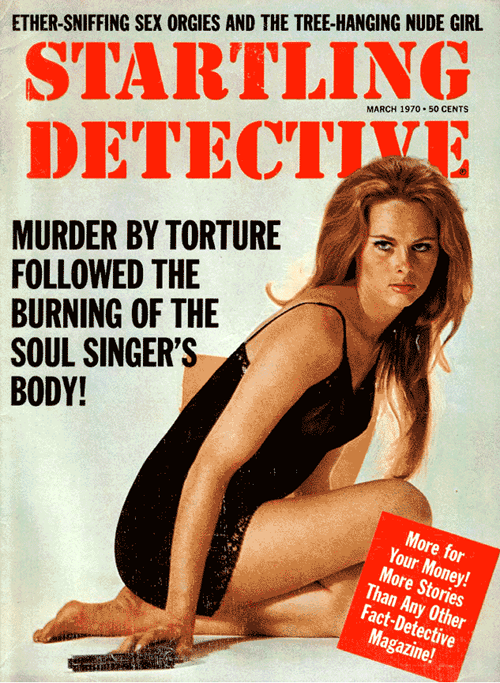 ETHER-SNIFFING SEX ORGIES AND THE TREE-HANGING NUDE GIRL
Startling Detective, March 1970
I'm a bit confused: ether makes you pass-out or lose your motor functions.  You become vision impaired and lose control of your limbs…. This sounds like the worst orgy of all time.
Plus, I can't help but wonder if there were any glue-sniffing clowns at that ether-sniffing sex orgy.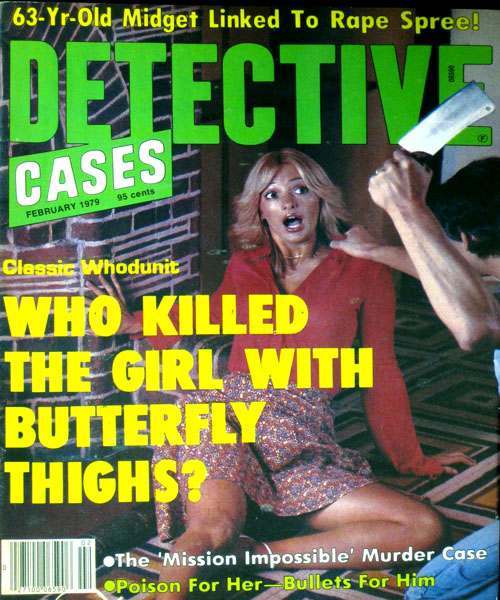 WHO KILLED THE GIRL WITH BUTTERFLY THIGHS?
Detective Cases, February 1979
I certainly am not familiar with all the facts in the case, but I think it's the 63 year old midget.  Call it a hunch.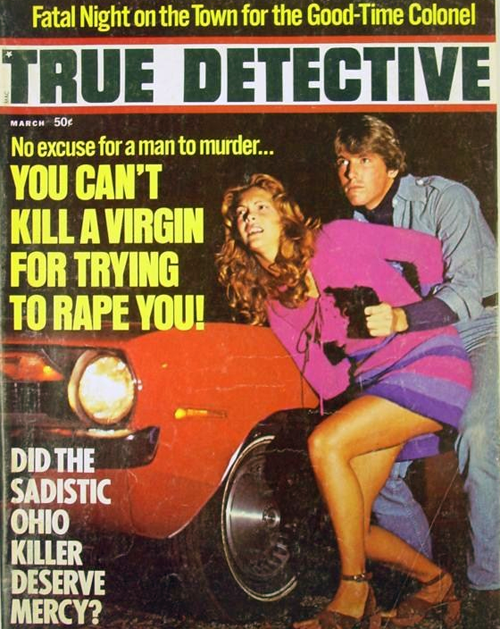 YOU CAN'T KILL A VIRGIN FOR TRYING TO RAPE YOU!
True Detective
Here's a useful bit of information.  Next time a woman who's never had sex tries to rape you; you can't simply kill her.  Handy tip of the day.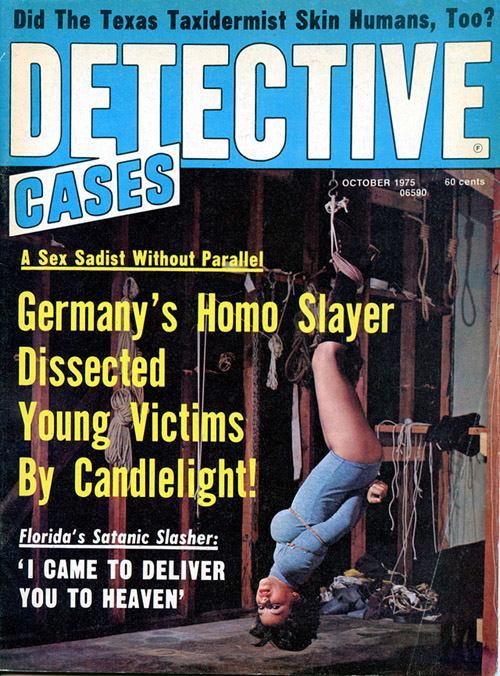 GERMANY'S HOMO SLAYER DISSECTED YOUNG VICTIMS BY CANDLELIGHT!
Detective Cases, October 1975
That's terrible! You can ruin your eyes that way.  The Homo Slayer should consider turning on a strong overhead light.  Candlelight may be great for macabre ambiance, but it's terrible on the eyes!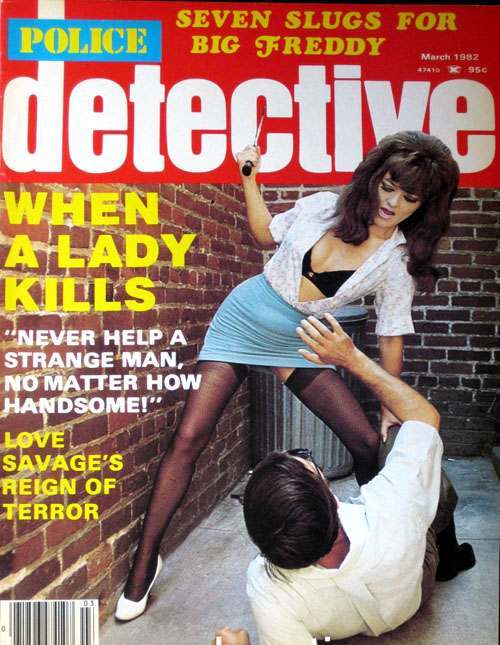 NEVER HELP A STRANGE MAN, NO MATTER HOW HANDSOME!
Police Detective, March 1982
In other words, we know you ladies won't be tempted to help an ugly dude, but stay clear of the good looking strangers as well.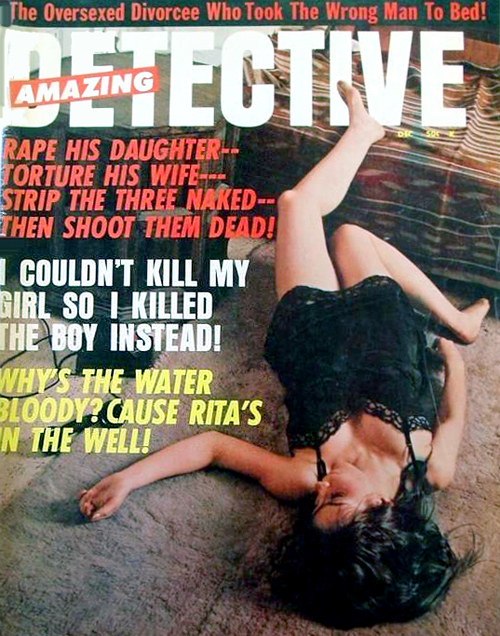 WHY'S THE WATER BLOODY? CAUSE RITA'S IN THE WELL!
Amazing Detective
Well, that's just gross.  What's even worse is that Rita's not dead – she's just down there having a look around.  How embarrassing for Rita.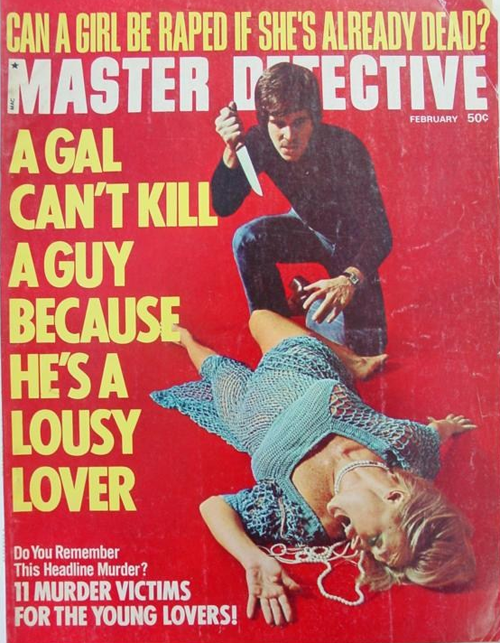 A GAL CAN'T KILL A GUY BECAUSE HE'S A LOUSY LOVER
Master Detective
Your public service announcement for the day: just because a poor schlep is terrible in bed, a girl is not allowed to straight-up murder his ass.  Glad we got that cleared up.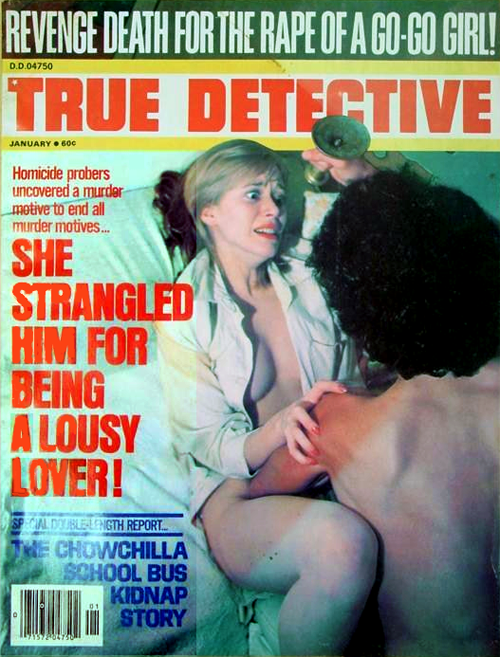 SHE STRANGLED HIM FOR BEING A LOUSY LOVER!
True Detective
Obviously, we weren't clear enough in our previous message.  If a guy is awful in the sack, that's not reason enough to take his life.  I don't know how we can make this any more plain.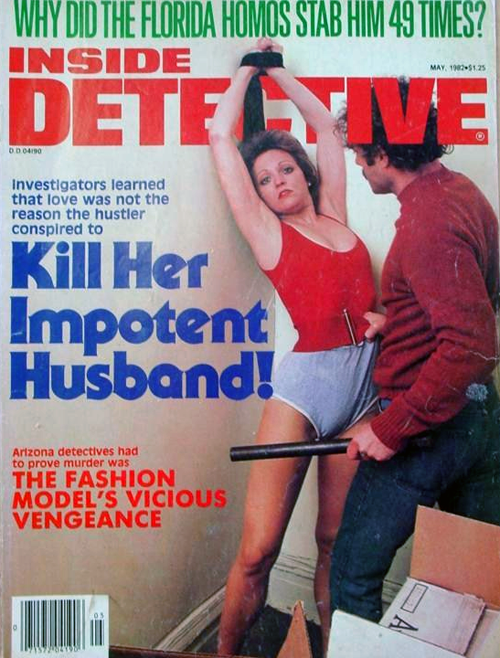 KILL HER IMPOTENT HUSBAND!
Inside Detective
I give up.  A note to the fellas:  You might want to kick it up a notch in the bedroom.  Your life may well depend on it.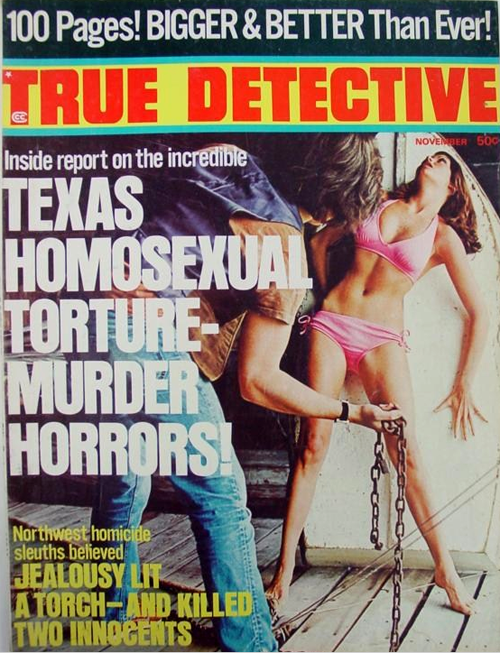 TEXAS HOMOSEXUAL TORTURE-MURDER HORRORS!
True Detective
This is what you call lazy.  They just took crime magazines' five favorite words and randomly put them together.  Other options:  "Murder Horrors of the Texas Homosexual Torturer!" or "Homosexual Horrors: Murder-Torture in Texas!"  Try your own – it's a fun game for the whole family to play!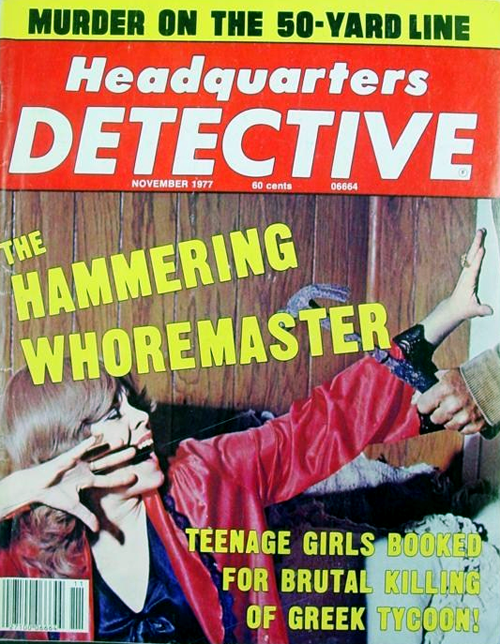 THE HAMMERING WHOREMASTER
Headquarters Detective, November 1977
This list of crime mag headlines isn't in any sort of order… but if it were, "The Hammering Whoremaster" would be at the top.  It may only be about a whorehouse handyman who installs wood paneling, but no matter.  Conan the Barbarian step aside, make way for The Hammering Whoremaster.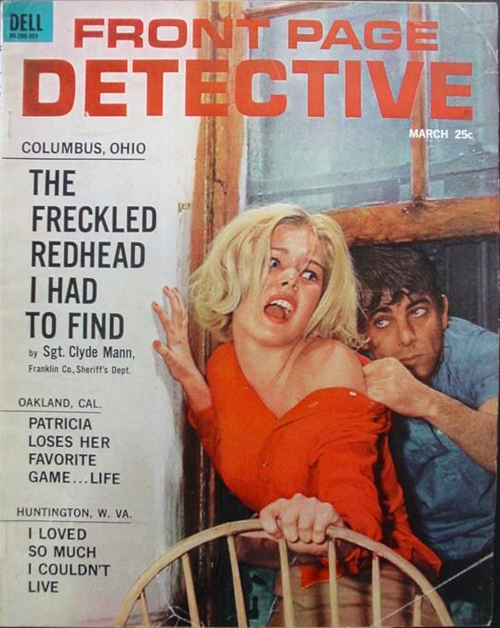 PATRICIA LOSES HER FAVORITE GAME… LIFE
Front Page Detective
I agree that it's a bummer losing at your favorite game, but I don't believe it warrants a magazine headline.  I was pretty upset after a game of Monopoly was lost last week, but you don't see me calling up the newspapers.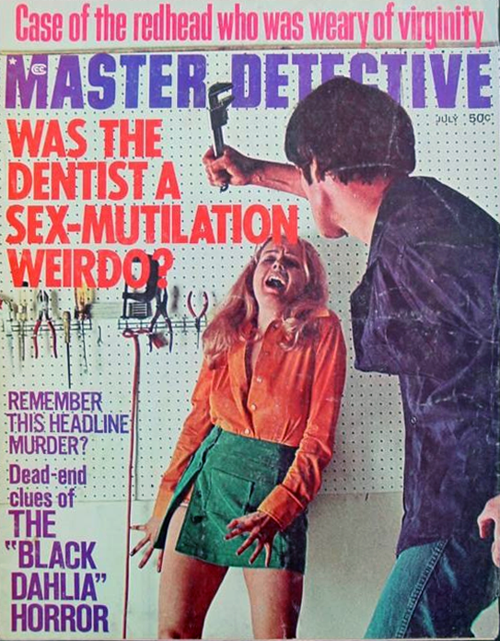 CASE OF THE REDHEAD WHO WAS WEARY OF VIRGINITY
Master Detective
I should sue for plagiarism.  "The Case of the Brunette Who Was Weary of Virginity" is the title of my teenage autobiography.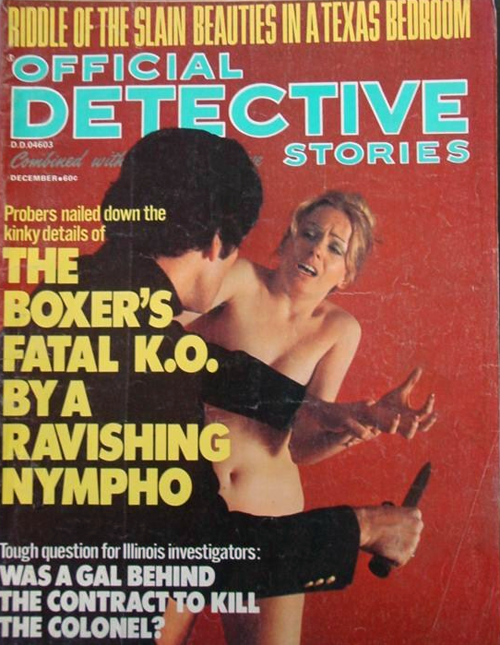 THE BOXER'S FATAL K.O. BY A RAVISHING NYMPHO
Official Detective Stories
What's weird to think about is that all these cover stories are based on true stories.  Of course, the overall accuracy of the stories is tenuous at best, but these aren't pure tales of fiction…. which means, at some point, a hot nymphomaniac may have really fatally K.O.'d a boxer…. which is just awesome.