It's the early eighties, and the computer was finally entering the home in a big way.  Of course, most of us had no idea how to use these things … and software and hardware companies were only too quick to tell us exactly what we needed to buy.  Whether it was a dot matrix printer for the home or word processing software for small businesses, the booming eighties economies meant a seemingly unlimited supply of consumers rabidly gobbling up any tech put before them.  So, let's have a look at few items for sale…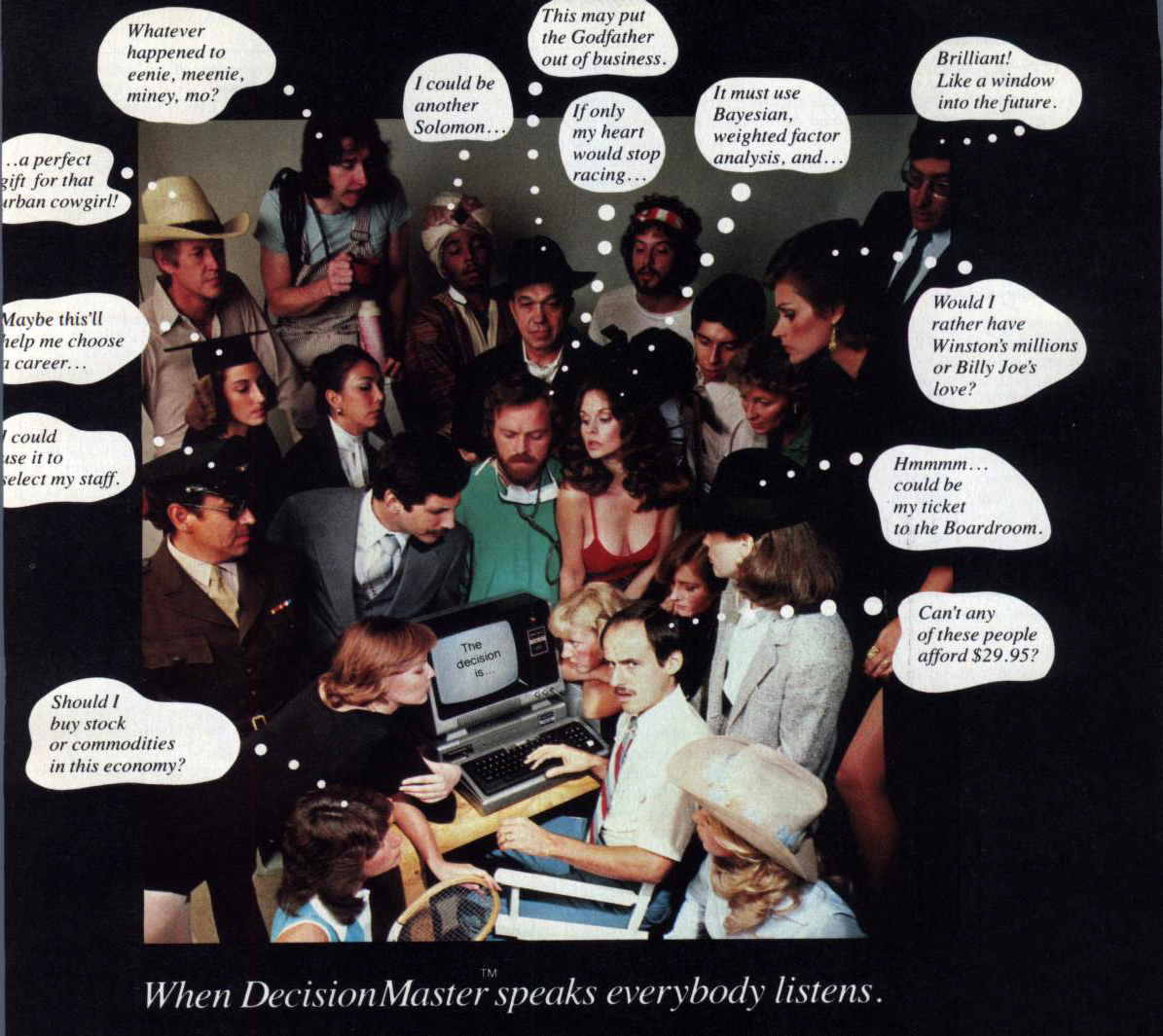 "Let's face it.  We all have to make decisions.  Decisions that can change our lives.  Decisions that make us happy or unhappy.  Decisions that could win us fame or fortune. Now, DecisionMaster can help you make the best decisions of your life.

Use Bayesian theory to peer into the future… even if you've never heard of the Bayes' Rule…. If you buy only one computer program this year, make it DecisionMaster. And when it speaks, listen." (1980)
Personal Computer ads, whether it be software or hardware, promised the moon in their advertising.  By the end of the eighties, the promises became tempered by a growing consumer awareness of what a personal computer could really do.  The above ad literally sets expectations that your PC can be used as a crystal ball.
For more on unrealistic expectations see: 1980s Home Computers Will Make Our Dumb Kids Smart
Also: Getting WAY Too Excited About Computers: Open-Mouthed Wonderment in 80s Tech Adverts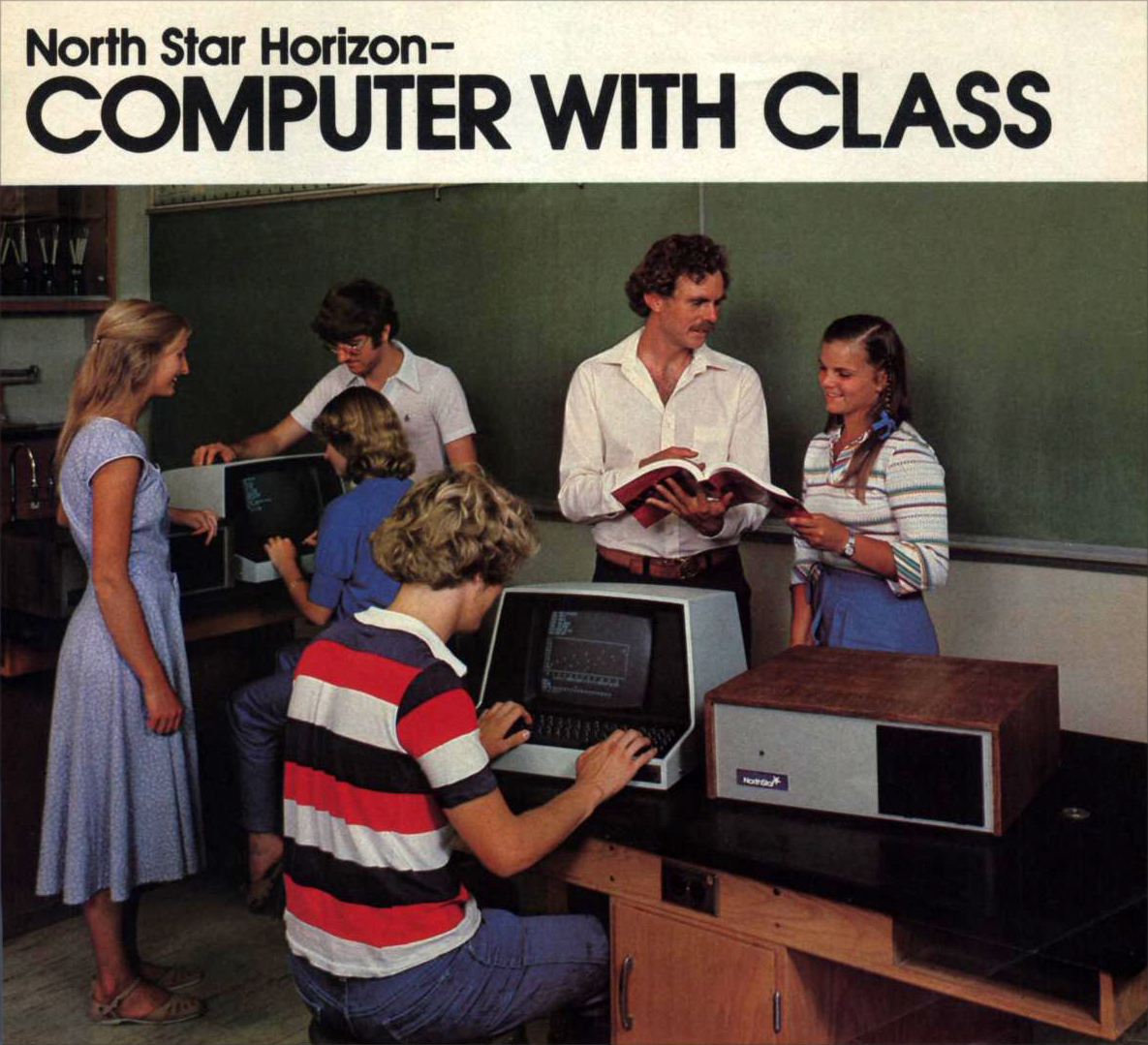 "The North Star Horizon computer can be found everywhere computers are used: business, engineering, home – even the classroom.  Low cost, performance, reliability and software availability are the obvious reasons for Horizon's popularity.  But when a college bookstore orders our BASIC manuals, we know we have done the job from A to Z. Don't take our word for it.  Read what these instructors have to say about the North Star Horizon:
'The Horizon is the best computer I could find for my class.  It has an almost unlimted amount of software to choose from.  And the dual diskette drives mean that we don't have to waste valuable classroom time loading programs, as with computers using cassette drives.'" (1980)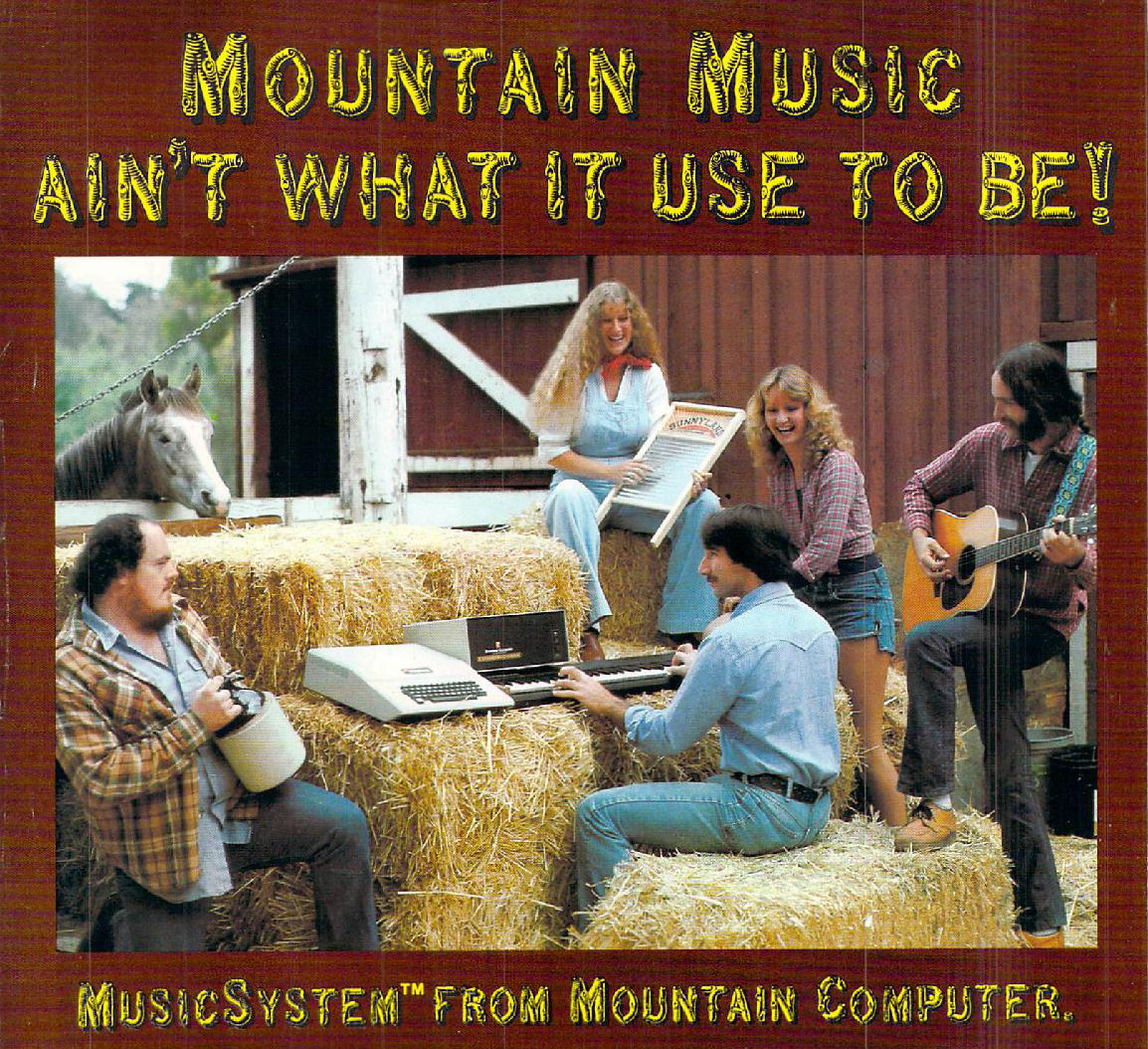 "MusicSystem generates the sound of any musical instrument – real or imagined! Solo or sextet.  Rock or classical.  Laid-back or loud.  At home, the concert hall, or the classroom.  MusicSystem sets new standards for computer generated music…. Drop by your Apple Dealer and ask to hear Mountain Music for yourself.  Now only $395.00" (1982)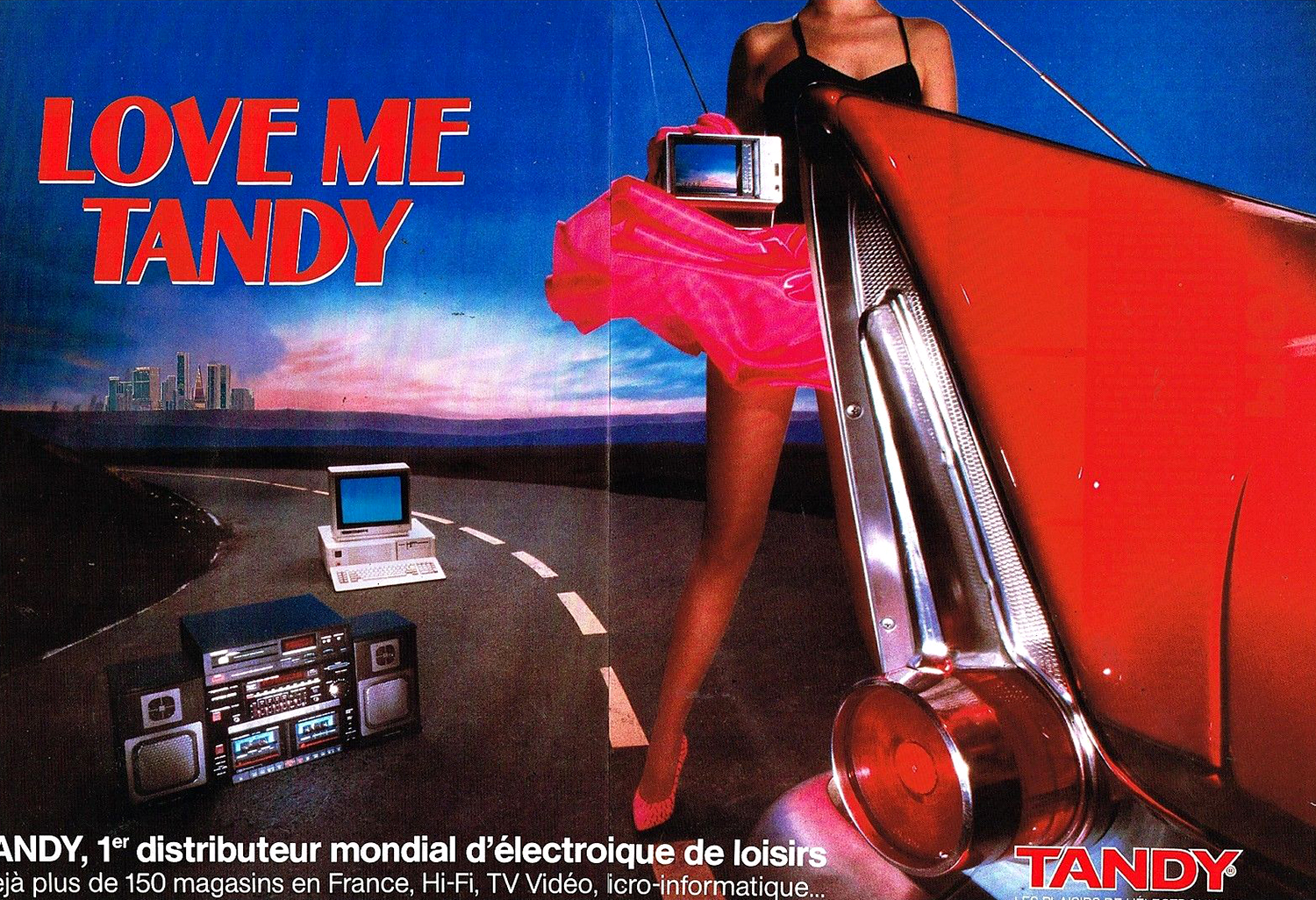 Props to Tandy, which started as a leather goods company and ended up leading the personal computer revolution along with Apple and Commodore.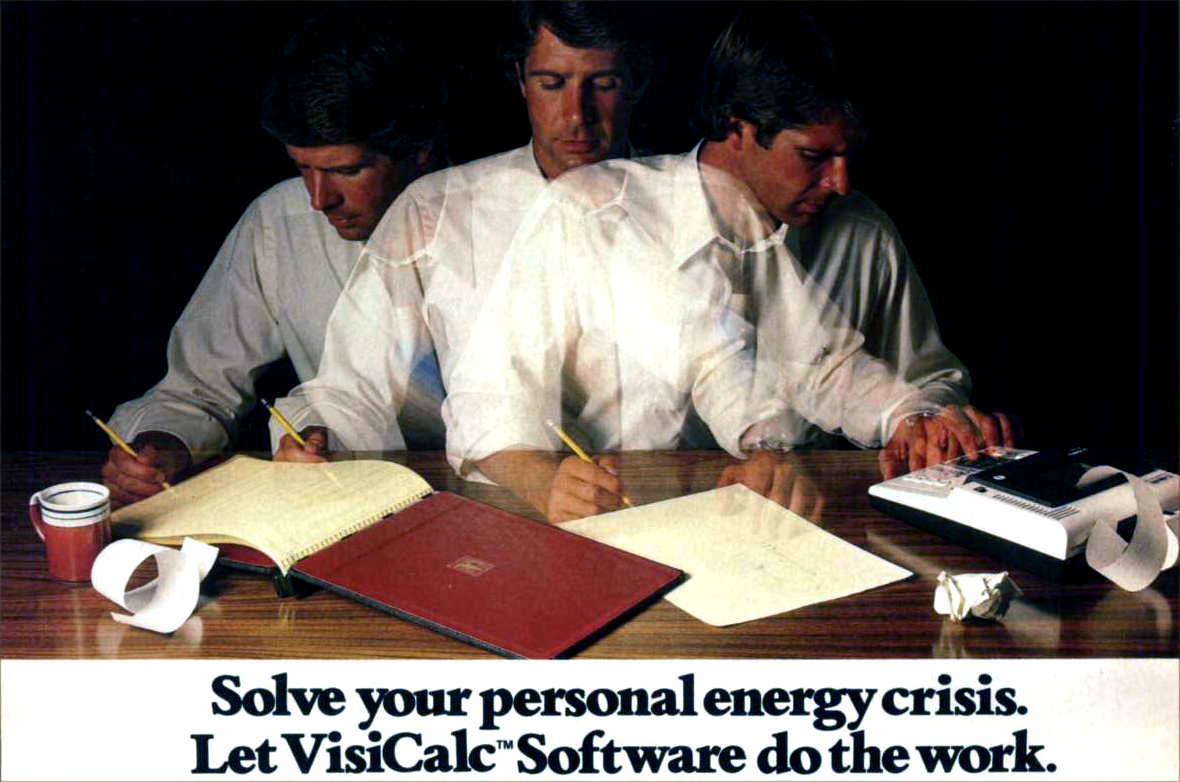 "With a calculator, pencil and paper you can spend hours planning, projecting, writing, estimating, calculating, revising, erasing and recalculating as you work toward a decision.  Or with Personal Software VisiCalc program and your Apple II you can explore many more options with a fraction of the time and effort you've spent before. "  (1980)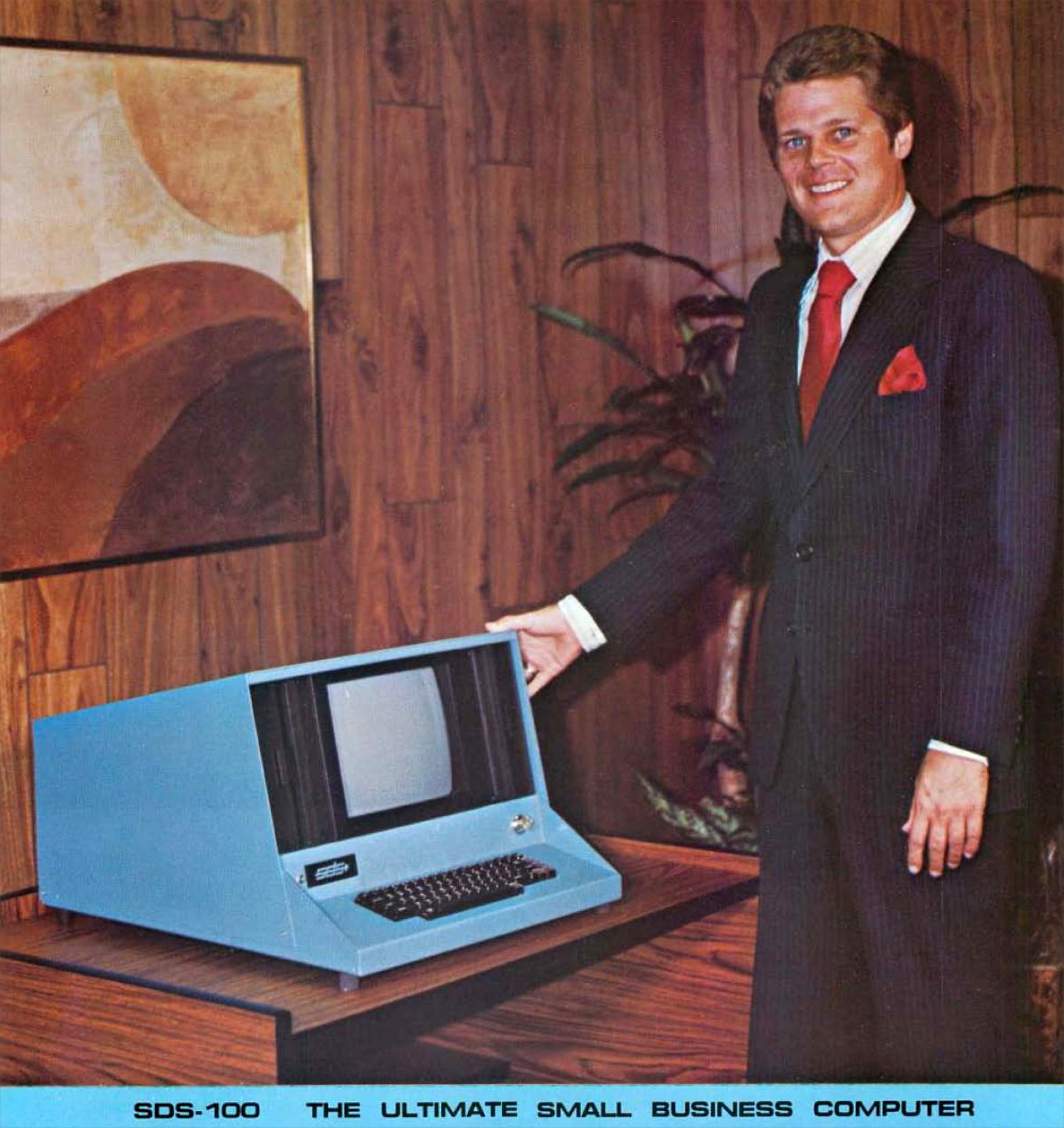 "The system is packaged in a totally shielded single case, housing two full-size dual-sided floppy disk drives, a full sized 12″ video monitor, the keyboard and the SDS-100 computer power.  For the more technical features: 32K Random Access Memory, 1,025,024 Bytes of on line disk storage…"
For more Yugoslavian computer magazine splendor see: Yugoslavian Computer Magazine Cover Girls of the 1980s-90s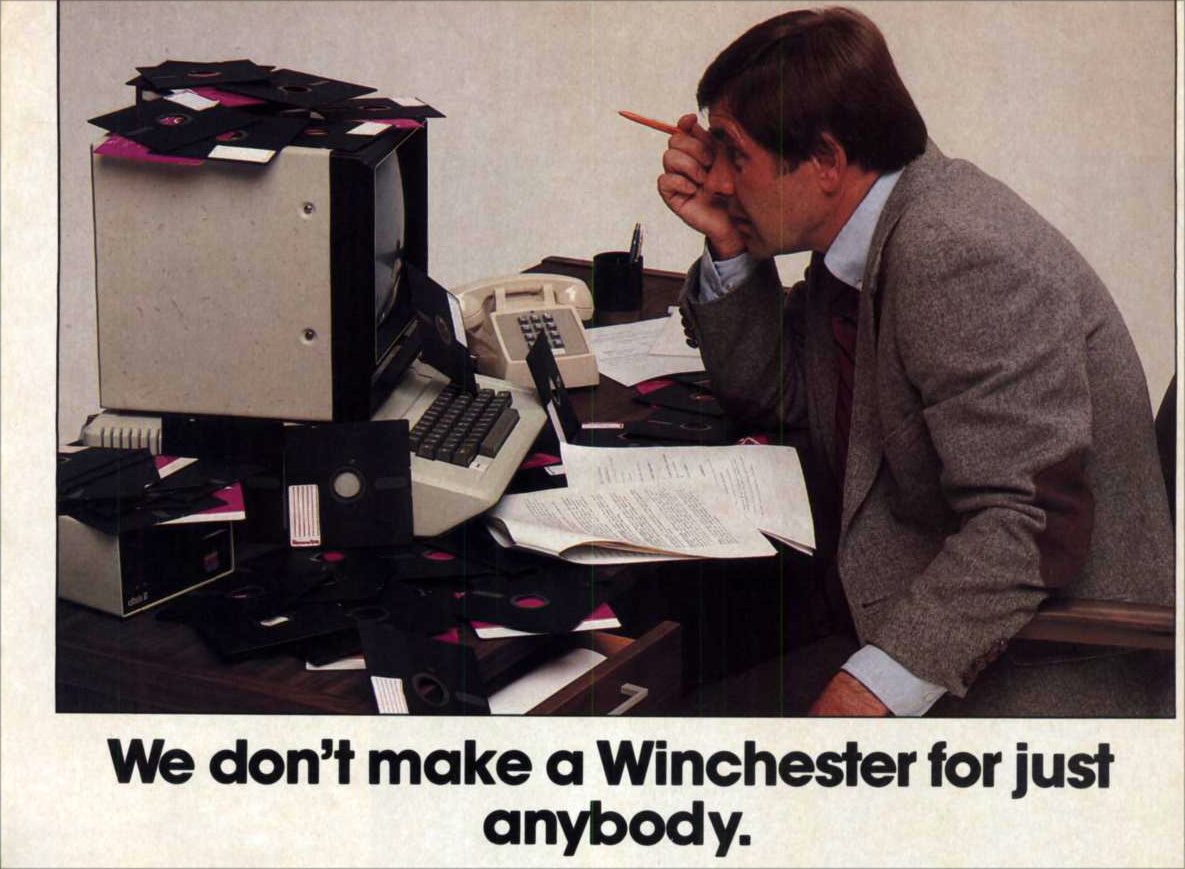 "We're Corona Data Systems and we've made Starfire, a Winchester disk just for Apple II.  What's in it for you?  5 million characters of storage.  And that's not all.  You'll get Corona's Disk Partitioning which allows for up to 16 separate operating systems such as Apple DOS and Pascal, all sharing the same disk." (1982)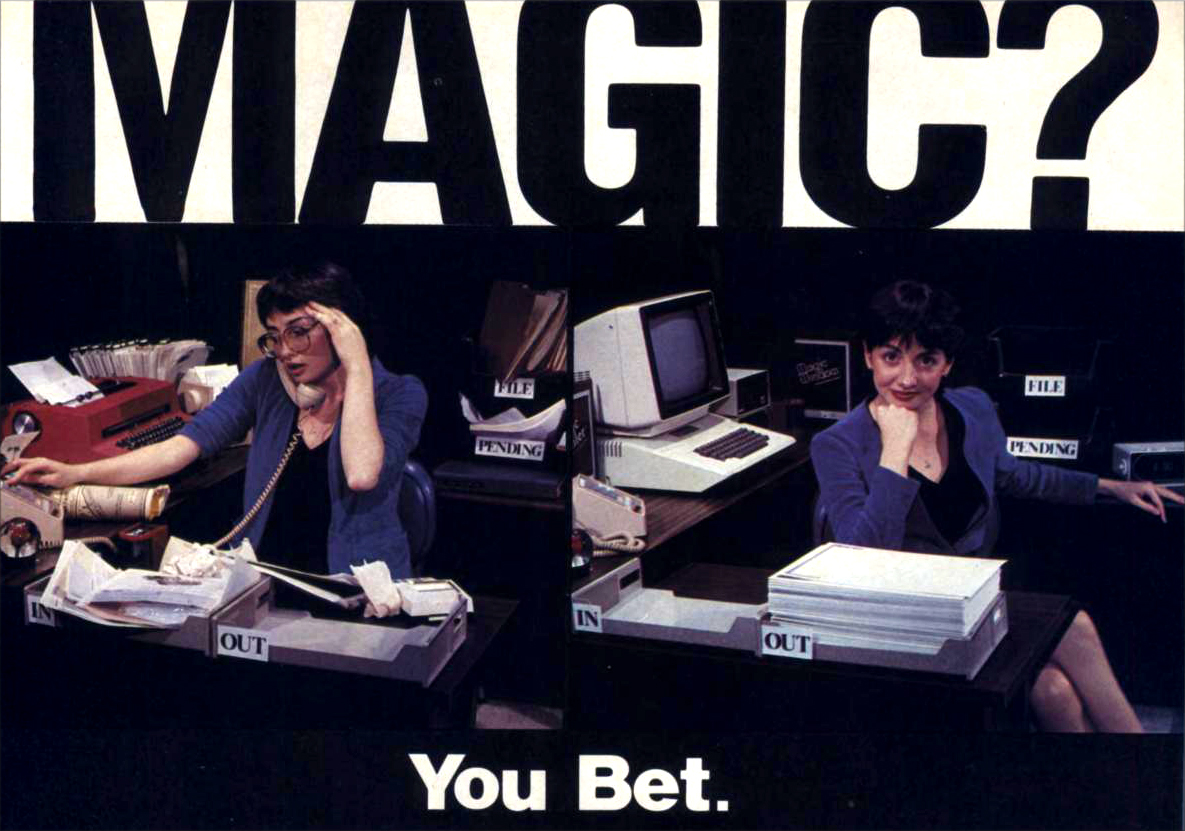 "Magic Window transforms your Apple Computer into a sophisticated word processor unlike any other.  Streamlined to meet all professional needs yet be easy to understand and operate.  Magic Windo can be used by anyone in minutes.  Simulating a standard typewriter, everyone has immediate rapport with the system as no special training is required….. Magic Window solves the Apple's display problem without expensive hardware additions.  Using your video screen as a "window" you view what you type from any position selected with a single keystroke…."  (1982)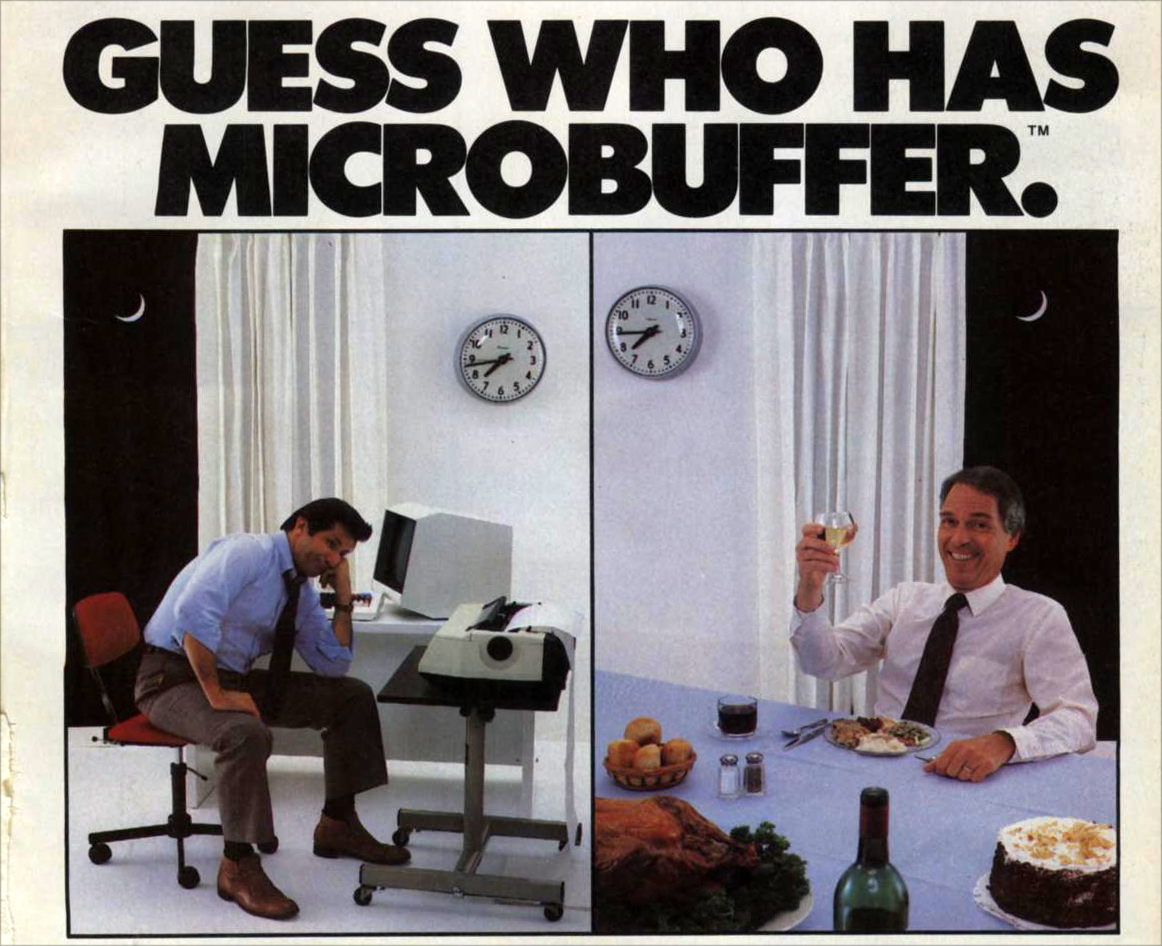 "If you guessed that a Practical Peripherals Microbuffer printer buffer saves time, you're right.  For the way it works, this inexpensive product is the most practical addition to your microcomputer system ever.  With Microbuffer, you don't have to wait for your printer to finish before you resume using your computer.  Data is received and stored at fast speeds, then released from Microbuffer's memory to your printer.  This is called buffering.  The more you print, the more productive it makes your workflow."  (1983)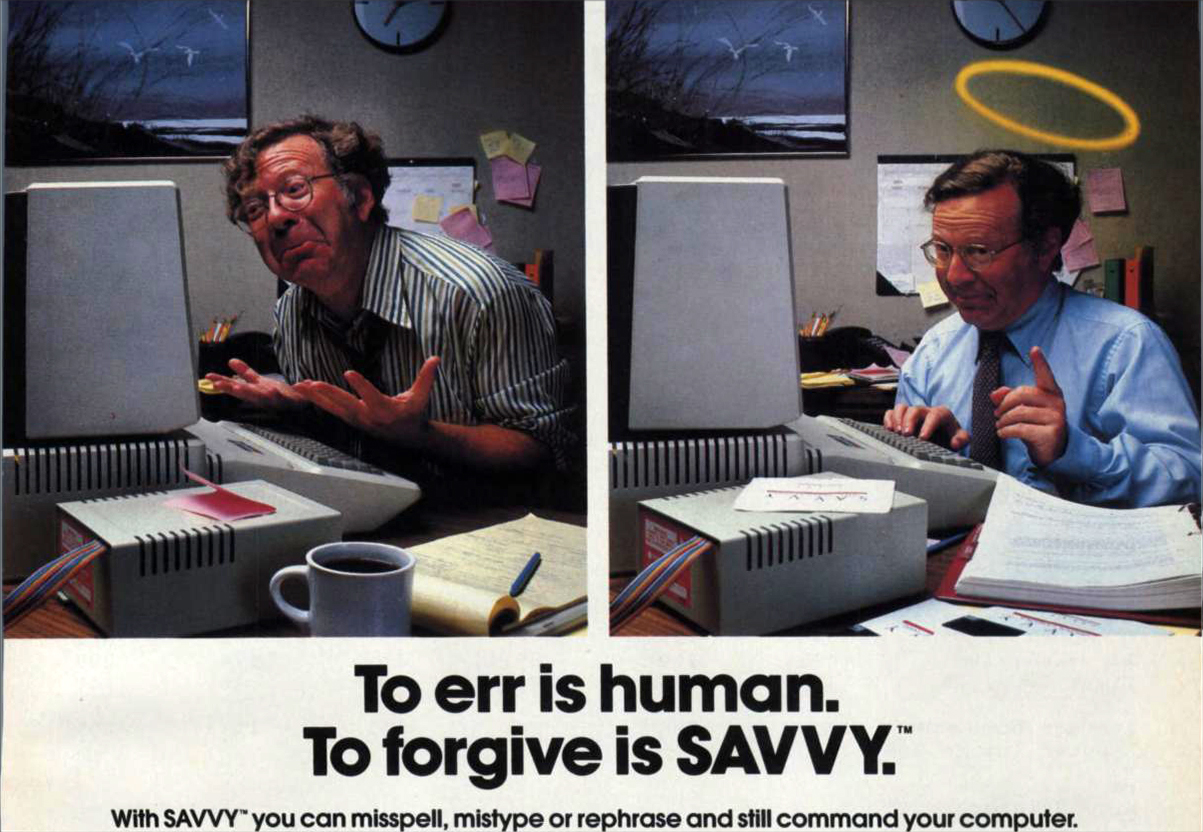 "If you're tired of inflexible personal software, it's time for SAVVY.  SAVVY teaches your computer to adapt to you.  It's part hardware, part software, and part remarkable.  It lets your computer see things as you see them.  do things the way you like to do them.  It even allows for those unavoidable entry errors that we all sometimes make.  What's the secret? SAVVY can recognize patterns (other software products can only recognize exact duplicates) and you can teach it to recognize your language.  That means it will carry out your commands instead of flashing 'error' messages." (1983)