We just hit it off right from the start with my first shoot with him for the cover of CIRCUS magazine–, I was young and didn't know crap. When I asked him to do something he did it he made it easy for me. He gave me my confidence. He was up for anything..from my first shoot with him in a pink tutu, to a shaved head, dressing up in drag or hoping around in a Easter bunny outfit. When Ozzy needed a new guitar player– I found him one.
In the spring of 1981 I was assigned to shoot Ozzy Osbourne for a cover and feature in Circus magazine. I knew this one would be a blast—news had just come out that Ozzy had bit the head off a dove at a record company meeting the month before. He was in NYC promoting his first solo album Blizzard of Ozz. I spent a few days with Ozzy, shooting him around New York City and at his hotel room at the Plaza where I set up a background for the cover shoot. Circus was planning on using his image on a few different covers as well as in multiple spreads, so we tried a few different looks during the session.
Ozzy was a great subject—when I asked him to try something he would always do it, and more. One of the features that he was going to be in was titled Rock & Roll Yearbook: Class of '81. Onstage, Ozzy used to run all over the place and jump up and down like a frog, so Circus awarded him "Most Athletic." I figured I'd take some sports-themed shots, so when I went over to the Plaza to do the shoot, I brought a pair of boxing gloves. Ozzy came out dressed in a pink tutu. He was playing off the same theme, but with a twist. I spotted a pair of boots nearby so I had him put those on, too; a sort of play on Sabbath's Fairies Wear Boots. It was a bizarre scene, for sure.
'Mark is like a member of our family. I remember meeting him on our first solo tour, when he was just a little kid with a camera at the front of the stage. We'd give him an All Access pass. Now he's part of the family. We've had lots of memorable times together. Sometimes he can be a pain in the ass – he's always got that camera and he's always whistling to get your attention. And I go, "Will you fucking stop doing that?" But it's good. He's one of the good guys. Mark just appears when you're standing around, and you go, "Oh, there you are!" If we're doing anything and Mark wants to get in, we just let him in. He's one of us.'
– Ozzy Osbourne
Later that summer, Ozzy played Convention Hall I took him up to the roof of the venue and photographed him in his cape moments before he took to the stage. Circus was celebrating twelve years of publishing, and they asked me to come up with bands to shoot for their anniversary issue. Ozzy was happy to pose with a few magazines.
In August, Circus asked me to shoot the cover of their thirteenth-anniversary issue. They asked if I had any ideas, and immediately I thought of Ozzy. I called Sharon, Ozzy's wife, and the next thing I knew I was on a flight out to LA. Earlier in the year, Ozzy had bitten the head off a live bat onstage, which landed him in the hospital to get rabies shots. So I had a flag made with a picture of a bat on it and arranged for him to hold it while popping out of a cake. When I arrived at Ozzy's, the housekeeper told me to set up in the garage. Once I was ready to go, I waited. And waited. Several hours went by. Then Sharon came out with a concerned look on her face. "Ozzy shaved his head last night." I must have looked like I had seen a ghost. I thought to myself, I'm done. Circus will be pissed at me for spending all this money on the shoot and returning without a cover. Then Sharon gave me that Sharon smile and said, "But he's gonna do it." We put our heads together and came up with an idea. Sharon took out some makeup. I grabbed a couple of black balloons I had for the birthday theme. I think we topped the tutu cover. I knew then that we were off to a lifelong friendship.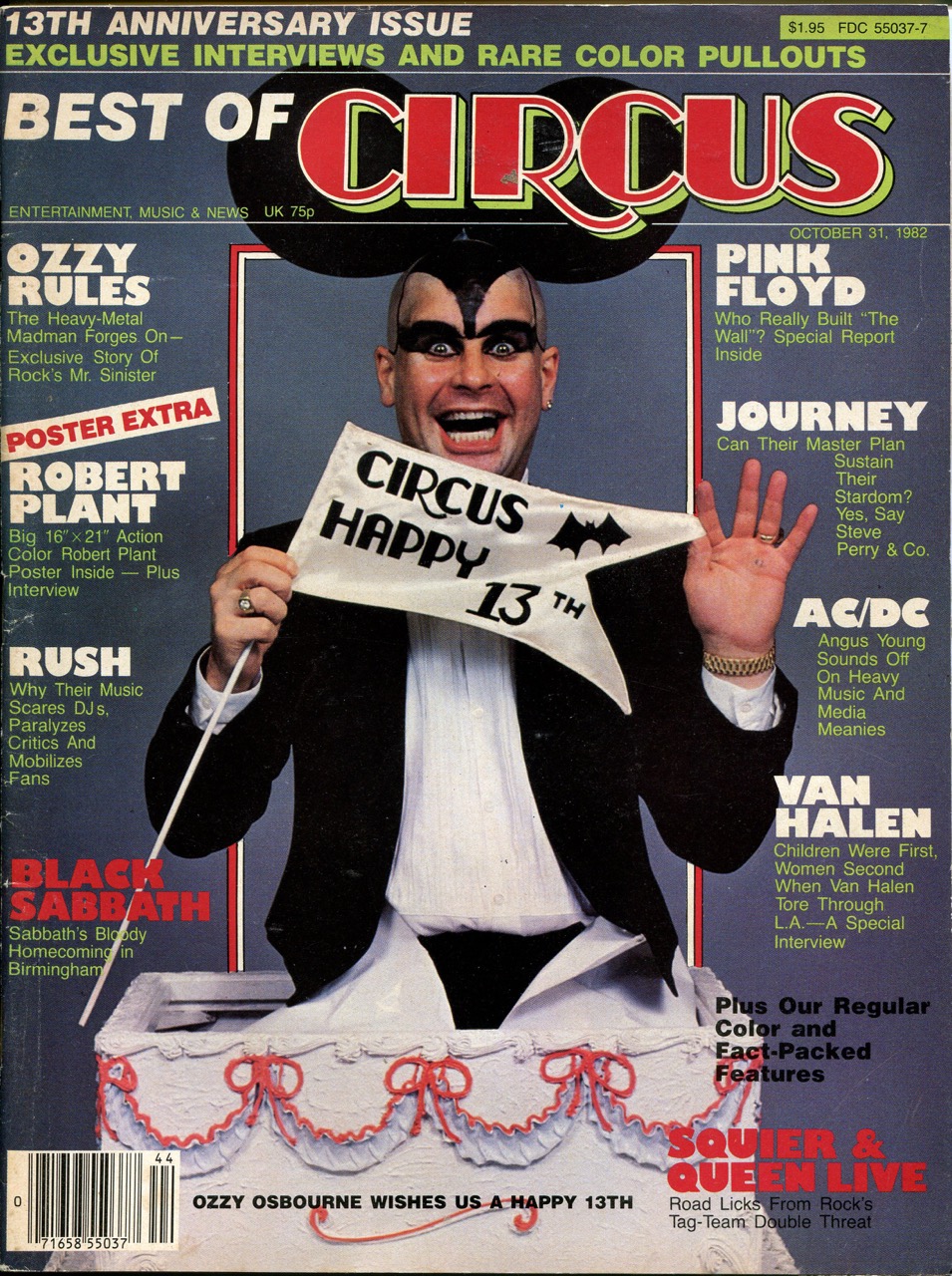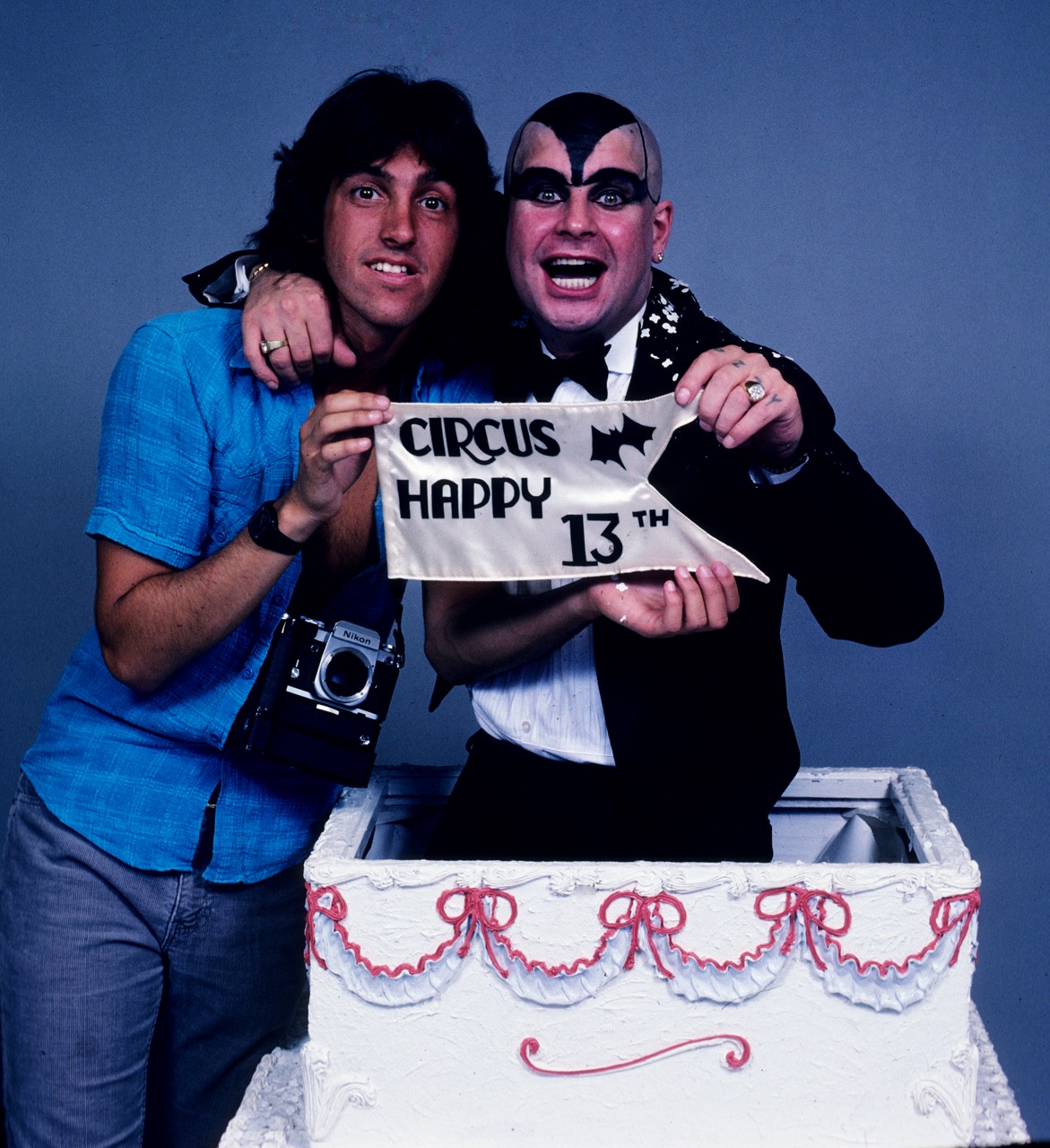 The US FESTIVAL
Apple cofounder Steve Wozniak put on the first US Festival in San Bernardino, California, in 1982, with performances over three days from acts such as Tom Petty, the Police, and Talking Heads. The crowd was almost half a million people. The next year, Wozniak and his team did a second US Fest, only this time it was a four-day event starting on Memorial Day weekend, and attendance reached almost seven hundred thousand. What's more, the organizers tipped their hat to the new sounds of the era, dubbing the second day "Heavy Metal Day," with performances from Quiet Riot, Motley Crüe, Ozzy, Priest, Triumph, the Scorpions, and the night's headliners, the mighty Van Halen. Was I gonna be there? Hell yeah, I was. And what's more, I was going with Ozzy.
Sharon called me up a month before the show and asked if I would do a shoot with Ozzy in the new outfit that he was going to wear during the US Festival. She had the costume shipped to my studio; it arrived in a huge wooden box that she told me not to open until they got there. On the day of the shoot, I waited for Ozzy and Sharon, but they never showed up. Eventually, Sharon called and apologized; they weren't going to make it, and she needed to have the box shipped out to California. By this point, I was more than a bit curious to see what was inside. When I opened the box, I wasn't disappointed. I had to laugh when I saw the crazy costume laid out for Ozzy. I also had to try it on for myself and get a photo. It was a good day. When I look back on it, I remember everyone—the bands, the fans, the crews— having these big ear-to-ear grins on their faces. I had one, too. I arrived at the fairgrounds with Ozzy's entourage early in the morning. His camp also secured me an all-access pass, and so I had free rein in the backstage area.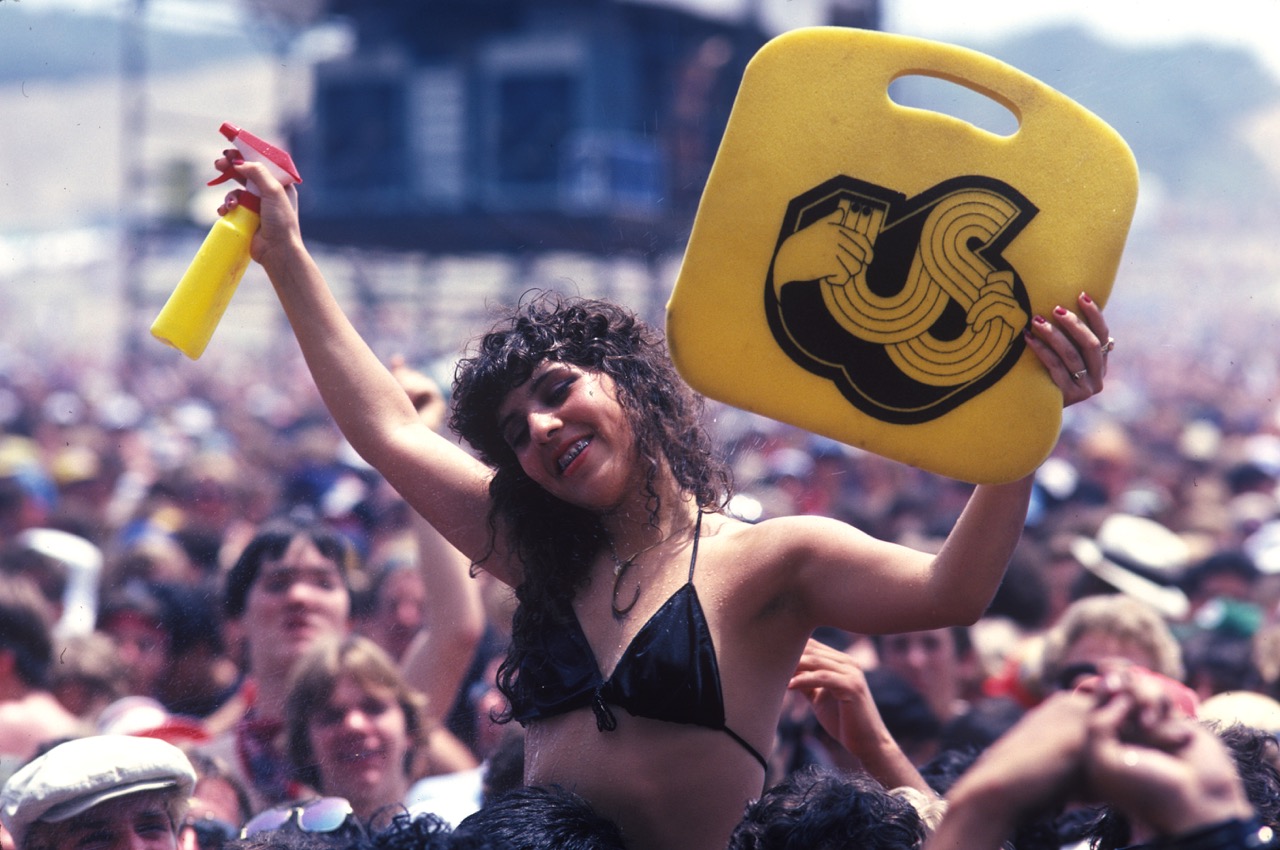 I moved in to New York City in February, 1983 where I had a studio where I lived a block from Madison Square Garden.  Ozzy was one of my first shoots there. I grew out of the space and the following year I set up a new studio at on West 20th Street which I shared with a commercial photographer. It was six times the size of my previous one. Ozzy would be my first shoot in my new place. He had just released Bark at the Moon, and Sharon wanted me to do a photo session that would get him in the magazines.
I approached Faces. They were all up for putting Ozzy on the cover, but it had to be different. Mikael and I came up with a spin on Ozzy's last studio album, Diary of a Madman. It was the May issue, so we thought, Mother's Day – let's dress Ozzy up like a mad housewife. I explained the idea to Sharon. She laughed and said, "Sure, let's do it."
She came with Ozzy and dropped off a bunch of outfits for him to wear. We were going to start the shoot with some cool rock shots of Ozzy in his stage clothes and then take some pics of him in drag for the cover. While I was setting up, Ozzy said to me, "What's that, Mark?" I looked to where he was pointing and saw an Easter bunny outfit and white flowered trestle. I realized it had been left over from a shoot the photographer I shared the studio with had been doing. I gave Sharon a quick smirk and then proceeded to tell Ozzy, "What do you mean, 'What's that?' It's your costume—we're doing an Easter theme for the cover of the magazine. Let's hop to it and get started!" Sharon laughed and said, "Have fun, boys! I'm going shopping." That's when I first heard Ozzy scream, "Sharrrrron!" She came back a few hours later with baby Aimee and a dress for Ozzy to wear for the shoot.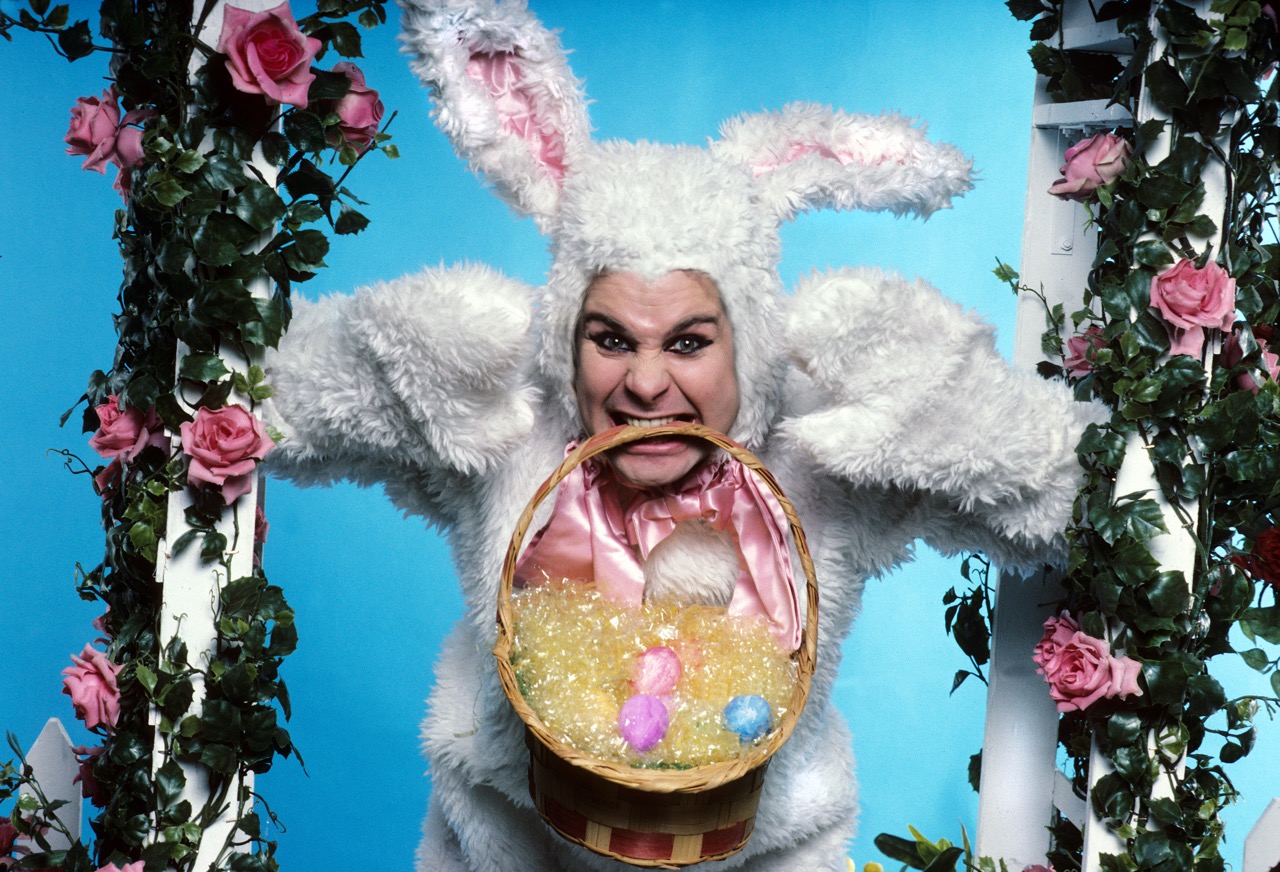 I showed the May cover to Ozzy, and he laughed. He loved it. This was during the second leg of the Bark at the Moon tour with Motley Crue. I think we were somewhere in the southern United States. It's a bit of blur, honestly – though I remember the shoot! Ozzy and I went to say hi to the Crüe over by their bus. While we were there, Tommy Lee threw something into the trunk where they kept their "trophies" from the night before. A lightbulb went off in my head. Mikael and I looked at one another and then grabbed some lingerie from the trophy trunk, and another classic Ozzy photo shoot was born. As we were shooting, Tommy and Vince came in to see what we had done with their collection. They joined in on the fun. Ozzy then went onstage and ripped off his clothes and wig.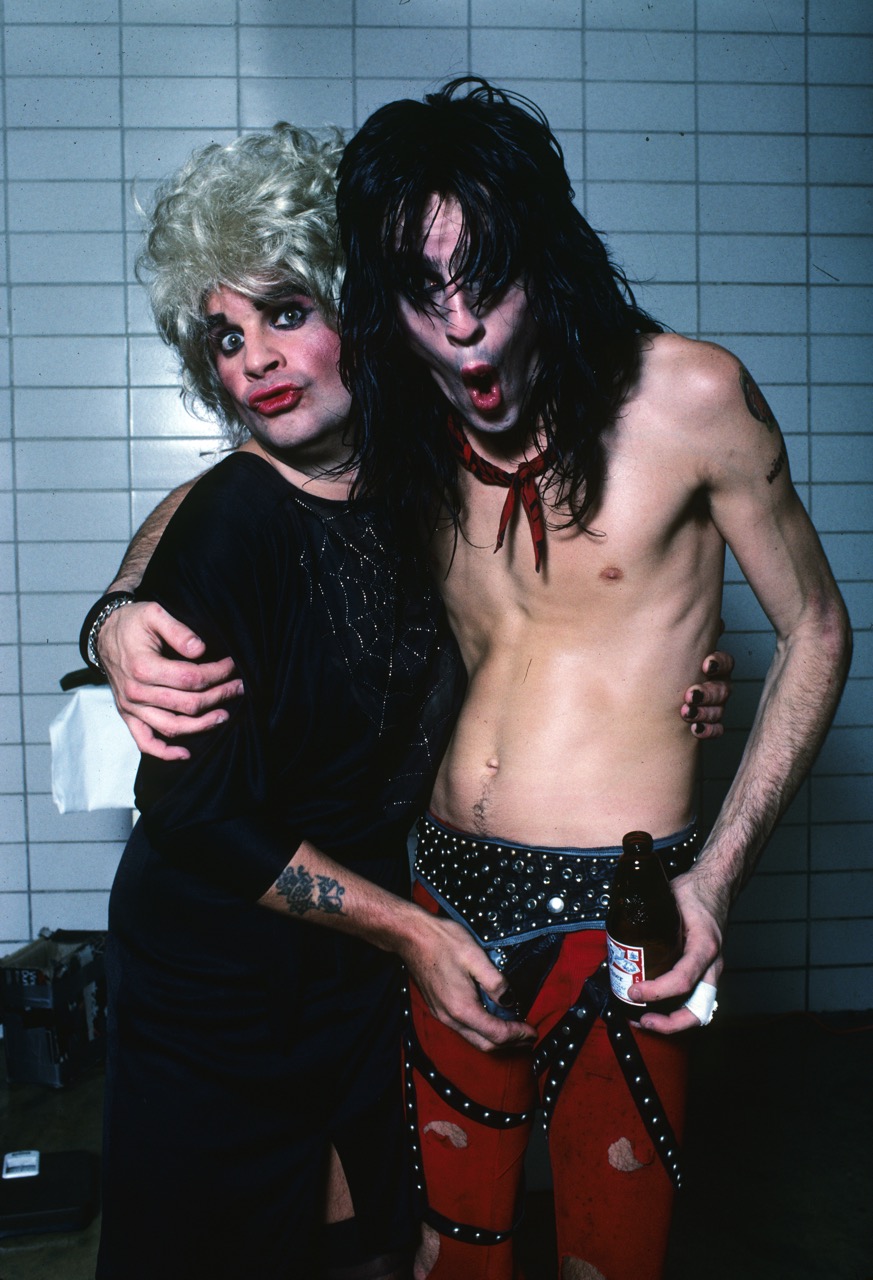 Live Aid
On July 13, the historic Live Aid benefit concert took place simultaneously at London's Wembley Stadium and Philadelphia's John F. Kennedy Stadium. I was at JFK, along with more than 100,000 fans. It was a special moment to see Ozzy back with Black Sabbath he hadn't performed with the band in almost a decade.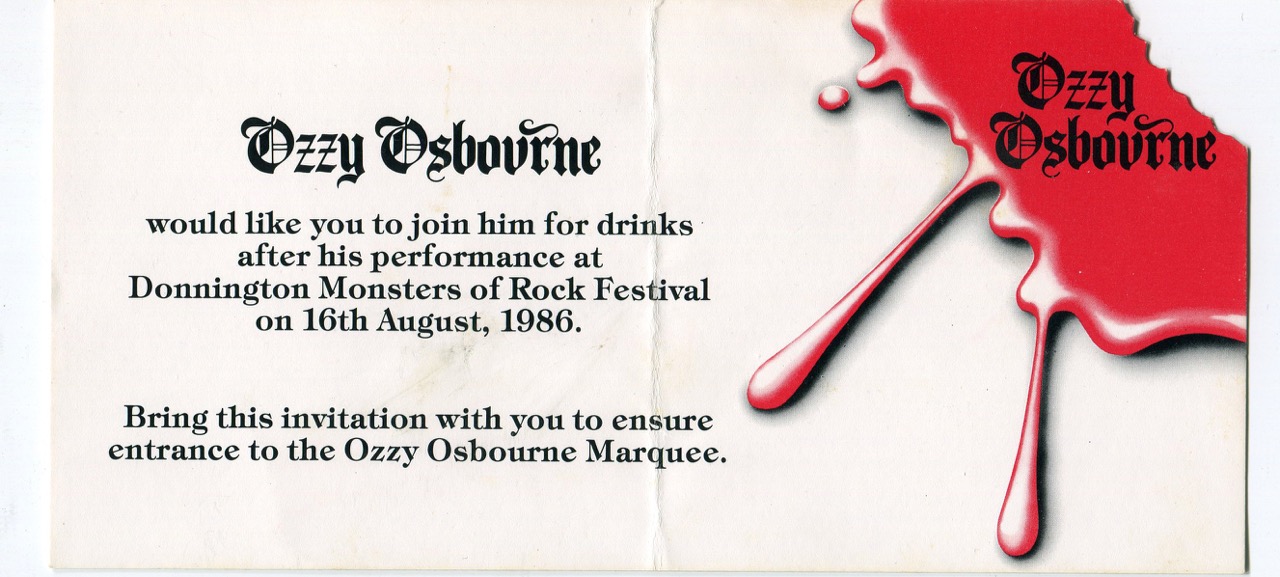 Donnington 1985
Whenever Ozzy played a monumental show, I would make sure I was there. The Monsters of Rock festival at England's Donington Park that August was one of those shows.
Rock and Wrestling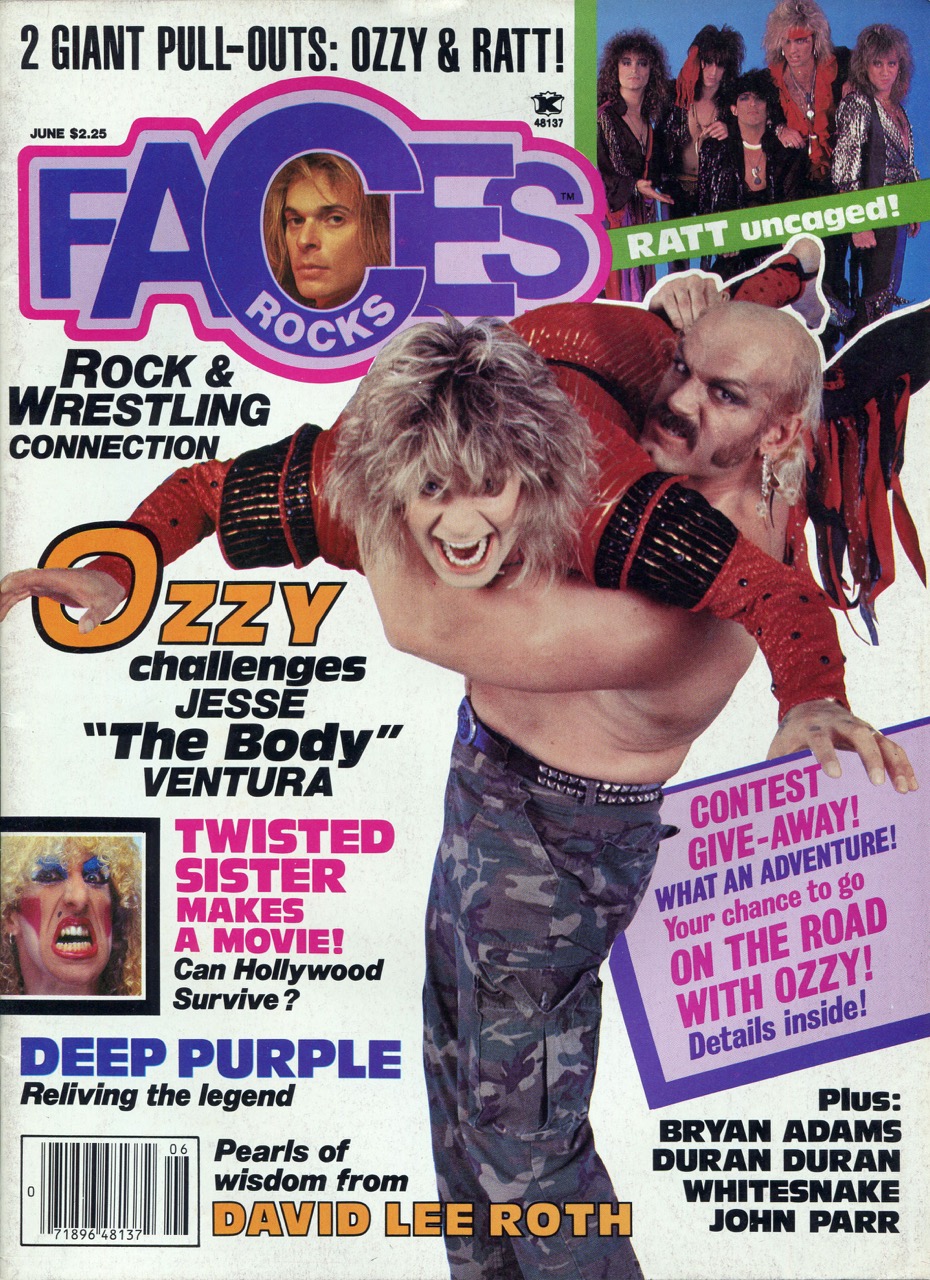 The March issue of RIP included a special section celebrating rock 'n' roll movies. Ozzy had recently had a part in the horror flick Trick or Treat, playing a televangelist who denounces heavy metal music. I played off that role by dressing him up in a priest's and a nun's outfit for the shoot.
At the RIP shoot, Ozzy mentioned to me that he was looking for a new guitarist. Two months later I called Sharon and told her I found your new guitar player, his name is Zakk. I brought him to Los Angeles to audition for Ozzy after my buddy Dave Feld saw him in a New Jersey bar. His name was Zakari Wylant at the time, he would soon become known as Zakk Wylde – Ozzy Osbourne's new guitar player.
OFFER: Go to www.RockSceneAuctions.com to bid on many of Mark's iconic Ozzy photographs. For a 50% discount use coupon code OZZYflashbak. And: sign up to Mark's mailing list and for a chance to win this free 17 x 22 photo of Ozzy.