Hung on You was the Chelsea boutique runs by toffs and catering to Chelsea aristocrats, pop stars and other dedicated followers of fashion. Located at 22 Cale street the store occupied, according to Richard Lester in his book Boutique London: A History, King's Road to Carnaby Street, a particularly important place in fashion history. Its customers were the real departure from the routine, for they were almost exclusively the new male dandies invented by the 1960s, a taboo-breaking mixture of social and rock aristocracy as never encountered before.
Hung On You was owned by Michael Rainey, son of the fascinating Marion Rainey. Gimcrack has a few words on the owner's mother:
"At the age of seven Marion was shipped off to England, but her education at a girls' school in the Cotswolds was swiftly terminated when an aunt heard another pupil say "Pardon". She was transferred to the more exclusive Felixstowe Ladies' College, where she learnt to dance and play the piano.

"Back in Shanghai in 1940, aged only 17, she married Sean Rainey, an Irishman then serving as a private in the Seaforth Highlanders. This was partly a strategic move to get out of China: the Raineys duly moved to Bangalore. Here two children were born, and young Mrs Rainey served briefly as recruiting officer for the Black Watch while learning about "the sins of gin" and how to mix dry martinis.

"Such skills made her welcome when she arrived as a young divorced woman in austere post-war London and fell in with upper-class rebels such as the Labour minister's daughter Lydia Noel-Burton, who always carried on her person two kippers and a bottle of gin."

In 1949 Marion met an Old Harrovian, Dick Wrottesley, in the Bag of Nails nightclub.
(Note: Paul McCartney and Ringo Starr had first seen The Jimi Hendrix Experience performing on 11 January 1967 at the Bag O'Nails club in London.)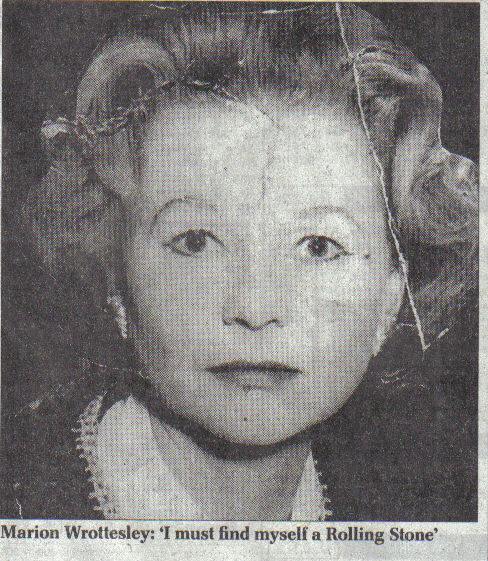 The heir to Lord Wrottesley reputedly locked her in the lavatory until she had agreed to marry him.

In spite of blissful summers at Wrottesley, near Wolverhampton, where the family had lived for 900 years, and the birth of their son Mark, the marriage broke down quickly. Dick Wrottesley had already told his wife: "I only married you for your tarty qualities."

In the early 1960s Marion returned penniless to "Swinging London" where, in 1964, her son Michael would open the fashionable outfitters Hung on You in Chelsea Green. At the reception following Michael Rainey's marriage to Jane Ormsby-Gore, Marion was assured by the bride's father, Lord Harlech, that his own family was "full of pisspots". On learning that Brian Jones and Keith Richards were also present, she declared: "I must find myself a Rolling Stone."

During this era Marion also formed a close bond with her playboy stepson Richard Wrottesley, who first hit the headlines in 1966 when his Bentley was found upside down in the snow outside the Palace Hotel at St Moritz. At his regency-style flat in St James's Street, young "Wrotters" introduced his stepmother to his less respectable friends, such as the East End gangsters Ronald and Reginald Kray.

For the remainder of her life, Marion Wrottesley lived mainly in bedsitters in Chelsea, Kensington, Earl's Court and further afield. Though a gifted story-teller she never gave in to pressure to write her memoirs. Instead she flourished on National Assistance (her card was crudely marked "Alcoholism") and became a character in London pubs where she began the day with Fernet Branca or Carlsberg Special.
A Daily Telegraph obituary summed Marion up well:
Egotistical, eventually penniless, but continuously alluring, she married the heir to a barony and hobnobbed with everyone from Somerset Maugham to the Kray twins, but had no worldly ambitions other than to flaunt her own charms and to express her hatred of hypocrisy.

 
Dandy In Aspic explains how the store came in being:
Unlike John Pearse, Mr.Fish, or John Stephen, Michael Rainey did not have a previous experience in fashion industry. He drew his inspiration from his stylish friends, such as his wife's brother Julian Ormsby-Gore, aristocrat Neil Winterbotham or antique dealer Christopher Gibbs.

However, the success of Hung on You was short-lived – it closed down in September 1968. It was a part of the same pattern that caused the downfall of Granny Takes a Trip – expensive fabrics, cost of tailoring and inability of combining laid-back mentality with business. During its short existence, however, Hung on You was an influential place in an exclusive circle of London's young, rich and famous. Nik Cohn wrote: When you shopped at Hung On You, you felt like both Oscar Wilde and Captain Marvel, locked up inside one body(…) From past and present, and future, influence and cross-influence, Rainey wound up with something all his own, a personal montage. In my view, he was the most original designer that English menswear has produced.
The V&A adds:
Widely perceived as a style leader of her generation, Jane Ormsby-Gore worked for Vogue in the early 1960s and was involved in Hung on You, an avant garde men's clothing shop in Chelsea owned by her then husband Michael Rainey. She has worked for antique dealer Christopher Gibbs, interior designer David Mlinaric, and now runs her own interior design company, JR Design, based in London.
Below are extracts from an interview recorded with Jane Ormsby-Gore in March 2006:
In 1960 I 'came out' and went to all those parties. People were very conventionally dressed. The kind of dress I had to wear was of white tulle, fluffy and puffy. But by then I had already been buying jeans in America (where later on, my father, Lord Harlech, was British Ambassador). We were cutting off the belts, making hipsters, sewing them up for drainpipes and putting them in the washing machine for four goes, much to the fury of every one in the household. My eldest brother was a huge fashion person, going to that place Stan's where you had winkle pickers made – amazing shoes. When he was at Eton he wore elastic sided boots and had long hair. Coming Out was pretty good torture… Bazaar was OK for Ascot and that kind of thing.

 
 

When I came back to London from New York in about 1961-62 that was when I started buying lots of second hand clothes and mixing and matching and cutting off skirts. I went to work for Christopher Gibbs in his first shop in Islington…. I'd stay out all night dancing and used to loll about in the back room and put up a notice saying 'Ring the bell if you need a hand.'

Then, I think because of my amusing way of dressing, I was asked to work for Vogue… selecting things, finding things that I thought were interesting. I must have been a complete nightmare. I remember not being allowed to wear trousers to work there. I used to try and sneak in by the back lift. The editor was Beatrix Miller. She was so heavenly… she used to lay out photographs and we would look at them.

In that time my then husband, Michael Rainey opened Hung on You in Chelsea Green. He was like a mannequin, incredibly well dressed. He always had quite a conventional approach to things, but with a twist. We were seeking the Holy Grail at that moment and always very high-minded and spiritual. He was very influenced by that. Those leather jerkins he made were all to do with the rising spirit. We started going to Glastonbury and all that kind of thing… We all had rather a different look.

My contribution to Hung on You was purely talking and discussing things at home. We were very influenced by Byron… those Byron shirts with frilly fronts and big sleeves. And literature: Spencer's Fairie Queene… that sort of mood, rather romantic. He would find… lovely materials, all made in London in the East End by proper old fashioned tailors. Everything beautifully made. He was a great stickler. I suppose the Stones and Beatles would come in and say, 'We want four of those …'

Michael made the most gigantic mistake of leaving Cale Street and going onto the King's Road. He felt that it was happening on the King's Road, but it cost a lot of money to move, and people didn't know where we were. It became less successful then. Before it was slightly more slick, with a big jardinière mirrored thing in the middle of the shop. We had got two children by then, and we were seriously into soul seeking and going on fasts and meditating… We left London, sold everything, gave away everything, and went to live in Gozo. London times and everything were over.
The gentry were all around the fashion scenes:
Osborne & Little was established by Sir Peter Osborne (father of Conservative Party politician George Osborne) and his brother-in-law Antony Little. The company's shop, in the King's Road, Chelsea, put it in the heart of Swinging London.

Little was the designer – he had been responsible for Biba's distinctive black and gold logo – and created most of the company's early ranges. Hand-printed papers were inspired by everything from the designs of Aubrey Beardsley to the Brighton Pavilion. Its success in reinterpreting classic designs in new ways during the 1970s and '80s meant that Little soon presided over a large design team. In the book Twentieth Century Pattern Design, Lesley Jackson described the brand as distinctive for its bold reinterpretations of traditional patterns, adding: "historical references tend to be lateral rather than literal".
SweetJane has more:
Antony Little, artist and interior designer, first became associated with Biba in 1965 through his connection with Julie Hodges, whom Barbara Hulanicki had commissioned to create a wallpaper design for her shop in Abingdon Road. Upon moving to her second Biba premises in march of 1966, she once again hired the two designers to decorate the interior, prior to this, Little had painted the facade of Michael Rainey's 'Hung On You' boutique in Cale Street, using the beautifully fluid Art Nouveau style which had been experiencing a major revival at this point in time, the continuation of this influence can also be seen in the window design that he created for the Kensington Church Street shop.

He painted the Biba name above it in gold lettering on a black background, then decorated each window with gold leaf circles which served as portholes, surrounding them with an expanse of black Art Nouveau swirls. The design proved to be incredibly popular, attracting not only the curiosity of every passer-by but also the attention of many photographers who liked to use the windows as an interesting background feature in photo shoots. An adaptation of the design also became the new Biba logo, adorning bags and other printed materials, and although he continued to work with Biba in an interior design capacity on further projects, by 1968 Little had co-founded a wallpaper and fabric company with his brother in-law Peter Osborne. Together they opened a small showroom in Chelsea and subsequently produced some of the most striking hand-printed designs of the decade. For those of you with a penchant for interior design from this period & for those who would like to decorate accordingly, it will undoubtedly be welcome news that the firm of Osborne & Little are still active and that quite a lot of their early work is currently available again. *However, in 2006, after spending 38 years designing wallpapers and fabric, Antony Little sold his entire interest in the business to his partner in order to pursue other interests, such as furniture design, painting and various architectural projects.