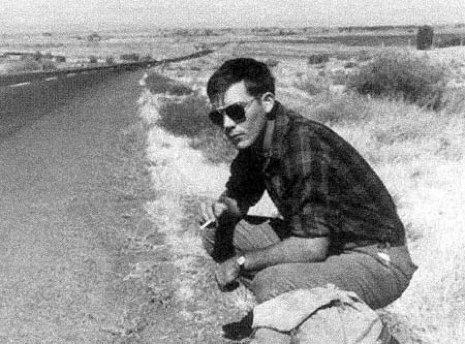 British Prime Minister David Cameron placed his penis inside the head of a dead pig. Well, so says a 'serving MP', who adds, anonymously, that Cameron tapped the dead pig's maw to enter an Oxford University dining society as a student. The club was the Piers Gaveston, so named after the apparently edgy lover of Edward II.
It's not all that debauched, though, is it? Had the pig been alive at the time and had Cameron been trying to off it by choking the thing to death, you might have a story. As is it, we've got the kind of aside any abattoir worker or Rebecca Loos would laugh off as 'kid's stuff'.
The anecdote features in Call Me Dave: The Unauthorised Biography Of David Cameron by Michael Ashcroft and Isabel Oakeshott.
Which makes us wonder if either writer ever read Hunter S. Thompson's Fear and Loathing on the Campaign Trail 72′, the writer's reportage on the 1972 presidential campaign. Thompson writes:
In both the Ohio and Nebraska primaries, back to back, McGovern was confronted for the first time with the politics of the rabbit-punch and the groin shot, and in both states he found himself dangerously vulnerable to this kind of thing.  Dirty politics confused him.  He was not ready for it….

This is one of the oldest and most effective tricks in politics.  Every hack in the business has used it in times of trouble, and it has even been elevated to the level of political mythology in a story about one of Lyndon Johnson's early campaigns in Texas.  The race was close and Johnson was getting worried.  Finally he told his campaign manager to start a massive rumor campaign about his opponent's life-long habit of enjoying carnal knowledge of his own barnyard sows.

"Christ, we can't get a way calling him a pig fucker," the campaign manager protested.  "Nobody's going to believe a thing like that."

"I know," Johnson replied.  "But let's make the sonofabitch deny it."'
Also in Fear and Loathing: On the Campaign Trail '72, published in 1973, Thompson turns to the subject of journalism:
So much for Objective Journalism. Don't bother to look for it here — not under any byline of mine; or anyone else I can think of. With the possible exception of things like box scores, race results, and stock market tabulations, there is no such thing as Objective Journalism. The phrase itself is a pompous contradiction in terms.
In Better Than Sex: Confessions of a Political Junkie, the fourth volume of his Gonzo Papers originally published in 1994, Thompson adds:
There are a lot of ways to practice the art of journalism, and one of them is to use your art like a hammer to destroy the right people — who are almost always your enemies, for one reason or another, and who usually deserve to be crippled, because they are wrong. This is a dangerous notion, and very few professional journalists will endorse it — calling it "vengeful" and "primitive" and "perverse" regardless of how often they might do the same thing themselves. "That kind of stuff is opinion," they say, "and the reader is cheated if it's not labelled as opinion." Well, maybe so. Maybe Tom Paine cheated his readers and Mark Twain was a devious fraud with no morals at all who used journalism for his own foul ends. And maybe H. L. Mencken should have been locked up for trying to pass off his opinions on gullible readers and normal "objective journalism." Mencken understood that politics — as used in journalism — was the art of controlling his environment, and he made no apologies for it. In my case, using what politely might be called "advocacy journalism," I've used reporting as a weapon to affect political situations that bear down on my environment.
So about that pig… do you believe it to be true?